Thanksgiving Recipes + Free Planning Printable
Lots of Thanksgiving recipes to help you set the perfect table for one of the best days of the year. It's all here: turkey, stuffing, vegetables, cranberries, desserts and breads! Included is a handy day-by-day, hour-by hour guide for a stress-free Thanksgiving dinner.
Isn't Thanksgiving just the best? I love it! It's a wonderful time to gather around the table with family and friends, appreciating each other and sharing good food. Take time to acknowledge the many ways we've been blessed.
Tips For Success
Plan ahead. If you haven't nailed down every last detail of your Thanksgiving meal, I hope this round-up of delightful recipes will help you plan your dinner. I've also included a guide with a day-by-day, step-by-step plan for preparing for the big day. Hopefully that will make the preparation just a bit easier for you. (It's always a good idea to have a plan.)
Ask guests to help out. Don't hesitate to share the load. Your guests will love having the chance to bring their favorite sweet potatoes, salad, rolls, or dessert. Ask a younger member of the family to set the table or serve the dessert. Give everyone a chance to shine.
Just enjoy yourself! This is my favorite tip: Don't sweat the small stuff. It doesn't matter if everything doesn't go perfectly. I remember one Thanksgiving dinner when I forgot to take the stuffing out of the oven until dinner was completely over! Nobody even noticed, or if they did, they were too nice to mention it. Trust me, everything does not have to be perfect.
We've created an ultimate guide to hosting a stress-free Thanksgiving with your friends and/or family. It includes a menu to get you started, a grocery list, and a plan for time management and getting everything done at the same time.
Even if you don't use the menu, I'm sure you'll find the schedule super helpful!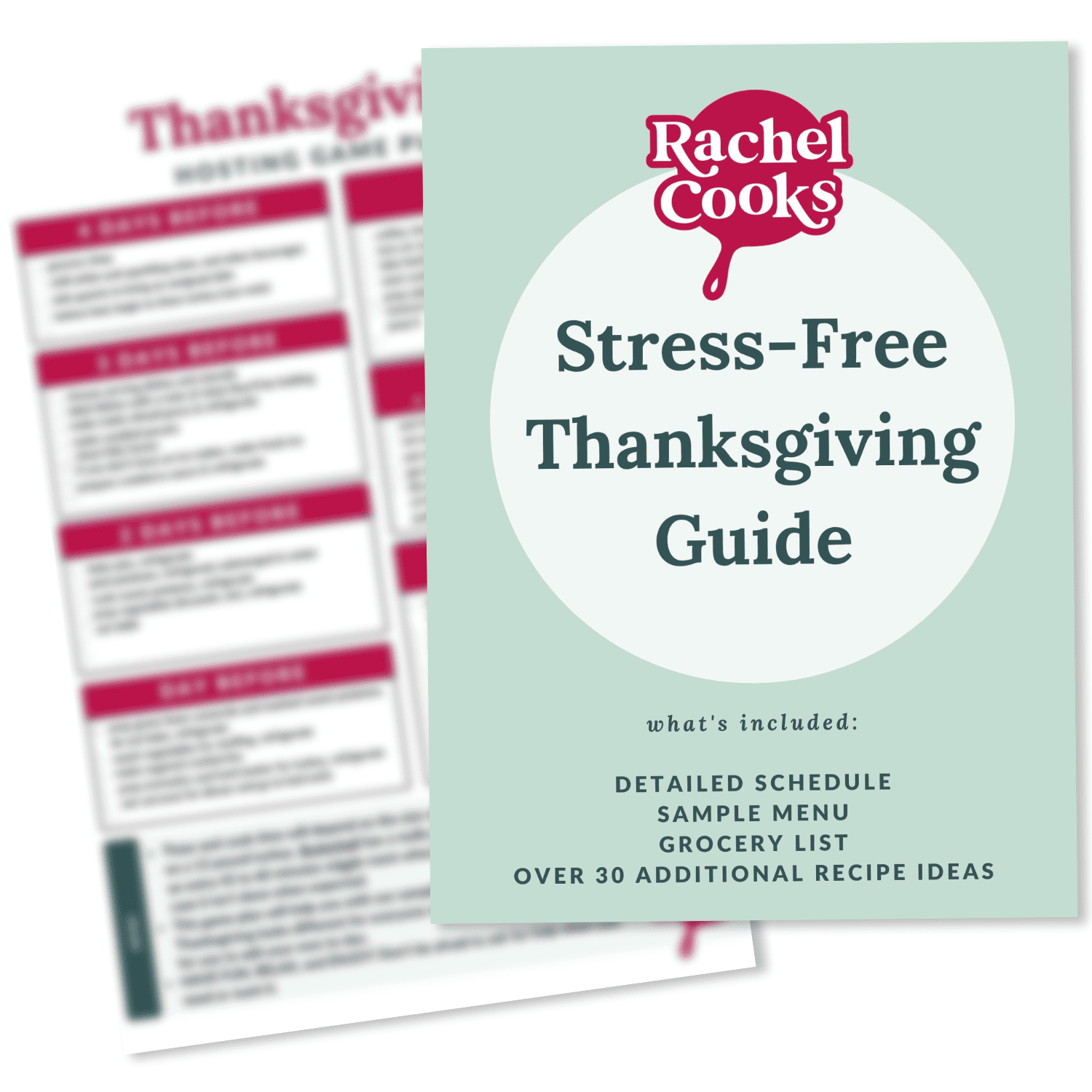 Turkey, Gravy, and Stuffing (Dressing)
If you aren't inclined to roast an entire turkey, here are a few alternatives, including a couple of recipes for a turkey breast which is perfect for families who don't care for dark meat. I've also included a sheet pan turkey dinner (turkey and all the fixings on one pan!) and a roasted chicken recipe for those of you who may be cooking for fewer people.
This section also contains an easy, make-ahead gravy that you won't want to miss!
Stuffing (Dressing), Mac & Cheese
Whether you call it stuffing or dressing, Thanksgiving dinner wouldn't be complete without it. And many of you would say the same for mac & cheese!
Potatoes, Cheesy Potatoes, Sweet Potatoes
Vegetables
If you're like me, you could skip the turkey and fill up on these wonderfully delicious vegetable side dishes.
Salads
I don't think I could choose a favorite from this list of salads, I love them all! Each of these recipes is made with seasonal ingredients that are abundant during the Thanksgiving season.
Cranberry Sauce
Kick the canned sauce to the curb! Cranberry sauce is easy to make and so much more flavorful than the canned sauces.
Breads and Rolls
Aka the only thing the kids eat, am I right?
Pies and Desserts
There's a pumpkin dessert for everyone on this list, from classic pumpkin pie to easy four ingredient pumpkin pudding. Cranberries and apples make the dessert list, too. Make Thanksgiving an extra special occasion by whipping up a bowl of homemade whipped cream to top the desserts! So, so good!
Appetizers
Serve festive appetizers and a refreshing cocktail while dinner is cooking. These fall-inspired appetizer ideas are perfect for Thanksgiving get-togethers because they aren't too rich or filling.
Cocktails
Celebrate the Thanksgiving holiday with a festive easy-to-make cocktail!
Leftover Ideas (The Day After)
While you may enjoy simply reheating leftovers for an easy day-after Thanksgiving dinner, consider that those leftovers can be repurposed into another delicious recipe. Here are a few ideas for you. By the way, remember that leftover turkey can be used in any recipe that calls for cooked chicken.
Healthier Alternatives
Looking for recipes that are healthier adaptations of traditional recipes? Many holiday recipes can be lightened up with a few easy adjustments. Be sure to take a look at my list of 18+ healthy Thanksgiving recipes. It includes traditional favorites and lots of new recipes that you may not have considered before.
Happy Thanksgiving, friends! I'm grateful for all of you and hope that this roundup of Thanksgiving recipes is a blessing to you and your family.