Perfect for both gift giving and parties, this bourbon caramel sauce will become an instant favorite of anyone who tries it! 
Thick and sweet, creamy and bourbon-y, this caramel is already calling your name, isn't it? It's good enough to eat off a spoon, and you might just find yourself doing that. Not like I know anything about that…
If you find yourself needing a last-minute hostess gift or a dessert for a party, this is the recipe for you! It's super easy to make and all you have to do is pour it in a jar and tie some ribbon around it and it's ready to gift. Or, you can bring it to a party with ice cream for an easy dessert that everyone will adore. It would also be great on a number of other things like apple pie, french toast, bread pudding, and more.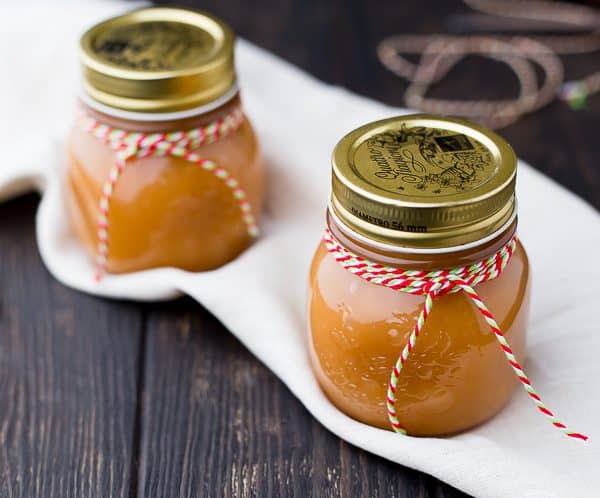 If you've never made caramel before, don't be scared! This recipe is nearly fool-proof and you can absolutely conquer it. I have faith in you.
In a nutshell:

Boil sugar with water, corn syrup, and a touch of salt. You'll want to be besties with the stove at this point – don't leave its side. Swirl the pan and keep a close eye on it.
Watch for it to become the color of a strong-brewed ice tea – or, the color of caramel.
Remove from heat and add the cream and bourbon. Stand back and watch out for steam!
Whisk to combine and then whisk in butter and vanilla.
Let cool and enjoy!
Between the unmistakable flavor of the bourbon (or whiskey, whatever floats your boat), and the rich creaminess of the cream and butter, this is holiday perfection in the form of a smooth, sweet sauce. You guys are going to love it!