Cute, festive, and just a little creepy, this spider halloween grilled cheese sandwich will have your kids giggling and grinning. 
You guys know I don't do fussy food. I'm not spending hours piping elaborate designs on cookies and cakes. I'm not cooking recipes that require 12 pans to complete one entree. I'm not sharing my kids' lunches every day into fun shapes based on holidays, seasons or events.
However, this fun spider halloween grilled cheese takes literally 10 seconds longer to make than a normal grilled cheese sandwich. Lazy Resourceful moms unite — we got this.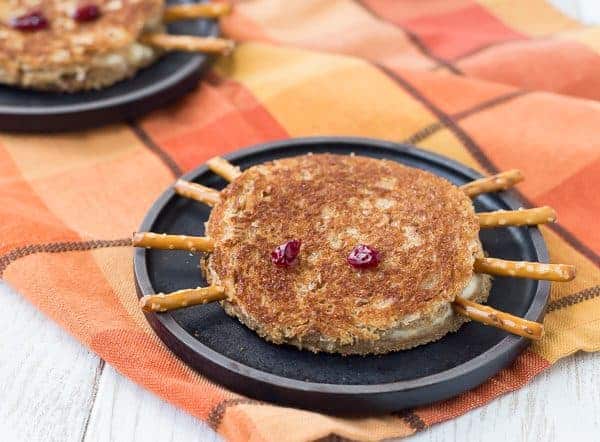 PS: If you're feeling like the cool mom on the block after you make these fun grilled cheese sandwiches, you might also be interested in my pumpkin bar edible mummies. They're basically pumpkin bars, but instead of spreading the frosting on with a knife, you just zig-zag it across with a piping bag. You're instantly in the running for mom of the year and it was no sweat off your back.
The only extra work required for this spider grilled cheese sandwich is this:
Cutting it in a circle — I used a large biscuit cutter for this.
Sticking pretzels in — 8, because spiders have 8 legs!
Putting eyes on – I used the reddest dried cranberries I could find, but you could also use raisins or olive slices.
My kids absolutely adored this Halloween grilled cheese and I know yours will too!
PS: If you love the idea of these grilled cheese sandwiches, you'll probbaly also love these recipes from Rachel Cooks' partner, Milk Means More: