Crispy, flavorful, and irresistible, these garlic roasted potatoes are perfect for breakfast, lunch and dinner. They're going to become a staple in your life! 
I make these potatoes at least a couple times a month, and while it's not a complicated recipe, it's one I really wanted to share with you guys. Sometimes I'll do these in a frying pan, sometimes in the toaster oven, and sometimes in the air fryer, but more often than not, this oven version is my go-to. I'll make a big tray of them and reheat them quickly on the stove or in my toaster oven or air fryer each the morning for breakfast.
Sensing a trend here? It's either that I have too many kitchen appliances or it's that I eat a lot of these potatoes. Most likely, both.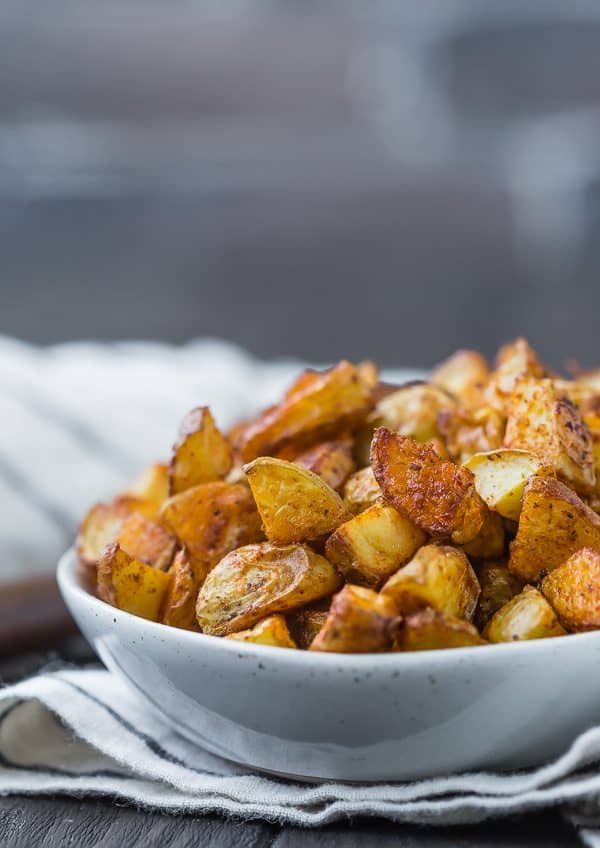 One of the main reasons I probably haven't brought it to you guys sooner is that I never measure anything when I make it. It's a little of this, a little of that, and into the oven they go. To take the time to slow down and determine appropriate measurements was holding me back from documenting this and photographing it. I'm lazy like that.
Roasting potatoes is probably my favorite preparation of a potato (aside from fries, perhaps). Sometimes when I make these, I follow my guide about how to make crispy roasted potatoes (some great tips in that post!) because no one likes a soggy potato. However, I've also found that the convection mode of my oven will help to get them nice and crispy along with some of the other tips I share in that post (I'll share an abbreviated version of them here, too, but if you're truly committed to the crispiest potatoes, you'll want to check out that post).
FAQs about these Garlic Roasted Potatoes:
How do you make roast potatoes crispy?
For the crispiest potatoes ever, you can check out the guide I mentioned earlier, but here's the Cliff's note version:
Cut small! The smaller they are, the crispier they will be. Make sure they're somewhat uniform in size.
Soak for 30 minutes in cold water.
DRY. Then dry again. The drier, the better.
Hot oven, hot sheet pan. If you start with a hot sheet pan, they'll start getting crispy immediately.
Don't over stir them. Let them cook for 20 minutes, then give them a toss.
I like cheese. How do you make garlic parmesan roasted potatoes?
I like cheese too! Add the grated parmesan in the last five minutes of cooking time so it doesn't burn.
I need to cook something else in the oven at a different temperature, will that work?
Sure! If you have to lower the oven temp, it will increase cooking time and may reduce the crispy factor of these roasted potatoes, but they'll get done and will still taste great.
PS: Not sponsored, but I love using Little Potato Co. potatoes for this recipe. They're great roasted whole like in my lemon and dill roasted potatoes, too.