Rhubarb Instant Pot Cake became an instant favorite in our family and I know you're going to love it too! Ultra-moist and super flavorful, it's easy to make and even easier to eat. If rhubarb isn't in season, it would be terrific with apples, too!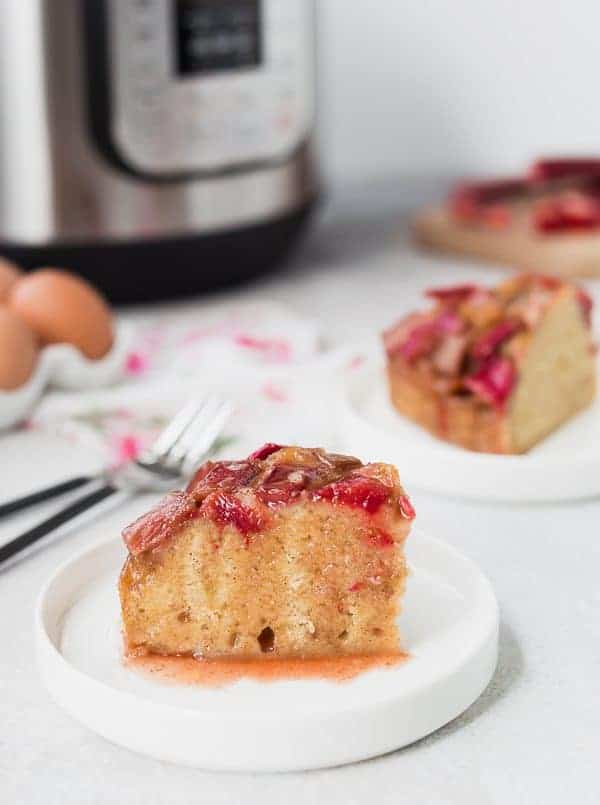 I eat at least two eggs a day, every day. Boiled, scrambled, poached, fried…I love them any way they're served. People have commented many times about how many cartons of eggs they see when they open our fridge. When Nellie's® Free Range Eggs approached me about developing a few recipes with their eggs this year to share with you guys, it was pretty much a no-brainer. It's a match made in egg heaven.
Nellie's Free Range Eggs are gorgeous! Each egg is a beautiful shade of brown ranging from light to dark brown and some are covered in beautiful speckles. They're so pretty! When you crack them open, you find the vibrant yellow-orange yolk you'd expect from a free range egg.
Nellie's hens are all raised in a Certified Humane, free range environment. There are no cages and the hens have access to the outdoors so they can peck, play, and roam around in green grass. Their food is antibiotic-free and they have fresh water at all times. Sounds so fabulous, I might ask if I can move in!
Even the batter of this cake is a beautiful yellow color thanks to the gorgeous yolks of these eggs. The taste doesn't disappoint, either.
I'll be sharing three recipes this year using Nellie's Free Range Eggs. For the first recipe, they challenged me to create a springtime recipe using my Instant Pot. At that point, the only eggs I had ever made in pressure cooker were my Instant Pot boiled eggs (I make a dozen or more of these once a week!), but I love a good challenge and I was excited to expand my repertoire of Instant Pot recipes and provide you with a fun new recipe.
That brings us to Instant Pot Cake!
About this Rhubarb Instant Pot Cake
I just adore rhubarb. I grew up eating it – my mom would cook it down into a sauce with some sugar and we'd eat it with spoons. Tart but sweet, it was a great springtime dessert. I loved that rhubarb sauce so much that it was one of the first recipes I posted on my site, as you can clearly tell if you click through that link – this little site of my has come quite a long way since 2011!
Tip: If you don't love rhubarb (Ben doesn't love it — I feel like it's in the love-it-or-hate-it camp with cilantro and beets) or it's not in season, try this recipe with apples!
I paired rhubarb with cardamom in these rhubarb cardamom shortbread bars and I've been smitten with the combination ever since, so I brought the same combination into this cake. The unique taste of cardamom is difficult to describe, but it has a warm flavor with hints of citrus that goes great with other warm spices like cinnamon and nutmeg. It's a pricier spice, but a little goes a long way and there really isn't anything like it.
In this Instant Pot cake, I used it in both the "topping" (in quotations because it starts off on the bottom!) and the cake base. Also included in the cake are warm cinnamon, freshly grated nutmeg, and vanilla extract.
If you have a 6-quart Instant Pot, you'll need a 7-inch cake pan to fit inside it. I bought this cake pan and it works perfectly! You bake the cake tightly covered with paper towel and foil to prevent steam from making it soggy. It bakes in just over an hour and you don't have to heat up your oven – perfect for these warmer days we've been having! The cake is a dense, moist cake, sort of reminiscent of a great bread pudding. The rhubarb with the butter and brown sugar turns into a sauce that tastes a little like a rhubarb caramel. It's perfect drizzled over the cake right before you serve a slice.
This Instant Pot cake would also be great served with ice cream or whipped cream. Try making lightly sweetened homemade whipped cream with a touch of cardamom or cinnamon to perfectly complement this cake.
Learn more about Nellie's Free Range Eggs and get more recipes on Facebook, Twitter, Pinterest, Instagram, and YouTube.