The chili powder and cumin coating on these oven roasted sweet potatoes makes them absolutely perfect in burrito bowls, on tacos, or on their own! They're great with eggs at breakfast, too.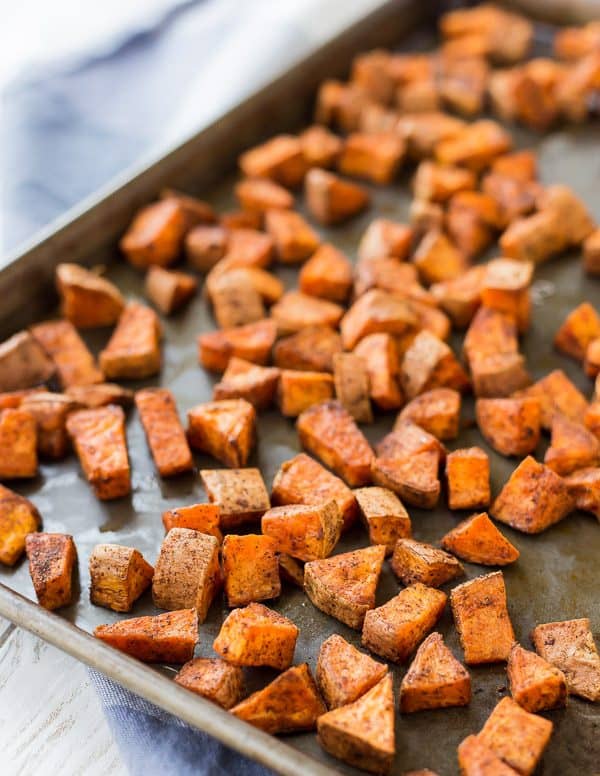 I've been making these like a crazy lady.
I'm talking once a week.
I honestly will probably have a hard time making plain roasted sweet potatoes ever again. I make a big batch of these and then reheat them in my toaster oven. It only takes about 5 minutes for them to get super crispy again; it's like they're fresh out of the oven. This recipe for oven roasted sweet potatoes was one of my go-to recipes during Whole30 (thank goodness I'm done with that, ha!) but it's one that carried over into post-Whole30 life. I've seen enough turkey burgers and cauliflower rice to last me quite some time, but I just can't get enough of these roasted sweets.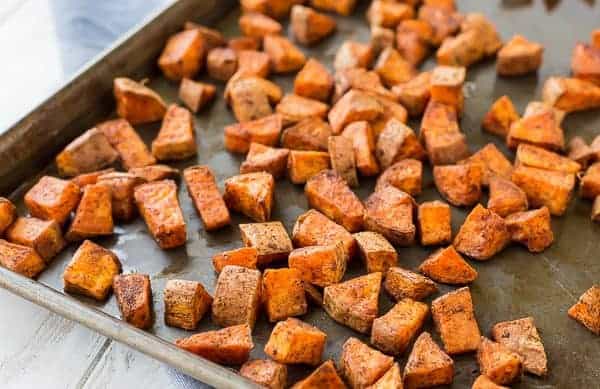 I love, love, love them in a burrito bowl. They add a soft, rich texture to the usual components — rice or cauliflower rice, shredded chicken, greens, tomatoes, avocado. Bonus points for restaurant style salsa. These oven roasted sweet potatoes add such a great layer of flavor and texture. They're also great with black beans to make a vegetarian taco. Add all the toppings you want and you'll never miss the meat!
I also love them at breakfast.  I'll choose a savory breakfast over a sweet one 99% of the time, so these alongside some eggs and fresh fruit or vegetables is all I really need at breakfast. Well, that and coffee. Coffee goes without saying though, am I right?
PS: If you love these, try my maple mustard roasted sweet potatoes and shallots or check out my full list of roasted vegetables – there are over 40 recipes listed from simple roasted vegetables, to sheet pan dinners, and even a few things that are roasted but aren't vegetables!
Tip: I love these with chili and cumin powder alone, but you can switch them up a little if you want: 

If you like things hot and spicy, try adding a sprinkle of cayenne powder. A little goes a long way, so try starting with 1/4 teaspoon and working your way up from there.
If you want these to be a little smoky, try adding smoked paprika. I'd recommend starting with 1/2 teaspoon.
Another way to add a smoky flavor would be to use chipotle chili powder instead of traditional chili powder.
If you plan to use them on tacos, you might like to use my homemade taco seasoning (don't use a store-bought package since it contains thickeners and preservatives). I'd recommend starting with 1 tablespoon.