This mango slaw is the perfect slaw for fish tacos, but you'll find yourself eating it all by itself too, because it is that good!
I've only typed the word "slaw" three times so far and it already looks incredibly weird to me. Isn't it funny how the mind can play tricks like that? I'll probably type it 50 more times in this post so hopefully it's not too much of a struggle. I'm sure somehow I'll survive.
I've made this mango slaw so many times this summer and it instantly became a favorite. The first time I made it, we were having my family over for fish tacos and I threw this together in a bowl, not measuring anything and kind of making it up as I went. We all loved it so much that I knew I had to recreate it for you guys. I also shared it on instagram stories and got so many requests for the recipe…so here it is!
About this mango slaw
This mango slaw is so easy to make, and like I said, I like it on fish or chicken tacos (it would be great on shrimp tacos, too!). It's also fantastic on its own or even with chips.
The first time I made it, I cut up chile spiced dried mangoes (I get them from Trader Joes – I love them on salads) and added them to the mix. However, I found that they softened really quickly and were hard to tell apart from the other ingredients and didn't really add that chewy element I was looking for. With that being said, if you think they sound like a great idea (they're so yummy!), make sure to add them right before serving the slaw so they retain their chewiness.
The rest of the slaw is best if you left the flavors meld for about an hour. So prep this ahead, pop it in the fridge, and then get to making the rest of your dinner. It honestly takes the pressure off – I love prepping ahead whenever possible.
If you let it set for more than 2 hours in the fridge, the cabbage will start to soften a bit, but it's still super tasty. I frequently eat this 3-4 days after making it, especially if I'm the only one eating it.
The trickiest part of making this slaw may be slicing the mango. Here's a good video and graphic to help you if you're unsure of how to dice a mango.
How to make this mango slaw your own
There are a few ways you can adapt this to make it perfect for you and your family or friends. Here are some ideas:
If you want it spicier, add some diced jalapeño. I'd go with one jalapeño pepper. If you like it really spicy, leave in the seeds and ribs of the pepper. If you like a little heat, but not quite as much, just use the green flesh of the pepper.
Make this Whole30 – it's already paleo if you use honey, but you can make it Whole30 compliant by omitting the honey or agave. This will make it extra tangy, but the mango provides really nice sweetness so it will still be tasty. You can decrease the lime juice slightly if you're fearful it might be too sour.
If you don't have fresh lime juice, you can use apple cider vinegar or even just regular distilled vinegar. In my mind…this is kind of a last resort because the lime juice gives it so much flavor, but if you don't have limes, the vinegar will give the slaw the acidity it needs.
Are you a cilantro hater? Well, we can't be friends. Juuuust kidding, I know it's a very polarizing ingredient. I love the flavor it adds to this slaw but it's still very flavorful without no cilantro. You could leave it out without having to make any other changes.
Don't want to bother with tacos? This slaw would also be absolutely fantastic spooned over a grilled chicken breast or a fillet of fish (I'd recommend cod or salmon). You could also use it as a salad and top with grilled or pan-fried shrimp to make this a full meal. I'm not a big tofu eater, but I bet this would be great over pan-fried or baked tofu, too. I'm envisioning it on top of these southwestern-style baked tofu steaks, which are giving me an odd tofu-craving that I've never ever experienced.
More fun add-ins if you want to get creative: Diced avocado is always a good choice! If you add avocado, I recommend adding it immediately prior to serving to prevent any browning. You could also add in some fresh pineapple like in this pineapple salsa. If you want to add a little cheese, try queso fresco.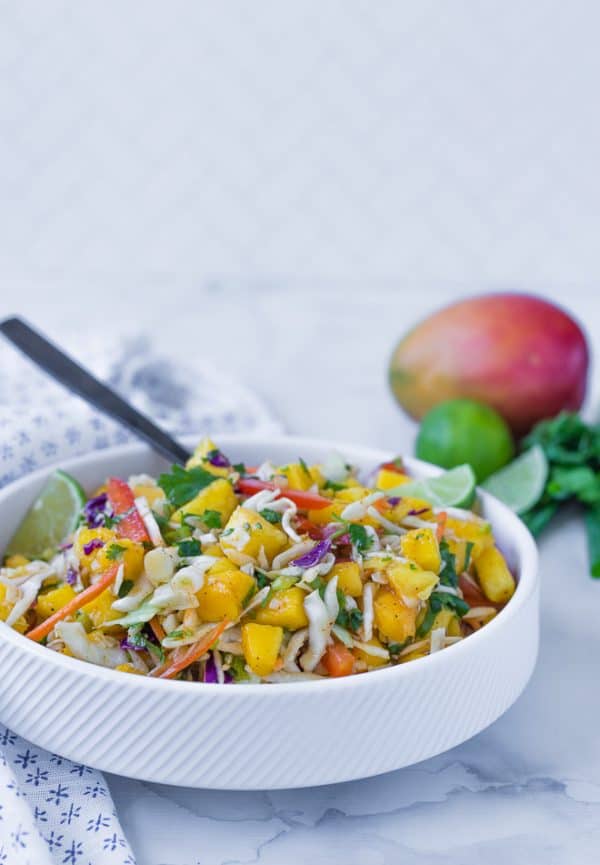 What sides to serve with fish tacos
Now that you have the slaw for your fish tacos, how about a few more sides to serve with them? Here are some ideas: