These Shrimp Tacos are a refreshing taste of the tropics thanks the zesty avocado, mango and pineapple salsa. They're easy to make and are a hit for any party or taco night. The extra salsa is amazing on chips or sprinkled on a salad!
Just because it's cold, wet, cold, snowy, and cold out (did I mention it's cold?!?!), it doesn't mean we have to eat stew 24/7. In fact, let's make a deal NOT to do that, okay? Let's still eat pretty, fresh, and bright food and just pretend the weather matches the food we're creating and consuming.
After I made these shrimp tacos, I became completely obsessed with the mango avocado salsa – so much so that I had to write an entire post about the salsa recipe alone! If you haven't had a chance to check it out yet, make sure to hop over there and make it ASAP!
I partnered with Old El Paso and Avocados From Mexico for this post, and they challenged me to make a game day recipe that was fresh, chic, and incorporated health and wellness. Normally, when you think of game day recipe you might think of fried food, creamy dips, and cheese everrrrything.
Here's the thing, you don't have to consume all your calories in one game day snack. (Although, if you want to, go for it – no judgement.) Game day food can be fresh, bright, and satisfying without making you feel sick and lethargic. These shrimp tacos are exactly what you need to satisfy those cravings for something you can eat with your hands but they won't leave you feeling like junk.
Tip: Wanna get outside? These shrimp tacos would be fantastic with grilled shrimp, too.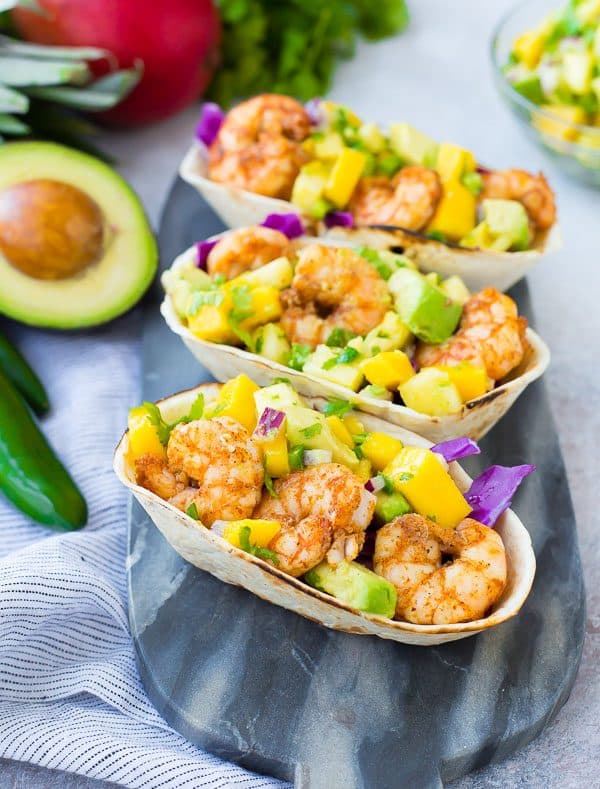 Another great thing about these shrimp tacos is that you can do a lot of prep in advance of your friends and family arriving for game day. You can get the shrimp marinating (it cooks SO quickly!) and you can prep the salsa with everything except the avocados. Assembling the tacos will happen so quickly if you take those steps in advance.
If you're wondering what would be a good side dish to serve with shrimp tacos, I have you covered! Here are some ideas:

More Delicious Tacos!
For even more game day inspiration, make sure to check out the recipes Old El Paso and Avocados from Mexico have compiled on this site.