Fall inspired Instant Pot Shakshuka is easy, healthy and so delicious. Get some crusty bread to dip in the tomato sauce and eggs and you're ready to dig in! 
Shakshuka. If you're saying, "Shak-shu-whaaaat?" I can assure you that you're not alone. The broadest explanation is that shakshuka is a recipe consisting of eggs baked in a tomato sauce. Of course, like any other recipe, there are many variations. Mine is a fun fall-inspired version made in the pressure cooker.
About this fall-inspired Instant Pot Shakshuka:
This Instant Pot shakshuka is flecked with green peppers, onions, and chunks of sweet, flavorful butternut squash. The tomato sauce is flavored with garlic, chili powder, smoked paprika, red pepper flakes, and oregano. Fresh parsley is stirred in at the end to brighten up the flavors.
When the tomato sauce is cooked, you'll crack in four eggs. I'm partnering with Nellie's Free Range Eggs who have the perfect Certified Humane eggs for shakshuka. Nellie's hens are raised in a free range environment, meaning they have room to roam, play, and peck in green grass. You can see the difference immediately when you crack open one of their eggs, and it translates over into fantastic flavor, too.
When the eggs are finished cooking, you'll garnish it with pumpkin seeds, feta, and more fresh parsley. The flavors are cozy, comforting and so irresistible. Get some crusty, freshly baked bread to dip in the tomato sauce and egg yolk and you have the perfect breakfast, lunch or dinner!
Tip: The whites are cooked fully and the yolks are perfectly runny when you serve this immediately you're done doing a quick release of the pressure. If you continue to let the eggs sit in the tomato sauce, they will continue to cook. If you like a more firm yolk, leave them in the sauce for 2-3 minutes (with the pressure cooker on warm) or until they achieve the firmness you desire.
This Shakshuka is healthy, gluten-free, nutritious and so satisfying. And best of all, it's easy to make, and you only get one dish dirty! I can't wait to hear what you guys think of this one; make sure to leave a comment or share your rendition of this recipe on Instagram tagging me and #RachelCooks.
Psst: Make this Whole30 compliant by leaving off the feta and skipping the bread!
Learn more about Nellie's Free Range Eggs and get more recipes on Facebook, Twitter, Pinterest, Instagram, and YouTube.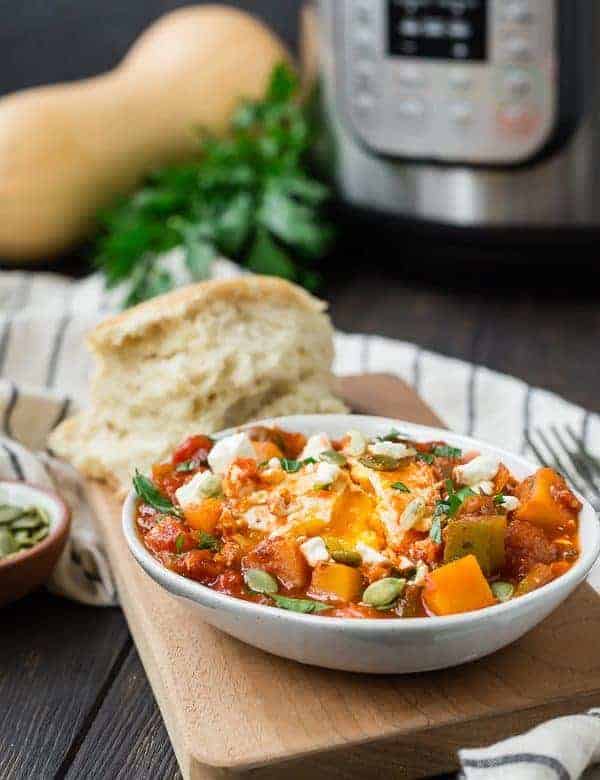 PS: Want a yummy Instant Pot dessert to try with this? Make sure to check out this Instant Pot cake. Make it with apples instead of rhubarb if you want to stick with the fall theme!
PPS: Love the idea of making eggs in the pressure cooker? You'll love making boiled eggs in the Instant Pot. They peel amazingly well!