Made in one pan and largely hands-off, this chicken caprese quinoa bake is a vibrant taste of summer with very little work!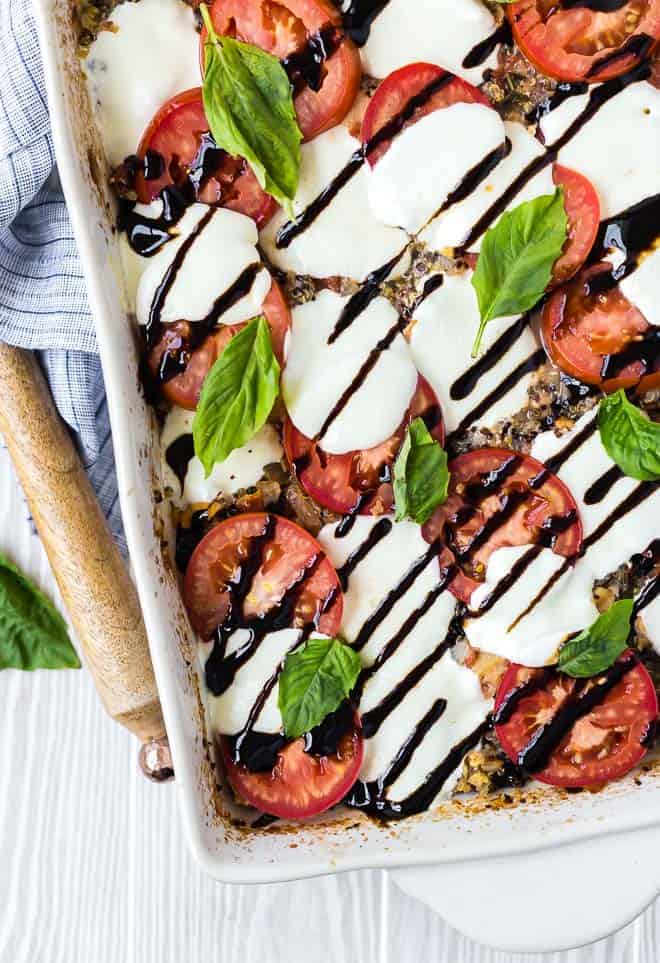 A requirement of summer should be getting at least one serving of caprese a week, am I right? The combination of fresh, soft mozzarella cheese, juicy tomatoes, and flavorful basil screams summer and I can never get enough of it.
Thankfully I have you covered with some fun caprese options and I'm excited to be adding to that list with this recipe. If you're looking for more, make sure to try this irresistible hot caprese dip, this mozzarella stuffed turkey burger with tomato and basil, and this herbed Israeli couscous salad with tomato, mozzarella, and basil,
One more: This roasted tomato crostini may not be technically categorized as caprese, but it's one of my personal favorite appetizers.
If you want to strip it down to the basics, here's a classic caprese salad from Food 52.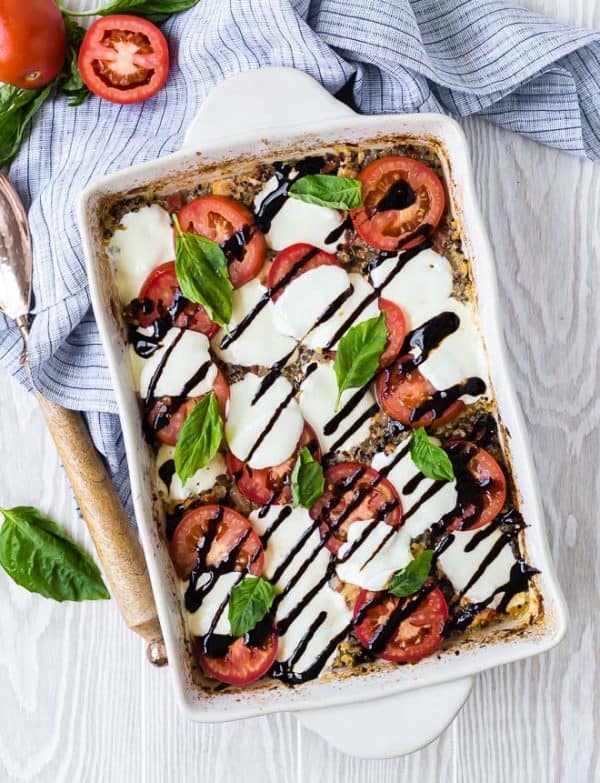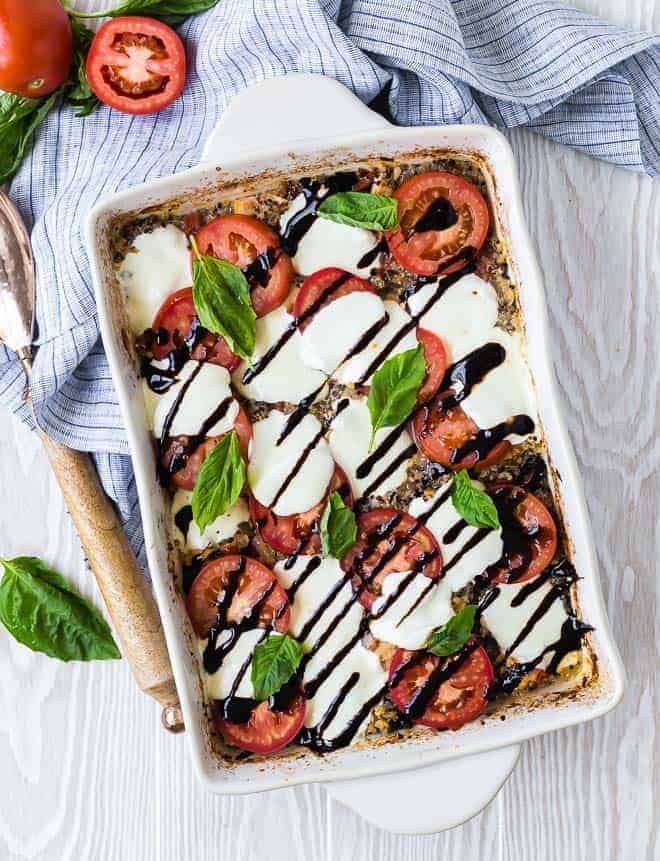 About this chicken caprese quinoa bake
This chicken caprese quinoa bake is a good one to carry over into those busy fall evenings, too. It takes some time to bake but it's nearly all hands-off, giving you lots of time to do whatever else you need to do. It's a take on my green chile chicken quinoa casserole; it uses the same technique and cooking method but brings different flavors to the table.
You basically just stir everything together in a baking dish (I used this one from Chrissy Teigen's line at Target – I love it!), cover, and bake. That's really all there is to it. It couldn't be easier. Once it's done baking, you'll add on fresh mozzarella cheese and roma tomatoes and return it to the oven just long enough to melt the cheese. Before serving, top it with fresh basil and balsamic reduction.
Tip: Level up with homemade balsamic reduction! But I don't judge – I have a bottle of store-bought balsamic glaze in my fridge as we speak.

How to make this quinoa bake your own
Not a whole lot you can do to this recipe, but here are a few ideas:
Add pesto! I like to, but my kids are allergic to nuts and it's hard to find a safe pesto (Yes, I know I could make my own without pine nuts- in fact I have a great pesto recipe on Rachel Cooks.) I'd add 1/4 to 1/2 cup of pesto, depending on how basil-y you like it.
Add more veggies: I'm always trying to sneak vegetables in. I think spinach would be great in this. Chop it really finely and everyone will think it's basil.
Make it vegetarian: I haven't tested this, but if you leave out the chicken and leave everything else the same, this should still turn out great. Bonus: Quinoa has lots of protein!
Make it dairy-free: You coulllld leave off the cheese. If you have to. I don't think we can still call it caprese, but it will still be tasty.
Make it gluten-free: Did you know quinoa is naturally gluten-free? No changes needed!