Rich and full of warm heat, this slow cooker Texas chili will instantly become your favorite chili recipe. The big chunks of beef will fall apart in your mouth!
Alright people…Tuesday, I shared a recipe for chili seasoning and today I am sharing our all-time favorite recipe for slow cooker chili. I'm a liiiiiiitle nervous to call this Texas Chili because I'm not from Texas. Actually, I've never even been to Texas (it's on my bucket list, though!). It's a recipe that is adapted from Emeril's Chuck Wagon Chili, so I considered that name…and I thought about Chili Con Carne…and then I went down a Google and Wikipedia hole and learned lots about chili but was left still a little unsure about what to call this.
All that to say, if you're from Texas…I'm fully aware that this is probably not completely authentic. I'm not trying to be…I'm just trying to share an absolutely delicious chili recipe, and I'm 100% confident that this recipe falls perfectly under the characterization of "absolutely delicious."
What I did find in common with all the information was that Texas chili must not include beans. And you will find no beans anywhere in this recipe. So, there's that.
That's my disclaimer. Now let's talk about this chili.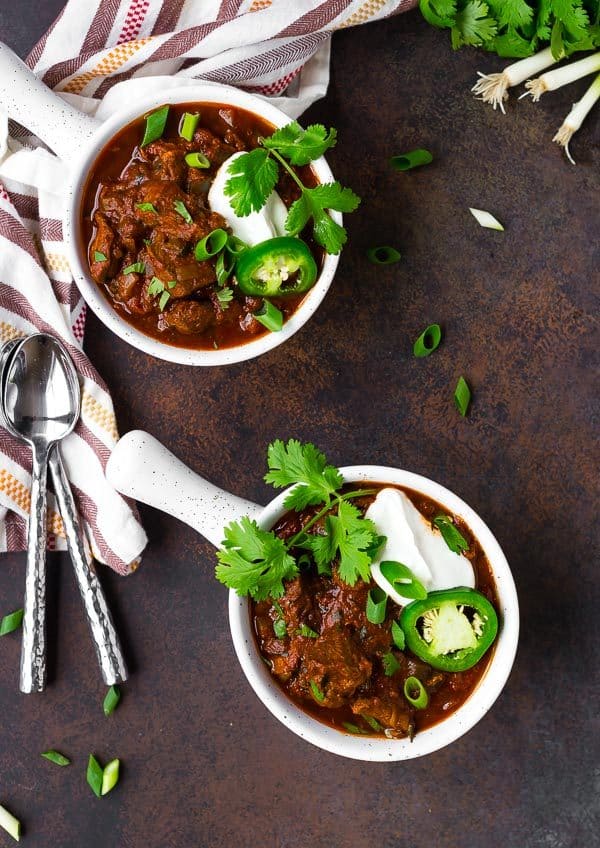 I've been making this chili for a few years for our annual harvest party. I typically make two types of chili, and my mom makes our white chili recipe. I usually make a gigantic batch of this – I'm talking probably in the ballpark of 15 pounds of meat. Because it always disappears! It's always gone way before the other two types, and people always absolutely rave about it.
It's slightly more labor-intensive than a chili made with ground meat and beans, but not much. If you're looking for a recipe like that, this turkey and beef chili is always a hit, too.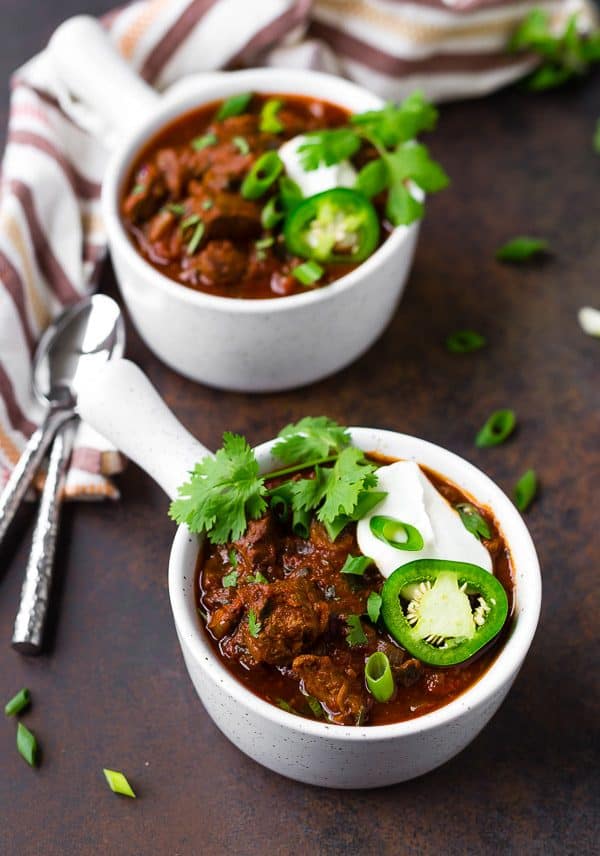 About this Slow Cooker Texas Chili
Even though this chili cooks in a slow cooker, you don't want to skip the step of browning the meat and sautéing the vegetables. Browning the meat adds a ton of great flavor and gives it fantastic color. After you sauté the vegetables, you'll add in the spice mixture and toast it for a little bit to really draw out the flavors. These small steps lead to maximum flavor in this chili.
Then, once everything is combined in the crock pot, the magic happens. The end is result is meat that falls apart, and chili that everyone goes crazy for. It makes a big batch but it's great leftover and it also freezes well.
What to serve this slow cooker chili with:
It's great served with this healthy cornbread, or these fancy-pants corn muffins. Another great choice would be this brown butter skillet cornbread. Or Fritos (why is chili soooo good with Fritos?!). Or oyster crackers. Or all of the above, if I'm being honest with myself. Of course, don't forget loads of cilantro, and some sour cream or plain Greek yogurt.
Michigan is still being a little bit stingy with spring and I could 100% go for a bowl of this chili tonight. But unfortunately, it hasn't been simmering away in my slow cooker all day, and Ben is working late, so I'll probably have popcorn for dinner.