This healthy sweet potato casserole is gluten-free, allergy friendly, and so, so delicious! Perfect for Thanksgiving or Friendsgiving!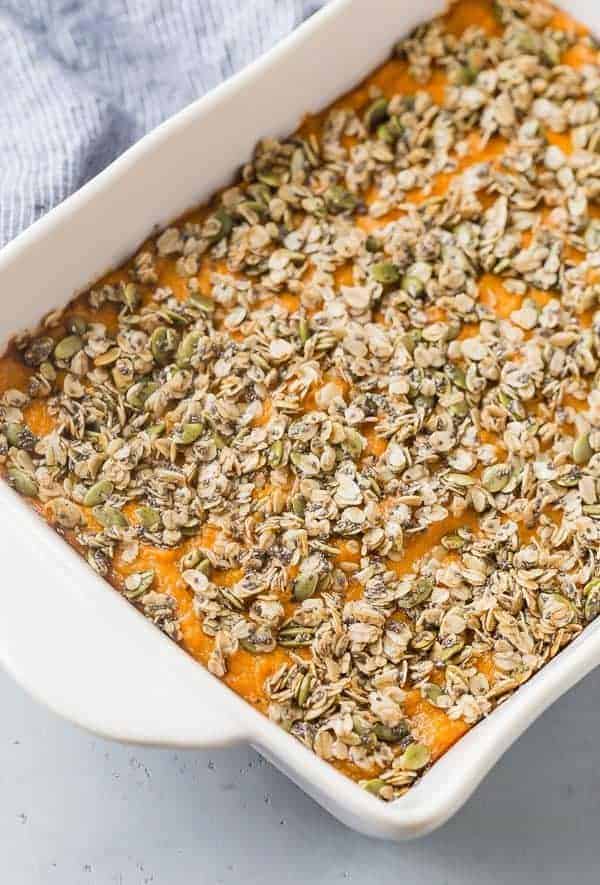 It seems like there is a heated debate surrounding sweet potato casserole. Are you team marshmallow or do you want nothing to do with the soft pillows of sweetness? I'm no stranger to pairing marshmallows and sweet potatoes, like in this sweet potato bread pudding that's piled with marshmallows. Or these fun hand-held numbers – kids think this hand-held sweet potato casserole is the greatest thing since sliced bread. However, this healthy sweet potato casserole is a slightly different take on the classic dish.
I've found that many healthy sweet potato casserole recipes involve pecans (can't say I blame them, YUM), but I wanted to create one that my kids and everyone in my family could enjoy, not to mention all the other people out there with nut allergies. This recipe is also gluten-free and dairy-free (optionally), making it great for crowds that may include a few different special diets.
However, albeit it free of nuts, gluten and dairy, it's not free of flavor. Ben's exact words were, "I was skeptical at first but it's so good!" I caught him sneaking a bowl as a late night snack more than once when I tested this recipe. (Despite the use of the words "caught" and "sneaking," this behavior was wholeheartedly encouraged.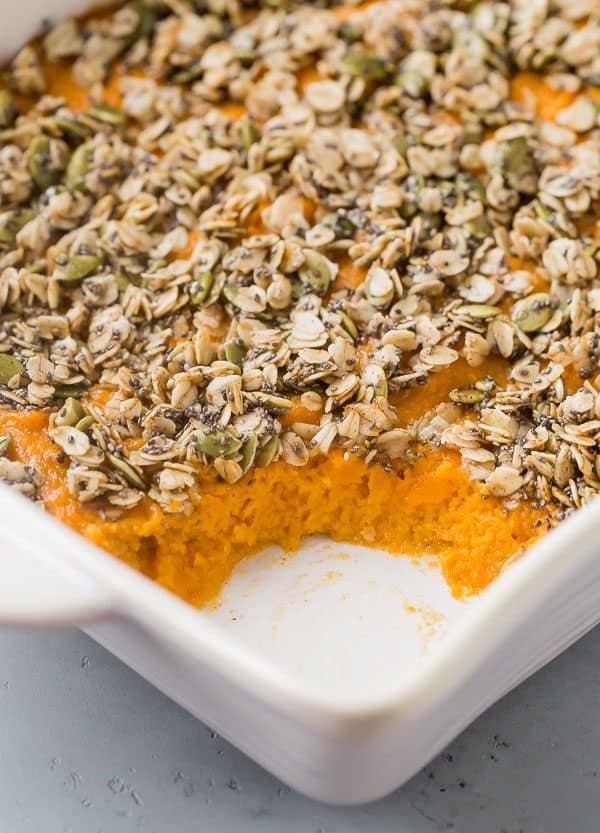 About this healthy sweet potato casserole:
The filling is rich and nearly custard-like. Sweetened with maple syrup, smooth, delicious…everything you want from sweet potato casserole. I used cow's milk, but read on for adaptations to fit special diets.
Instead of nuts or marshmallows on the top, I made a light topping of oats, chia seeds and pumpkin seeds. It's pretty, crunchy, and flavorful.
Adaptations:
To make nut-free: Use cow's milk or coconut milk.

To make dairy-free: Use almond milk or coconut milk.

To make nut-free and dairy-free: Use coconut milk.

If you don't need to make it nut free: Try adding pecans to the topping.

Don't want to use maple syrup: I get it, it's pricey! Use brown sugar, or even better, dark brown sugar. Coconut sugar would also work well in this recipe.

Allergic to coconut? No worries, you can eat this too! Use butter or ghee instead of coconut oil.

Make Ahead Tips:
Thanksgiving can be HARD. So much to do, so little time! And you 100% deserve to relax and enjoy the day, too. Cook the sweet potatoes two days in advance and pop them in the fridge. I like to make my sweet potatoes in my Instant Pot, but you could bake them any way you want. (Pssst: The microwave works, too.)
One day before you want to serve this, prep the sweet potato mixture and spread it in the pan, keep it covered in the fridge. Also, mix the dry ingredients of the topping together in a bowl. Cover that and leave it on your counter.
On Thanksgiving day, all that's left to do is add the maple syrup and coconut oil to the topping, stir it together, sprinkle it on top, and bake. So easy! IMPORTANT: Make sure to let your glass pan come to room temperature before putting it in the hot oven! The abrupt temperature change could crack your dish.
Can't get enough sweet potatoes? Try these vanilla bean mashed sweet potatoes, scalloped sweet potatoes (with bacon and gruyere!) or this classic sweet potato casserole.