Chocolate Chip Granola with Strawberries walks the line between breakfast and dessert but it is fully and completely in DELICIOUS territory! Strawberries and chocolate are a match made in heaven, and all the other players in this granola make the flavors pop! Make it today and enjoy it all week! 
My son N (5 years old) is the funniest kid, he makes me laugh every single day. We recently had a Mother's Tea at his preschool. Each year, they focus on a different country, and this year was America. The day before the tea, N asked me, "Did you know about the song God Bless America before I told you about it?" When I told him that yes, I did, he said, "Can you try to forget about it before tomorrow?"
On the day of the Mother's Tea, he told me twice that he was "going to remember this day forever." That kid is a pro at melting his Momma's heart! I knew it was a special day for him, so when I was saying goodnight to him and tucking him in that night, I made a point to tell him thank you for the crafts he made me and the songs he sang that day.
His reply? "You're welcome, Mommy, but I didn't really have a choice."
That story has nothing to do with this granola, but it was too cute not to share. At least I think it was cute, but I'm his mom so I'm more than a little biased. I was going to try to segue into the granola somehow…it's nut-free so N can eat it! But let's be honest, that's a big stretch and I'm not even going to try.
But now let's talk about the recipe!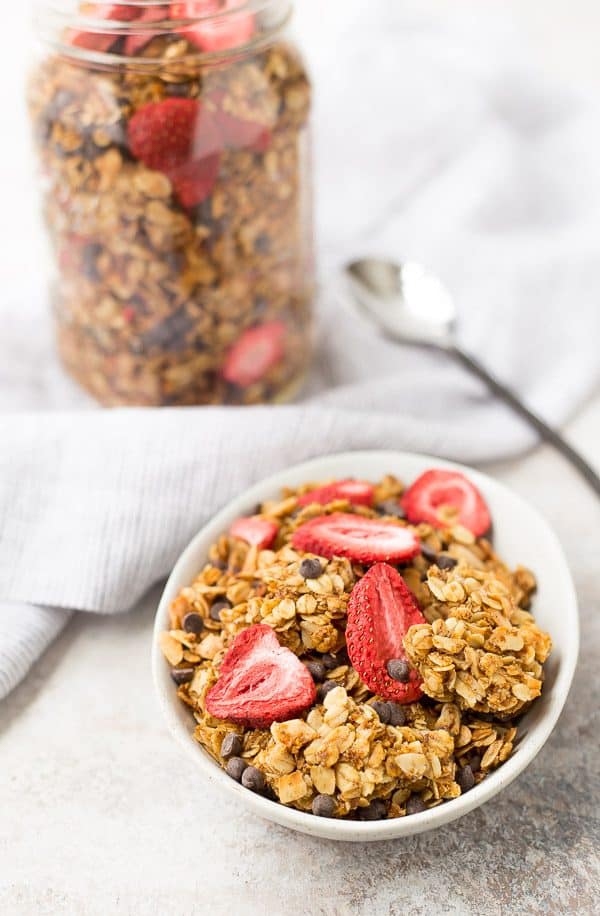 About this Chocolate Chip Granola
This chocolate chip granola treads the line between dessert and breakfast, but most granola recipes do. If you're eating a normal-ish diet, granola isn't really something you would typically want to fill an entire cereal bowl with.
(But hey, if you do, I'm not judging.)
I like granola for a small afternoon snack in a 1/2 cup or so portion, or sprinkled on top of yogurt. If we're leaning more towards dessert, I love it sprinkled on top of ice cream.
This granola in particular, I love to eat with milk. The milk rehydrates the freeze-dried strawberries and they become soft and flavorful which is the perfect complement to the crunchy granola.
I flavored this chocolate chip granola with cinnamon (is it even granola without cinnamon?), cardamom, and coconut. I love the chewy texture the coconut adds to the granola, but if you're not a fan, feel free to leave it out. I love the subtle flavor of the cardamom with the strawberries, but if it's not a spice you keep stocked in your pantry, you're still going to love this chocolate chip granola without it.
Make this granola your own:
Don't have or don't like coconut oil? Substitute with canola oil or vegetable oil.
Want to make it vegan? Use maple syrup instead of honey and choose vegan chocolate chips.
Prefer milk chocolate to semisweet? Use milk chocolate chips!
Try a different freeze-dried fruit in place of the strawberries – raspberries, blueberries, or peaches would be terrific!
Add some protein and crunch to your granola with nuts or seeds. I love slivered almonds, chopped walnuts, or sunflower seeds in granola.
Can't get enough chocolate? Me neither! Try adding 1/2 cup unsweetened cocoa powder in with the dry ingredients for double the chocolate!
Tip: This granola makes a fantastic gift! Place it in a jar, tie on a bow, and you're good to go! It's great as a hostess gift or a edible Christmas present.

Storage Directions:
Store granola in an airtight container at room temperature. Make sure to cool completely before covering container to prevent steam from forming inside the container. It will make the granola soggy and it will spoil faster.
More Granola Recipes: