No boiling or draining of the potatoes required, these brown butter slow cooker mashed potatoes will become a favorite! Especially on busy days!
If you don't have a mashed potato game plan in place for Thanksgiving, I'm here to save the day. You barely have to think about these easy slow cooker mashed potatoes but they're just as creamy and perfect as they are if you make them on the stovetop. Plus, when your stovetop is already loaded up with other Thanksgiving dishes, you'll be glad you don't need another big pot taking up space on your stove.
This recipe is the ultimate shortcut and you'll find these a lifesaver for weeknight dinners and Sunday dinners alike.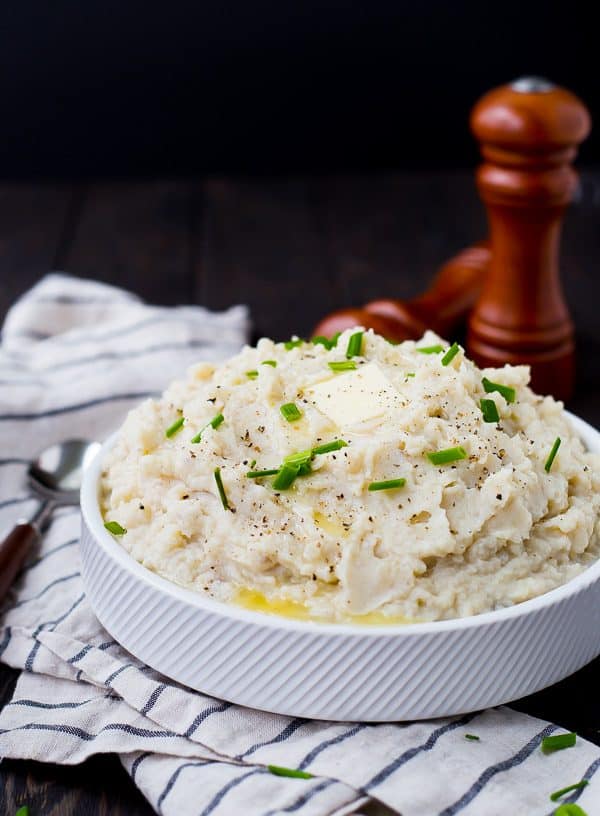 Okay, but now it's time to fess up. Mashed potatoes aren't my favorite. I like them, especially when they're as creamy and flavorful as these (hello, brown butter!), but they're not something I crave. In fact…and I'm a little scared to admit this…we're not even serving them on Thanksgiving. We host Thanksgiving and this year my sister is going to her in-law's for Thanksgiving dinner, so we only have six adults and our two kids coming.
The kids will likely just eat a roll and dessert, if we're being honest. Maybe some green beans. So that leaves the six of us. Most of us prefer sweet potatoes over mashed potatoes, and we really don't need both. I'm all for leftovers, but we also need to be reasonable about this situation. Plus we'll have a GIANT batch of stuffing thanks to my slow cooker stuffing – that's non-negotiable. There will be no shortage of carbs, rest assured.
However, I know we're probably one of the few that won't be partaking in a giant scoop of mashed potatoes with gravy this Thanksgiving – and maybe every other day. I love crispy roasted potatoes, though!
Now with all that said, if you're a mashed potato fan, these guys are for you. And for me, honestly, because if you put brown butter in or on anything, I'm supportive of that scenario.
Tip: These potatoes will brown a bit on the top when they first start cooking since they aren't submerged in water. It's okay because you're mashing it all together and no one will notice. Don't stress!
Speaking of brown butter, I will say that it is optional…kinda. You can easily make this recipe with butter that hasn't been browned if you want to skip that step, and it will still turn out fantastic. However, the brown butter gives it an extra layer of nutty flavor that will have everrrrrryone asking for the recipe. The garlic in the recipe is also optional. Again, it's an extra layer of flavor but if you're not a garlic person, skip it!
One final note – you can use whatever type of potato you like best for these slow cooker mashed potatoes. I love using red potatoes and leaving the (scrubbed clean) peelings on. I also love yukon gold, they have such a creamy texture and great flavor. I kept things classic this time with Russet potatoes.
More great potato recipes: