Welcome To Rachel Cooks!
I'm so glad you're here.
On Rachel Cooks, I share recipes that are easy to prepare and most importantly, delicious. Most of them are healthy and wholesome, but in a relaxed way, because we all have enough stress in our lives.
I'm honored and excited that you're here! If you need help finding a recipe or are looking for some inspiration, send me an email — I always respond personally!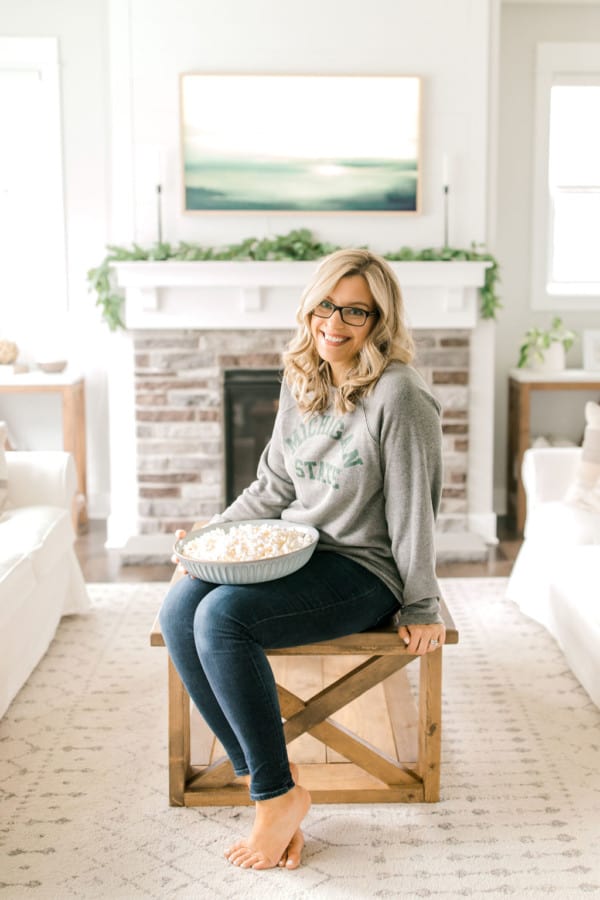 About Rachel Cooks
Cooking can really feel like such a chore sometimes, can't it? Suzie Homemaker is always making something gourmet in her gorgeous kitchen, you're convinced that your kids might be the pickiest kids on the planet, you're feeling the social media pressure to eat clean/paleo/keto/whole30/gluten-free and you're ruining your health if you're not fully aboard the latest and greatest health trend train.
It's all just so exhausting, isn't it? Add in the daily stresses of life in general, and it's probably enough to make you want to throw in the towel and order carry out on a daily basis.
You guys…it doesn't have to be like this. Life is complicated, cooking shouldn't be.
I believe that you can put a great meal on your table without:
stressing
doing dishes all night
spending hours wandering the grocery store looking for some weird ingredient
standing for hours on end in your kitchen when all you want to do is kick your feet up and relax for a second
It's possible. And I'm here to help.
Let's sit down at a virtual kitchen table and chat about this. I'd love to hear what you're struggling with in the kitchen, and I'd love to help. It's truly a joy to create recipes that make your life easier and more delicious.
If you are following a special diet for any reason, you can find also recipes categorized in my recipe index (by diet, occasion, ease of preparation, ingredient and more). Not all my recipes will be perfect for you (there are over 1,000 of them!), but there's a really great chance you'll find at least one that is.
If you're a brand or an advertiser looking to work with me, please refer to this page. My media kit is available upon request.
NEW! Check out my other site, full of the very best breakfast recipes: Pancake Recipes!
About Rachel Gurk
Hi! I'm Rachel and I'm not going to write this in third person because it feels weird. I grew up cooking with my mom and I'm so excited to be able to share my recipes here with millions of people. It's truly an honor each time any one of you makes one of my recipes, and I love hearing from you! By schooling, I'm a Doctor of Physical Therapy but that has now taken a backseat to family life and sharing recipes on Rachel Cooks.
I'm married to a high school principal who works way too hard and way too much but makes such a difference in the life of the high schoolers that I let his insane hours slide. We live in Michigan with our two precious kiddos, who I refer to here as E and N. E is 10-years-old and way too smart for her own good. N is 8-years-old and the funniest kid I've ever met. They both have severe food allergies; a topic and cause I've grown to be passionate about, for obvious reasons.
Between taking care of the kiddos and doing countless loads of laundry, I've somehow found the time to grow this site and share over 1,000 recipes since 2012. Nothing makes me happier than reading comments from readers like you saying your child ate broccoli for the first time because of my roasted broccoli recipe or that you're sharing my taco pasta recipe with your coworkers.
Featured On
Rachel Cooks has been featured on sites including The Huffington Post, Parents.com, Saveur, The Cooking Channel, and more.
Stay In Touch
Make sure you're following along with all the fun on Instagram, Pinterest, Twitter, and Facebook.
Also, sign up for my emails so you won't miss a single recipe.
Contact Me
HELLO@RachelCooks.com
You can always email me with questions, concerns, or recipe suggestions! If you're a brand or an advertiser looking to work with me, please refer to this page.
Want to know more about me? Here are some random facts in no particular order:
I love chopping celery. The sound it makes….I just like it.
I could eat popcorn every day. You might think this is an exaggeration, but it isn't.
I like my popcorn air-popped, with butter and salt. Lots of it.
My mother-in-law finds washing dishes therapeutic. A pile of dishes makes me feel like I need therapy.
I'm tall. 5'10". But I still wear heels.
I drink too much coffee. And I'll take it black, please.
I've only broken two bones in my life, my pinky (ran into a wall) and my toe (fell down after standing up while my legs were asleep).
I'm married to a very handsome USMC veteran I'm madly in love with him.
My husband and I are blessed with the most beautiful, amazing daughter ("E") and the most handsome, sweet son ("N").
I'm a Doctor of Physical Therapy.
I'm a Christian and I'm not afraid to say it. I also won't bombard you with it. Email me if you want to chat!
I'm not the most graceful person in the world.
I love the comments that you all leave on my blog. It really is one of the main reasons I do this. I love hearing from you!
I love cookbooks, and I have a ton of them, but I don't spend enough time looking at them.
My favorite herb is basil, but oddly enough parsley is coming to the top of the list too. I know it's pegged as a boring garnish but I love the fresh flavor it adds to recipes!
My husband proposed to me in London.
And we honeymooned in Jamaica. Not too shabby, right?
I used to hate cilantro, but now I love it.
I have a love-hate relationship with working out.
I can't hold a grudge.
I like all kinds of music but country is my favorite.
My nephew was born almost exactly 24 hours before my daughter. Neither my sister nor I knew the other one was trying to get pregnant.
My favorite cereal is Cinnamon Toast Crunch but I never buy it.
I didn't start liking beer until I was in grad school.
I had horrible pregnancies. Well, I threw up every day (too much info for a food blog?). I realize it could have been much worse. *shudder*
What would you like to know about me?