5 Ingredient Dinner Recipes – 15 easy recipes!
Main dish meals that are easy to prepare, these 5 ingredient dinner recipes are a lifesaver when you're busy. You won't need to fill up your grocery cart to make these recipes.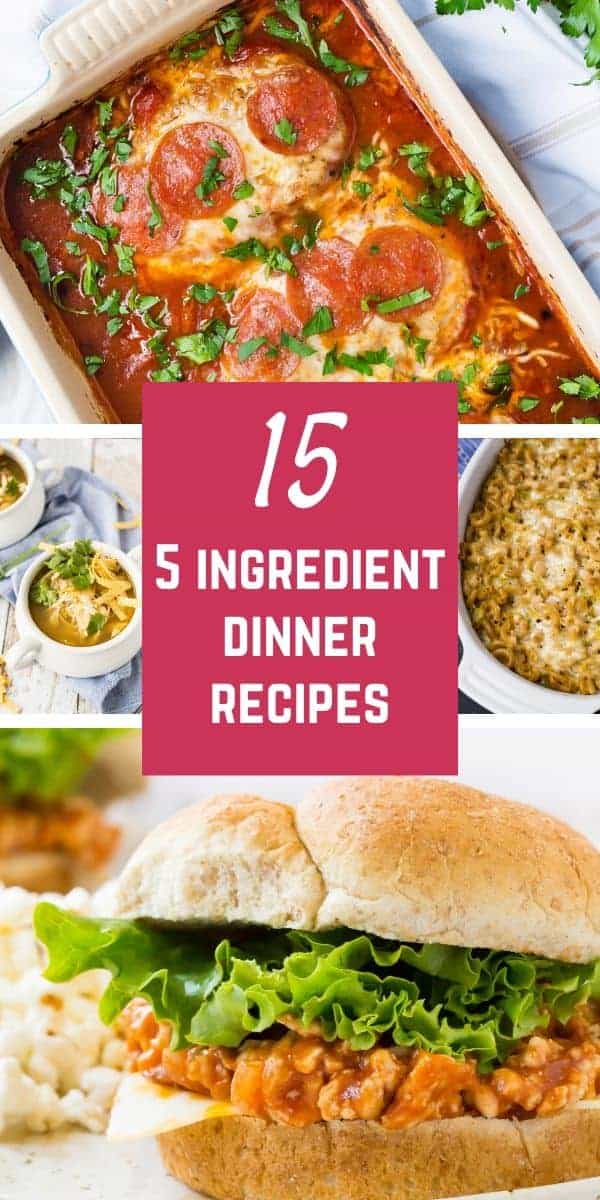 Sometimes when I'm paging through a magazine or cookbook, or scrolling through recipes online, my eye is drawn to a fabulous looking entree that I'm sure I'll want to try. My mouth already watering in anticipation, I jump to the recipe card and discover that the ingredient list is about 1000 items long.
Forget it! is my initial thought. Then I begin to look for ways to simplify the recipe.
Sometimes a more complicated recipe is fine. Maybe you're in the mood to cook, you have lots of time, or helpers, and you're ready for a challenge. But face it, most of the time we're under pressure to get dinner (or lunch, or breakfast) on the table as quickly as possible.
Many of you have expressed a frustration with having to cook after getting home from a long day at work. It's 5:30, every one is hungry, maybe even "hangry," and there's an urgent need to have dinner on the table, pronto. You don't really want to face a recipe with a laundry list of ingredients that even a well-stocked pantry can't supply.
About these 5 Ingredient Dinner Recipes
Hopefully these five-ingredient dinner recipes will help you out. Take a look at all fifteen recipes, see which ones appeal to you most, add any ingredients you don't have already to your shopping list, and enjoy cooking these easy recipes.
You'll see a good variety, everything from sloppy Joe sandwiches to squash soup. Healthy, good for you recipes, like stuffed portobello mushrooms, or pizza chicken. You'll love the green chile mac and cheese. Oh, and the slow cooker green enchilada soup which you can make in the morning. Dump five ingredients into the slow cooker, and it's ready when you get home. So easy!
Check out the recipes where eggs play the starring role. Eggs are so convenient–they have a long shelf life in the fridge, don't need to be thawed out, are super versatile, and they are a good source of protein. I love the sheet pan breakfast tostadas. Don't let the word "breakfast' influence you – these tostadas would be welcome at lunch and dinner, too. The egg white muffins with sausage and broccoli can be made ahead and are perfect for meals on the go.
And I promise you, these recipes don't include lots of ultra-processed ingredients.
So, check out this collection of 5 ingredient (or less!) recipes and hopefully, make your life a little simpler. Happy cooking!
5 Ingredient Dinner Recipes
Main dish meals that are easy to prepare, these 5 ingredient recipes can be a lifesaver when you're busy. You won't need to fill up your grocery cart to make these recipes.
This easy five ingredient, one-pan pizza chicken is a weeknight lifesaver. It's an easy crowd-pleaser of a dinner!
These easy sloppy joes come together using only FIVE ingredients, including the bun and a slice of cheese! This will become a go-to quick weeknight meal.
This shortcut squash soup is ready in just 20 minutes - but you won't miss out on any flavor. This soup is packed with nutrition and flavor!
Homemade Hot Pockets are a fun alternative to pizza night and they also make for a fun surprise in lunch boxes. Get the kids involved in making this easy recipe, too!
A great option for vegetarians, these baked taquitos are perfect for game days or even lunch. They are easy to make and you only need five ingredients!
This Chicken Parmesan Stuffed Portobello Mushrooms recipe is a quick and easy meal for busy weeknights. You could even use rotisserie chicken!
These bean and cheese taco rolls are the perfect lunchtime treat — imagine a cinnamon roll except take out the cinnamon and add lots of great southwestern flavor!
This polenta stack recipe is the perfect combination of rustic simplicity and effortless impressiveness. Ready in 15 minutes thanks to some simple shortcuts, it will become a go-to recipe in your kitchen!
Creamy and flavorful, this green chile macaroni and cheese will change the way you think about macaroni and cheese! There's no need to make a roux, so it's one of the easiest things you can make, too!
Enjoy this classic egg salad recipe as a quick and satisfying lunch or dinner. Includes a couple of no-mayo options!
Cozy and comforting, this skillet gnocchi with chicken and tomato sauce is on your table in under 30 minutes — perfect for busy nights!
What is better than a healthy breakfast that is ready and portable? You'll love these sausage and broccoli egg white muffins!
Switch up the chicken soup routine with this easy and flavorful slow cooker, 5 ingredient, green enchilada soup. Made in the slow cooker!
A Southwestern take on eggs and toast, these sheet pan breakfast tostadas are a step away from ordinary, with crunchy corn tortillas, sharp cheddar cheese, eggs, and brilliant salsa verde.
Egg white breakfast bake with sweet potato and spinach is simple to make, colorful, and the perfect make-ahead breakfast!