A real crowd-pleaser, shredded crockpot BBQ chicken is irresistible and super easy to make with 3 ingredients. Pile it on a bun or in a soft tortilla, add it to a salad or bowl, or fill a baked sweet potato.
Recipe Overview
Why you'll love it: This recipe is perfect for "watching the big game" parties or tailgater picnics. It freezes well, too.
How long it takes: 4 hours on Low, or 8 hours on High.
Equipment you'll need: slow cooker
Servings: feeds a crowd!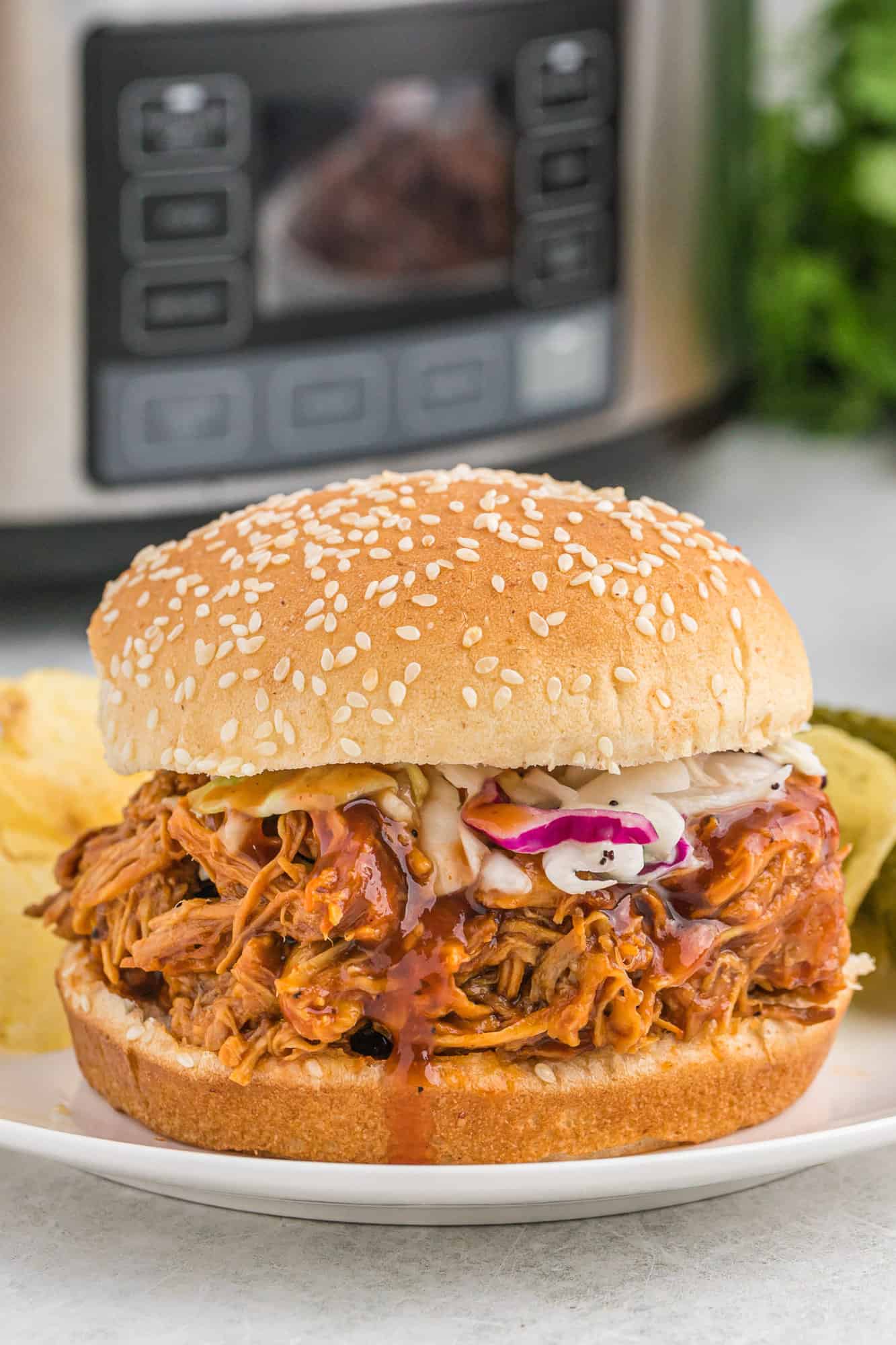 This slow cooker barbecue pulled chicken is a total hit in our house. I put it in the slow cooker in the morning and it's ready by supper time. If I don't get it cooking in the morning, it can be cooked all afternoon on High. Either way works fine.
Shredded BBQ chicken is a perfect make ahead meal, too. This recipe makes a big batch and freezes well, perfect for quick dinners when you're short on time.
I top these slow cooker barbecue pulled chicken sandwiches with my healthier coleslaw. Barbecued meat and coleslaw make a perfect sandwich in my opinion: soft bun, chewy meat, crispy creamy coleslaw, so yummy! It's a well-rounded meal: meat, bread, and vegetables. It's also great with our vinegar coleslaw or potato salad (or dill potato salad!).
If you like the idea of easy recipes with few ingredients like this BBQ chicken, take a look at my collection of 5 ingredient dinner recipes. Cooking doesn't have to be complicated!
About This Recipe
This recipe couldn't be easier. Put the chicken in the crockpot, top it with BBQ sauce, and let 'er cook. You'll love my super fast shredding method, too.
Sometimes slow cooked meats can be a bit watery. I'll show you how to remedy that little problem.
Regarding the BBQ sauce, it's okay to choose your favorite brand. Be aware that many commercial BBQ sauces contain a lot of sugar, especially in the form of high fructose corn syrup. Read the labels if that's a concern or make your own. My recipe for homemade BBQ sauce is delicious and can be tailored to fit your taste. You can make it a few days ahead, too.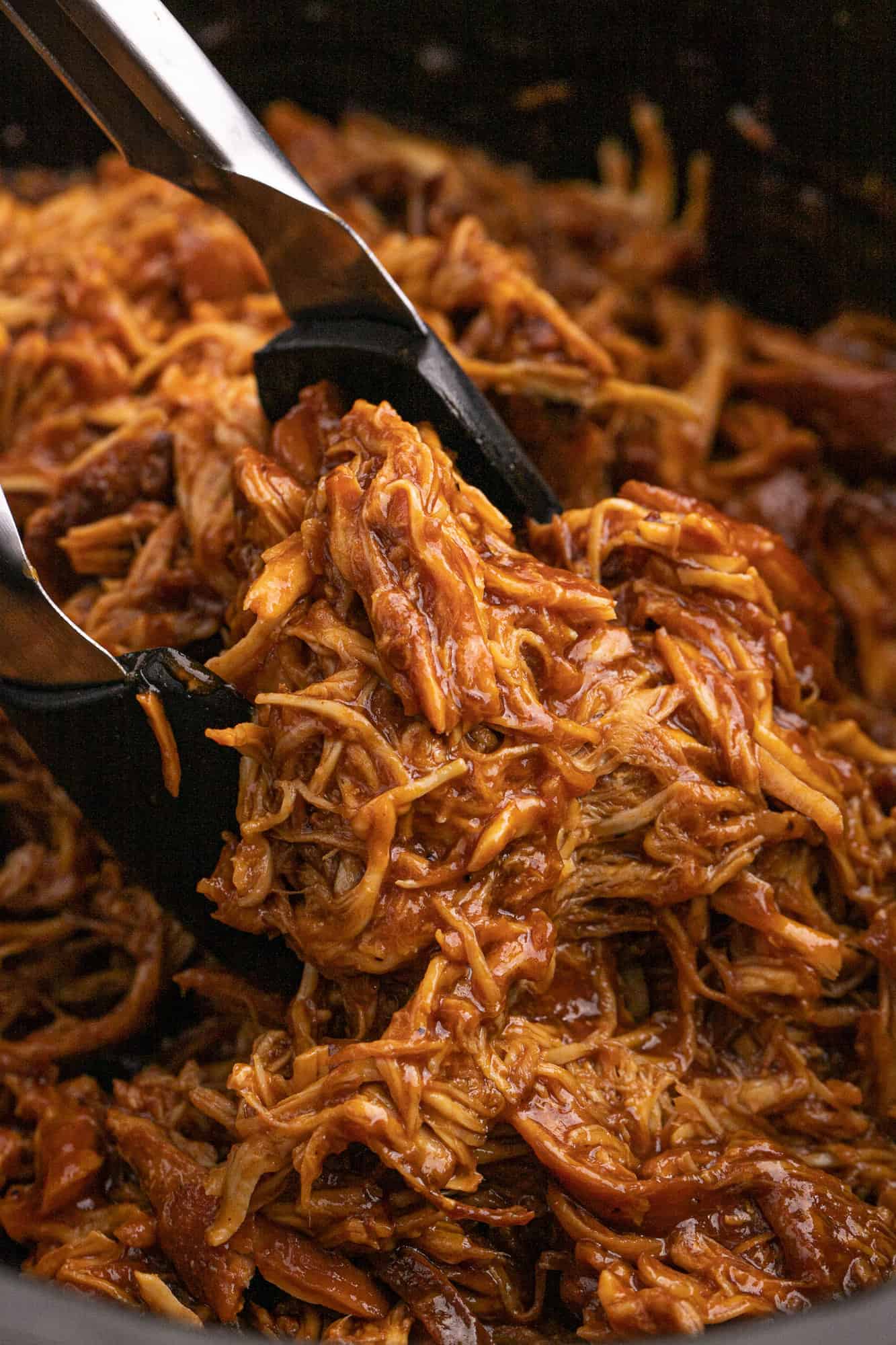 Look for the printable recipe card near the end of the post for complete instructions, measurements, and nutrition information. I'd love it if you could leave a rating or a comment, too!
What You'll Need
Boneless Skinless Chicken: Buy a large package (4 to 5 lbs.) of boneless skinless breasts, thighs, or a combination. I like a combination because dark meat has a bit more fat and gives the blend a good flavor. Just make sure it's boneless and skinless.
BBQ Sauce: Choose your favorite bottled sauce or make your own BBQ sauce.
Cornstarch: A bit of cornstarch is blended with a little water to thicken the sauce after the chicken is cooked. It keeps the sauce from being too watery.
Buns: Buy sturdy buns so you can really pile on the meat. Slider buns are great for parties because they're a little smaller and easier to handle. Soft flour tortillas are a good alternative, too.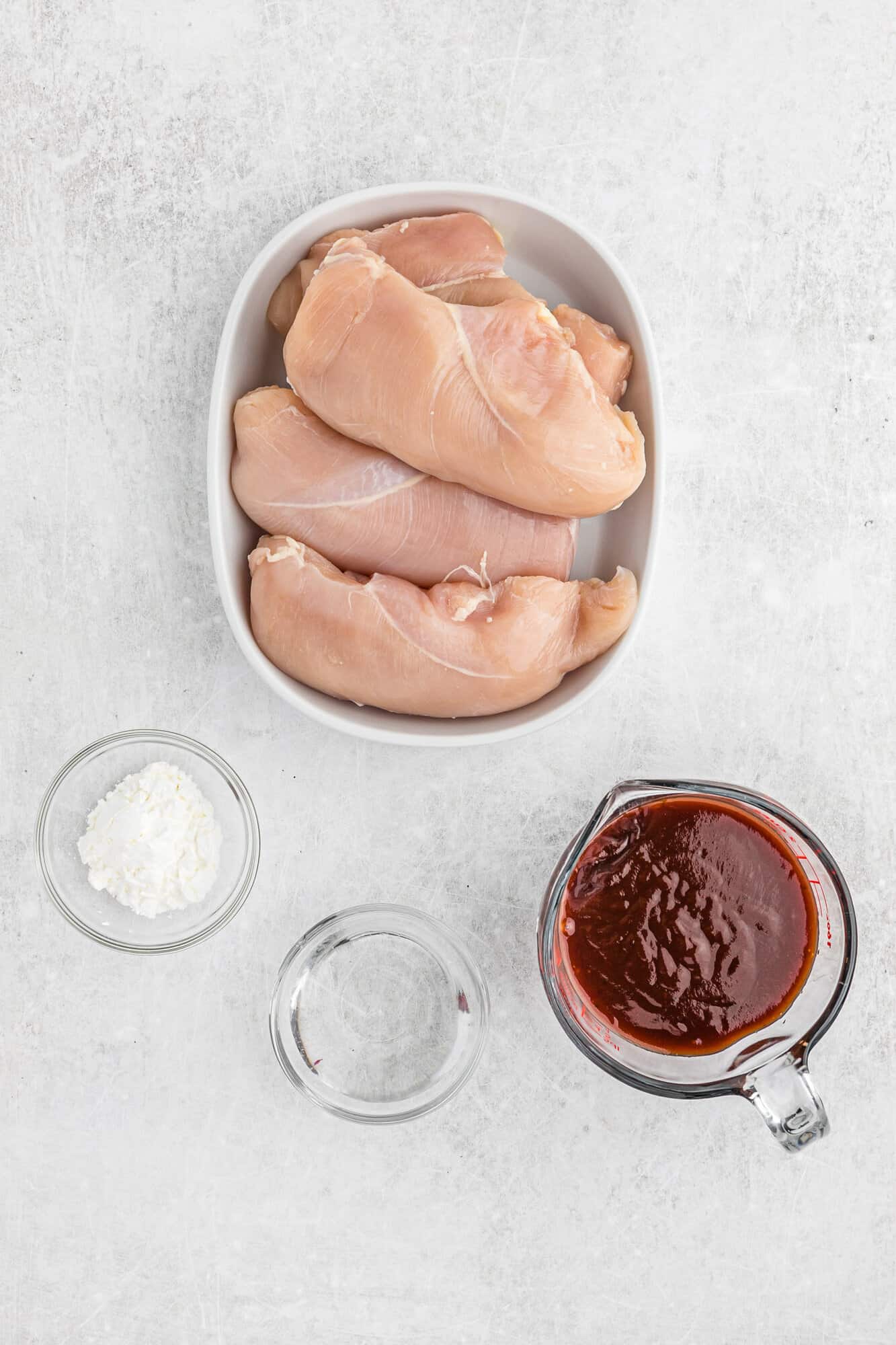 How To Make This Recipe
It will only take a few minutes to get the chicken cooking. I usually spray the inside of my crockpot lightly with nonstick spray for easy cleanup but that's up to you.
Put the chicken in slow cooker. Spread it out so it's in a somewhat even layer.
Add the barbecue sauce of your choice to the chicken. Stir lightly so the sauce coats the chicken on the top, bottom, and sides.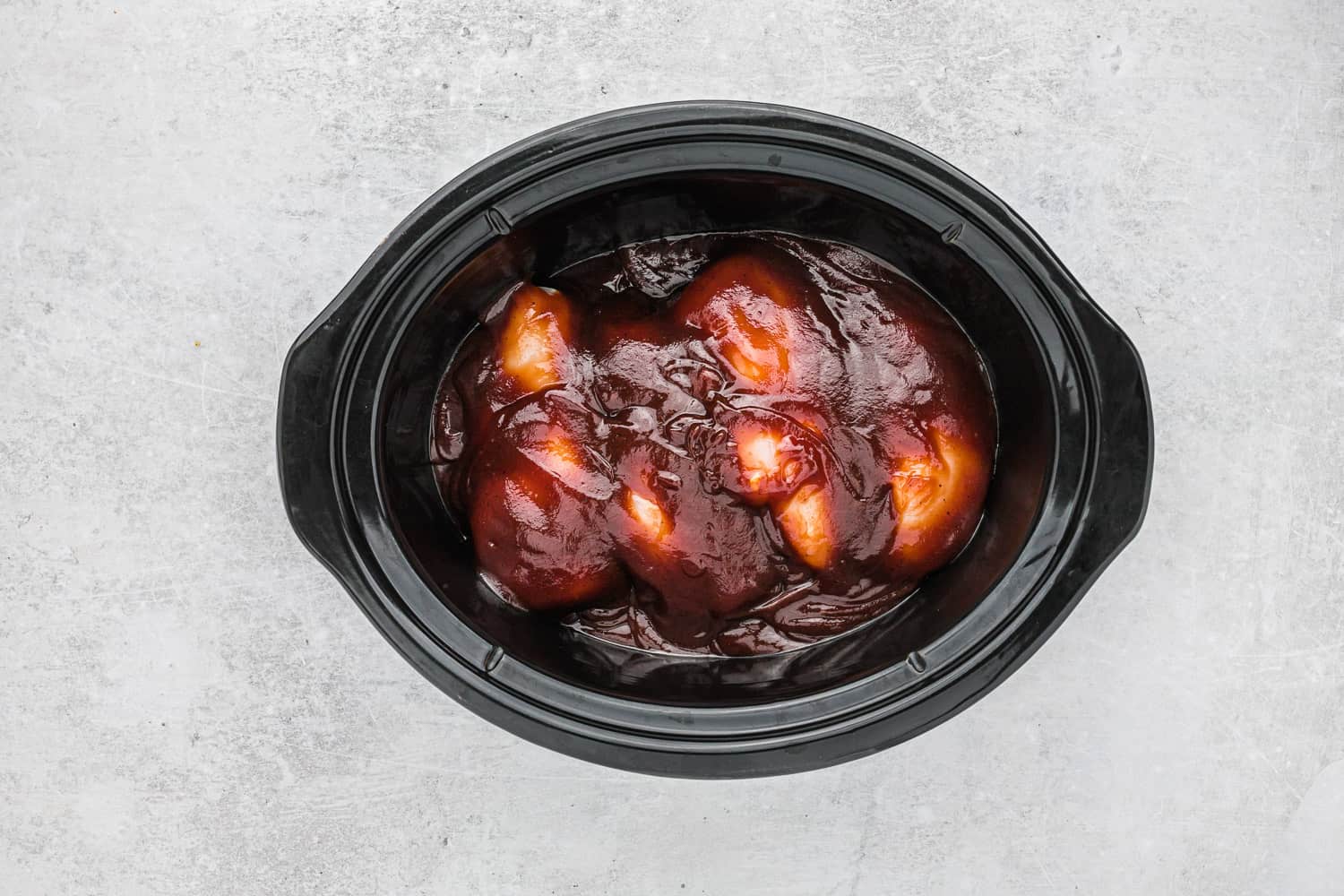 Cover the crockpot and set it on High or Low, depending on how much time you have. Cook the chicken for 3 to 4 hours on High, 7 to 8 hours on Low. The internal temperature of the thickest part should be at least 165°F. Poke it with a fork to test it; it should be fall-apart tender.
Remove the chicken pieces from the slow cooker. There are two ways to shred chicken. One way is fast and a little thrilling. Do you want to hear it? I know you do. Put the chicken in a large bowl. Use your electric hand mixer with the beaters attached to shred the chicken. I kid you not. Try it, you'll see. The chicken is perfectly shredded in about 10 seconds.
Warning: The chicken is very hot! It's a good idea to partially cover the bowl with a clean dish towel as you shred the chicken so you don't get hit by bits of burning hot chicken.
The other way to shred chicken is a bit more traditional. Use two forks to split, separate and shred the chicken.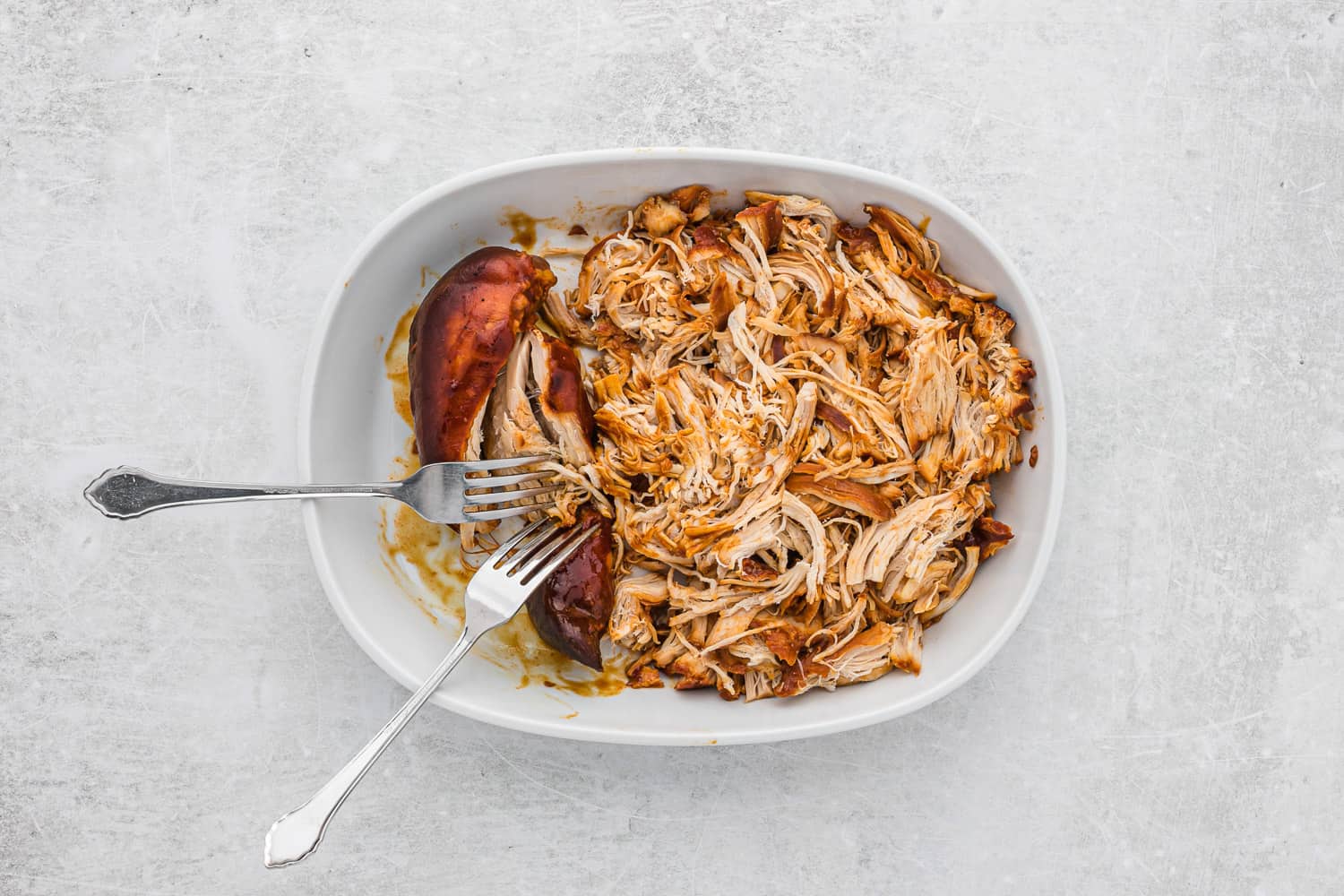 You'll notice that the sauce in the crockpot looks a little watery. The juices from the chicken add quite a bit of liquid. No one wants a watery sandwich. You can easily remedy this problem with a bit of cornstarch.
Turn the slow cooker on High. Mix two spoonfuls of cornstarch with water until it's blended. Slowly pour the cornstarch/water mixture into the sauce in the crockpot, stirring constantly. Keep cooking it for a couple of minutes until the sauce thickens and becomes translucent.
Stir the shredded chicken into the sauce and keep it warm on Low or Warm until it's time to serve it.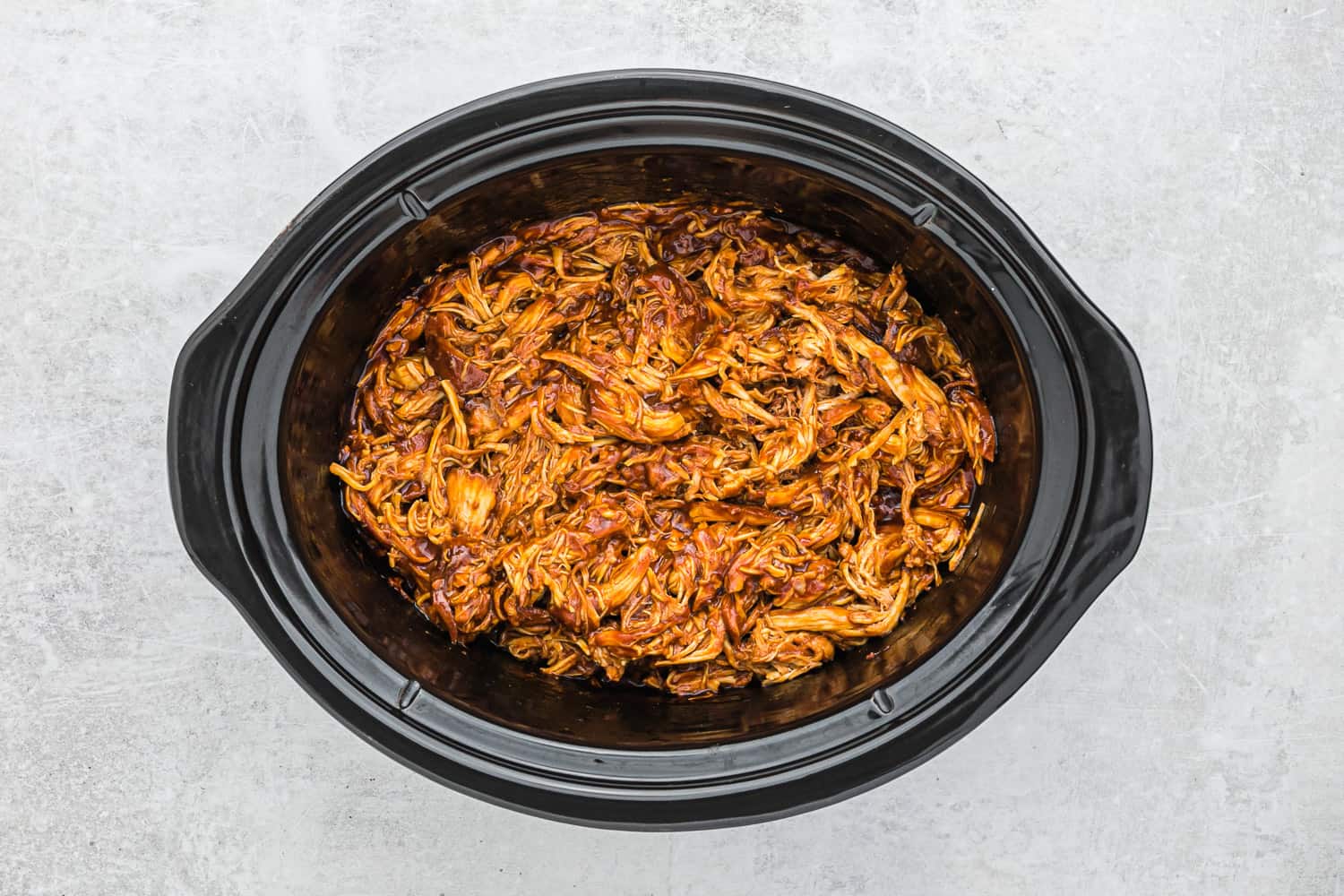 FAQs
Can you put frozen chicken in a slow cooker?
According to the USDA, you should thaw meat before cooking it in a slow cooker. Because of the low temperatures of a crockpot, it may take too long for the meat to come to a safe temperature which may result in illness caused by bacteria growth.
Best practice: Thaw frozen meat overnight in the refrigerator. If it's still slightly frozen, start it on High for an hour. Try not to remove the lid because much of the heat escapes when the lid is off.
Is it better to cook chicken on high or low in a crockpot?
According to America's Test Kitchen, it's preferable to cook boneless skinless chicken breasts on Low. I always check the chicken with an instant read thermometer. It should be at least 165°F. Dark meat (chicken thighs) is more forgiving due to the higher fat content.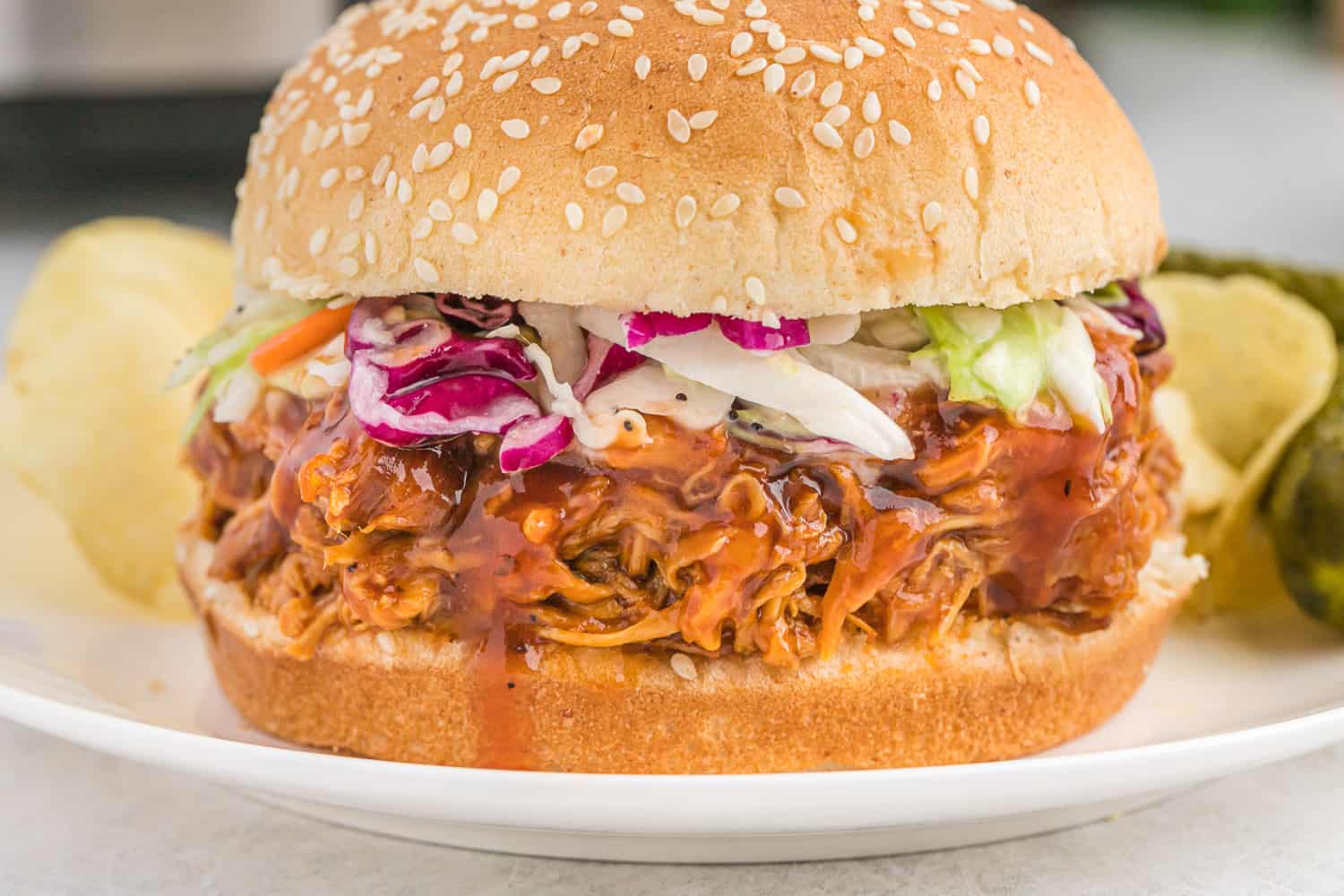 Make-Ahead Idea
Since this recipe makes a big batch of chicken, it's ideal for food prepping or making ahead. It keeps well in the freezer for 4 to 6 months. Freeze it in freezer bags and flatten it before freezing for quick thawing.
Storage & Reheating Tips
Leftover BBQ chicken should be refrigerated promptly in a covered container. It will keep for 3 or 4 days. If you have a lot left over, spread it out in a large shallow pan to cool it off more quickly.
To reheat, simmer it on the stove until heated through. Single portions can be microwaved.
Leftover Love
As I mentioned above, shredded BBQ chicken isn't just for buns. Make a BBQ chicken chopped salad, a BBQ chicken pizza, or BBQ chicken bowls. Fill a baked potato or sweet potato with BBQ chicken and top it with a spoonful of coleslaw for a hearty meal. BBQ chicken nachos are another exciting possibility.
Interested in a weekly meal plan (it's free!) that includes this BBQ chicken? Take a look at my Meal Plan #11. You'll find a wholesome recipe for each weekday plus a categorized grocery list. Let me do the planning for you this week!
Slow cooker sandwiches
Here are a few of my favorite recipes:
Did you make this? Be sure to leave a review below and tag me @rachelcooksblog on Facebook, Instagram, or Pinterest!
Crockpot BBQ chicken is irresistible and a real crowd-pleaser! With only 3 ingredients, it's super easy to make.
Ingredients
4

pounds

boneless skinless chicken breasts

(or a mix of thighs and breasts)

2

cups

barbecue sauce

(choose your favorite brand or make your own)

2

tablespoons

cornstarch

3

tablespoons

water

buns and coleslaw, for serving, if desired
Instructions
Spray inside of slow cooker with nonstick cooking spray, if desired.

Add chicken to the bottom of a large (6 or 7 quart) slow cooker. Add barbecue sauce and stir to coat chicken.

Cover, and cook on high for 3 to 4 hours, or on low for 6 to 7 hours.

Remove chicken to a plate and shred using two forks. Alternatively, place chicken in large bowl and use a hand mixer to shred the chicken.

In a small bowl, mix together cornstarch and water until smooth. Turn crockpot to High. Slowly stir the cornstarch mixture into the sauce. Cook, stirring constantly for one to two minutes, or until sauce thickens slightly and is no longer cloudy.

Add the shredded chicken. Stir well to coat. Keep warm until ready to serve.

Serve on toasted bun with slaw.
Notes
If desired, use a combination of boneless skinless chicken breasts and thighs or all breasts or all thighs, up to 5 pounds.
To freeze: Cool BBQ chicken quickly by spreading it out in a shallow pan and refrigerating it. Once it's cool, place in freezer-safe bags, flatten, and freeze for up to six months.
Recipe updated 6/1/2022.
Nutrition Information
Serving:
0.5
cup
,
Calories:
195
kcal
,
Carbohydrates:
15
g
,
Protein:
24
g
,
Fat:
3
g
,
Saturated Fat:
1
g
,
Polyunsaturated Fat:
1
g
,
Monounsaturated Fat:
1
g
,
Trans Fat:
1
g
,
Cholesterol:
73
mg
,
Sodium:
500
mg
,
Potassium:
503
mg
,
Fiber:
1
g
,
Sugar:
12
g
,
Vitamin A:
114
IU
,
Vitamin C:
2
mg
,
Calcium:
18
mg
,
Iron:
1
mg
This website provides approximate nutrition information for convenience and as a courtesy only. Nutrition data is gathered primarily from the USDA Food Composition Database, whenever available, or otherwise other online calculators.