Vinegar Coleslaw (no mayonnaise)
Tangy vinegar coleslaw is crunchy and bursting with color and flavor. With a mayonnaise-free dressing, this coleslaw is a healthy alternative to creamy coleslaw.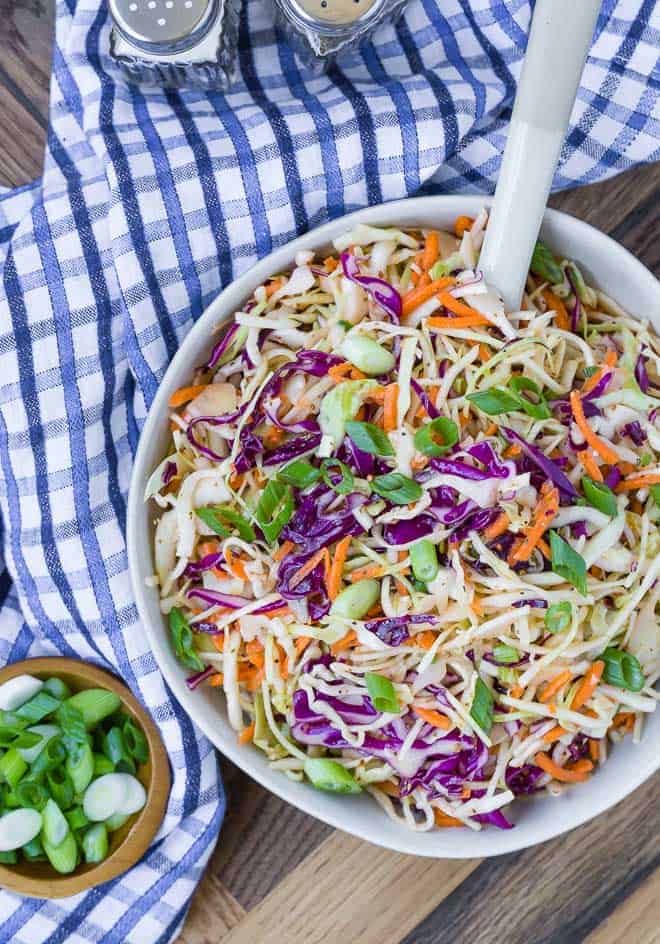 Isn't this a beautiful colorful salad? I love the purple, green, and orange explosion of color. It's like fireworks in a bowl!
The flavors of vinegar coleslaw explode in your mouth, as well. Maybe I'm carrying the "explosion" theme too far, but really, I can't say enough about this colorful and flavorful coleslaw. I'm getting a bang out of all these adjectives and I'm just bursting to tell you about this recipe. All right, that really is too much, isn't it? I'll chill out.
Speaking of chilling out, vinegar coleslaw is a perfect make ahead recipe. This coleslaw actually tastes better if it spends some time chilling in the fridge, at least an hour but up to a week. It's almost like a quick cabbage pickle. If you haven't tried quick pickles yet, make sure you don't miss pickled red onions, or refrigerator dill pickles. Pickled asparagus is really tasty, too, and makes an elegant addition to your charcuterie plate.
Coleslaw has been around for eons, back to Roman times. Since mayonnaise is relatively new on the scene, the first coleslaw recipes probably were similar to this vinegar-based one. The ingredients are simple and it keeps well. The Romans probably kept it in stone jugs or something.
While I love creamy coleslaw, there's definitely a place in my heart for vinegar coleslaw. Lower in calories and fat, with loads of nutrition (all that cabbage and carrots!), it's a win-win. You're going to love it!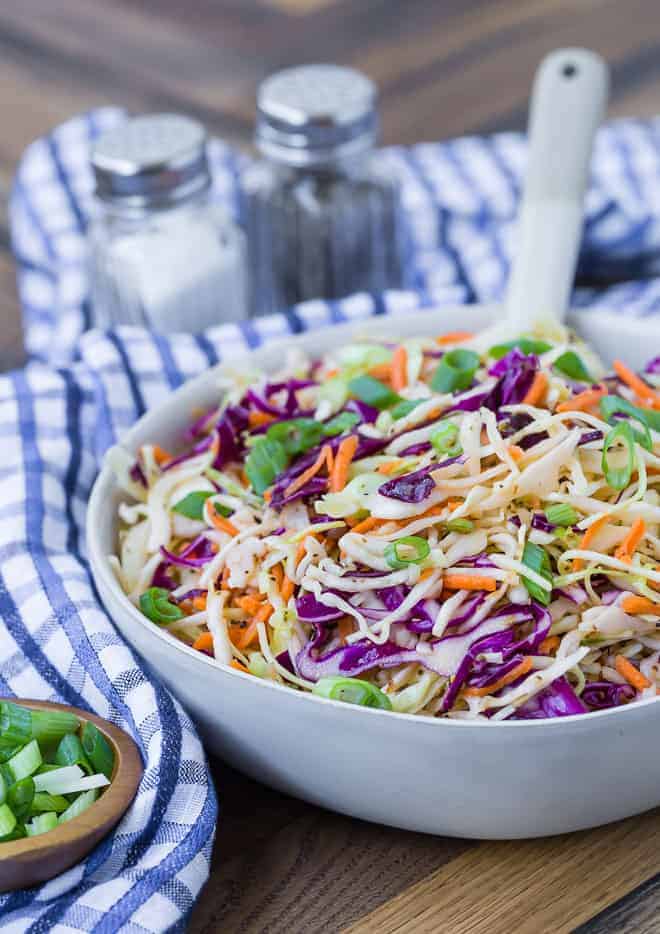 About this vinegar coleslaw:
Whether you use a a couple bags of coleslaw mix, or shred your own cabbage, this is an easy salad to make. I use my food processor to shred both red and green cabbage for a really colorful salad.
My seven year old son is so impressed by how the food processor annihilates the cabbage. It makes quick work of the carrots, too. Watching his amusement reminds me to enjoy the small things in life.
Green cabbage, red cabbage (why is it called "red" when it clearly is purple?), carrots, and green onions comprise the veggies. Go ahead and add other veggies if you like.
The dressing is a simple vinaigrette:
apple cider vinegar
a few tablespoons of mild tasting oil (I like to use grapeseed)
a bit of sweetener
Dijon mustard
dried celery seed
salt and pepper
Add the cabbage mixture, stir well, and refrigerate. Isn't that so easy?
Vinegar coleslaw is perfect for picnics and potlucks. Since it isn't mayo based, you don't have to worry as much about it spoiling on a warm day.
Serve vinegar coleslaw as a side dish with pretty much anything. The tangy flavor and crunchy texture go well with grilled entrees, such as salmon, chicken, or steak. It's great with burgers and hotdogs, too. Try a spoonful right on your burger, hotdog, or pulled pork sandwich.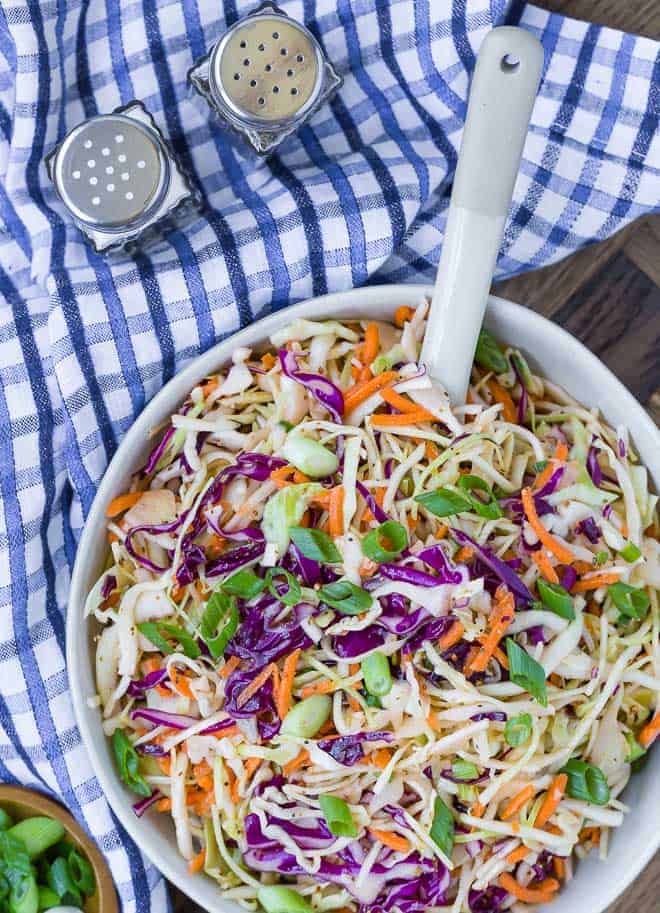 How to make this coleslaw your own:
There are plenty of ways you can make this your own special salad. Here's a few suggestions:
If you're not a fan of red cabbage, replace it with extra green cabbage. Or try a different variety of cabbage.
Add more veggies. Try red or green bell peppers or chopped onion.
Substitute a different kind of vinegar: plain white vinegar, rice vinegar, white wine vinegar, whatever you like. Each type of vinegar will impart a different flavor.
Add herbs. Chopped fresh parsley or cilantro would be good choices.
Boiling the dressing: My mom always boiled the vinegar dressing before adding it to the cabbage. The coleslaw will keep longer in the fridge.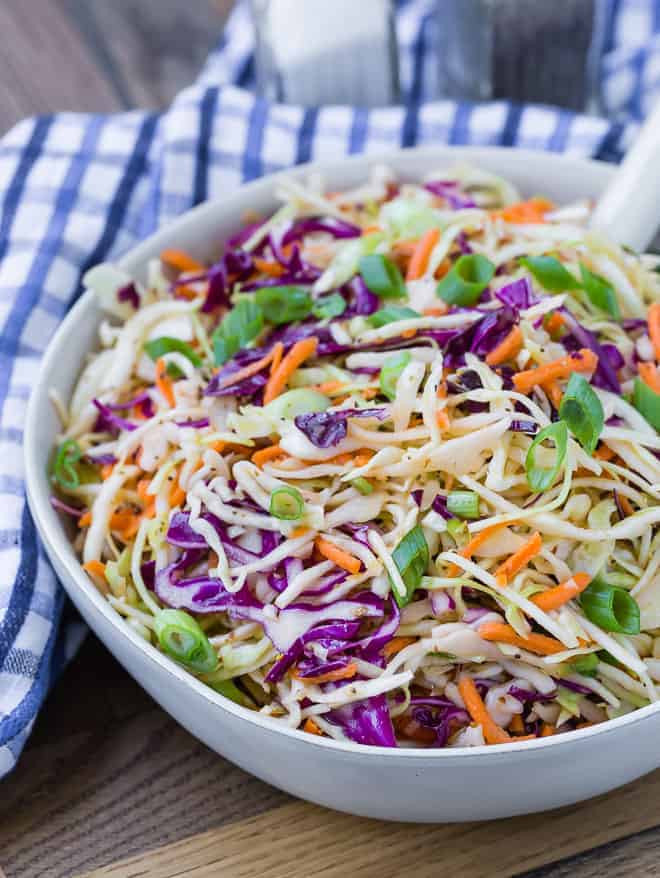 Storage and Reheating Tips
Store leftover coleslaw, tightly covered, in the fridge for up to a week.
Just a warning: the red cabbage tends to bleed its color, turning the salad kind of pink. This doesn't affect the flavor at all and if you have a young daughter, it could be a selling point. If you would rather not experience this, simply make the salad using all green cabbage. Red cabbage does contain 30% more vitamin C than green cabbage.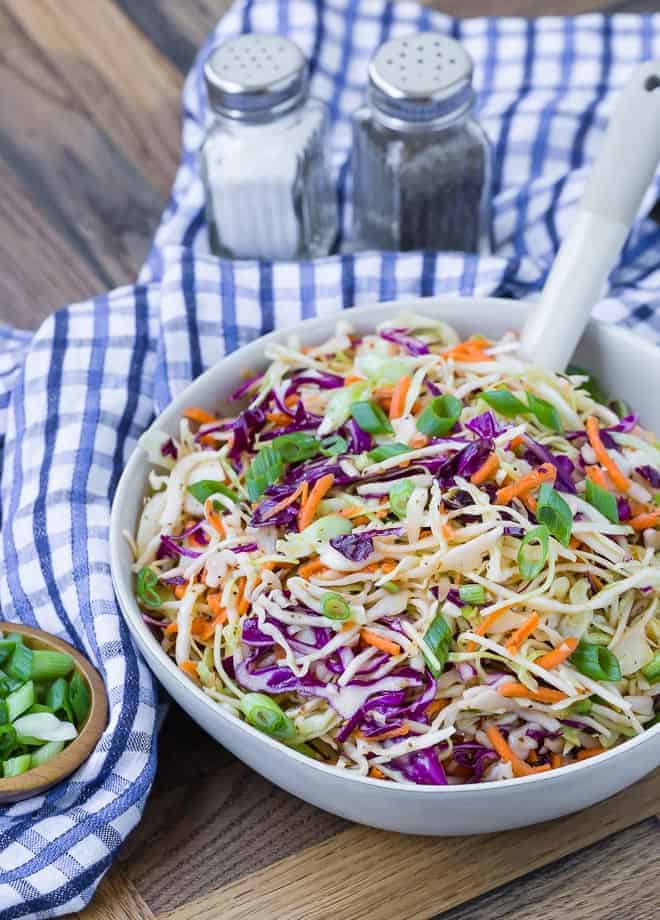 Summer salads:

While salads are appreciated year round, there are some salads that just say summer. Here's a few of my favorites: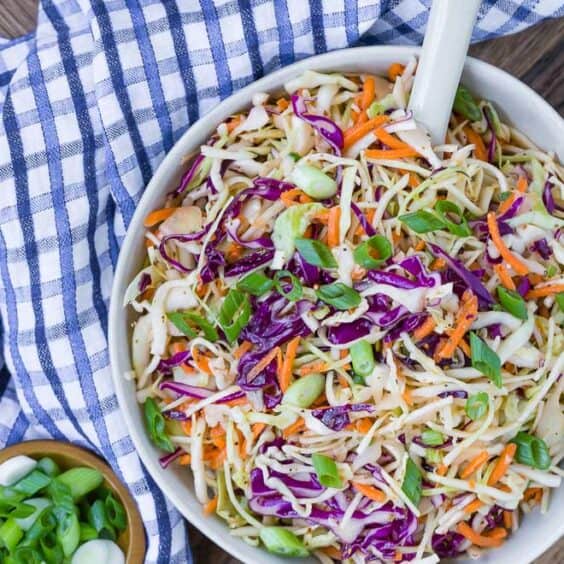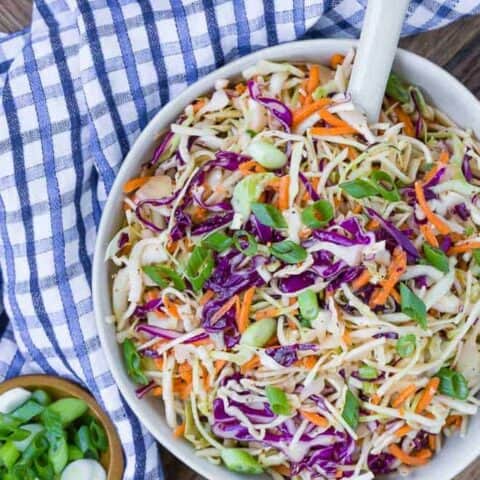 Vinegar Coleslaw (no mayonnaise)
Yield: 10 servings
Prep Time: 15 minutes
Additional Time: 1 hour
Total Time: 1 hour 15 minutes
Tangy vinegar coleslaw is crunchy and bursting with color and flavor. With a mayonnaise-free dressing, this coleslaw is a healthy alternative to creamy coleslaw.
Ingredients
Salad
6 cups shredded cabbage, approx. 1/2 head of cabbage (see note)
2 cups shredded red cabbage
1 1/2 cups shredded (or matchstick) carrots (about 2 large carrots)
1/3 cup thinly sliced green onions (about 3 green onions)
Dressing:
1/3 cup apple cider vinegar
3 tablespoons grapeseed oil (olive, canola or vegetable)
1 tablespoon agave (or honey or granulated sugar)
1 tablespoon Dijon mustard (we recommend the grainy kind)
1 teaspoon celery seed
1 teaspoon kosher salt
1/2 teaspoon coarse ground black pepper
Instructions
In a small bowl or measuring cup, whisk together dressing ingredients. In large bowl, combine cabbages, carrots, green onions, and dressing. Mix well.
Refrigerate for at least one hour before serving. Stir well before serving.
Coleslaw will keep up to one week in the refrigerator.
Notes
Use your favorite variety of cabbage or a combination. All green cabbage is fine, too.
Substitute two 16 oz. bags of coleslaw mix for the cabbage and carrots.
Add more veggies. Try red or green bell peppers or chopped onion.
Substitute a different kind of vinegar: plain white vinegar, rice vinegar, or white wine vinegar.
Add chopped fresh parsley or cilantro.
Recommended Products
As an Amazon Associate and member of other affiliate programs, I earn from qualifying purchases.
Nutrition Information:
Yield: 10
Serving Size: 1 of 10
Amount Per Serving:
Calories: 90
Total Fat: 4g
Saturated Fat: 0g
Trans Fat: 0g
Unsaturated Fat: 4g
Cholesterol: 0mg
Sodium: 274mg
Carbohydrates: 12g
Fiber: 4g
Sugar: 7g
Protein: 3g
RachelCooks.com sometimes provides nutritional information, but these figures should be considered estimates, as they are not calculated by a registered dietitian. Please consult a medical professional for any specific nutrition, diet, or allergy advice.
Verdict:
This is my 2020 summer salad. I can't get enough of it.
Husband's take:
Ben has no complaints and he prefers this to creamy coleslaw, as he isn't a big mayo fan.
Changes I would make:
None at all are necessary!
Difficulty:
Easy!