Refrigerator Dill Pickles – Quick and Easy
You're going to love these easy refrigerator dill pickles! You can make your own homemade dill pickles in less than fifteen minutes, no canning necessary!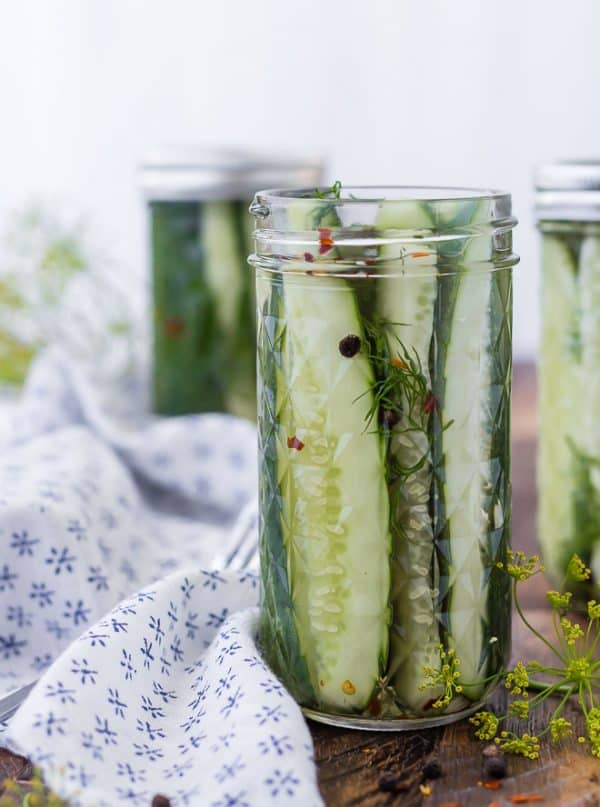 I confess I'm not a gardener. My grandparents always had an amazing vegetable garden and every time we visited them, we went home with whatever they had picked that day. There was usually a bucket of green or yellow beans, cucumbers, tomatoes, or zucchini by their back door which we were encouraged to take home.
I love the taste of summer, don't you? Today I'm going to share a recipe with you that will give you a tasty way to use some of that wonderful summer produce: refrigerator dill pickles.
Don't you love opening a new jar of pickles? After a satisfying pop when the lid comes off, the tangy dill-y smell beckons you to dive in. Did you know that making your own pickles is so easy? You don't have to spend long hours in the kitchen canning them.
Here's how you do it: Slice up cucumbers, put the spears into a jar, pour an easy-to-make brine over them, and stick them into the fridge to chill. It's as simple as that! And they are soooo good! Crispy, fresh, and flavorful, the flavors of the cucumbers and dill really shine.
All right, pickle makers, are you on board? Here we go…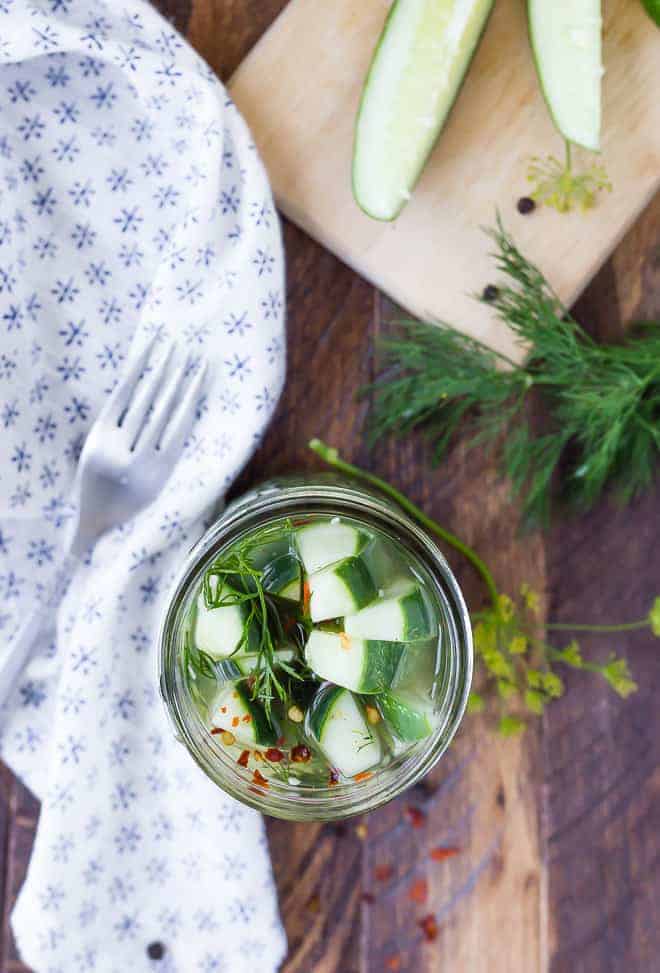 About these Refrigerator Dill Pickles
There are a lot of recipes for refrigerator dill pickles out there. In fact, you can pickle most any vegetable. Today, I'm going to show you how to make refrigerator pickles with a pickle recipe that is simple and uncomplicated.
Cut up the cucumbers. I use the small salad type cucumbers that are about six inches long and maybe one and a half inches in diameter. You can usually buy them in bulk at the grocery store. Slice them into rounds or cut them into spears. If you're making them to eat on a hamburger, you'll probably want to slice them into thin rounds. If you like them on the side with a sandwich, cut the cucumbers into spears. You're the boss!
Put your cucumbers into a jar. You can use any clean glass jar with a lid that fits tightly. If you have canning jars, perfect. If you have an empty pickle jar, that will work as well. Or a spaghetti sauce jar. Just make sure it's nice and clean.
Drop in your flavoring: fresh dill (sprigs and flowers), whole garlic cloves, peppercorns, red pepper flakes, whatever you like!
Make an easy brine of water, vinegar, salt, and sugar, and pour it into the jar! Put the cover on, place in the refrigerator, and you're done! It's as easy as that! The hard part is waiting for the pickles to chill out for an hour or so.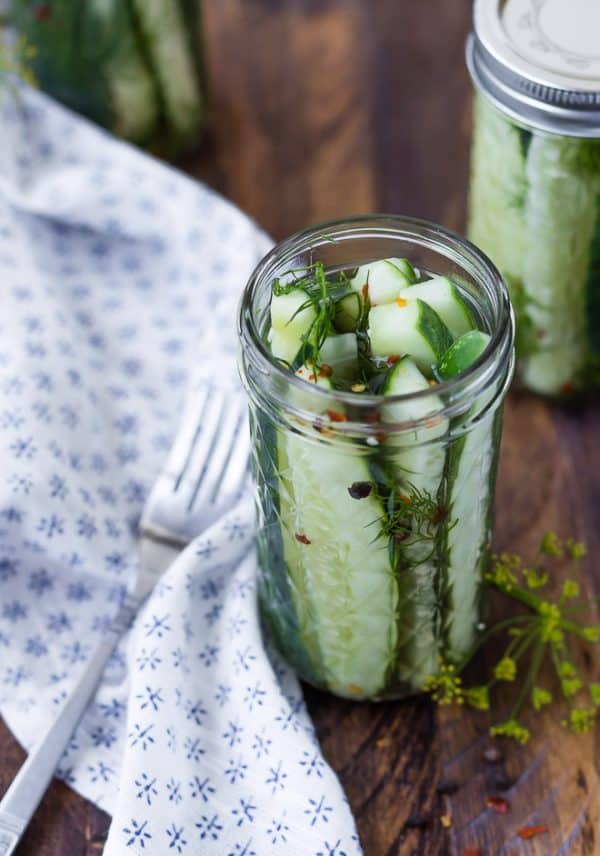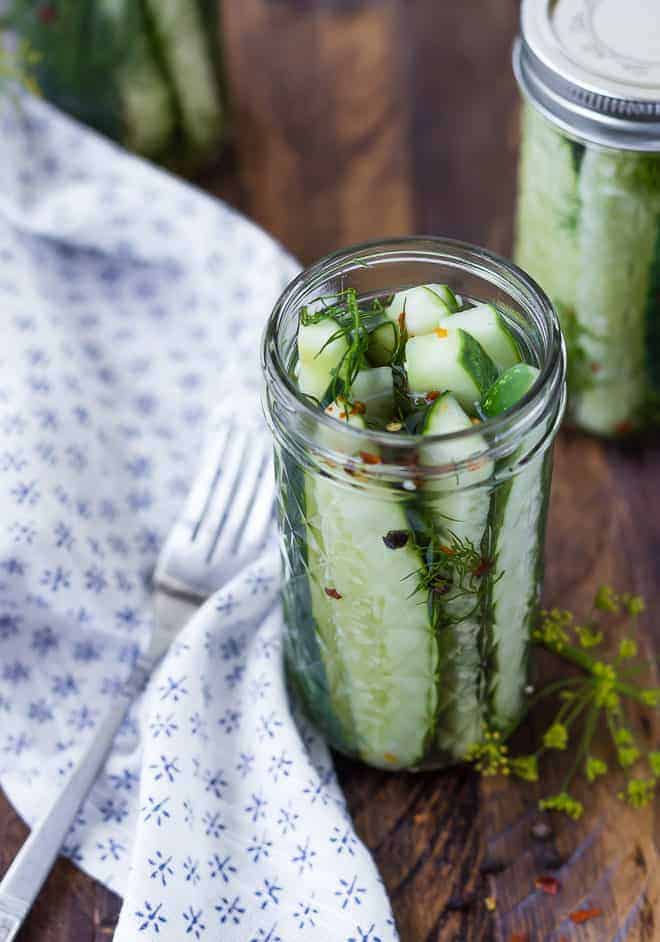 How to make these pickles your own:
You can customize these pickles in a variety of ways.
If you like sweeter pickles, add more sugar to the brine. If you want to try making them sugar-free, go for it! It will affect the flavor, but they'll be good and tangy!
You don't have or like plain white vinegar? Use cider vinegar or rice vinegar. I wouldn't recommend balsamic. Brownish pickles? No thanks!
Add a whole garlic clove for garlic dills, or throw in some thinly sliced onions.
Change up the spices! Take a look at your spice collection and scavenge for whole spices: celery seed, mustard seed, whole cumin seeds, you get the idea.

Pickle FAQs
How long do refrigerator dill pickles last?
They won't last long because they're so delicious! Seriously, though, you can keep these refrigerator dill pickles for a couple of weeks. If the brine starts to look cloudy, it's probably time to throw them out.
What is the difference between pickling cucumbers and regular?
As I mentioned above, I use the small salad type of cucumber. If you grow your own, or if you buy them at a farmers' market, they will probably be called pickling cucumbers.What's the difference between these cucumbers and a regular one? Seeds and skin! A normal cucumber will have larger, tougher seeds and also a thick skin. Pickling cucumbers are a little more textured on the outside, their skin is soft and completely edible, and the seeds are small. Perfect for making pickles!
Do you need to sterilize jars for refrigerator pickles?
Sterilizing jars for refrigerator pickles is completely unnecessary. Do make sure that the jar(s) that you use are squeaky clean! Your dishwasher does a great job of getting jars ready for pickles.
Can you reuse pickle brine for new pickles?
I wouldn't recommend reusing the pickle juice/brine or the pickling spices. It would affect the quality of your pickles and also shorten the time they would keep in your refrigerator. The brine ingredients are inexpensive (mostly water and vinegar!) so it really isn't advisable to reuse it.
How long does it take for a cucumber to become a pickle?
You can eat these pickles an hour after you make them and they will have loads of pickle flavor. Leaving them in the fridge overnight will give the flavors a chance to develop and strengthen. It's up to you!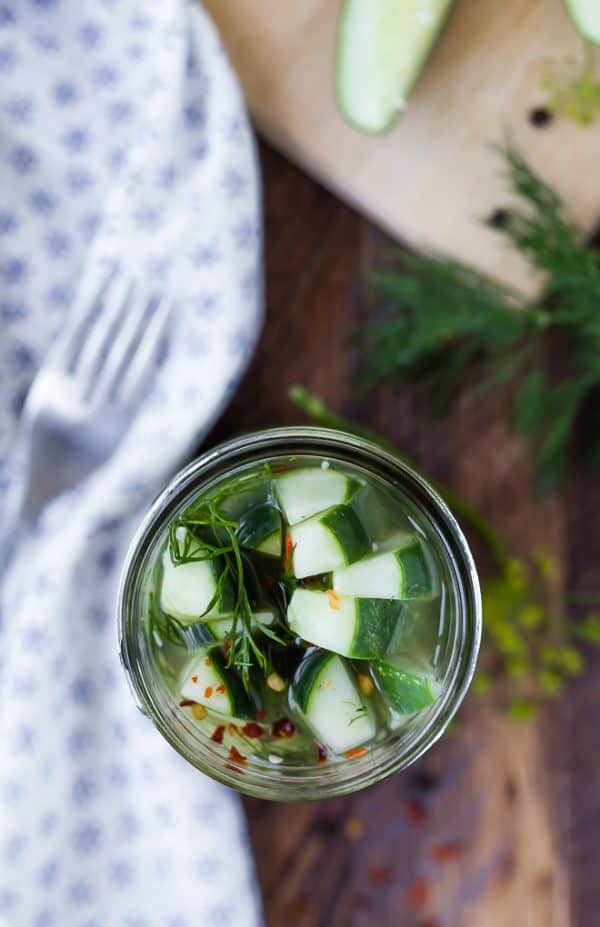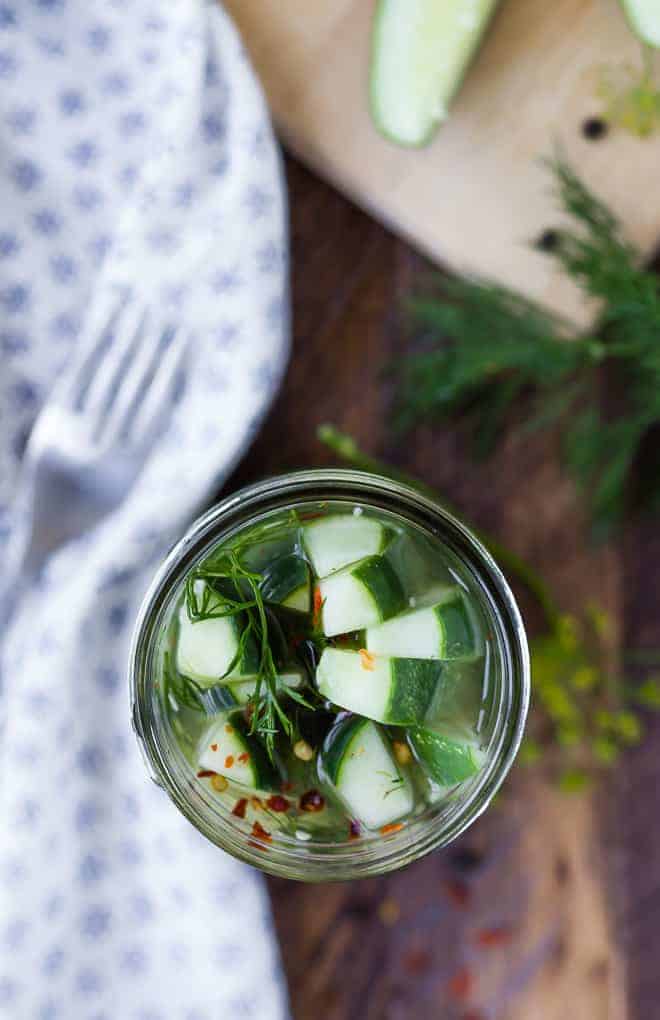 Love the idea of a quick pickle?
Try these recipes!
If you're looking to can dill pickles, my friend Rebecca over at Foodie with Family has you covered with these Home Canned Garlic Pickles. She is a canning expert!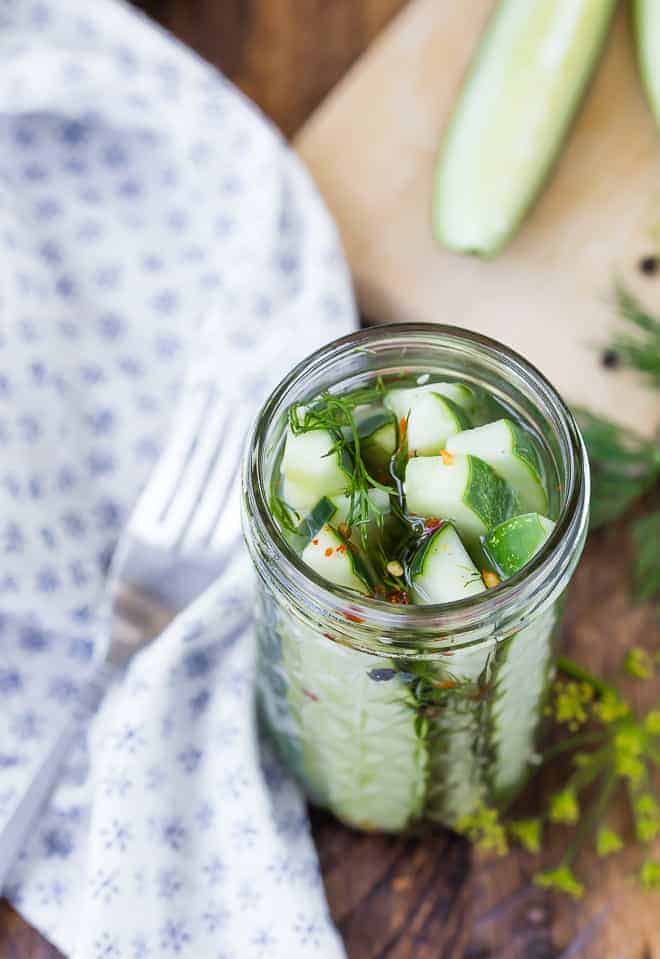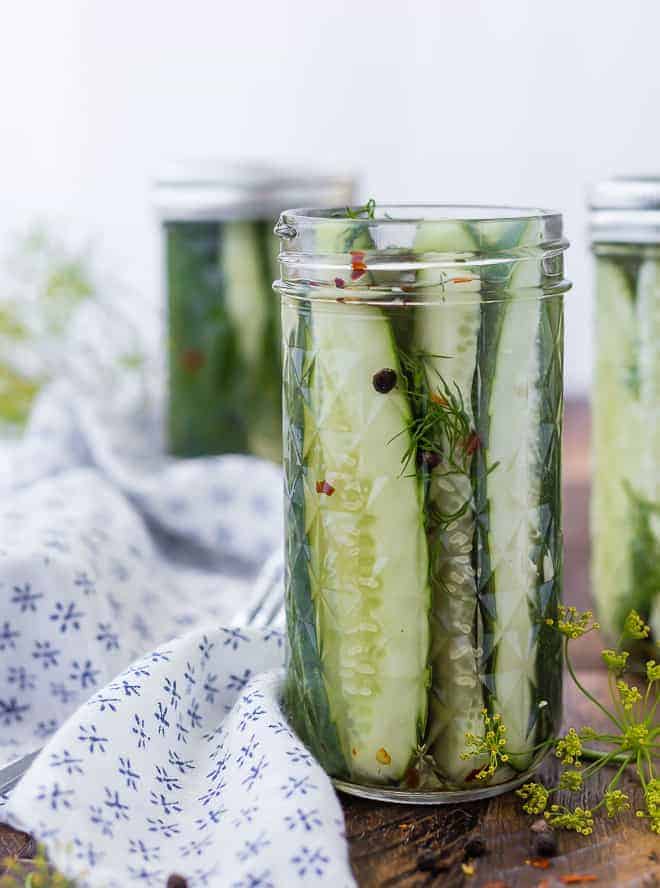 Refrigerator Dill Pickles - Quick and Easy
Yield: 8 servings
Prep Time: 15 minutes
Additional Time: 1 hour
Total Time: 1 hour 15 minutes
You're going to love these easy refrigerator dill pickles! You can make your own homemade dill pickles in less than fifteen minutes, no canning necessary!
Ingredients
4 small "salad" cucumbers, scrubbed and cut lengthwise into spears (see note)
½ cup fresh dill, loosely packed, washed and separated into sprigs
½ teaspoon black peppercorns (about 5 per jar)
1 1/2 cups boiling water
3/4 cup white vinegar
1 ½ teaspoons kosher salt
1 ½ teaspoons granulated sugar
1/2 teaspoon red pepper flakes, optional
Instructions
Prepare brine: in large measuring cup or bowl, mix boiling water, vinegar, salt, sugar, and red pepper flakes.
Place cucumber spears into clean jars, packing tightly. Add dill sprigs and peppercorns.
Pour brine into jars, over cucumbers, to ¼ inch of top of jar. Cover jars with lids, let cool to room temperature. Put into refrigerator for at least 1 hour, and up to 2 weeks.
Notes
You can use any combination of glass jars or put all the pickles in one quart size jar. It's important that the jars are glass, have a lid that fits tightly, and are cleaned and rinsed thoroughly. You could use recycled jars if you want.
Salad cucumbers are roughly 5 inches long and 1 1/2 inches in diameter. You could also use English cucumbers.
If you prefer, cut cucumbers into sliced rounds instead of spears.
If you would like to try some flavor variations, try adding whole seeds, such as coriander, cumin, celery, mustard, and/or garlic cloves to the jars. Be creative and have some fun!
Nutrition Information:
Yield: 8
Serving Size: 1
Amount Per Serving:
Calories: 86
Total Fat: 0g
Saturated Fat: 0g
Trans Fat: 0g
Unsaturated Fat: 0g
Cholesterol: 0mg
Sodium: 488mg
Carbohydrates: 5g
Fiber: 2g
Sugar: 3g
Protein: 2g
RachelCooks.com sometimes provides nutritional information, but these figures should be considered estimates, as they are not calculated by a registered dietician. Please consult a medical professional for any specific nutrition, diet, or allergy advice.
Verdict:
I absolutely love these pickles. They're crispy, light, fresh and just the easiest to make. When I have a jar in the fridge, I can't stop eating them!
Husband's take:
Ben isn't a huge pickle fan. More for me!
Changes I would make:
None are necessary, but have fun with some of the adaptations. If you like them slightly more tangy, try increasing the vinegar measurement slightly and decreasing the water measurement.
Difficulty:
Very easy!