Homemade Tzatziki Recipe (Cucumber Yogurt Sauce)
Creamy homemade tzatziki, an authentic Greek cucumber yogurt sauce, is easy to make and so delicious! Use tzatziki in a variety of ways, as a dip, dressing, or sandwich spread.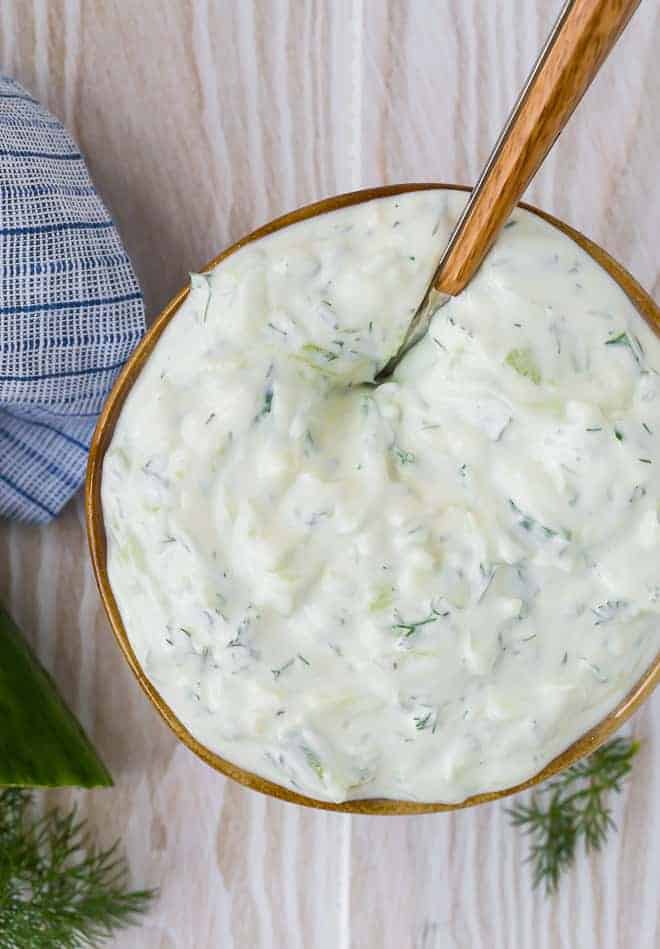 Made with creamy Greek yogurt and shredded cucumbers, enhanced with fresh dill, garlic, and lemon, this classic condiment can be served in so many ways. It's become a staple sauce recipe in my kitchen and I'm sure you'll want to add it to yours!
Have you ever tried tzatziki? You'll see it on the menus of restaurants featuring Greek food, or other Mediterranean and Middle East cuisines. It's often served as a dip with warm pita bread. Sometimes creamy tzatziki accompanies spicy foods to tame the fire in your mouth.
While it's perfect as a dip for pita bread, grilled vegetables, meatballs or falafel, tzatziki is also an outstanding addition to any sandwich, especially one with grilled meat. I'm thinking particularly of gyros, but try a dollop of tzatziki on a bun with a hamburger, turkey burger, veggie burger, or grilled chicken. Wow! An ordinary burger just turned into a gourmet sandwich! Use tzatziki as a sauce to top fish, especially salmon. Or mix tzatziki with pasta or potatoes for a quick and easy salad.
Once you make your first batch of tzatziki, you'll be flooded with ideas of how to use this versatile Greek dip. It's so good!
How do you pronounce "tzatziki"?

When you look at this word, you may scratch your head and say, "What?" Looks like a lot of consonants in there, doesn't it? Well, don't worry, it's easy to pronounce: tuh-zee-kee. Practice a few times and you'll have it down.

Ugh! It's way harder to type tzatziki than it is to say it, believe me!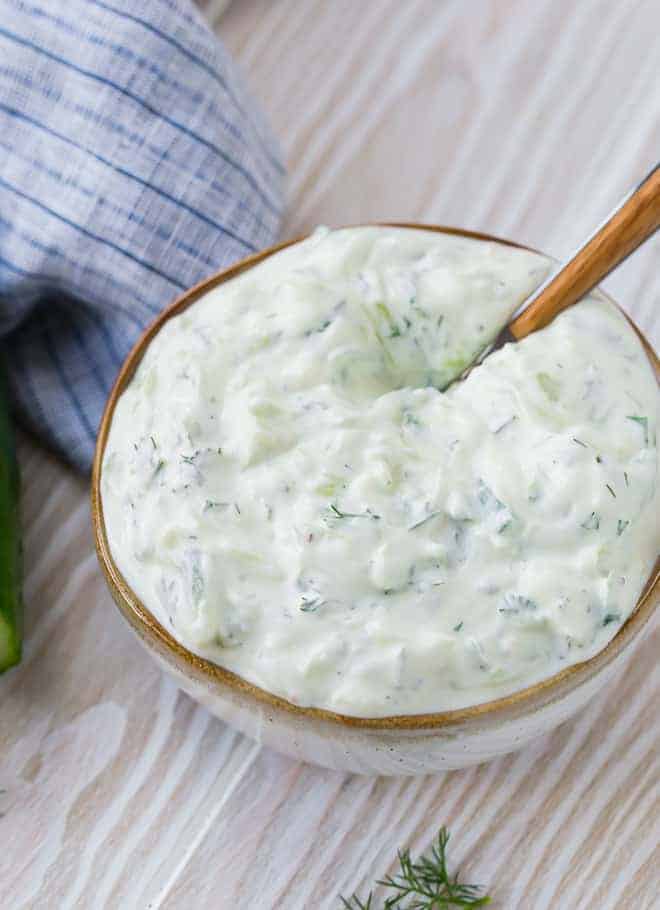 About this homemade tzatziki:
There's no cooking involved in this easy recipe. You can whip it up in about 15 minutes, depending on how fast you are with a knife. You'll need a grater and a nice sharp knife.
Buy Persian or English cucumbers for best results. These are the long skinny cucumbers, usually wrapped in plastic, because their skins are delicate. Ordinary cucumbers have waxed thick skins and are more watery. Grow your own cucumbers? Perfect! Just harvest them when they're small and tender.
Remove the seeds (they'll water down your sauce if you leave them in), and then grate the cucumber. There's no need to peel it first.
If you want, you may drain the cucumber, pressing excess water out. I usually skip this step because I'm lazy. Oh, did I just say that aloud? I meant I'm looking for ways to simplify recipes for you guys.
Stir the shredded cucumber into full-fat Greek yogurt along with minced garlic, olive oil, lemon juice, and chopped fresh dill. Season with salt and pepper, to taste.
Serve immediately, or refrigerate. If you want, garnish tzatziki with a sprig of fresh dill or a drizzle of olive oil. A curl of lemon peel is really pretty, too.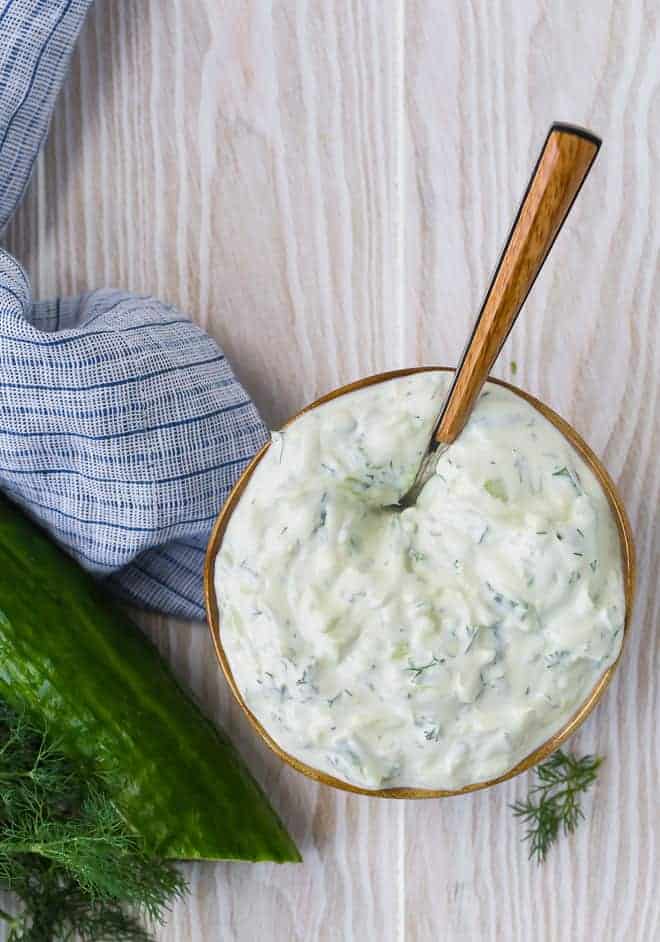 How to make this tzatziki your own:
If you're not crazy about fresh garlic, try substituting minced shallots or green onions (scallions). You could also substitute 1/4 teaspoon of garlic powder. I'm thinking that even if you like fresh garlic, you could still add shallots or green onions to your tzatziki, anyways, just for the fun of it! Why not?
Instead of fresh dill, or along with it, add chopped fresh mint leaves.
Want to cut the calories a bit? Full fat Greek yogurt is really the best for this dip, but substitute 2% or non-fat if you like. Or to make vegan tzatziki, use non-dairy soy or coconut yogurt.
Look for creative ways to use tzatziki. It won't be difficult because the creamy texture and fresh taste complements so many dishes.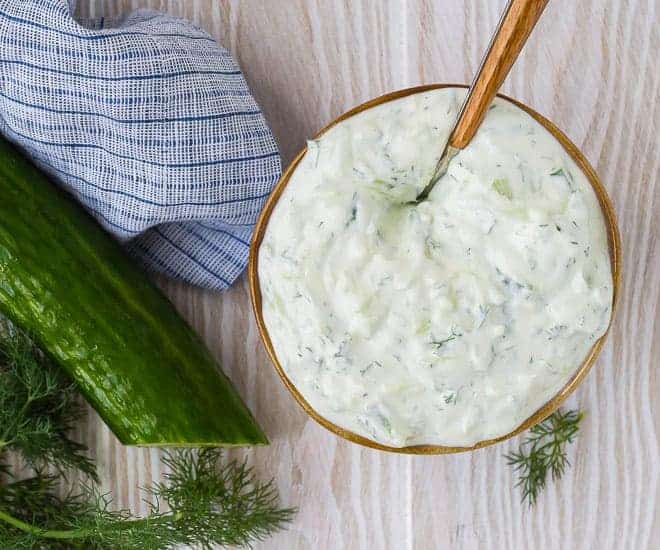 Storage Tips
Homemade tzatziki, tightly covered, will last in your fridge for up to 2-3 days. Refrigerated tzatziki will separate slightly and appear watery at first. Give it a good stir and it will be fine. Don't be tempted to freeze tzatziki–you won't be happy with the results. And really, it only takes about 15 minutes, tops, so make it fresh!
More homemade dips and spreads:

I love to make my own dips and spreads. They taste a hundred times better than store-bought and are preservative-free. Here's a few of my favorites: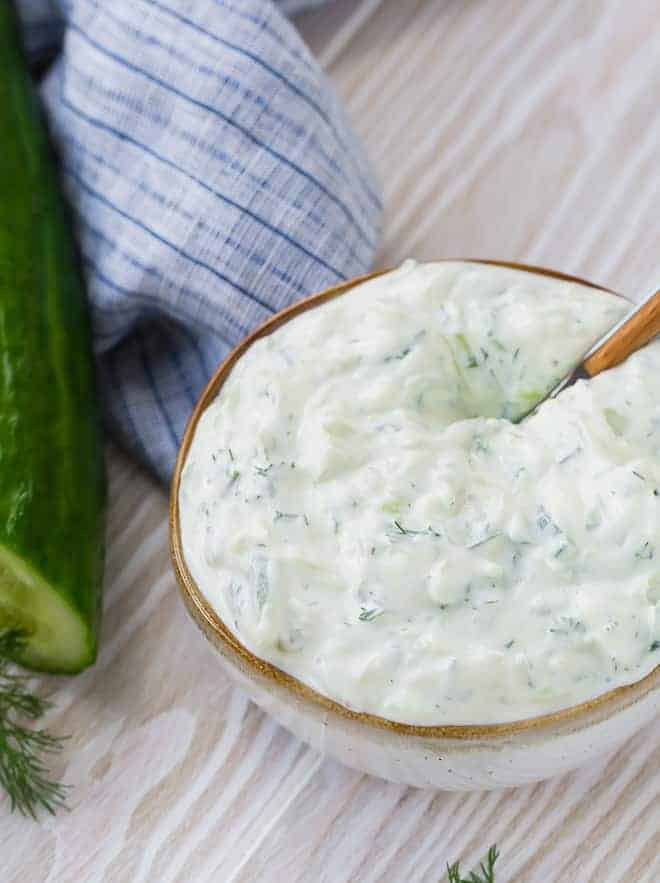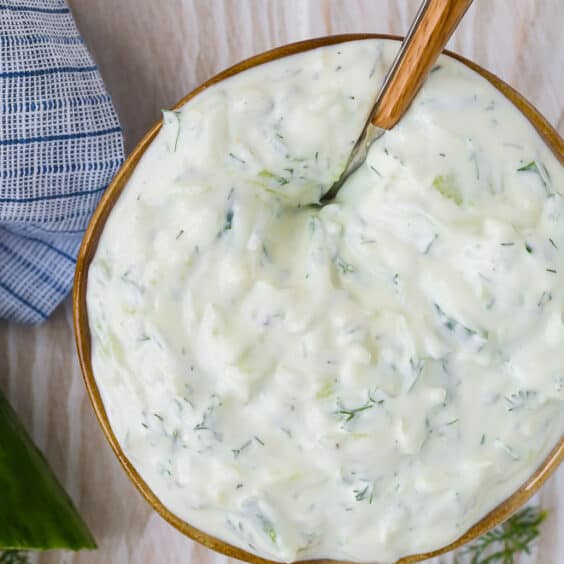 Homemade Tzatziki Recipe
Yield: 3 cups
Prep Time: 20 minutes
Total Time: 20 minutes
Creamy homemade tzatziki, an authentic Greek cucumber yogurt sauce, is easy to make and so delicious! Use tzatziki in a variety of ways, as a dip, dressing, or sandwich spread.
Ingredients
1 English or Persian cucumber, seeded and grated (about 1 1/2 cups)
1 1/2 cups Greek yogurt (full-fat is best)
2 small garlic cloves, minced
1 tablespoon extra virgin olive oil
1 tablespoon lemon juice, more to taste
2 tablespoons minced fresh dill
1/2 teaspoon kosher salt
1/4 teaspoon coarsely ground black pepper
Instructions
In a medium sized mixing bowl, stir all ingredients together until combined. Refrigerate for 1-2 hours before serving or serve immediately.
Store in a covered container in the refrigerator for 2-3 days.
Notes
Nutrition information is based on one serving, or 2 tablespoons.
Recommended Products
As an Amazon Associate and member of other affiliate programs, I earn from qualifying purchases.
Nutrition Information:
Yield: 24
Serving Size: 2 tablespoons
Amount Per Serving:
Calories: 15
Total Fat: 1g
Saturated Fat: 0g
Trans Fat: 0g
Unsaturated Fat: 0g
Cholesterol: 1mg
Sodium: 50mg
Carbohydrates: 1g
Fiber: 0g
Sugar: 1g
Protein: 2g
RachelCooks.com sometimes provides nutritional information, but these figures should be considered estimates, as they are not calculated by a registered dietitian. Please consult a medical professional for any specific nutrition, diet, or allergy advice.
Verdict:
I love this flavorful sauce! It's good on so many things.
Husband's take:
Ben usually isn't a fan of creamy sauces, but he LOVES this!
Changes I would make:
None!
Difficulty:
Easy!