Mexicali Dip Recipe – IRRESISTIBLE!
Similar to the popular dip found in grocery store delis, this Mexicali dip is deliciously addictive. Use this recipe to make your own much better tasting preservative-free Mexicali dip.
Recipe Overview
Why you'll love it: Homemade is so much better than store-bought and you can make it just the way YOU like it.
How long it takes: 10 minutes to prep, 30 minutes or so to chill
Equipment you'll need: food processor, bowl
Servings: makes 2 1/2 cups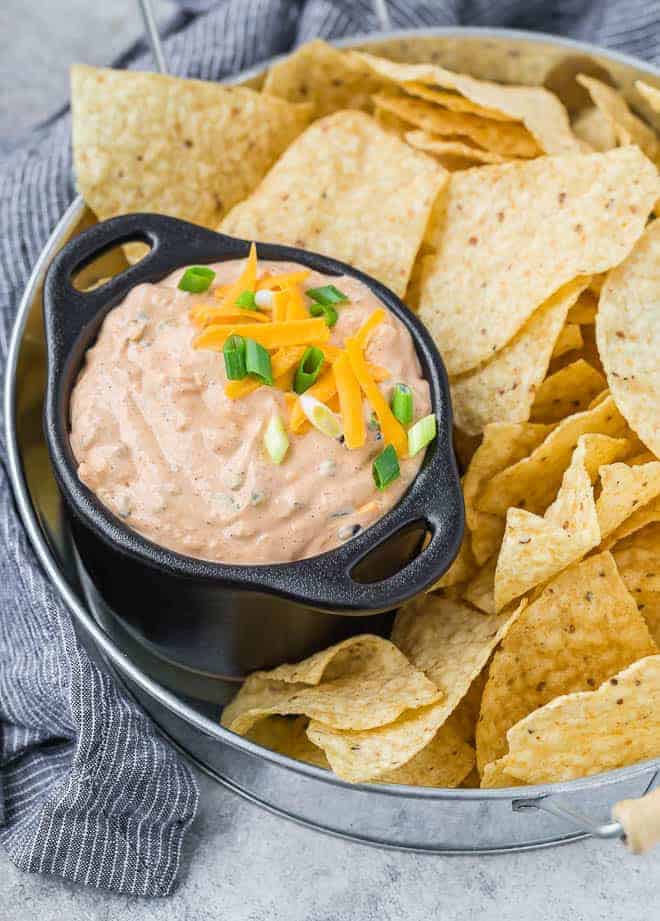 Raise your hand if you love that delicious creamy southwestern flavored dip for chips and veggies (a common brand is Fresh Creations but there are lots of other brands, too). It's kind of addictive, am I right? Maybe even dangerously addictive, especially if you're trying to stay comfortable in those skinny jeans.
Not to digress, but really, is anyone comfortable in skinny jeans? I sort of doubt it. I can't wait to peel them off my legs when I get home (maybe that's TMI?). I think skinny jeans must have been created by the same people who gave us panty hose. Give me leggings any day. Okay, end of fashion digression.
Cool and creamy Mexicali dip has just the right balance of creaminess, spice, and tanginess, to make it a perfect dip for tortilla chips or fresh veggies. If you haven't tried this dip yet, please put it on your list of things to try, because you're gonna love it!
Try Mexicali dip as an appetizer for your next game day party or tailgate. You can make it ahead, it's a crowd pleaser, and is easier to transport than warm dips. Put it in an airtight plastic container, grab a bag of tortilla chips, and you're good to go.
Just an interesting aside: Mexicali is the capital city of the Mexican state of Baja California. I'm not sure if this dip got its name from the city though.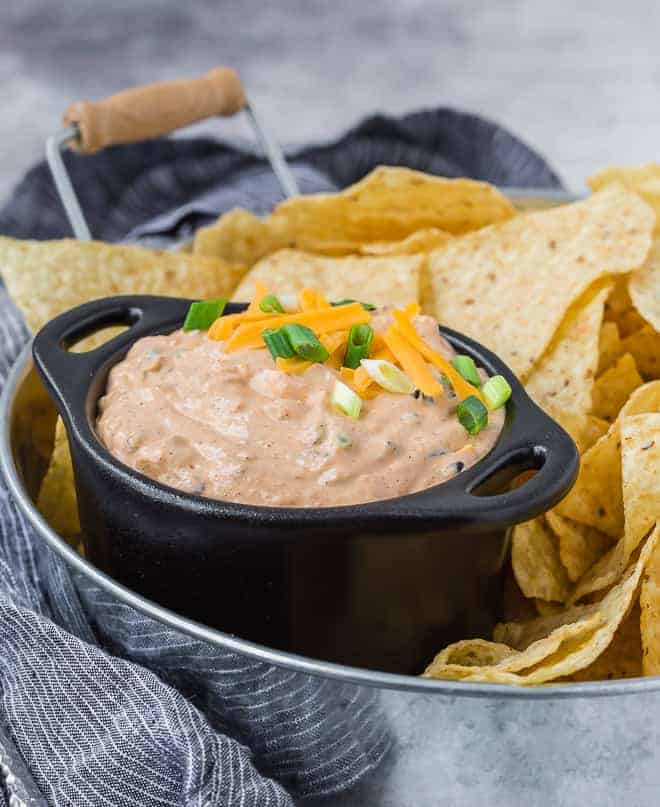 About this Dip Recipe
This Mexicali dip is served cold. It tastes great with homemade baked tortilla chips and cold beer. If you prefer an easy cocktail, try an Aperol spritz or a frozen sangria slushie. Actually, a strawberry margarita would be pretty awesome, too.
If you're looking for a warm dip, try my Mexican spinach dip or this creamy queso made with butternut squash. This slow cooker queso blanco is super for parties.
I'll run through the recipe here to get you started. Look for the printable recipe card below. It has complete instructions, measurements, and nutrition information.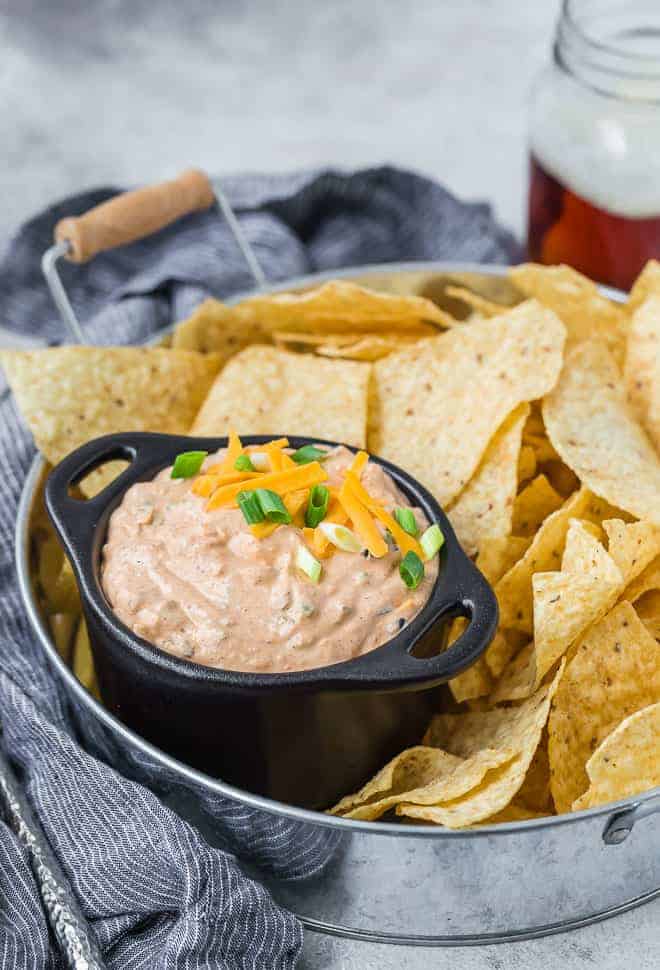 What You'll Need
Cream Cheese: You'll need an eight ounce package of cream cheese. You can use the lower fat or Neufchatel kind but not fat free. It should be at room temperature so take it out of the fridge and leave it on the counter for an hour or so before you get started.
Sour Cream: Again, lower fat is fine, but I wouldn't recommend non-fat.
Picante Sauce or Salsa: Use canned (or in a jar) salsa for the best results. Choose whatever level of spiciness you prefer: Mild, Medium, or Hot.
Mayonnaise: You'll need just a bit of mayonnaise. Choose your favorite brand.
Taco Seasoning: I like to use my homemade taco seasoning but packaged taco seasoning is fine too.
Sliced Green Onions: For mild onion flavor and just a bit of color. You could use finely minced red onion if you prefer.
Chopped Black Olives: Even if you're not an olive fan, the black olives really add something to this dip. If you absolutely can't stand them, they can be omitted.
Jalapeño Pepper: These little green peppers can vary widely in how hot they are. I've had some really, really spicy ones and some that aren't spicy at all. Taste a tiny bit of the pepper before you add it to make sure it's not going to be too spicy. I usually wear food safe gloves when chopping up jalapeños to protect my hands.
Shredded Monterey Jack or Cheddar Cheese: Shred your own for best results. Crumbled cotija cheese is good, too.
How To Make This Dip
You can whip this Mexicali dip up in a hurry. Simply place cream cheese, sour cream, picante, mayo, and taco seasoning in a food processor, and process until smooth. Scrape it out of the food processor, put the mixture in a bowl, and stir in the finely chopped veggies and shredded cheese. It should be chilled for a half hour or so to let the ingredients meld a bit.
If you want to taste it before you put it in the refrigerator to chill, go ahead, I won't judge. Necessary part of the job, right? You might want to get the tortilla chips ready ahead of time, too, so you'll have something to taste it with.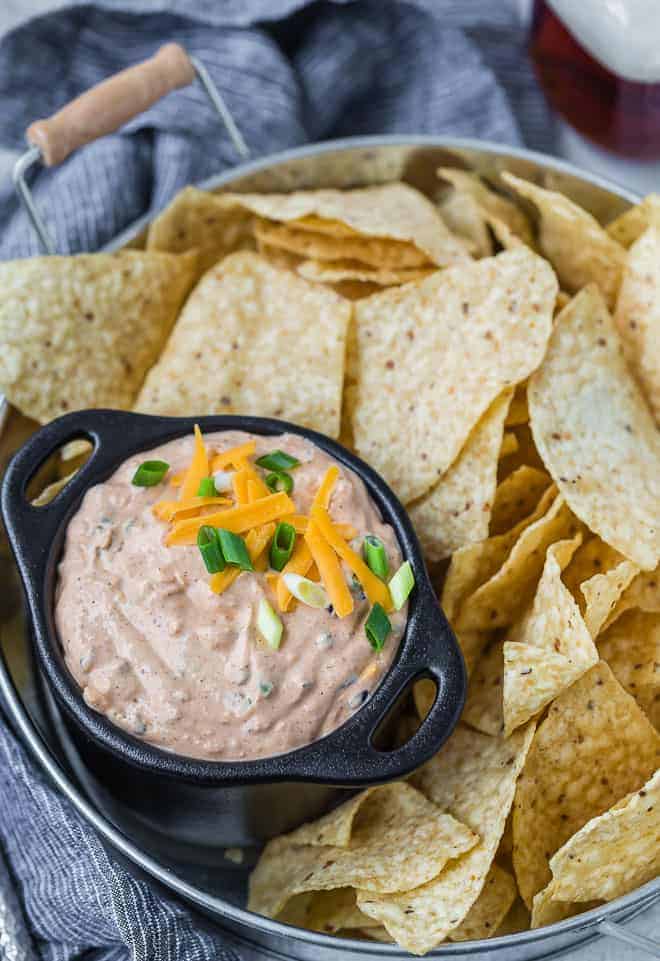 FAQs
Are you supposed to heat up Mexicali dip?
No, this is definitely a cold dip. If you heated it, it would separate and be a rather greasy mess. It's similar in nature to French onion dip or jalapeño ranch dip.
Is Mexicali dip gluten-free?
This recipe for Mexicali dip is gluten-free. It is also keto-friendly. Make sure you check the labels of the mayonnaise and salsa you choose to ascertain they are gluten-free before adding them to the dip.
How long can chip dip sit out?
For dairy-based dips, the recommendation is two hours or less, depending on the temperature of the room. This recipe makes a pretty large batch of dip. For parties, put a portion of the dip in a serving bowl to set out and keep the rest in the refrigerator to add to the bowl as needed.
Make It Your Own
Make this dip lower in calories by using lower fat cream cheese, sour cream, or mayonnaise.
Want a little more heat? Use spicier picante sauce, increase the amount of jalapeño, or include the ribs and seeds.
Not crazy about black olives or green onions? Leave them out or replace them with something you like better. My friend made this dip with finely chopped spinach in it, or you can mix in chopped tomatoes, or red onion.
Spread this dip on a platter and sprinkle on tomatoes, lettuce, black beans, etc. for a presentation similar to the popular 7-layer dip.
Storage Tips
How long does Mexicali dip last? Mexicali dip will keep in the fridge in an airtight container for three to four days. That's assuming it's refrigerated the whole time and not left on the counter for a couple of hours while everyone grazes on munchies.
Can you freeze Mexicali dip? This dairy-based dip isn't the best candidate for freezing. It will be okay for eating but its texture will change.
Make-Ahead Idea
You could easily make this dip a day ahead if you're meal prepping and it will be just fantastic when you're ready to serve it. Very convenient!
More Dip Recipes
I mentioned a couple of warm southwestern type dips above but (of course) I have a few more dip recipes for you:
Did you make this? Be sure to leave a review below and tag me @rachelcooksblog on Facebook, Instagram, or Pinterest!
Similar to the popular dip found in grocery store delis, this Mexicali dip is deliciously addictive. Use this recipe to make your own much better tasting preservative-free Mexicali dip.
Ingredients
1

pkg.

(8 oz.) cream cheese, softened

½

cup

sour cream

½

cup

picante salsa

¼

cup

mayonnaise

1

tablespoon

taco seasoning

¼

cup

green onions, finely chopped

¼

cup

sliced black olives, finely diced

1

tablespoon

finely diced jalapeño pepper

(ribs & seeds removed – see note)

½

cup

shredded Monterey Jack cheese

(or cheddar cheese)

Tortilla chips for serving
Instructions
In a food processor, combine cream cheese, sour cream, mayonnaise, salsa, and taco seasoning until smooth.

Pour into a bowl and add green onions, black olives, jalapeño, and cheese.

Stir to combine and chill for at least a half hour before serving. Serve with tortilla chips or veggies.

Makes 2 ½ cups or 10 servings (¼ cup each). Can be refrigerated for up to 3 days.
Notes
Nutrition information is for dip only and does not include chips.
May use low fat sour cream and cream cheese. We do not recommend using fat-free varieties.
If you like it spicier, try using a hotter salsa, including the ribs and seeds of the jalapeño, or adding more jalapeño peppers.
Nutrition Information
Calories:
92
kcal
,
Carbohydrates:
2
g
,
Protein:
2
g
,
Fat:
9
g
,
Saturated Fat:
3
g
,
Polyunsaturated Fat:
3
g
,
Monounsaturated Fat:
2
g
,
Trans Fat:
1
g
,
Cholesterol:
13
mg
,
Sodium:
240
mg
,
Potassium:
71
mg
,
Fiber:
1
g
,
Sugar:
1
g
,
Vitamin A:
260
IU
,
Vitamin C:
3
mg
,
Calcium:
63
mg
,
Iron:
1
mg
This website provides approximate nutrition information for convenience and as a courtesy only. Nutrition data is gathered primarily from the USDA Food Composition Database, whenever available, or otherwise other online calculators.