7 Layer Dip Recipe – THE BEST!
This isn't your ordinary 7 layer dip recipe – it has a couple unique layers that make it really stand out from the crowd. Make it for your next party and everyone will be asking for the recipe!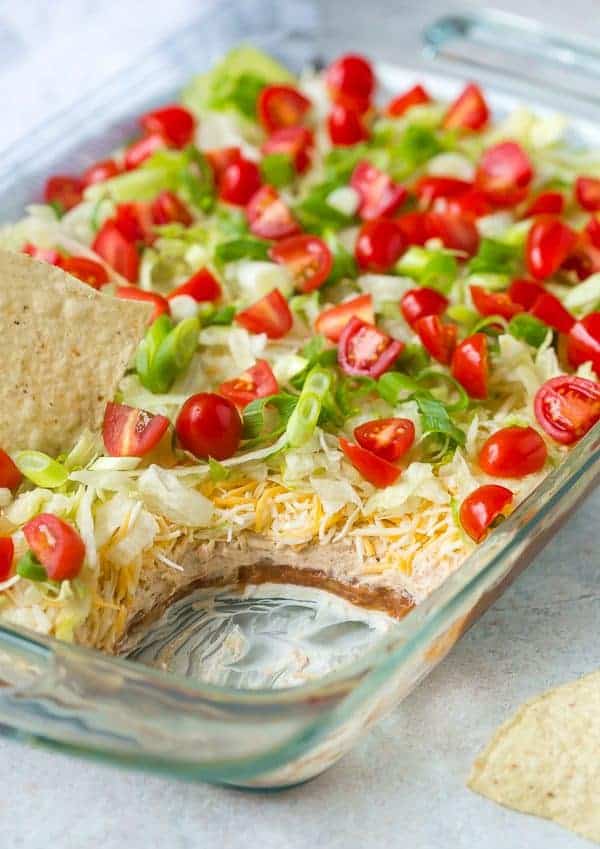 I've been meaning to put this recipe on my site for ages, because it's one of my favorite party recipes. It's absolutely perfect for game day parties! The only problem with it is that I always tend to overeat because I can't get enough of it. Same thing with poblano queso dip or Mexicali dip!
All the credit for this one goes to my former neighbor and good friend, Julie. I first tried this at Julie's house and immediately became obsessed with it (you will too!). After I tried it the first time, I got the recipe from her to make it myself. And then I lost the recipe and texted her every time I made it until I decided to stop bugging her and just wing it.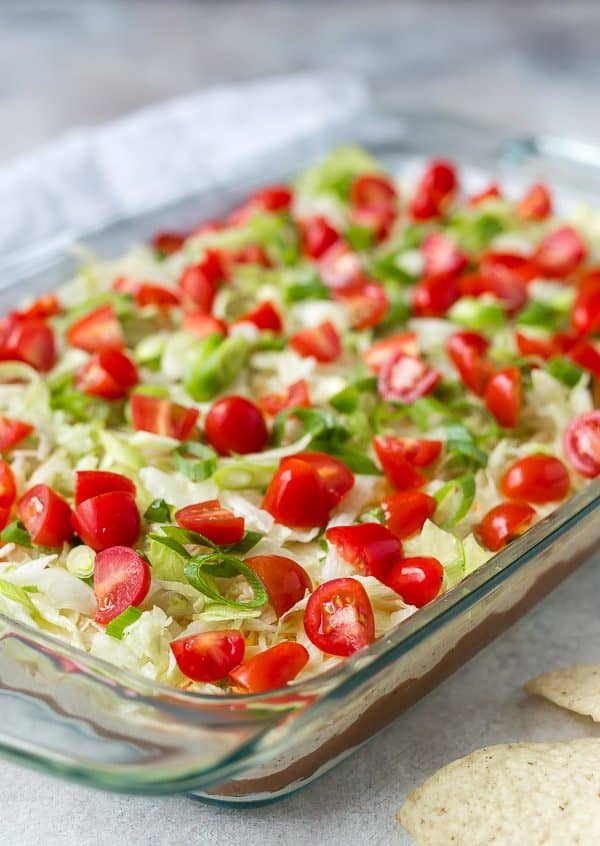 So, when I say the credit for this recipe goes to her, it does…but I'm not sure this is the exact recipe any more….sorry if I slaughtered it, Julie! I do think it's fairly close, and any way you make it, it's going to be amazing.
PS: I MISS YOU JULIE.
This probably isn't what you traditionally know as 7 layer dip, but I assure you, you'll never go back after you try this version. The true genius behind this recipe is the whipped cream cheese. It's a surprising layer in this dip and in my opinion is what makes it truly irresistible.
I'm partnering with SpartanNash and I picked up some of their affordable Our Family brand whipped cream cheese for the bottom layer of this dip. Another great thing about using whipped cream cheese is that you can spread it in a nice thin layer without having to soften it, and it makes dipping with a chip easy! No one wants a broken chip, am I right?
You can pick up all the ingredients you need for this dip at your local SpartanNash store, including D&W Fresh Market or Family Fare. I bought mine from Forest Hill Foods. If you're a Fast Lane shopper, you can add all the ingredients to your list and they'll have them ready for you to pick up!
I mentioned this when I shared my easy chicken alfredo recipe, but SpartanNash is transitioning their Spartan products to the new Our Family label and I love that they consider their customers family.
In fact, they guarantee their Our Family products:
Our Family Guarantee: "If you're not satisfied with the quality of any Our Family brand product, simply return it to the store where purchased, and we'll refund your money AND replace it with a like item of the brand of your choice, free. That's our guarantee. Because no matter the family, you're Our Family."
Pretty cool, right?
About this 7 layer dip
Circling back around to this dip, there are a few other differences between this dip and the traditional 7 layer dip you may be used to. One other difference in this dip is instead of just sour cream, you mix sour cream with mayonnaise and add some taco seasoning.
This creamy layer goes right next to the shredded cheese and you're just going to have to trust me, it's irresistible. (This isn't a healthy recipe, folks, but I believe in everything in moderation and some things are worth splurging on – this is one of them!)
Additionally, this dip is made without guacamole or avocado. You could easily add a layer of guacamole (I do occasionally), but typically I leave it out.
Lastly, instead of plain refried beans, you're going to mix them with salsa. This not only adds great flavor to the dip, but it also makes dipping easier because the beans are a thinner consistency.
Tip: Traditional 7 layer dip also includes sliced black olives. I don't add them to this dip, if I'm being honest it's because I don't like them, but you could easily add them as a topping.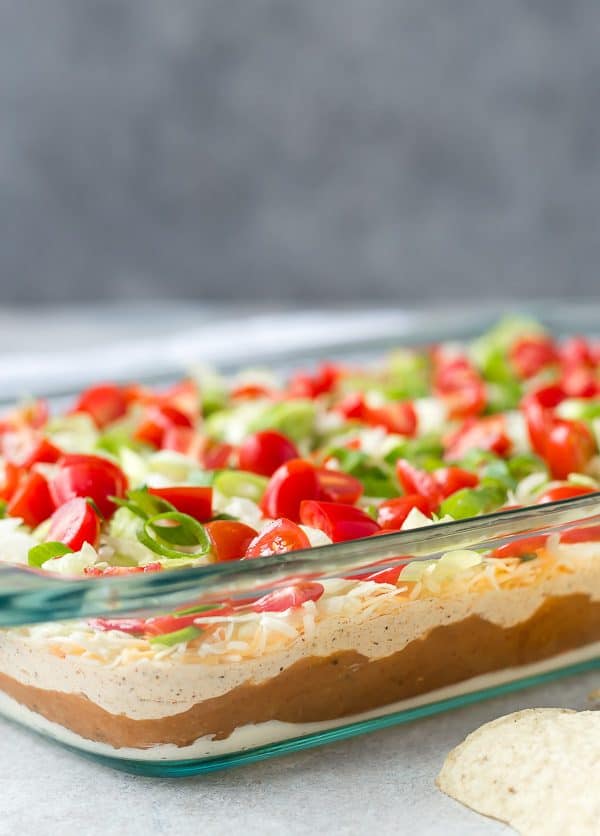 To review, here are the 7 layers in this 7 layer dip:
Our Family Whipped Cream Cheese
Beans + Salsa
Sour Cream + Mayo + Taco Seasoning
Shredded Cheese
Lettuce
Green Onions
Tomatoes
Make it your own
OF COURSE, if you want, you can mix things up a little. I make this without guacamole, but I think a layer of guacamole would be good if you have guacamole fans in your crowd. I'm on team guacamole for LIFE.
You could also add different toppings…I adore cilantro so I think that would be a great addition to this dip. If you like a little heat, sprinkle sliced jalapeños on top of the dip.
Have fun with this 7 layer dip and make it your own, but don't skip out on that cream cheese layer (just trust me on this one!).
If you make this dip, don't forget to tag me on Instagram and use #RachelCooks so I can see your creation and potentially reshare it!

If you're looking for another great holiday entertaining recipe, everyone always loves this baked Brie recipe with cranberries and bourbon pecans!
If you're looking to make this really unique, learn how to pickle red onions and sprinkle a few of those on this!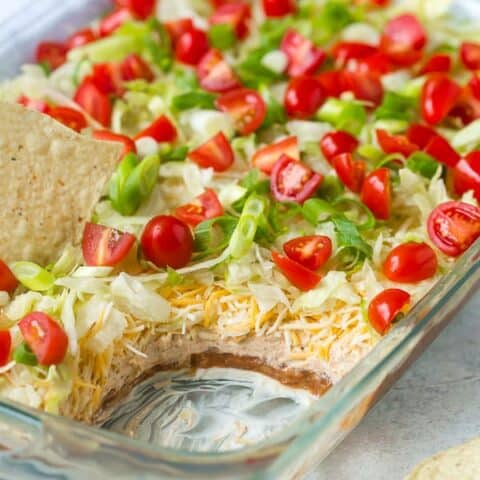 7 Layer Dip Recipe - THE BEST!
Yield: 15 servings
Prep Time: 15 minutes
Total Time: 15 minutes
This isn't your ordinary 7 layer dip recipe - it has a couple unique layers that make it really stand out from the crowd. Make it for your next party and everyone will be asking for the recipe!
Ingredients
1 package (8 oz) Our Family whipped cream cheese spread
1 can (16 oz) refried beans
1 cup salsa - see note
1 cup sour cream - see note
1 cup mayonnaise
2 tablespoons taco seasoning
2 cups shredded mexican cheese blend
2 cups shredded iceberg lettuce
1/2 cup sliced green onions (about 2 green onions, more or less to taste)
1 cup grape tomatoes, quartered
tortilla chips for serving
Instructions
Spread whipped cream cheese in the bottom of a 9x13 casserole dish in an even layer. In a bowl, stir together refried beans and salsa until evenly combined. Spread the bean mixture evenly on top of the cream cheese.
In another bowl (sometimes I use the same one that I use for the beans, because dishes are the worst), stir together sour cream, mayonnaise, and taco seasoning. Stir to combine and then spread carefully over the beans.
Sprinkle cheese on top of the sour cream and mayo mixture, in an even layer.
Sprinkle lettuce on top of cheese, and then top with green onions and tomatoes.
Serve with chips.
Notes
I recommend light or full-fat sour cream. Fat-free is too watery and can make the dip separate or get watery.
I recommend salsa from the jar rather than a fresh, refrigerated salsa. The fresh types are typically more watery and can make this dip separate or get watery.
Note about prepping ahead: When I make this ahead, I just do the cream cheese, bean, sour cream and mayo, and cheese layers. The day that I plan to serve, I add the fresh ingredients: lettuce, green onions, and tomatoes.
I like to use my homemade taco seasoning, but you could use a packet. I only use two tablespoons of my homemade seasoning because it has a little heat to it thanks to the red pepper flakes. If you buy a packet, especially if it's mild, you can use the entire package.
Nutrition Information:
Yield: 15
Serving Size: about 1/4 cup
Amount Per Serving:
Calories: 229
Total Fat: 19g
Saturated Fat: 6g
Trans Fat: 0g
Unsaturated Fat: 12g
Cholesterol: 31mg
Sodium: 470mg
Carbohydrates: 8g
Fiber: 2g
Sugar: 2g
Protein: 6g
RachelCooks.com sometimes provides nutritional information, but these figures should be considered estimates, as they are not calculated by a registered dietician. Please consult a medical professional for any specific nutrition, diet, or allergy advice.
Verdict:
I have some of this in my fridge right now and I'm very tempted to eat it for breakfast.
Husband's take:
I haven't met anyone who doesn't love this dip. Ben doesn't even really like creamy things but he can do as much damage to this dip as I can.
Changes I would make:
None are necessary, but have some fun with the suggestions I mentioned above, and make this your own!
Difficulty:
Easy!
This content and recipe is in partnership with SpartanNash. I was compensated for my time but all opinions are, as always, my own. Thank you for supporting Rachel Cooks by reading about brands we use and love in our own home. Sponsored posts like these help me cover some of the expenses involved with keeping this site free for you to use!