Slow Cooker Refried Beans – Fat-Free and Low-Sodium
Slow cooker refried beans are fat free "refried" beans made in the slow cooker. Easy and way better tasting than the stuff in a can!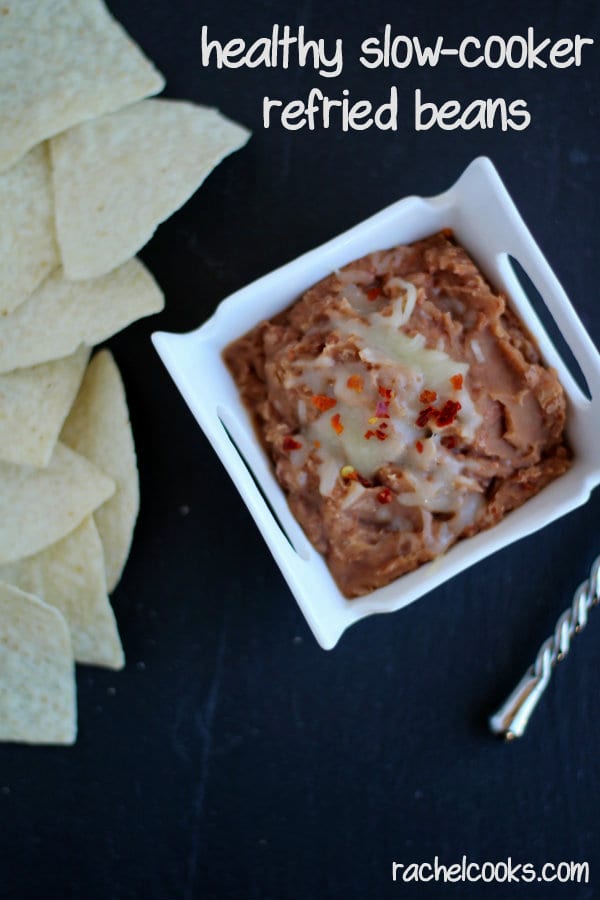 Every time I eat refried beans out of can, I think about how salty they are. I love them, and I do love salt, but they are really too salty. When I was pregnant I couldn't even really eat them and now I still don't really enjoy them for this reason. Is that hormonal?
Hormones are so weird.
Anyways, I'm eating refried beans that slid out of a can, in the shape of a can, thinking…I could totally make these myself. Why have I not done this?
Before you go crazy on me, I know these aren't traditional refried beans. No bacon fat here, but there is still a ton of flavor and you can eat them without guilt! Or add some more cheese and sour cream to your taco instead. Whatever makes you happy.
I add a hearty amount of cumin for flavor, but I also add a touch of smoked paprika for that smokey bacon flavor. I also throw in some red pepper flakes for heat.
Did I mention I make these in the slow cooker? You don't even need to soak the beans.
PS: The stats I found online say that one serving of canned refried beans contains 1069mg of sodium. Ummm…yeah…that's a lot.
Let's review.
Less sodium.
Not out of metal can. Let's be honest, it looks like dog food coming out of that can.
Fat-free.
Easy to make.
Significantly better on the budget.
Freezes well so that you always have it on hand.
How can I use refried beans? Well, aside from just eating them plain, as a dip for chips, or in a bean burrito, try these recipes: 7-layer dip, vegetarian baked taquitos, bean and cheese taco rolls, or vegetarian taco cups.
What are you waiting for? I'm never looking back from slow cooker refried beans.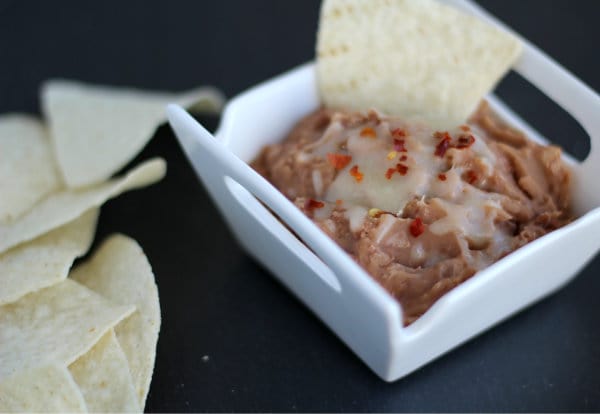 Do you have an Instant Pot? You can easily cook dried beans in your Instant Pot, no soaking necessary!
Love pinto beans? Try frijoles borrachos, or drunken beans. So juicy, flavorful, and good! You'll find yourself slurping up the juice.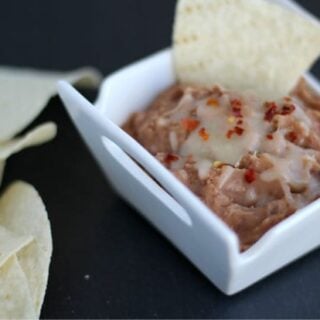 Fat-Free Slow Cooker "Refried" Beans
Yield: 12 cups
Prep Time: 5 minutes
Cook Time: 8 hours
Total Time: 8 hours 5 minutes
Slow cooker refried beans. Fat free "refried" beans made in the slow cooker. Easy and way better tasting than the stuff in a can!
Ingredients
2 pounds dried pinto beans (approximately 4 cups), rinsed and sorted
1 medium to large yellow onion, diced
3 cloves garlic, minced
2 teaspoons salt (more to taste)
2 teaspoons ground black pepper
1 teaspoon ground cumin powder
1/2 teaspoon crushed red pepper flakes (more or less to taste)
1/4 teaspoon smoked paprika
9+ cups of water
Instructions
Add all ingredients to slow cooker and stir to combine. Cook on high for 6-8 hours or until beans are soft and mash easily. Add more water if necessary during cooking. I added two cups about 2/3 of the way through cooking because it was looking dry. It doesn't hurt to have extra water, but you don't want them to dry up.
Reserving the liquid, strain the beans out into a large bowl. Mash with a potato masher. Add the reserved liquid until you reach the consistency you desire. Serve, or cool completely and freeze in portions appropriate for your family.
Notes
These do taste significantly less salty than the canned version. Make sure to check for seasonings and add salt as desired. We are trying to cut down on sodium around here so you might want to add more salt. You can also increase/decrease red pepper flakes based on your love of spicy foods.
Nutrition Information:
Yield: 24
Serving Size: 1/2 cup
Amount Per Serving:
Calories: 57
Total Fat: 0g
Saturated Fat: 0g
Trans Fat: 0g
Unsaturated Fat: 0g
Cholesterol: 0mg
Sodium: 177mg
Carbohydrates: 11g
Fiber: 4g
Sugar: 0g
Protein: 4g
RachelCooks.com sometimes provides nutritional information, but these figures should be considered estimates, as they are not calculated by a registered dietitian. Please consult a medical professional for any specific nutrition, diet, or allergy advice.
Verdict:
I love these slow cooker refried beans! The flavor isn't identical to the canned variety since they have far less sodium, but I think it is even better! Tons of flavor from the spices, you won't miss the fat or the sodium.
Husband's take:
He loves these refried beans on taco nights.
Changes I would make:
None.
Difficulty:
So. Easy.