Roasted Cauliflower – How to Roast Cauliflower
Roasted cauliflower is good for you, easy to make, and tastes delicious. Learn how to roast cauliflower here!
Recipe Overview
Why you'll love it: Roasting brings out so much flavor in the cauliflower. You'll never go back to steamed or boiled cauliflower.
How long it takes: 25 minutes
Equipment you'll need: sharp knife, roasting pan (sheet pan), oven
Servings: 4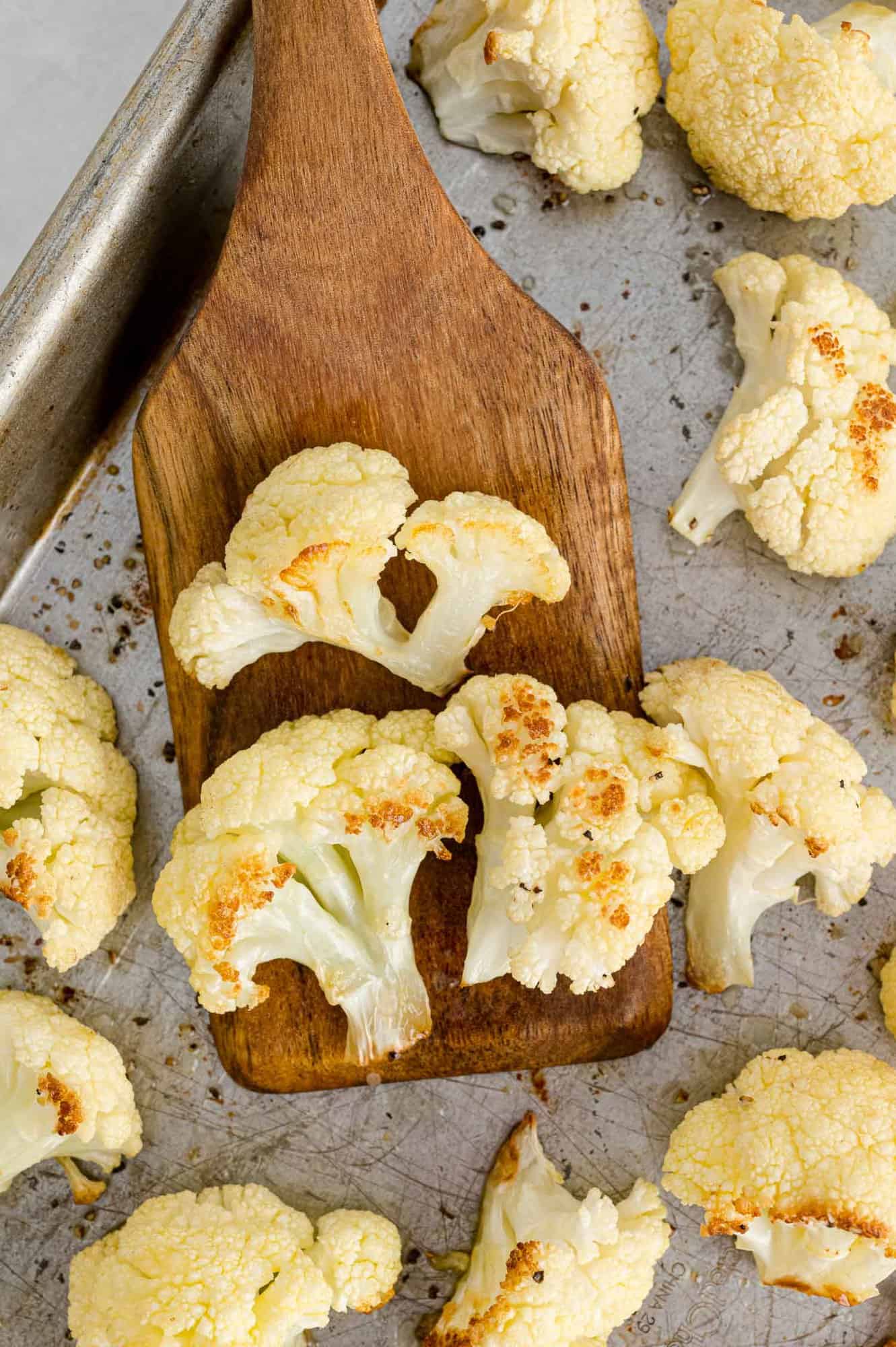 I've been roasting vegetables like it is my job (wait …. I guess it kind of is my job!) and we LOVE them this way. Roasted broccoli is amazing, roasted carrots are just yummy, mushrooms are unbelievably tasty, any kind of squash is the best, and I bet you get the point. I could go on and on. Roasting brings so much flavor and texture to most vegetables and it's a healthy way to cook them.
Cauliflower is no exception. It really is the best way to eat cauliflower. And it is unbelievably easy, which is always a bonus.
Why eat cauliflower? Because your mother always told you to eat your vegetables, right? Seriously, cauliflower is low in calories and contains almost every nutrient your body needs, according to Healthline. It's an excellent source of fiber, choline, and lots of antioxidants.
Maybe the only way you've even eaten cauliflower is boiled to death. Yeah, then I get why you say you don't like cauliflower. That method of cooking tends to produce a soggy, mushy, strong-tasting mess. No wonder it's usually slathered with cheese sauce.
Try roasted cauliflower today. After one bite, it may become your new favorite!
PS: Can't get enough of cauliflower? Try whole roasted cauliflower with creamy Dijon sauce (you'll want to DRINK the sauce!) and my favorite burrito bowl topping, roasted cauliflower with chili powder. Don't forget the pickled onions!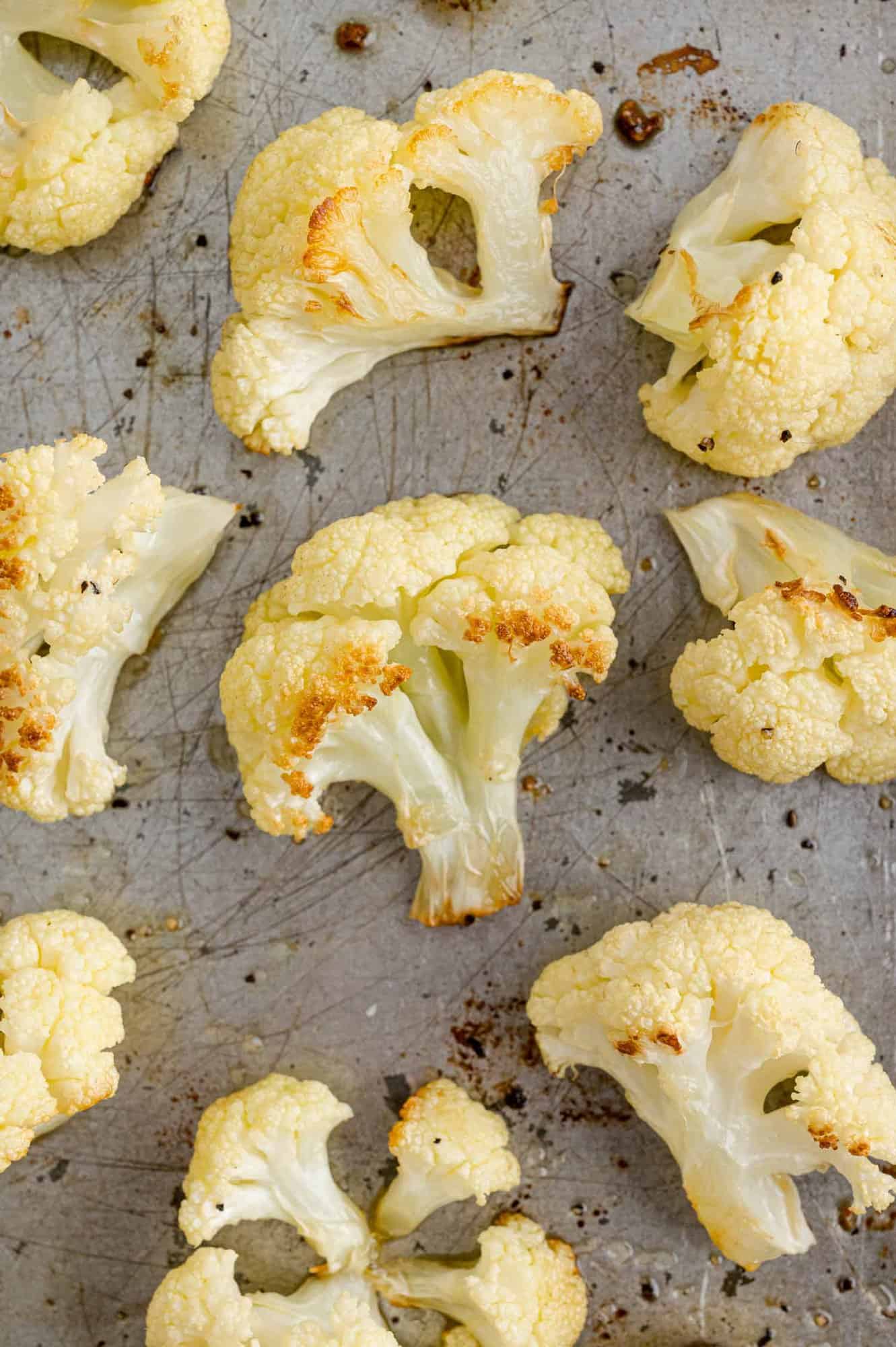 About This Recipe
Once you learn the basics of how to roast cauliflower, you'll find yourself doing it constantly!
Roasting vegetables is an easy process and usually requires just a few simple ingredients.
I'll run you through the basics here and give you a few extra tips.
As always, look for the printable recipe card near the end of the post. It has complete Instructions, measurements, and nutrition information.
What You'll Need
Cauliflower: Look for a firm head of cauliflower that's creamy white in color with fresh green leaves around the stem. Avoid cauliflower with brown or soft spots. Raw cauliflower can be stored in a plastic or paper bag in the fridge for up to a week.
Olive Oil: Other types of oil can be substituted, such as avocado, grapeseed, or any other mild tasting oil.
Salt and Pepper: Use coarse ground salt and black pepper if you can. It's amazing how much flavor the bits of salt and pepper add.
How to Cut and Prep Cauliflower (2 ways)
First Method: Slamming Cauliflower on Counter
The first way to "cut" cauliflower is slamming it on the counter (the stem end only) while it's still wrapped. It's a fun and quick way to break the head of cauliflower into florets. This method won't work if your store carries cauliflower that isn't wrapped in plastic. It can also result in uneven sizes of florets. I don't mind this when roasting (I love the crispy little ones!), but if you want more uniform florets, try our next method.
Second Method: Cutting with a Knife
The more… let's say sophisticated….way is this:
Start by removing any outer leaves.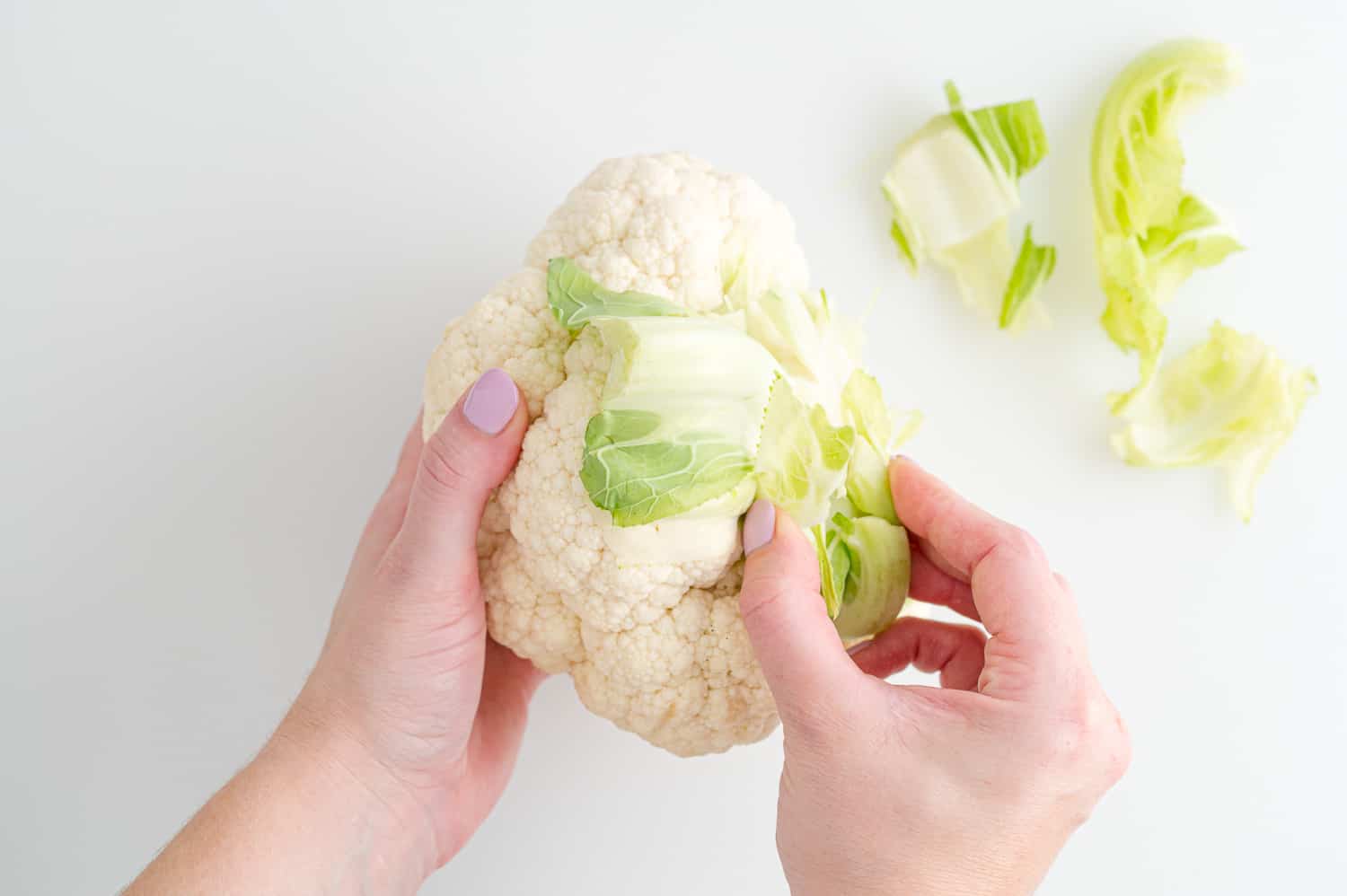 Cut the cauliflower in quarters from top to bottom.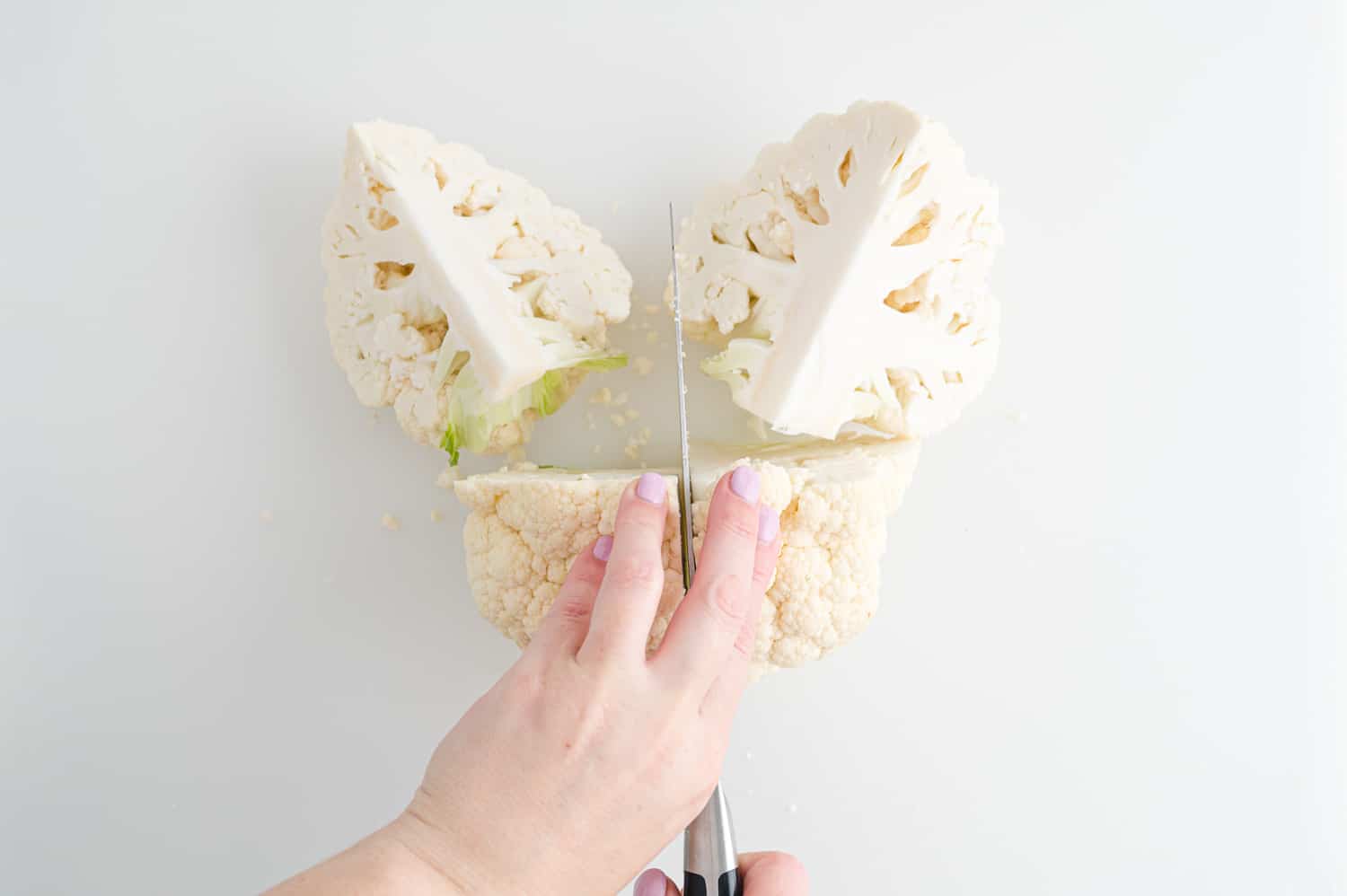 Next, cut diagonally to cut out the core.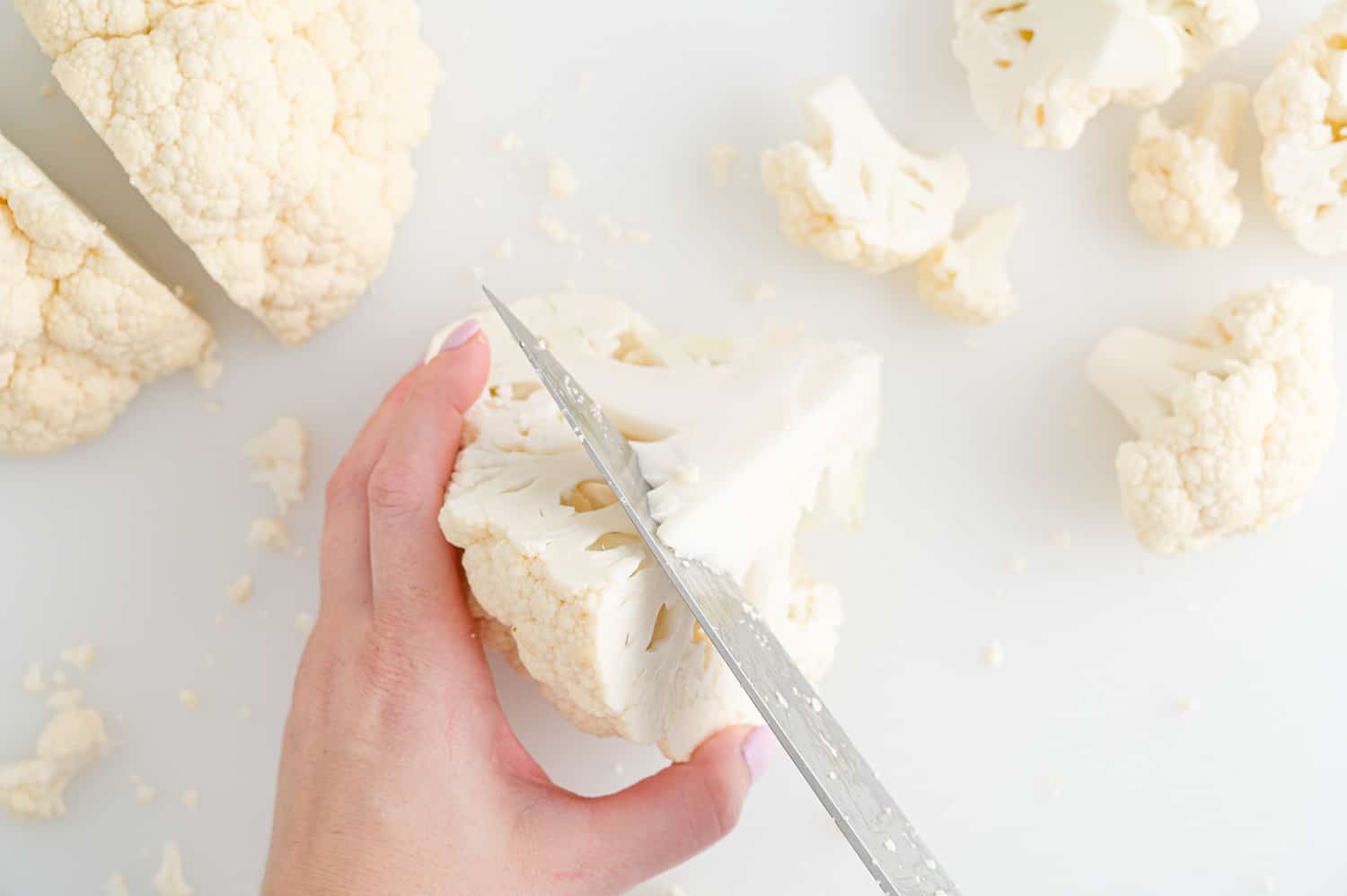 Next, break or cut the quarters into bite-sized pieces.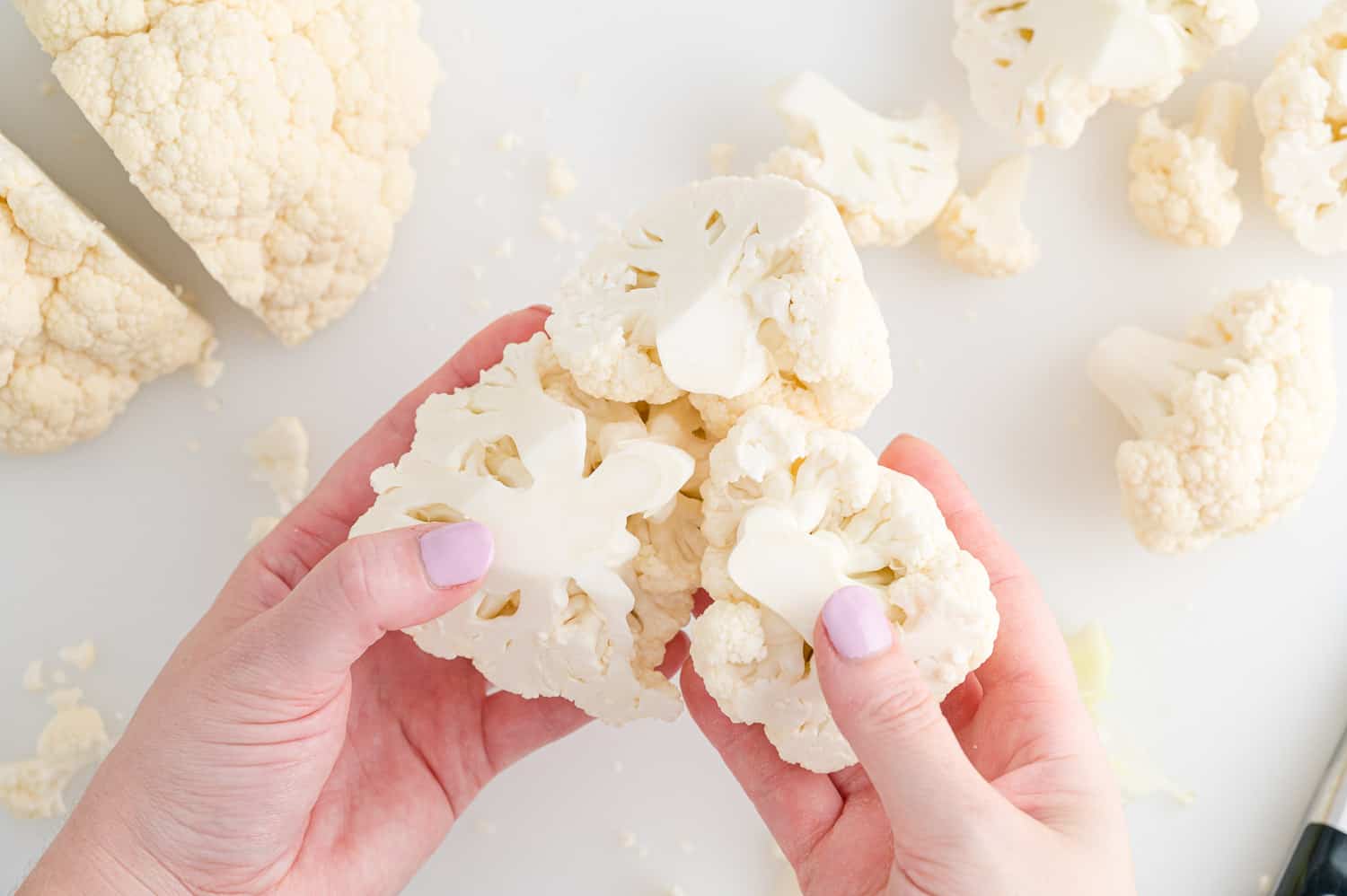 That's it! Either way is completely acceptable for this recipe.
How To Roast Cauliflower In 3 Simple Steps
To roast cauliflower or any other vegetable, there are a few basic requirements: large rimmed pan (sheet pan), vegetables cut into evenly sized pieces, oil and seasonings, and a hot oven.
Wash and dry cauliflower. Rinse cauliflower with water, cut it into small florets as close to the same size as possible, and dry thoroughly. I give the florets a spin in my salad spinner. The smaller and the drier they are, the crispier they'll get and the quicker they'll cook.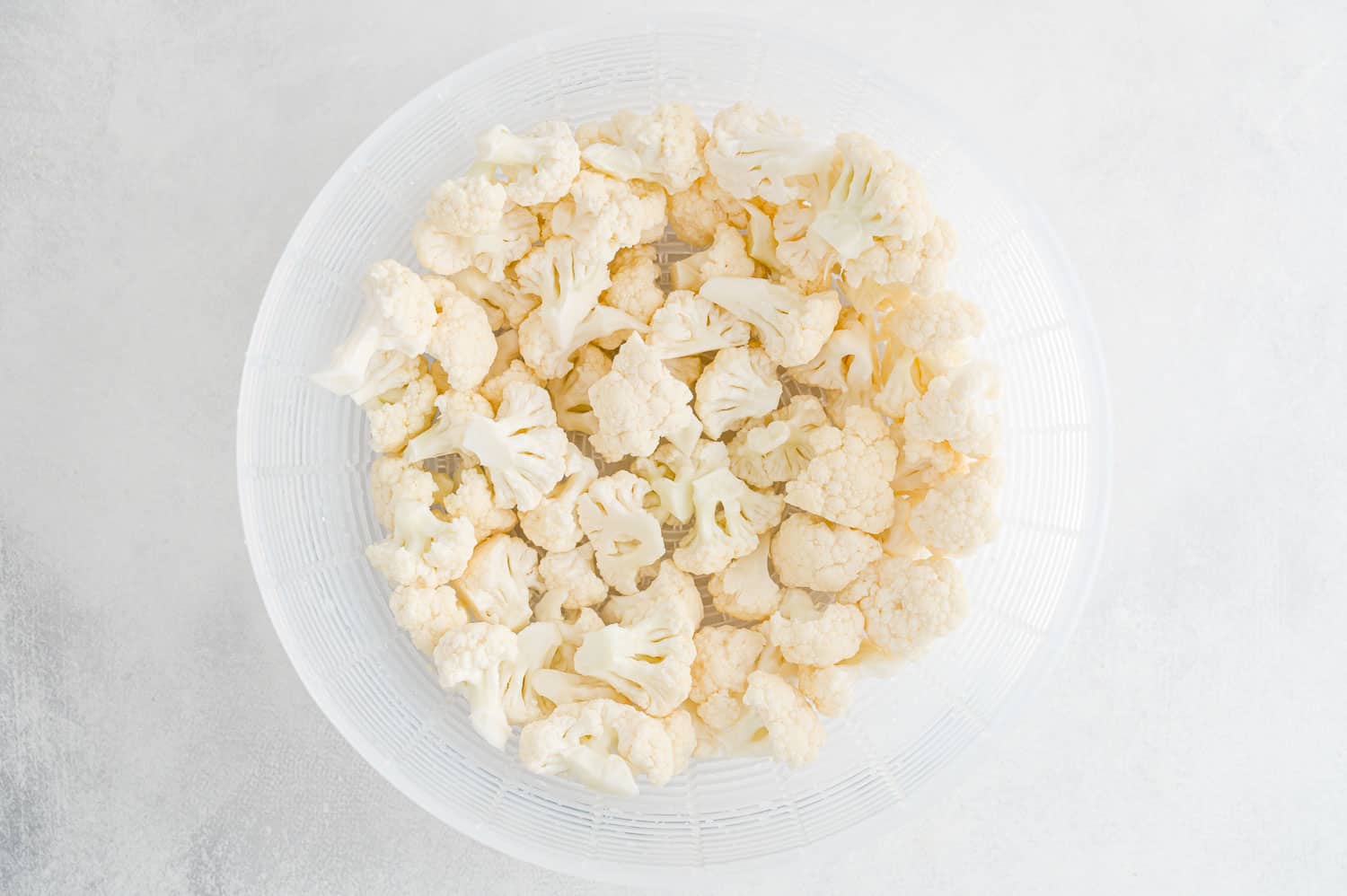 Add seasoning and oil. Toss the florets with olive oil, salt and pepper. You can do this in a large bowl or right on the sheet pan.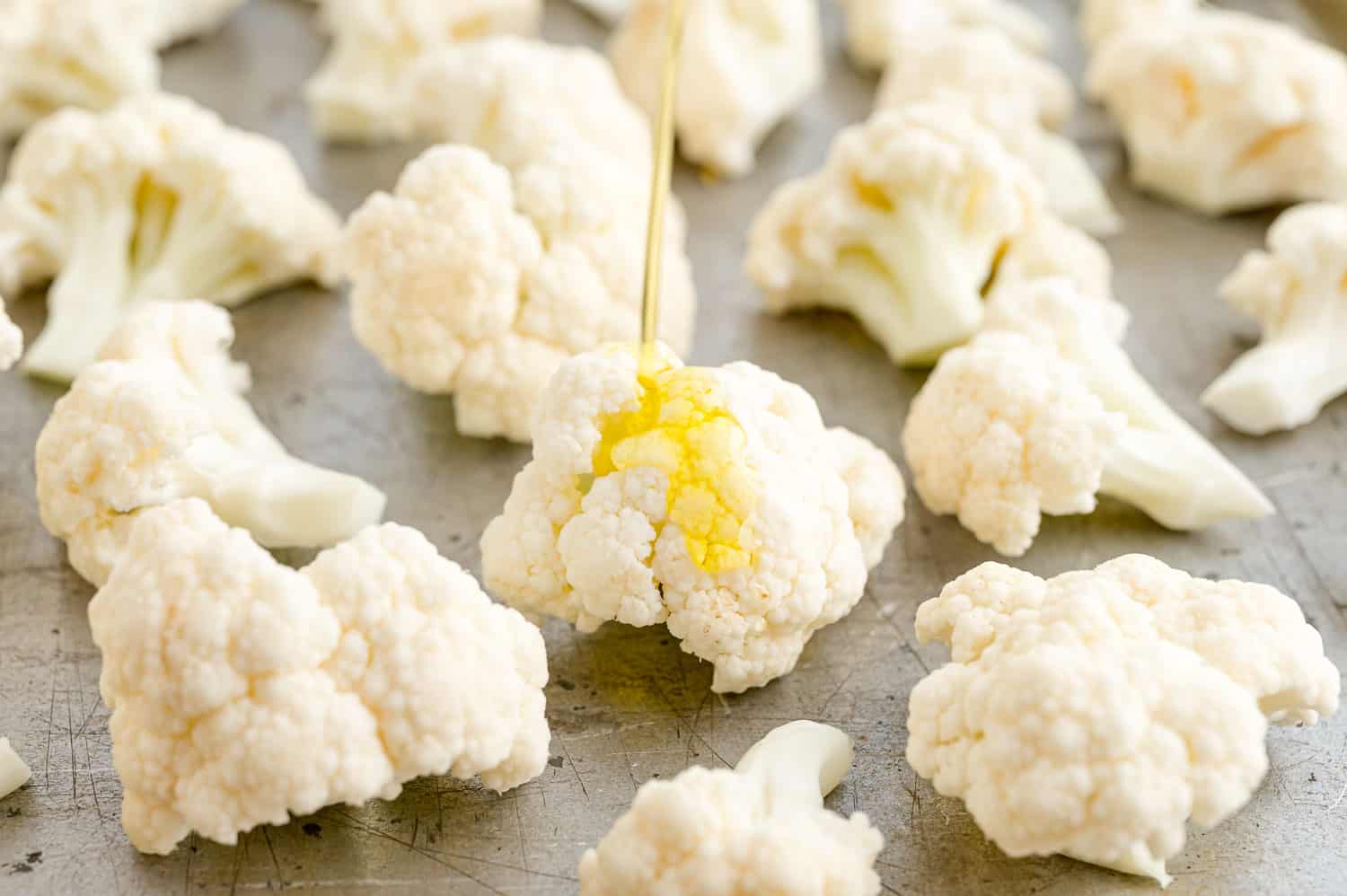 Spread the florets on a baking pan. Give them as much space as possible so there's good air flow between the florets. Crowding the florets creates steam which prevents browning and makes the cauliflower soggy.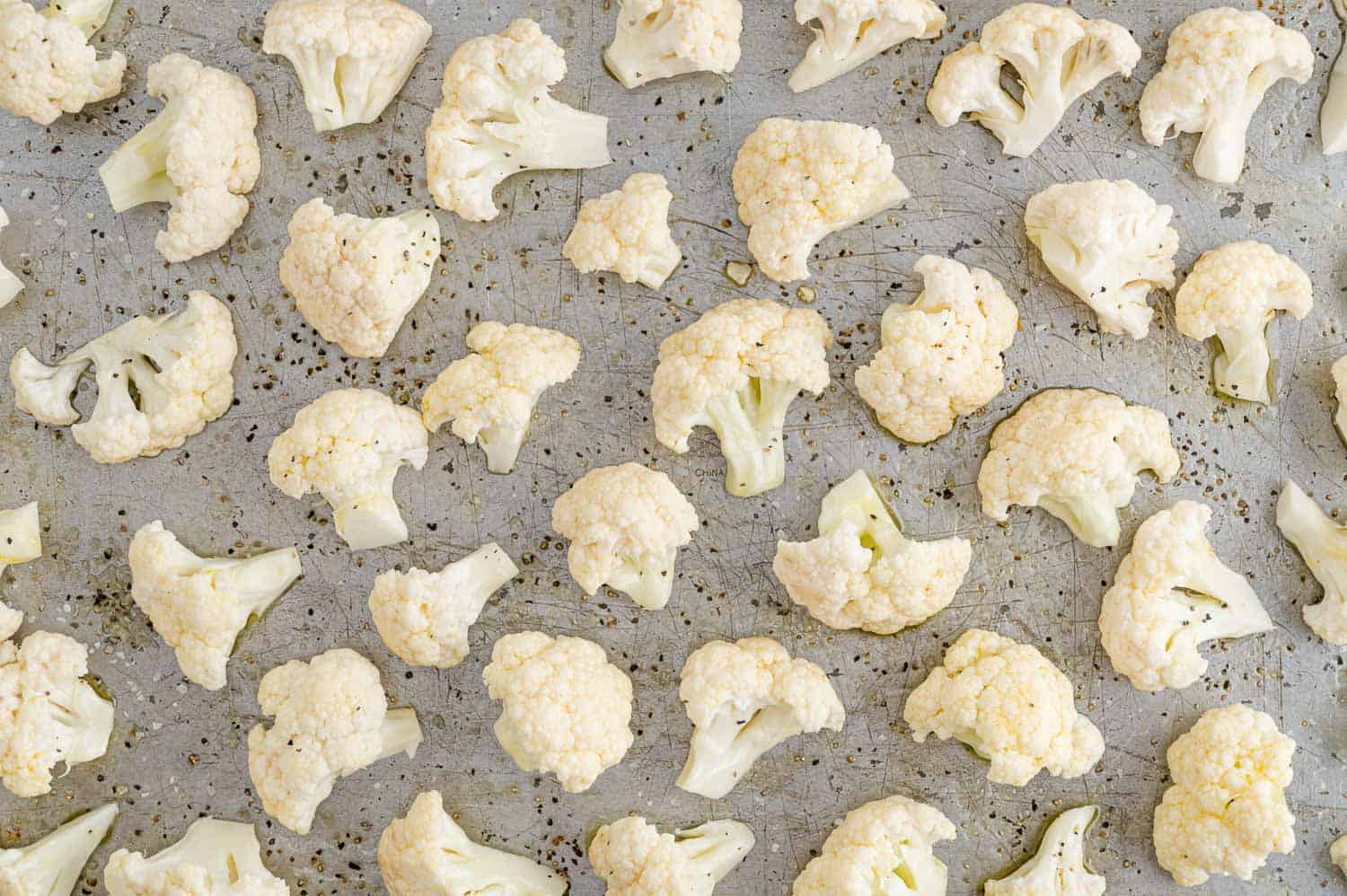 Roast. Bake the cauliflower in a preheated oven at 425°F until crispy and golden brown!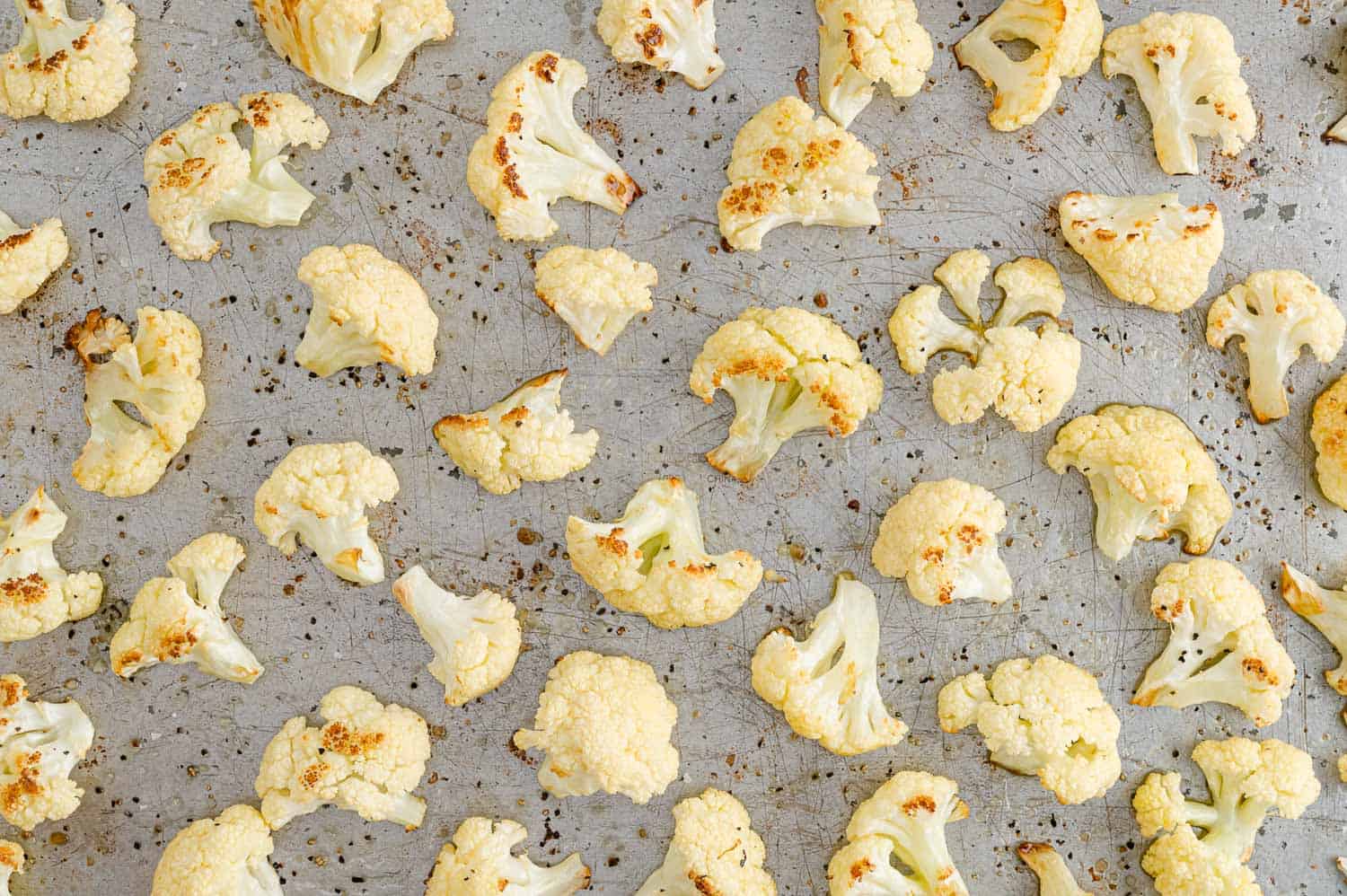 Oven Temp
The recipe is written for 425°F but if you have something else in the oven that you need to cook at a specific temperature (350°F – 400°F) the cauliflower will still roast nicely. It won't cook as quickly and or get quite as crispy but still tastes great.
Eat roasted cauliflower as a side dish, or use it in other recipes. Try this cauliflower cheddar dip. It's a healthier alternative to heavy all-cheddar dips. Similarly, roasted cauliflower and cheddar soup tastes unbelievably rich but won't break your calorie count for the day.
Even though the cauliflower is blended together with other ingredients, roasting it first gives your dish an amazing depth of flavor. Everyone will want to know your secret, and how to roast cauliflower!
FAQs
How do you roast cauliflower without it getting mushy?
1) Dry it well. Make sure the raw cauliflower is very dry before coating it with oil. Spread it out on a towel on the counter for a half hour or so to make sure it gets good and dry. A salad spinner helps, too. Dry = Crispy!
2) Coat with oil. A thin layer of oil not only gives flavor but also increases the crispness of the cauliflower, much like deep frying would. If you like, spray the florets with olive oil spray to make sure they are well-coated with oil.
3) Promote good air flow. Spread the cauliflower out on the baking pan. Since cauliflower has a high water content, good air circulation promotes crispiness.
4) Preheat the oven. Make sure the oven is preheated before you start roasting the cauliflower. A good hot oven is essential. To really kickstart the roasting process, preheat the sheet pan in the oven.
Should you wash cauliflower before cooking?
Yes, a thorough rinse with cold water is essential. Who knows where your cauliflower has been before it made its way to your kitchen? Even if it's straight from the farmer, you'll want to make sure there isn't any leftover grit or insects. Always wash produce before eating it!
Can you overcook cauliflower?
Yes, although it happens less frequently when you roast it. Overcooked cauliflower will be mushy, crumbly, and have a strong flavor.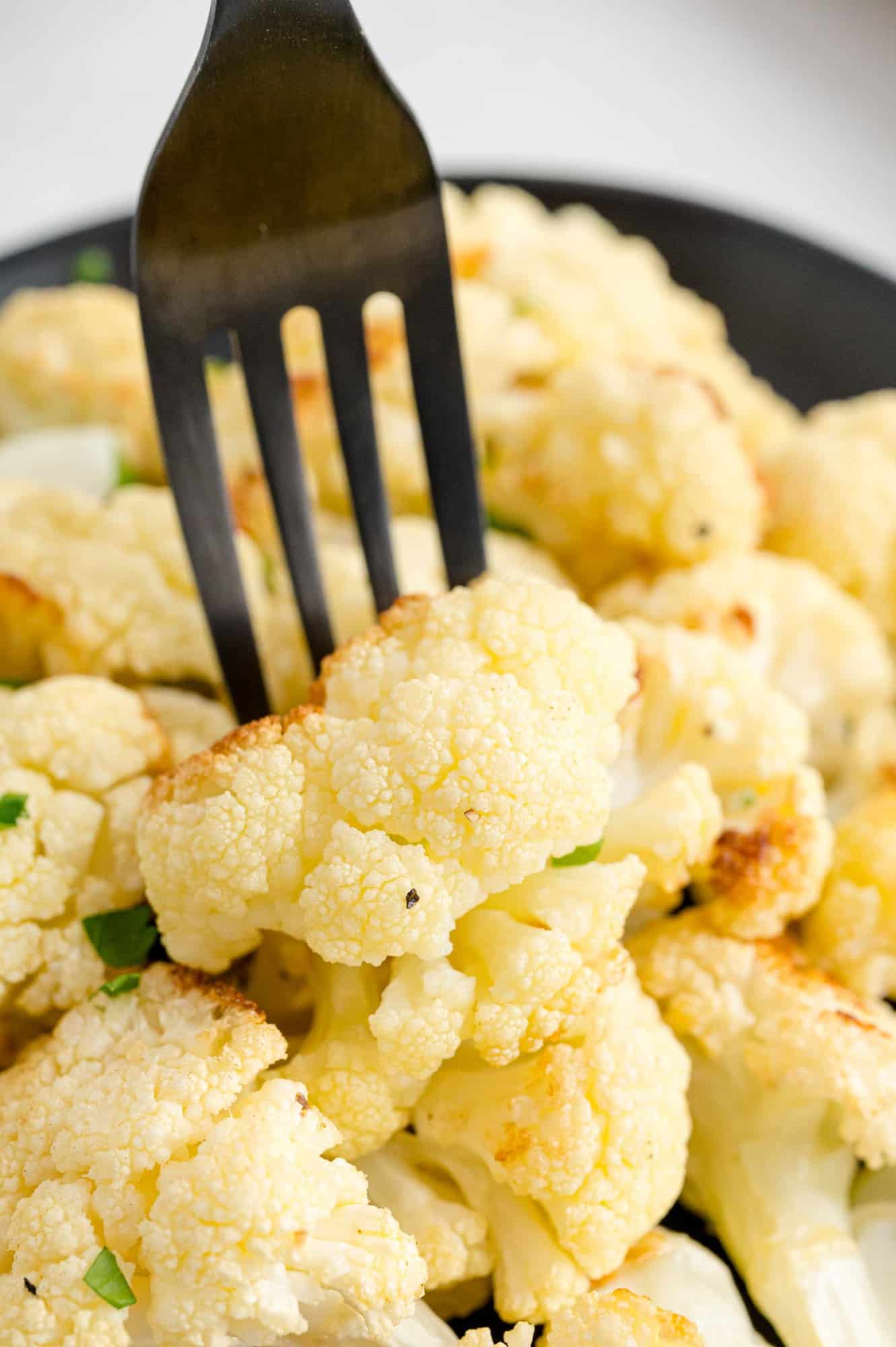 Make It Your Own
Make Ahead Ideas
While this is a very simple recipe, prepping the raw cauliflower ahead of time will save you time at dinner. Cut, wash, and dry the florets up to 4 days in advance. Store them in a plastic or paper bag or covered bowl in the fridge.
Storage & Reheating Tips
Refrigerate: Leftover roasted cauliflower can be stored in the fridge for up to five days in a covered container.
Freeze: If you prefer, freeze it for up to one month. Thaw overnight in the fridge before reheating.
Reheat: For best results, reheat in the oven (or toaster oven) or on a sheet pan to regain the crispiness. A few minutes in an air fryer will do the trick, too.
Leftover Love
Add leftover roasted cauliflower to your favorite burrito bowl. Make cauliflower nachos or cauliflower tacos. You won't believe how tasty they are!
More delicious cauliflower recipes
Did you make this? Be sure to leave a review below and tag me @rachelcooksblog on Facebook, Instagram, or Pinterest!
Roasted cauliflower is good for you, easy to make, and tastes delicious. Learn how to roast cauliflower here!
Ingredients
1

head

cauliflower

(about 4 cups florets)

2

tablespoons

olive oil

(other types of oil are fine, too)

salt and pepper to taste
Instructions
Wash cauliflower, cut it into medium-sized florets, and dry very thoroughly. Don't skip drying — it's important. Use a salad spinner if you have one, or just shake all the water out and pat dry with a clean, lint-free towel.

Add florets to a large bowl, add olive oil, and toss to coat. (You can do this right on the sheet pan, if you prefer.) Spread cauliflower on sheet pan in a single layer and sprinkle with salt and pepper.

Bake for 10 minutes, flip each piece over, and bake for 10 more minutes. Serve immediately.
Notes
The drier you get the cauliflower before mixing with the olive oil, the better this recipe turns out.
Don't worry if you have more cauliflower than the recipe calls for. Add a bit of extra oil and make sure there's enough room on the sheet pan to spread the florets out. If necessary, use two sheet pans.
Add Ins: Seasoned salt, garlic powder, taco seasoning, chili powder, or curry powder can be added before roasting. Sauces such as salsa verde, chimichurri, or pesto can be added afterwards.
Make Ahead Idea: Prep the raw florets up to four days in advance. They'll keep well in the fridge in a resealable bag or tightly sealed container. Bake as directed.
Air Fryer Instructions: Prepare cauliflower as directed and preheat air fryer to 390°F. Arrange cauliflower in a single layer. You may have to do it batches. Cook for 12-15 minutes or until cauliflower is tender and browned.
Nutrition Information
Calories:
98
kcal
,
Carbohydrates:
7
g
,
Protein:
3
g
,
Fat:
7
g
,
Saturated Fat:
1
g
,
Polyunsaturated Fat:
1
g
,
Monounsaturated Fat:
5
g
,
Sodium:
43
mg
,
Potassium:
430
mg
,
Fiber:
3
g
,
Sugar:
3
g
,
Vitamin C:
69
mg
,
Calcium:
32
mg
,
Iron:
1
mg
This website provides approximate nutrition information for convenience and as a courtesy only. Nutrition data is gathered primarily from the USDA Food Composition Database, whenever available, or otherwise other online calculators.