Fragrant and mildly spicy, homemade curry powder transforms any dish. Make your own special blend of ten spices for delicious curries, soups, salads, and more.
Recipe Overview
Why you'll love it: Keep this spice blend on hand for seasoning. Curry powder adds so much flavor to a variety of recipes.
How long it takes: 5 minutes
Equipment you'll need: measuring spoons, small jar
Servings: makes 2/3 cup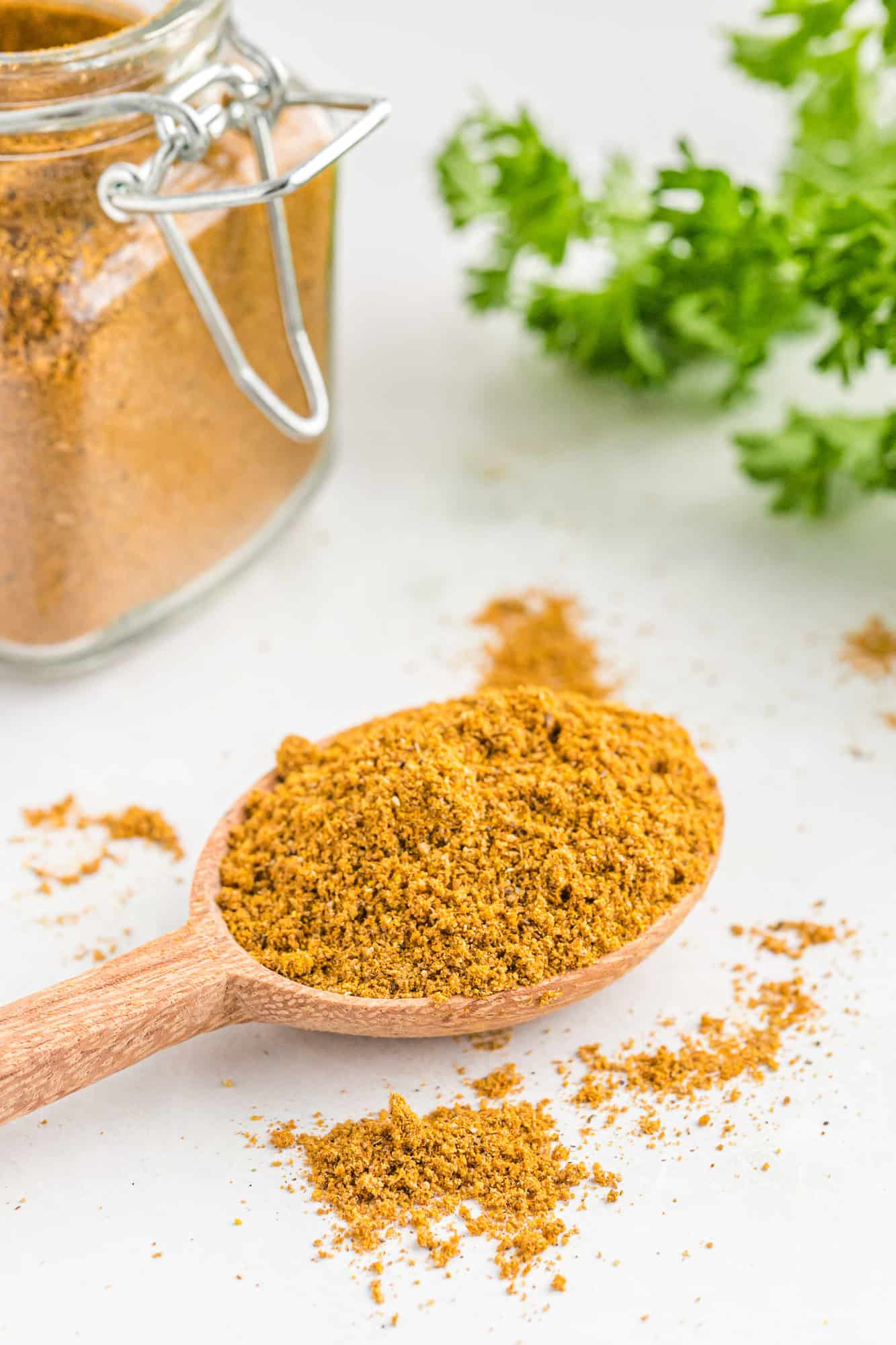 I have to confess, the first time I made this curry powder, it was out of necessity. I was developing a copycat Panera squash soup recipe (a favorite of mine!), and discovered that my pantry was devoid of curry powder.
Don't you just hate it when that happens? You're in the middle of some really good cooking and then, aaargh! you find out that you're missing an essential ingredient. Well, necessity is the mother of invention, as the saying goes.
I quickly did a little research and decided that I could make my own curry powder blend using the ground spices that I did have in my cabinet. I was able to make my squash soup (recipe link is below, in case you're interested) with my own homemade spice blend.
Since then, I've found that curry powder is a wonderful blend to have on hand. The spices enliven soups, salads, roasted vegetables, vinaigrettes, marinades, etc. It's great for making curries, too, of course.
About This Spice Blend
I don't pretend to be an expert on curries or curry powder. What I do know is that I like curry powder, particularly this blend. I've worked hard on getting the right balance of spices and it tastes great! That's what's important to me.
Some of you may be familiar with my other spice and seasoning blends. I love to make my own seasoning because I don't have to worry about additives or unknown "natural flavors". This is especially important in my family because my children have pretty severe food allergies.
One of my favorites is homemade taco seasoning. I use it on practically everything. It became so popular, I added my large batch taco seasoning blend which is the same thing but in larger proportions. Since then, I've come up with several more seasoning/spice mixes. You'll find links for them later on in this post.
Well, okay. I bet you're ready to get started! There's no mysterious alchemy when it comes to making curry powder or any other spice blend. If you can use a measuring spoon, you're golden!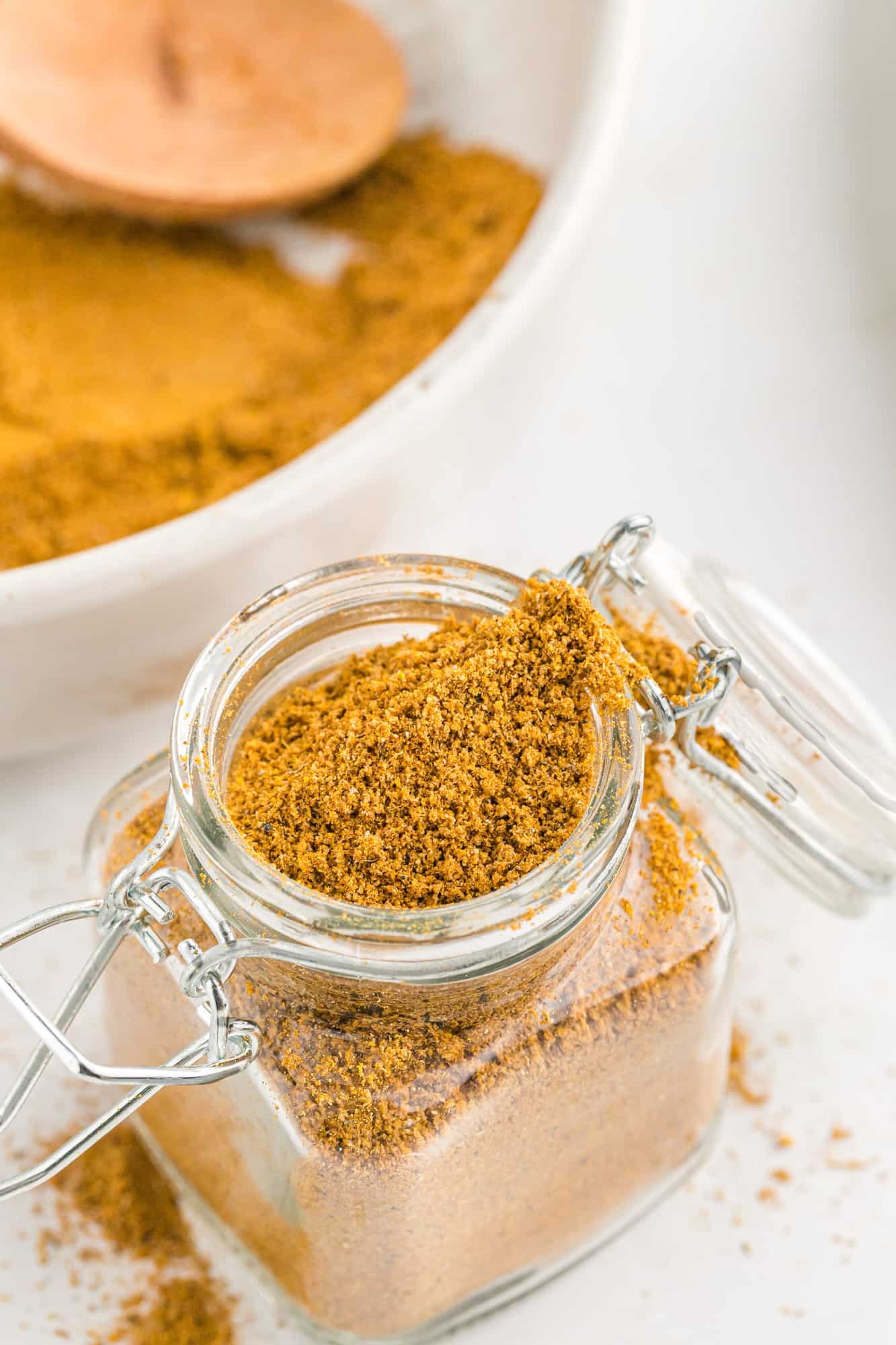 I'll give you a little foundational information here and get you started on your curry blend. The recipe card found near the end of the post has complete measurements, instructions, and nutrition information.
What You'll Need
Coriander: This spice is the foundation of this curry powder blend. Coriander is described as having a lemony floral flavor. It's the seed of the coriander plant, the leaves of which are cilantro but they do not taste like each other at all.
Cumin: Often paired with coriander, ground cumin seeds are used in many cuisines. It's earthy, warm flavored, and a little peppery.
Turmeric: This bright yellow spice is common in curries and has many health benefits. It will color whatever you add it to.
Ground Ginger: Warm and spicy, this spice is used both for sweet and savory dishes. Ground ginger is milder than ginger root.
Dry Mustard: Round yellow mustard seeds are ground to a pale yellow powder. It doesn't have any flavor until it's added to liquid.
Fenugreek Powder (Ground Fenugreek Seeds): The seeds can be very bitter but when combined with other spices and cooked, fenugreek has a bittersweet burnt sugar flavor.
Ground Black Pepper: Everyone is familiar with this spice made from black peppercorns. It's warm and spicy.
Ground Cinnamon: Again, this is a very familiar spice used in both sweet and savory dishes. Cinnamon is made from the inner bark of trees and is produced mainly in Indonesia and China.
Ground Cloves: Dark brown in color, ground cloves are very potent and distinctive in flavor. Cloves are used in both sweet and savory recipes.
Ground Cardamom: You can buy this spice in seed or pod form as well as ground and you'll find it in Indian, Arabic, and Middle Eastern cuisines.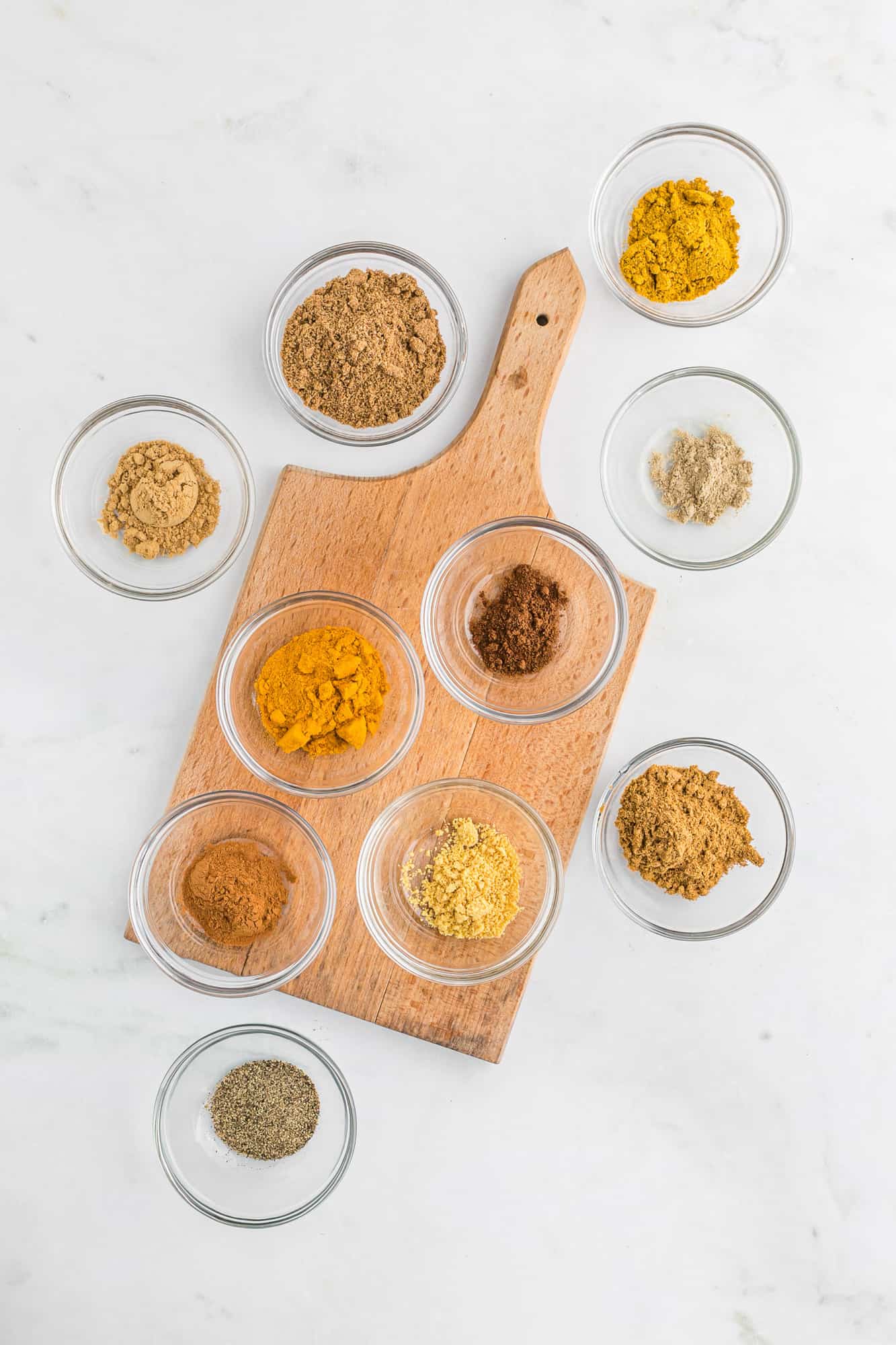 How To Make It
It's pretty easy to make a spice blend. Line up all the spices you'll be using. Find your measuring spoons and get ready to measure.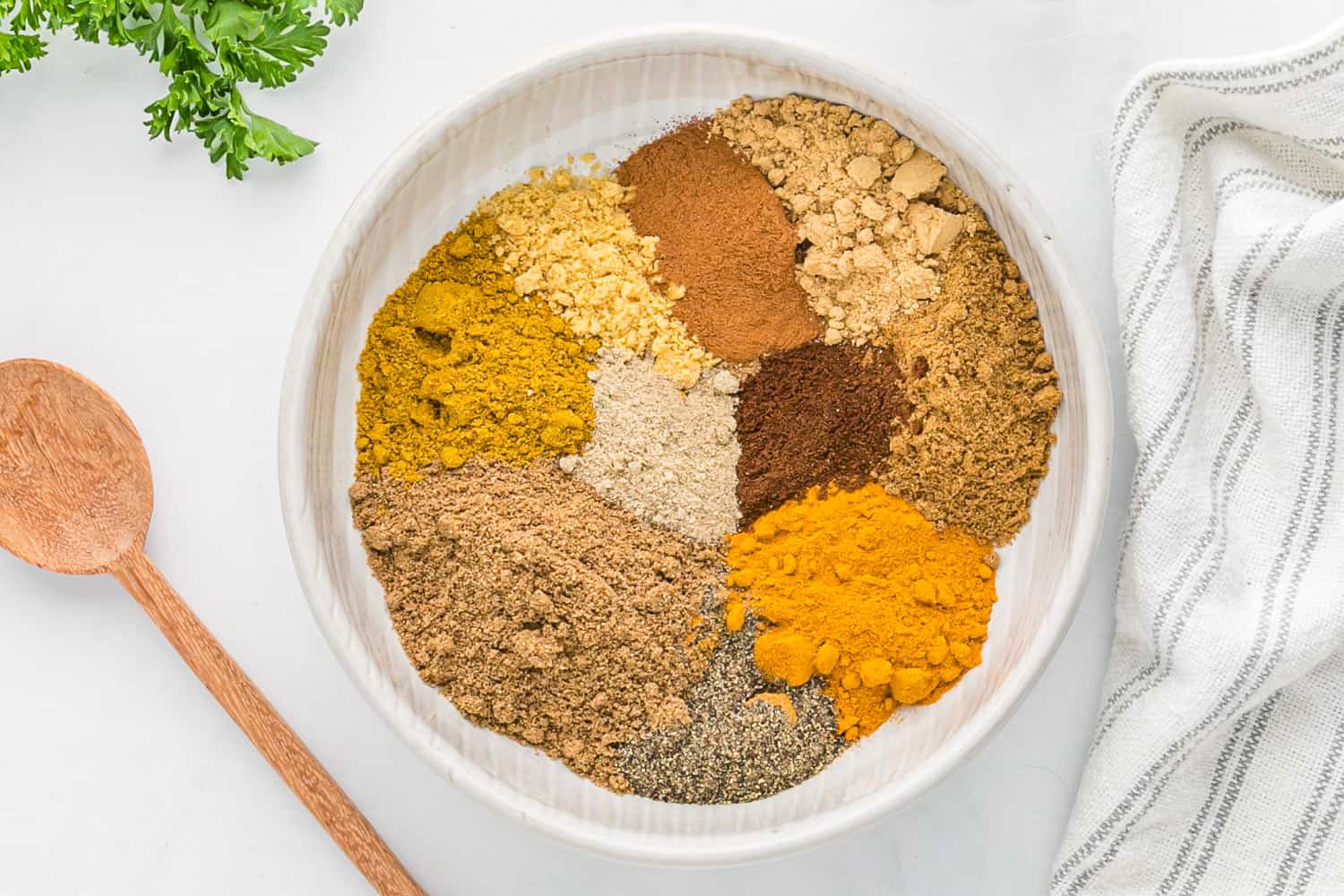 Tip!
It's easy to become distracted and forget where you are on the list.You don't want to get mixed up when you're going down this long list of ten spices. This tip will help. Arrange all the spices on your left. After you measure each one into your bowl, replace the cover and put it on your right.
You can mix the spices in a small bowl or a glass jar. Recycled jars with a tight-fitting lid are perfect. Just make sure they are clean and completely dry.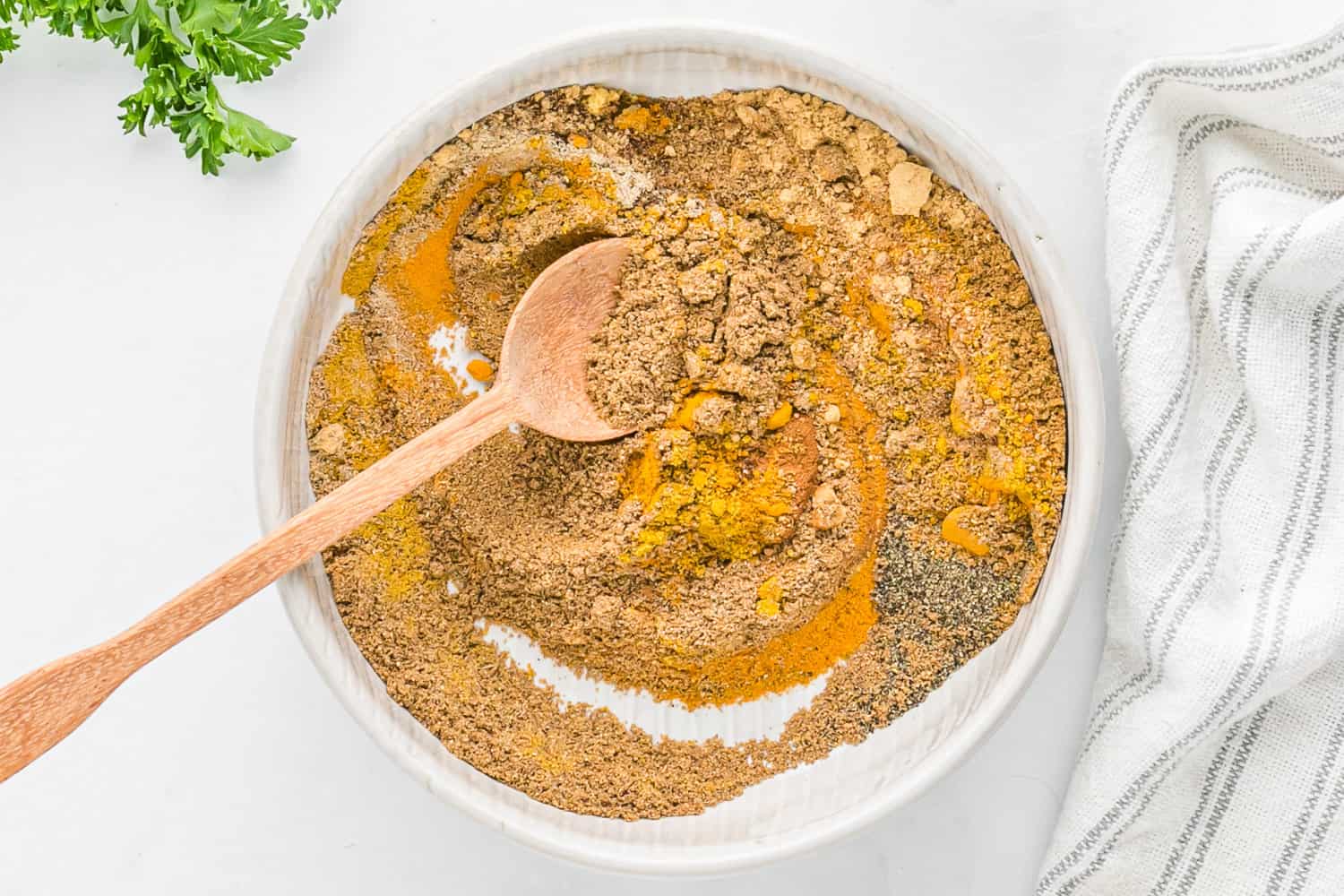 How To Use Curry Powder
FAQs
What is the difference between curry powder and garam masala?
Garam masala is a mixture of spices used in Indian cooking. In Hindi, garam means "warm" and masala means "spice mix". The blend depends on which region of India you're in and who is making it. Most cooks make their own blend using whole spices that are roasted, cooled, and ground in a spice grinder before adding them to a dish.
Curry powder is a British invention and is not used widely in Indian cooking. It relies on coriander, cumin, fenugreek, and turmeric, which gives it the bright yellow tint.
Are all curry powders the same?
There are many curry powder blends. Some curry powders are mild and some are very spicy. There are many brands and individual cooks and each will have their own special blend.
Do all curries have curry powder?
No, curries are a dish with a sauce that may or may not be flavored with curry powder. Often, Indian curries are seasoned with curry leaves which don't have any resemblance at all to curry powder. Thai curries may be seasoned with curry paste which tends to be hotter than most curry powders.
Make It Your Own
Consider this blend of ten spices as a starting point. Once you've tried it, you may want to make some changes (or maybe not!).
Make it spicier. This is a mild curry powder. If you like hot spicy foods, add ground red pepper (cayenne), to taste.
Like garlic? Add a teaspoon (or more) of garlic powder to the blend.
Missing one of the spices? I wouldn't recommend leaving out the coriander, cumin, turmeric, or fenugreek because they are the base of the curry blend. You could fudge it a little with the other spices, particularly the cloves and cardamom. Red pepper could be substituted for the black pepper but it will make your curry hotter.
If I've omitted a spice that you can't live without in your curry, feel free to add it or substitute it for another spice on the list. Fennel seeds and caraway seeds are commonly added to curry powder, especially the recipes which begin with whole spices.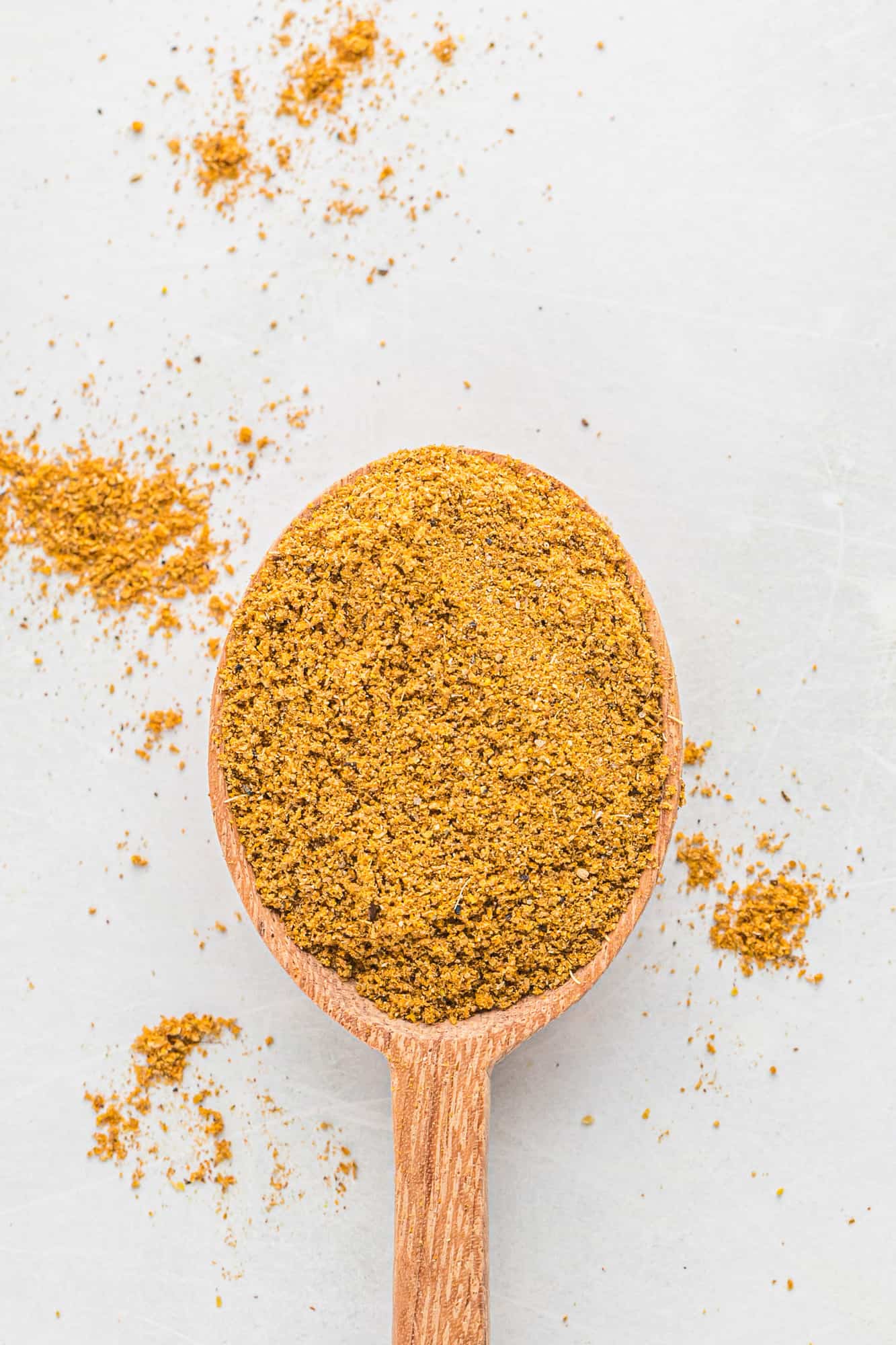 Storage Tips
Store your curry powder in tightly closed jar. It will keep for a few years. It's best if it's stored in a cupboard or pantry, not on the countertop or by your stove.
Did you make this? Be sure to leave a review below and tag me @rachelcooksblog on Facebook, Instagram, or Pinterest!
Fragrant and mildly spicy, homemade curry powder transforms any dish. Make your own special blend of ten spices for delicious curries, soups, salads, and more.
Ingredients
5

tablespoons

ground coriander

2

tablespoons

ground cumin

1

tablespoon

ground turmeric

2

teaspoons

ground fenugreek seeds

(fenugreek powder)

1 ½

teaspoons

ground ginger

1

teaspoon

dry mustard

1

teaspoon

ground black pepper

1

teaspoon

ground cinnamon

½

teaspoon

ground cloves

½

teaspoon

ground cardamom
Instructions
Mix all ingredients together and store in an airtight container until ready to use.
Notes
Makes ⅔ cup (32 teaspoons).

Store in a tightly sealed container in a cool dark location for up to 3 years. A pantry or cupboard is fine; avoid storing on the counter.
This is a mild curry powder. If you like hotter curry, substitute ground red pepper (chili or cayenne) for the black pepper, to taste.
If you like garlic, add 1 teaspoon garlic powder.
Nutrition Information
Calories:
6
kcal
,
Carbohydrates:
1
g
,
Protein:
1
g
,
Fat:
1
g
,
Saturated Fat:
1
g
,
Polyunsaturated Fat:
1
g
,
Monounsaturated Fat:
1
g
,
Sodium:
1
mg
,
Potassium:
28
mg
,
Fiber:
1
g
,
Sugar:
1
g
,
Vitamin A:
6
IU
,
Vitamin C:
1
mg
,
Calcium:
11
mg
,
Iron:
1
mg
This website provides approximate nutrition information for convenience and as a courtesy only. Nutrition data is gathered primarily from the USDA Food Composition Database, whenever available, or otherwise other online calculators.