Homemade Pumpkin Pie Spice Recipe
Make your own pumpkin spice lattes and more! It's easy with homemade pumpkin pie spice. Perfect for fall baking!
Recipe Overview
Why you'll love it: This spice blend tastes like fall and can be added to beverages, desserts, baked goods, snacks and more.
How long it takes: 5 minutes
Equipment you'll need: measuring spoon, small jar
Servings: makes about 1/4 cup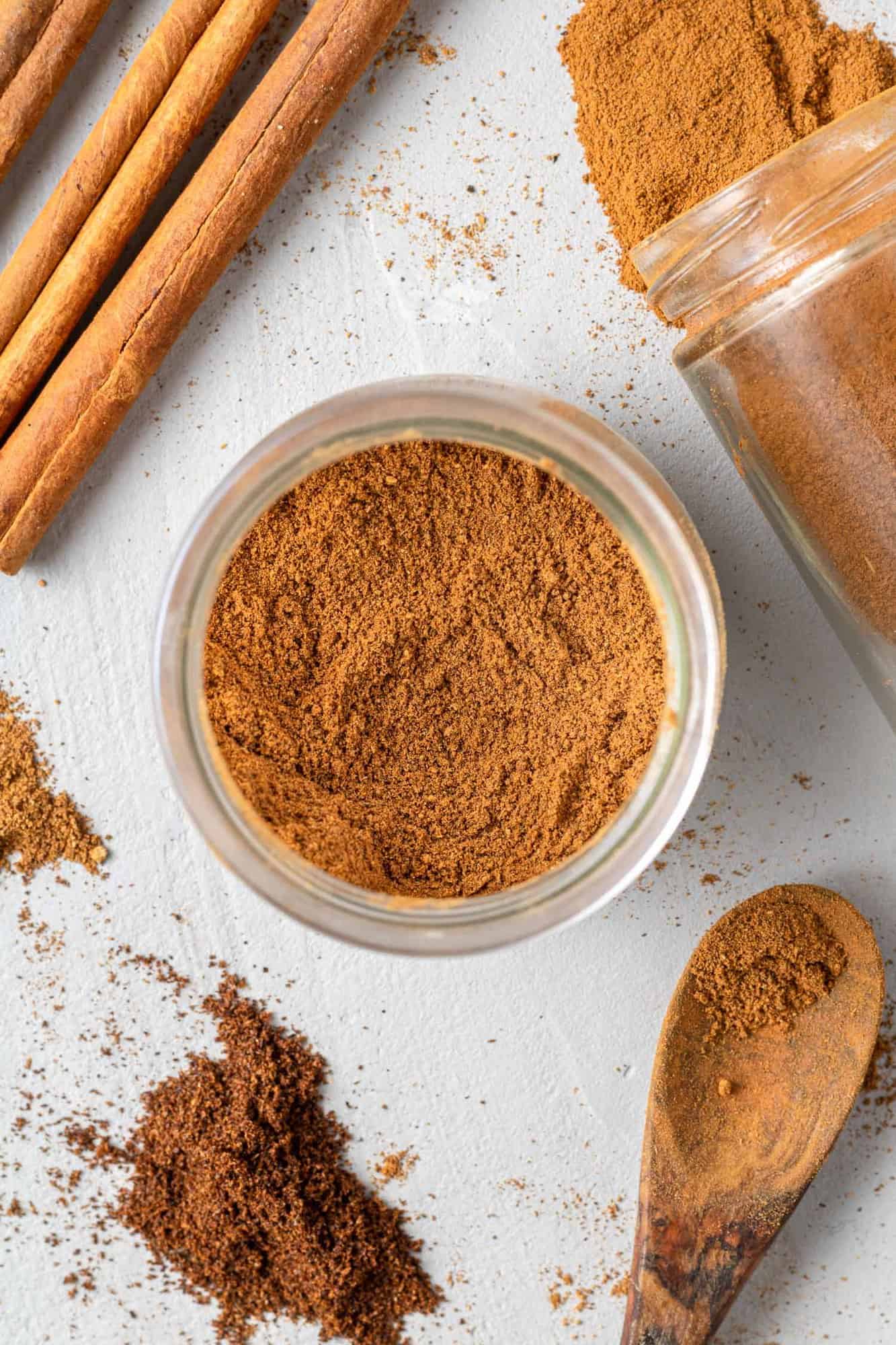 Rows of gleaming orange pumpkins, crisp autumn afternoons, brilliantly colorful leaves, and an azure blue sky! Don't you just love this season? Pulling on a cozy sweater and warm socks (hello, socks, I haven't seen you in awhile!) to go to football games, corn mazes, autumn parties, and hayrides makes me feel all warm and fuzzy.
And of course, there's the food. Mulled cider, cinnamon sugar dusted apple cider doughnuts, and pumpkin everything. That's where this homemade pumpkin pie spice blend enters the picture.
With warm spices like cinnamon, nutmeg, ginger and more, you'll find yourself adding this spice blend to beverages, baked goods, breakfast foods, and more. It just tastes like fall!
Why Make Your Own Spice Blends?
Making your own seasoning mixes at home saves money and tastes better. They are easy to customize so you get just the blend you like. In addition, many spice mixes have a lot of added salt or preservatives, neither of which I want in my foods.
That's the reason why I started making my own taco seasoning which doesn't have any additives or preservatives, and no added salt. Plus, I can make it as spicy (or not!) as I like it.
And so it goes. I now have more than ten different spice blends that I use all the time.
Will you need to buy a bunch of spices? No, you'll be able to make your blends with the spices you already have in your pantry. Use them while they are still fresh and tasty. There's no need to buy a bunch of brand new ones as long as yours haven't been sitting on the counter for 10 years. If they have, my advice to you is start fresh. You won't be sorry!
So when the season becomes cool and crisp, and the coffee shops are featuring those lovely pumpkin spice lattes, make your own pumpkin pie spice. And while you're at it, make a batch of apple pie spice blend for all your favorite apple desserts, like apple crisp or apple spice cake with bourbon glaze.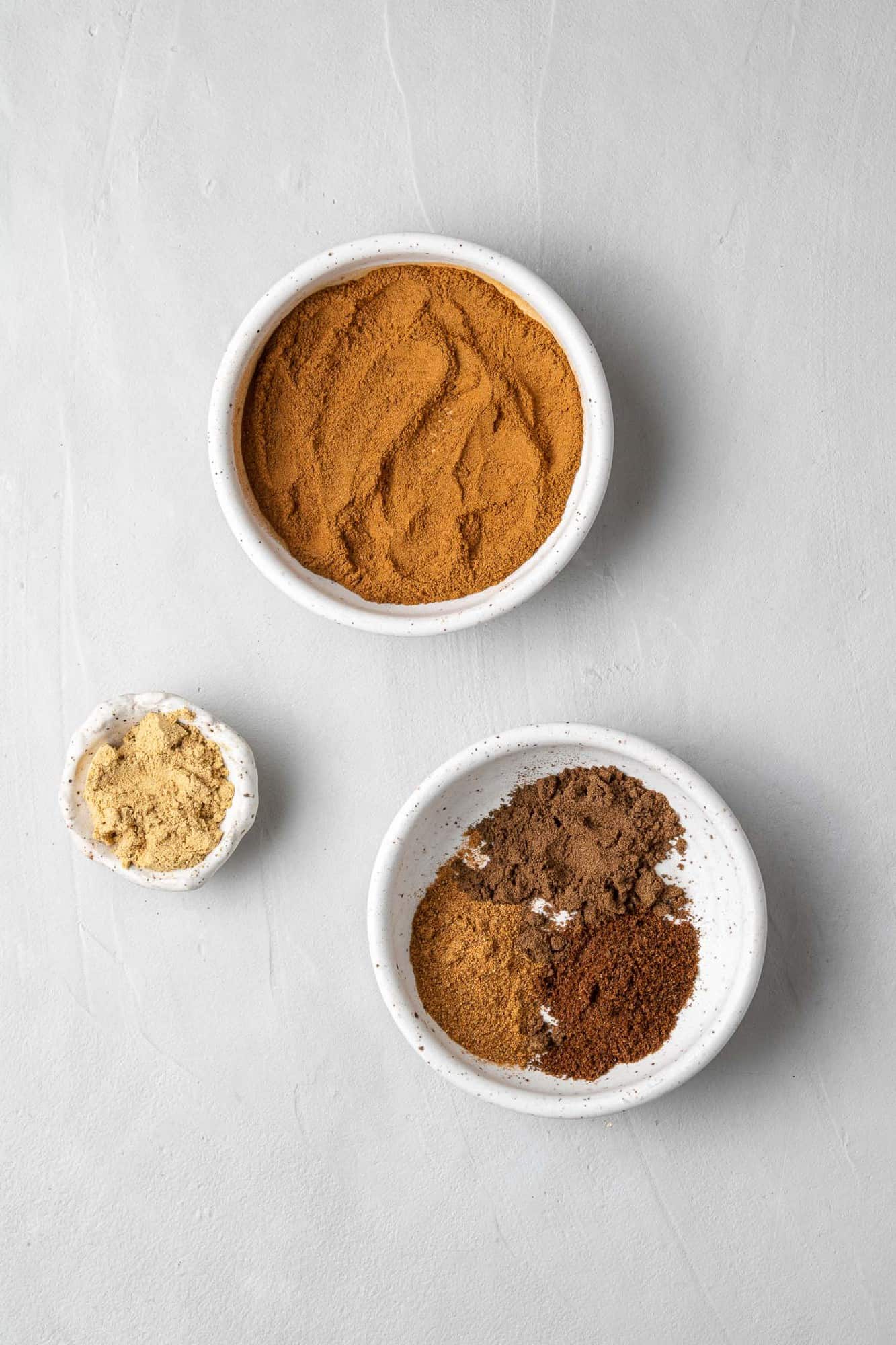 What You Need
Cinnamon: Sweet and warm, ground cinnamon is the foundation of the blend.
Nutmeg: Use store-bought ground nutmeg if you need to but I promise once you try freshly grated, you're never going back! It just tastes way better. Buy whole nutmegs (they look like a hard round nut) and use a fine zester or grater to scrape off what you need.
Ginger: Another warming spice, ground ginger will remind you of gingersnaps.
Allspice: Kind of a tricky name but allspice is really just one spice. Check out the FAQs for more about allspice.
Cloves: You may be more used to whole cloves but you'll need ground cloves for the spice blend. This dark brown spice has a powerful flavor, so use it sparingly. Take a sniff and if you're not sure about it, start with a 1/2 teaspoon.
A small jar or airtight container: I like to recycle old spice jars to put my new spice mixture in. I write up a quick label, draw a pumpkin on it because I'm a dork (and a terrible artist), and date it.
How To Make A Spice Blend
It's almost embarrassingly easy. Simply use a measuring spoon to measure out the amount of each ground spice and put it into a jar or container. Put the lid on and shake it up. You can also stir the spices together in a bowl and transfer to a storage container.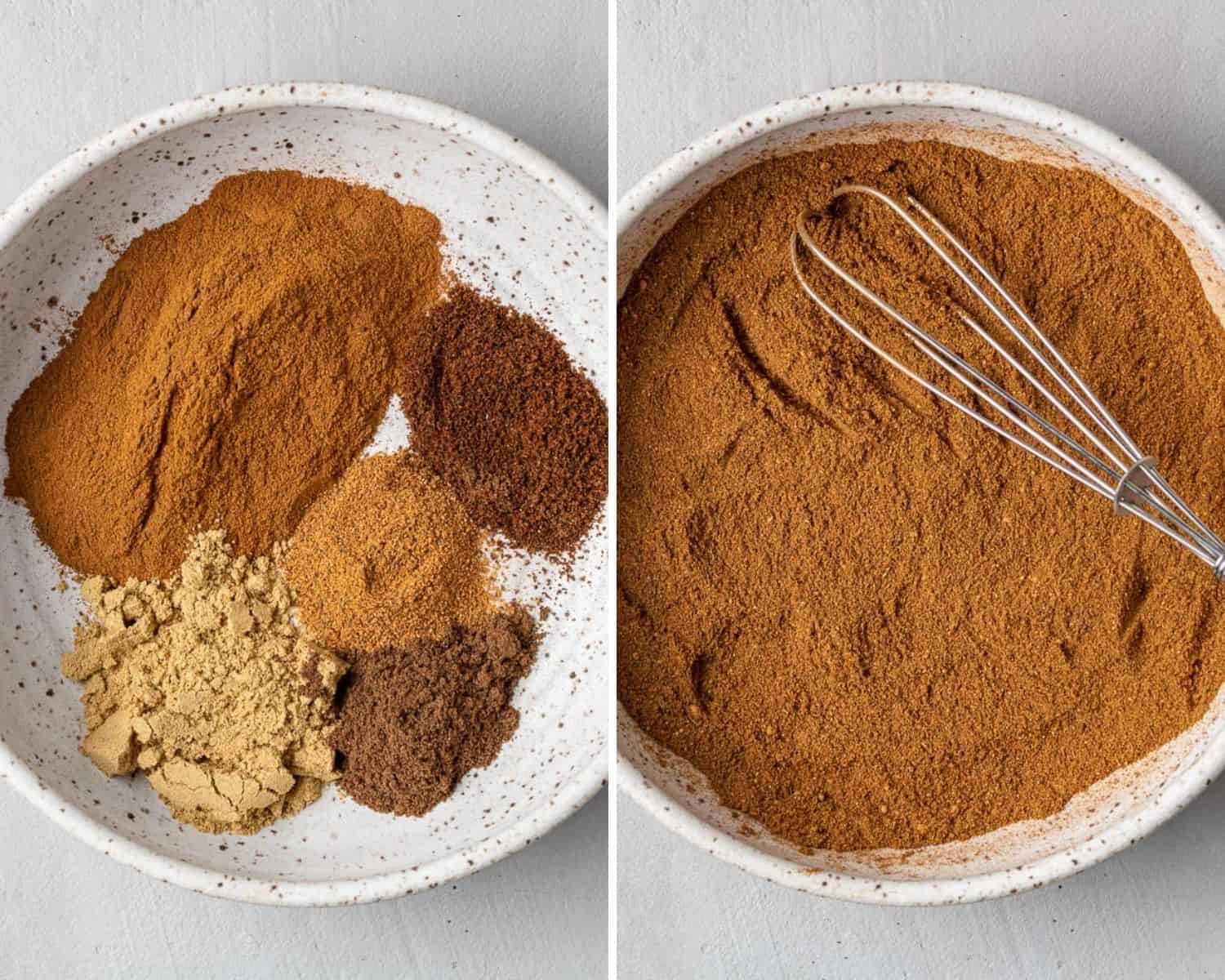 How To Use Pumpkin Pie Spice
I'm sure you'll have lots of your own ideas but here's a few of mine to get you started. Basically pumpkin pie spice gives the perfect taste of fall to anything you make. Seriously amazing!
These aren't actual recipes but I have lots of those, too, so keep reading!
for pumpkin pie (duh)
to make fancy coffee (hello pumpkin spice latte!)
for hot cider (add a shot of cinnamon whiskey, too!)
to flavor whipped cream or vanilla ice cream
to add excitement to roasted sweet potatoes or other roasted vegetables
to make your pancake or waffle mix taste like fall
for a special bowl of oatmeal (stir in pumpkin spice and a drizzle of maple syrup).
Recipes with Pumpkin Pie Spice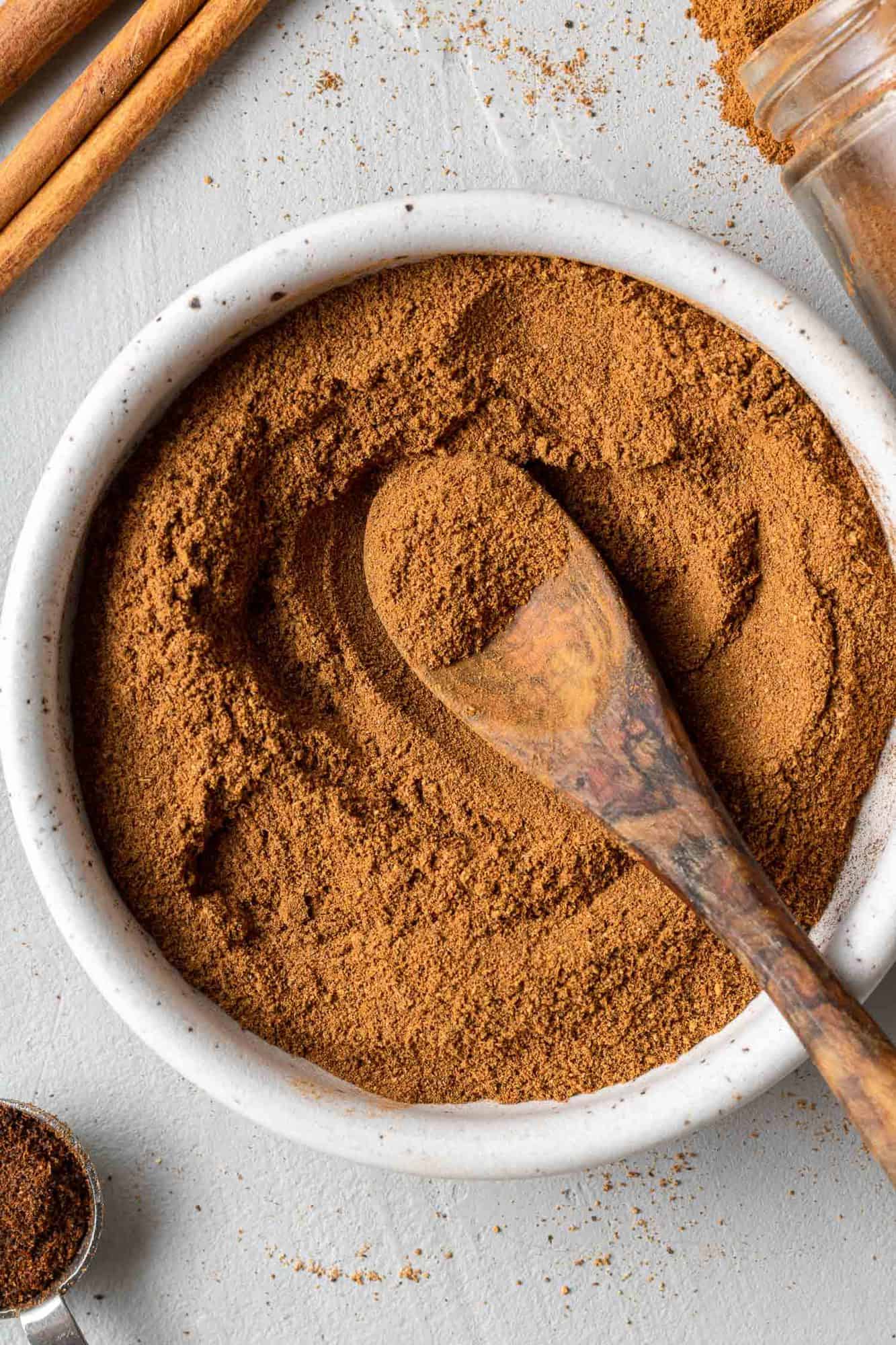 Make It Your Own
Double or triple the recipe to make more pumpkin pie spice mix. Just keep the ratio the same.
If you're not fond of a particular ingredient, simply omit it, substitute extra cinnamon, or substitute another warm sweet spice, such as cardamom.
FAQs
What's the difference between pumpkin pie spice and allspice?
Pumpkin pie spice is a blend of spices that may include allspice. Allspice is an actual spice, not a combination of "all spices". It's the dried unripe berry from a Central American tree and resembles brown peppercorns in appearance (Wikipedia).
Can you use pumpkin pie spice instead of individual spices?
Yes, if your recipe calls for cinnamon, nutmeg, ginger, allspice, and/or cloves, you can just substitute the same amount of pumpkin spice. For example, I often make the Libby's Pumpkin Pie recipe that's right on the can of pumpkin. It calls for 1 teaspoon ground cinnamon, ½ teaspoon ground ginger, and ¼ teaspoon ground cloves. I simply substitute the equivalent amount of pumpkin pie spice, which is 1 and 3/4 teaspoons.
Can I use pumpkin pie spice instead of cinnamon?
Again, yes! Since pumpkin pie spice is a blend of 5 spices, it will add more flavor and excitement than plain cinnamon.
What can be used instead of pumpkin pie spice?
You can substitute cinnamon for pumpkin pie spice. Another good substitute is apple pie spice blend which is made with cardamom, cinnamon, nutmeg, allspice, and ginger. If you don't have pumpkin pie spice, compare the list of ingredients with what you have in your pantry and simply use the ones you have!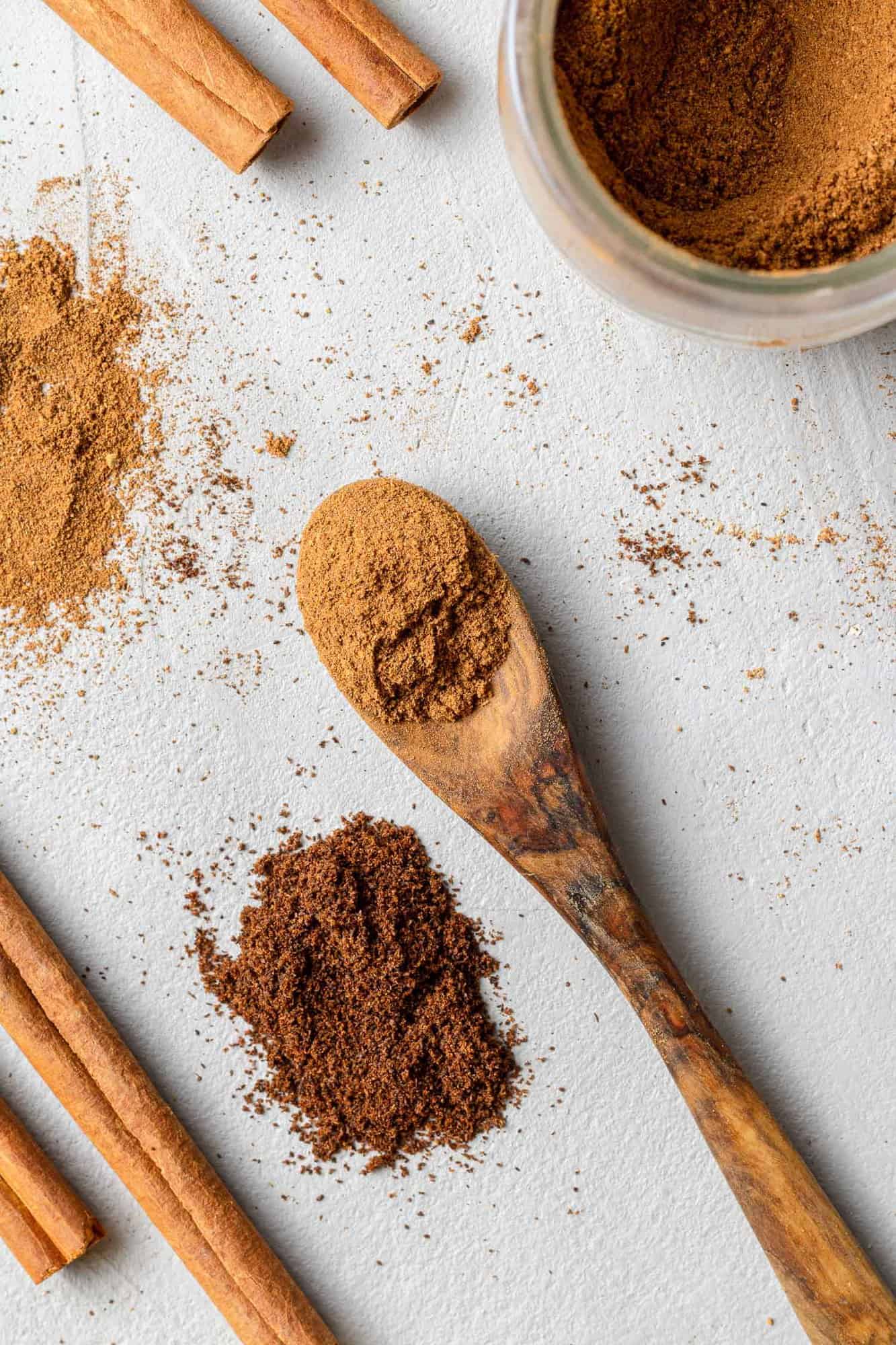 Storage Tips
How many of you received one of those nifty counter spice racks for a shower or wedding present? It seems like everyone has one! How many of the little bottles have you ever even opened? Gulp! Yeah, me, too.
Unfortunately, storing your spices in a clear glass jar on the counter is NOT the best way to keep your spices fresh. It's recommended that you store spices and dried herbs in a cool dark place, like inside a pantry or cupboard and not right beside your stove.
This pumpkin pie spice will keep fresh for two to three years, if stored properly.
Did you make this? Be sure to leave a review below and tag me @rachelcooksblog on Facebook, Instagram, or Pinterest!
Make your own pumpkin spice lattes and more! It's easy with homemade pumpkin pie spice. Perfect for fall baking!
Ingredients
2

tablespoons

ground cinnamon

1

teaspoon

freshly grated nutmeg

(see note)

2

teaspoons

ground ginger

1

teaspoon

ground allspice

1

teaspoon

ground cloves
Instructions
Mix together all ingredients in a small jar or airtight container. Makes a little less than 1/4 cup.
Notes
A note about nutmeg: use store-bought ground nutmeg if you need to but I promise once you try freshly grated, you're never going back!

Store at room temperature in pantry or cupboard. Keeps for two to three years if stored properly.

Can be used for pumpkin pie, of course, but check out the post above for lots more ideas and recipes.
Nutrition Information
Serving:
0.25
teaspoon
,
Calories:
2
kcal
,
Carbohydrates:
1
g
,
Protein:
1
g
,
Fat:
1
g
,
Saturated Fat:
1
g
,
Polyunsaturated Fat:
1
g
,
Monounsaturated Fat:
1
g
,
Trans Fat:
1
g
,
Sodium:
1
mg
,
Potassium:
4
mg
,
Fiber:
1
g
,
Sugar:
1
g
,
Vitamin A:
1
IU
,
Vitamin C:
1
mg
,
Calcium:
4
mg
,
Iron:
1
mg
This website provides approximate nutrition information for convenience and as a courtesy only. Nutrition data is gathered primarily from the USDA Food Composition Database, whenever available, or otherwise other online calculators.