Instant Pot Steel Cut Oats
Making Instant Pot steel cut oats is easy, almost completely hands-off, and creates the perfect hearty breakfast!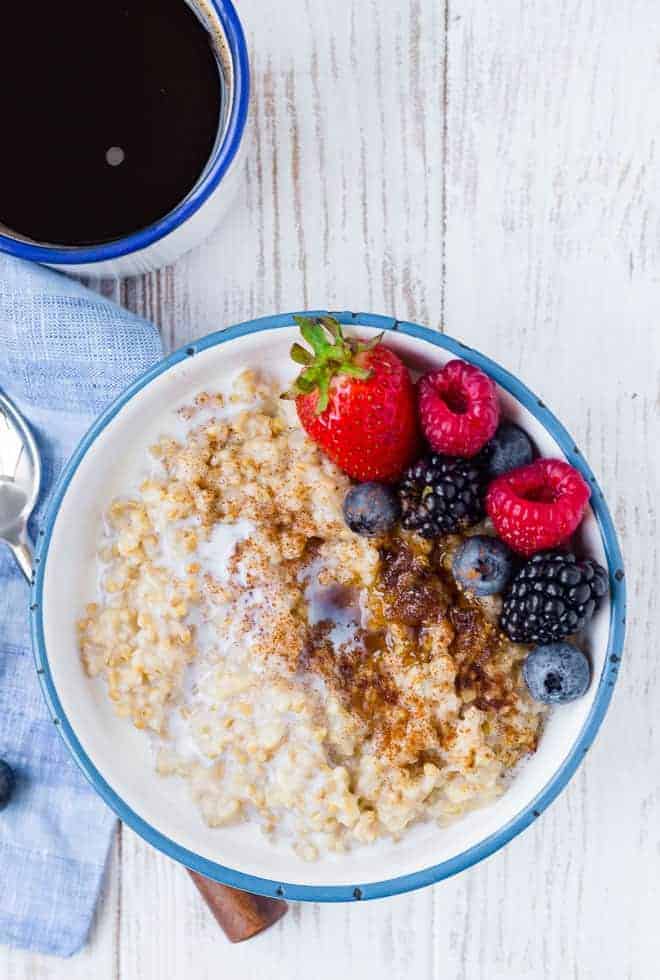 About these Instant Pot Steel Cut Oats
Creamy, warm, and comforting…everything you want from oatmeal! When you make oatmeal on the stovetop, there's a lot of babysitting it. If you've done it even once, you know this. You have to stir it to make sure it doesn't burn or stick on the bottom. You have to constantly adjust the heat to make sure it doesn't boil over (because boy oh boy does it love to boil over!). Obviously it's still not the hardest thing in the world, but it is a bit of a pain.
Using a pressure cooker eliminates all these problems. You just combine the oats, water, and a bit of salt, turn the valve to seal, set it and walk away!
If you've used an Instant Pot or other pressure cooker, you know it will take about ten minutes to come to pressure. Once it pressurizes, it will cook for 5 minutes, and then you'll let the pressure release naturally (aka do nothing) for about twenty minutes.
All that's left to do after that is remove the cover and give them a good stir. As with all oatmeal, it will continue to thicken as it stands and when it cools.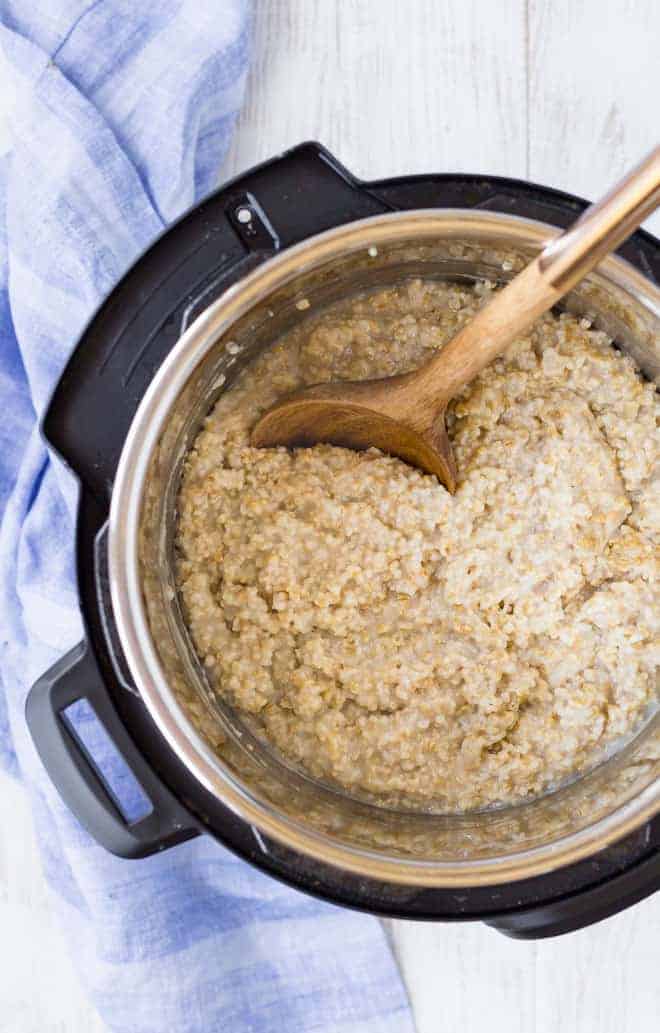 How to make these steel cut oats your own
This oatmeal is a blank slate but you can season it and flavor it any way you'd like. Here are some ideas:
Try cooking it with a cinnamon stick for a subtle cinnamon flavor, or you can give it a hearty sprinkle of ground cinnamon when it finishes cooking.
Sweeten it any way you like! I like a sprinkle of brown sugar or a drizzle of pure maple syrup. A swirl of jam or jelly is delicious too.
Toppings! Oh you know I love my toppings! Berries are amazing on oatmeal. Some other ideas are sliced bananas, nut butters, sunflower seed butter, a few chocolate chips, sautéed apples, toasted nuts, or shredded coconut. Try stirring in a little pumpkin puree and pumpkin pie spice for a fun fall oatmeal.
You can make them a little thinner by adding more water. I wouldn't recommend reducing the water much, if at all, because you'll be more likely to get a burn notice on your Instant Pot.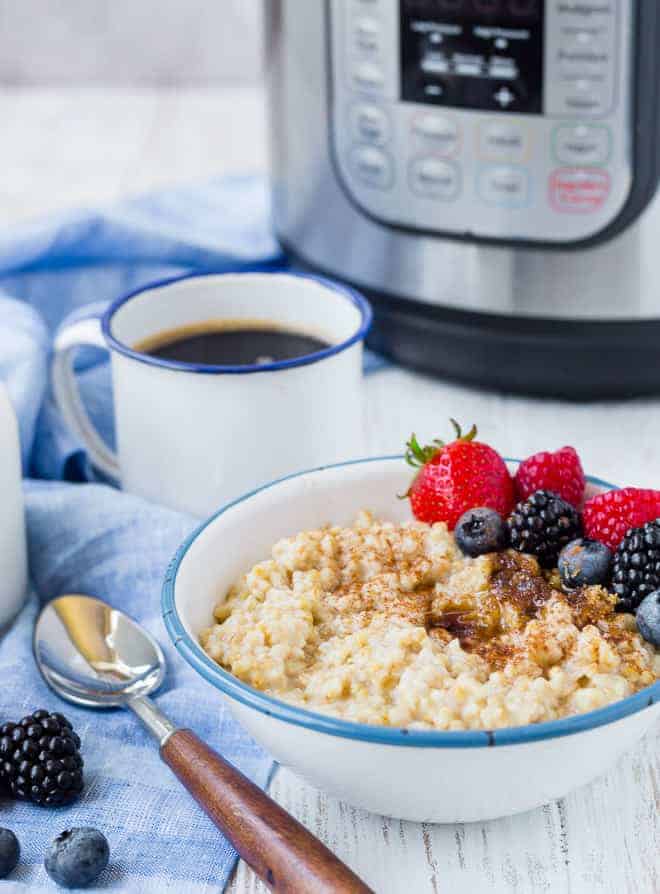 Storage and Reheating Tips
This oatmeal will keep for about a week in the fridge.
You can also freeze it (I recommend freezing in individual portions for one!) for up to 3 months. Thaw overnight in the fridge and then warm int he microwave or on the stove.
Steel cut oats reheat very well on the stovetop or in the microwave. You might find they thicken a bit, but you can thin them down with water or a milk of your choice.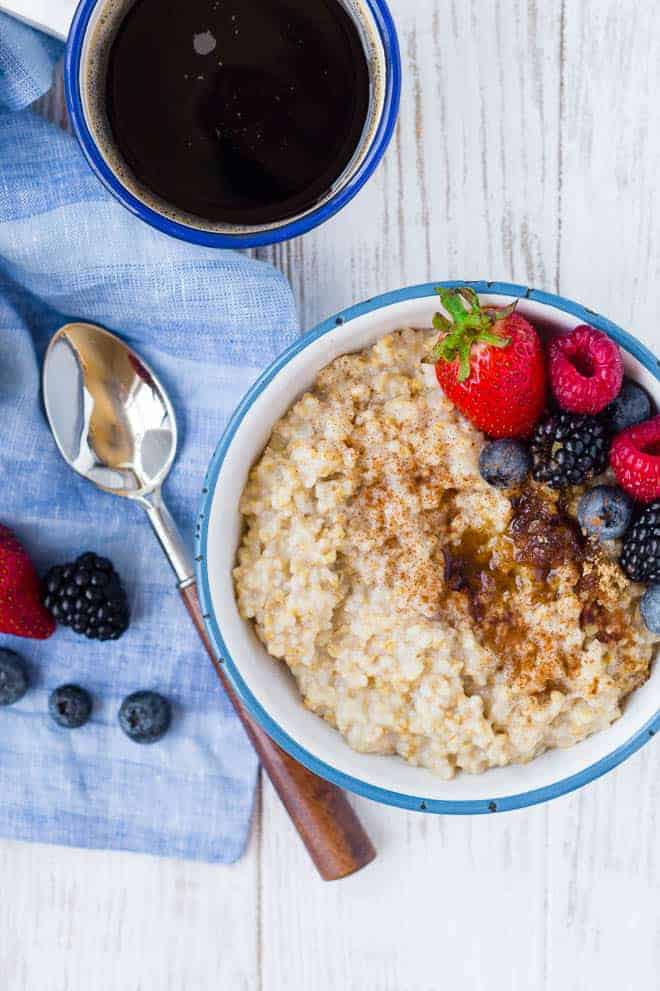 More tasty breakfast & brunch recipes:

Best meal of the day, in my humble opinion! Here are some popular breakfast ideas: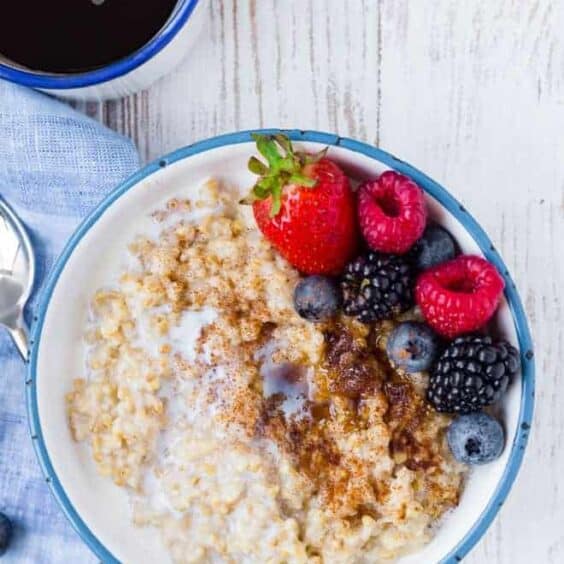 Instant Pot Steel Cut Oats
Yield: 8 servings
Prep Time: 5 minutes
Cook Time: 5 minutes
Additional Time: 30 minutes
Total Time: 40 minutes
Making Instant Pot steel cut oats is easy, almost completely hands-off, and creates the perfect hearty breakfast!
Ingredients
2 cups steel cut oats
5 1/2 cups of water (see note)
3/4 teaspoon kosher salt
milk, brown sugar, cinnamon, berries for serving
Instructions
Combine oats, water, and salt in the bowl of a 6-quart pressure cooker (Instant Pot).
Secure lid and turn valve to "seal."
Set on manual, high pressure, for 5 minutes. Once cook time has elapsed, let pressure release for 20 minutes. You do this by just leaving it alone! It has a timer that will count how much time has elapsed since it finished, but you can also set a timer if you think you'll forget to check.
When 20 minutes has passed, turn valve to "vent" to release any remaining pressure.
Stir oats and serve with desired toppings.
Notes
Store leftovers in an airtight container and reheat in the microwave or in a small saucepan with a little milk if needed to thin the oatmeal.
If you prefer thinner oatmeal, use 6 cups of water.
Recommended Products
As an Amazon Associate and member of other affiliate programs, I earn from qualifying purchases.
Nutrition Information:
Yield: 8
Serving Size: 1
Amount Per Serving:
Calories: 178
Total Fat: 3g
Saturated Fat: 1g
Trans Fat: 0g
Unsaturated Fat: 2g
Cholesterol: 2mg
Sodium: 223mg
Carbohydrates: 31g
Fiber: 5g
Sugar: 2g
Protein: 7g
Verdict:
There isn't anything like a good bowl of oatmeal. It's comforting and it warms you from the inside out.
Husband's take:
I think Ben loves oatmeal even more than I do!
Changes I would make:
None are necessary, but have a blast with the toppings!
Difficulty:
So, so easy!