Easy Apple Compote with Cinnamon
Apple compote with cinnamon will have tantalizing autumn scents wafting through your kitchen! This versatile compote is a delicious addition to breakfast, lunch, dinner, or dessert!
Recipe Overview
Why you'll love it: It's so easy to make. If you can cut up apples, it's just one more easy step to delicious apple compote.
How long it takes: 20 minutes
Equipment you'll need: large skillet, stove
Servings: makes 3 cups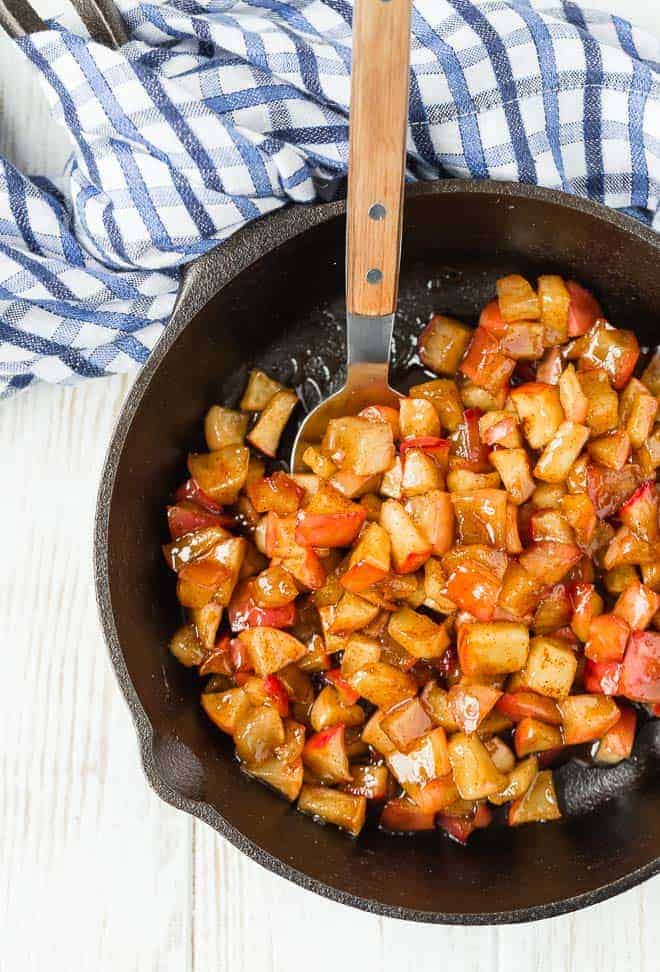 We Michiganders don't have to travel far to find apple orchards. I estimate there are at least four or five apple orchards within a ten mile radius of my home. In fact, we have several apple trees right in our backyard!
So it's only natural that I'm bringing you this delicious apple compote recipe. I always have a ready supply of crisp red apples in my fridge. They're so good eaten fresh but I think that they're even a little bit better cooked, especially with a healthy dash of cinnamon. Be sure to check out my list of 30+ easy apple recipes!
Apple cinnamon, cinnamon apple, a match made in heaven, don't you think? It's fall in a frying pan!
I just love this cooked apple compote with cinnamon. It's very easy to make and you'll see there are so many ways to use it. It's perfect for pancakes and so much more!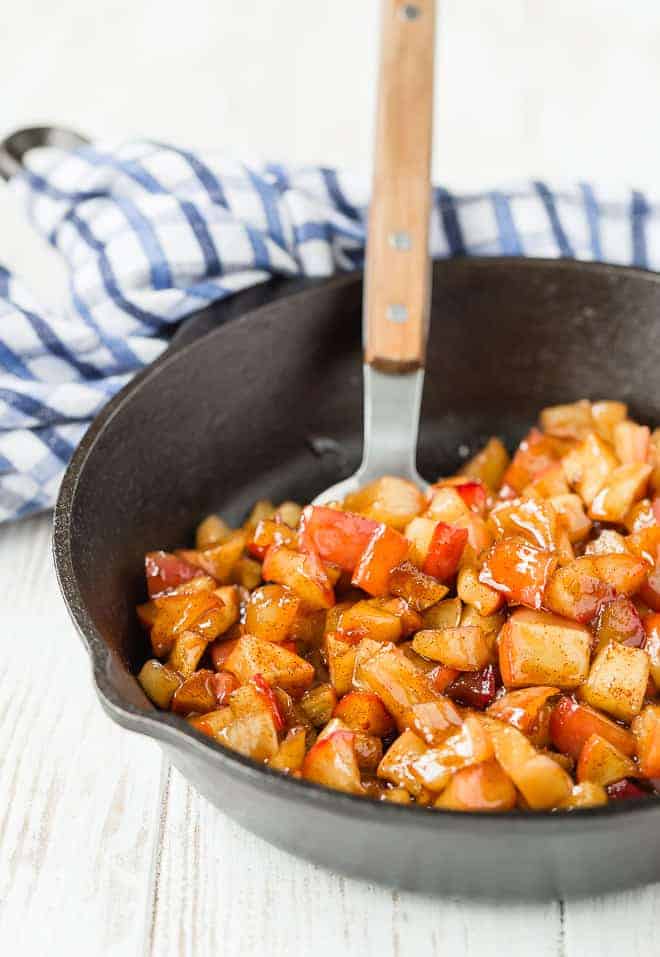 About this Sautéed Apples Recipe
So easy to prepare, you'll have this ready to serve in 20 minutes or less, and most of that time is hands off.
Although the photos show a cast iron skillet, any type of skillet is fine as long as it's large enough to hold the apples. Even a saucepan will work but it will take a bit longer to cook the apples since they won't be as spread out.
I'll get you started on the recipe here and give you a few extra tips and ways to make it your own. If you prefer, skip down to the printable recipe card near the end of the post. It has complete instructions with measurements and nutrition information.
Ingredients You'll Need
Apples: I use a combination of Honeycrisp and Gala apples but any flavorful apple will work. I like apples that stay a little firm when cooked, such as Honeycrisp, Gala, Jonathan, Granny Smith, or Cortland. Use your favorite variety. If you prefer a compote that is more like applesauce, use a softer apple variety.
Butter: Choose unsalted if you have it but salted is okay, too. Stay away from margarines or butter spreads.
Brown Sugar: Either dark or light brown sugar is fine. Even white sugar is okay but brown sugar gives the apples more of a caramel flavor.
Cinnamon: The perfect spice to go along with apples!
How To Make This Recipe
Melt a couple of tablespoons of butter in a medium-sized skillet, add chopped apples, peeled or not peeled (your preference), brown sugar, and cinnamon and simmer, stirring occasionally, until the apples are tender, 15 minutes or so. Keep warm until ready to use.
That's it! It's really so easy.
What Is Compote Used For?
Breakfast: This apple compote with cinnamon is delicious as a topping for pancakes, warm and sweet with the slight tartness of the apples shining through.
But don't stop there! This versatile apple compote elevates a plain bowl of oatmeal (try Instant Pot steel cut oats) or other cooked cereal. Just swirl it on top and enjoy the extra flavor it brings. Or add it to your morning yogurt or make it part of a yogurt breakfast bowl with crunchy granola added.
Lunch: Spread a little apple compote on a sandwich with deli turkey, cheddar, watercress, and a hint of stoneground mustard (make it an air fryer grilled cheese sandwich!). Or dollop it on a bowl of butternut squash soup.
Dinner: Imagine dinner with pork roast or pork chops, nestled on the plate with apple compote, mashed sweet potatoes, and roasted green beans. The apples and cinnamon perfectly complement the rich flavor of the pork.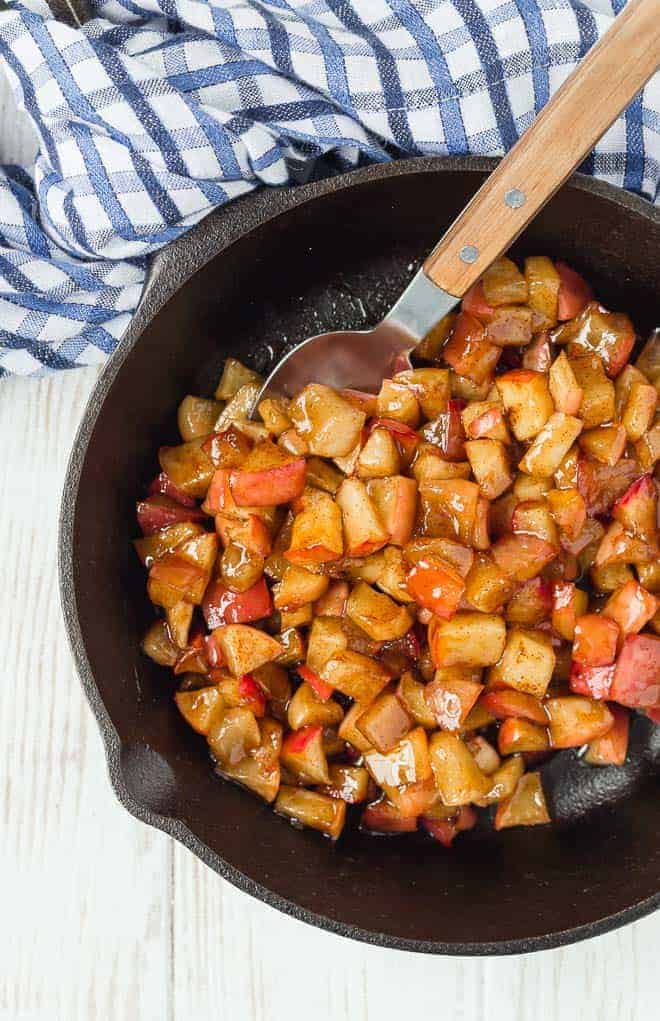 Dessert: It's not too much of a reach to think of apple compote as a dessert. Try a spoonful or two on cinnamon ice cream with a sprinkling of crunchy oat topping (yum! just like apple crisp!). Top a slice of pound cake with apple compote and a dollop of whipped cream. Drizzle it with homemade caramel sauce. Add apple compote to a bowl of homemade vanilla pudding for a simple yet elegant dessert.
Appetizer: Making a cheese board? Add a bowl of apple compote to your charcuterie board. It goes really well with cheddar. Think of it as a chutney. If I'm planning on serving it as an appetizer, I chop the apples very finely so they are easier to scoop.

FAQs
How long does apple compote last in the fridge?
Kept in the fridge in a covered container or bowl, this apple cinnamon compote should last five days. I bet it won't hang around that long, though. Check out the Storage and Reheating Tips section below for more about storing and freezing your compote.
How do you thicken apple compote?
If your apple compote seems too juicy, continue cooking it for a few more minutes to allow more of the juices to evaporate.
Some compote recipes have added juice, such as cider, orange juice, or lemon juice and may have a thinner consistency. This recipe has no added juice; usually the apples are juicy enough on their own. The melted butter and sugar combine to make a sweet syrup which coats the chopped apples.
Is compote served hot or cold?
While there's nothing quite like warm apple compote, it's really delicious cold or room temperature, too. Whether you serve it hot, cold, or in between is totally a matter of personal preference.
Make It Your Own
Add different spices. Cinnamon is a must but you could also add nutmeg, cardamom, ginger, or allspice. If you have apple pie spice mix, that's perfect! Try freshly grated ginger or even a splash of lemon juice.
Make it more "saucy." If you prefer a compote that is more like applesauce, use a softer apple variety, like McIntosh, or continue to cook until the apples are softer.
Peel the apples. If you're not a fan of apple peels, feel free to remove them. I like the color, texture, and nutrition they add but this compote is delicious with or without them.
Add other fruits. I love blueberries cooked into this compote! Cherries, chopped pears, or raisins are so delicious, too.
Looking for a dip for sliced apples? Try this easy apple dip (cream cheese & peanut butter).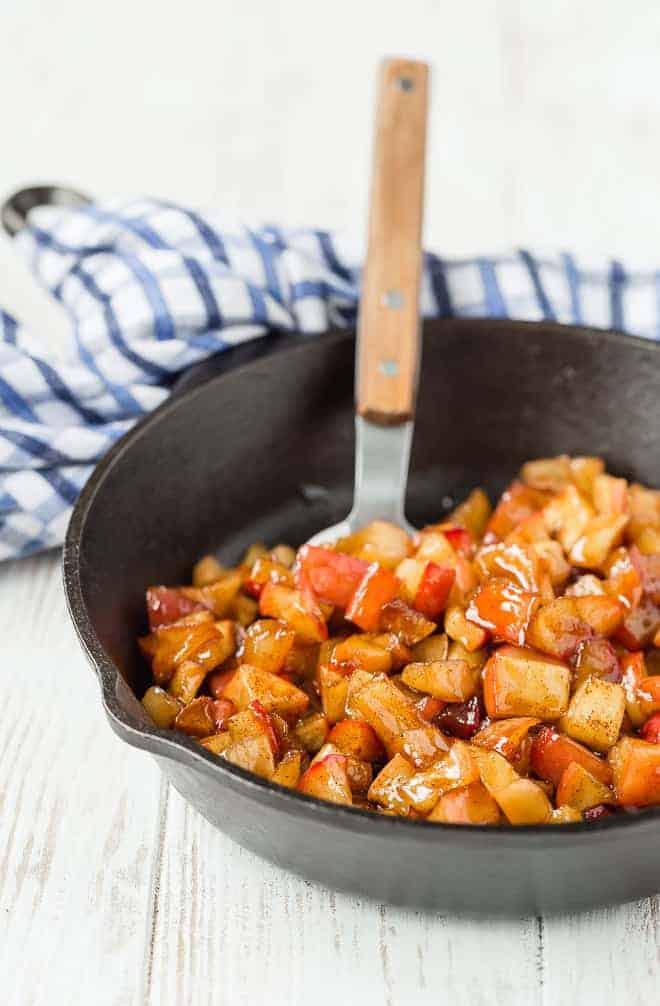 Make-Ahead Ideas
Get a head start. If you're thinking that apple compote needs to be on your breakfast menu but you don't feel like you'll have time to mess around with it in the morning, get a head start by chopping up the apples a day ahead. Put them into a covered bowl or resealable bag and store in the refrigerator. (Don't worry if they turn a bit brown. Once they are cooked, the brown color will disappear.) In the morning, you can have the compote ready in about 15 minutes.
Make it a day or two ahead. If you feel like it's too much to deal with in the morning, and sometimes it is, I totally get that, make the compote a day or two ahead of time and simply warm it up in the microwave in morning, as needed.
Be sure to keep reading if you'd like to freeze some apple compote to have on hand.
Reheating & Storage Tips
If you make the apple compote ahead or simply have some left over, put it into a covered container and store it in the fridge. You can reheat it gently on the stove or in the microwave. It's delicious at room temperature, too.
Can you freeze fruit compote?
We like to go an apple orchard and pick a bushel (or two!) of apples. Then we wonder what to do with all those apples! Making and freezing apple compote is a great way to preserve apples to use later in the year. Simply make a big batch of the compote, cool it, and put it into small freezer containers. Thaw overnight in the fridge for best results.
More Pancake Toppings
Looking for more toppings? Me too, I'm a toppings girl through and through! Try these ideas next time you have pancakes:
Did you make this? Be sure to leave a review below and tag me @rachelcooksblog on Facebook, Instagram, or Pinterest!
Apple compote with cinnamon will have tantalizing autumn scents wafting through your kitchen! This versatile compote is a delicious addition to breakfast, lunch, dinner, or dessert!
Ingredients
2

tablespoons

unsalted butter

3

cups

diced apples (roughly ½ inch), unpeeled

½

cup

packed brown sugar

1

teaspoon

ground cinnamon
Instructions
Melt butter In large skillet over medium high heat.

Add apples and brown sugar. Continue to cook over medium high heat for 15 minutes, or until apples are softened, stirring occasionally.

Stir in cinnamon.

Makes 3 cups. Serve over pancakes, cooked oatmeal, vanilla ice cream, or pudding.
Notes
Nutrition information is based on 1/2 cup compote.
This apple cinnamon compote can be made ahead and stored in a covered container in the refrigerator for up to one week. Reheat gently until warm, if desired.
To freeze, put in freezer containers and freeze for up to 2 months. Thaw in refrigerator overnight for best results.
I used a combination of Honeycrisp and Gala. Other varieties that would work well are Jonagold, Jonathan, Braeburn, Granny Smith, or Cortland.
You may peel the apples if desired.
Nutrition Information
Calories:
136
kcal
,
Carbohydrates:
27
g
,
Protein:
1
g
,
Fat:
4
g
,
Saturated Fat:
2
g
,
Polyunsaturated Fat:
1
g
,
Monounsaturated Fat:
1
g
,
Trans Fat:
1
g
,
Cholesterol:
10
mg
,
Sodium:
6
mg
,
Potassium:
94
mg
,
Fiber:
2
g
,
Sugar:
24
g
,
Vitamin A:
151
IU
,
Vitamin C:
3
mg
,
Calcium:
23
mg
,
Iron:
1
mg
This website provides approximate nutrition information for convenience and as a courtesy only. Nutrition data is gathered primarily from the USDA Food Composition Database, whenever available, or otherwise other online calculators.