Pancake Mix – with 100% Whole Wheat Option
Replace your favorite boxed pancake mix with this easy homemade pancake mix! Whether your go-to is Aunt Jemima, Bisquick, or Krusteaz, I'm willing to bet you'll like these even better!
Recipe Overview
Why you'll love it: Super easy to make, wholesome, and much more economical than commercial mixes.
How long it takes: 5 minutes
Equipment you'll need: bowl or container
Servings: makes 9 cups (which will make 54 pancakes)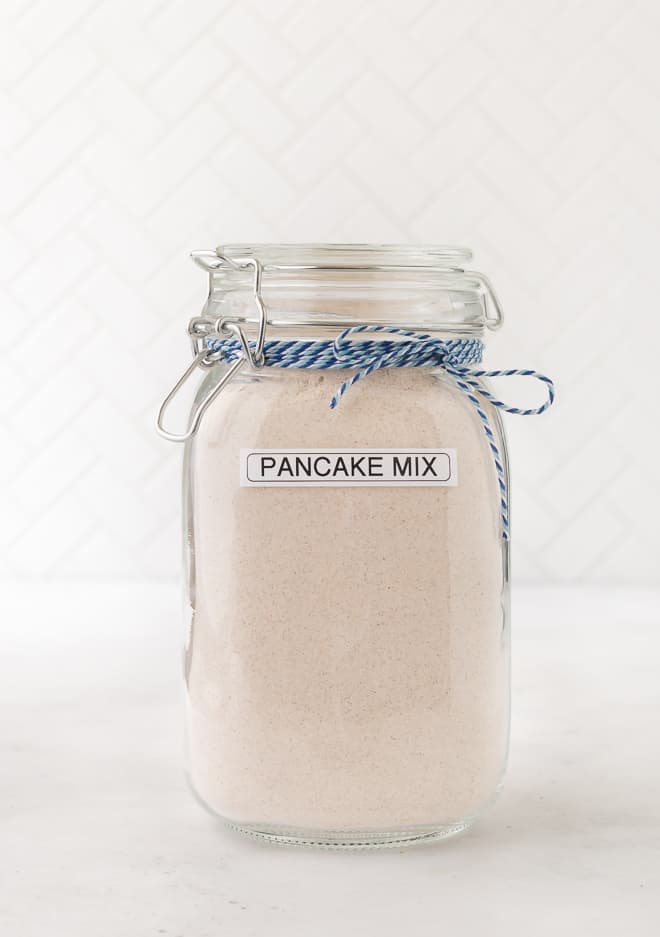 I have a favorite book from childhood, Pancakes For Breakfast, by Tomie dePaola. Maybe you remember the story about an old woman who wakes up with a powerful craving for pancakes. She begins to make pancakes as her pets watch. Her recipe has seven simple ingredients: flour, salt, baking powder, sugar, butter, eggs, milk. As she begins preparing her pancakes, she finds she doesn't have all the ingredients. She visits the chicken coop, milks the cow, churns butter, and finally visits the farmer next door to purchase maple syrup.
When she returns home, the pets have eaten the pancake ingredients. But wait! the delicious scent of pancakes wafts through the door. She finds her neighbors eating pancakes and she enjoys a large stack of pancakes after all.
Did you notice that her recipe has only seven simple ingredients? What could be simpler?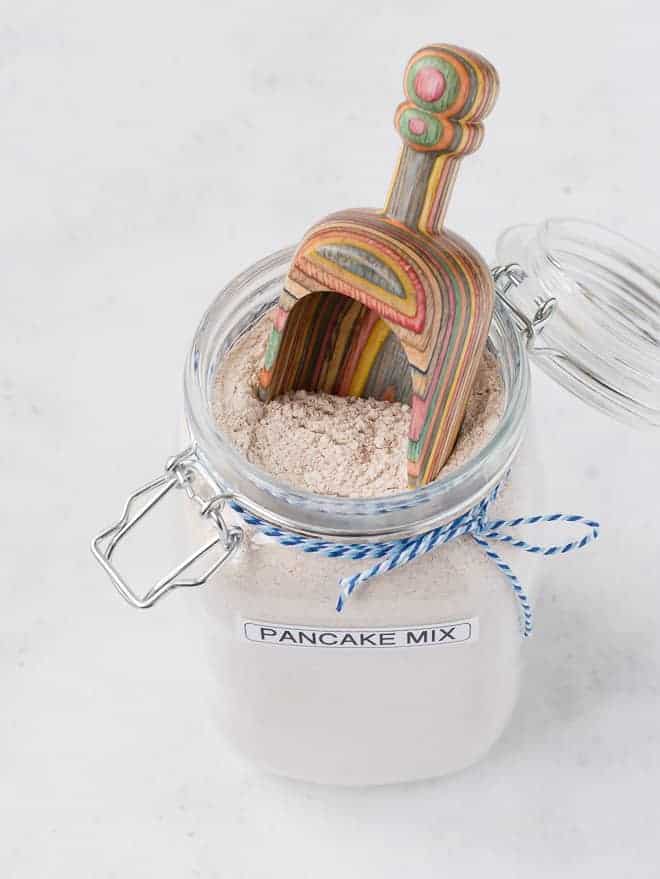 My mom has been making her own pancake mix for years and years, and let me tell you, she makes the best pancakes!
Whenever my kids stay overnight at her house, they look forward most to the pancake breakfast they know they'll enjoy in the morning. Of course, the toppings are unlimited: whipped cream (from a can, of course, because it's the most fun!), chocolate syrup, maple syrup, fresh fruit, chocolate chips, applesauce, cinnamon sugar, etc. Often all piled on the same pancake!
I love that her pancakes contain healthy ingredients: whole wheat flour, sugar, baking powder, salt, milk, eggs, and melted butter. So simple, right? I bet you have all of those items in your pantry and refrigerator. Unlike the old woman in the story, you probably won't have to visit the chicken coop or milk the cow!
Many "just add water" boxed mixes, like Aunt Jemima, Bisquick, or Krusteaz, have a long list of unpronounceable ingredients.
I checked the ingredients on a box of a popular mix: bleached four, sugar, leavening, dextrose, nonfat dry milk, palm oil, salt, wheat gluten, calcium carbonate, corn syrup solids, sodium caseinate, mono and diglycerides, lactic acid, dipotassium phosphate, tocipherols, sodium metalsulfite.
Wow, that's just crazy, isn't it? For a simple food like pancakes! It's kind of disturbing.
I don't know about you but I prefer not to eat food that I can't pronounce. The homemade pancake mix recipe I'm sharing today has FOUR ingredients, to which you'll add milk, eggs, and melted butter. Wholesome and nutritious and so, so easy!
Plus, you'll be the hero who gets all the kisses at breakfast time!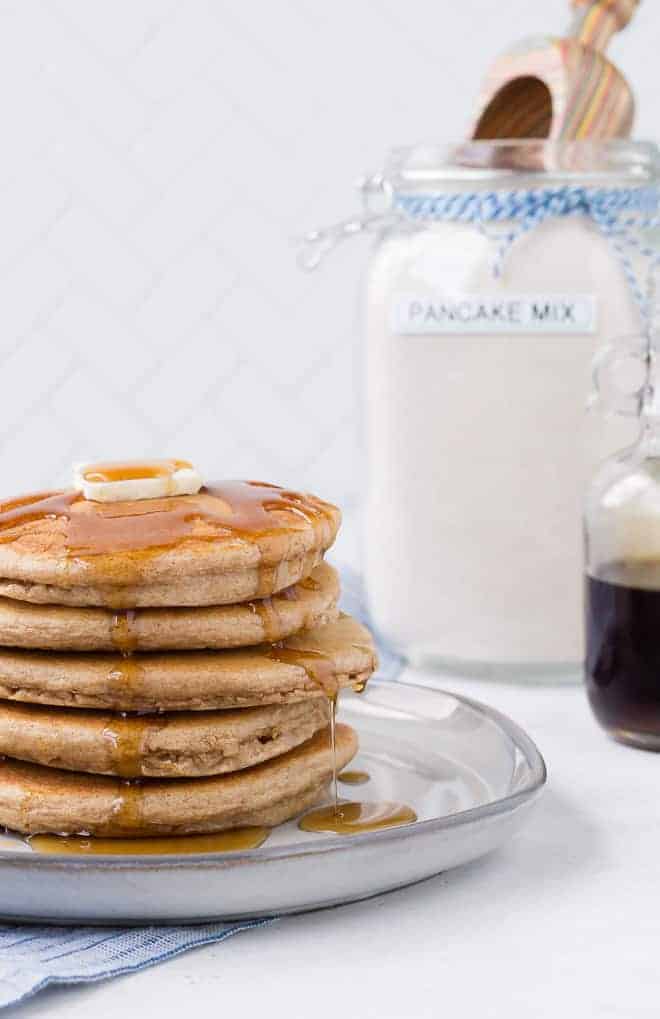 About this Homemade Pancake Mix
Like I mentioned, this dry pancake mix is similar to the mix that you buy in boxes at the grocery store, EXCEPT that it doesn't contain a bunch of ingredients that you really would rather not feed your family. It's super easy to mix up in advance and store in an airtight plastic container, jar, or even a resealable plastic bag.
I use whole wheat flour because I like that it contains extra fiber and nutrition. You could also use white whole wheat flour or unbleached white flour. You can also use a combination of flours, in fact, my mom always substitutes cornmeal for part of the flour to add a little crunchiness and flavor. The kids love it.
Pancake Mix Ingredients
This is what you'll need: Flour, sugar (not much), salt, and baking powder. That's it! Mix it together and store it until you're ready to heat up the griddle!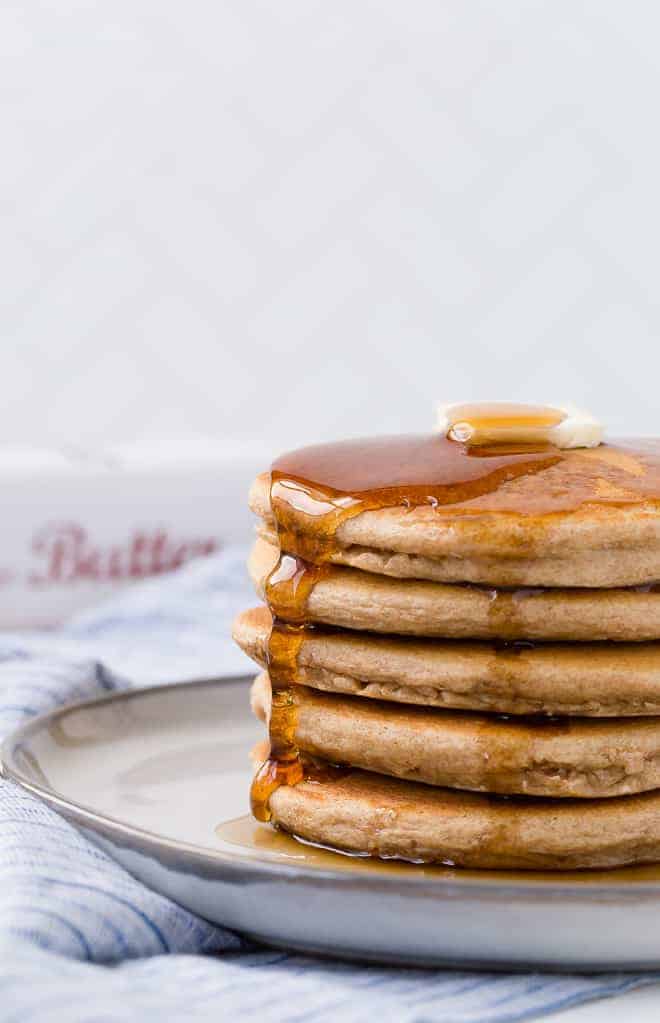 How To Turn This Mix Into Pancakes
When you're ready to make pancakes for breakfast (and I'm not against serving pancakes for lunch or dinner, either!), get your griddle heating up on the stove.
Here's what you'll need
As always, scroll down for a printable recipe!
1 egg
2 tablespoons melted butter or oil
⅔ cup milk (more or less to taste)
1 cup dry homemade pancake mix
In a bowl, whisk up eggs and melted butter or oil. Add the dry mix and milk. Whisk it up, adding more milk to achieve the desired consistency.
Thick batter makes thick cake-like pancakes, thin batter makes thin crispier pancakes. Make 'em how you like them!
Pancake Yield
One batch will make around 6 pancakes, depending on size and thickness. If you think you're going to need more pancakes than that, double or triple the recipe. This recipe for homemade pancake mix makes 9 cups of dry pancake mix. Do the math: that's 54 pancakes!
When your griddle is nice and hot, pour ¼ cup batter onto the griddle for each pancake. Wait about 3 minutes or until you see bubbles forming on top, and flip, cooking for about 2 more minutes. They're ready to serve with your favorite toppings! Keep reading for a bunch of topping ideas.
If you're making pancakes for a big crowd and you want to get a head start, preheat your oven to 200ºF. As you finish making a batch, put the pancakes on a baking sheet (with a wire rack if you have one) and keep them warm in the oven. Don't cover them with foil because that will make them get soggy.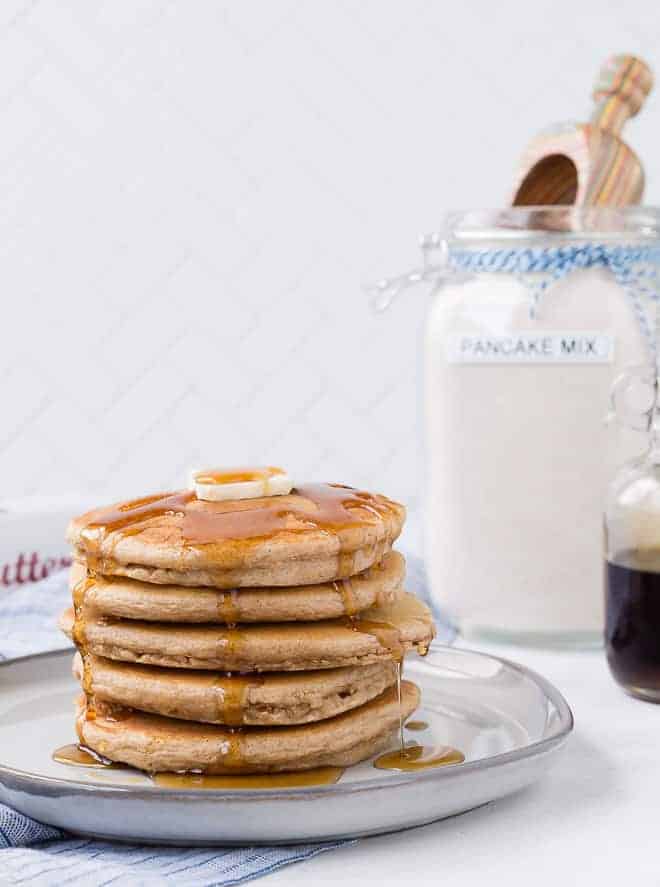 FAQs
Should I use milk or water for pancake mix?
For this homemade pancake mix, you definitely should use milk or a milk alternative. Some premade mixes already have dry milk included so you can just add water to those. Follow the directions on the box.
What do you add to runny pancake mix?
Oops, sometimes that happens. Try stirring in a tablespoon or two of the dry mix or even just plain flour to thicken it back up.
To avoid the mix from getting too runny, don't overmix the batter. Stir in the dry ingredients just until they are barely blended into the wet ingredients. It's okay if there are a few lumps.
Make It Your Own
I like to use whole wheat flour, as I mentioned, but you can use a mixture of flours (white whole wheat, unbleached, cornmeal, buckwheat, etc.). Bob's Red Mill has a gluten-free 1:1 flour that you could try (but I haven't tested that).
Instead of melted butter, substitute a mild tasting oil, such as canola or corn oil. You can also use melted coconut oil, if you prefer.
Add a teaspoon of vanilla or ½ teaspoon of cinnamon to the batter.
Add blueberries, bananas, or chopped strawberries to the batter. My kids love chocolate chip pancakes, too!
Not in the mood for pancakes? Try homemade French toast (I have tips for making the best French toast ever) or muffins.
Storage & Reheating Tips
The pancake mix can be stored in an airtight container for at least two months. If you used all whole wheat flour, you may want to store it in the refrigerator. I always refrigerate my whole wheat flour so it doesn't become rancid.
Make-Ahead Idea: Why not make a really big batch of pancakes? After they cool on a wire rack, put them in a large self-sealing bag and store them in the refrigerator or freezer. They are wonderful (just like freshly made pancakes!) reheated in your toaster oven or toaster on a low setting. You can also reheat them briefly (30 seconds) in the microwave.
Fun Topping Ideas
Toppings give everyone a chance to personalize their pancakes. Kids love this! Check out these ideas but don't let this list limit your creativity.
Fresh fruit (sliced bananas, strawberries, blueberries, raspberries, sliced peaches, etc.)
Maple syrup (use the real thing, it's so much better!)
Chocolate syrup (add a sprinkling of cinnamon, it's like Mexican hot chocolate)
Nut butters
Applesauce, with a sprinkling of cinnamon (my dad's favorite, like apple pie!).
Mini chocolate chips
Love homemade pancakes?
Here are more recipes for you. You can see I have a love affair with pancakes! I even have another website devoted mostly to pancakes although you'll find lots of other breakfast ideas there, too.
Did you make this? Be sure to leave a review below and tag me @rachelcooksblog on Facebook, Instagram, or Pinterest!
Replace your favorite boxed pancake mix with this easy homemade pancake mix!
Ingredients
For Pancake Mix
8

cups

whole wheat flour

(see note)

½

cup

sugar

½

cup

baking powder

4

teaspoons

salt
For Pancakes
1

large egg

⅔

cup

milk

(any type)

2

tablespoons

oil or melted butter

1

cup

dry pancake mix
Instructions
Pancake Mix:
Whisk together flour, sugar, baking powder, and salt and put into an airtight container, such as a jar, lidded plastic container, or resealable plastic bag. Yield: 9 cups. Store in refrigerator (see note).
To Make Pancakes:
Heat a griddle over medium heat. In a medium-sized mixing bowl, whisk egg, milk, and oil together until combined. Add 1 cup of dry mix and whisk until just combined. Some small lumps will remain.

Adjust consistency by adding more milk. Thick batter produces thick cake-like pancakes; thin batter produces thinner, crisper pancakes.

When griddle is hot, pour ¼ cup of pancake batter onto pan and cook for 3 minutes or until bubbles appear and do not disappear. Flip and cook for another 2 minutes or until cooked through. The length of cooking time will depend on how hot your griddle is and how thick you made the batter.
Notes
Any type of flour can be used, or a combination. Try all-purpose flour, white whole wheat flour, cornmeal, buckwheat flour, etc.
I recommend storing whole wheat flour in the refrigerator because of the higher fat content to prevent it from going rancid. Because of this, I also recommend that this pancake mix also be stored in the refrigerator.
Nutrition Information
Serving:
2
pancakes
,
Calories:
256
kcal
,
Carbohydrates:
33
g
,
Protein:
8.7
g
,
Fat:
11
g
,
Saturated Fat:
6.2
g
,
Cholesterol:
87
mg
,
Sodium:
800
mg
,
Fiber:
3.8
g
,
Sugar:
6.7
g
This website provides approximate nutrition information for convenience and as a courtesy only. Nutrition data is gathered primarily from the USDA Food Composition Database, whenever available, or otherwise other online calculators.