This French toast recipe has everything you want in a classic slice of French toast. Learn how to make the best French toast you've ever eaten!
Recipe Overview
Why you'll love it: I have a couple of tips for you that really make the difference!
How long it takes: less than 20 minutes
Equipment you'll need: shallow bowl, griddle or flat skillet
Servings: 8 slices, but it's easy to make more (or less!)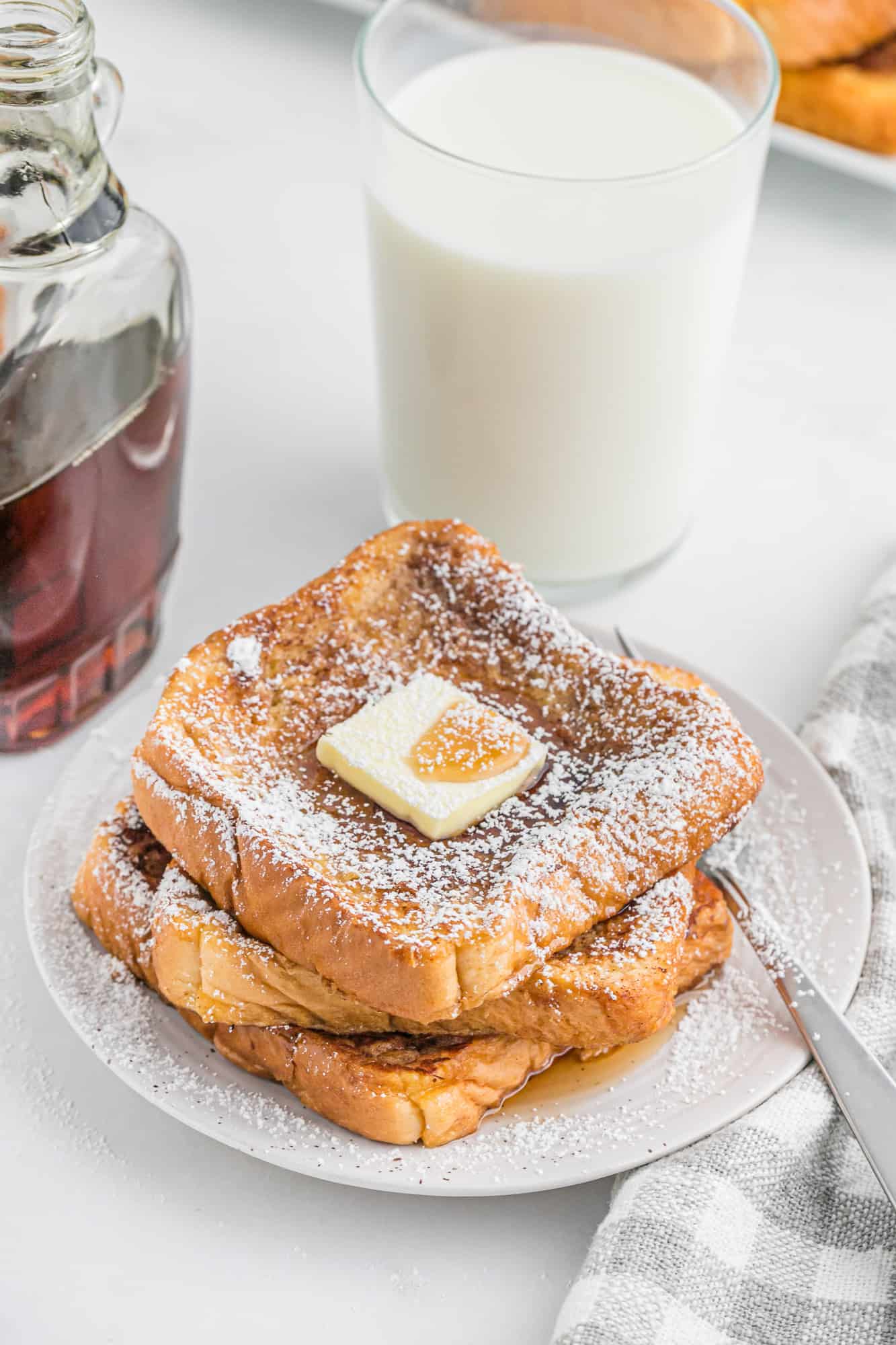 I'm a bit of a French toast snob. If I'm going to eat French toast for breakfast, it has to be the best classic French toast. Soft, fluffy white bread with lots of cinnamon and vanilla. Bonus points for fresh fruit and good quality butter.
Do you crave perfectly made French toast? Like the kind you get in the best restaurants? I'm going to show you how it's done. I have lots of great tips for how to make French toast perfectly and deliciously every time.
About This Recipe
French toast is all about the bread. My go-to bread of choice for French toast is Texas toast. It's perfectly soft, has the right texture to soak up the egg mixture, and it's the classic square French toast shape. Texas toast is unmistakable in appearance and perfect in taste.
You'll find Texas toast bread in the packaged bread aisle of your grocery store.
More Bread Choices
Not a fan of Texas toast bread? Other types of bread work well. Brioche or challah is popular, as is sliced Italian bread and French baguettes. Just remember: Slightly dry day old bread works best.
Oh, and by the way, this recipe is easy! You'll only need 6 ingredients, all of which you probably already have, except for maybe the bread. Trust me, you'll be happy you made homemade. It's so much better than frozen French toast from a box or plastic bag.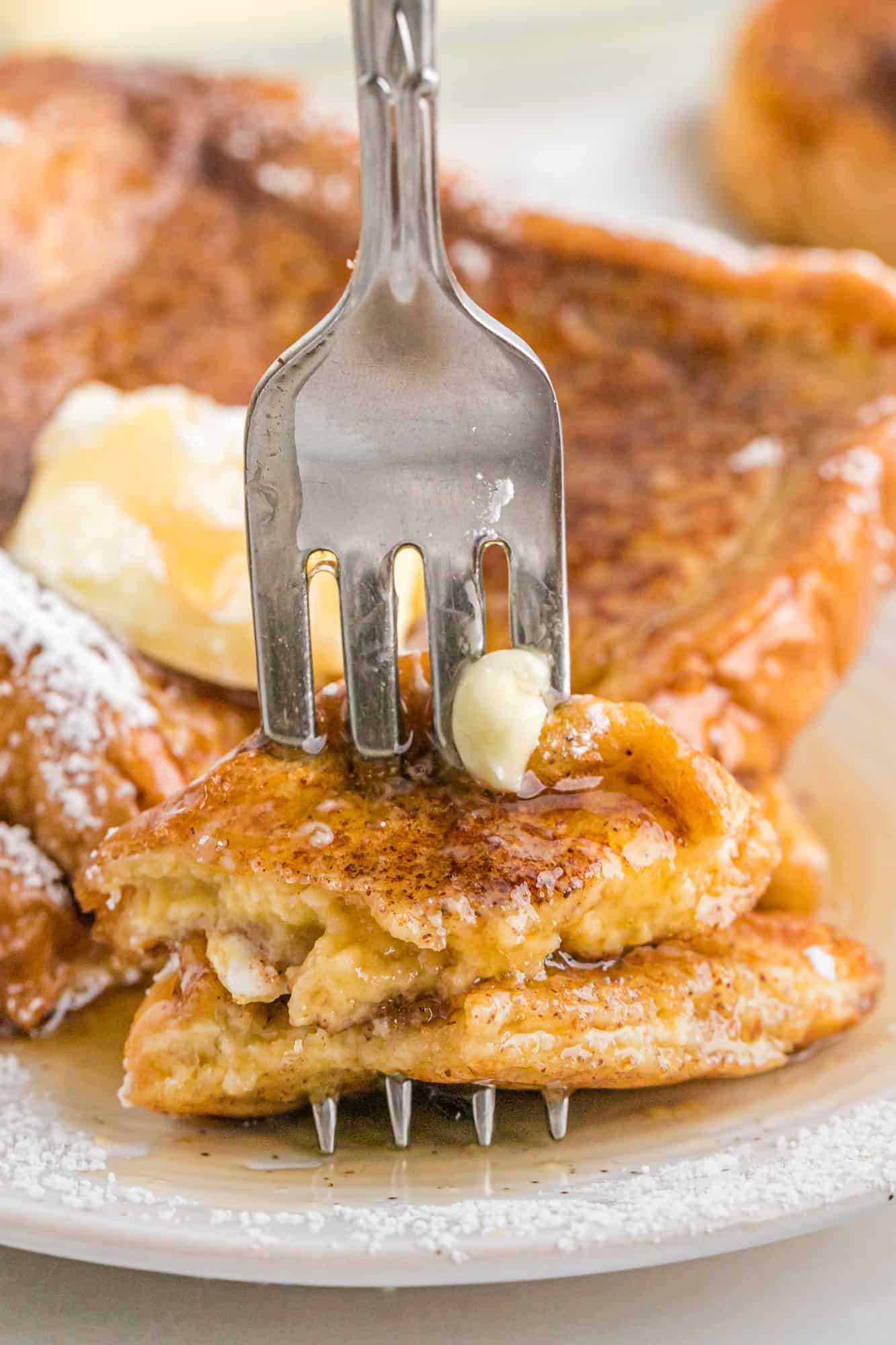 I'll get you started here and give you lots of helpful tips. Look for the printable recipe card near the end of the post. It has full instructions, measurements, and nutrition information.
components of the Best French Toast (What You'll Need)
BREAD: I know we already talked about this, but it's so important. Get yourself some fluffy, soft, tender white bread. It matters. Texas toast, Italian bread, French bread, challah or brioche are all decent options. If you can get some really amazing, thick-sliced cinnamon-swirl bread, that's also an amazing option.
EGGS + MILK: This combo is what sets French toast apart from regular bread. Bread soaked in eggs and milk has a custardy texture that is just plain wonderful. Use a higher fat milk (whole milk or 2%) for the best results. Nondairy milk, such as almond milk, works too.
VANILLA: Don't use fake or imitation stuff. This is the time for pure vanilla extract. (For the record, there isn't ever a time for the imitation vanilla flavor.)
CINNAMON + SUGAR: Instead of adding cinnamon to the egg mixture where it has a tendency to clump up, I have a unique trick using cinnamon sugar. Keep reading to find out.
FRENCH TOAST TOPPINGS: Now, I know this is a very personal matter. I recently tried Trader Joe's vanilla bean maple syrup so lately I'm loving a drizzle of that plus a handful of fresh berries on my French toast. I grew up eating a mixture of butter and brown sugar on my French toast, and you really can't go wrong with that either. Maybe you like a strawberry sauce, or whipped cream, or just a light dusting of powdered sugar. Go crazy or keep it simple, you're the boss! Check out Pancake Recipes for lots more ideas (plus, learn how to make the perfect mimosa).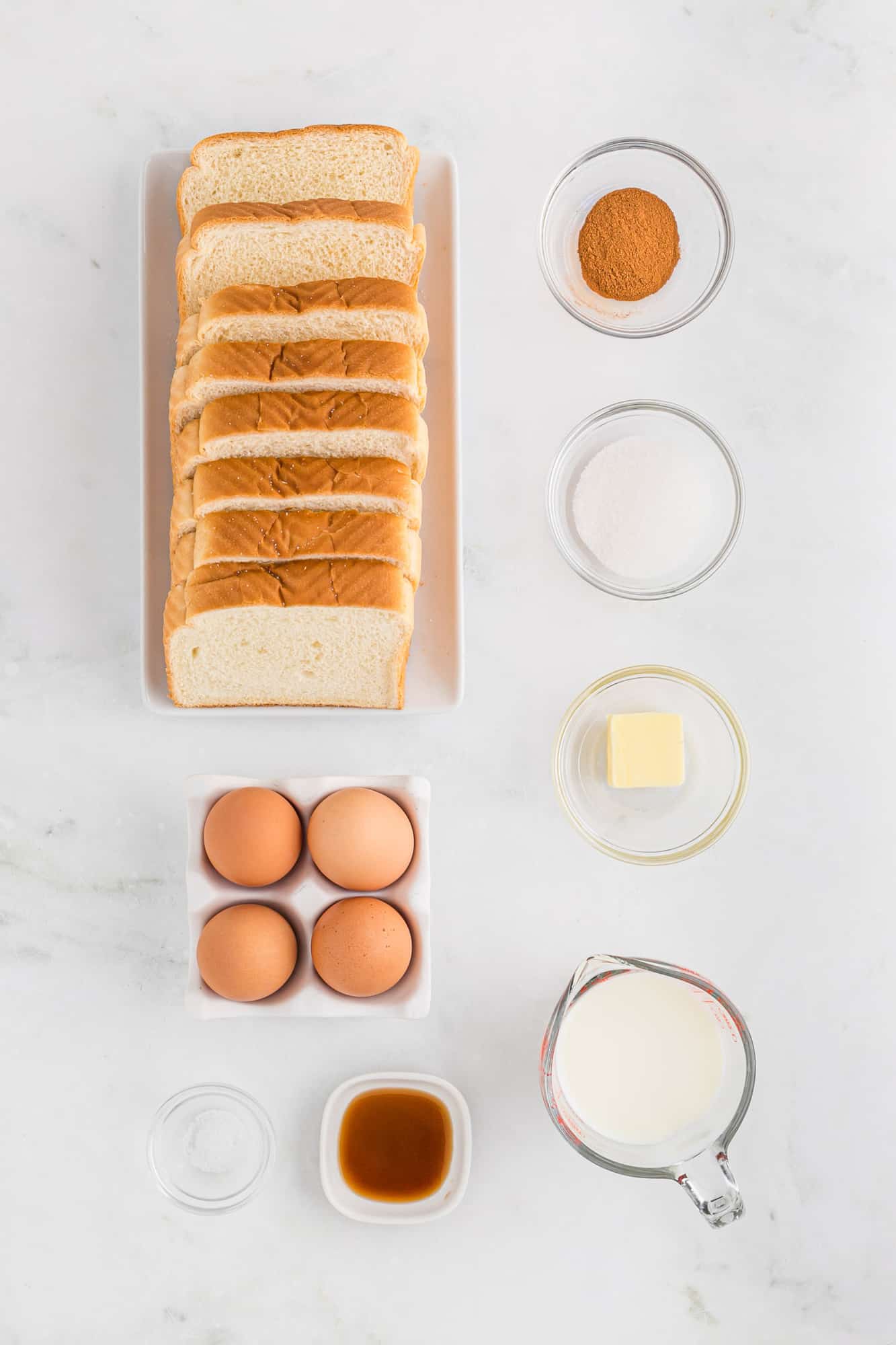 The secret to Making Great French Toast
What's the secret to good French toast? As you can probably tell, I have strong opinions on this. Here are my tips:
Tip #1: Stale Bread
Dry or stale bread is best. If your bread is fresh, just let it set out, unwrapped, for a couple of hours or even overnight.
Tip #2: Whisk your Eggs Well
Mix the eggs and milk thoroughly. Don't slack here, you guys. I don't want to see any separation of the egg whites or egg yolks in this mixture. Beat the eggs and milk until they are perfectly combined and uniform. Does it take an extra minute? Yes. Might your wrist or elbow get a little tired? Yes. You can deal. Otherwise you're gonna end up with something that looks like a mini fried egg on the outside of your French toast, and no one wants that situation.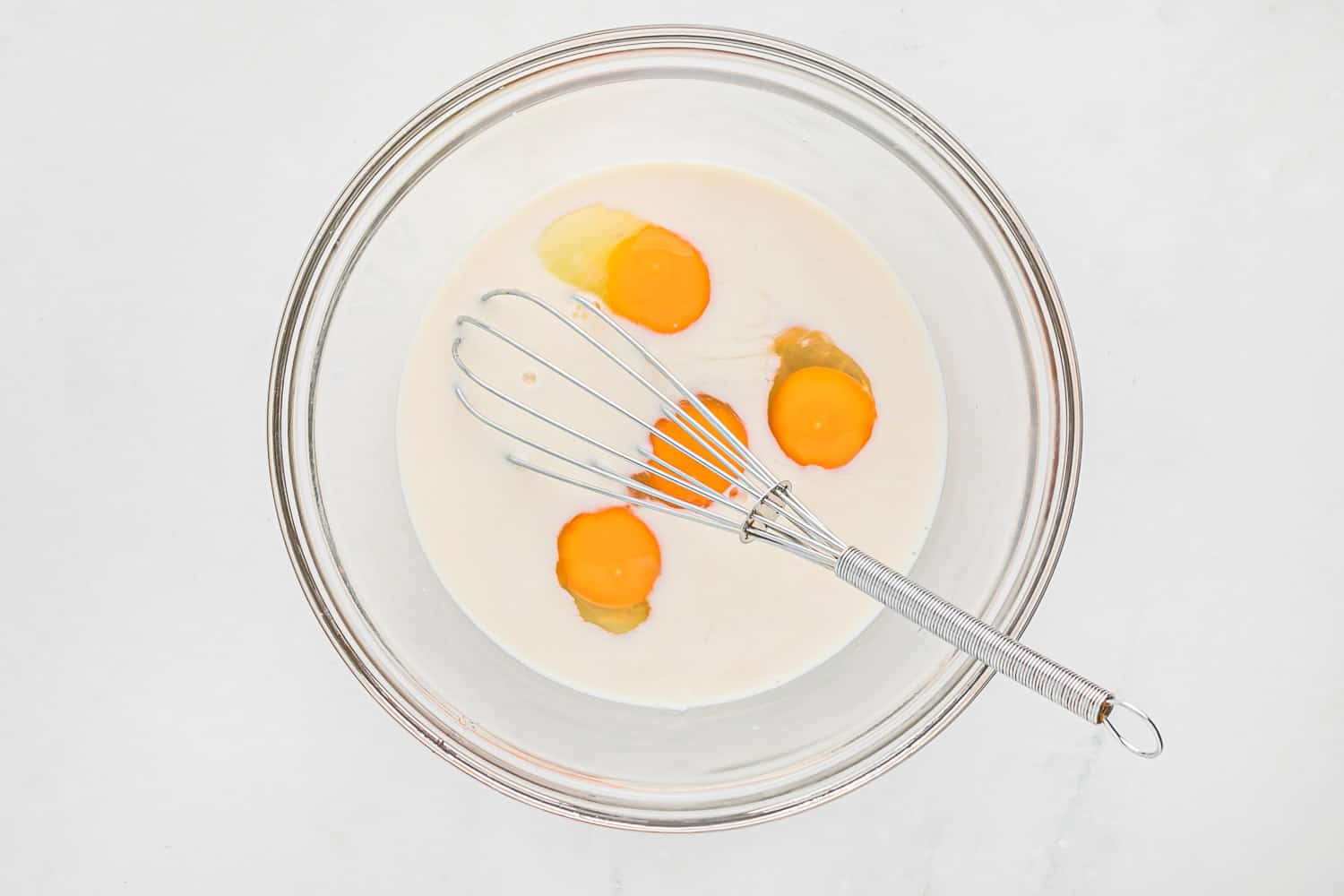 Tip #3: Add Vanilla
Put vanilla in your milk and egg mixture. It adds so much flavor. The more the better, in my opinion! Check the recipe card below for my recommended amount.
Tip #4: Cinnamon Sugar FIRST
Put cinnamon and sugar on the bread before dipping it into the egg mixture. We're not going to put cinnamon or sugar into the egg mixture. Don't you hate it when the cinnamon clumps up and sticks to the side of the bowl instead of the bread? Instead, dust the outside of the bread with cinnamon sugar before you dip it in the eggs. It's a genius tip that I unfortunately can't take credit for. I learned it from Lauren when I made her Chai French Toast Skewers.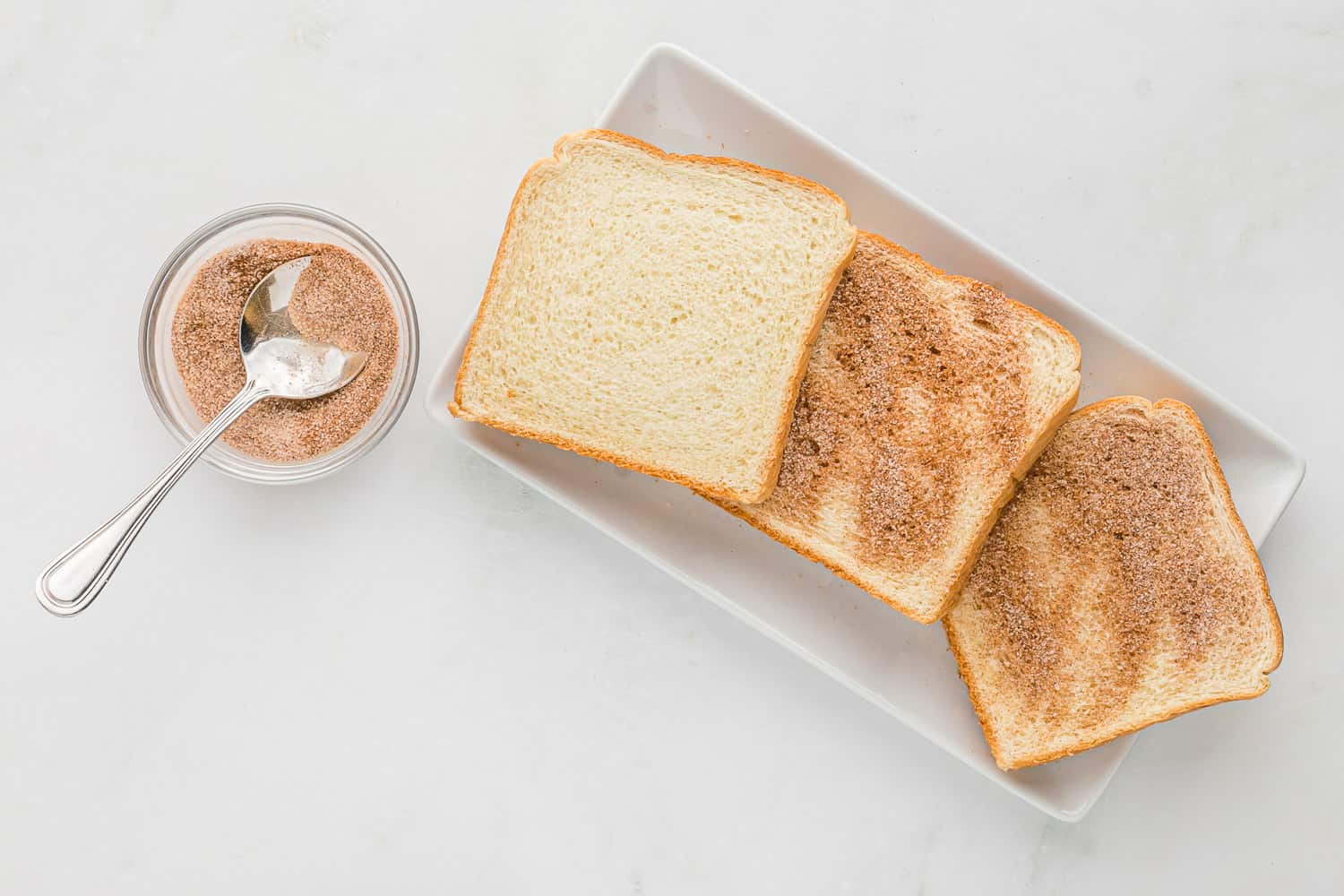 This dusting of cinnamon and sugar not only adds just the right amount of sweetness and spice to every single bite of French toast (no clumpy cinnamon here!) but it also creates an amazing caramelization on the outside of the French toast. It's completely irresistible and a total game-changer. Try it, you'll see what I mean!
Tip #5: Optimal Soaking Time
Soak the bread in the egg mixture until it's soft and squishy but not falling apart, about 10 to 15 seconds per side.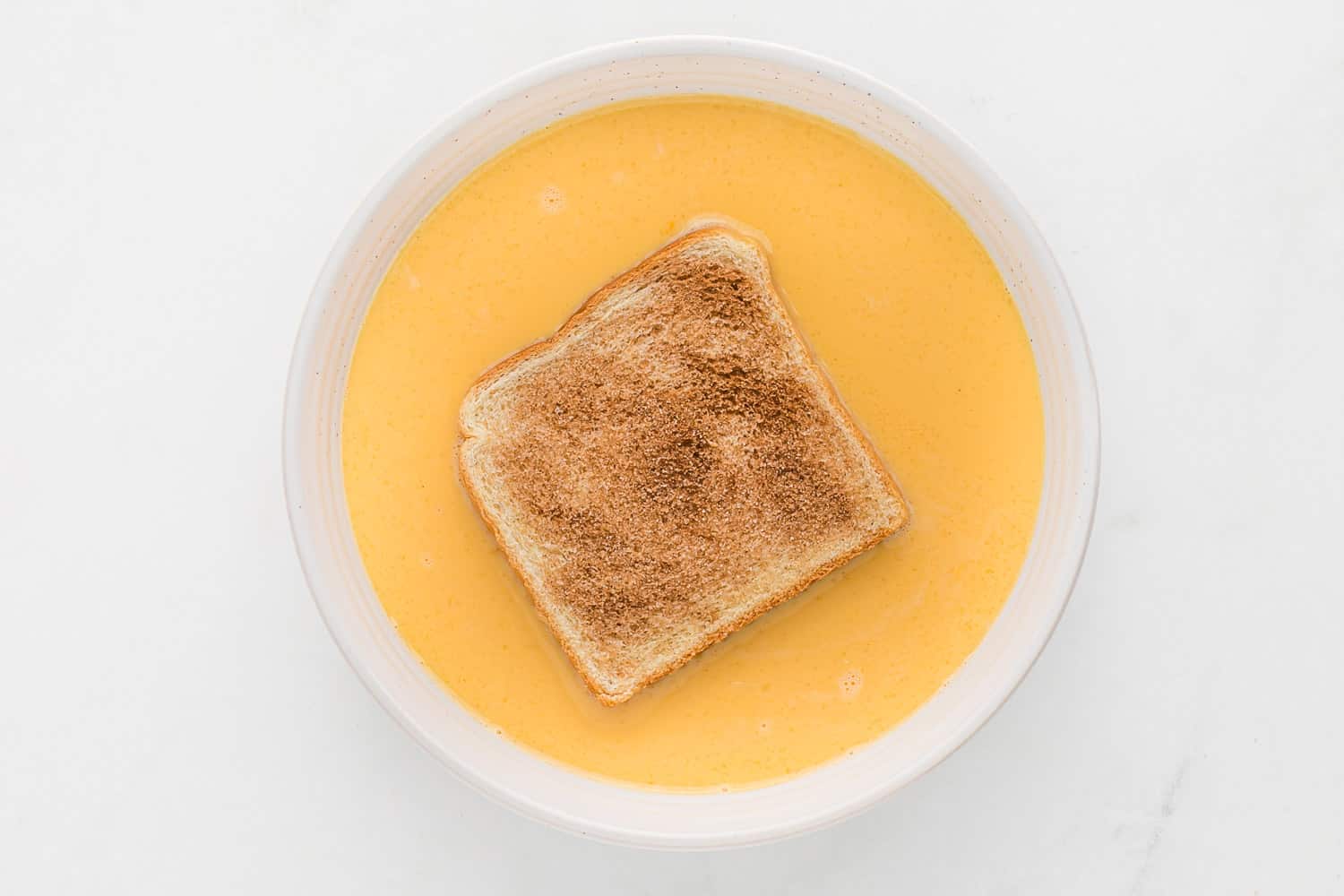 Tip #6: Optimal Griddle
Cook each slice of French toast on a buttered griddle. Cook it low and slow for perfectly cooked, but not burnt French toast.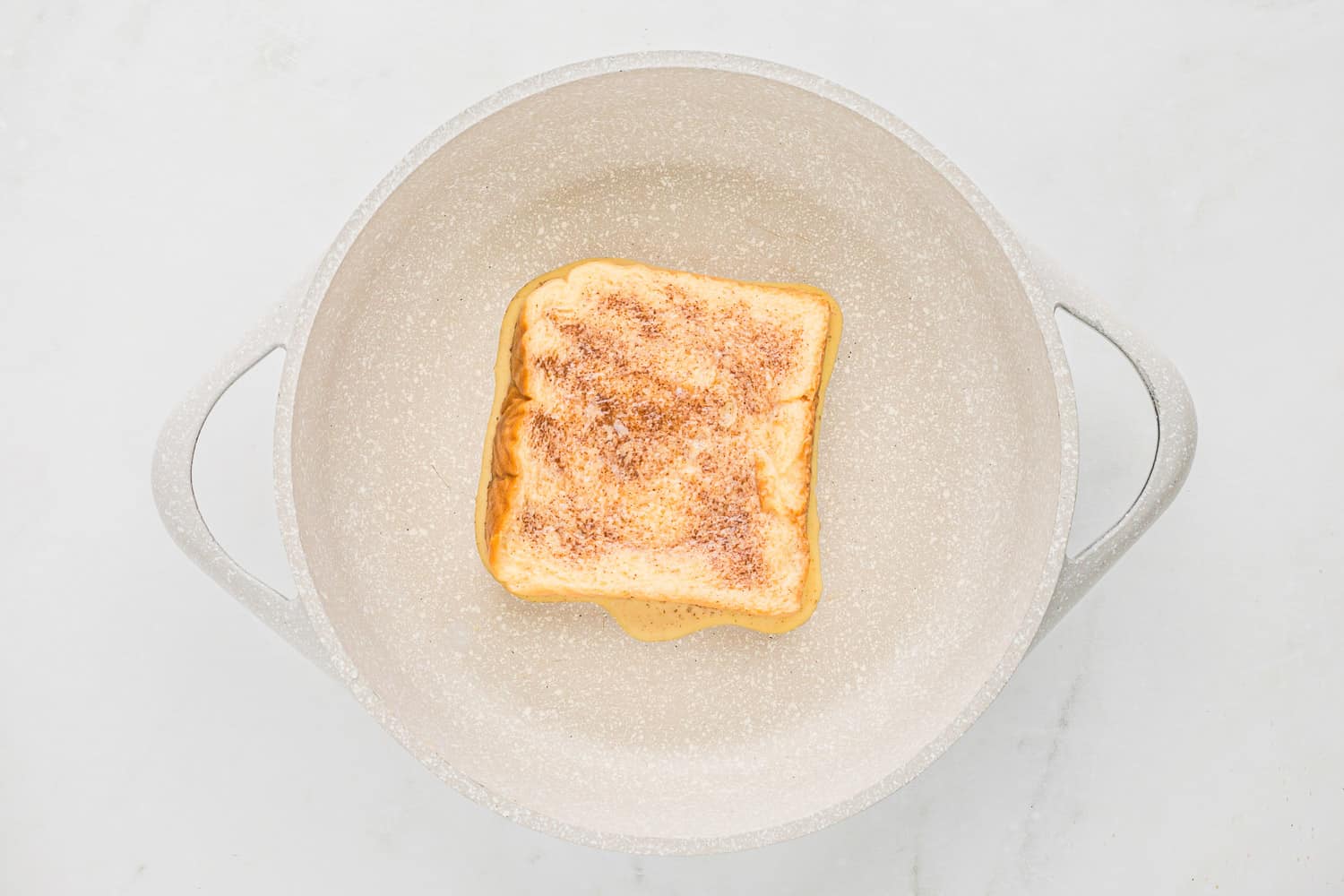 Tip #7: Toppings!
Add TOPPINGS. Go crazy.
And those are the secrets to the best French toast!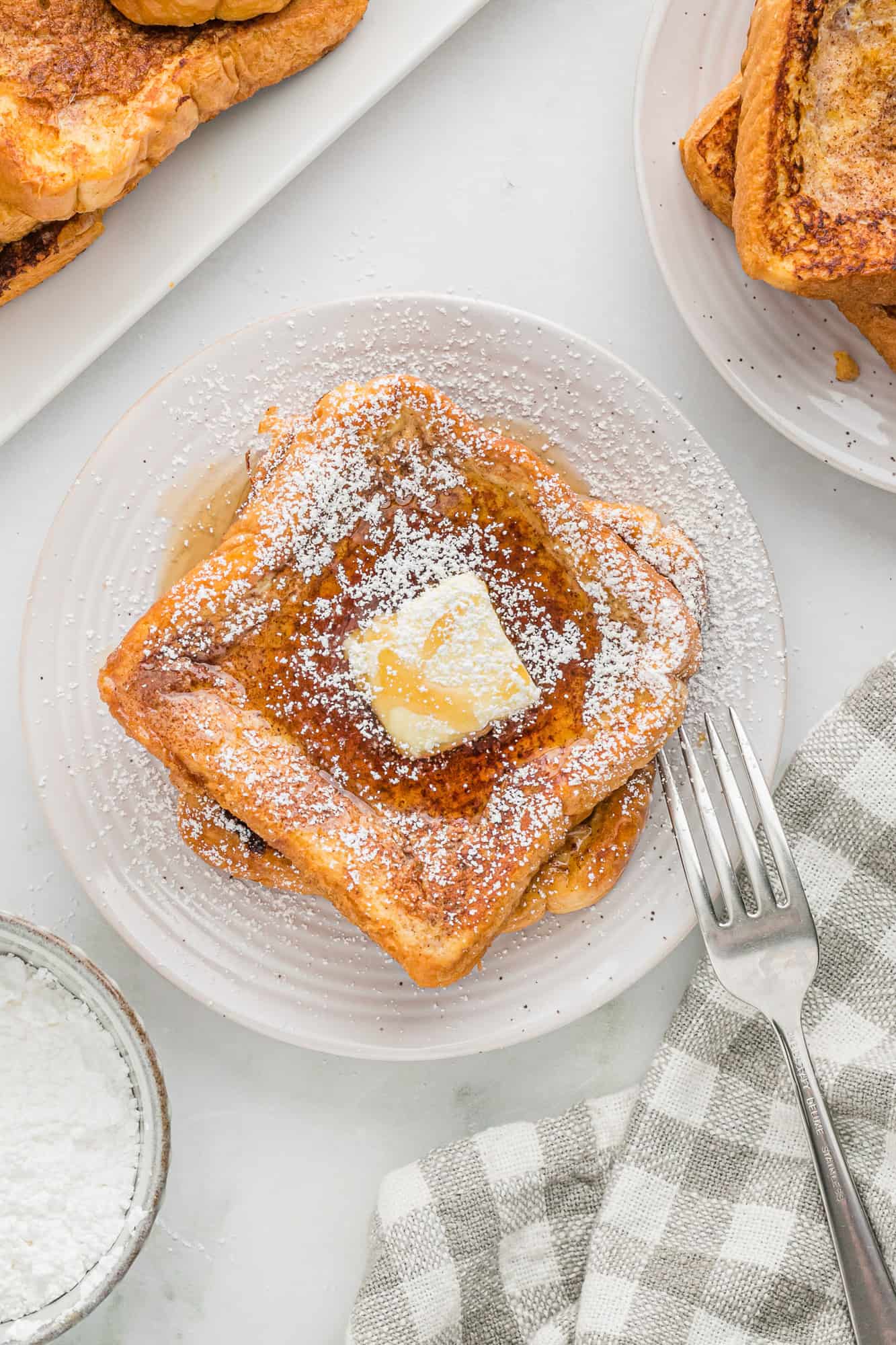 FAQs
Why is stale bread better for French toast?
Let's be clear. We're not looking for moldy bread here. Just slightly dry. The reason dry bread makes better French toast is because it soaks up more of the egg and milk mixture than moist fresh bread would.
I didn't dry the bread overnight, how can I dry bread quickly?
First of all, I've been there. It's so hard to remember, or maybe the French toast craving just hit you in the morning! Not a problem. Preheat your oven to to 300°F, put the bread slices on a sheet pan, and bake for 10-15 minutes, or until dry, flipping once.
Make sure to cool the bread completely before dipping it into the egg mixture.
Can I make French toast without vanilla?
Yes, definitely! You can leave it out, or you could use another flavor. Almond extract, honey, maple extract, or whiskey are all fun choices!
How do you make French toast that isn't soggy?
Perfect French toast should be crisp on the outside and custardy on the inside. A bit of butter on the griddle helps crisp up the French toast. Cooking it "low and slow" ensures that the inside gets done and the outside turns crisp and golden brown.
If you are serving a large crowd, keep the French toast warm and crisp in a low oven (200°F). Put the cooked French toast on a wire rack set on a baking sheet for good air circulation.
How long should I soak my French toast?
It depends a little bit on the type of bread you're using. If the slices are thin or super dry, you won't need to soak the bread very long. If the slices are very thick or have a dense texture, you may need to soak it longer. For the Texas toast bread that I prefer using, you should soak it for 10 to 15 seconds per side.
Make It Your Own
Try different kinds of bread. As I mentioned above, thick sliced cinnamon bread is really amazing!
For nondairy (lactose free) French toast, substitute almond milk or another type of nondairy milk. Flavored almond milk is fine, too, if you don't mind the added sugar. Fry the French toast in coconut oil. Or, check out this battered vegan French toast recipe from my other site, Pancake Recipes.
Use your air fryer. Make ultra crispy French toast sticks in your air fryer. Freeze them for a quick breakfast later.
Looking for an baked French toast recipe? Try this delicious overnight French toast casserole. It's always a hit and especially handy when you have guests.
For an extra special treat, try grilled and stuffed French toast! It's so fun and the smoky flavor from the grill is irresistible!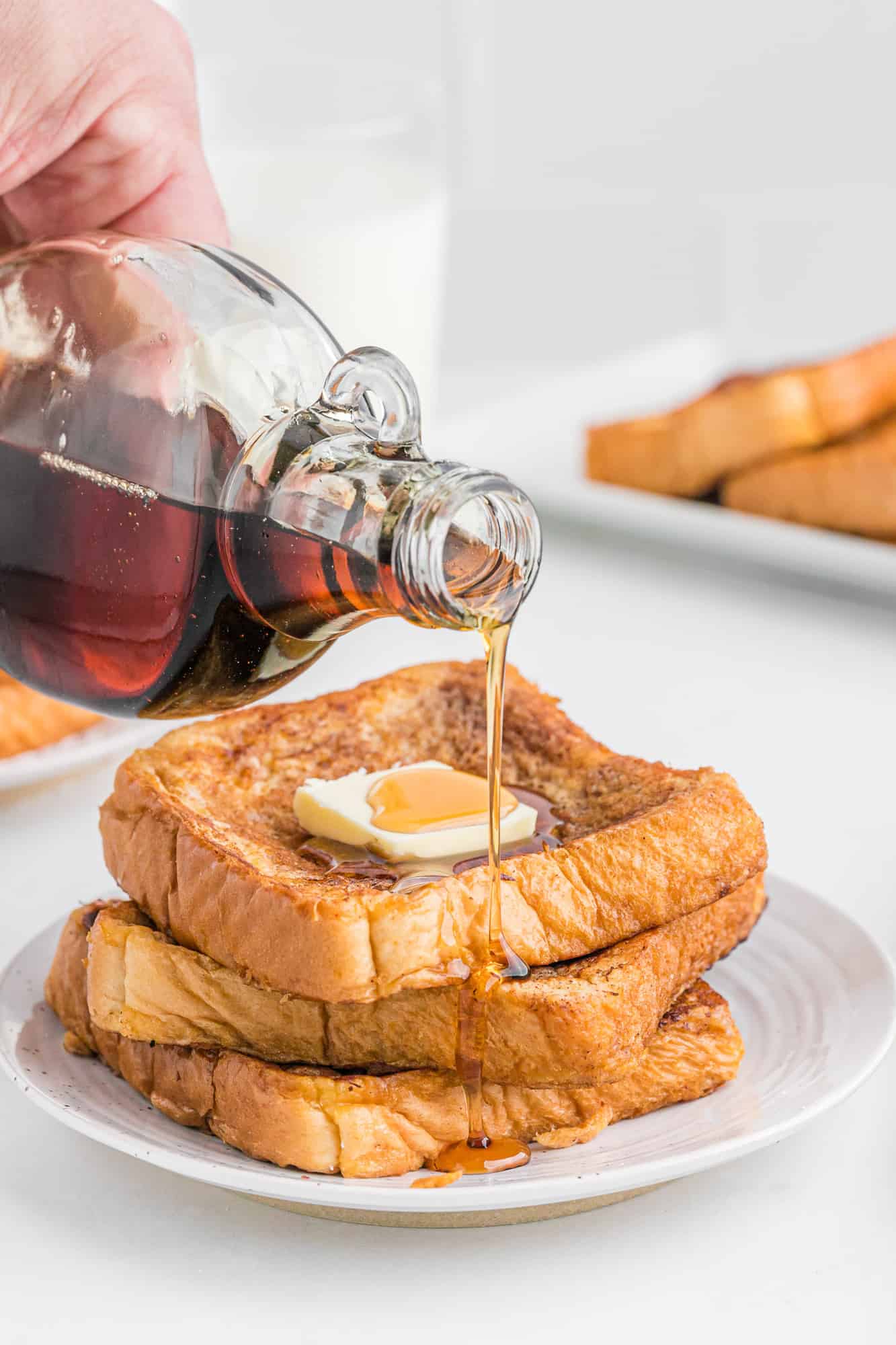 Storage & Reheating Tips
Leftover French toast should be stored in the refrigerator. It will keep for at least three days. It can be frozen for up to two months in a freezer safe container or bags.
To reheat single slices, whether refrigerated or frozen, the easiest way is to use your toaster or toaster oven. The toast will crisp up again and be super tasty. An air fryer works great, too. Set it at 350°F and your French toast will be ready in just a few minutes.
A microwave is okay but the French toast tends to become soggy and a bit tough.
Did you make this? Be sure to leave a review below and tag me @rachelcooksblog on Facebook, Instagram, or Pinterest!
This French toast recipe has everything you want in a classic slice of French toast. Learn how to make the best French toast you've ever eaten!
Ingredients
8

slices

Texas toast

(see note)

4

large eggs

¾

cup

milk

1

teaspoon

pure vanilla extract

Pinch

of salt

2

tablespoons

granulated sugar

1 ½

teaspoons

ground cinnamon

Butter for the pan

Topping suggestions: Maple syrup, powdered sugar, fresh berries, brown sugar, whipped cream, fruit sauce, anything you like!
Instructions
Beat eggs, milk, vanilla, and salt very well in a medium mixing bowl or a large measuring cup. Beat until appearance is uniform with no visible egg pieces showing. Pour into a shallow bowl that's big enough to dip a piece of bread into.

In a small bowl, mix together sugar and cinnamon. Sprinkle each side of the bread evenly with cinnamon sugar mixture.

Heat a flat skillet or griddle over medium heat. Place butter on pan for more flavor, to encourage a golden brown color, and to prevent French toast from sticking to the pan.

Dip a piece of bread into the egg mixture and let it soak up egg and milk mixture for 10-15 seconds on each side. Let excess egg mixture drip off before placing French toast on heated griddle.

Cook for 3-4 minutes on each side or until golden brown and cooked through.

Serve immediately with your favorite toppings.
Notes
Nutrition information does not include butter for the pan or toppings.
Texas toast is thick sliced soft white bread that can be found in the packaged bread aisle of the grocery store. Do not use garlic seasoned frozen Texas toast.
If preferred, substitute brioche, challah, or a French baguette. Day old bread works best.
If you are serving a large crowd, keep the French toast warm and crisp in a low oven (200°F). Put the cooked French toast on a wire rack set on a baking sheet for good air circulation.
Nutrition Information
Serving:
2
slices
,
Calories:
394
kcal
,
Carbohydrates:
43
g
,
Protein:
13
g
,
Fat:
19
g
,
Saturated Fat:
6
g
,
Polyunsaturated Fat:
1
g
,
Monounsaturated Fat:
2
g
,
Trans Fat:
1
g
,
Cholesterol:
167
mg
,
Sodium:
503
mg
,
Potassium:
128
mg
,
Fiber:
2
g
,
Sugar:
13
g
,
Vitamin A:
285
IU
,
Vitamin C:
1
mg
,
Calcium:
85
mg
,
Iron:
13
mg
This website provides approximate nutrition information for convenience and as a courtesy only. Nutrition data is gathered primarily from the USDA Food Composition Database, whenever available, or otherwise other online calculators.