Whipped Cream Recipe – How to Make Whipped Cream
White billows of rich whipped cream make even an ordinary dessert a special occasion. Elevate your desserts with this homemade whipped cream recipe!
Can you imagine pumpkin pie without mounds of fluffy whipped cream? Or a chocolate cream pie with nothing on top of it? It would be like peanut butter sandwiches without jelly or hot dogs without ketchup and mustard.
Everything is better with homemade whipped cream! Or at least, desserts are better with homemade whipped cream.
Maybe you've gotten by in the past with tubs of frozen whipped cream or whipped cream from a can. I'm telling you there is absolutely no comparison with the real thing. Once you've tried actual REAL whipped cream, you'll never go back to those mere imitations. Plus those imitations often consist of a bunch of really strange sounding artificial ingredients while the real thing is basically one thing: cream.
Are you worried that making whipped cream from scratch is difficult? Nope, it's super duper easy. (Honestly, SO SO easy!) If you have an electric hand mixer and a bowl, you can make this whipped cream recipe in less than 5 minutes.
Really! You are only five minutes away from the delightfully fluffy clouds of freshly whipped cream. What are you waiting for?!
About this whipped cream recipe:
What you need: an electric hand mixer, a deep bowl, a cup of heavy cream, and powdered sugar. I always add vanilla extract but it's not absolutely essential.
Regular sugar will work, too, but powdered sugar works a little better. Powdered/confectioners' sugar actually has a bit of cornstarch in it and the cornstarch will help stabilize your whipped cream.
Cold, cold, cold is better when whipping cream. If you have time, put the bowl and the beaters in the fridge or freezer for half hour or so before you whip the cream–don't use a warm bowl right out of the dishwasher. Tip: put the carton of heavy cream in the freezer to chill for a half hour or so.
Place the chilled bowl right into your empty sink if you can, to prevent splatters. Really, there will still be splatters but they'll be in your sink and you can just rinse them off. Set the bowl on a dish cloth in the sink so the bowl doesn't rattle around. Remember, the cream will double in size when it's whipped so make sure your bowl is large enough.
Add a cup of chilled heavy cream to the bowl, and whip it at medium high speed. It will be kind of bubbly at first and then start to thicken gradually. When the whipped cream starts to mound and make little hills, gradually add 1/4 cup of powdered sugar and continue to beat until soft peaks form.
What are soft peaks? Turn off your mixer and dip the beaters into your whipped cream. When you lift up the beaters, you should see little stable peaks that hold their shape, with tops that kind of droop over. Whipped cream progresses rapidly from soft peaks to stiff peaks to butter, so watch carefully.
How to make this whipped cream your own
Experiment with how long you whip the cream. Shorter whipping time will give you softer whipped cream with soft peaks, longer whipping time will give you firmer whipped cream with stiff peaks. See what you like the best.
This recipe is easily doubled. Just use 2 cups of heavy cream with 1/2 cup of powdered sugar, and a bigger bowl.
Make cinnamon whipped cream by adding 1/2 teaspoon ground cinnamon. Add it with the powdered sugar. Or add a 1/2 teaspoon of homemade apple pie spice, a blend of cinnamon, nutmeg, cardamom, ginger and allspice.
Make chocolate whipped cream by adding 1 tablespoon of cocoa powder with the powdered sugar.
I use vanilla extract for this recipe but vanilla bean whipped cream would be so good, too. Scrape out the insides of a vanilla bean pod or use vanilla bean paste. Add it to the heavy cream before you whip it.
Espresso whipped cream would be delicious, too. Add 1 teaspoon of instant espresso powder to the cream and stir it in well to dissolve it, before you whip it.
For citrus flavored whipped cream, fold in a teaspoon of lemon, lime, orange, tangerine, or grapefruit zest after the cream has been whipped. Don't use the mixer to fold in the zest because much of the zest will get wrapped around the mixer blades.
Fold in add ins like coconut, lime or lemon zest, or even mini chocolate chips.
Make whipped cream with a can of evaporated milk instead of heavy cream. For an easy tutorial, take a look at WikiHow "How to Whip Evaporated Milk."
FAQs:
How long will whipped cream last? How long will it stay fluffy?
Ideally, whipped cream is best made right before you serve it. If you need to make it ahead, stabilize it with full fat sour cream, whole milk Greek yogurt, or creme fraiche. Simply add 1/4 cup to the whipped cream after soft peaks begin to form, whip well, and your whipped cream will last for a couple of days.
Is whipping cream the same as heavy cream?
What a great question! Whipping cream is actually a bit lighter, 30-35% milk fat, compared to heavy cream which has at least 36% milk fat. Heavy cream will actually whip better and hold its shape longer. Seems like "whipping cream" is kind of a misnomer if heavy cream performs better, but hey, who am I to judge!
Can you freeze homemade whipped cream?
Yes! and it's so easy. This is actually a great make ahead tip.
If you have leftover whipped cream, line a baking sheet with parchment, and drop plops of the whipped cream onto it. You can make different sizes, i.e., smaller dollops that will fit into a mug of hot chocolate, or larger dollops for desserts. If you want to get fancy, you could use a pastry bag and pipe it onto the baking sheet in pretty shapes.
Place the baking sheet into the freezer and freeze the whipped cream until firm; put the frozen dollops into a freezer bag or container.
For hot beverages, there's no need to thaw. For desserts, simply place the frozen whipped cream on the dessert and wait 10 minutes or so. It thaws quickly.
If you have a partial carton of whipped cream that you aren't going to use right away, you can also freeze that. Freeze the heavy cream right in the container it comes in and take it out of the freezer the night before and put it into the refrigerator. It's okay if it's a little frozen yet when you whip it–heavy cream actually whips better when it's really cold.
Hint: if you want to freeze a full carton, remove a little bit of the heavy cream to allow for expansion.
Can whipped cream be rewhipped?
If you've over whipped your cream, there's really no way to fix that. It will look kind of grainy and separated. Actually your whipped cream has begun the process of turning into butter.
Rewhipping whipped cream that has gone flat or deflated isn't really going to work either. See the section above on how to make whipped cream last longer in the fridge.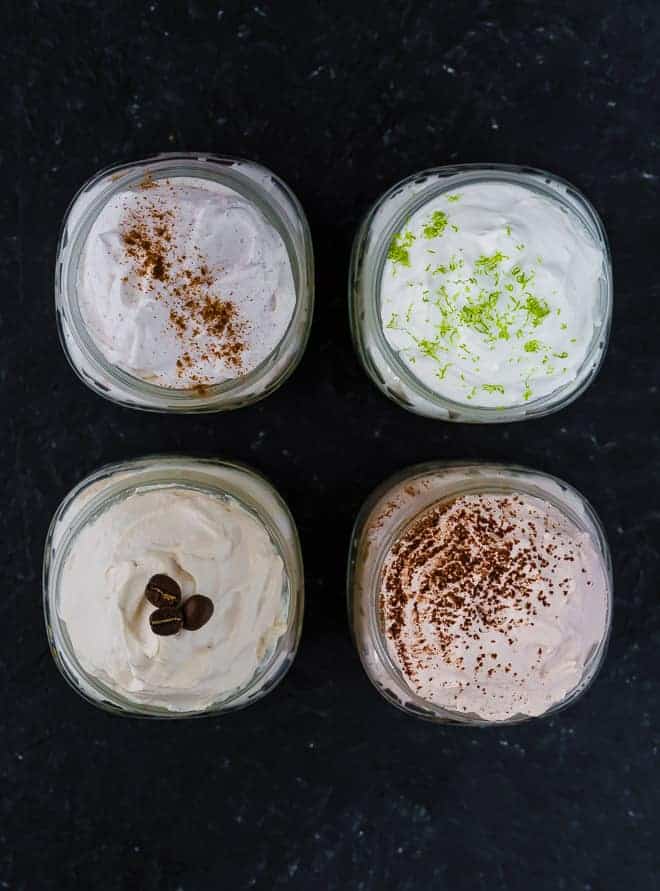 What to put this whipped cream on:

I won't judge if you eat it with a spoon straight from the bowl, but if you want to use it as a topping, try it on:
Did you make this? Be sure to leave a review below and tag me @rachelcooksblog on Facebook, Instagram, or Pinterest!
White billows of rich whipped cream make even an ordinary dessert a special occasion. Elevate your desserts with this homemade whipped cream recipe!
Instructions
Chill a medium sized bowl (see note) and beaters for at least one hour in refrigerator or freezer.

Remove bowl and cream from refrigerator. Pour cream into chilled bowl.

With hand mixer on medium speed, beat cream for 2 minutes or until peaks begin to form.

Add vanilla and gradually add powdered sugar; beat until soft peaks form.

Don't overbeat or your whipped cream will separate and turn into butter.

Serve immediately.
Notes
Whipping cream will double in size when whipped, so use a large enough bowl.
Adding 1/4 cup of full fat sour cream or whole milk Greek yogurt will help your whipped cream last longer in the refrigerator.
Nutrition Information
Serving:
1
/4 cup
,
Calories:
116
kcal
,
Carbohydrates:
4
g
,
Protein:
1
g
,
Fat:
11
g
,
Saturated Fat:
7
g
,
Polyunsaturated Fat:
3
g
,
Cholesterol:
34
mg
,
Sodium:
8
mg
,
Sugar:
4
g
This website provides approximate nutrition information for convenience and as a courtesy only. Nutrition data is gathered primarily from the USDA Food Composition Database, whenever available, or otherwise other online calculators.