Apple Crisp with Ginger – Easy & Delicious!
A fun twist on the standard apple crisp, this apple crisp with ginger is going to delight your taste buds and have you coming back for more and more!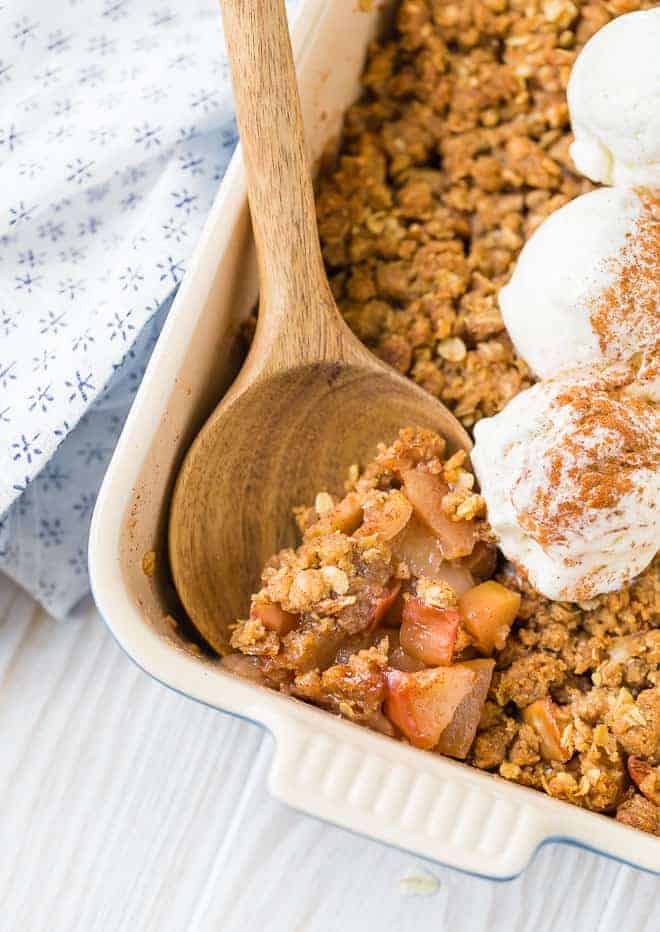 Fruit crisps are my absolute favorite desserts. Creme Brulee is a close second, but if you made me choose between a good apple crisp or a slice of cake for dessert? It would be an easy choice for the crisp, every single time.
Make me choose between pumpkin and apple for what I look forward to when fall begins? Always apple. Well, I do like pumpkin pie, but still…apple crisp for the win.
I grew up eating apple crisp. It felt like it was always a go-to for my mom, likely because we all loved it so much. In my mind, there isn't anything much better than warm apple crisp with a scoop of melty vanilla ice cream on top.
Another bonus of apple crisp is that I can eat it for breakfast the next day and still feel pretty good about it. Have you tried apple crisp with a spoonful of yogurt on top? It's so good…I highly recommend it.
I love apple crisp so much, I even turn it into other things, like these apple crisp breakfast cookies (yesssss, breakfast cookies) or this apple crisp granola.
About this Apple Crisp with Ginger
Yup, with ginger! This is a fun twist on traditional apple crisp that keeps it true to its authentic character, but tells the eater immediately that this isn't your basic apple crisp. (Again, no disrespect to basic apple crisp; I think we've already established that I'm a fan.)
This recipe adds freshly grated ginger root to the filling. Fresh ginger packs a flavor punch; you don't have to use much of it to taste it. If you lean more toward traditional apple crisp, try substituting a teaspoon of homemade apple pie spice for the fresh ginger and cinnamon in this recipe.
The crisp topping is perfectly….crispy, for lack of a better word. It's so simple: oats, flour, brown sugar, butter, and spices.
I don't know about you, but I like my crisps heavy on the topping. I think it's the best part! This recipe does not disappoint.
Which apples are best for baking?
A question I get asked a lot is which apples are best for baked desserts like this crisp. There are so many varieties of apples available, especially in the fall, and you want just the right apple for your delectable crisp or pie.
Choose apples that keep their shape somewhat and which won't turn into apple mush in your baked dessert. Honeycrisp apples are perfect. They have just the right balance of sweetness and tartness and, as you can see from the photos, keep their shape perfectly without being too hard or crunchy.
Some other varieties I would recommend are: Granny Smith, Jonagold, Braeburn, and Mutsu. These apples all have lots of flavor and won't turn to applesauce when baked.
To peel or not to peel? That's a great question. I usually do NOT peel the apples. It's totally up to you but the peels cook down so that they are barely discernible. They add extra nutrition and fiber, and why not save yourself the trouble of peeling all those apples?
Love fruit desserts?
If you're anything like me, you'll for sure want to try these:
Apple Crisp with Ginger
Yield: 6 servings
Prep Time: 15 minutes
Cook Time: 1 hour 10 minutes
Total Time: 1 hour 25 minutes
A fun twist on the standard apple crisp, this apple crisp with ginger is going to delight your taste buds and have you coming back for more and more!
Ingredients
Filling:
6 cups chopped apples (about 6 medium sized apples)
2 tablespoons peeled and finely chopped fresh ginger root
1/2 teaspoon lemon zest
1 teaspoon lemon juice (zest the lemon before juicing!)
1/4 cup granulated sugar
1/2 teaspoon ground cinnamon
Crisp Topping:
1/2 cup all-purpose flour
1/2 cup rolled oats (quick or old-fashioned, not steel-cut)
1 teaspoon ground cinnamon
1/4 teaspoon freshly ground nutmeg (use already ground if you have to)
2/3 cup packed brown sugar
6 tablespoons unsalted butter, softened
Instructions
Preheat oven to 350°F. Lightly spray a 10 by 8 inch baking pan with cooking spray. Set aside.
In a large bowl, mix ginger root, lemon zest, lemon juice, sugar, and cinnamon. Add apple chunks and mix thoroughly. Make sure the zest and ginger root are distributed equally throughout the apples. Put into baking dish.
In the same bowl that you used for the apple mixture, mix flour, oats, cinnamon, nutmeg, and brown sugar. Add the softened butter, and use two knives held together in your hand (or a pastry cutter or fork) to cut the butter into the dry ingredients. The mixture should hold together in large clumps.
Using a large spoon or your hand, sprinkle the crisp topping over the apple mixture. Put into preheated oven and bake 1 hour and 10 minutes, or until apples are soft and crisp is lightly browned on top. Cool slightly, and serve warm with ice cream, if desired.
Notes
I didn't peel the apples because I like the heartier texture in the crisp but feel free to peel your apples before chopping them, if you prefer.
I used Honeycrisp apples. Some other apple varieties that would be perfect are Jonagold, Mutsu, Braeburn, or Granny Smith.
Keep in mind that freshly ground nutmeg has a stronger flavor than the already ground, and adjust the amount according to taste.
Ginger flavor slightly intensifies in leftover crisp.
Nutrition Information:
Yield: 6
Serving Size: 1
Amount Per Serving:
Calories: 339
Total Fat: 12g
Saturated Fat: 7g
Trans Fat: 0g
Unsaturated Fat: 4g
Cholesterol: 31mg
Sodium: 10mg
Carbohydrates: 58g
Fiber: 4g
Sugar: 40g
Protein: 2g
RachelCooks.com sometimes provides nutritional information, but these figures should be considered estimates, as they are not calculated by a registered dietician. Please consult a medical professional for any specific nutrition, diet, or allergy advice.