Baked Turkey Meatballs
You'll love how easy it is to make Italian style baked turkey meatballs. Browned evenly as they bake in the oven, you'll bring perfect meatballs to the table every time.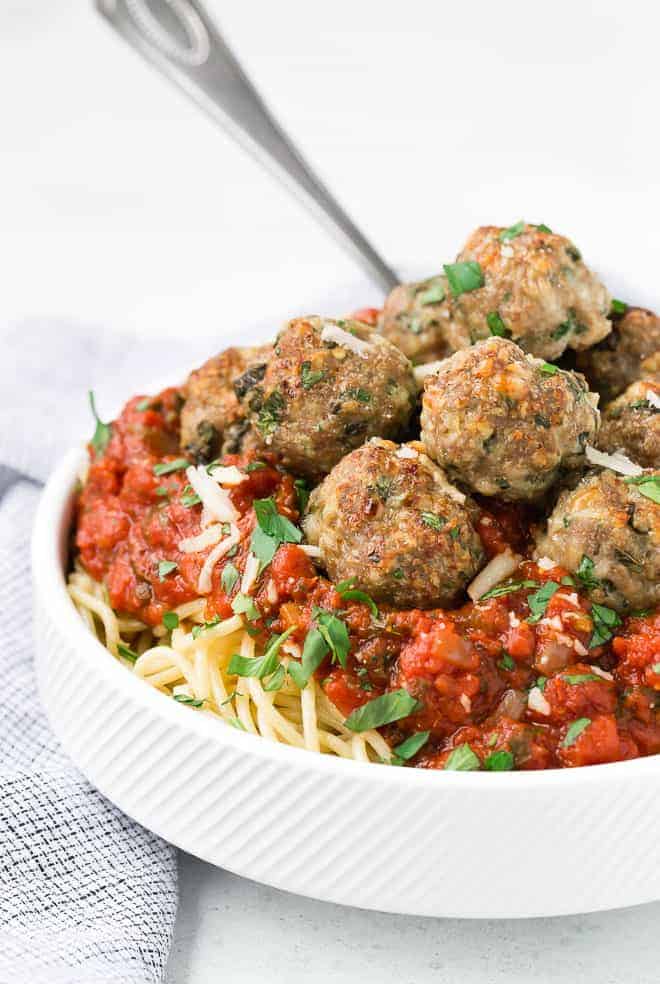 There's a restaurant in town that serves delicious spaghetti and meatballs. Or should I say, meatball, because that's all you get–one baseball sized meatball atop a plate of spaghetti and sauce. My father-in-law loves this unique approach to a classic dish and he always orders it. It's really kind of hilarious looking, one giant meatball on a mound of spaghetti.
My mom used to buy canned Spaghetti-Os with meatballs. In total contrast to a single huge meatball, the can contained several tiny meatballs about the diameter of a dime. Anyone else remember those? My sister and I used to count them out so we each got an equal number of meatballs with our Spaghetti-Os.
I'm sure you all have a meatball story. There are about as many meatball recipes as there are families. Everyone has their own way of making them and serving them.
Meatballs are so versatile. Most of us have had meatballs with pasta, noodles, or rice smothered with all the many sauces that come from different cultures. Have you tried these Greek meatballs with tzatziki? Or turkey enchilada meatballs made in a slow cooker? And of course, the classic tomato spaghetti sauce is always a hit.
Meatballs also show up as appetizers at parties, skewered with a toothpick, dressed in tangy or spicy glazes. I love the cherry bourbon sauce on these crockpot meatballs. Meatball subs are so good, too, meatballs tucked into a crusty bun, covered with marinara and melted cheese.
Today I bring you a recipe for Italian style baked turkey meatballs. The recipe is easy to make, the meatballs are delicious, and I'm sure you're going to love them!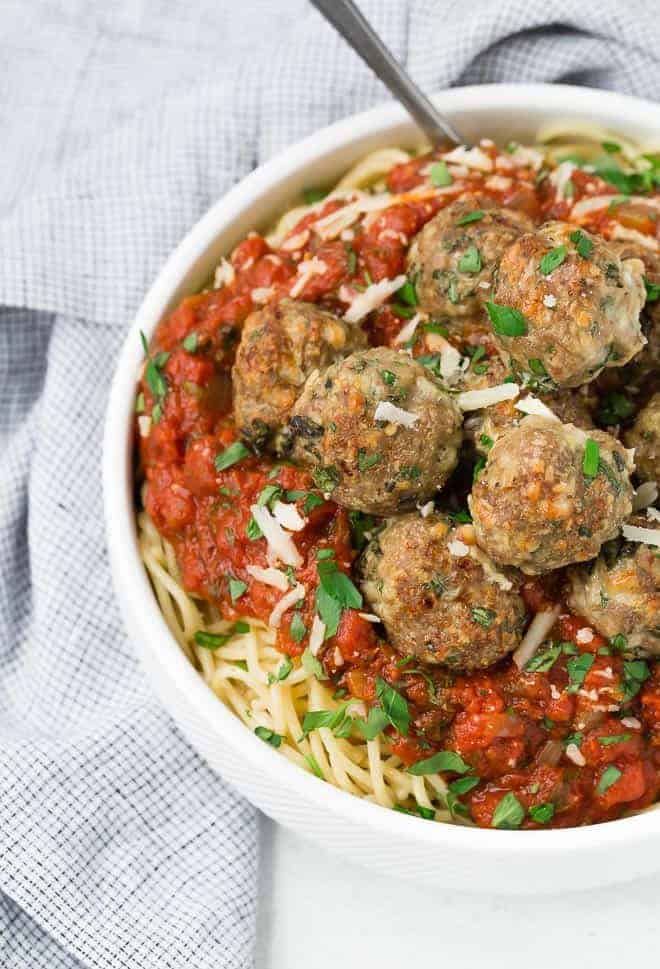 About these baked turkey meatballs:
I love the hands off approach of baked meatballs. Once they're in the oven, there's no need to flip, turn, or fuss with them at all. No added oil is necessary which makes them better for you. No messy stove either.
These baked turkey meatballs are made with 93% lean ground turkey. Get a nice big bowl out, roll up your sleeves, and let's get started!
Add all the ingredients to the bowl, and use your hands to squish it all together, just until the ingredients are combined. Over-mixing will toughen the meatballs. You don't want a meatball that will bounce if you drop it (just kidding).
Now comes the fun part: shaping the meatballs. I like to use a cookie dough scoop but a tablespoon will do just fine, too. Aim for about an inch and a half diameter.
Is the mixture sticking to your fingers too much, making it hard to roll? Dipping your fingertips in a bowl of water will help prevent that from happening.
As you make the meatballs, place them on a parchment or foil covered rimmed baking sheet. You should end up with 18-20 meatballs. Brush or spray the meatballs lightly with olive oil and put them in a preheated oven. Bake for 25 to 28 minutes, or until they're lightly browned. Enjoy!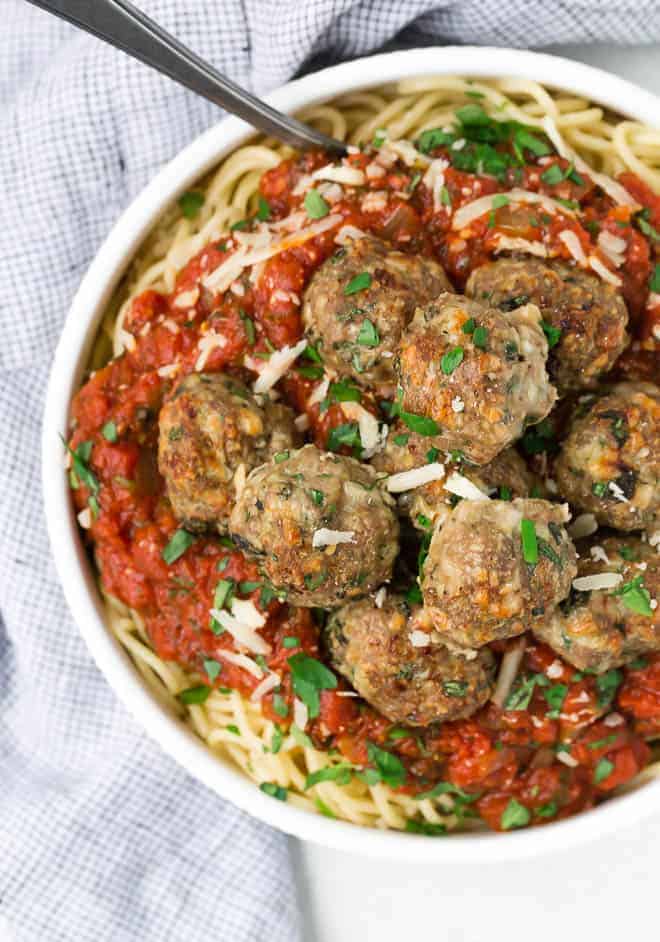 How to make these meatballs your own:
If you want to make this recipe even easier and faster, substitute onion powder and garlic powder for the fresh minced onions and garlic. You can also substitute dried herbs for the fresh. So easy! I've included the directions for the substitutions on the recipe for you.
Looking for a non-dairy meatball? Leave out the cheese and substitute a tablespoon of water for the milk.
Make really large meatballs or really small meatballs. Adjust the cooking time (longer for big meatballs, shorter for small meatballs). However, do try to make all the meatballs uniformly sized so they cook evenly.
These meatballs are Italian style with basil, oregano, and parsley. Vary the seasonings if you like. Use cumin, chili powder, and oregano for Mexican style meatballs. Or, mint, parsley, cinnamon, and oregano for Greek style meatballs. Serve them with your favorite sauce.
Don't want to use breadcrumbs? Keep reading for alternatives to breadcrumbs.
Go ahead and use ground beef if you prefer, or a mixture of ground meat.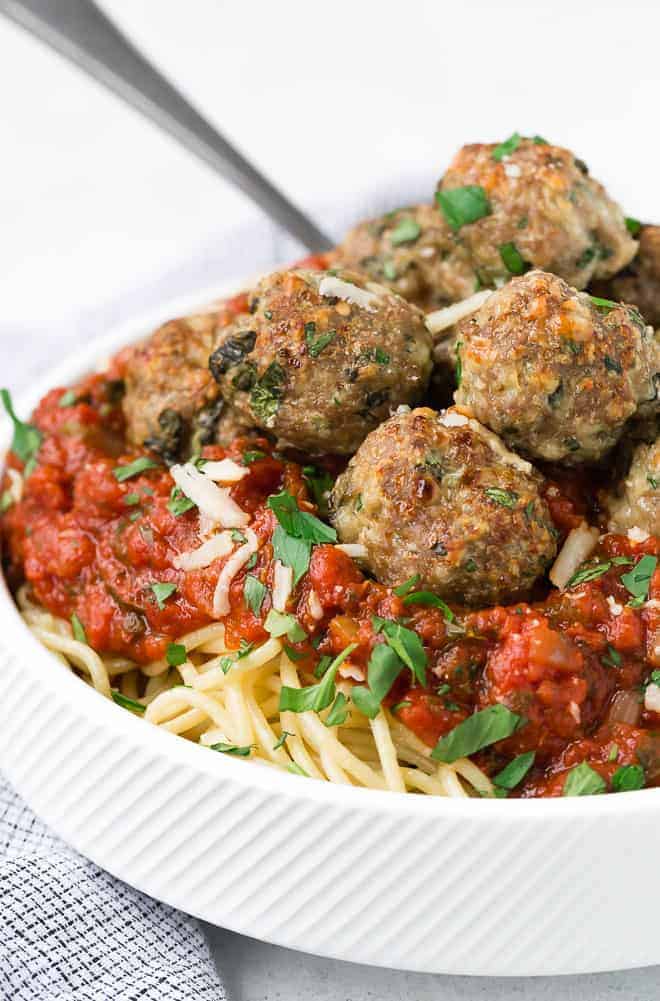 FAQs
How do you know when turkey meatballs are done?
The baked meatballs should be firm and lightly browned. Internal temperature should be at least 165°F.
How do you keep meatballs from falling apart?
You'll find that baking meatballs rather than frying them is much easier. It's totally hands off once they're in the oven. Because you aren't moving them around in a frying pan with a spatula or tongs, there isn't really an opportunity for the meatballs to fall apart. Once they're cooked all the way through, they are firm and won't disintegrate.
I like to simmer the sauce separate from the meatballs. Either gently fold the cooked meatballs into the sauce right before serving or serve them separately, ladling the sauce over the pasta and meatballs. Both ways are perfect for keeping the meatballs intact.
How long are turkey meatballs good for?
You can make the meatballs and store them raw in the fridge up to 24 hours before baking them. Make sure they are well wrapped. You could also freeze them raw to bake later. Freeze them on the baking pan separated from each other so they don't stick together. Once they're frozen, you could put them into a zip top freezer bag. They should last up to three months in the freezer.
Alternatively, bake the meatballs immediately and store them in the fridge for up to 3 days, or in the freezer for up to 3 months. Frozen cooked meatballs are so handy to have in the freezer for a quick meal. Just gently heat up a jar of sauce with the frozen meatballs added to it, boil your pasta, and dinner is served! You could use the meatballs to make a delicious meatball sandwich, or use them as an appetizer with dipping sauce.
Do you turn meatballs when baking?
The beauty of oven baked meatballs is that you don't have to turn them. So easy! Quite honestly, it's the only way I make meatballs. Sometimes, I brown the tops of the meatballs under the broiler for a few minutes for a little extra color and flavor.
What can I use instead of breadcrumbs in meatballs?
Alternatives to dry breadcrumbs or panko are rolled or quick oats (not instant), soft breadcrumbs, crushed crackers, or tortilla chips. It won't be an even exchange though. This recipe calls for 1/3 cup of panko, which is similar to dry breadcrumbs. Use 3/4 cup of oats, 1 cup of soft breadcrumbs, or 1/3 cup finely crushed cracker crumbs or tortilla chips if you want to make the meatballs without breadcrumbs.
Baked turkey meatballs are versatile!

Whether you serve them as a main course, sandwich, or appetizer, baked turkey meatballs are a hit! There are a few serving ideas at the top of this post but here's a few more: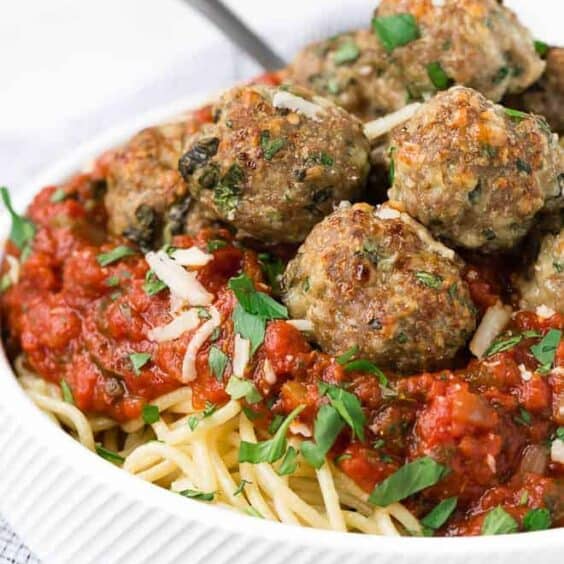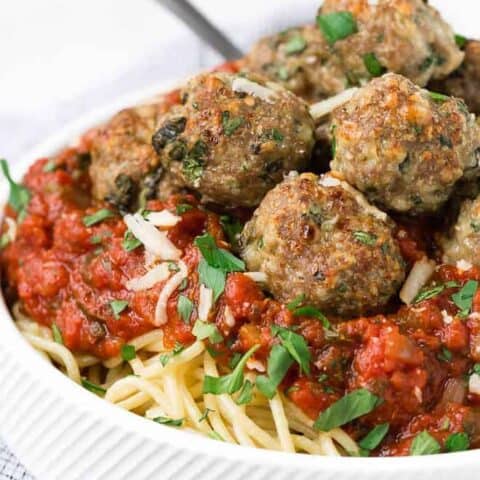 Baked Turkey Meatballs
Yield: 18-20 meatballs
Prep Time: 20 minutes
Cook Time: 28 minutes
Total Time: 48 minutes
You'll love how easy it is to make Italian style baked turkey meatballs. Browned evenly as they bake in the oven, you'll bring perfect meatballs to the table every time.
Ingredients
1 pound 93% lean ground turkey
1/4 cup grated or finely minced onion
1/3 cup grated or shredded Parmesan cheese
1/3 cup panko
2 cloves garlic, minced or pressed (about 1/2 teaspoon)
1 large egg, beaten
1/4 cup minced fresh basil
2 tablespoons minced fresh parsley
1 tablespoon milk
3/4 teaspoon kosher salt
1/2 teaspoon dried oregano
1/4 teaspoon coarsely ground black pepper
1/4 teaspoon red pepper flakes, optional
Instructions
Preheat oven to 375ºF. For easy cleanup, line a rimmed baking sheet with parchment paper or foil.
In a large bowl, mix together all ingredients with your hands until just combined.
Use a cookie scoop or tablespoon to scoop equal portions of the meat mixture, about 1 1/2-inches in diameter. Roll into balls using your hands and place on prepared baking sheet.
Lightly brush or spray meatballs with olive oil.
Bake for 25-28 minutes or until an instant read thermometer inserted in the middle of a meatball reads 165ºF.
If desired, broil for 3-5 minutes to brown.
Serve immediately.
Notes
Want to keep things super simple and use ingredients from your pantry? Try subbing 3/4 teaspoon garlic powder (not garlic salt) for the fresh garlic, 1/2 teaspoon onion powder (again, not onion salt) for the fresh onion, 1 tablespoon dried basil for the fresh basil, and 1 teaspoon dried parsley for the fresh.
It's okay if your meatballs are larger or smaller, but try to make them as uniform as possible so that they cook evenly.
Recommended Products
As an Amazon Associate and member of other affiliate programs, I earn from qualifying purchases.
Nutrition Information:
Yield: 4
Serving Size: 5 meatballs
Amount Per Serving:
Calories: 353
Total Fat: 17g
Saturated Fat: 5g
Trans Fat: 0g
Unsaturated Fat: 10g
Cholesterol: 169mg
Sodium: 699mg
Carbohydrates: 14g
Fiber: 1g
Sugar: 3g
Protein: 37g
RachelCooks.com sometimes provides nutritional information, but these figures should be considered estimates, as they are not calculated by a registered dietitian. Please consult a medical professional for any specific nutrition, diet, or allergy advice.