Instant Pot brown rice is easy to make and comes out perfectly every time! No more guessing games when it comes to making rice!
Recipe Overview
Why you'll love it: You'll get perfectly cooked rice every time!
How long it takes: 49 minutes
Equipment you'll need: Instant Pot electric pressure cooker
Servings: makes 3-9 cups, depending on how much you want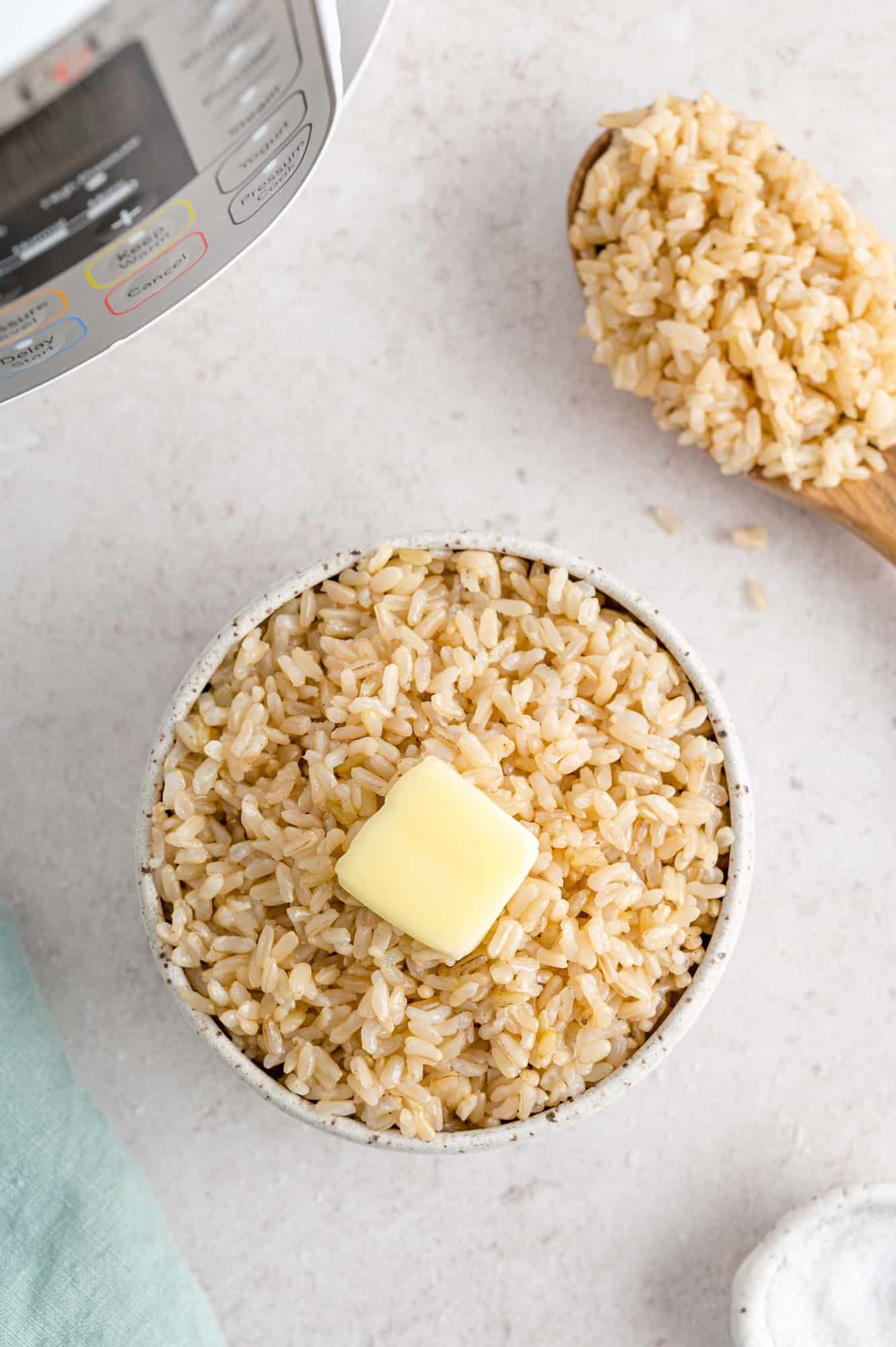 My instructions and recipe for Instant Pot jasmine rice and Instant Pot white rice have been pretty popular, and since not all rice is created equal, I thought it would be helpful to show you how to make brown rice in your pressure cooker as well.
Rice is a tricky thing to make (crunchy! sticky! mushy!); and sometimes it's so difficult to get the correct consistency.
Or maybe I'm just rice-challenged.
I recently had a fun afternoon with my friends, a group that we informally call "Cooking Club." I've talked about our "Cooking Club" in the past, but basically it was my way to form friendships when we moved (back) to this area of the state.
I'm happy to say that, not only do we sometimes cook together, we've become a group of friends who support and lift each other up. We even occasionally let our husbands join in on some of our gatherings.
There are always SO many laughs. One of our early gatherings was at my friend Renee's house for an Instant Pot Cooking Club. That evening it was a small group of five of us and I don't think I've ever laughed so hard.
It was kind of a disaster, to be honest. We were all newbies at using our Instant Pots, and we were learning together. I think some of the best moments in life are when things don't go as planned, and this was no exception.
The chicken we made was still raw in the middle when it came out of the Instant Pot. One of the Instant Pot lids got stuck on the wrong pot. And I mean stuck. It took 20 minutes, a husband, and tools to remove the lid. There were a few more mishaps, as well.
Renee decided we needed a do-over, and I think she was right. This time we had 10 women and quite a few kiddos running around but the cooking was much more successful. We were each armed with a pressure cooker, a recipe, and ingredients.
We made Instant Pot macaroni and cheese, Instant Pot sweet potatoes, Instant Pot baked potatoes, Instant Pot boiled eggs, and my friend Laura adapted my slow cooker chicken and wild rice soup for the Instant Pot, which turned out great.
Other things on the menu were Instant Pot rice with cilantro and lime, and Instant Pot shredded chicken. Needless to say, we all went home with leftovers!
It was a great day with great friends, and I think we may have even converted a few people that were on the Instant Pot fence.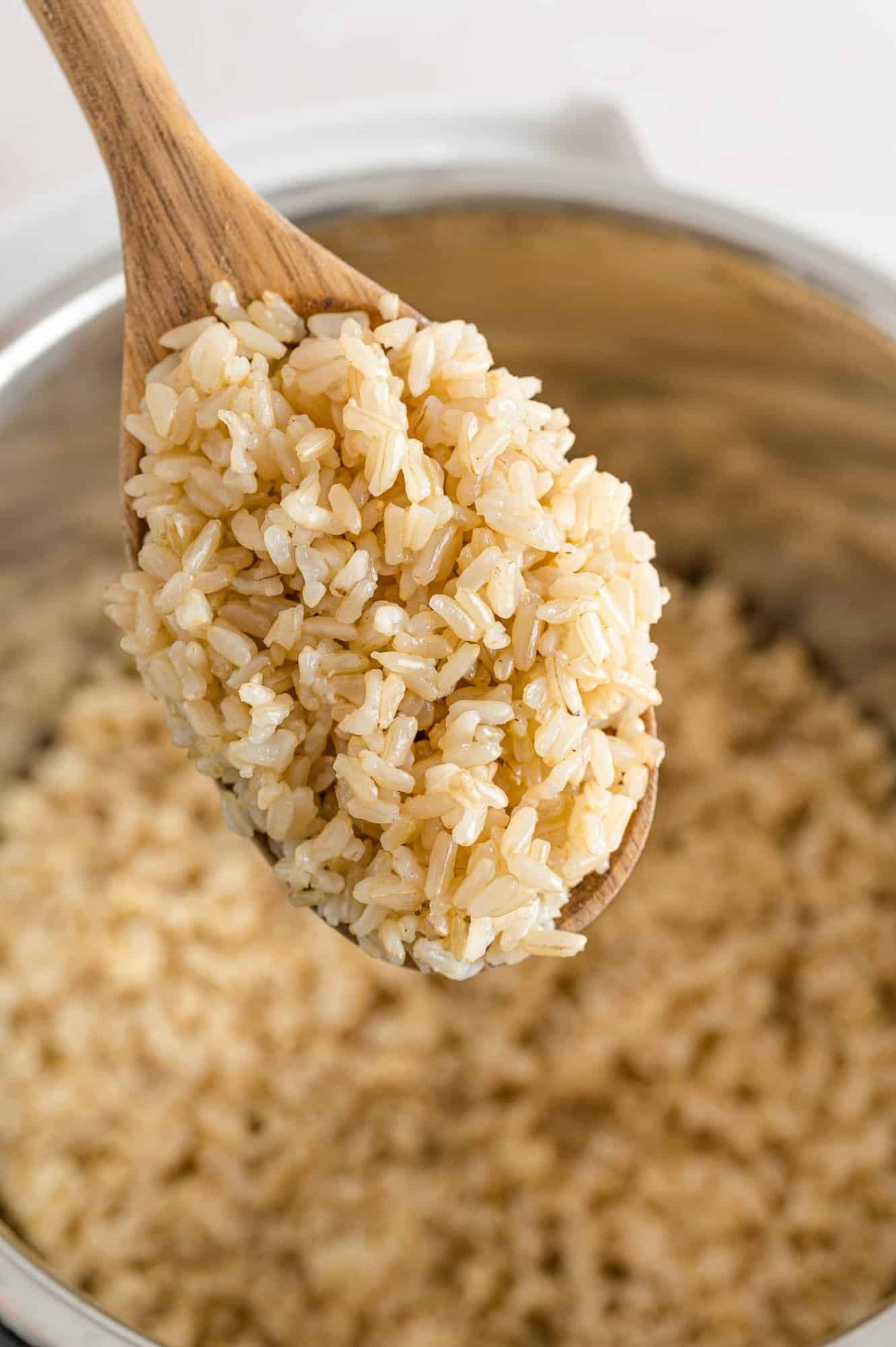 About Instant Pot Brown Rice
If you haven't yet converted to pressure cooking, rice might be what convinces you. It really does come out perfectly and is almost completely hands-off. Brown rice takes a little longer to cook than other varieties of rice but the cooking method is the same.
Rice is very easy to make in an Instant Pot. The first thing you'll do is rinse the rice. This step is important, so make sure to rinse it well.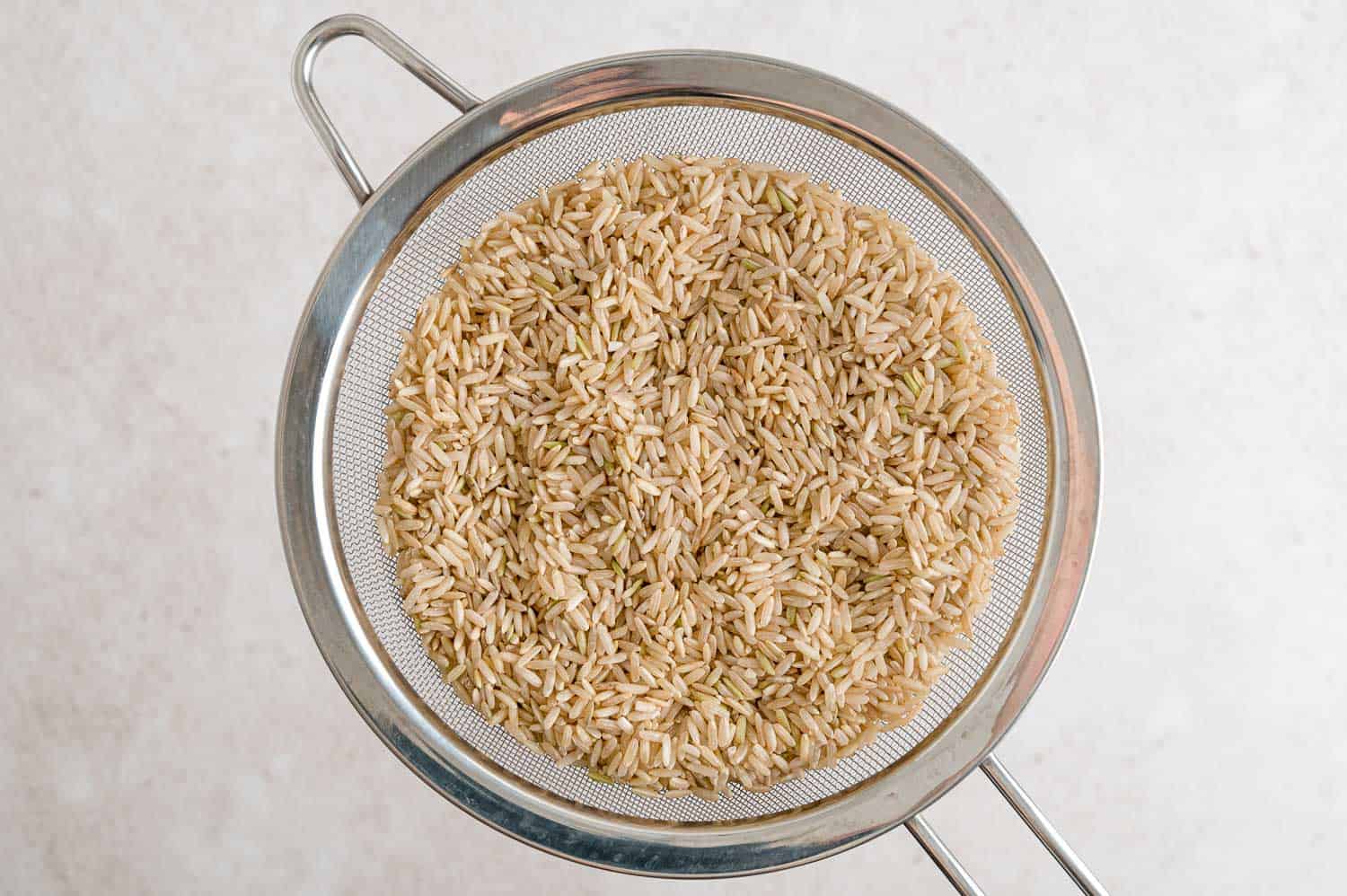 Simply put the rice, water, salt, and oil in the insert of your electric pressure cooker. Push down any rice that is stuck to the edges.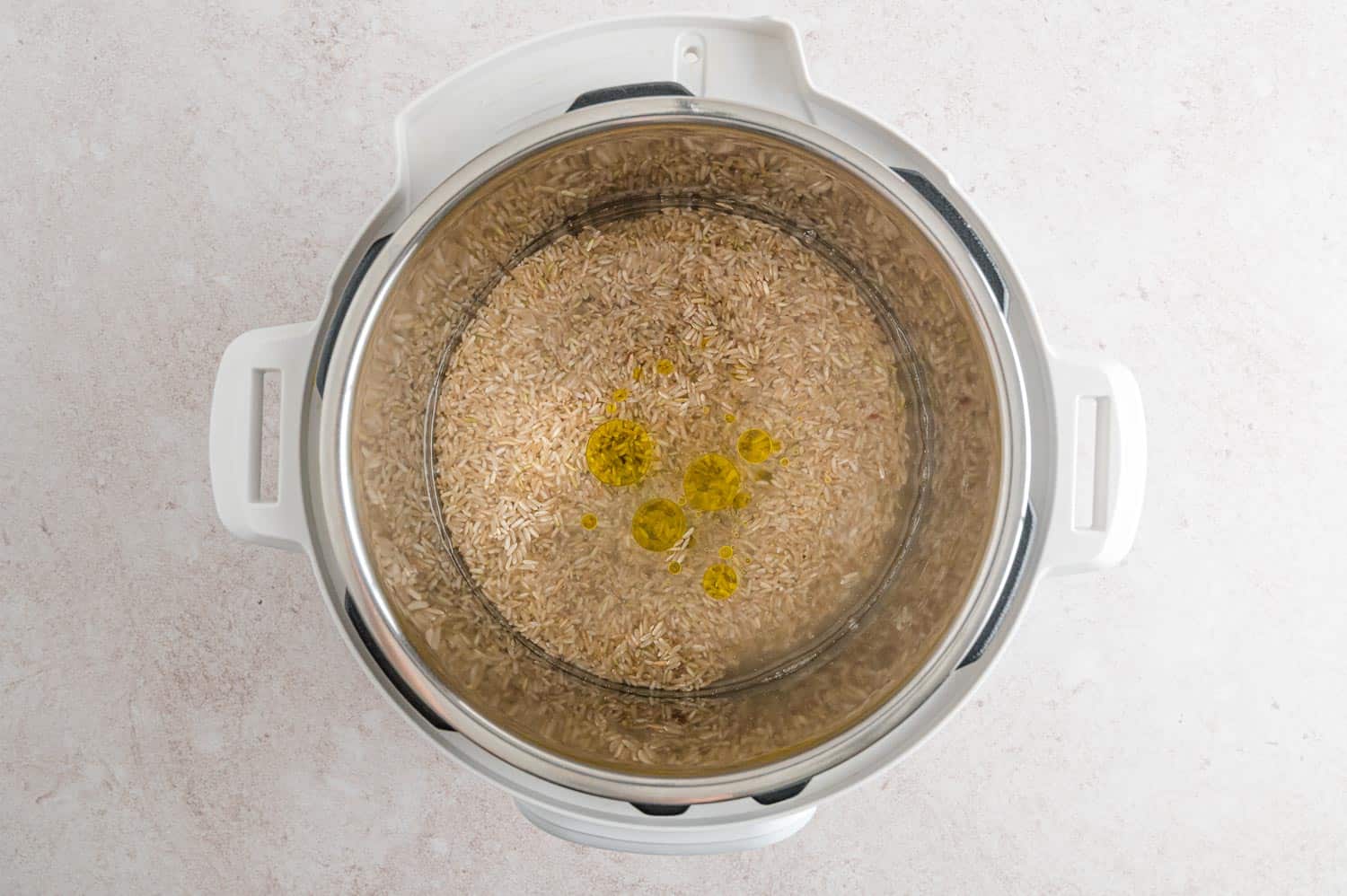 Secure the lid, set the timer, and walk away. Remember to allow extra time for the pot to come to pressure.
When the timer goes off, let the cooker sit undisturbed for 10 more minutes. This is called a natural release (of pressure). After ten minutes, "quick release" (manually release) any remaining pressure. Fluff up the rice with a fork and it's ready to serve.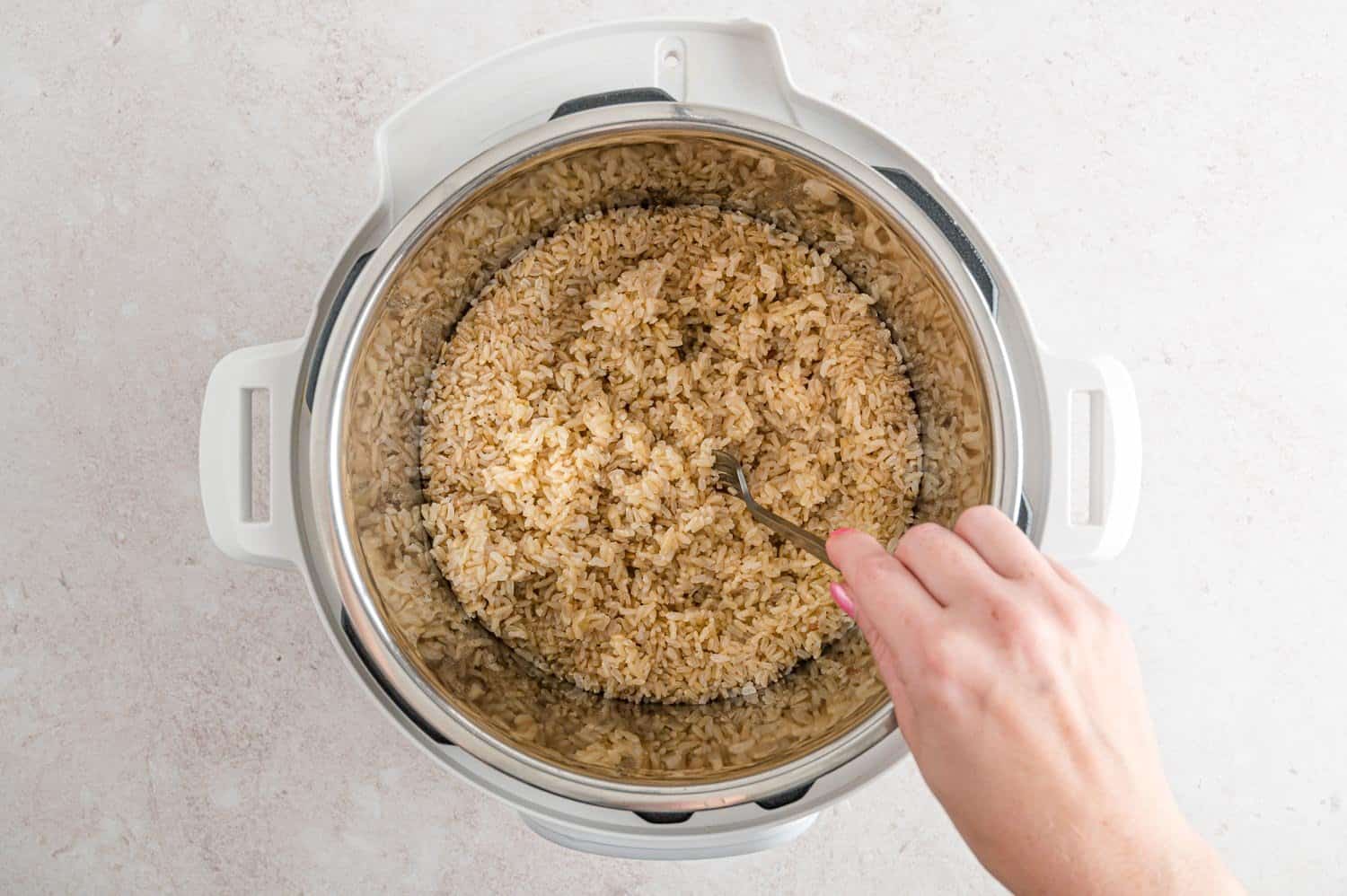 Rice to Liquid Ratio
We tested and tested and tested to make sure this was perfect for you! We found the best rice to liquid (water or broth) ratio is 1:1. That means for every 1 cup of rice you add, you'll need 1 cup of water or broth. Doesn't get much easier than that!
Keeping the same rice to water ratio, you can make 1 cup, 2 cups, or 3 cups of rice in your Instant Pot. Each cup of dry rice yields 3 cups of cooked rice.
Whether you're cooking 1, 2, or 3 cups of rice, the actual cook time will remain the same. However, the time it takes for the Instant Pot to come to pressure will increase as you add more rice and water, so factor that into your prep/cook time.
You'll find the recipe card near the end of the post with complete instructions for varying amounts of rice and nutrition information.
What You'll Need
Long Grain Brown Rice: This recipe is written for long grain brown rice, which also includes brown jasmine rice and brown basmati rice.
Water: Rice absorbs the water as it cooks. You can substitute chicken broth or vegetable broth for more flavor, if you prefer.
Oil: A small amount of oil adds flavor and better texture to the rice. Try olive oil, avocado oil, coconut oil, or butter.
Salt: Don't skimp on the salt. Rice tastes best with plenty of salt. We usually use kosher salt which has coarser grains. If you use a fine textured salt, use less.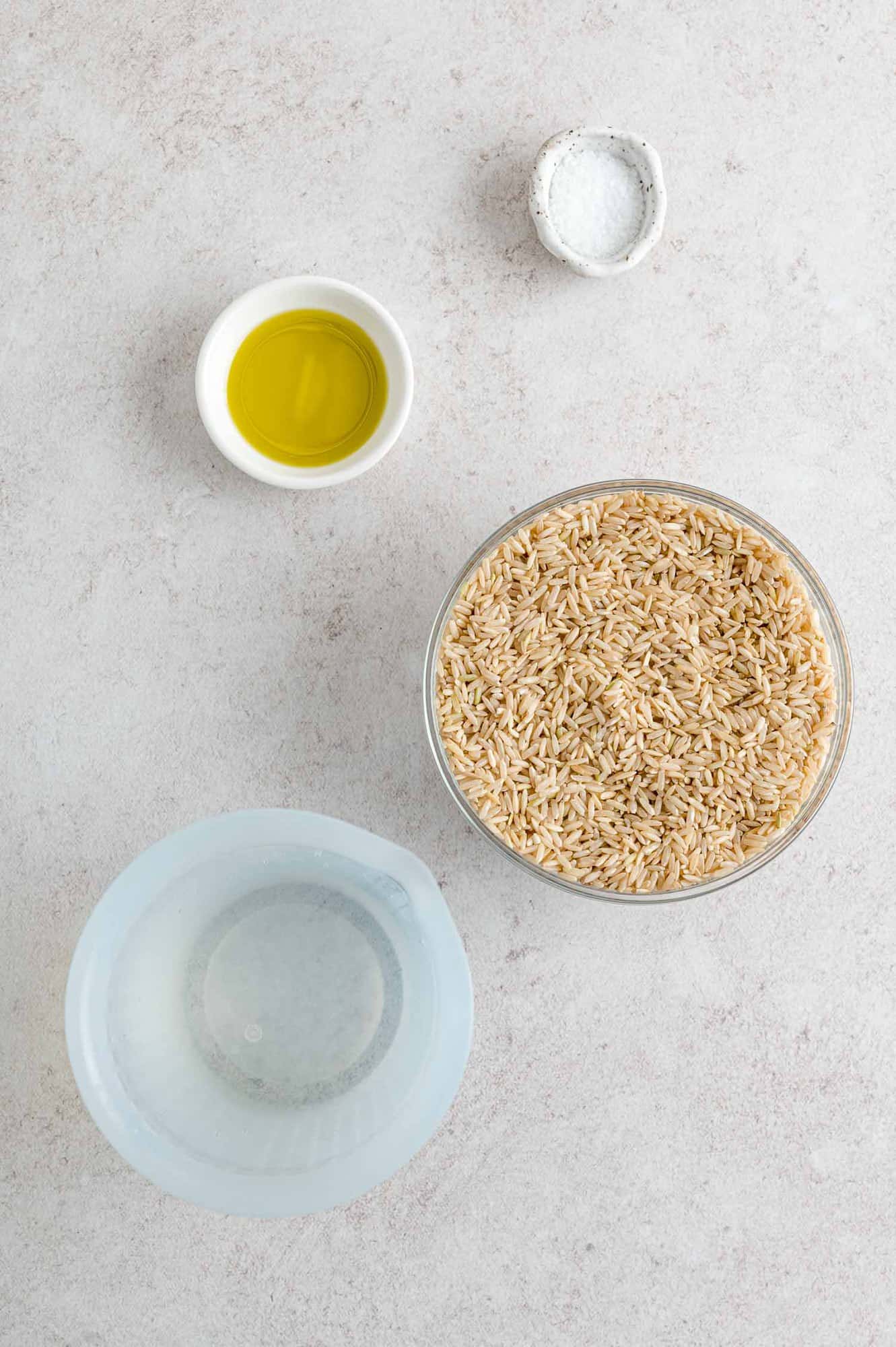 FAQs
Is brown rice healthier than white rice?
Yes, brown rice is a whole grain. It has more fiber, vitamins, and minerals than white rice. Check out Healthline for a comprehensive comparison.
Does brown rice need to be rinsed?
Rinsing removes excess starch from the rice grains. This is especially important when using an Instant Pot. It keeps it from foaming up or sputtering when you're releasing the pressure which can be pretty messy.
Rinsing rice also ensures that you're not eating any debris or dirt that may remain on the rice after processing.
Does brown rice take longer than white rice to cook?
Yes, because brown rice is a whole grain, it takes longer to cook. Rice grains have three parts: bran, germ, and endosperm (hull). The inedible hull is removed from brown rice but the bran and germ remain. It needs to cook about 45 minutes on the stove.
Does the rice button on the Instant Pot work for brown rice?
No, because brown rice takes longer to cook than white rice, the rice setting won't work. It won't cook the brown rice long enough to get tender.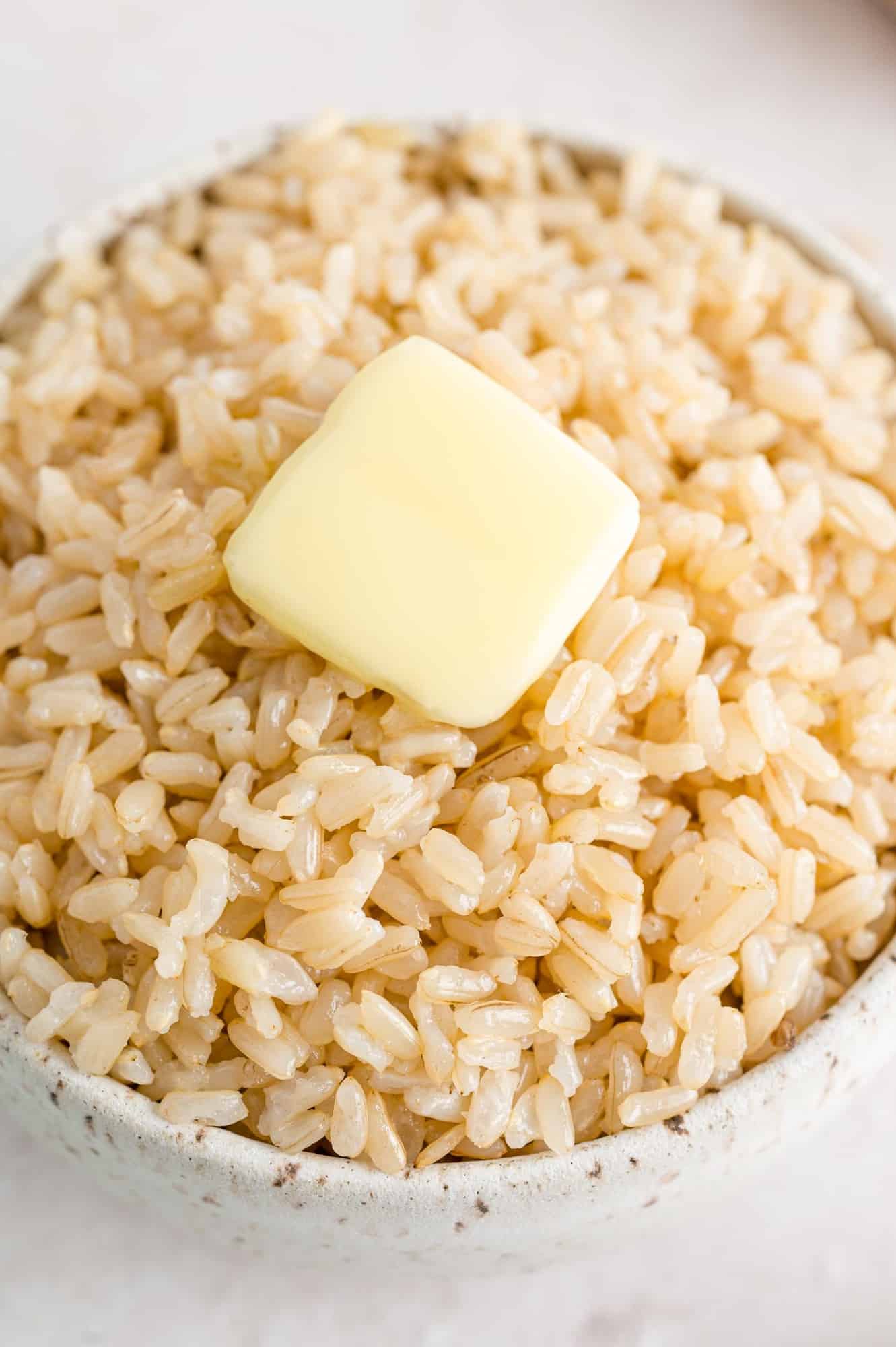 Make-Ahead Idea
One of the great things about rice is that you can make a large batch and freeze the extra. It freezes, thaws, and reheats beautifully so you can thaw it whenever you need rice for a side dish, a stir fry, or just when a craving for rice hits. You can easily add it to casseroles, too. We love this easy zucchini casserole made with brown rice.
Storage & Reheating Tips
Leftover rice can be refrigerated in a covered container for four days. Rice can be frozen in a labeled freezer bag for up to six months. Label the bags with the amount of rice and the date. Flatten the bags slightly so they'll lie flat in the freezer and thaw more quickly.
To thaw, refrigerate overnight, set on counter for a couple of hours, or microwave for 45-60 seconds.
Reheat in your microwave oven, on the stove in a saucepan, or in the oven. To keep the rice from drying out, stir in a little extra water or broth.
Rice and Stir Fry Recipes
Make brown rice to serve with these tasty stir fry recipes. Make a double batch of rice and use the leftover rice for fried rice tomorrow!
Did you make this? Be sure to leave a review below and tag me @rachelcooksblog on Facebook, Instagram, or Pinterest!
Instant Pot brown rice is easy to make and comes out perfectly every time! No more guessing games when it comes to making rice!
Ingredients
1

cup

long grain brown rice

1

cup

water

(vegetable or chicken broth can be substituted)

2

teaspoons

oil of choice

½

teaspoon

kosher salt
Instructions
In a fine mesh strainer, rinse rice well until water runs clear.

Add rice to the insert of your Instant Pot. Add water, oil, and salt. Push down any rice that may be on the side of the pot to submerge in liquid.

Secure cover, turn valve to seal, and set Instant Pot on the manual setting (High pressure), or Pressure Cook depending on the model, for 24 minutes. It will take about 5 minutes to come to pressure. When the timer goes off, let it naturally release for 10 minutes (in other words, leave it alone for 10 minutes).

Once 10 minutes has elapsed, turn valve to release remaining pressure. Fluff the rice with a fork and serve. Makes 3 cups.
Notes
For 2 cups rice (makes 6 cups cooked): Use 2 cups rice, 2 cups water, 4 teaspoons oil, 1 teaspoon salt. Cook as directed. It will take a bit longer to come to pressure (about 8 minutes).
For 3 cups rice (makes 9 cups cooked): Use 3 cups rice, 3 cups water, 2 tablespoons oil, 1

½ teaspoons salt. Cook as directed. It will take about 10 minutes to come to pressure.

Storage & Freezing Tips: Cool cooked rice before storing. Store in the refrigerator in a covered container for up to 4 days. Rice can be frozen in a resealable freezer bag (flatten slightly before freezing) for 6 months or longer. Thaw overnight in the refrigerator, a couple of hours on the counter, or in the microwave (45 seconds-1 minute).
Nutrition Information
Serving:
0.5
cup
,
Calories:
48
kcal
,
Carbohydrates:
7
g
,
Protein:
1
g
,
Fat:
2
g
,
Saturated Fat:
1
g
,
Polyunsaturated Fat:
1
g
,
Monounsaturated Fat:
1
g
,
Sodium:
197
mg
,
Potassium:
14
mg
,
Fiber:
1
g
,
Sugar:
1
g
,
Calcium:
5
mg
,
Iron:
1
mg
This website provides approximate nutrition information for convenience and as a courtesy only. Nutrition data is gathered primarily from the USDA Food Composition Database, whenever available, or otherwise other online calculators.