Instant Pot White Rice – perfect every time!
Cooking dinner is a breeze when you make Instant Pot white rice. Completely hands off, this easy method of cooking rice is fool-proof.
Recipe Overview
Why you'll love it: White rice is a basic part of so many cuisines and this is a very easy way to prepare it.
How long it takes: 19 minutes
Equipment you'll need: pressure cooker/Instant Pot
Servings: 3 (but it's easy to double or triple)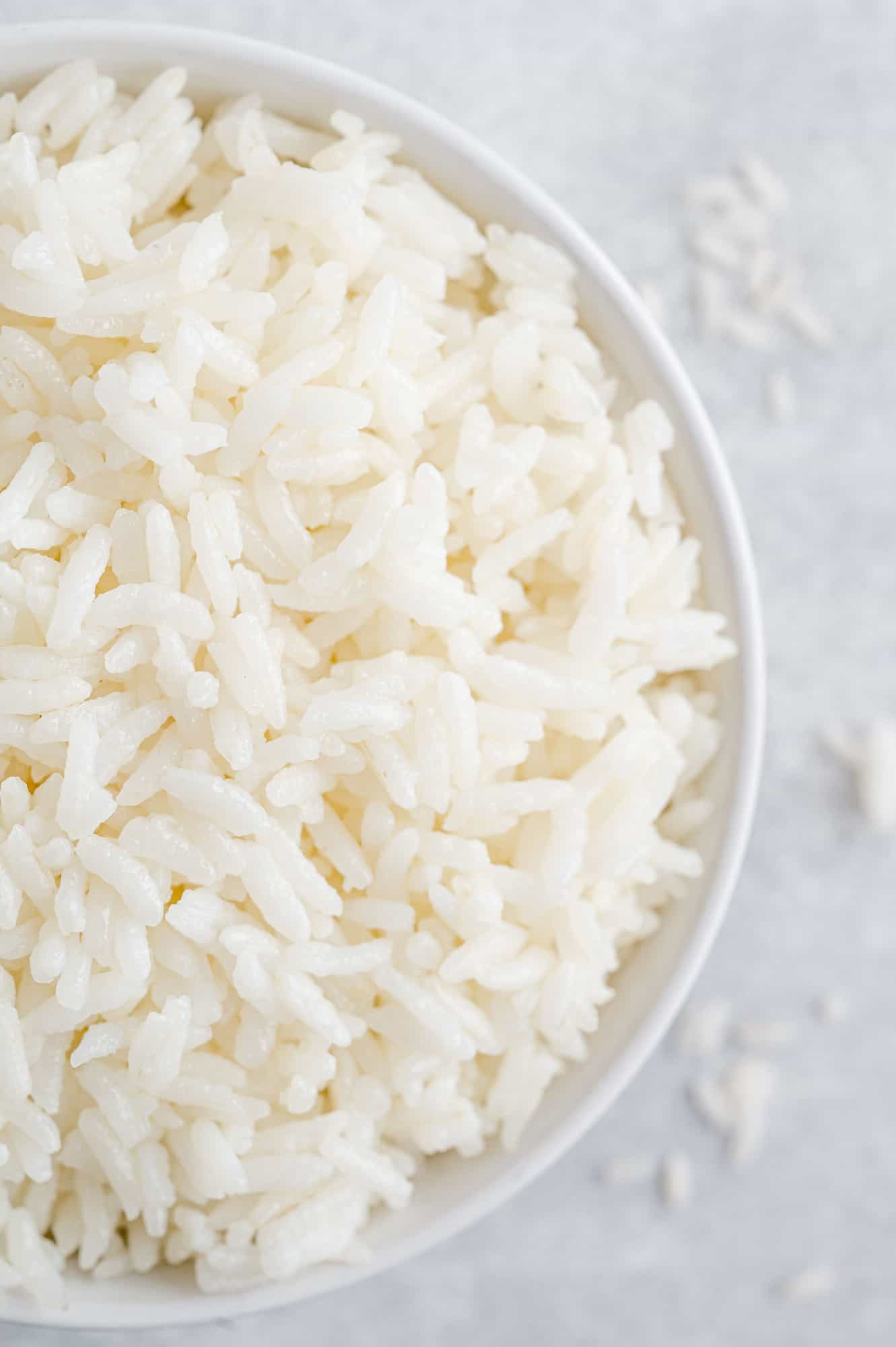 It seems like everyone has a favorite method to cook rice. There are about as many ways to cook rice as there are varieties of rice. Basically, rice is steamed or boiled, whether it's in a rice cooker, sauce pan, or in a covered casserole in the oven.
And, of course, there's always good ol' Minute Rice, which is parboiled to make the cooking time really short or maybe you like the "heat and serve" packets of already cooked rice.
While those methods are all fine, I think you're going to love cooking rice in your Instant Pot. Start it and forget it! It'll be ready when you are. It's much tastier and way more economical to cook your own rice. You all can handle it — it's really easy! I promise.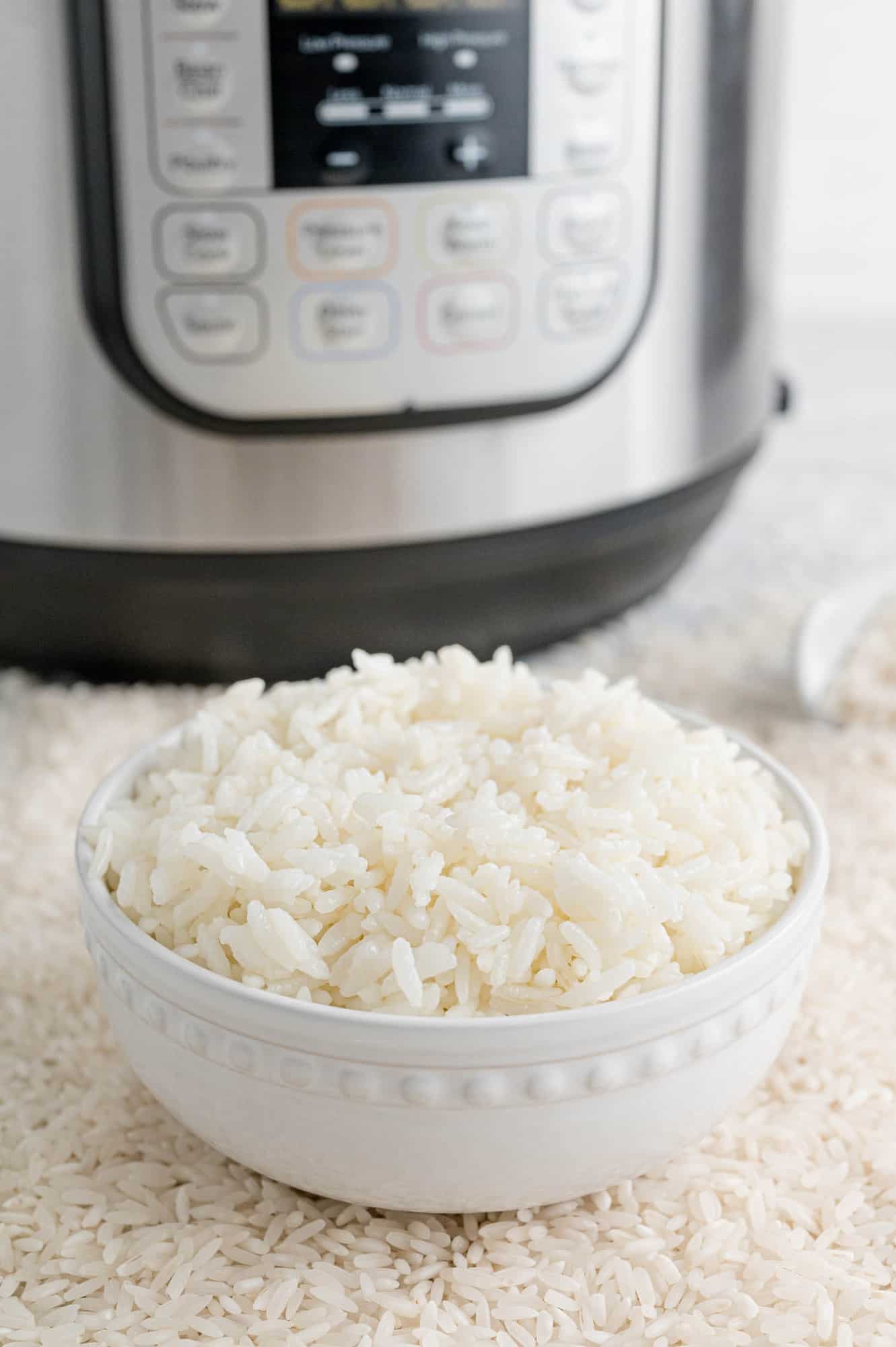 Uncooked white rice can be stored in your pantry for four to five years, making it a practical staple. Go ahead, buy that ten pound bag if it's a good deal. If you freeze it, rice will last indefinitely!
A Super Simplified Rice Primer
Maybe you're a little confused about the different kinds of rice. There are literally thousands of them!
Brown rice is a whole grain which hasn't been processed to remove the bran and germ, and is considered more nutritious.
Long grain white rice can also include basmati and jasmine varieties, and comes out lighter and drier when cooked, perfect for pilafs.
Medium grain rice, like Arborio, is moist but not overly starchy, and is used for dishes like risotto.
Short grain rice forms stickier clumps, and is used for desserts, like rice pudding.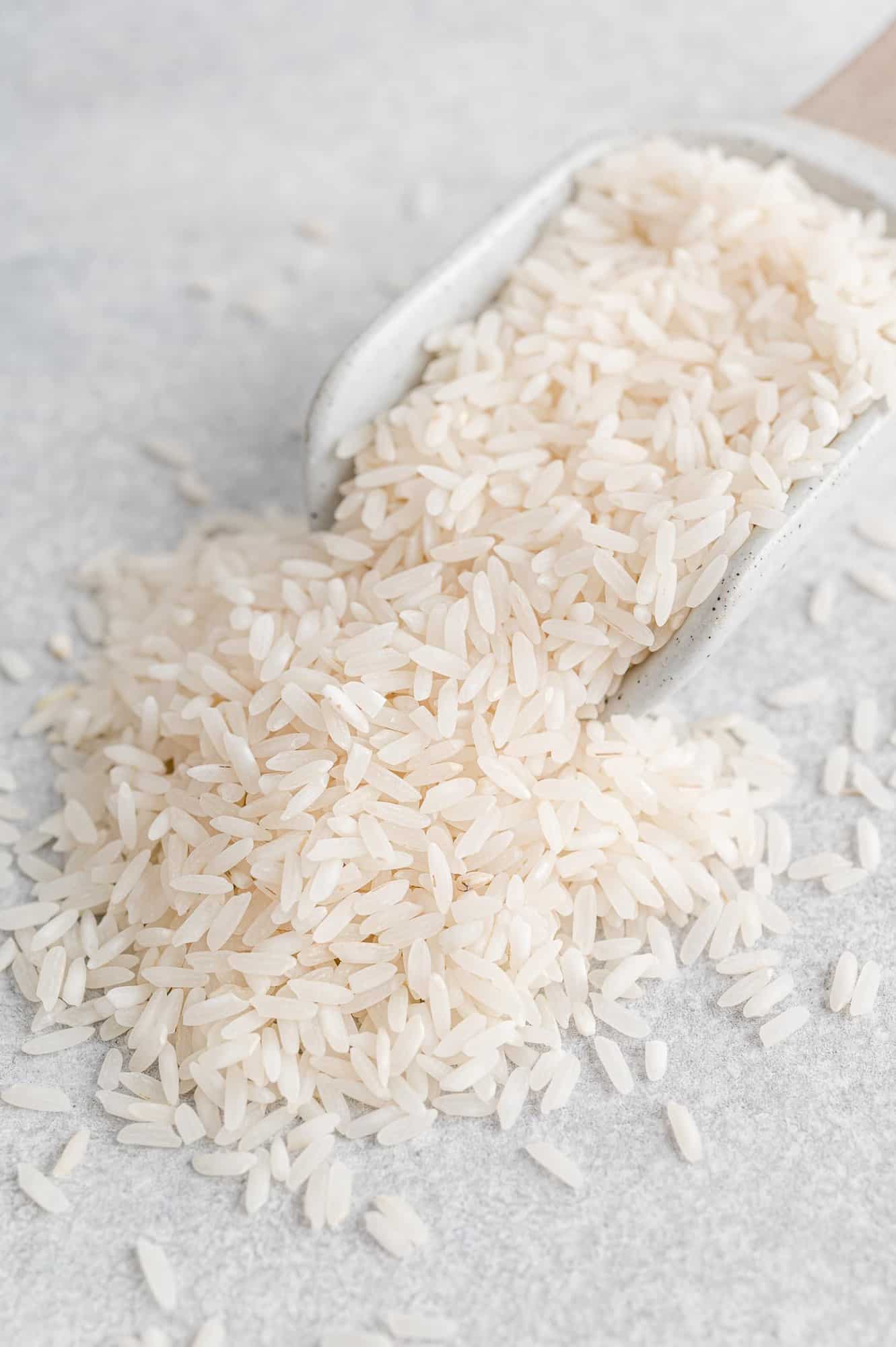 I'll run through the how-to's right here and give you helpful tips. If you prefer, head on down to the printable recipe card near the end of the post. It has complete instructions, measurements, and nutrition information.
What you need
Long Grain White Rice: This should be super easy to find at any super market. Make sure it's long grain.
Oil or Butter: A little oil or butter adds flavor and helps prevent the rice from getting sticky. I typically use olive oil or butter because I like the flavor.
Salt: Make sure to salt your rice or it will be very bland! We recommend kosher salt.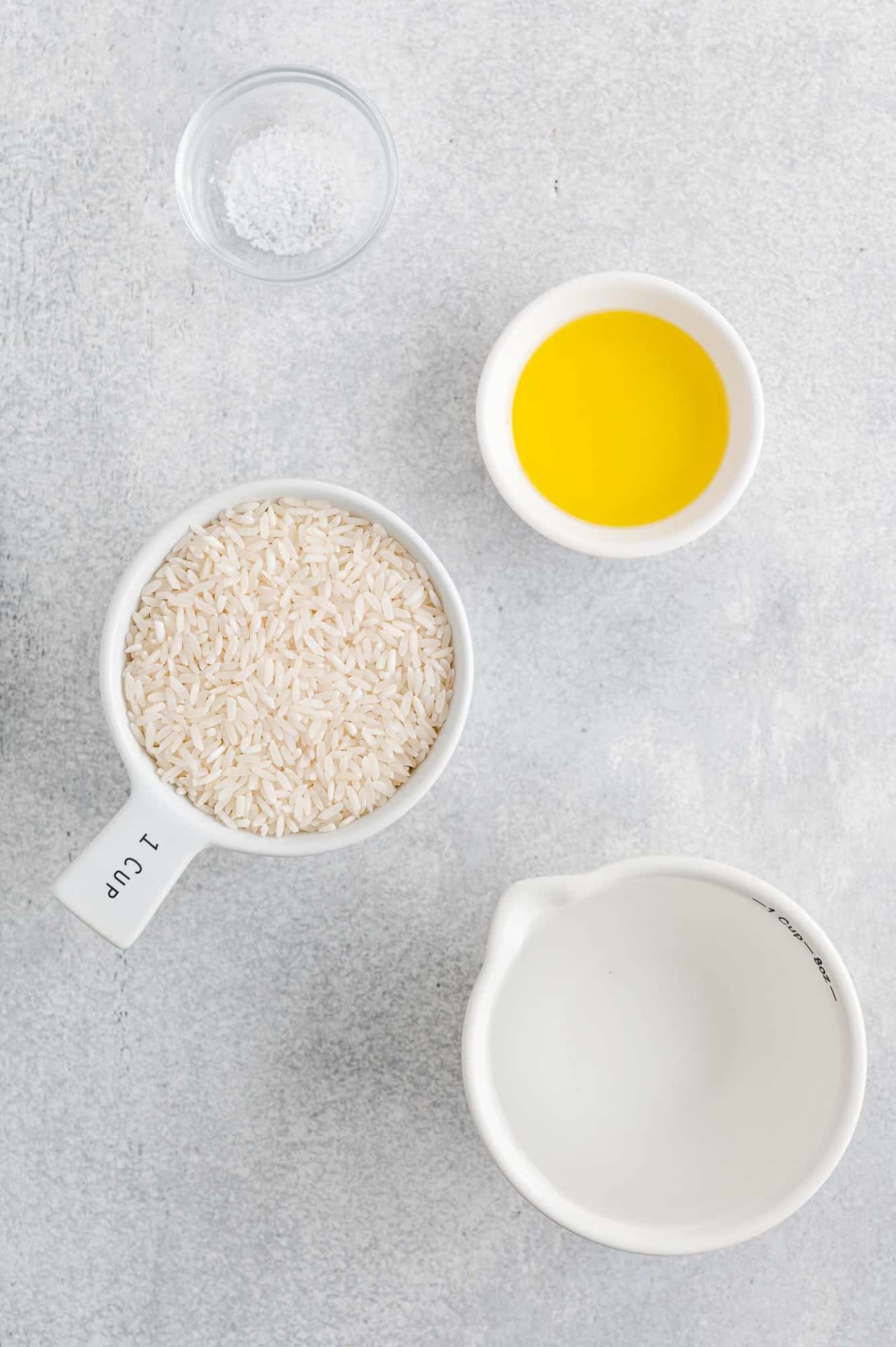 How To Make Rice in an Instant Pot
Making long grain white rice is so easy. Rinse the rice well before cooking. Using a fine mesh strainer, rinse until the water runs clear. The goal is rice that is fluffy but not sticky.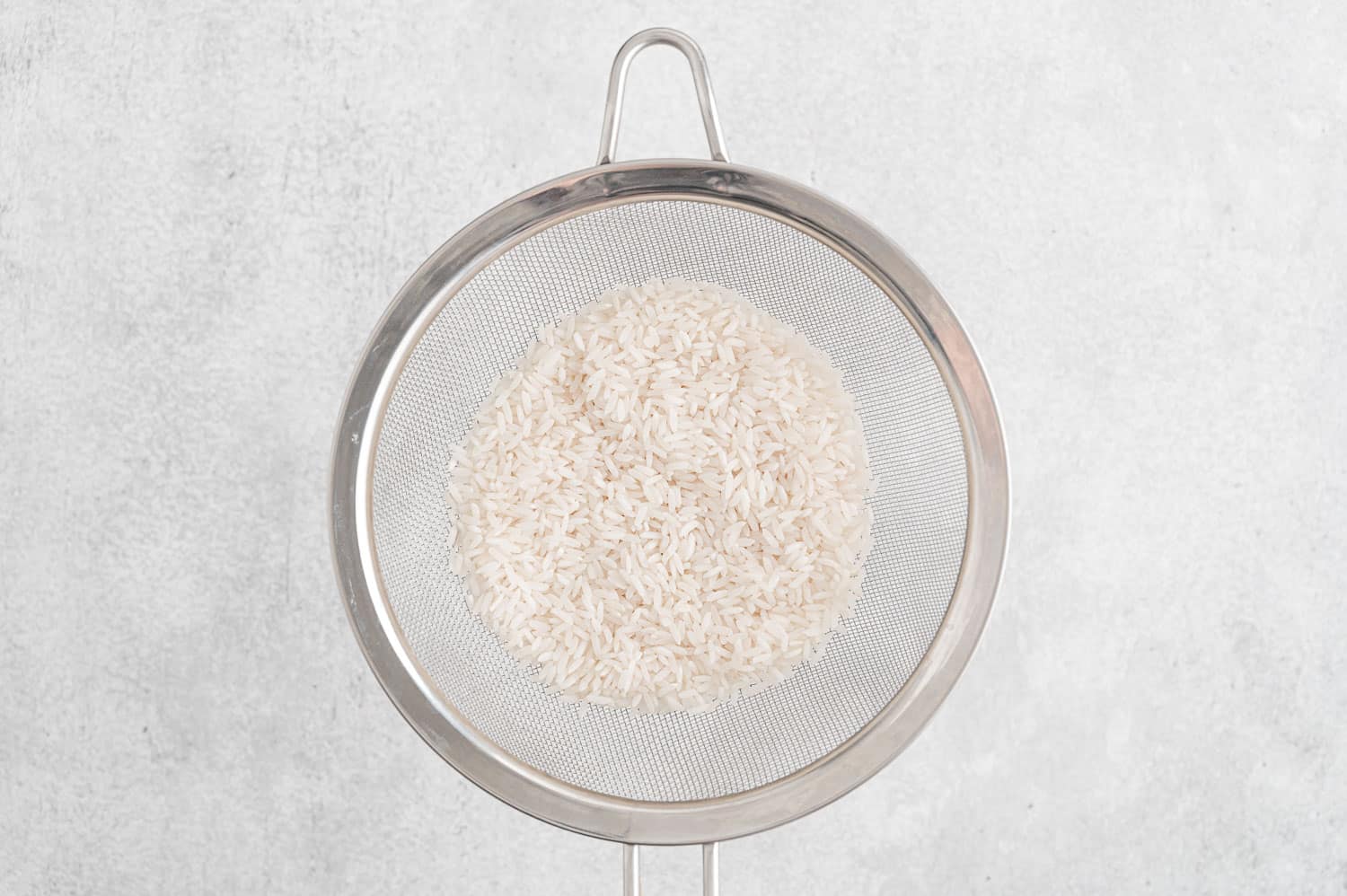 Add the rinsed rice to your Instant Pot insert, along with water, olive oil (if desired), and salt. Secure the cover.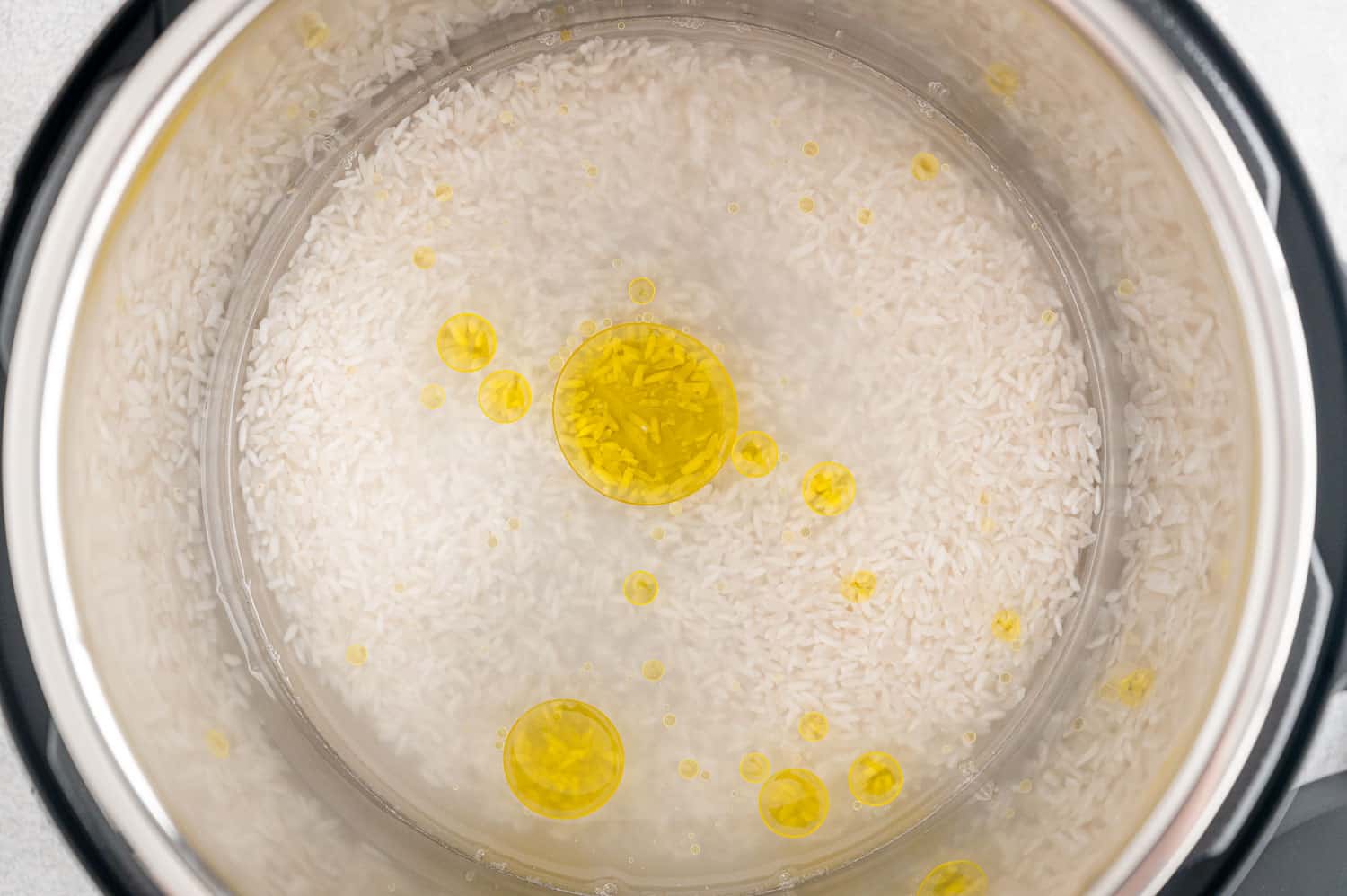 If you have a newer Instant Pot model, you may have a pre-programmed setting for rice. This program cooks on low pressure, and includes three modes to select from, Less, Normal, and More, depending on how firm/soft you like your rice. But we like to have a little more control over it and follow this recipe!
If you have an older Instant Pot like me (or if you'd also like to have more control over it), cook the rice for four minutes with ten minute natural release. Remember to allow extra time for the Instant Pot to come to pressure.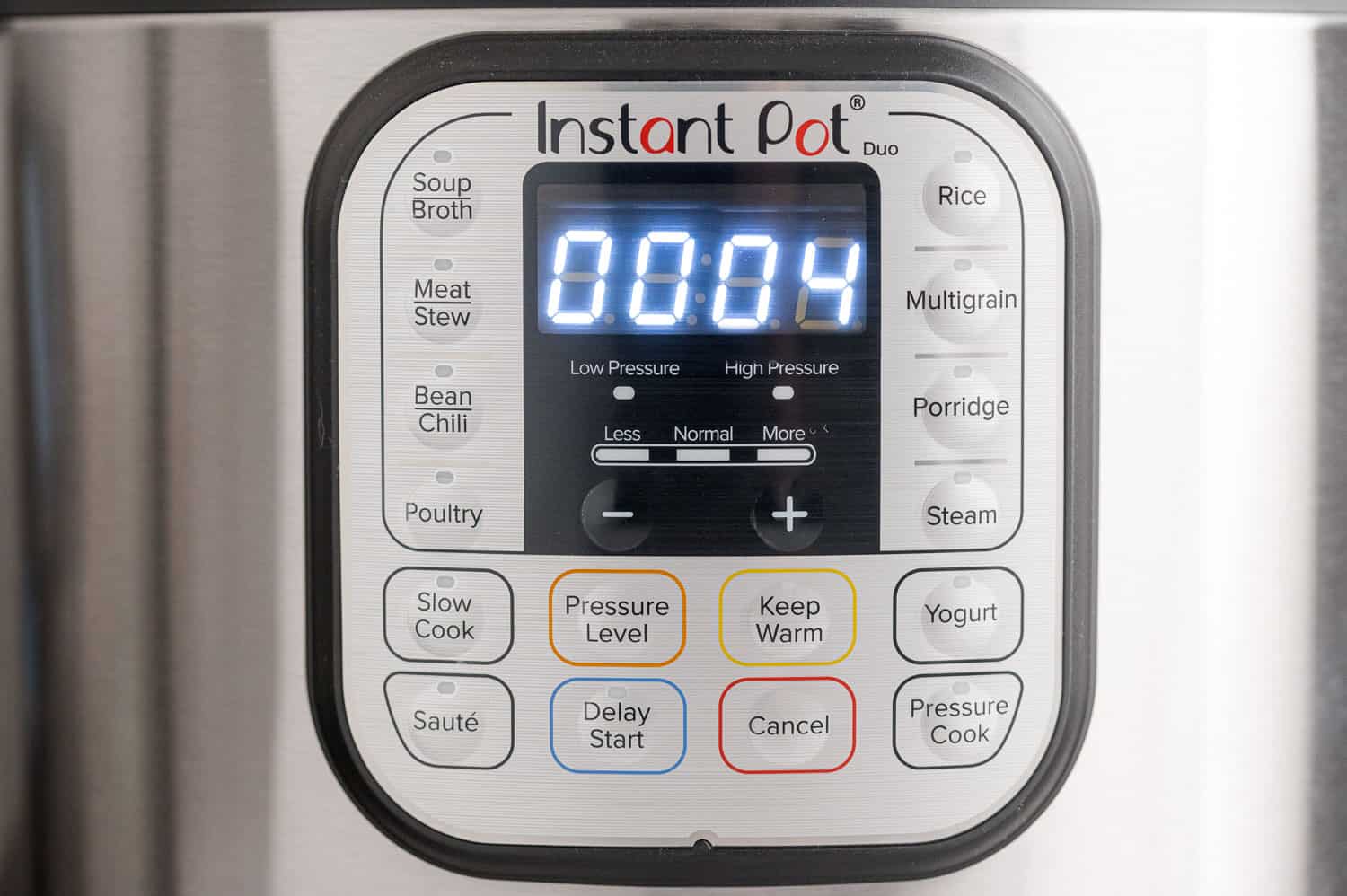 That's so easy, isn't it? When the pressure has released naturally for 10 minutes, release any remaining pressure, remove the lid, and fluff rice with a fork.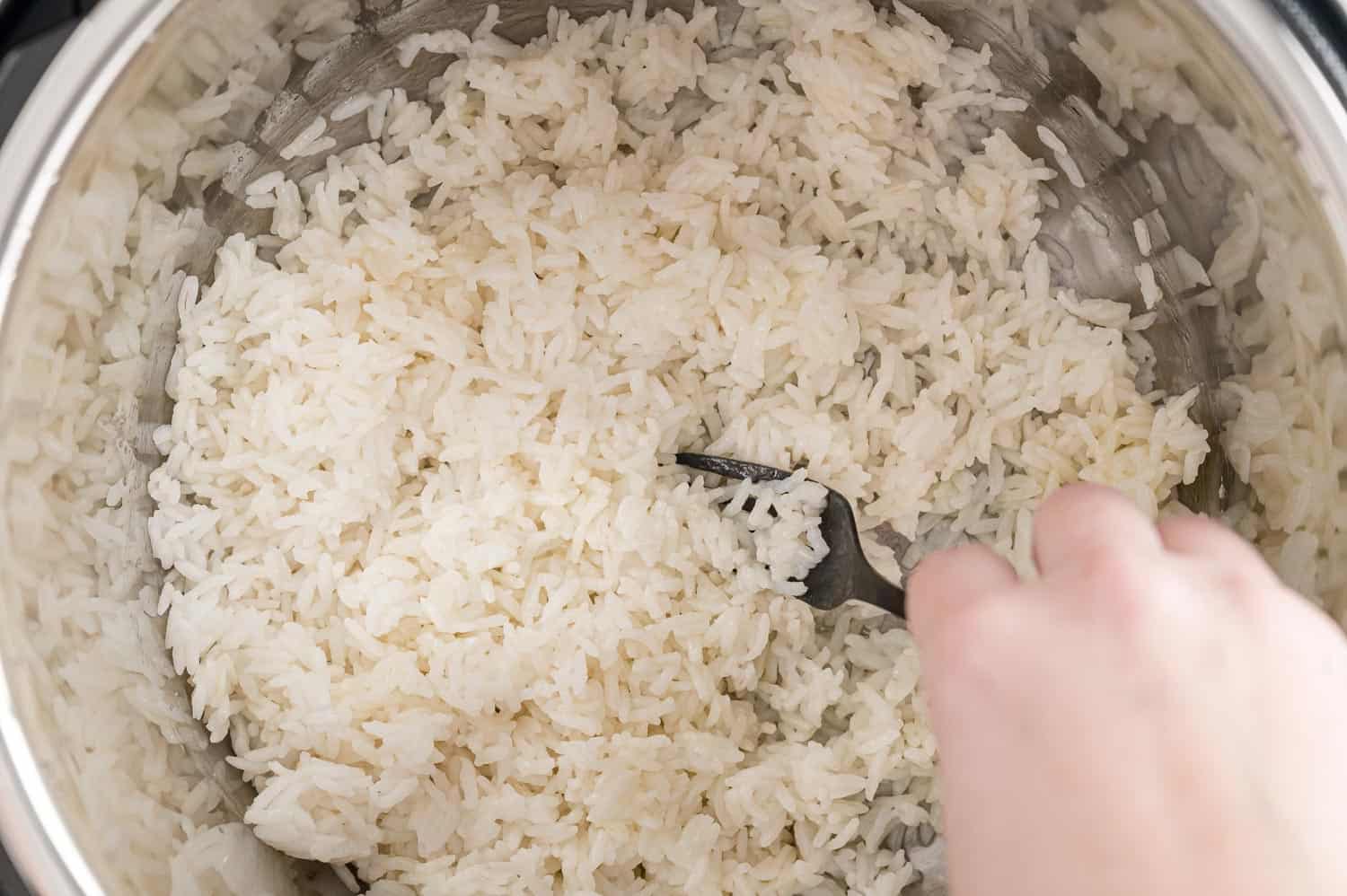 What to Serve Rice With
Rice is so versatile and is an important part of many cultures. Here's just a few ideas but there are so many ways to serve rice!
Rice is a good accompaniment to Instant Pot honey sriracha chicken or sheet pan honey balsamic chicken and vegetables. Try it with tarragon chicken with vegetables or orange chicken. It's perfect with bourbon chicken or spicy garlic shrimp.
Rice is essential for stir fry dishes, like sweet chili chicken stir fry, sweet and sour chicken, or this easy beef and vegetable stir fry. Lately, we've been loving this shrimp and vegetable stir fry or shrimp and broccoli stir fry (it has the best brown sauce!).
Add it to burritos or other wraps. My kids love Mexican rice cooked with vegetables and southwest seasoning.
Precooked rice is an essential for making fried rice, too.
FAQs
What is the ratio of water to rice in an Instant Pot?
The best ratio is 1:1, that is, one part water to one part rice. This recipe is written for 1 cup of rice with 1 cup of water. It's easy to double or triple that amount. If you want to cook 2 cups of rice, add 2 cups of water. If you want to cook 3 cups of rice, add 3 cups of water.
Why should you rinse rice?
Rinsing removes excess starch from the grains of rice. It keeps the rice from clumping together and getting sticky.
How long does white rice take in the Instant Pot?
You'll be setting the timer for 4 minutes but keep in mind that it takes a bit of time for the pressure to build. For one cup of rice with one cup of water, it will take about 5 minutes to come to pressure. For larger quantities, it will take longer. We've included those times on the recipe card below.
In addition, the rice needs to steam 10 minutes longer after the 4 minute cooking time has elapsed. If you add it all up, 5 + 4 + 10 = 19 minutes total.
The advantage of using a pressure cooker is that it's all hands off. Simply put the rice and water (plus salt and olive oil, if you want) in the pot, cover it, set the timer, and walk away.
Can I make a double batch?
Yes! We've doubled, tripled, and even quadrupled this recipe in a standard 6 quart Instant Pot. Cooking times remain the same, and rice comes out perfect no matter what!
Make It Your Own
Rice is pretty much a blank page which is why it makes such a great side.
Add your favorite seasonings or fresh chopped herbs to make your rice special.
Sprinkle sharp cheddar or grated Parmesan cheese on rice for a tasty side dish.
Mix in sauteéd onions, mushrooms, or another veggie of your choice. Chopped greens are good, too.
Stir in cilantro and lime to make this cilantro-lime rice, a Chipotle copycat.
Spread rice on a plate, butter it, and sprinkle with brown sugar and cinnamon (my grandpa's favorite way to eat rice).
Change it up and make coconut rice. It's just as easy to make as plain rice and it's so good!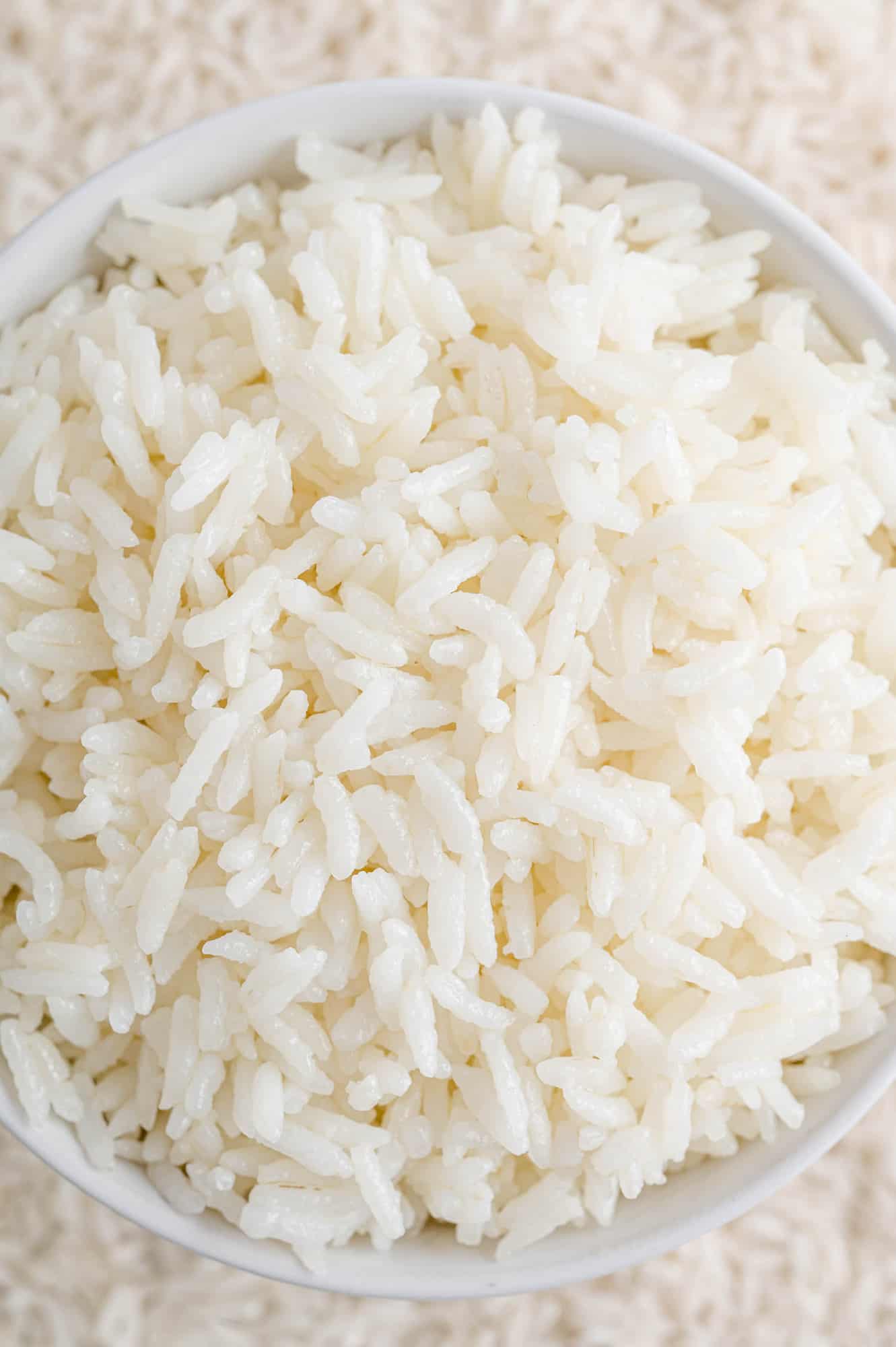 Make-Ahead Idea
Make a big batch of cooked rice. Spread it out on a rimmed baking sheet so that it cools down quickly. Scoop it into freezer bags or containers and label it. It can be frozen for up to two months.
Use a fork or your hands to break up the solidly frozen rice into smaller chunks. Reheat as directed below.
Storage & Reheating Tips
Store leftover rice in a covered container in the fridge for four to five days. Leftover rice can be reheated successfully in the microwave, in a saucepan on the stove, or in the oven. Add a splash of water to keep it from drying out when you reheat it.
Leftover rice is perfect for fried rice!
More Instant Pot Basics
Don't you love how convenient it is to cook with your Instant Pot? I think I could almost get rid of my stove! Here are more recipes for you:
Did you make this? Be sure to leave a review below and tag me @rachelcooksblog on Facebook, Instagram, or Pinterest!
Cooking dinner is a breeze when you make Instant Pot white rice. Completely hands off, this easy method of cooking rice is fool-proof.
Ingredients
1

cup

long grain white rice

(see note)

1

cup

water

1

tablespoon

oil of choice or butter

(optional)

¼

teaspoon

kosher salt
Instructions
In a fine mesh colander, rinse rice well until water runs clear, about 1 minute.

Add rice to the insert of your Instant Pot. Add water, oil, and salt. push down any rice that may be on the side of the pot to submerge in liquid.

Secure cover, turn valve to seal, and set Instant Pot on the "pressure cook" (or "manual," depending on model) setting for 4 minutes on high pressure. It will take about 5 minutes to come to full pressure.

When the timer goes off, let pressure naturally release for 10 minutes (in other words, leave it alone).

Once 10 minutes has elapsed, quick release remaining pressure, fluff with a fork, and serve.
Notes
Recipe can easily be doubled or tripled using same proportions (1 cup rice: 1 cup water). It will take longer for the Instant Pot to come to full pressure (8 minutes for 2 cups rice, 10 minutes for 3 cups rice). Cook 4 minutes, with 10 minutes natural release

Newer Instant Pot models have a "Rice" pre-programmed setting. Feel free to use that, if you like.
Leftover rice can be refrigerated for up to 4 days or frozen for up to 2 months.
Nutrition Information
Serving:
1
cup cooked rice
,
Calories:
266
kcal
,
Carbohydrates:
49
g
,
Protein:
4
g
,
Fat:
5
g
,
Saturated Fat:
1
g
,
Polyunsaturated Fat:
1
g
,
Monounsaturated Fat:
4
g
,
Sodium:
201
mg
,
Potassium:
71
mg
,
Fiber:
1
g
,
Sugar:
1
g
,
Calcium:
20
mg
,
Iron:
1
mg
This website provides approximate nutrition information for convenience and as a courtesy only. Nutrition data is gathered primarily from the USDA Food Composition Database, whenever available, or otherwise other online calculators.