Delicately sweet and with so much coconut flavor, coconut rice smells heavenly and tastes every bit as good as it smells. It's super easy to make!
Recipe Overview
Why you'll love it: Once you try coconut rice, you'll be craving it 24/7, it's so good! It's a delicious alternative to plain rice.
How long it takes: 30 minutes
Equipment you'll need: fine mesh strainer, saucepan, small skillet
Servings: 6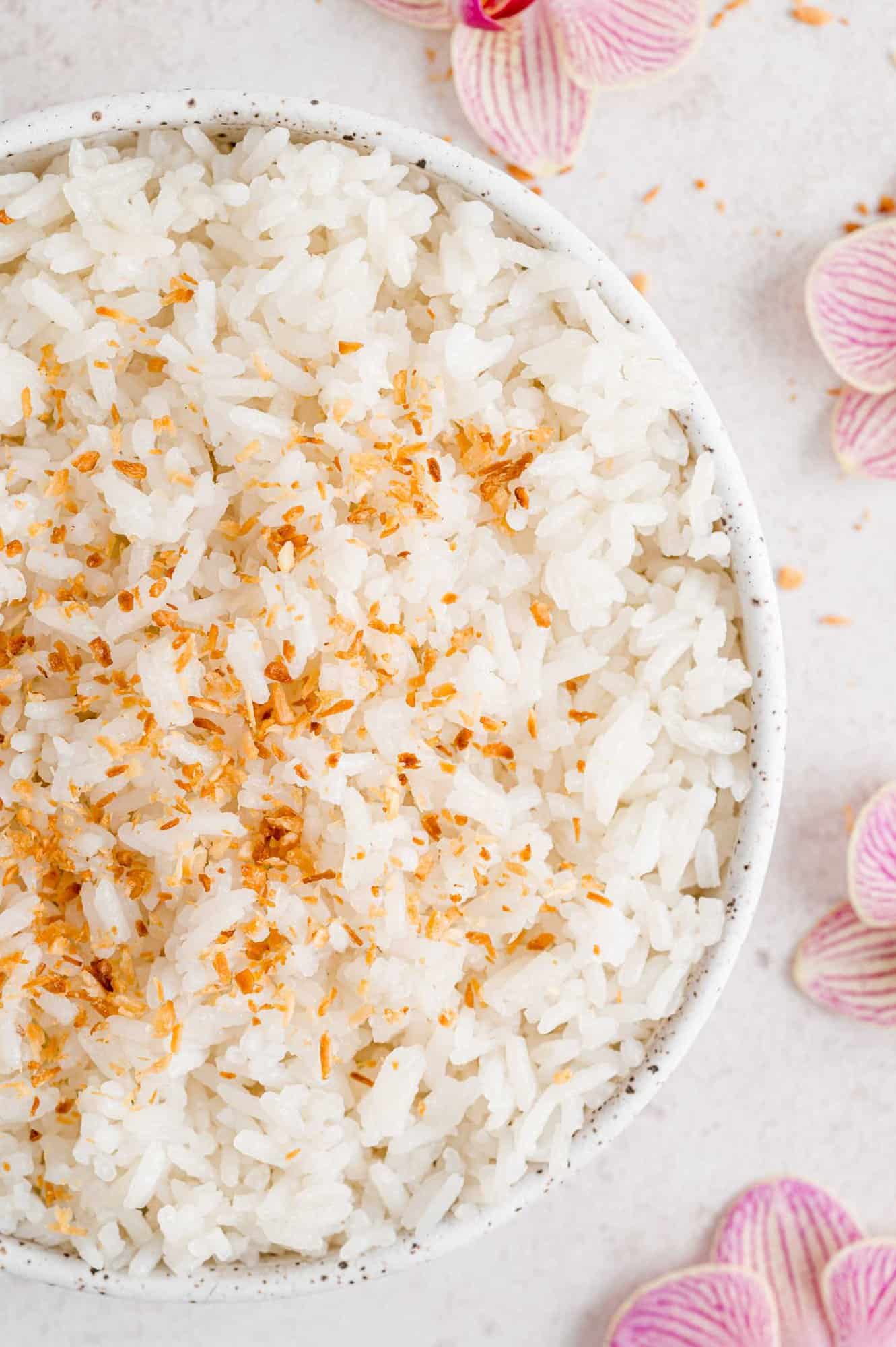 Yum! Just yum! That's all I can say. It's so hard to describe how good coconut rice is. It's not surprising at all that this sweet but savory rice is popular in so many cultures, from India to Asia, to South and Central America, and the Caribbean, pretty much anywhere you find both rice and coconuts growing (Wikipedia). They go together so perfectly. Naturally, there are many variations depending on where you live.
Have you ever tried coconut rice? If you haven't, don't delay. You're going to immediately wonder why you've waited so long. I could eat it for breakfast, lunch, and dinner. Snacks, too.
Garnished with toasted bits of unsweetened coconut, coconut rice is mildly sweet and rich tasting, but not like a dessert. However, add some fresh fruit, and coconut rice could definitely be a dessert.
What to serve with Coconut Rice
Wondering what to serve with coconut rice? It provides a nice counterbalance for spicy dishes such as Indian curries (try our vegetarian curry) or stir fries, like shrimp and broccoli stir fry. It goes great with tangy dishes, too, like Asian chicken salad with cilantro lime dressing. Serve it with orange glazed salmon, baked salmon, or grilled marinated chicken.
You know what? Coconut rice is good all by itself, too. Total comfort food!
About this Recipe
It's easy! If you can make rice, you can make coconut rice. Basically, coconut rice is rice that's cooked with canned unsweetened coconut milk in place of most of the water. So easy! It turns out fine whether you use full fat coconut milk or the "lite" coconut milk with reduced fat.
You'll love the rich flavor. Because there's a fair amount of fat in coconut milk, coconut rice has a rich and creamy taste, almost like butter.
There are many ways to enhance it. Toasted unsweetened coconut flakes really enhance the coconut flavor but be sure to try other toppings like lime zest, fresh cilantro, chopped green onions, toasted almonds, pineapple, or mango, or whatever you're in the the mood for. Coconut rice is really good without any toppings, too.
It keeps well. Unlike plain rice which tends to get dry and hard when refrigerated, coconut rice stays creamy and moist for up to 5 days. You can freeze it too!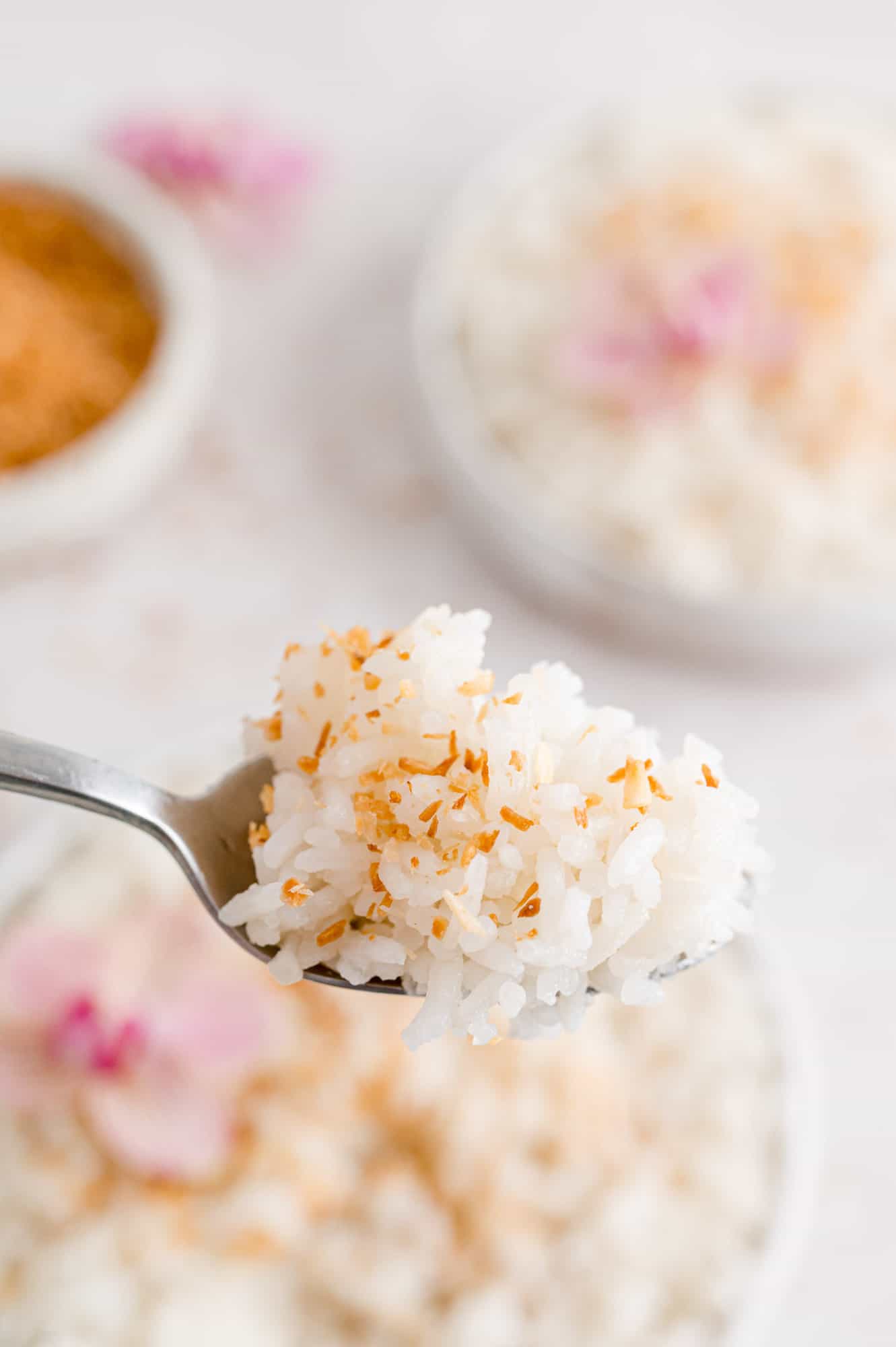 I'll get you started on the recipe here and give you helpful tips. As always, for complete instructions, measurements, and nutrition information, look for the recipe card near the end of the post.
What you'll need
Jasmine Rice: We love jasmine rice because it's so fragrant and works perfectly in this recipe. Basmati rice is a good second choice. Brown rice will change the cooking time significantly and isn't recommended for this recipe.
Coconut Milk: Look for canned unsweetened coconut milk. A popular brand is Thai Kitchen. We tested both full fat and "lite" canned coconut milk with good results.
Sugar: Not all recipes for coconut rice include sugar but just a little bit really enhances the flavor of the rice. If you prefer, it can be omitted or you can substitute coconut sugar which adds even more flavor.
Salt: Use kosher salt which has larger crystals. If you use fine salt, decrease the amount.
Water: The rice is cooked with a mixture of water and coconut milk. Without the added water, the rice would be too sticky and thick.
Unsweetened Shredded Coconut (Optional): The shredded coconut is toasted and added as a garnish. The crisp bits of coconut are so good!
Optional Garnishes: lime zest, chopped green onions (scallions), fresh chopped cilantro, fresh fruit such as pineapple or mango. Try toasted pine nuts or pepitas.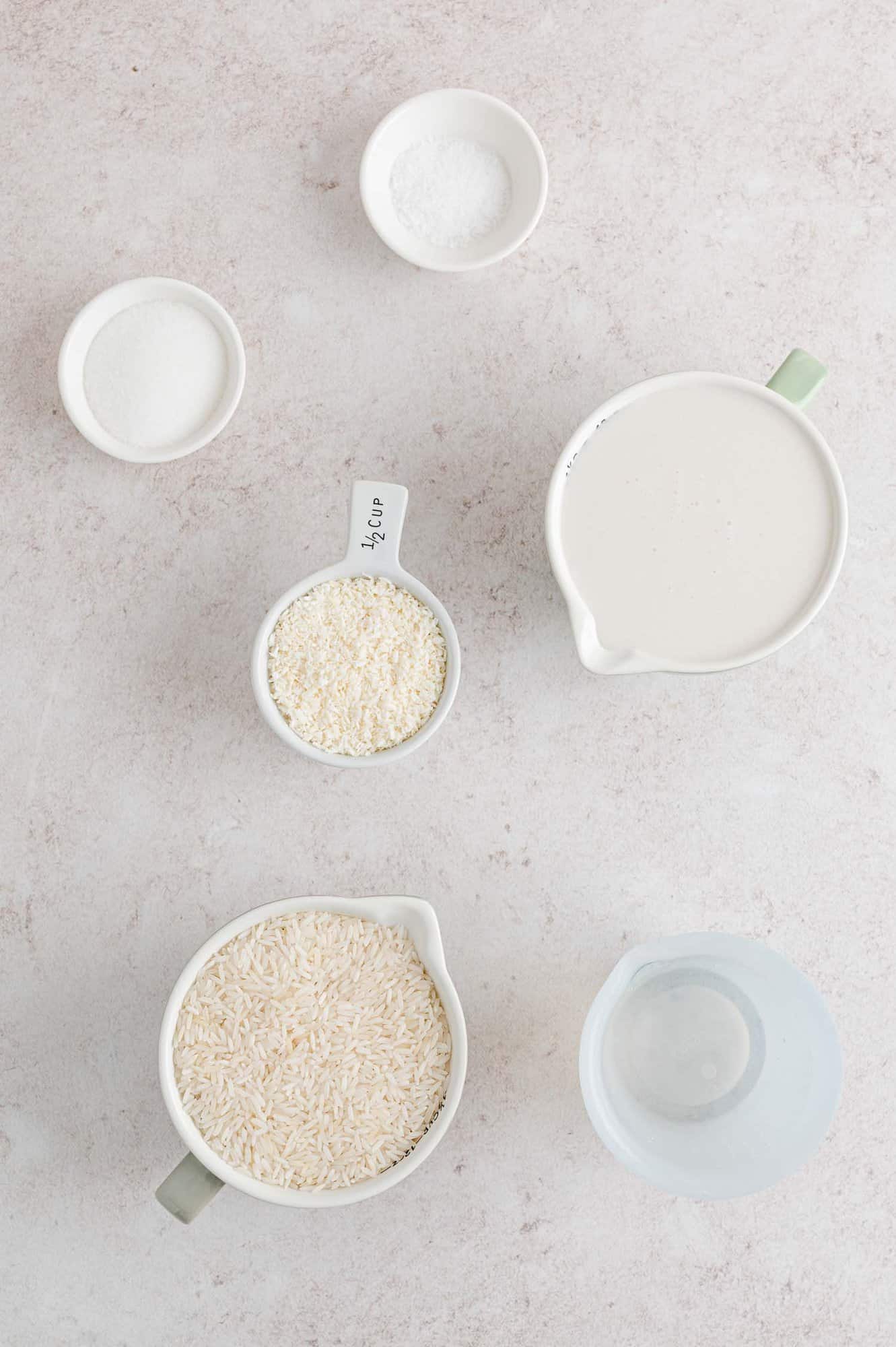 Coconut Milk: Can Or Carton?
This can be a bit confusing, Coconut milk comes in cans and it comes in cartons. Same name, but it's completely different products. Canned coconut milk is not a beverage. Coconut milk in a carton is a non-dairy beverage and usually has water, sugar, and preservatives added.
How to make it
Make the toasted coconut, if desired. This is an optional topping. It can be made in advance or you can simply make it while the rice is cooking.
Spread unsweetened shredded coconut in a dry skillet. Over medium low heat, toast the coconut until it turns golden brown, about two or three minutes. Stir it frequently so it browns evenly. Once it's just golden brown and smells heavenly, transfer it to a plate to cool. Don't let it cool in the pan because it will continue to toast in the hot pan and scorch.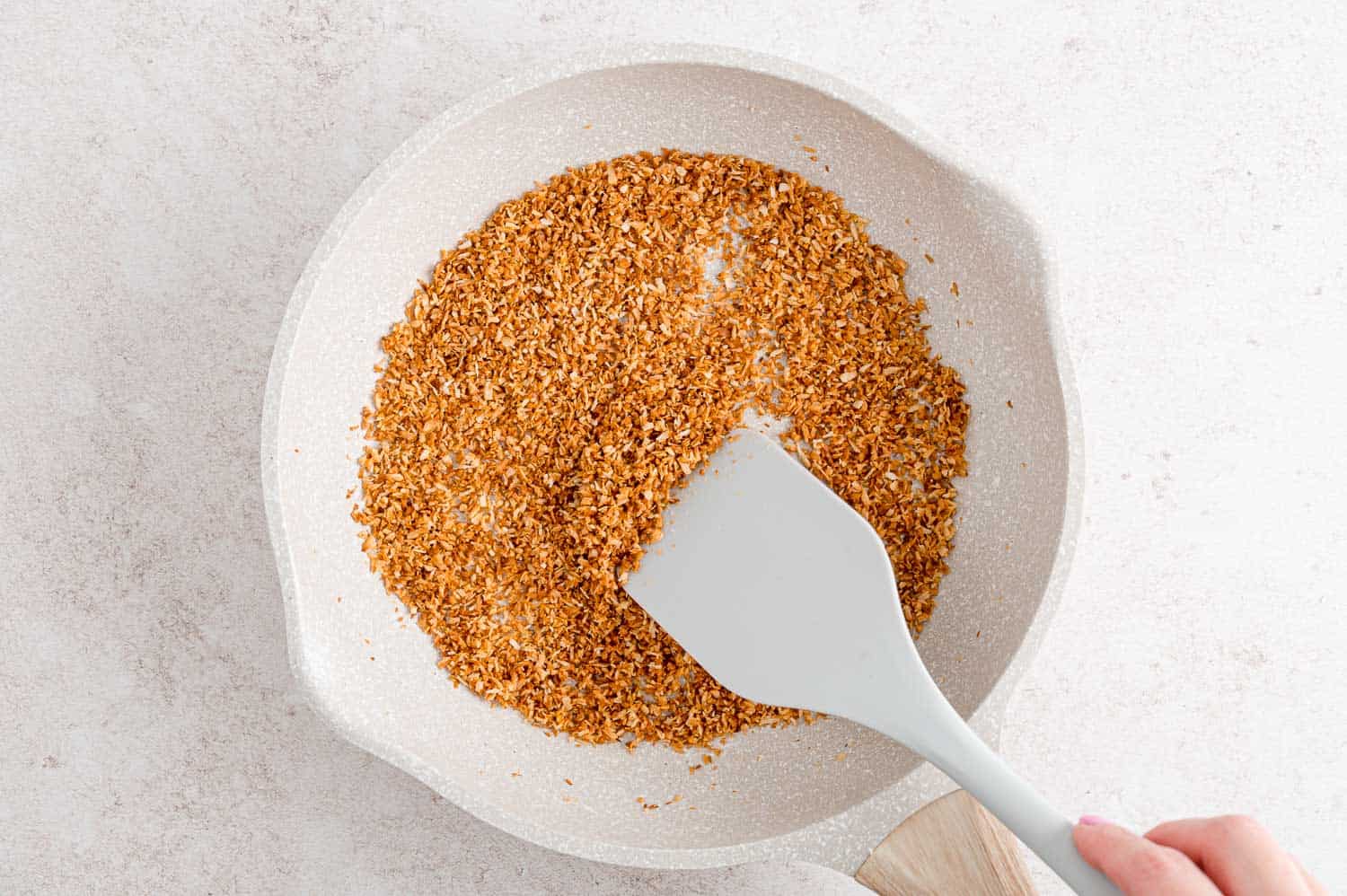 Rinse rice well. Measure out the rice and put it into a fine mesh strainer. Run cool water over the rice to rinse the excess starch off the grains. It will take about a minute of rinsing; the water should run mostly clear.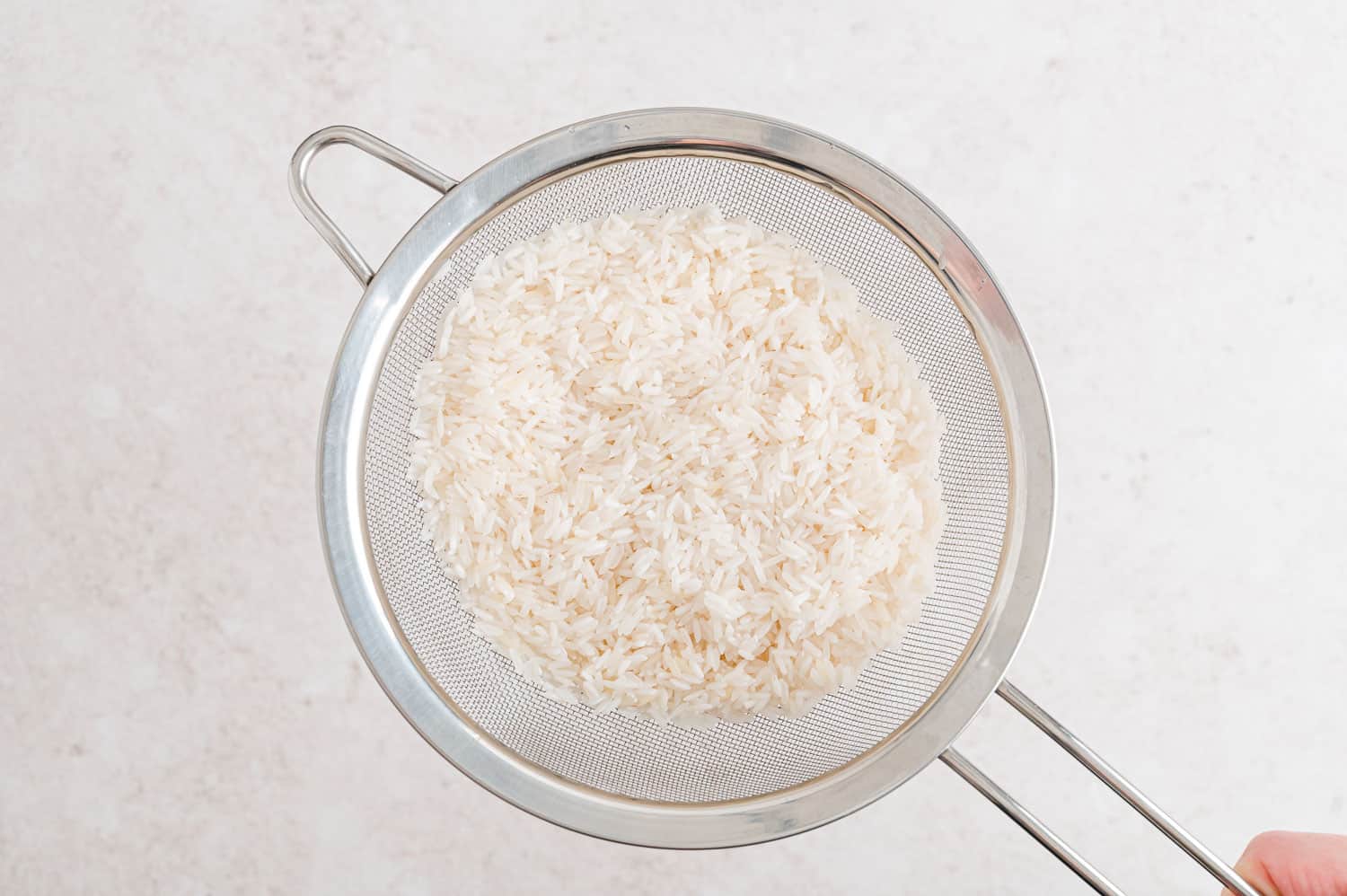 Cook rice. Put the rice into a medium sized saucepan. Add the contents of a can of coconut milk: the fat layer and the watery stuff. Add water, a couple tablespoons of sugar, and a bit of salt. Stir to combine.
Bring the mixture to a boil over high heat. Give the rice a stir, put the lid on the pan, and turn the heat down to a low simmer.
Simmer the rice, covered, for 17 minutes. Don't peek! The rice needs all that hot steam to cook properly. Are you enjoying the heavenly aroma?
Turn heat off and let the rice steam. After 17 minutes, turn off the heat and let the rice rest, with the cover still on, for ten minutes. Again, don't peek! Let the rice continue to steam until it's done.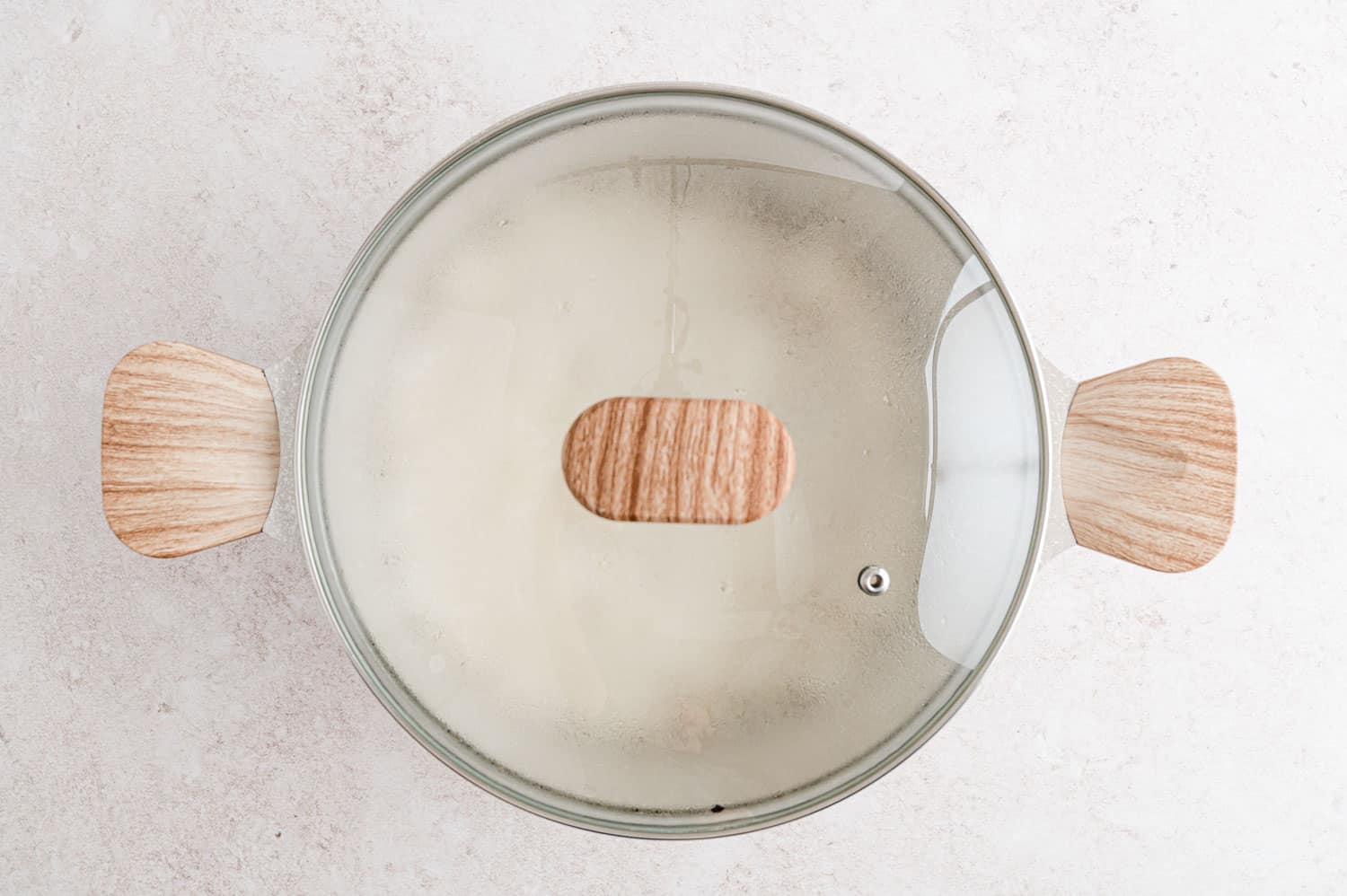 Fluff. When the rice is done, remove the cover and fluff the rice with a fork. If it seems too sticky, put the cover back on the pan and let the rice steam a few more minutes. Sometimes it just seems to need a bit more time to absorb the liquid.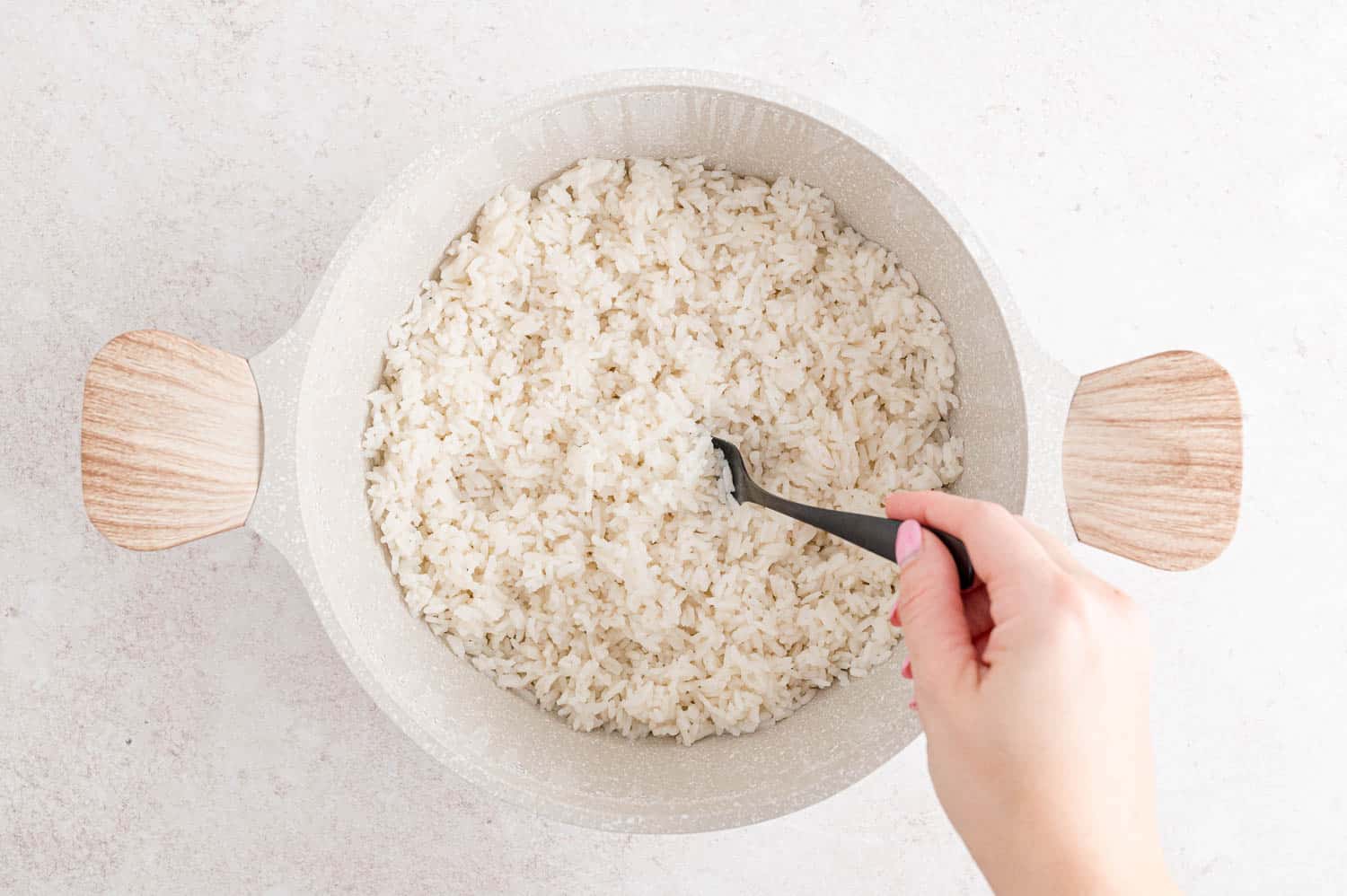 Serve. Top the coconut rice with the toasted coconut or with a topping of your choice.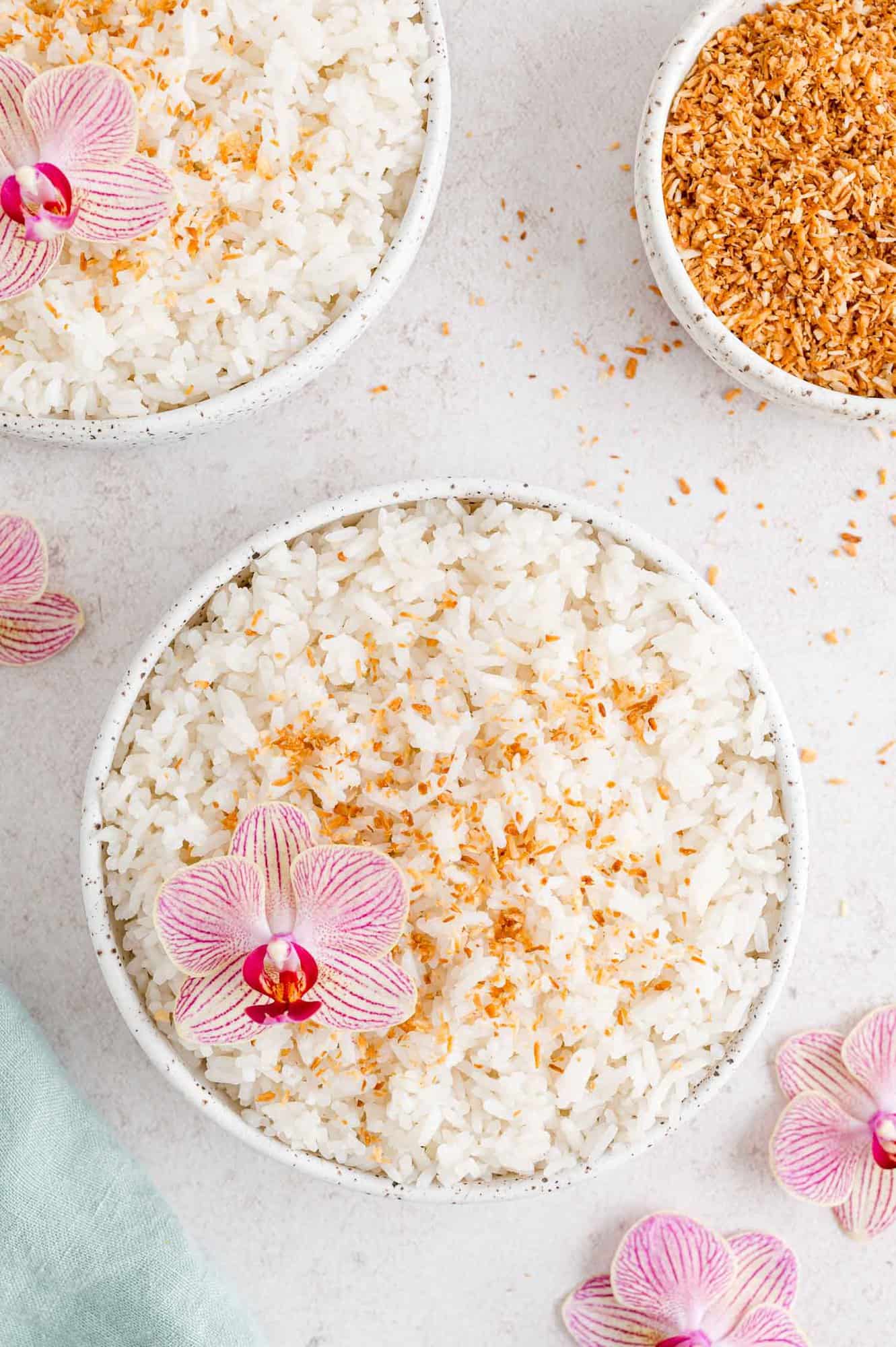 FAQs
Is coconut rice good for you?
Well, you can look at this a couple of different ways. Coconut milk is made from pressing the raw grated meat of coconuts. It's high in saturated fat but the fat is thought to be beneficial to your health. Coconut also has fiber, antioxidants, and minerals that are essential to healthy eating (Healthline).
However, there's no denying that coconut rice is high in calories and fat. It's made with white rice which is not a whole grain and has a high glycemic index.
Why is my coconut rice mushy?
It could be that your rice was cooked with too much water or cooked too long, which may cause the grains to split open and become soft and mushy.
For best results, rinse the rice well to remove some of the starch, use a combination of coconut milk and water, and cook the rice as instructed.
Make It Your Own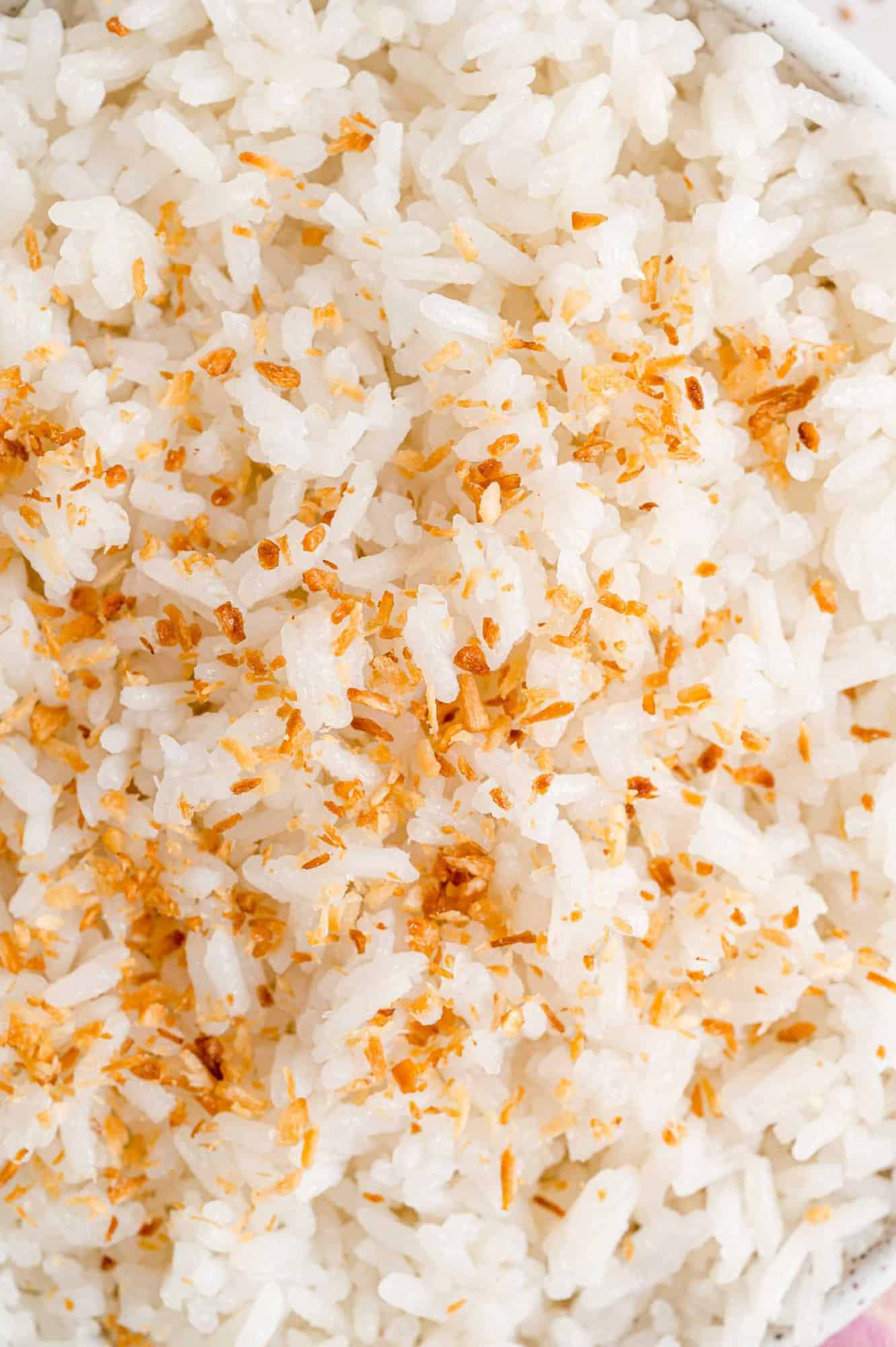 Make-Ahead Ideas
Make the toasted coconut up to a week in advance. Cool completely and store in a covered container at room temperature.
Storage & Reheating Tips
Coconut rice is surprisingly good leftover. Unlike plain white rice which tends to get dry and hard, coconut rice stays moist and flavorful even when reheated.
Refrigerate: Store leftover rice in the refrigerator in a covered container for up to five days.
Freeze: You can put it in a resealable freezer bag and freeze it for six months.
Reheat: Microwave small portions 45 to 60 seconds or until heated through.
Leftover Love
Make a tropical fruit breakfast bowl with leftover rice. Add fresh fruit (mango, bananas, pineapple, etc.) to warmed rice, topped with a dollop of yogurt. Garnish with additional toasted coconut, nuts, or granola.
Did you make this? Be sure to leave a review below and tag me @rachelcooksblog on Facebook, Instagram, or Pinterest!
Delicately sweet and with so much coconut flavor, coconut rice smells heavenly and tastes every bit as good as it smells. It's super easy to make!
Ingredients
½

cup

unsweetened shredded coconut

1 ½

cups

jasmine rice

1

can

(13.6 to 14 ounce) full-fat unsweetened coconut milk

¾

cup

water

2

tablespoons

granulated sugar

1

teaspoon

kosher salt
Instructions
To toast coconut: In a dry frying pan over medium-low heat, toast the coconut until golden brown (2-3 minutes). Immediately pour into a plate to cool, set aside. (You can also do this while the rice cooks.)

Place rice in a fine mesh strainer and rinse until water runs mostly clear, about 1 minute.

Pour the rice, coconut milk, water, sugar, and salt into a medium saucepan and stir to combine.

Leaving the pot uncovered, bring rice to a boil over high heat. Stir once, cover, and reduce heat to low.

Simmer covered for 17 minutes. Remove from heat and let rest covered for 10 minutes. Fluff with a fork and serve with toasted coconut, if desired.
Notes
Light coconut milk can be substituted if desired.
For variation, omit toasted coconut. Coconut rice can be served plain, or with grated lime zest, sliced scallions, chopped fresh cilantro, toasted slivered almonds, or fresh fruit, such as mango or pineapple.
Instant Pot Instructions: Decrease water to

½

cup. Mix all ingredients (except shredded coconut) in pressure cooker. Put lid on, select Pressure Cook (High), and set timer for 3 minutes. Let pressure release naturally for 7 minutes. Release any remaining pressure, remove lid, and fluff rice.

If desired, turn off heat and leave covered for 10 minutes after fluffing to let rice soak up moisture.
Nutrition Information
Serving:
0.75
cup
,
Calories:
389
kcal
,
Carbohydrates:
46
g
,
Protein:
5
g
,
Fat:
21
g
,
Saturated Fat:
19
g
,
Polyunsaturated Fat:
1
g
,
Monounsaturated Fat:
1
g
,
Sodium:
600
mg
,
Potassium:
271
mg
,
Fiber:
3
g
,
Sugar:
7
g
,
Vitamin C:
2
mg
,
Calcium:
28
mg
,
Iron:
2
mg
This website provides approximate nutrition information for convenience and as a courtesy only. Nutrition data is gathered primarily from the USDA Food Composition Database, whenever available, or otherwise other online calculators.