Carrot Ginger Soup Recipe – Vegan & Whole30
So creamy and satisfying, this carrot ginger soup made with coconut milk will warm you up inside and out, and at 100 calories per serving, you won't have to feel guilty about eating it.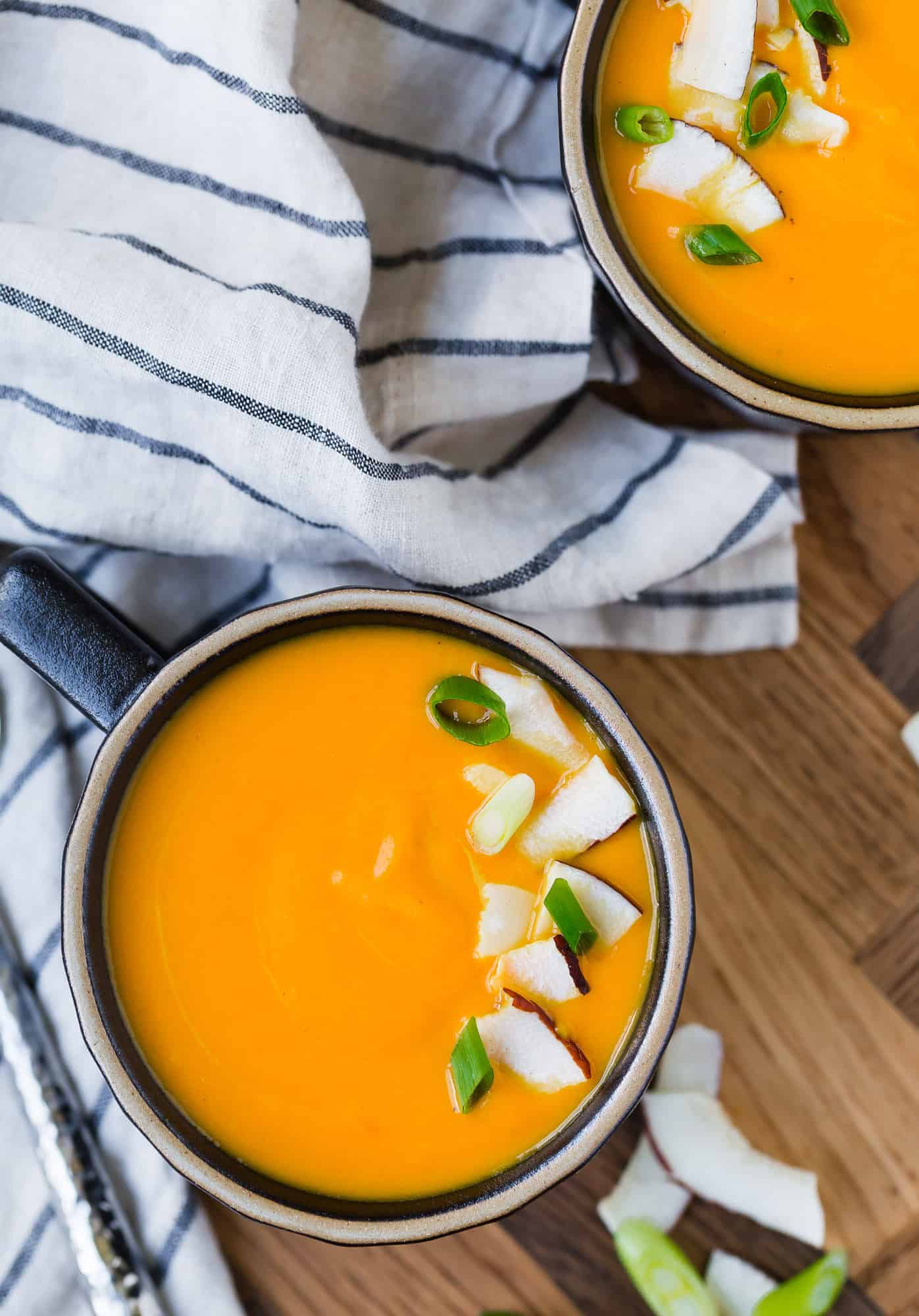 Seasoned with fresh ginger, turmeric, and red pepper flakes, this carrot soup warms you up from the inside out. The coconut milk adds flavor from the tropics, making the soup just a little exotic, reminiscent of tropical islands and piña coladas.
It's kind of amazing, really, that you can take pantry items like carrots, onion, vegetable broth, and canned coconut milk, and make a fabulous restaurant style bisque-type soup.
Don't you love creamy soups? My husband still raves about the lobster bisque he had several years ago at a restaurant in Detroit. Traditionally a French recipe, bisques are made from seafood: crustaceans such as lobster, shrimp, or crab. The shells are cooked to make a rich broth and then the meat is added later, along with cream, and pureed to make a smooth, creamy soup. So delicious!
For those of us who prefer vegetables to shellfish, this creamy carrot ginger soup is similar to those amazing bisques. Carrots cooked in vegetable broth doesn't sound like the beginning of anything amazing, but I know you'll be pleasantly surprised by the complexity of flavors and the delicious creaminess of this carrot ginger soup.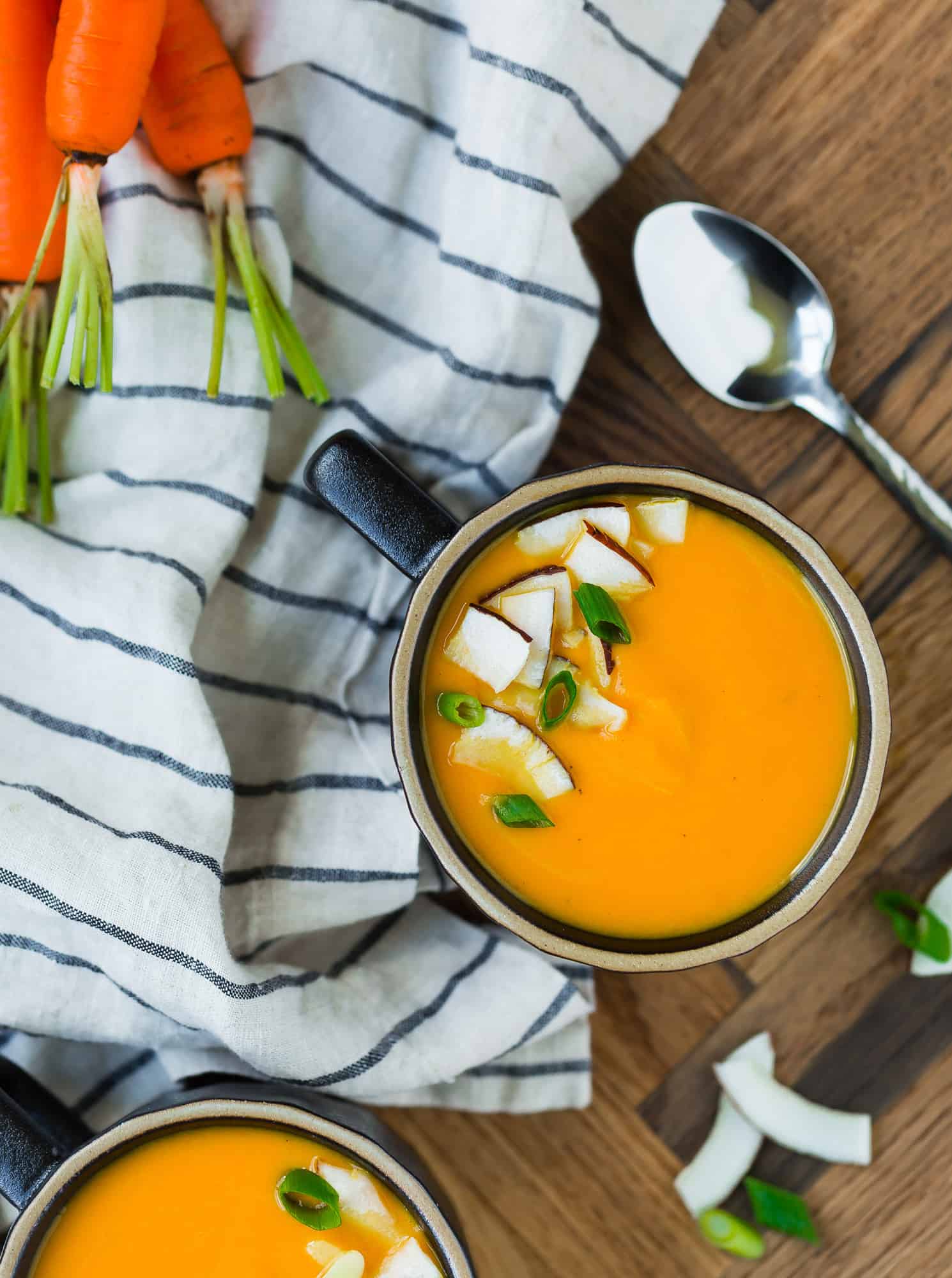 About this Recipe
While bisques are delicious, they're commonly full of saturated fats because a lot of cream and butter is added. This carrot ginger soup, however, derives its creamy texture from smoothly pureed carrots and coconut milk. You'll find it hard to believe there isn't any cream or butter added. It's a vegan and Whole30 compliant recipe.
Oh, and did I mention that you can make it in one pan? It's that easy!
I'll get you started on this delicious soup and give you lots of helpful tips. Look for the printable recipe card near the end of the post. It has complete instructions, measurements, and nutrition information.
What You'll Need
Carrots: You'll need about a pound and a half of carrots. That's a lot of carrots! Use the best carrots you can find. I find that organic carrots often are sweeter and have better flavor. Either scrub the carrots well and leave them unpeeled, or peel them. It's up to you. Slice them into quarter-inch slices so they cook evenly and quickly.
Onion: Any kind of onion will work in this recipe. Yellow cooking onions are often less expensive and keep longer in your pantry, making them a good choice for soup making.
Fresh Ginger Root: Ginger root adds a little warmth and sweet spiciness to the soup. It's an essential flavor-maker in the soup and goes really well with the sweet carrots and coconut milk.
Turmeric: Ground turmeric is bright yellow, just a bit of sunshine. It has multiple health benefits (Healthline) and adds a pungent earthy flavor, with a hint of bitterness.
Red Pepper Flakes: Another potent flavor-maker, add red pepper flakes sparingly and to taste. Keep in mind that the ginger root and turmeric also add a little warmth .
Vegetable Broth: Look for low sodium broth if possible, or make your own. Chicken broth is fine if you're not looking for a vegetarian/vegan soup.
Canned Coconut Milk: Unsweetened coconut milk is usually found in the international aisle of the grocery story. When you open the can, you'll notice a layer of "coconut cream", a thick white layer, which contains most of the fat and protein. Don't discard it. Stir it into the soup because it will enhance the creamy texture.
Olive Oil: Just a bit is needed to sauté the veggies.
Salt: Season with kosher salt, to taste.
How To Make This Recipe
To make this soup, you'll need a good sized saucepan or Dutch oven. Begin by sautéing the onions in a bit of olive oil until they're soft, and then add the minced ginger, ground turmeric, and red pepper flakes to sauté briefly. Briefly frying the spices releases their flavor and aroma.
Next, throw the sliced carrots into the pan, along with vegetable broth. Simmer the soup until the carrots are very tender. Fork a slice out of the pan and see if it easily mashes.
Purée the mixture with an immersion blender until it's creamily smooth. You can do this right in the pan but do be careful that you aren't splattered with hot soup.
Immersion Blending Tip
Carefully move the hot pan to a counter or into the sink. Tilt the pan slightly as you purée the soup with the immersion blender. This easy technique will help you blend the soup evenly into a smooth and creamy bisque.
For the last step, pour the can of well-shaken coconut milk into the pan, stirring well, and simmer the soup gently until it's heated through. Keep on low heat until ready to serve.
Garnish this soup with toasted coconut flakes, fried shallots, or spiced pecans. A sprinkling of chopped herbs such as parsley or cilantro or sliced green onions is delicious, too.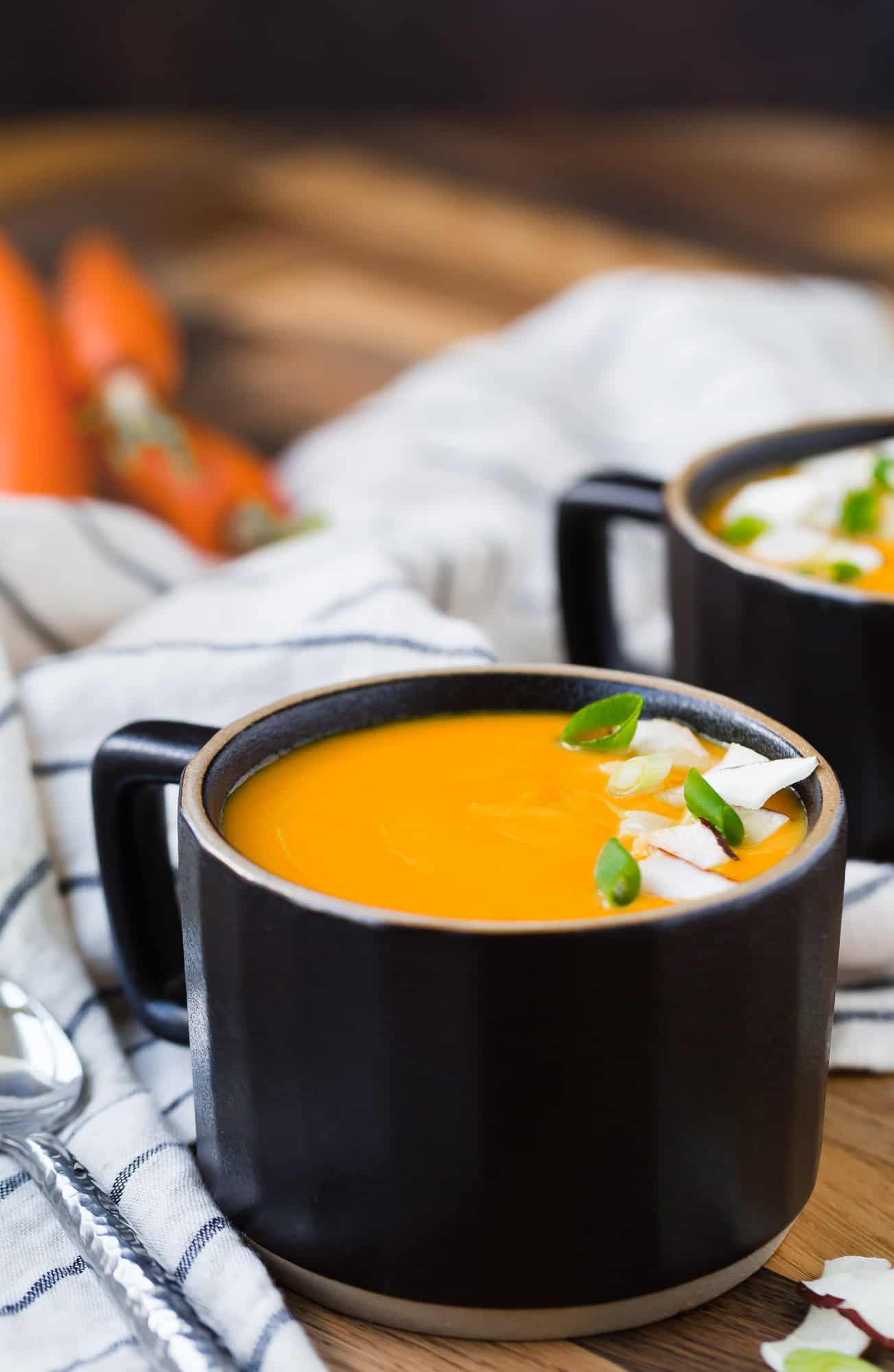 FAQs
What goes well with carrot soup?
This carrot ginger soup is fantastic served with a slice of cornbread or delicious homemade naan. A crisp green kale salad with apples and raisins is spot on, too.
Is carrot soup good for you?
I guess it would depend on what else is added to the soup besides the carrots. This carrot soup has an impressive amount of vitamin A (28686 IU!) and a good amount of fiber and potassium.
How do you thicken carrot soup?
If you prefer a thicker soup, try stirring in a couple tablespoons of potato flakes. They completely dissolve and aren't noticeable at all but they will thicken the soup.
Make It Your Own
If you would like to deepen the carrot flavor and add a little more complexity to your soup, try roasting the carrot slices in the oven before adding them to the broth. Preheat the oven to 425ºF, toss the carrots with a bit of olive oil, and roast for 20 minutes, or until they're browned and tender. Proceed with the soup, as directed.
If you don't have an immersion blender, carefully purée the soup with a regular blender, such as a Vitamix.
Making your own vegetable broth is easy and some of you may already have homemade frozen vegetable broth in your freezer. You can control the amount of sodium if you make your own broth. Try this method to make vegetable broth using vegetable scraps, by Oh My Veggies.
Switch up the seasoning: Add or substitute minced garlic or garlic powder, paprika, cinnamon or nutmeg. A teaspoon or two of curry powder is amazing, too.
Substitute "lite" or lower fat coconut milk to reduce the saturated fat in this soup. The soup isn't quite as creamy but still has fantastic coconut flavor.
Not a fan of coconut milk? Try this creamy carrot soup made with just a bit of heavy cream instead.
Looking for more Whole30 recipes? Take a peek at my Whole30 Dinner Recipes, a collection of more than 20 recipes.
Make-Ahead Ideas
Save time by peeling and slicing the carrots in the morning or the night before, or whenever you have a couple extra minutes. Put them into a self-sealing bag or covered bowl, and refrigerate.
Another time-saving tip is to use leftover cooked carrots. Make a big batch of cooked carrots in your slow cooker as a side for dinner, and save the leftover carrots to make this soup.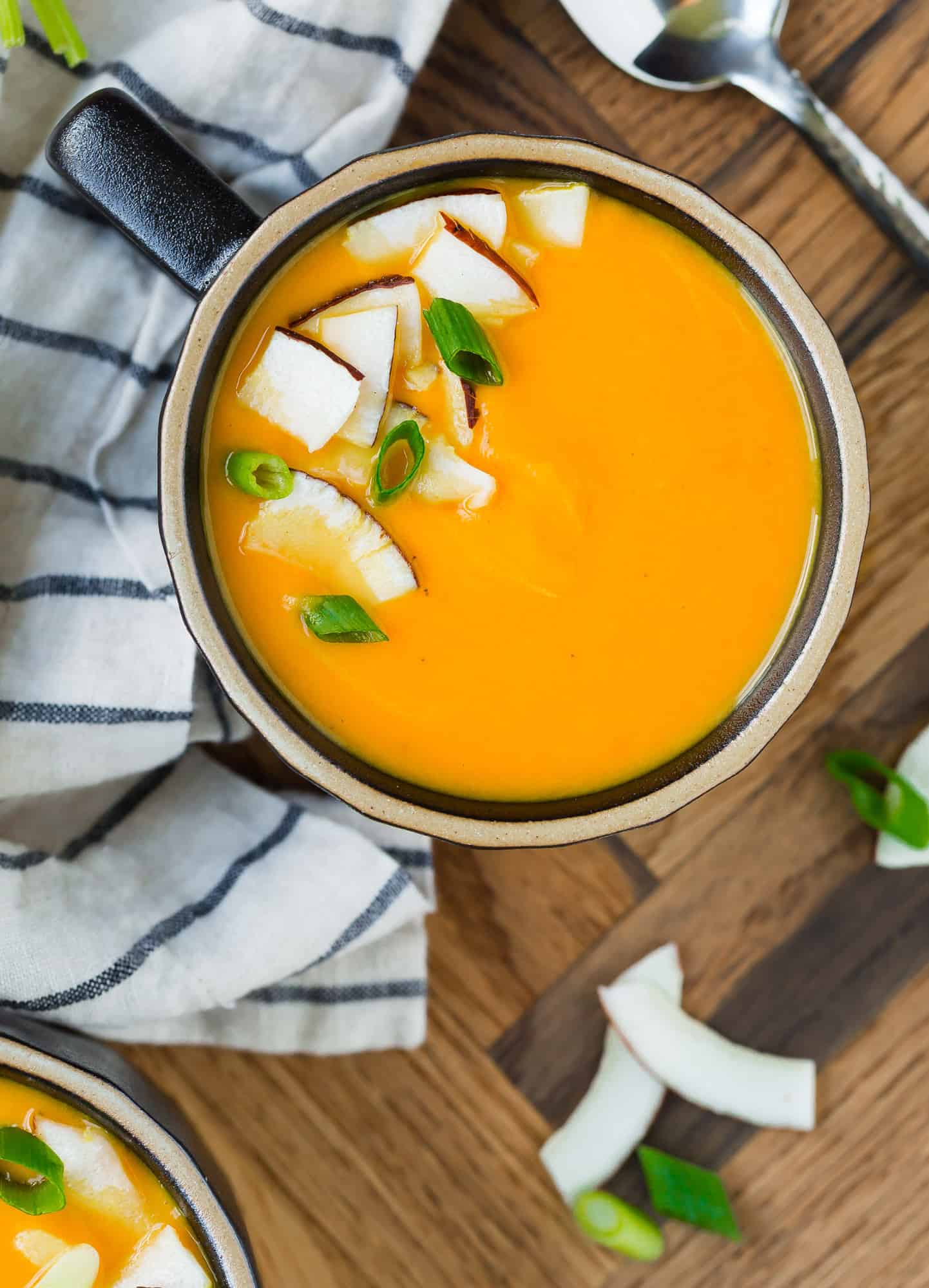 Storage & Reheating Tips
This carrot ginger soup is a great make ahead or meal prep recipe. It really tastes exactly the same, eaten freshly made or a few days later.
To store it, put the soup into a large bowl after it's cooled a bit, cover, and refrigerate. Carrot ginger soup will keep in the refrigerator up to four days.
To reheat, pour the soup into a saucepan and heat gently until warmed through. You can also reheat individual servings in microwave safe bowls.
I haven't tried freezing this soup yet but I'm sure that it would freeze well too. I would thaw it overnight in the fridge before reheating.
Did you make this? Be sure to leave a review below and tag me @rachelcooksblog on Facebook, Instagram, or Pinterest!
So creamy and satisfying, this carrot ginger soup made with coconut milk will warm you up inside and out.
Ingredients
1

teaspoon

olive oil

1

cup

chopped yellow onion, chopped

(one medium onion)

¼

teaspoon

kosher salt

1

tablespoon

finely chopped ginger root, peeled

½

teaspoon

ground turmeric

⅛

teaspoon

red pepper flakes, or to taste

1 ½

pounds

carrots, peeled and cut into ¼ inch slices

2

cups

vegetable broth

1

can

(13.5 oz) unsweetened coconut milk, shaken well
Instructions
In large saucepan, heat olive oil over medium heat. Add onions, salt, and pepper, and saute until translucent, about 5 minutes.

Add ginger, turmeric, and red pepper flakes; sauté briefly, about 1 minute.

Add sliced carrots and vegetable broth to pan. Cover pan, turn heat to high, and bring to boil. Reduce heat to medium, and cook carrots until very soft, about 20 minutes.

Remove pan from heat. Using immersion blender, puree carrot mixture until smooth.

Add coconut milk, stir well. Return to heat and warm gently, until soup is desired temperature.

Serve with chopped herbs such as cilantro or parsley, chopped green onions, or toasted coconut flakes. Serving size: 1¼ cups.
Notes
Leftover soup can be stored in the refrigerator for up to four days. Reheat gently on the stove or individual portions in the microwave.
If you would like to deepen the flavor of the carrots, roast them instead of boiling them. Preheat oven to 425ºF. On a rimmed baking sheet, combine carrots with 2 teaspoons olive oil, salt, and pepper. Roast for 20 minutes, or until carrots are tender, stirring once. Combine with sauteed onions, spices, broth, and puree. Stir in coconut milk.
If desired, add minced garlic or garlic powder. Curry powder goes great in this soup.
Nutrition Information
Calories:
333
kcal
,
Carbohydrates:
28
g
,
Protein:
4
g
,
Fat:
25
g
,
Saturated Fat:
21
g
,
Polyunsaturated Fat:
1
g
,
Monounsaturated Fat:
2
g
,
Sodium:
751
mg
,
Potassium:
881
mg
,
Fiber:
8
g
,
Sugar:
14
g
,
Vitamin A:
28686
IU
,
Vitamin C:
16
mg
,
Calcium:
82
mg
,
Iron:
2
mg
This website provides approximate nutrition information for convenience and as a courtesy only. Nutrition data is gathered primarily from the USDA Food Composition Database, whenever available, or otherwise other online calculators.