Don't wait to try air fryer salmon! Lightly crisp on the outside, tender and juicy on the inside, you love this easy cooking method. Perfect salmon in just 10 minutes.
Recipe Overview
Why you'll love it: the air fryer is a fast and easy way to cook salmon that's golden on the outside and tender and flaky on the inside.
How long it takes: 15 minutes!
Equipment you'll need: just your air fryer, that's it!
Servings: 3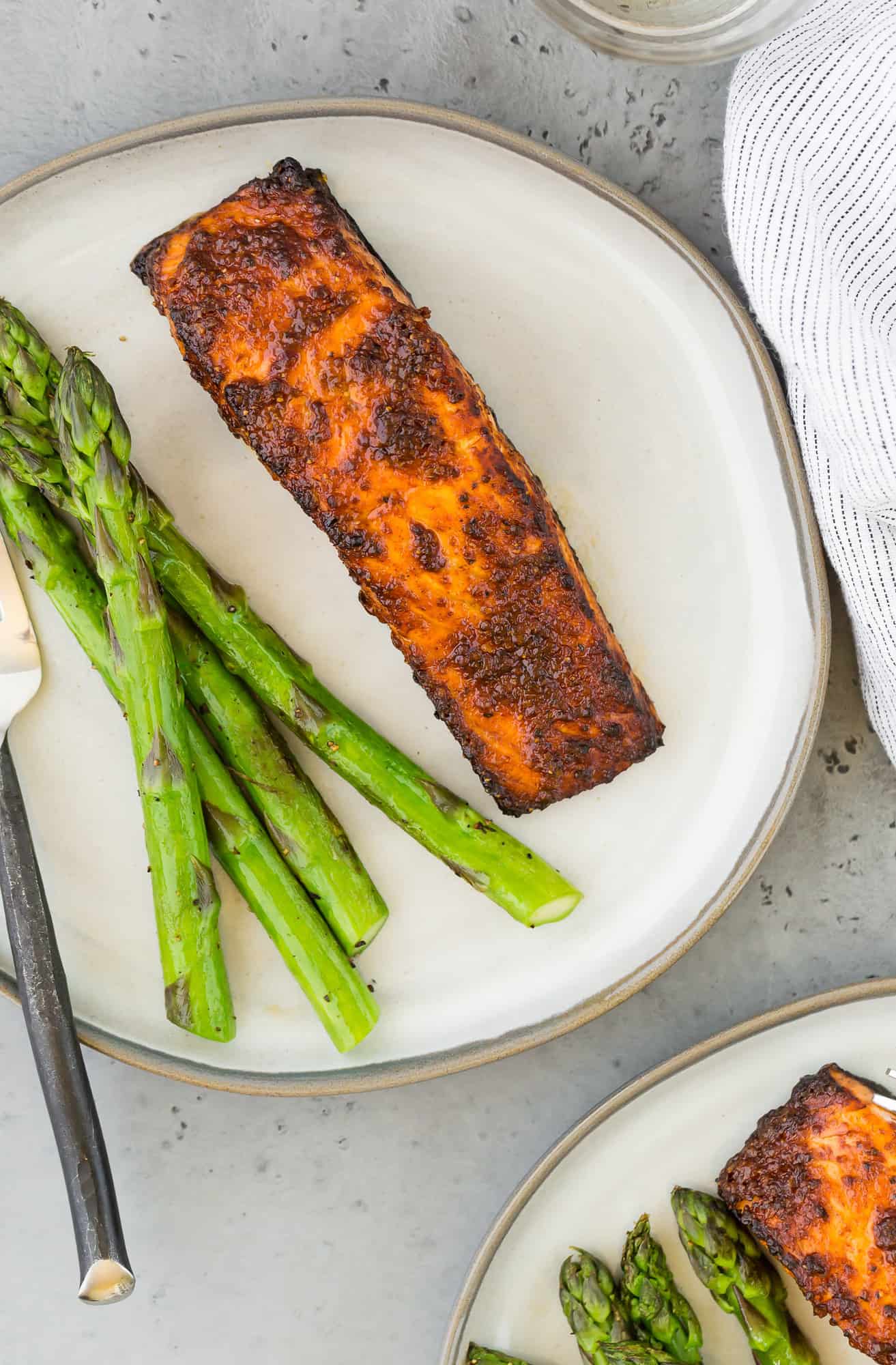 Perfect Air Fryer Salmon in 15 Minutes!
My favorite restaurant serves the best salmon, never overdone or dry, always with just the right amount of crustiness on the outside, and piping hot. Cooking salmon like that can be tricky. I often wondered how they achieve that perfect balance every time. What's the secret?
My aha! moment came when I used my air fryer to make salmon for the first time. Using an air fryer to cook salmon is the best idea ever. With a delicious glazed, almost caramelized crust, yet perfectly tender and super juicy on the inside, this recipe is a definite winner!
Why You'll Love This Air Fryer Salmon Recipe
Every method for cooking salmon has advantages. Often I bake salmon or grill salmon, with delicious results. BUT if you have an air fryer (and if you don't, strongly consider buying one!), here's why you should give air fryer salmon a try:
Crispy salmon without heavy frying. In an air fryer, the hot air circulates rapidly around the food, giving it a nice crispy exterior without any added fat. Plus, it only takes 8 to 10 minutes.
Easy clean-up. The air fryer makes clean-up a breeze! This means no fussing with dirty pans or greasy skillets.
Adaptable. I just know you'll be very pleased with how your salmon turns out. And there are plenty of ways that you can make this recipe your own! Endless possibilities for perfectly cooked salmon, seasoned and dressed to your liking.
What You'll Need
I'll give you the basics here with a few extra tips and ideas. You'll find the printable recipe card near the end of the post with complete instructions, measurements, and nutrition information.
Salmon: The recipe is written for 3 fillets because that's what fits in my air fryer but it's easy to adjust. Skin-on or skinless salmon is fine. The skin will separate easily from the flesh once the salmon is cooked. You can make this recipe using fresh or frozen salmon filets, see my tip below on how to thaw frozen salmon.
Honey: The sugar in honey caramelizes to make a nice crust on the salmon.
Whole Grain Mustard: You can choose your favorite mustard; Dijon is always a good choice.
Olive Oil: Just add a smidge so the salmon browns nicely.
Paprika, Salt & Pepper: Simple seasonings to add lots of flavor!
Thawing Frozen Salmon
Frozen salmon fillets are so handy to have in your freezer but you may be wondering about the best way to thaw them.
Thaw overnight in the fridge (easiest and best way).
Submerge frozen salmon (in a resealable bag) in cold water for 30 to 45 minutes.
Or don't thaw it at all. Put the frozen fillets in your air fryer basket and proceed with the recipe. You'll probably need to double the cooking time, depending on the thickness of the fillets.
How To Make Salmon In the Air Fryer
Air fryer salmon is super easy to make. Get your air fryer preheating, and let's get started.
Make the glaze. Stir up a simple honey mustard glaze. With only a few ingredients, this glaze has loads of flavor and caramelizes as the salmon bakes.
Prepare the salmon. Place the salmon fillets on the rack, sides not touching, and brush on the glaze.
Cook. Air fry for 8 to 10 minutes. That's it! Can you believe how easy that is? And you'll love how it turns out every time!
Tips for Success
The key to cooking fish is to not overcook the fish! Follow these tips for perfectly cooked air fryer salmon:
Try not to overcook salmon because perfectly done salmon is so much better. It's like the difference between a medium rare steak and a well-done steak. If you've tried both, you know what I'm talking about.
Check the salmon for doneness. The easiest way to tell if your salmon is thoroughly cooked is to check its temperature at the thickest part of the filet. If the internal temperature is 145ºF, or close to it, your salmon is done!
Don't have an instant-read thermometer? Insert the tip of a sharp knife into the thickest part of the salmon. If the flesh looks mostly opaque and flakes easily, it's done. Perfectly done salmon should be very slightly translucent in the center and separate easily from the skin.
FAQs
What should the internal temperature be?
The USDA recommends an internal temperature of 145°F for salmon, and that's what we usually aim for, or a tad bit less.
Do you have to flip salmon in an air fryer?
No, there's no need to flip the salmon because it cooks evenly on both sides. The air fryer blows air all around the salmon.
At what temperature should I air fry salmon?
Set the air fryer to 380ºF to 400ºF. Keep in mind that thin fillets cook more quickly than thick fillets.
What to Serve With Air Fryer Salmon
Serve air fryer salmon with stovetop scalloped potatoes or Instant Pot risotto. It goes perfectly with asparagus panzanella salad or bruschetta orzo salad. Try cooked salmon right on a salad or eat it on a bun with lettuce and tomato, or a dollop of creamy coleslaw.
Oh yum, now I'm thinking this salmon would make a great fish taco, with mango slaw. I know what I'm making for dinner tonight! Air fryer salmon works perfectly for these salmon tacos, too.
Make This Salmon Your Own
This recipe is simple, yet it packs tons of flavor and leaves lots of room for customizing. Here are some variation ideas to try: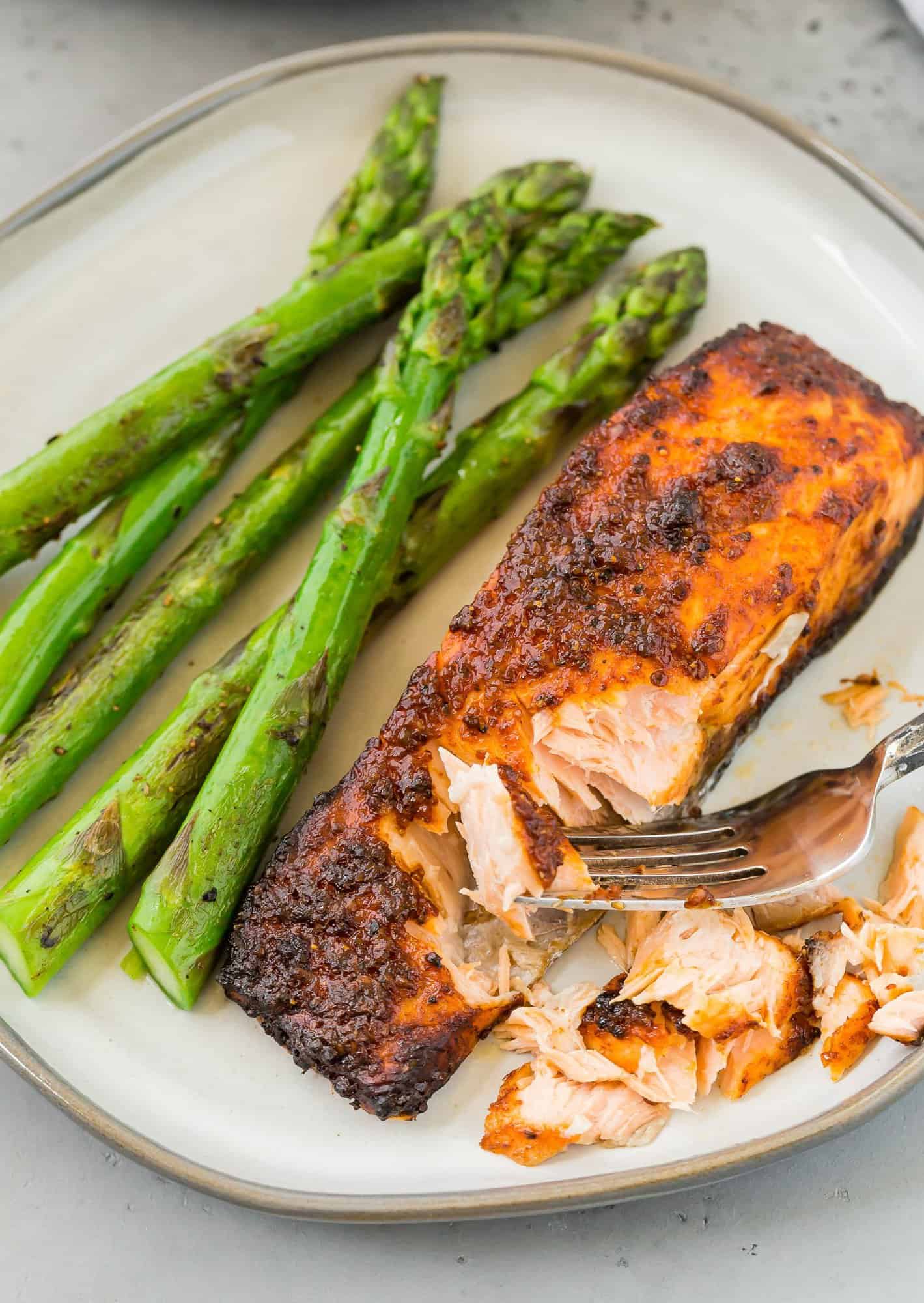 If you love the idea of easy dinners with only a few ingredients, be sure to take a look at my collection of 5 ingredient dinner recipes. Good eating doesn't have to be complicated.
Storage & Reheating Tips
Fridge: Wrap any leftover salmon well and store it in the fridge for up to 3 days. Reheat gently in the microwave or pop it back in the air fryer for a few minutes to reheat. It's great cold, too.
Frozen: I don't usually recommend freezing cooked salmon as it tends to change the texture (and not for the better!). If you absolutely must freeze your leftovers, make sure to wrap the salmon tightly in plastic wrap and seal it in an airtight freezer bag. Freeze salmon for up to 3 months, and defrost in the fridge before reheating.
Did you make this? Be sure to leave a review below and tag me @rachelcooksblog on Facebook, Instagram, or Pinterest!
Don't wait to try air fryer salmon! Lightly crisp on the outside, tender and juicy on the inside, you love this easy cooking method. Perfect salmon in just 10 minutes.
Instructions
In a small bowl, combine honey, mustard, olive oil, paprika, salt, and pepper.

Preheat air fryer to 400ºF. Place salmon fillets in basket, skin side down, sides not touching.

Brush fillets with honey mustard mixture, and air fry for 8-10 minutes or until done (I like an internal temperature of 145ºF for salmon, but cook it how you like it!).

Depending on the size of your air fryer and how many salmon fillets you're cooking, you may have to air fry them in batches.
Notes
Storage: Wrap leftover salmon well and refrigerate for up to three days.
Nutrition Information
Serving:
1
filet
,
Calories:
278
kcal
,
Carbohydrates:
6
g
,
Protein:
34
g
,
Fat:
12
g
,
Saturated Fat:
2
g
,
Polyunsaturated Fat:
5
g
,
Monounsaturated Fat:
5
g
,
Cholesterol:
94
mg
,
Sodium:
324
mg
,
Potassium:
850
mg
,
Fiber:
1
g
,
Sugar:
6
g
,
Vitamin A:
124
IU
,
Vitamin C:
2
mg
,
Calcium:
25
mg
,
Iron:
1
mg
This website provides approximate nutrition information for convenience and as a courtesy only. Nutrition data is gathered primarily from the USDA Food Composition Database, whenever available, or otherwise other online calculators.