Getting a little bored with salmon? This savory BBQ salmon explodes with flavor thanks to a spicy dry rub and optional barbecue sauce glaze (no grilling necessary!).
Recipe Overview
Why you'll love it: Flavorful and fool-proof, this salmon has it all.
How long it takes: about a half hour
Equipment you'll need: cast iron or oven safe skillet
Servings: 4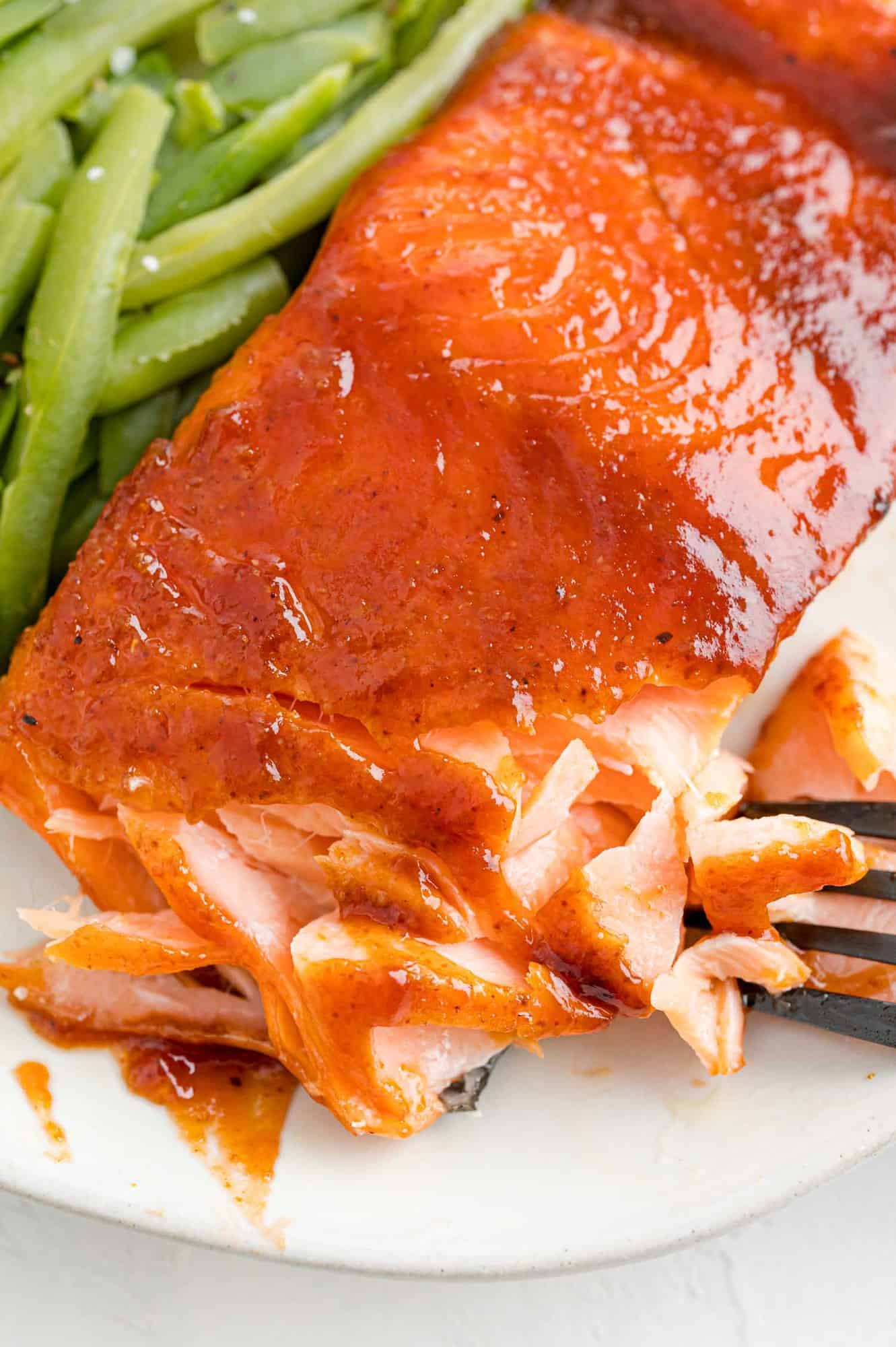 Hopefully, after reading the intro paragraph above, you aren't worried about exploding salmon. It does sound a little exciting (in a worrisome way), doesn't it? Sorry about that. I just want to convey how excited I am about this BBQ salmon!
I make salmon often and I have plenty of ways to change it up. Check out the recipe links below for some of my favorites. Recently, I was preparing my homemade BBQ rub to use for chicken and it was a light bulb moment. I thought, why not a BBQ rub for salmon?
Recognizing that not everyone is going to have a homemade BBQ rub on hand, I developed this easy recipe that you can make with pantry items. If you already are in possession of a BBQ rub that you love, it's totally fine to substitute it.
Give this recipe a try soon. It may shake up the way you always make salmon. It's easy, tasty, and turns out great every time. No explosions necessary!
About this Salmon Recipe
There are a few steps to this recipe. The dry rub is applied to the salmon fillets, the salmon is seared in a hot skillet on the stove, on the top side only, then it's flipped over, and baked in the oven until done.
You may be wondering why it has to be fried and then baked. This cooking method works to get a nice brown crust on the salmon. The brown sugar in the rub caramelizes when it hits the high heat of the skillet. Once that savory crust has formed, then the salmon is baked to finish cooking all the way through.
The optional barbecue sauce glaze is applied right at the end of cooking time and a quick stint under the broiler sets it. While all that may sound like a bunch of monkey business, it's really pretty easy and you'll love the way the salmon turns out.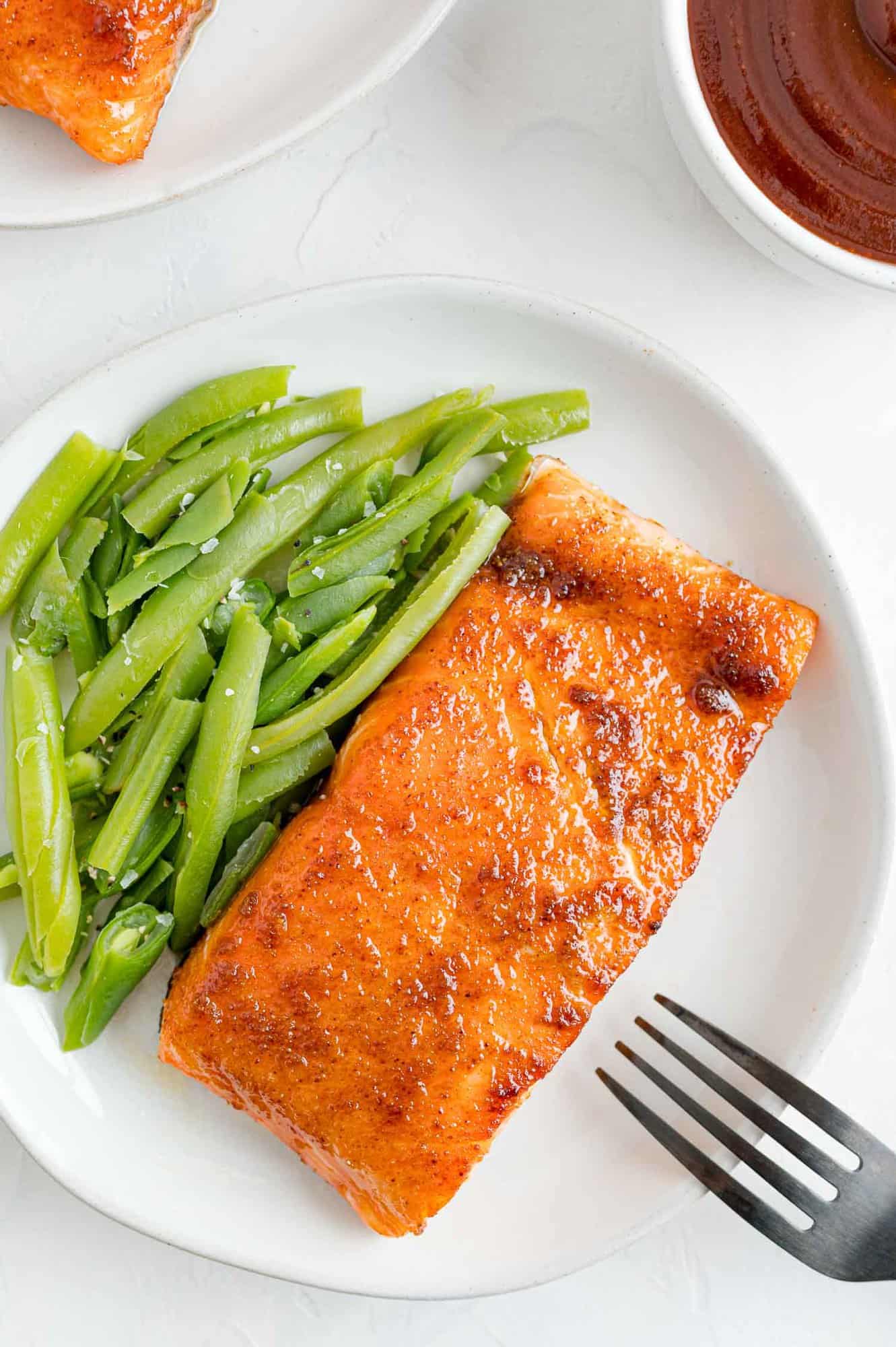 We'll run through the recipe here and get you started with lots of extra tips. Look for the printable recipe card below. It has complete instructions, measurements, and nutrition information.
Ingredients you'll need
Salmon: Look for fresh salmon that has the skin on. The recipe is written for four servings, 4-6 ounces each. It's best if the fillets are as evenly sized as possible, with the same thickness, so that they get done in about the same time.
Brown Sugar: This is the base of the dry rub that gets applied to the salmon before cooking it. You can use dark or light brown sugar.
Chipotle Chili Powder: Chipotle chili powder has a smoky quality and can be quite spicy. We love the flavor it adds to this BBQ salmon. If you are worried about the spicy heat, substitute a mixture of regular chili powder and smoked paprika.
Garlic Powder: Not to be confused with garlic salt, garlic powder is simply dehydrated garlic that is ground into a fine powder, with nothing else added. It adds a mild garlic flavor.
Onion Powder: Same as the garlic powder – don't mix it up with onion salt!
Kosher Salt: You've probably noticed that we often recommend kosher salt. It has larger crystals so if you use a finer salt, you may want to reduce the amount.
Olive Oil: A small amount of oil is rubbed into the salmon and a bit more is used for the pan.
Barbecue Sauce (optional): While there is plenty of flavor in the rub, a nice glaze of barbecue sauce is always welcome, too. Make your own BBQ sauce or use a commercially prepared sauce. For something different, try our cherry chipotle bbq sauce.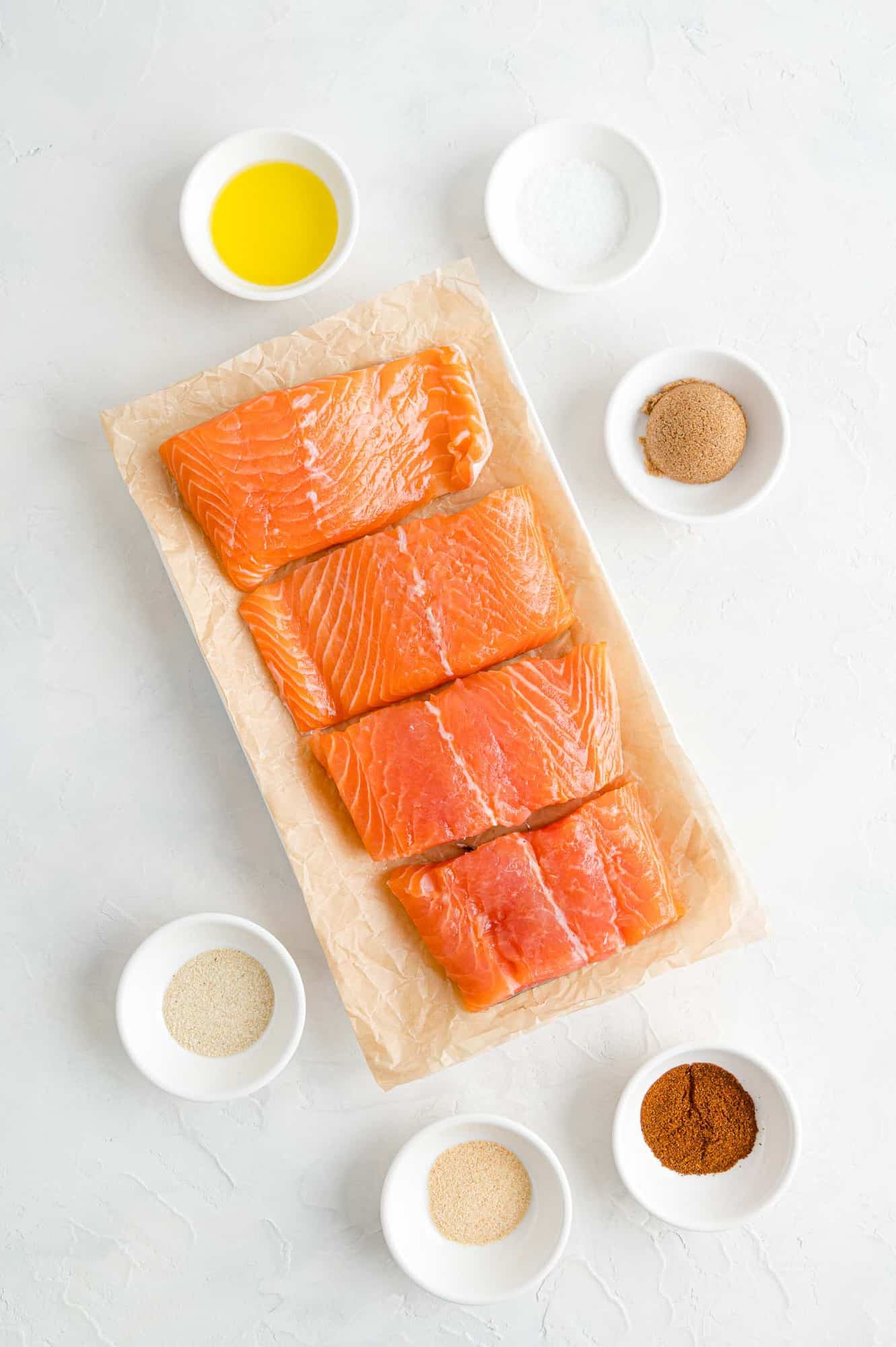 How to make This Recipe
Choose the right pan. You'll need a heavy oven-safe skillet. A cast iron or enameled cast iron skillet is ideal. Keep in mind that not all "oven safe" skillets are suitable for the broiler, so make sure to check that.
Prep the salmon by patting it dry with paper towels. Cut it into serving size portions if it's a whole fillet.
Make the dry rub. In a small bowl, mix together brown sugar, chipotle chili powder, garlic powder, onion powder, and salt.
Rub it into the salmon. Rub a small amount of olive oil into the top side of each piece of salmon. Sprinkle an even amount of the BBQ rub mixture on each fillet, using your fingertips to lightly rub it in. Go ahead and use all of the dry rub. It's not necessary to put it on both sides.
Let the salmon rest for about 15 minutes as it absorbs the delicious flavors of the rub.
Preheat the oven to 400°F. It's important to have the oven preheated and ready when you've finished searing the salmon.
Sear the salmon. Heat the skillet on the stove over medium high heat. Once it's hot, add oil, enough to lightly cover the bottom of the pan, a tablespoon or so. Put the salmon into the pan, skin side up. Cook for 3 minutes, undisturbed, or until the salmon releases fairly easily from the pan. Quickly flip each piece over (skin side down) and put the pan in the hot oven.
Bake for 8 minutes or until salmon tests done. Carefully remove the pan from the oven. Remember that the handle is HOT so use an oven mitt. You may think that's so obvious but it's easy to forget (at least it is for me!).
The salmon will continue cooking if you leave it in the hot pan so it's best to either remove it from the oven when it's slightly underdone or remove it from the pan immediately.
BBQ glaze: This step is optional but it really does taste great. After you remove the salmon from the oven, turn the oven to broil. Brush a bit of barbecue sauce on each fillet and broil it for a minute or until the sauce is hot and bubbling.
Serve the salmon with crisp cooked green beans, air fryer sweet potato fries, or creamy potato salad. Tangy vinegar coleslaw (with no mayonnaise) and stovetop scalloped potatoes are a great combo too. A simple green salad topped with fresh tomatoes, cucumbers, homemade croutons, and healthy ranch dressing is always a welcome side dish.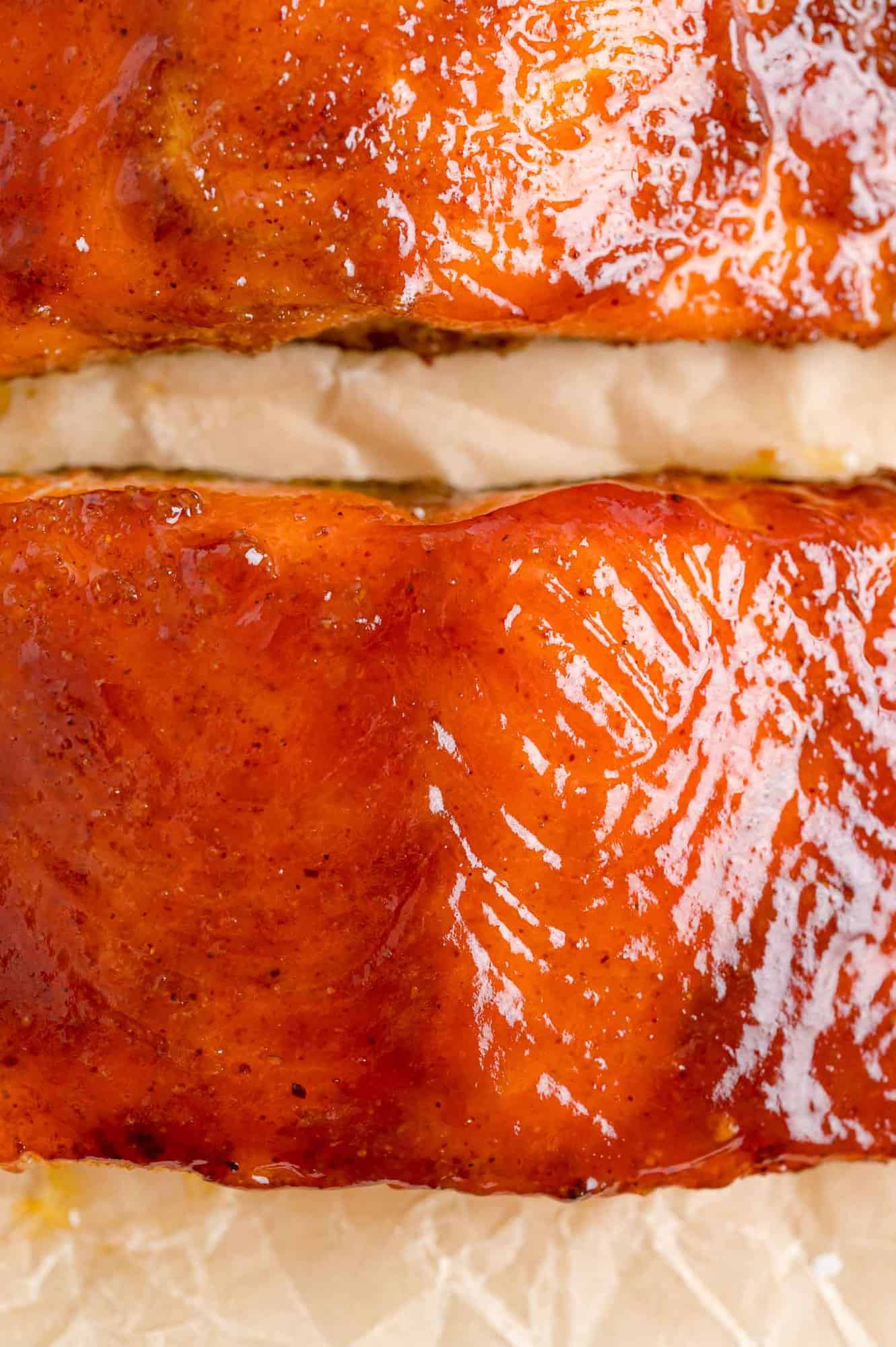 FAQs
How do you know when salmon is done?
The easiest way to check is to press it lightly with a fork and see if the salmon separates or flakes easily. The color should be an opaque orange all the way through, not translucent red. This is considered "well done". The internal temperature when measured with an instant read thermometer should be 145°F, as recommended by the FDA. Remember that the salmon will continue cooking a bit even after it's removed from the heat.
Some cooks prefer the salmon to be a bit rarer (medium), with a darker color in the center (125°F to 130 °F). It's your choice because you're the cook!
Can you put fish directly on a grill?
Yes! However, it can be a bit tricky to grill fish directly on the grates because it tends to fall apart. Salmon is fairly firm and is a good choice for grilling. Some cooks prefer to grill fish on foil or in a non-stick grill pan.
To grill salmon on a gas grill, I recommend marinating it in a marinade that contains some oil, or coating it with oil. Preheat the grill to medium heat (350°F) and grease the grates before putting the salmon on the grill, skin side up. Grill for four minutes (with lid down), then carefully flip, using a fish spatula. Grill 15 to 20 minutes more or until salmon is done.
Be sure to check out my recipe for grilled salmon.
Make It Your Own
Air fry the salmon. Prepare as directed, preheat air fryer to 380 to 400°F, and place salmon on the grate in a single layer. You may have to do more than one batch if it doesn't all fit. Air fry for 8 to 10 minutes or until done. Refer to my air fryer salmon for more detailed instructions.
Grill the salmon. If you'd like to make this salmon on a gas grill, read the FAQ section above for instructions.
Use your own BBQ rub. Either a homemade or commercially prepared rub will work. Try my salmon seasoning rub, or my all purpose seasoning. It doesn't have the brown sugar but will season the salmon nicely.
For a variation, try orange glazed salmon. The cooking method is similar to this recipe and the orange glaze is phenomenal.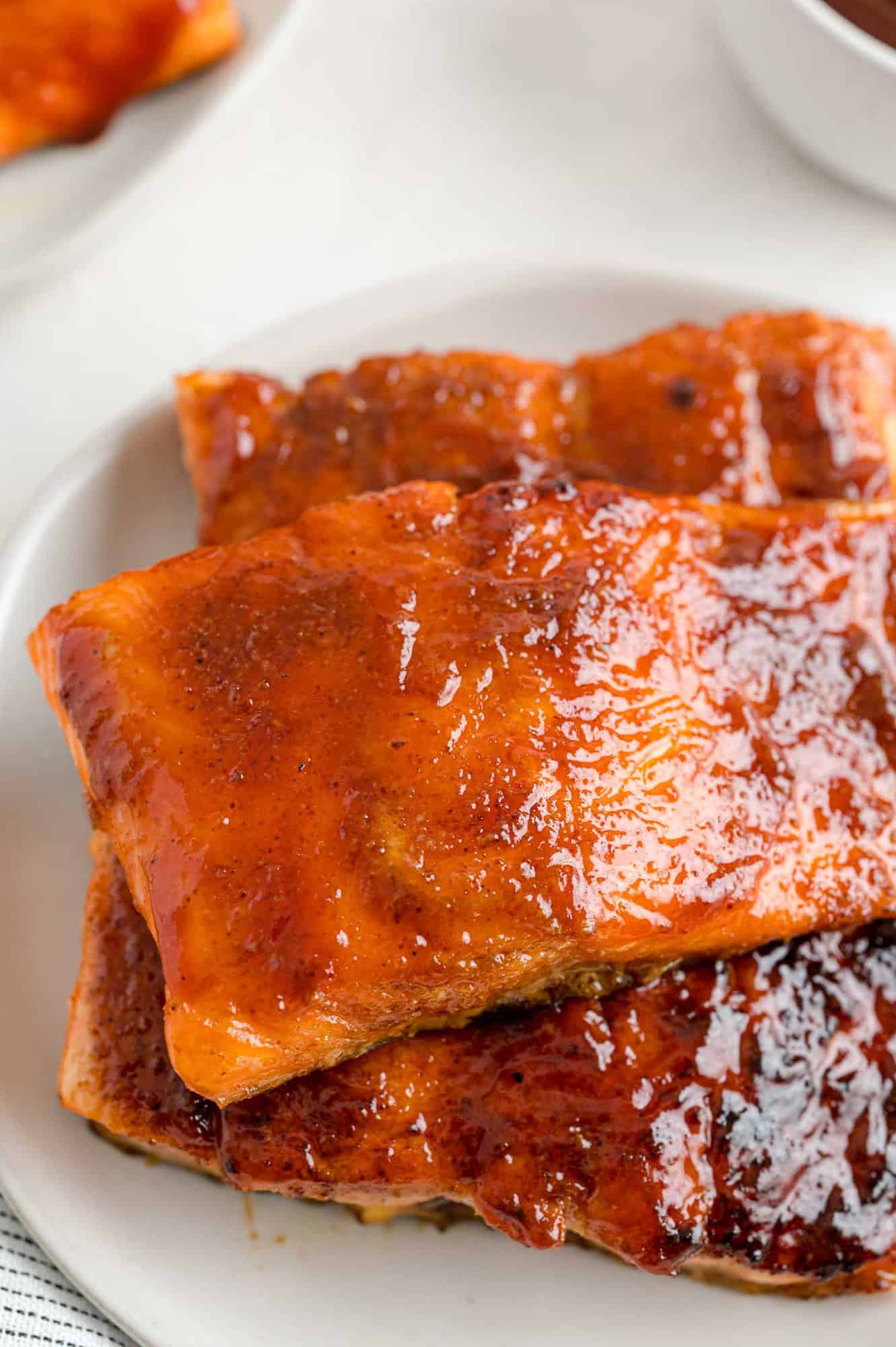 Make-Ahead Ideas
The dry rub can be prepared any time and kept in an airtight container or small jar for six months or more. Once you've tried the rub and know that you really love it, make a large batch so you can have it on hand. It's great for pork, chicken, or beef, too.
Storage & Reheating Tips
Refrigerate: Leftover cooked salmon will keep in the refrigerator for up to four days. Cover it with plastic wrap or put it in an airtight container.
Reheat: The salmon can be enjoyed cold or you can reheat individual portions in the microwave. Don't overheat it because it will become dry.
Leftover Love
Add it to a salad. Leftover BBQ salmon is delicious on a salad. Prepare a salad similar to this Southwestern BBQ chicken salad, substituting cooked salmon for the chicken. So good!
Make a great sandwich with BBQ salmon. Stir a little BBQ sauce into mayonnaise and slather it on a toasted bun. Add a few slices of avocado and a tomato, too, if you like. Are you hungry yet? I am!
Interested in a weekly meal plan (it's free!) that includes this salmon recipe? Take a look at my Meal Plan #18. You'll find a wholesome recipe for each weekday plus a categorized grocery list. Let me do the planning for you this week!
We'll be adding a new meal plan weekly. If you're interested, browse all of our meal plans.
Did you make this? Be sure to leave a review below and tag me @rachelcooksblog on Facebook, Instagram, or Pinterest!
This savory BBQ salmon explodes with flavor thanks to a spicy dry rub and optional barbecue sauce glaze (no grilling necessary!).
Instructions
Cut salmon into 4 serving size pieces if necessary and pat dry with paper towels.

In a small bowl, mix together rub ingredients: brown sugar, salt, chipotle chili powder, garlic powder and onion powder.

Rub tops of each salmon fillet with ½ teaspoon oil, then evenly rub on spice mixture. Let salmon sit at room temperature about 15 minutes.

Meanwhile, preheat oven to 400°F.

Heat large cast iron or enameled skillet over medium high heat. Add 1 tablespoon oil to pan or enough to lightly cover the bottom of the skillet. Place salmon fillets in skillet, skin side up, and sear for 3 minutes. Remove from heat and flip fillets over. Salmon should release fairly easily from pan.

Place skillet with salmon in preheated oven and bake for 8 minutes (until internal temperature reaches 145°F or desired temperature).
Notes
If you like, spread prepared BBQ sauce over cooked fillets and place under broiler for a minute to glaze.
Nutrition information is for salmon with rub and does not include optional barbecue sauce.
The BBQ rub is fairly spicy. If you prefer a less spicy version, replace chipotle chili powder with ½ teaspoon chili powder and ½ teaspoon smoked paprika.
Nutrition Information
Calories:
274
kcal
,
Carbohydrates:
4
g
,
Protein:
34
g
,
Fat:
13
g
,
Saturated Fat:
2
g
,
Polyunsaturated Fat:
5
g
,
Monounsaturated Fat:
5
g
,
Cholesterol:
94
mg
,
Sodium:
666
mg
,
Potassium:
854
mg
,
Fiber:
1
g
,
Sugar:
3
g
,
Vitamin A:
216
IU
,
Vitamin C:
1
mg
,
Calcium:
26
mg
,
Iron:
2
mg
This website provides approximate nutrition information for convenience and as a courtesy only. Nutrition data is gathered primarily from the USDA Food Composition Database, whenever available, or otherwise other online calculators.