Take ordinary salmon up a notch by glazing it with a tangy sauce. If your salmon recipe is beginning to feel ho-hum, orange glazed salmon may be just what you're looking for.
Recipe Overview
Why you'll love it: The orange glaze really adds excitement and great flavor to salmon.
How long it takes: 40 minutes
Equipment you'll need: oven safe skillet
Servings: 4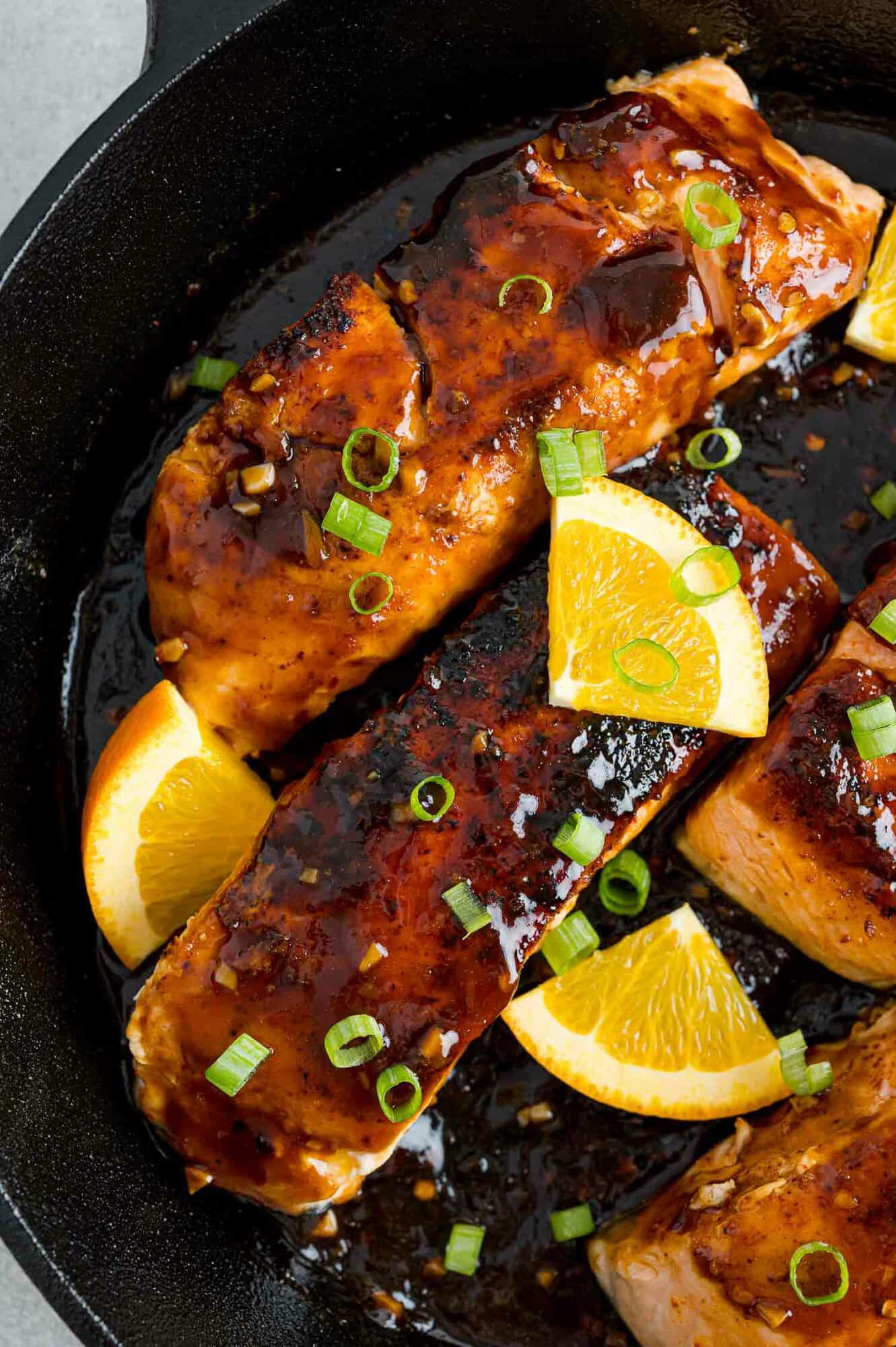 We have salmon about once a week and even though I have lots of recipes for salmon, sometimes I sort of fall into a rut and make it the same way every week.
I know, I'm a food blogger. I'm supposed to be trying out exciting new recipes every day, right? Well, that isn't the way life happens in my household. While I'm certainly always looking for exciting new recipes to share with you, my everyday cooking routines are probably pretty similar to yours and sometimes it's just about surviving the busy week, isn't it?
I'm really excited about this orange glazed salmon though. The orange juice and soy sauce glaze is so flavorful. The salmon can be a weeknight dinner or an easy dinner for guests. It's super tasty and the glaze really dresses up the salmon. It's kind of gorgeous looking, isn't it?
About this Recipe
If you are a fan of the orange chicken often served in Chinese restaurants, you're going to love this salmon. The glaze for the salmon is based on the recipe I have for orange chicken. Why should chicken have all the fun?
The cooking method used for this salmon is one that I've been using more often (it's how we cook our BBQ salmon, too). The top sides of the salmon fillets are seared in a smoking hot skillet, then they're flipped and the whole business goes in the oven to finish cooking.
The salmon gets that desirable crust on top but finishes cooking more gently in the oven. It works perfectly every time. While the salmon is in the oven, you can putz around and get the glaze ready.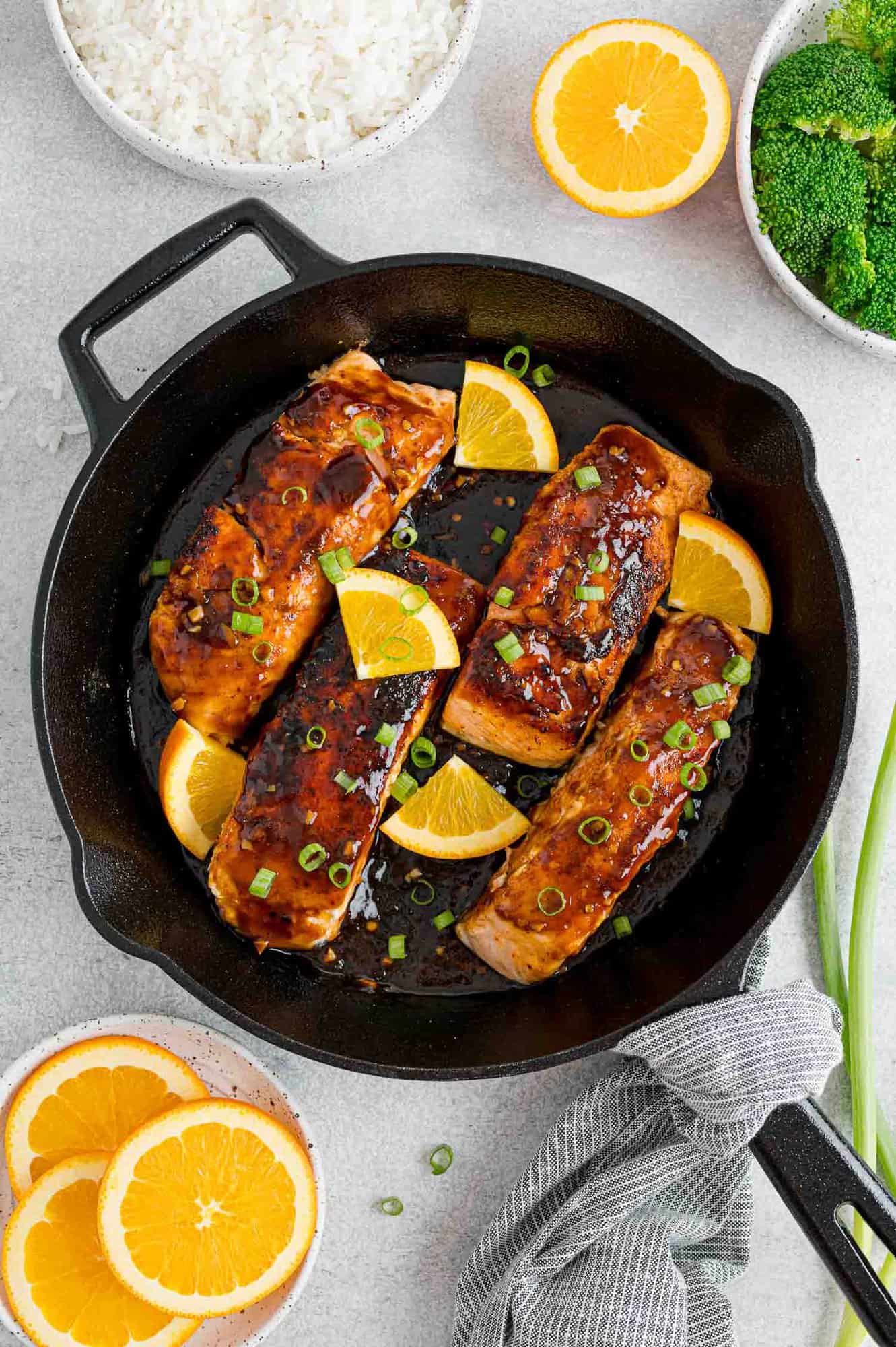 I'll run through the recipe here and give you a few pointers. As always, look for specific measurements, instructions, and nutrition information on the recipe card below.
What you'll need
Salmon: A serving of salmon is four to six ounces and this recipe is written for 4 servings. If you buy one large fillet, cut it into four equal portions. If you are using frozen salmon, thaw it according to package directions.
Chili Powder, Garlic Powder, Salt: These three seasonings are rubbed into the salmon fifteen minutes or so before it's cooked.
Oranges: You'll need a couple of oranges. Orange juice is the base of the sauce. Zest the oranges before juicing them; you'll need both the zest and juice for the glaze.
Garlic: A couple of cloves of fresh garlic provide just the right amount. It's not overpowering at all but gives the glaze a nice savory flavor.
Soy Sauce: Choose low-sodium soy sauce if you can.
Maple Syrup: Natural maple syrup balances out the tangy orange juice and rice vinegar. If you don't have real maple syrup, substitute honey or brown sugar.
Rice Vinegar: Look for plain rice vinegar; it may be called rice wine vinegar. They are the same thing but avoid seasoned rice vinegar which has a lot of added salt.
Ground Ginger: Ground ginger is very easy to use but if you prefer, fresh ginger can be substituted.
Red Pepper Flakes: Dried red peppers add a bit of tingle to your palate. Feel free to increase the amount if you like more heat, or decrease it if you're sensitive to spiciness.
Cornstarch: Cornstarch is added to thicken the glaze just slightly so it nicely coats the salmon. You'll only need a teaspoon. If you're not familiar with cornstarch, look for it in the baking aisle. It's a fine white powder often used for thickening sauces, gravies, or soup. It's the "secret" ingredient in my chewy chocolate chip cookies, too.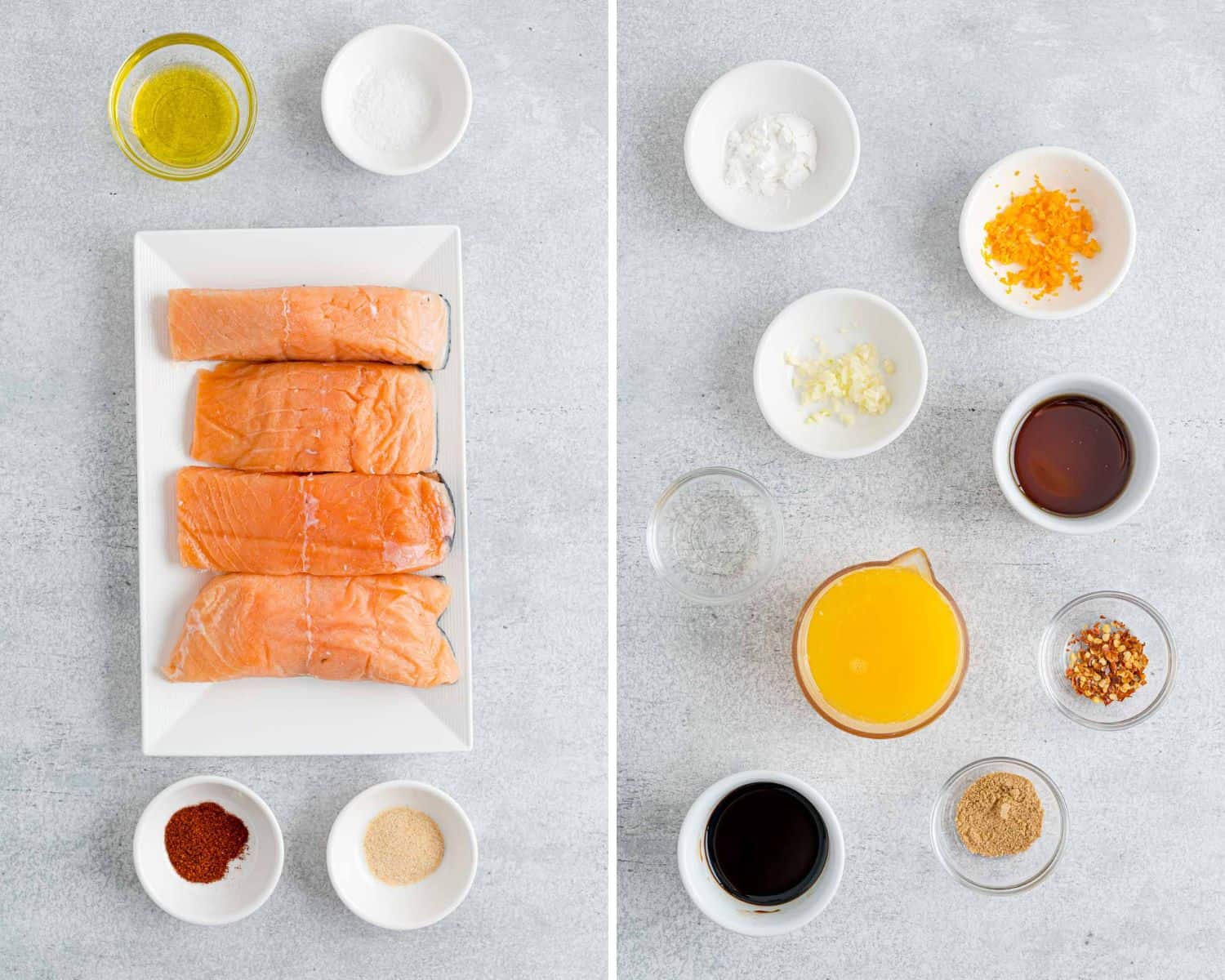 How To Make This Recipe
Take your salmon out about fifteen minutes before you're ready to start cooking it. Pat the fillets dry with a paper towel, discarding the paper towel when you're finished.
Season the fillets with the chili powder, garlic powder, and salt. Rub the seasoning right into the fillets to make sure it penetrates. Let the salmon rest for 15 minutes at room temperature (see the FAQs if you'd like to know why).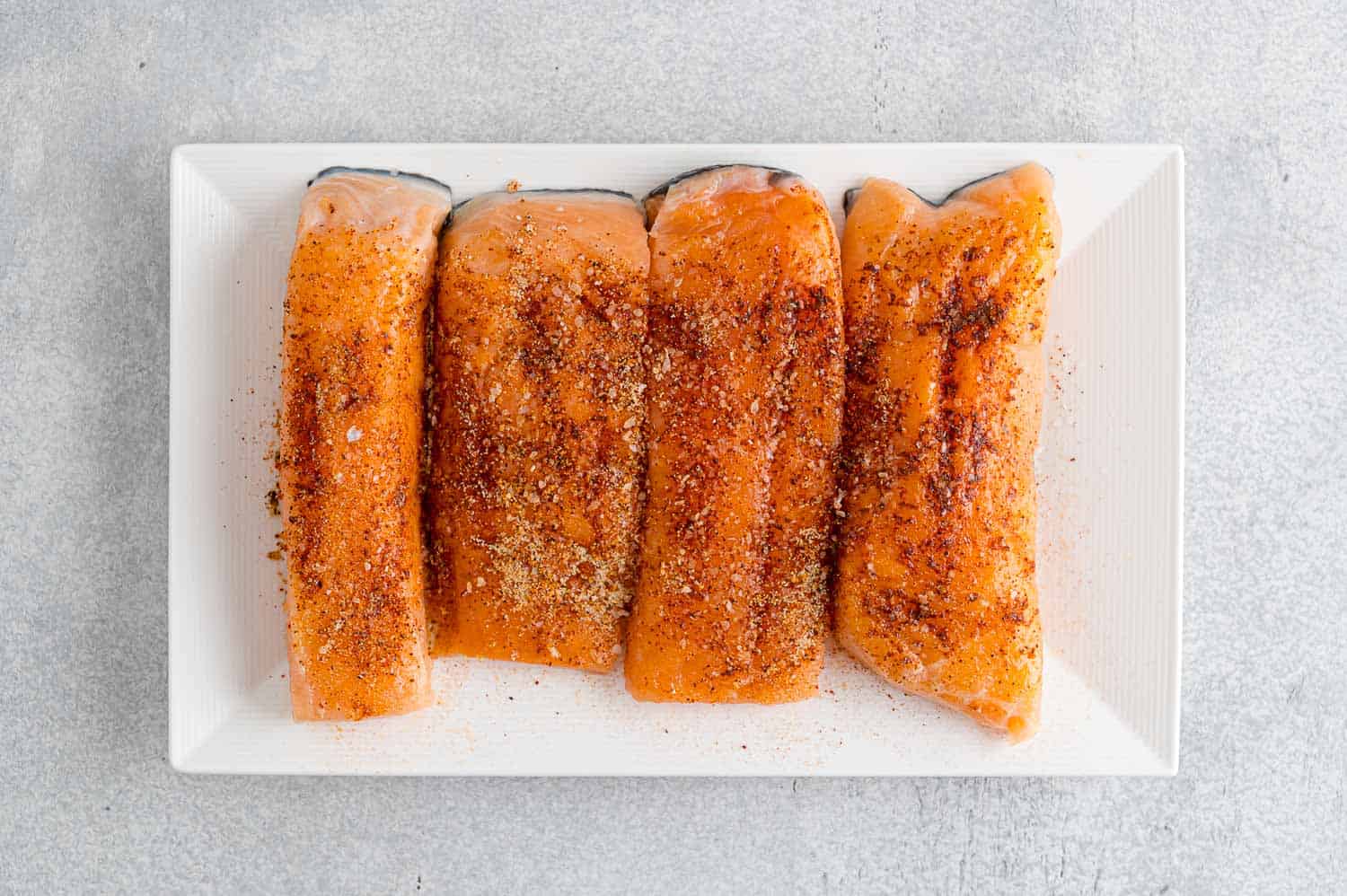 While the salmon is "resting", turn the oven on to preheat. It's essential that the oven is fully preheated for this two-step cooking process.
You'll need an oven-safe skillet, preferably a cast iron skillet or an enameled cast iron skillet. Many nonstick skillets are oven-safe; be sure to check yours before using it.
When you're ready to start cooking the salmon, heat the skillet over medium-high heat. When it's hot, add a tablespoon of oil and swirl to coat the pan.
Add the salmon to the pan, top sides down (skin side on top). Allow the salmon fillets to cook undisturbed for 3 minutes.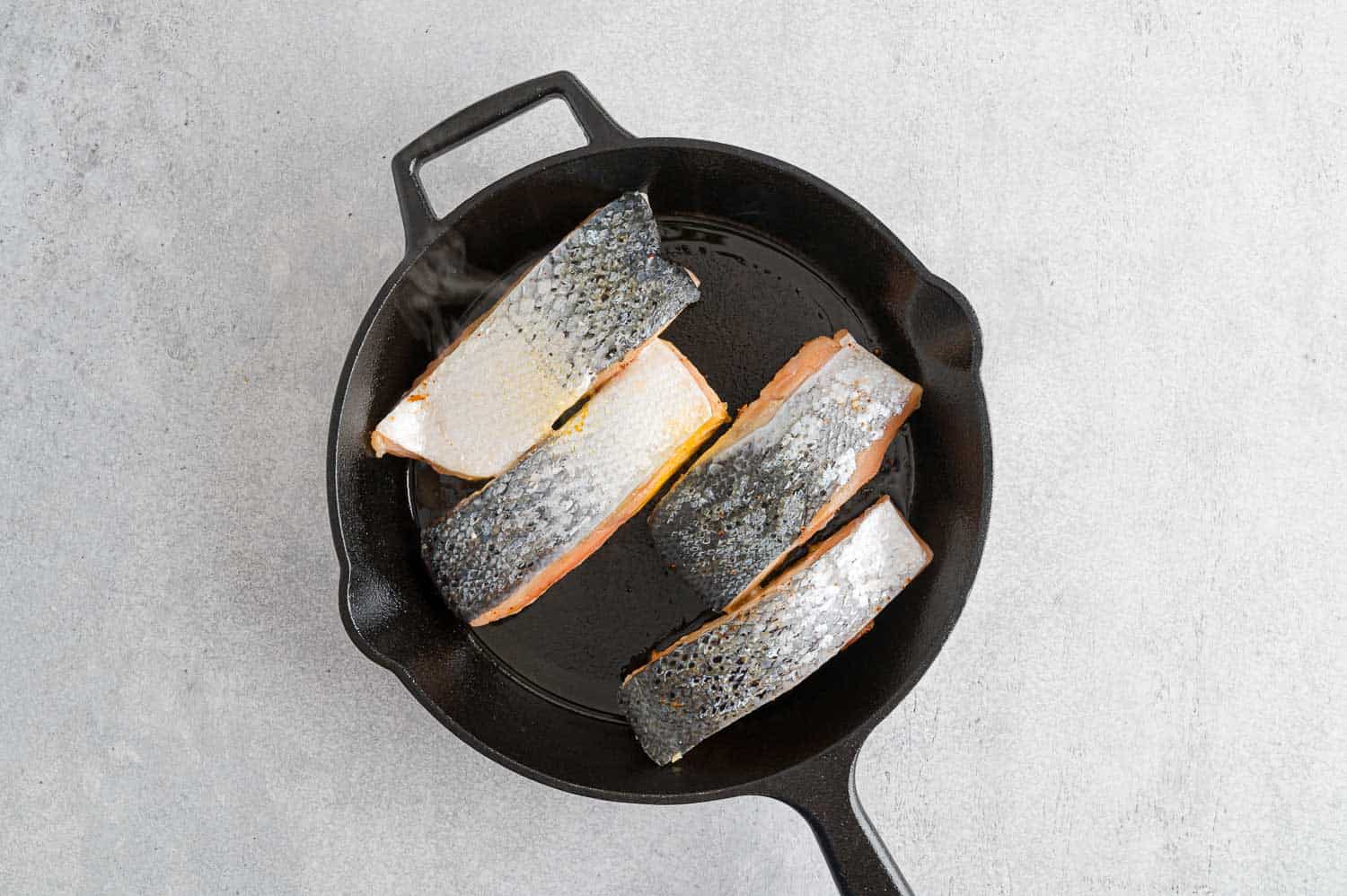 Take the pan off the heat and carefully flip the fillets over. They should release fairly easily if they've been seared properly. Put the skillet into the oven and bake the salmon for 8 minutes. This will finish cooking the salmon.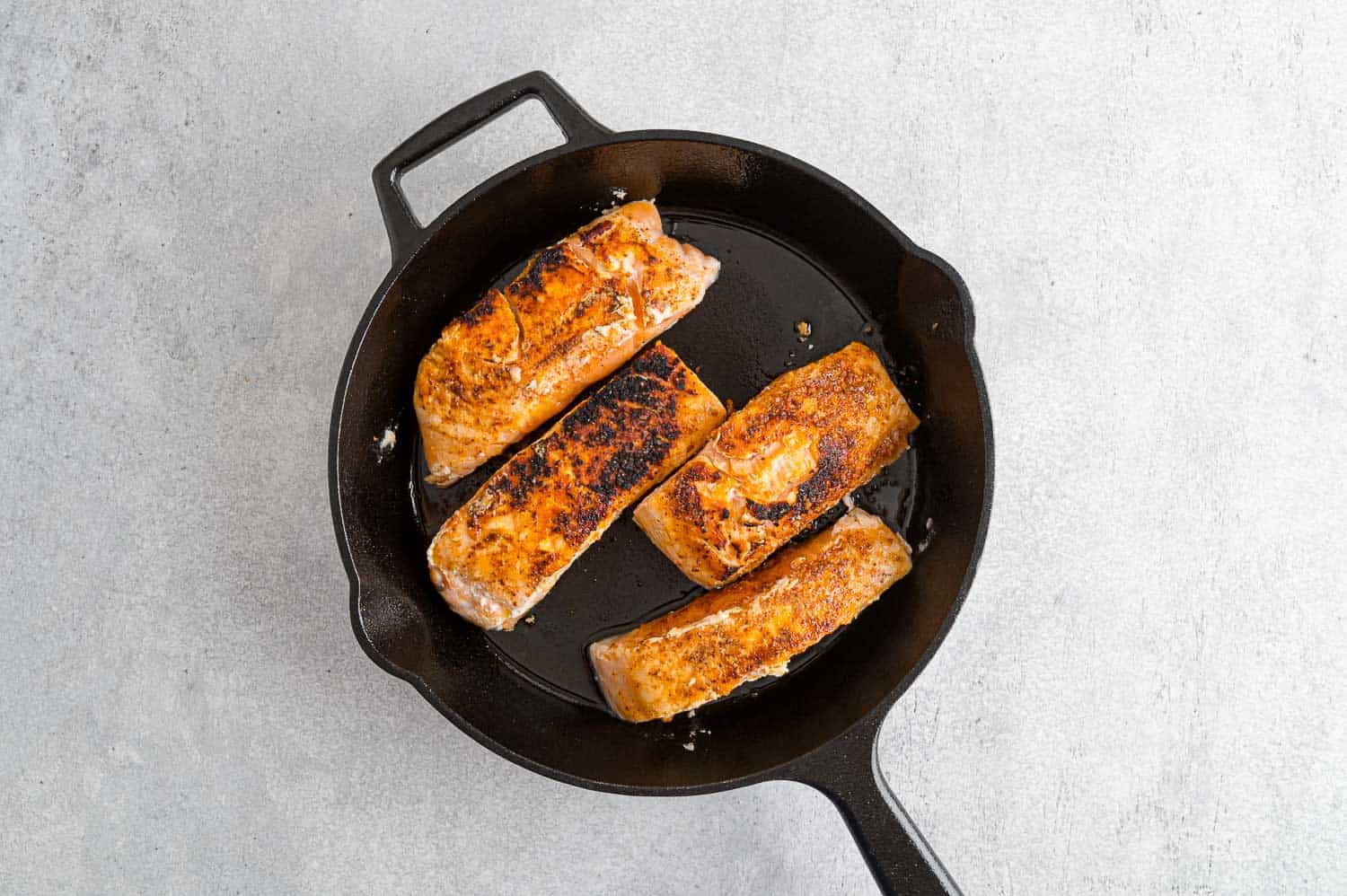 While the salmon is baking, stir together the glaze ingredients. I like to use a glass measuring cup.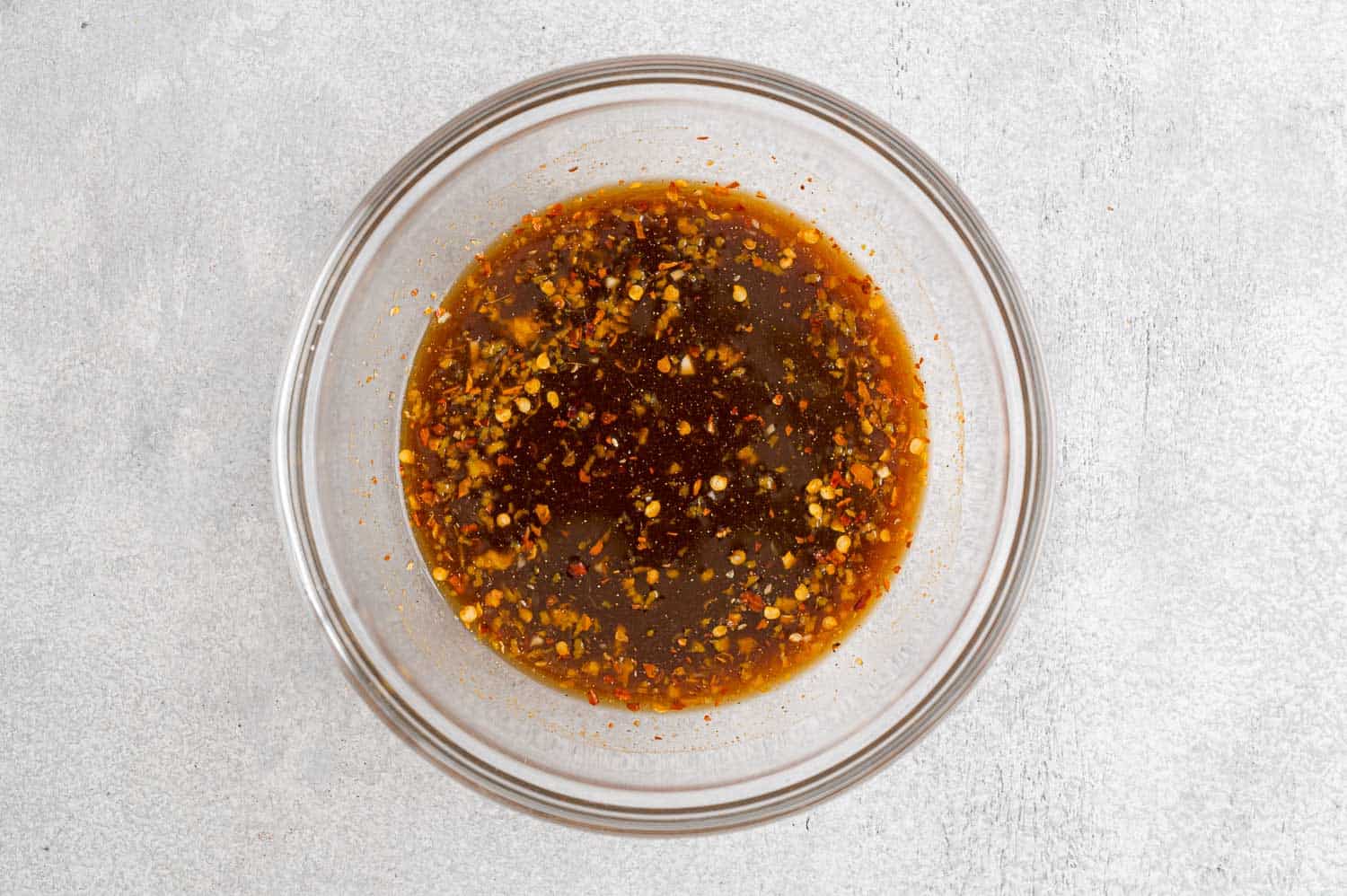 When the salmon is cooked, take it out of the oven and carefully transfer the fillets to a plate. Using paper towels, carefully blot out the excess grease remaining in the pan.
How To Tell If Salmon is Done
The most accurate way to check the salmon is to insert an instant read thermometer into the thickest portion of the salmon. The recommended internal temperature is between 135 and 145°F. The salmon should flake easily and be opaque all the way through; the center should not be red or translucent.
Pour the glaze ingredients into the hot skillet and heat it over medium heat. It heats up very quickly because the pan is quite hot yet. Bring the glaze to boil, stirring frequently. It will thicken and turn clear within a few minutes.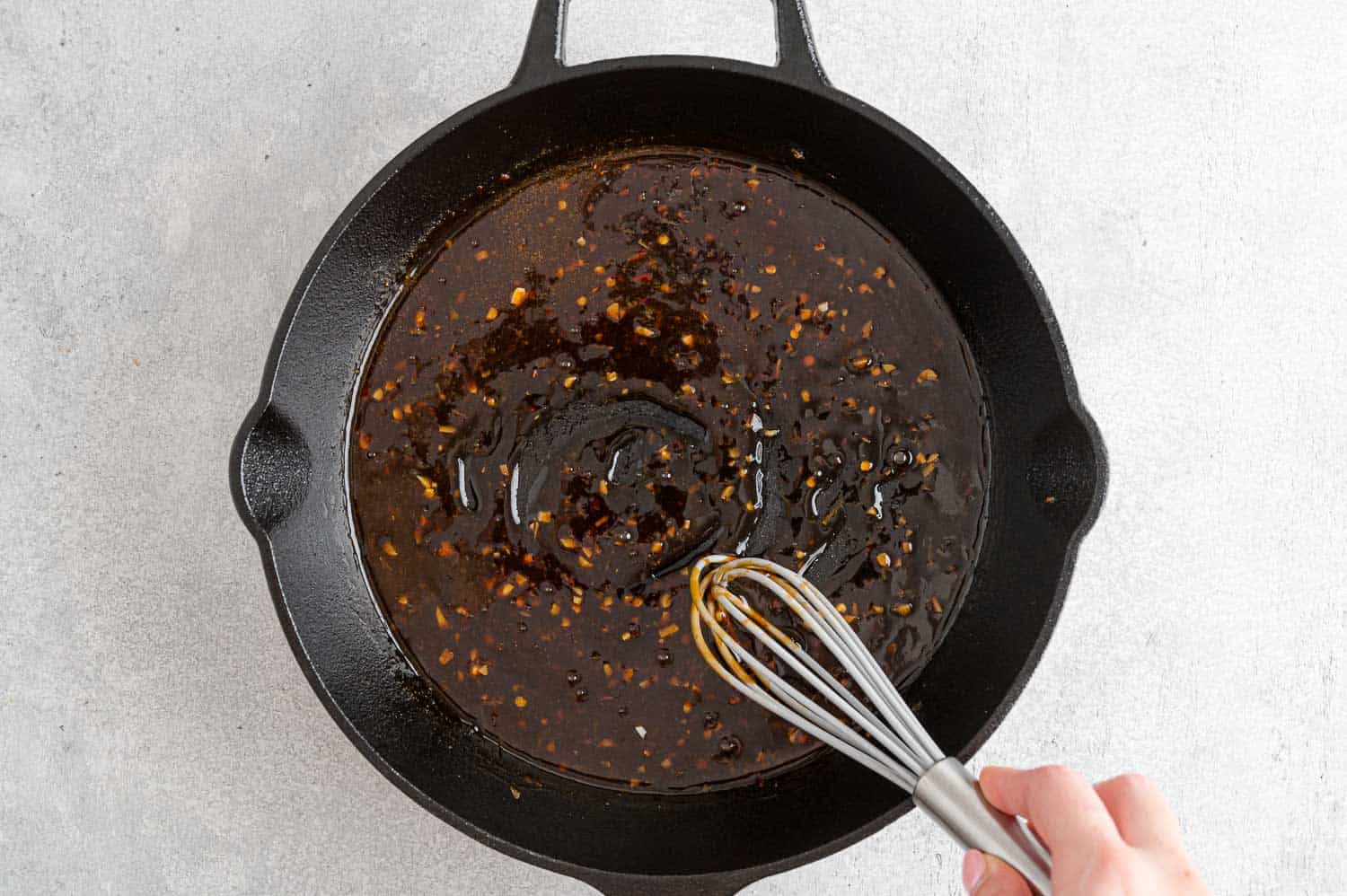 Add the salmon back to the skillet and spoon the glaze over the fillets until they are nicely coated.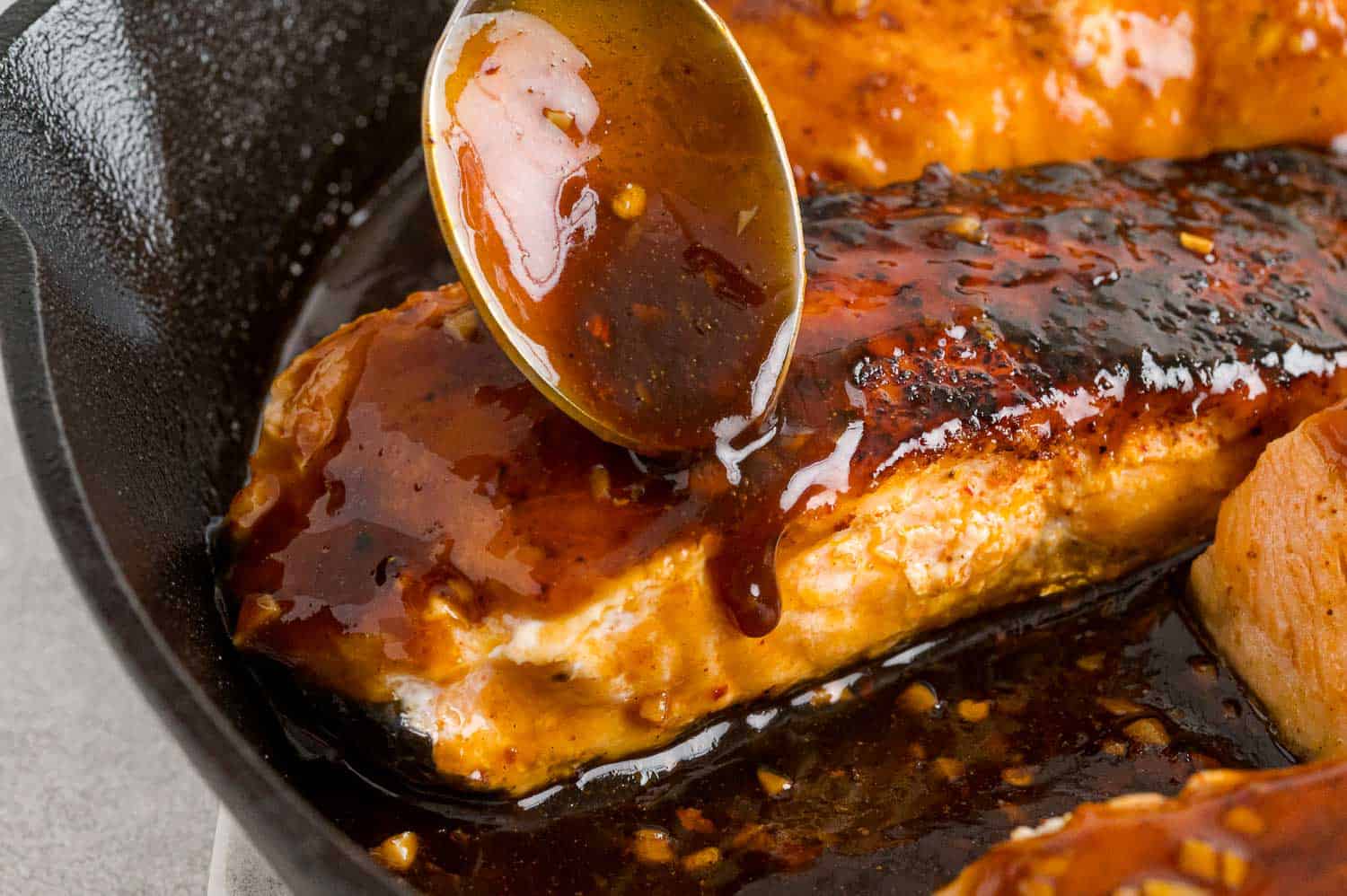 Serve immediately and enjoy! Wondering what to serve with orange glazed salmon? Steamed jasmine rice and broccoli (as pictured) are always a good choice. Creamy mashed sweet potatoes and sautéed Brussels sprouts would make a fine meal with the salmon. You could serve the salmon alongside a hearty salad like quinoa chickpea salad with blackberries & candied pepitas or a kale sweet potato salad.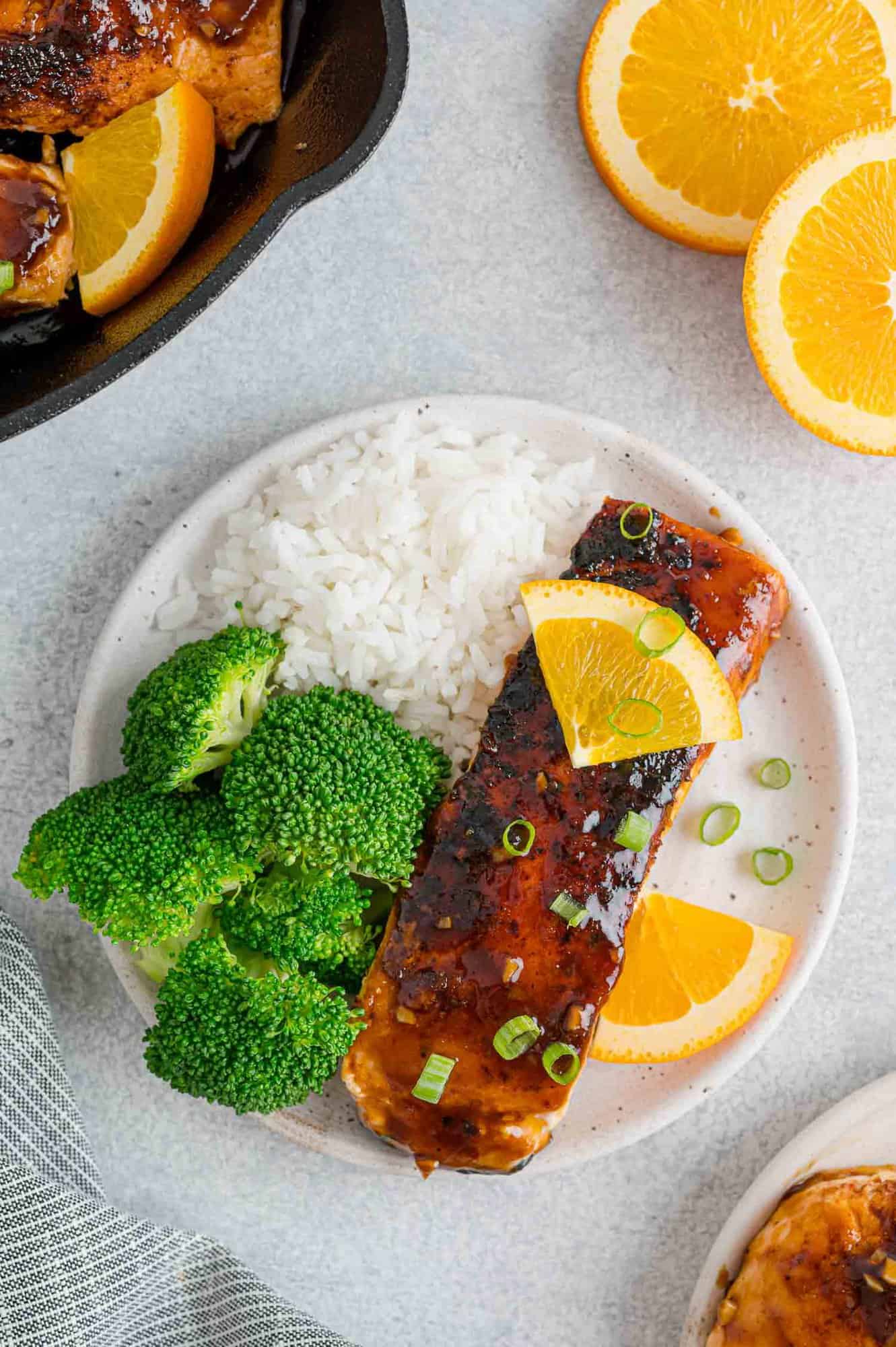 FAQs
Are you supposed to wash fish before cooking?
According to the USDA, you should not wash fish, including salmon, before cooking. Rinsing raw meat does little to remove the bacteria that may be present but actually increases the possibility of cross-contamination in your kitchen. Cooking the meat to the proper temperature is the best way to kill bacteria.
Should salmon be at room temperature before cooking?
You'll notice that there is a fifteen minute "time out" at room temperature for the salmon in this recipe. There are two reasons. The extra time allows the seasonings to permeate the salmon. More importantly, it gives the salmon time to warm up a bit. Ice cold salmon doesn't cook as evenly; the outside layer gets done before the insides have a chance to heat up.
Make It Your Own
Add fresh rosemary. Enhance the orange glaze with bits of fresh rosemary. Add a teaspoon of finely chopped fresh rosemary to the glaze and garnish with a sprig of rosemary.
Grill the salmon. If you prefer grilled salmon instead of oven-baked, cook the glaze in a small sauce pan and add it to the salmon after it's grilled. Try soy marinated grilled salmon.
Air fry the salmon. See the recipe card for instructions.
More seafood and citrus combinations: Try shrimp with chimichurri rice. It's loaded with orange segments, juice, and zest. Another citrusy favorite is easy fish tacos with blood orange salsa. The salsa is so good! The classic lemon salmon with dill is always a pleaser, too.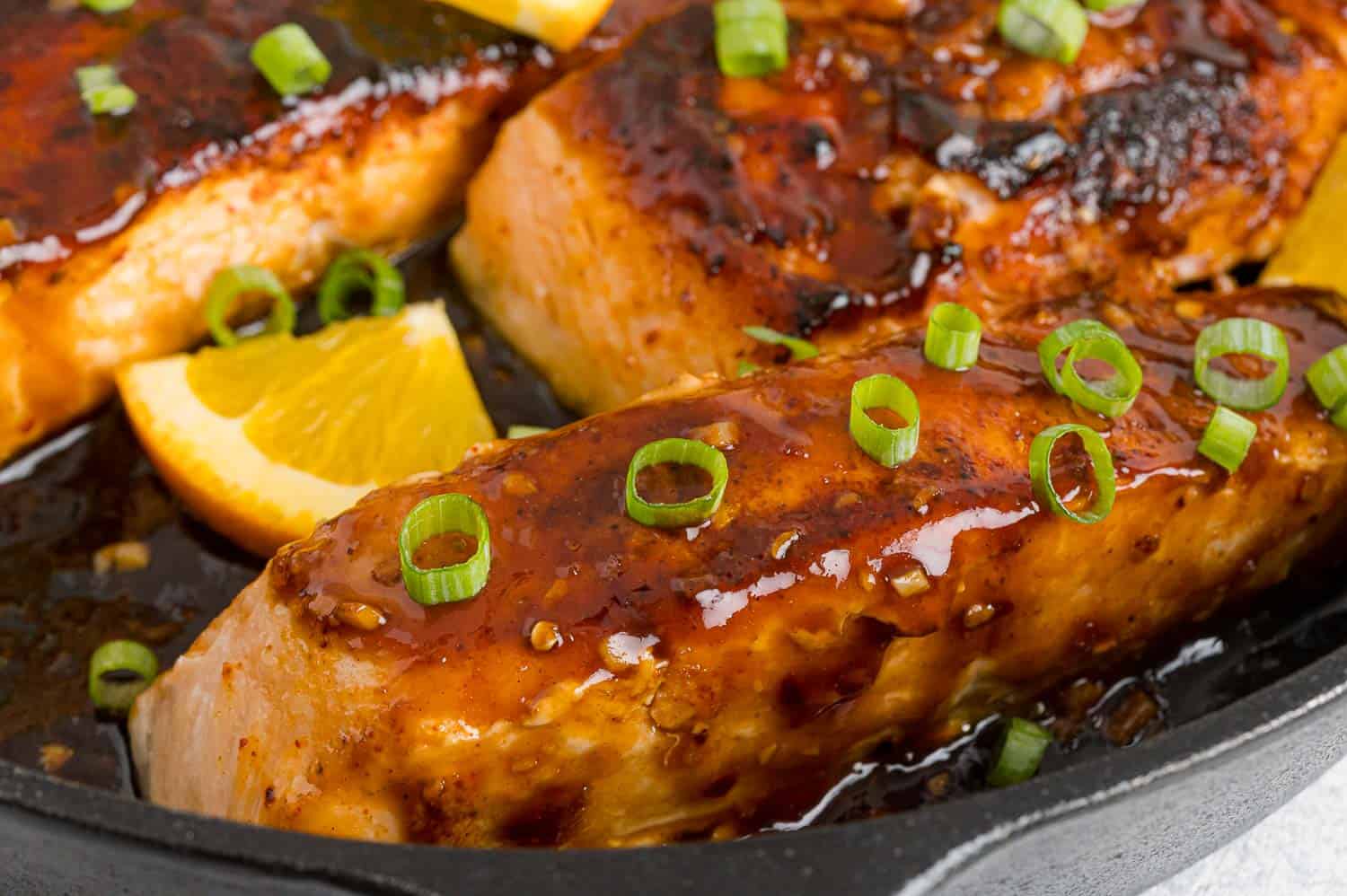 Make-Ahead Ideas
To save some last minute scurrying around, get the glaze prepped up to a day ahead of time. Stir together all the ingredients (don't cook them) and refrigerate. Be sure to give the sauce a good stir before adding it to the skillet because cornstarch has a tendency to settle.
Storage & Reheating Tips
While this salmon is best eaten right away, leftovers are pretty good, too. Cover the salmon with plastic wrap or put it into an airtight container. Refrigerate for three to four days. Leftovers can be frozen but the quality will suffer a bit.
To reheat individual portions, microwave in 30 second bursts until heated. If you prefer, the salmon can be reheated in a skillet over medium heat.
Did you make this? Be sure to leave a review below and tag me @rachelcooksblog on Facebook, Instagram, or Pinterest!
Take ordinary salmon up a notch by glazing it with a tangy sauce. If your salmon recipe is beginning to feel ho-hum, orange glazed salmon may be just what you're looking for.
Ingredients
For the Glaze:
½

cup

fresh orange juice, about

2

oranges

(zest your orange first!)

1

teaspoon

cornstarch

2

cloves

garlic, minced

2

tablespoons

soy sauce

2

tablespoon

maple syrup

1

teaspoon

rice vinegar

1

teaspoon

orange zest

½

teaspoon

ground ginger

¼

teaspoon

red pepper flakes, more or less to taste
Instructions
Cut salmon into 4 serving size pieces if you have one large fillet. Pat dry with paper towels.

Sprinkle the top of each salmon fillet with salt, chili powder, and garlic powder. Let salmon sit at room temperature about 15 minutes.

Meanwhile, preheat oven to 400°F.

Heat large cast iron or enameled skillet over medium high heat. Add

1 tablespoon

oil to pan or enough to lightly cover the bottom of the skillet. Place salmon fillets in skillet, skin side up, and sear for 3 minutes. Remove pa from heat and flip fillets over. Salmon should release fairly easily from pan.

Place skillet with salmon in preheated oven and bake for 8 minutes (until internal temperature reaches 145°F or desired temperature).

While the salmon bakes, prepare the glaze. Mix all ingredients together in a small bowl.

When the salmon finishes baking, remove from pan and place on a plate. Carefully wipe oil from pan using a paper towel.

Place pan back on the stove over medium heat and add glaze ingredients. Cook, stirring frequently, until glaze thickens, 3-4 minutes.

Return salmon to pan, spooning glaze over fillets. Serve immediately.
Notes
If you're cooking for two, simply halve all the ingredients.
Air Fryer: Season salmon as directed. Air fry at 400°F skin side down for 8 to 10 minutes or until done. Meanwhile, prepare glaze. Cook glaze in small saucepan until clear and thickened, about 5 minutes. When salmon is done, remove from air fryer and brush with glaze. Air fry 1 to 2 minutes to set glaze, if desired.
Nutrition Information
Serving:
1
fillet
,
Calories:
326
kcal
,
Carbohydrates:
12
g
,
Protein:
35
g
,
Fat:
14
g
,
Saturated Fat:
2
g
,
Polyunsaturated Fat:
5
g
,
Monounsaturated Fat:
6
g
,
Cholesterol:
94
mg
,
Sodium:
662
mg
,
Potassium:
968
mg
,
Fiber:
0.4
g
,
Sugar:
9
g
,
Vitamin A:
243
IU
,
Vitamin C:
17
mg
,
Calcium:
43
mg
,
Iron:
2
mg
This website provides approximate nutrition information for convenience and as a courtesy only. Nutrition data is gathered primarily from the USDA Food Composition Database, whenever available, or otherwise other online calculators.