Shrimp With Chimichurri Rice
You'll love the bright fresh flavors in this shrimp with chimichurri rice, with juicy orange segments, snappy parsley sauce, and briny shrimp. It's a dinner winner!
Recipe Overview
Why you'll love it: Although the cook time says 40 minutes, you can prep and cook the shrimp while the rice cooks, which means you can have this delicious dinner on the table in less than a half hour.
How long it takes: 30 minutes
Equipment you'll need: skillet, mixing bowl, zester, sharp knife, saucepan for rice
Servings: 4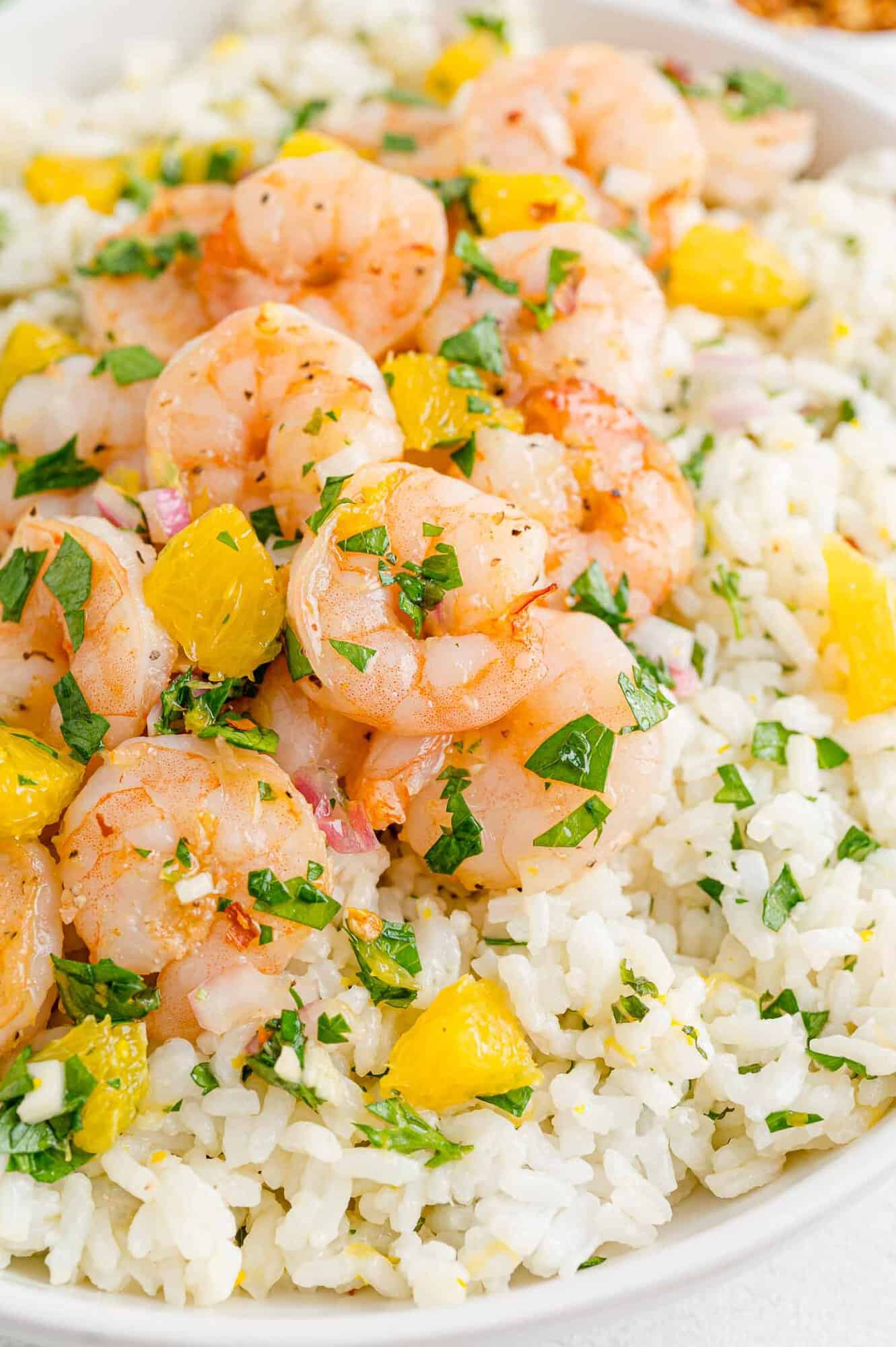 Oh my, were we blown away by this recipe! I was inspired by a recipe I saw in a magazine and thought to myself, this one has potential. It just all works together in perfect harmony: the juicy orange segments and all that fresh parsley in the tangy chimichurri-based dressing, along with the fluffy rice and briny shrimp. It's just pure enjoyment.
You may not be familiar with chimichurri. It's a sauce made primarily with fresh parsley, olive oil, red wine vinegar, and minced shallot. It's somewhat like pesto but not as assertive. I make it often and try to keep a jar in the fridge.
I like to add it to roasted vegetables, air fryer chicken, or salmon. A spoonful of chimichurri jazzes up an omelet, plain rice, or a baked potato. Grain bowls or pasta get a flavor boost with chimichurri.
Another thing this recipe really has going for it is that you can have it on the table in about a half an hour although it takes a little multitasking to accomplish that. You can handle it though and the reward is totally worth it.
About This Recipe
I mentioned multitasking. Although studies show (see this article by Cleveland Clinic) that our brains really can only focus on one thing at a time, let's get real. Cooking is almost impossible without multitasking unless you happen to have a couple of sous chefs.
Without multitasking, we'd be eating one course meals. Yeah, just rice. Or just plain shrimp. Or a vegetable. Not all together, just one at a time.
Doesn't happen like that, does it? Thankfully! We cooks always multitask. We are gifted! Okay, we settled that, so let's move on to the recipe.
So here's the plan: thaw the shrimp under running water (unless you're lucky enough to have fresh shrimp); start cooking rice using your favorite method; zest, peel, segment, and juice the orange; chop the parsley and shallot; stir up the sauce; and lastly, sauté the shrimp. Give it all a quick toss and dinner is on the table. No sweat!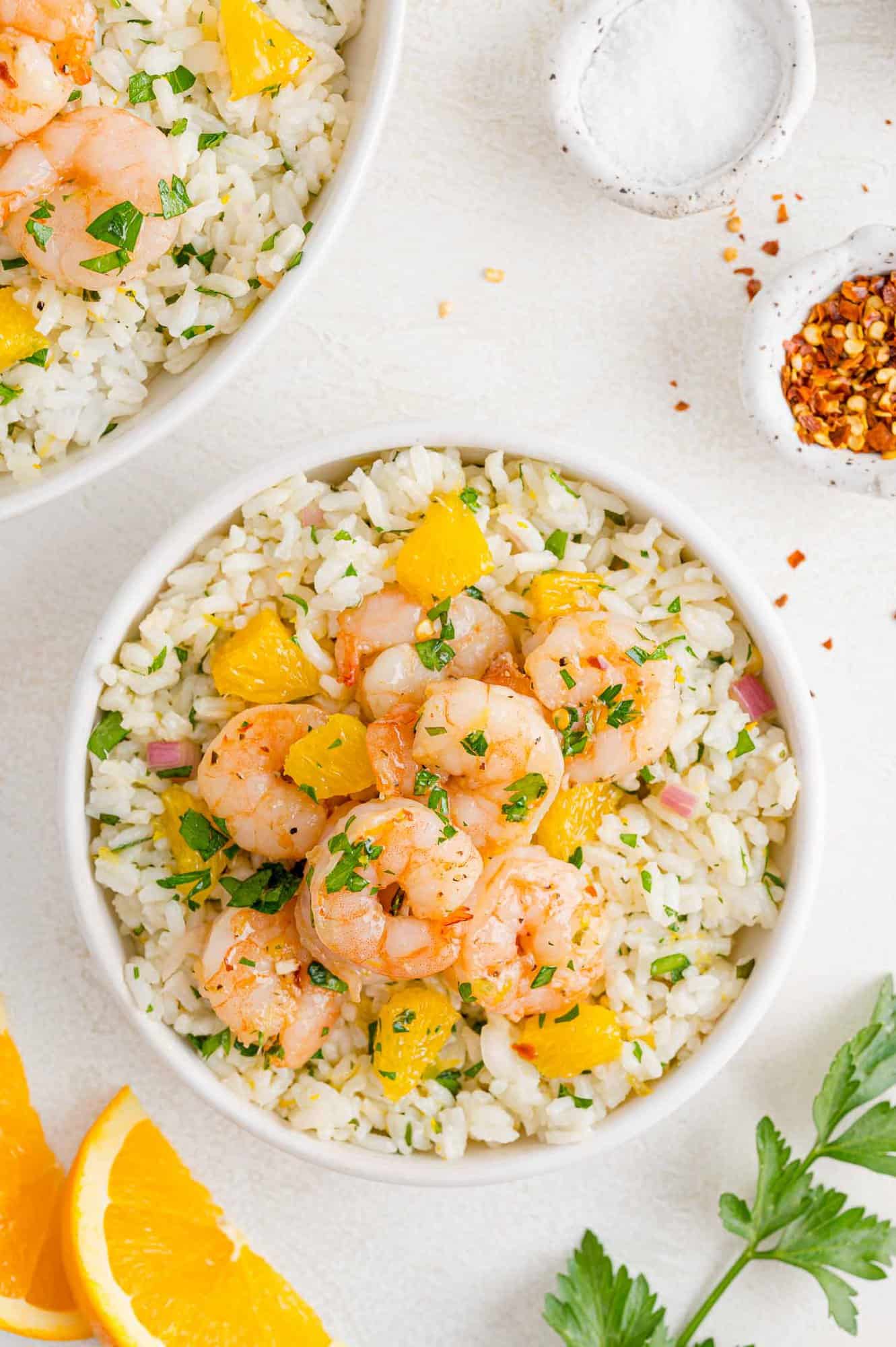 I know you're eager to get started and I'll help you out with a brief overview of the ingredients and how-to's. Look for specific instructions, measurements, and nutrition information on the recipe card below.
What You'll Need
Shrimp: The recipe calls for a pound of shrimp which is enough for four servings. Frozen shrimp is fine if fresh shrimp isn't available. Adjust cooking time depending on what size shrimp you use.
White Rice: Choose any type of long grain rice that you prefer: white, jasmine, basmati, brown (the most nutritious choice). Keep in mind that brown rice takes longer to cook.
Orange: You'll be using the zest, orange sections, and the juice from the orange. Always zest the orange first. Trust me, it's way easier that way! Use a microplane or fine grater.
Shallot: A cousin of the onion, shallots have a milder flavor and finer texture.
Garlic: You'll need a fresh clove of garlic for the chimichurri. Garlic cloves vary widely in size; if you love garlic, use a large clove. The shrimp is seasoned with a bit of garlic powder, too.
Red Wine Vinegar: Mildly acidic and slightly sweet, red wine vinegar augments the orange juice in the sauce and is a traditional ingredient in chimichurri.
Fresh Parsley: Chimichurri is primarily parsley or cilantro. Look for the freshest parsley you can find. I usually buy the Italian flat leaf variety but curly parsley works too.
Fresh Mint: There's just a hint of fresh mint in the sauce which makes it extraordinarily delicious. You can substitute oregano if you prefer.
Red Pepper Flakes: Red pepper flakes add a little tingle to the sauce. It's not hot but just a little zingy.
Garlic Powder, Salt & Pepper: Simple seasonings for the shrimp.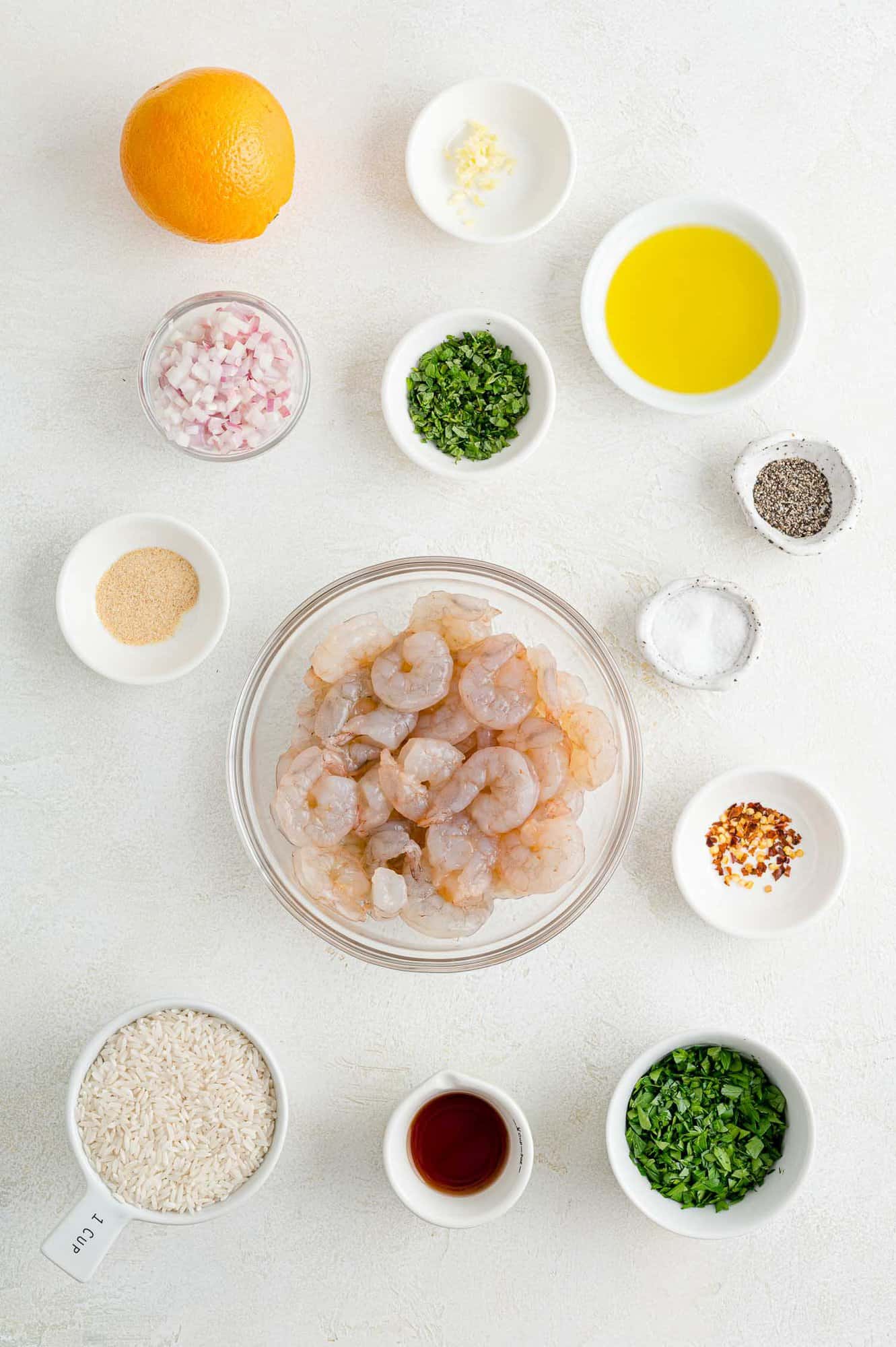 How To Thaw Frozen Shrimp
There are a few methods, all of which work well.
Empty the bag of frozen shrimp into a colander; place the colander in the sink, and run cool water over the shrimp until they're thawed.
Another method is to place the frozen shrimp in a large bowl of cool water for 15 minutes or so. Don't be tempted to use warm water to hurry things along; the warm water will affect the texture of the shrimp.
If you've thought of it ahead of time, and this is the easiest way, the shrimp can be thawed overnight in the refrigerator.
How to make it
Let's get started! If your shrimp is frozen, use one of the methods above to thaw it out. Get the rice going in your Instant Pot, in a saucepan, or in a rice cooker.
Now let's turn our attention to the orange. Use a zester or a fine grater to remove the zest of the orange. You only want the thinnest layer of the outside of the orange; try not to dig too deeply because the white pith can be bitter. Set the zest aside for now.
Using a very sharp knife, trim the orange peel and white pith away from the orange. Holding the orange over a bowl to catch the juices, use the sharp knife to segment the orange. Cut between the membranes to remove each section of the orange. If you'd like a visual demonstration of how to do that, take a quick look at this YouTube video. Hint: A very sharp knife makes all the difference for this task.
Roughly chop the orange segments and squeeze the orange juice out of the remaining membranes into the bowl.
Mince the shallot and garlic; add them to the bowl with the orange segments and juice. Add the red wine vinegar, red pepper flakes, the orange zest, a bit of olive oil, and salt; mix thoroughly and set aside.
Shake any excess water out of the washed parsley. Cut off the large stems; small stems are okay. Finely chop the parsley. You'll need a cup of minced parsley which is quite a lot of parsley. You may end up using the whole bunch. Be sure to measure it after you mince it, not before. Do the same for the fresh mint although you won't need nearly as much.
Mix the fresh herbs into the orange mixture. Doesn't it look so pretty and delicious? I could eat that by the spoonful. It smells wonderful, too.
Pat the shrimp dry and toss them with a bit of garlic powder, salt and pepper to season them.
Heat a skillet over medium high heat; add a bit of oil, and throw in the shrimp. They should sizzle a fair amount if the pan is good and hot.
The shrimp will only take a few minutes to cook. You'll know they're done when they curl up and become opaque. Try not to overcook them; overcooked shrimp tends to be a bit rubbery.
You're ready to serve dinner! Add the hot fluffy rice to the orange chimichurri mixture and toss together. Divide it between serving plates and top with the shrimp. Enjoy!
Wondering what to serve with this shrimp and rice dinner? I like to double the orange chimichurri ingredients and use half to dress a salad of tender baby spinach or leaf lettuce. A citrus salad goes well, too.
For a sweet finish, try this 3 ingredient lemon pudding or lemon sugar cookies. Maybe both!
FAQs
How do you use frozen shrimp?
I like to keep a package of raw shrimp in the freezer just because it's so handy for quick meals like this one. It thaws quickly.
Once the frozen shrimp is thawed, there are so many ways to prepare it! It can be sautéed, grilled, stir fried, or even pressure cooked. Try easy lemon pepper shrimp or spicy garlic shrimp (ready in just 20 minutes!). Make shrimp tacos or sheet pan shrimp fajitas. Take a look at the list below for lots more ideas.

What is a chimichurri sauce made of?
Chimichurri sauce is a traditional Argentinian sauce usually made with fresh parsley, garlic, olive oil, oregano, and red wine vinegar. It's an uncooked sauce and is often served with grilled meats. Chimichurri may also include red pepper flakes or red chiles, and onions or shallots.
Is chimichurri the same as pesto?
Although both are fresh herb sauces, and are green in color, they are quite different. Pesto is an Italian sauce made with fresh basil, garlic, olive oil, pine nuts, and Parmesan cheese. In contrast, chimichurri is primarily fresh parsley, garlic, olive oil, and red wine vinegar. They are both delicious on meats, vegetables, and pretty much anything else!
Make It Your Own
Try grilled shrimp instead of sautéed shrimp if you prefer.
Substitute mild tasting white fish, salmon, or even boneless skinless chicken breast. Adjust cooking times as needed.
If you're not a fan of rice, make quinoa or pasta instead.
Make-Ahead Ideas
To get a head start on this recipe, prep the orange chimichurri sauce up to a day ahead of time. Refrigerate until ready to use.
Storage & Reheating Tips
Store leftover chimichurri shrimp and rice in a covered container in the refrigerator. Reheat individual portions in the microwave in 30-second increments until warmed through.
Interested in a weekly meal plan (it's free!) that includes this shrimp recipe? Take a look at my Meal Plan #10. You'll find a wholesome recipe for each weekday plus a categorized grocery list. Let me do the planning for you this week!
We'll be adding a new meal plan weekly. If you're interested, browse all of our meal plans.
Did you make this? Be sure to leave a review below and tag me @rachelcooksblog on Facebook, Instagram, or Pinterest!
You'll love the fresh flavors in this shrimp with chimichurri rice, with juicy orange segments, snappy parsley sauce, and briny shrimp.
Ingredients
1

cup

white rice, uncooked

(

3

cups cooked)

1

medium orange

1

shallot, minced

1

clove

garlic, minced

2

tablespoons

red wine vinegar

¼

teaspoon

red pepper flakes

3

tablespoons

extra virgin olive oil, divided

½

teaspoon

kosher salt, divided

1

cup

chopped parsley, loosely packed

1

tablespoon

minced fresh mint

(oregano may be substituted)

1

pound

large shrimp, peeled and deveined, thawed if frozen, rinsed and patted dry

(31/35 size)

½

teaspoon

garlic powder

¼

teaspoon

black pepper
Instructions
Cook rice according to package instructions.

Finely grate

1 teaspoon

zest from the orange and set aside. Cut away peel and white pith from orange. Working over large bowl to catch juice, cut orange into segments. Roughly chop the segments and add to the bowl. Squeeze juice from leftover membranes into bowl.

Add shallot, garlic, red wine vinegar, red pepper flakes, orange zest,

2 tablespoons

oil, and

¼ teaspoon

salt. Mix well.

Chop parsley and mint, and add to bowl; mix well.

Heat remaining

1 tablespoon

oil in large skillet on medium-high. Season shrimp with garlic powder and

¼ teaspoon

each salt and pepper. Cook, tossing occasionally, until opaque throughout, 3 to 4 minutes.

Fold rice into chimichurri mixture and serve topped with shrimp.
Notes
Any long grain white rice is fine, including jasmine or basmati, or try brown rice, quinoa, or even pasta.
Cilantro can be substituted for parsley, if desired.
Recipe inspired by Woman's Day magazine, Feb 2021.
Nutrition Information
Calories:
373
kcal
,
Carbohydrates:
45
g
,
Protein:
20
g
,
Fat:
12
g
,
Saturated Fat:
2
g
,
Polyunsaturated Fat:
1
g
,
Monounsaturated Fat:
8
g
,
Trans Fat:
0.01
g
,
Cholesterol:
143
mg
,
Sodium:
948
mg
,
Potassium:
366
mg
,
Fiber:
2
g
,
Sugar:
4
g
,
Vitamin A:
1633
IU
,
Vitamin C:
39
mg
,
Calcium:
117
mg
,
Iron:
2
mg
This website provides approximate nutrition information for convenience and as a courtesy only. Nutrition data is gathered primarily from the USDA Food Composition Database, whenever available, or otherwise other online calculators.