Chimichurri Recipe – How to Make Chimichurri
Add herbal pizzazz to your grilled meats and vegetables with this easy chimichurri recipe. This fresh parsley sauce takes ordinary meals from ho-hum to wow!
Recipe Overview
Why you'll love it: Chimichurri is easy to prep and adds so much flavor to your meals.
How long it takes: 10 minutes
Equipment you'll need: sharp knife, mini food processor
Servings: 8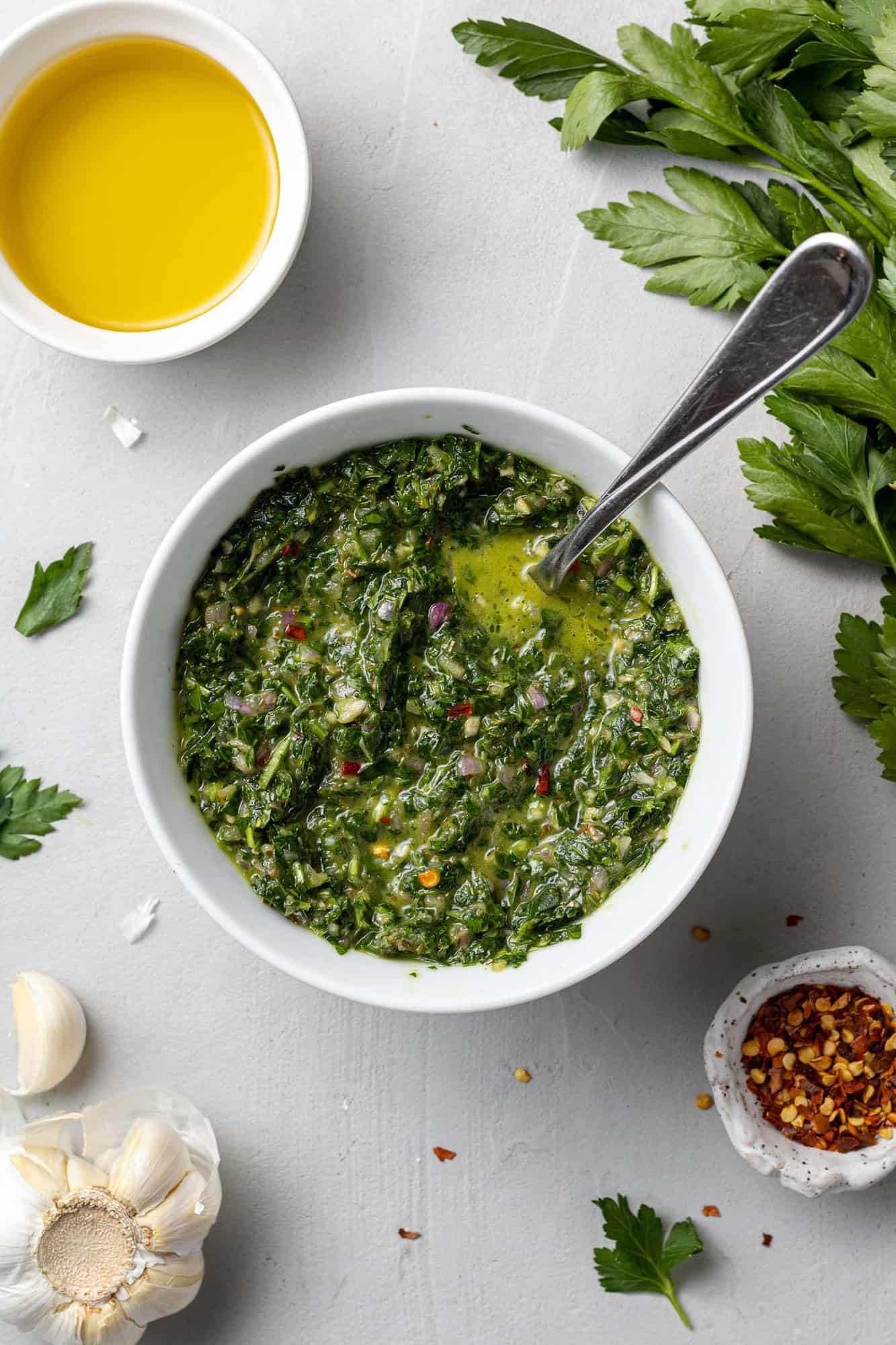 Welcome to the world of chimichurri! Most of us are familiar with basil-laden pesto, the herby green sauce of Italian origin or salsa verde from Mexican cuisine. Chimichurri, another fresh herb sauce that's uncooked, may be somewhat less familiar but no less tasty. Made with lots of fresh parsley, olive oil, and garlic, it's brilliantly green, flavorful, and totally delicious!
How do you eat chimichurri? By the spoonful! Just kidding, but it's so good you may want to do just that. Often chimichurri is served as a condiment with grilled meats such as steak or chicken, potatoes, or grilled vegetables. Cauliflower steaks are especially good slathered with chimichurri. Keep reading for lots more ways to enjoy chimichurri.
Get your food processor a'humming! Your tastebuds will sing with delight when they're treated to this mellifluent herb sauce.
Where Does Chimichurri Come From?
You'll find chimichurri in Argentinian and Uruguayan cuisines, often served as a condiment with grilled steaks. Brazilian cooks add fresh cilantro to the herb mix.
About This Recipe
Just a note about whether or not you need a food processor. I like to use my smaller-sized food processor because it's fast and easy. Some cooks prefer to chop the ingredients by hand, making a chunkier sauce. It's totally up to you.
I'll walk through the recipe here with lots of helpful tips for you.
As always, look for the printable recipe card at the end of the post, with complete instructions, measurements, and nutrition information.
What You'll Need
Fresh Parsley: Look for a nice fresh bunch of parsley. You'll want to use flat leaf parsley rather than curly leaf. They are different in taste as well as appearance. See the FAQ below about using parsley stems.
Shallot: Substitute onion if you prefer but shallots are a little milder and sweeter. Shallot isn't necessarily a traditional chimichurri ingredient, so you could leave it out if you prefer.
Garlic: Many chimichurri sauces are quite garlicky which I find can be a bit overpowering. That's the beauty of making your own chimichurri – add as much or as little garlic as you like. The recipe calls for one clove but you can add up to six cloves. The size of garlic cloves varies widely as well.
Extra Virgin Olive Oil: Milder tasting oils can be substituted if you prefer.
Red Wine Vinegar: You really don't want to substitute another type of vinegar here. Red wine vinegar provides a perfect touch of acidity, flavor, and sweetness. I use it to make delicious red wine vinaigrette, an all-purpose salad dressing.
Oregano: The recipe calls for dried oregano but if you have fresh oregano in your garden, that's perfect! Use a bit more.
Red Pepper Flakes: Increase the amount if you like a little extra zingy heat.
Kosher Salt: For seasoning.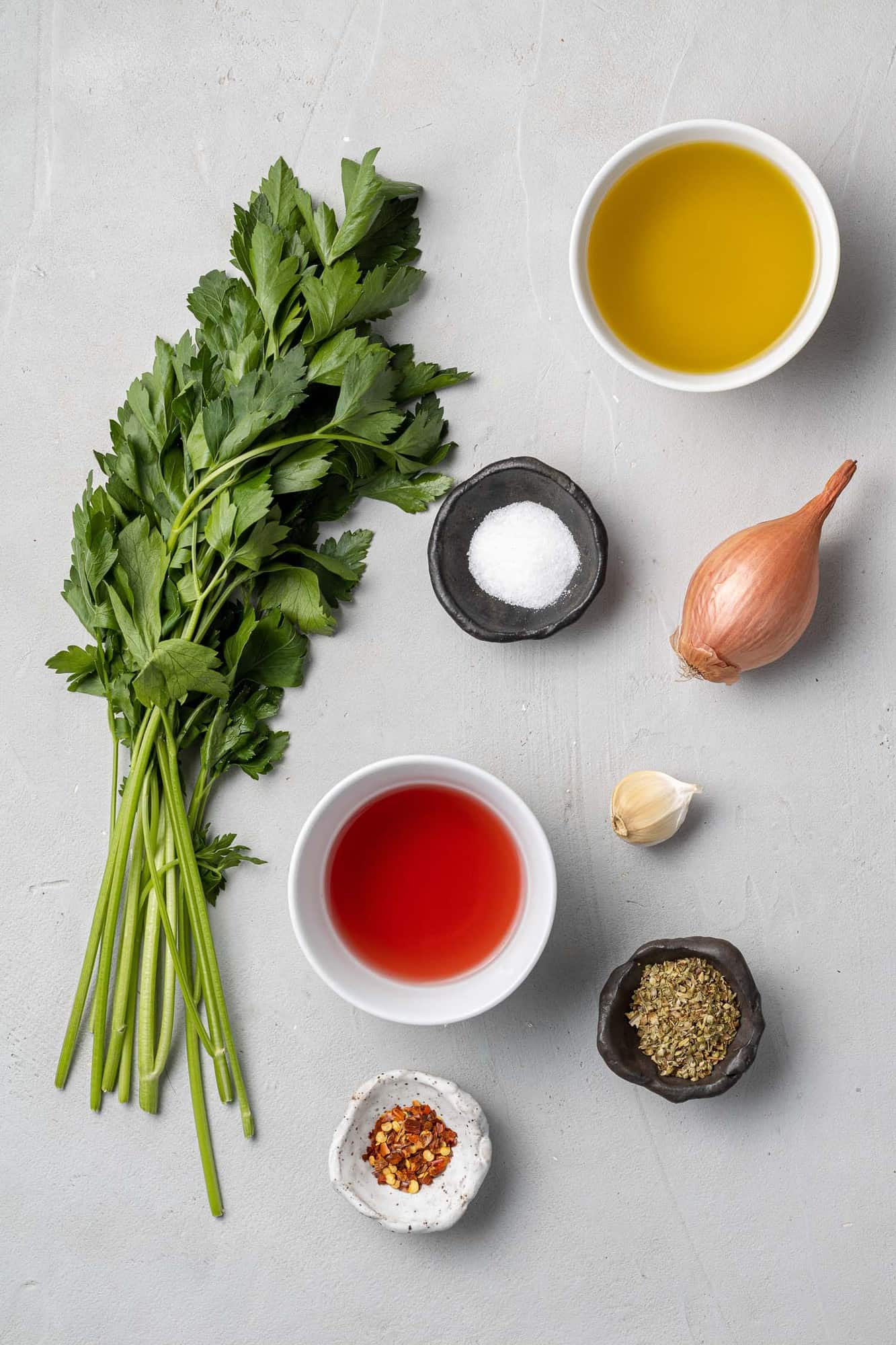 How To Make Chimichurri
Let's get started! First of all, prep the parsley. Chop off the large stem ends of the bunch with a kitchen scissors or sharp knife. I like to do this step while the parsley is in a nice bunch yet before I wash it.
Next, wash the parsley thoroughly! It can be pretty sandy and you don't want grit in your chimichurri. Swish it in a large bowl of water (or clean sink), letting the dirt settle to the bottom. Lift the parsley out of the bowl, rinse and refill the bowl. Swish the parsley through the clean water, repeating until no dirt remains.
Okay, now you want to dry the parsley a bit. Quite a lot of water can cling to the leaves and that will make the chimichurri sort of watery. Not good! Roll the parsley up in a clean towel and squeeze it or give the parsley a good spin in a salad spinner.
You'll need a cup and a half of firmly packed parsley leaves. Pinch the leaves from the stems. Small tender stems are fine .
Next, peel and roughly chop the shallot and garlic. Don't get too fussy with it because it's all going in the food processor. In fact, throw it in there now, and pulse it a few times until it's finely diced.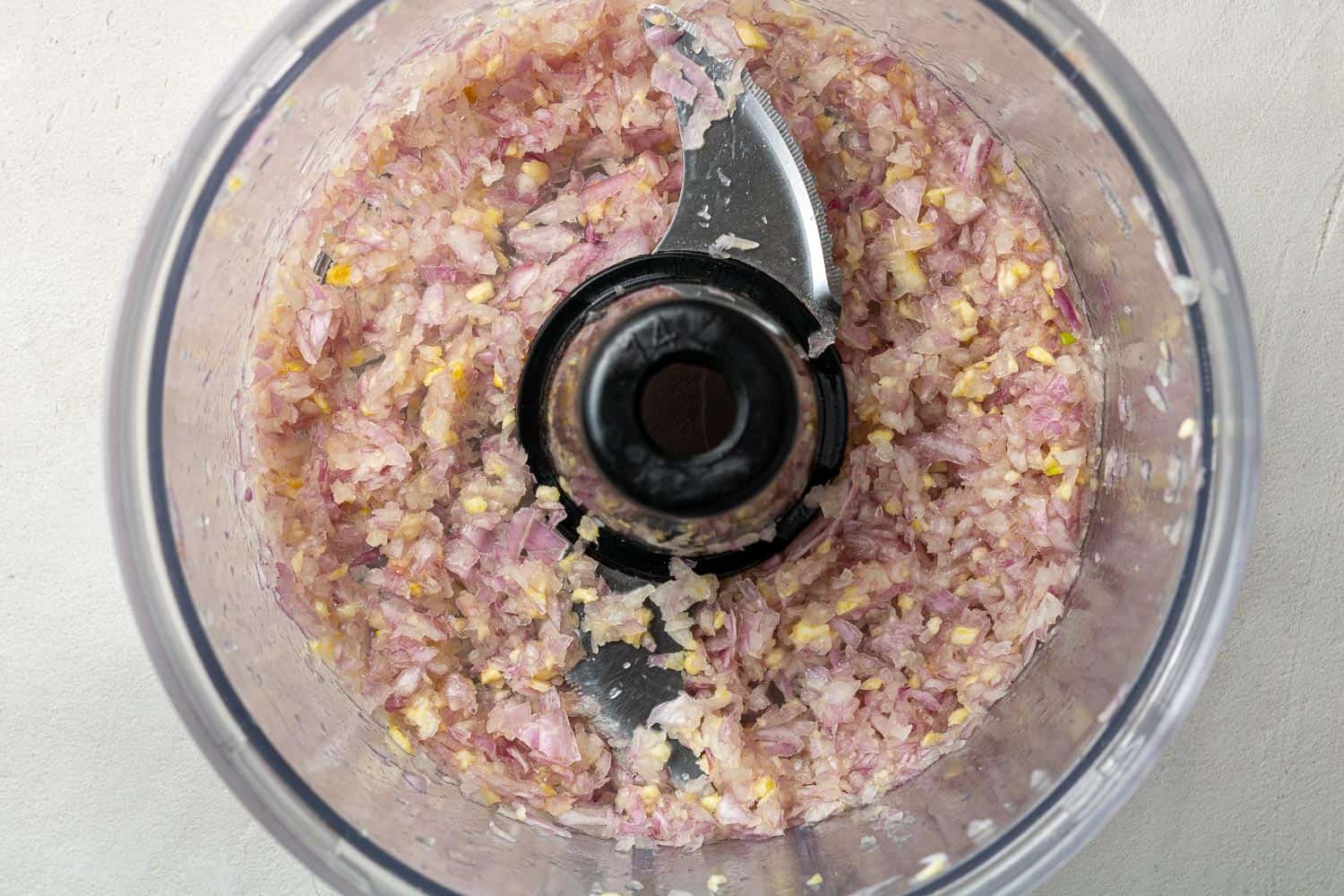 Add the olive oil, red wine vinegar, salt and red pepper flakes. Pulse a couple more times to blend the ingredients.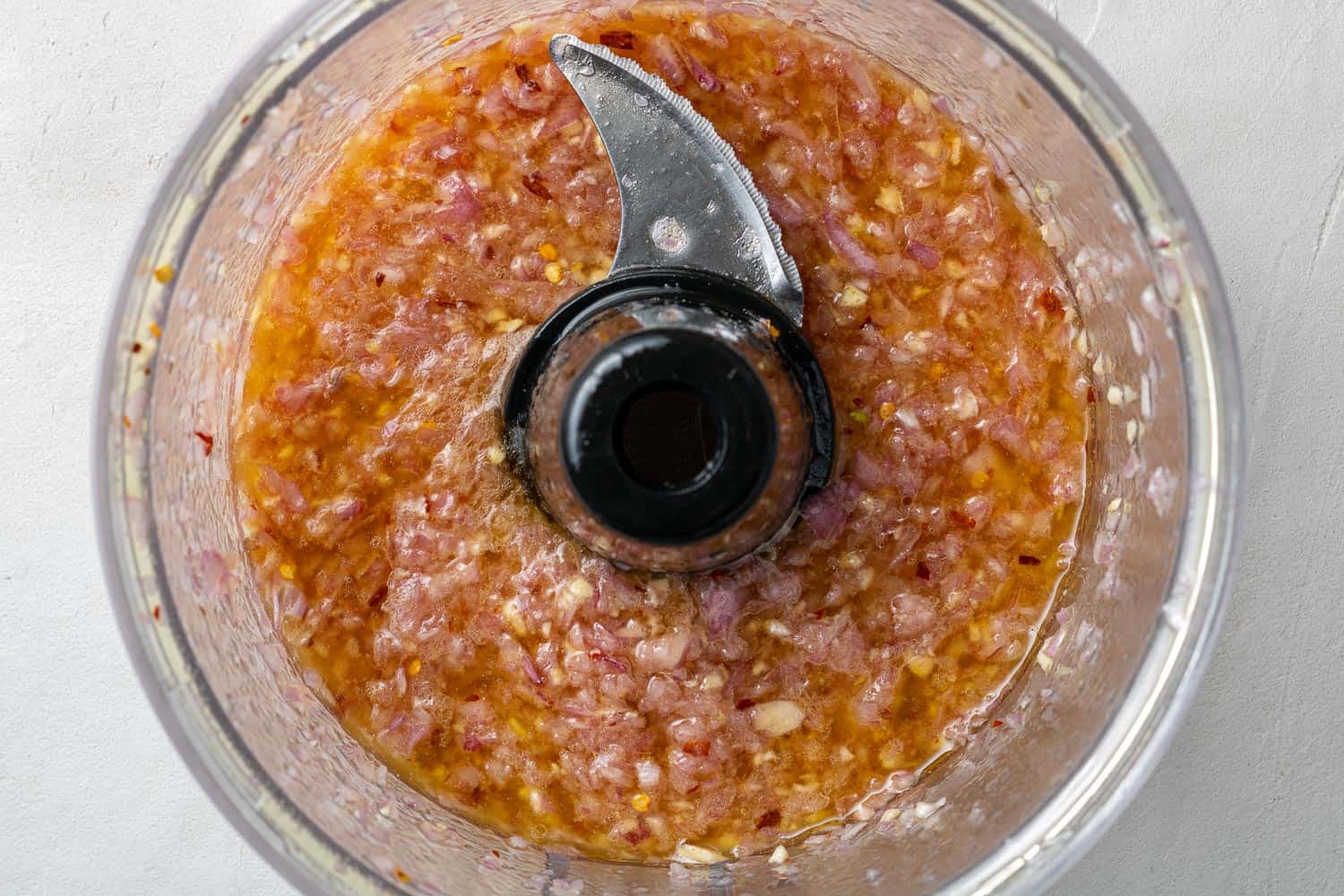 Next the parsley and oregano go in.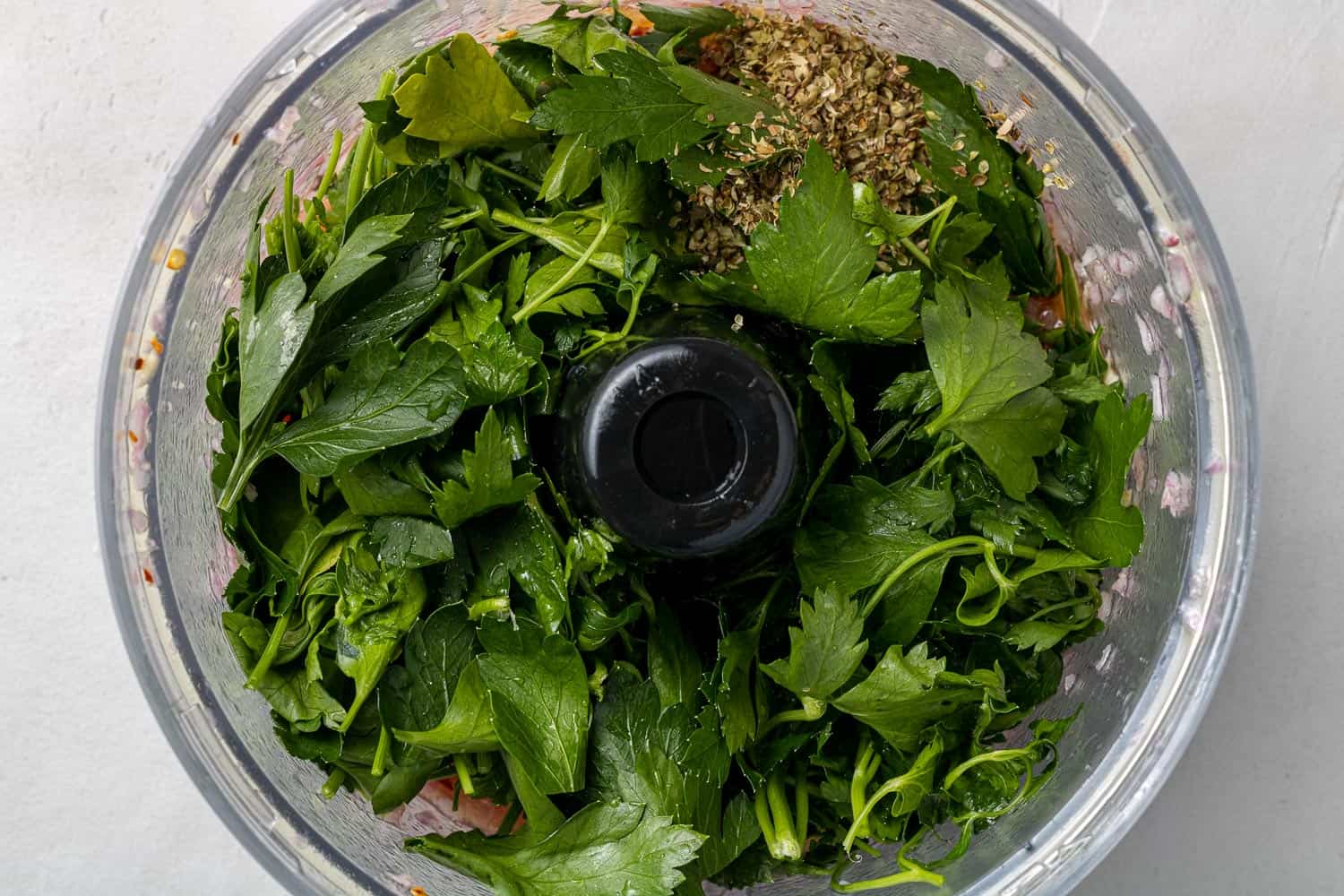 Note: A double batch is pictured here, if you use a full size food processor, you'll need to make a double batch for the processor to work effectively. Thankfully it freezes well!
Just kind of stuff it in there, cover and pulse a few more times. The sauce should be chunky so don't get carried away. Chimichurri is not a paste and generally has a coarser texture than pesto.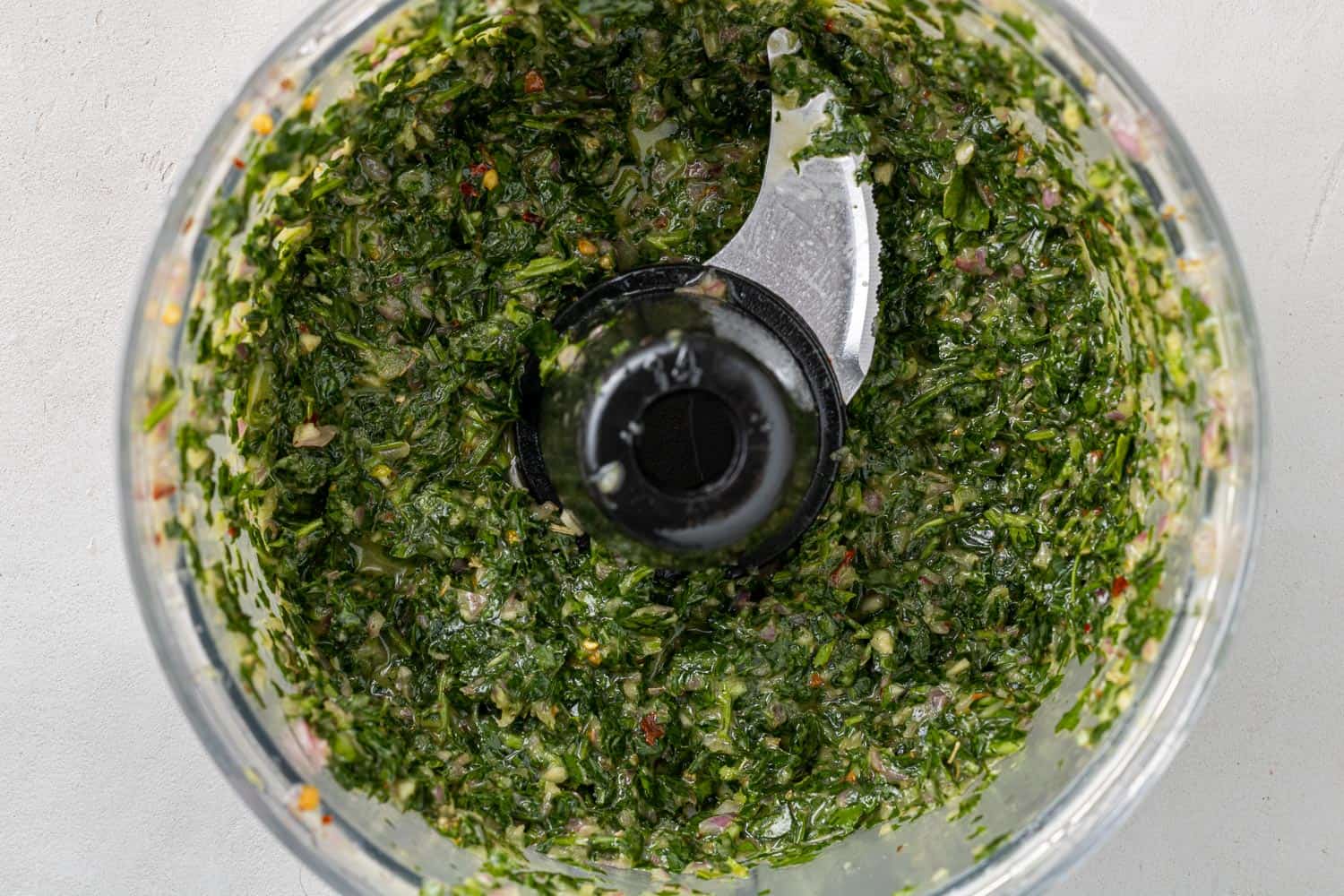 That's it! Use a small silicone scraper to transfer the chimichurri to a small bowl.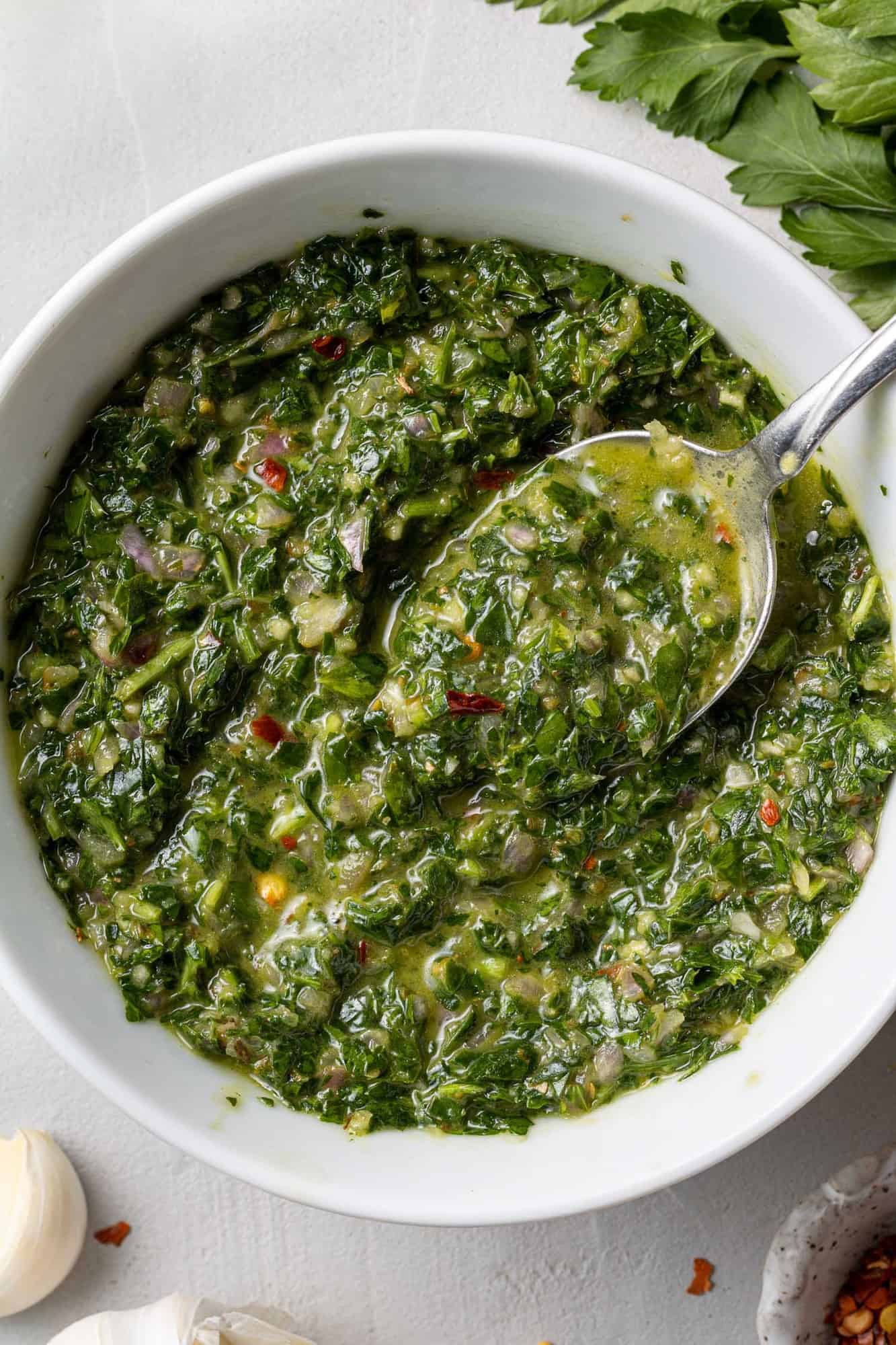 Get your steaks, chicken, cauliflower, or what have you on the grill and get ready for the best you ever had! Keep reading for more ways to enjoy this popular condiment.
FAQs
What does chimichurri taste like?
The ingredients are pretty simple and you'll notice what each one contributes to the sauce. The parsley gives it a green, almost grassy flavor, the shallot and garlic are pretty pungent, red wine vinegar brings a tangy note, and olive oil sings the background harmony. Red pepper flakes provide a lingering heat.
What is the difference between pesto and chimichurri?
Both are uncooked green herb sauces. Pesto has Italian origins, chimichurri has Argentinian origins. The main difference is the type of herb used. Pesto is made with basil; chimichurri is made with parsley. Both have plenty of garlic and olive oil. Pesto includes pine nuts and Parmesan cheese, making it a bit more hearty.
Can you eat parsley stems?
Thick parsley stems tend to taste bitter, unlike cilantro stems which are completely delicious. That being said, in recipes like this chimichurri which are processed in a food processor, small tender stems are just fine. Avoid the thicker stems which will be bitter. Not sure? Taste a stem or two to check if it's bitter or not.
Why is my chimichurri bitter?
It may be that you've used too many parsley stems. Extra virgin olive oil can have a bitter flavor so try a lighter olive oil, if you prefer.
Make It Your Own
Replace half of the parsley with fresh cilantro for a more Brazilian take.
Make it with lemon juice or lime juice instead of red wine vinegar. It will taste a bit different.
Substitute a fresh red chili pepper or jalapeño pepper for the red pepper flakes.
Is Chimichurri Good For You?
Most definitely yes! With parsley being the main ingredient, it's packed full of vitamins, especially vitamins A and K, and antioxidants. Olive oil provides good-for-you fats.
Make-Ahead Ideas
This chimichurri recipe can be completely prepped ahead and stored in the fridge. If you'd like to get a head start on the prep, wash and dry the parsley, and chop it roughly. Cut the shallot and garlic and store everything in the fridge in tightly covered containers. With these preparations done ahead of time, it won't take more than 5 minutes to process your chimichurri.
Storage & Freezing Tips
Store chimichurri in a covered container in the fridge for up to a week. Let the sauce come to room temperature before using if olive oil has solidified.
Chimichurri can be frozen, too. Freeze in small containers for up to a month. If you'd like smaller portions, freeze in an ice cube tray. Once the chimichurri has frozen, take the cubes out of the tray and transfer to a freezer bag. Thaw before using.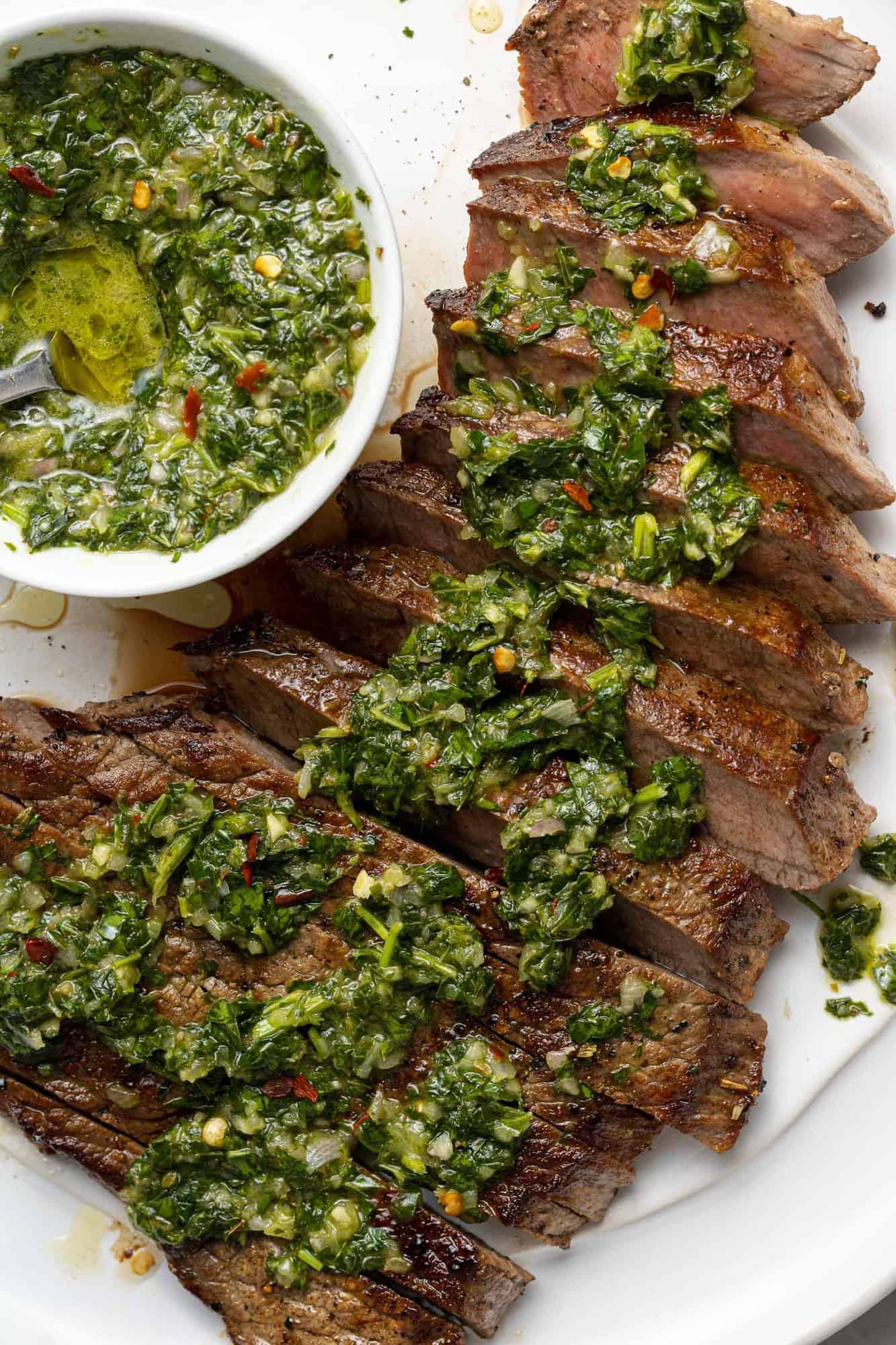 How To Use Chimichurri
Beyond using chimichurri as a condiment for steak, chicken, or fish, there are many ways to enjoy it. Here's a few ideas but don't be limited to this list.
Slather it over grilled potatoes, baked potatoes, or roasted potatoes.
Actually it's great on any vegetable! Try it on grilled zucchini, air fryer Brussels sprouts, or oven roasted sweet potatoes.
Use it as a marinade or salad dressing. If it seems too thick, stir in a tablespoon each of olive oil and red wine vinegar.
Mix it with cooked rice, cauliflower rice, or quinoa for a flavorful side dish.
It's great on a burger, black bean burger, or any kind of sandwich. Blend it into a little mayo if you like.
Stir it into soup for an extra pop of flavor, like this Instant Pot minestrone soup, Instant Pot cauliflower potato soup, lentil soup with pasta, or homemade vegetable soup.
Drizzle a bit on scrambled eggs or fried eggs. Yum!
Is your taco or burrito a little boring? Try adding chimichurri to liven things up a bit. It's a great alternative to salsa.
If you're loving this chimichurri recipe, you'll want to try shrimp with chimichurri rice.
Did you make this? Be sure to leave a review below and tag me @rachelcooksblog on Facebook, Instagram, or Pinterest!
Add herbal pizzazz to your grilled meats and vegetables with this easy chimichurri recipe. This fresh parsley sauce takes ordinary meals from ho-hum to wow!
Ingredients
1

medium shallot

1

garlic clove, more to taste

(see note)

½

cup

extra virgin olive oil

3

tablespoons

red wine vinegar

¾

teaspoon

kosher salt

¼

teaspoon

red pepper flakes, more to taste

1 ½

cups

firmly packed flat leaf parsley, thick stems removed

2

teaspoons

dried oregano (or

1 tablespoon

fresh)
Instructions
In a mini food processor (see note), add shallot and garlic and pulse until no large chunks remain.

Add olive oil, red wine vinegar, salt, and red pepper flakes. Pulse 1 or 2 times to combine.

Add parsley (tearing into pieces if needed) and oregano.

Pulse until no large pieces remain, but still chunky. Try not to over-process the chimichurri.

Serve over roasted vegetables, fish, chicken, pork, steak, or potatoes.
Notes
If you prefer, chimichurri can be prepared without a food processor. Very finely chop the shallot, garlic, and parsley. Whisk the olive oil, vinegar, salt, and red pepper flakes until well-blended. Stir in chopped shallot, garlic, parsley, and oregano. Your chimichurri will be a bit more chunky in appearance.
Store in a covered container in the fridge for up to a week. Let come to room temperature before using if olive oil has solidified. Chimichurri can be frozen, too. Freeze in small containers for up to a month. If you'd like smaller portions, freeze in an ice cube tray. Once the chimichurri has frozen, take the cubes out of the tray and transfer to a freezer bag. Thaw before using.
Many chimichurri recipes call for much more garlic, up to 6 cloves. If you love garlic, feel free to add more! We prefer it more on the mild side.
Nutrition Information
Serving:
2
tablespoons
,
Calories:
129
kcal
,
Carbohydrates:
2
g
,
Protein:
1
g
,
Fat:
14
g
,
Saturated Fat:
2
g
,
Polyunsaturated Fat:
1
g
,
Monounsaturated Fat:
10
g
,
Sodium:
227
mg
,
Potassium:
84
mg
,
Fiber:
1
g
,
Sugar:
1
g
,
Vitamin A:
975
IU
,
Vitamin C:
15
mg
,
Calcium:
26
mg
,
Iron:
1
mg
This website provides approximate nutrition information for convenience and as a courtesy only. Nutrition data is gathered primarily from the USDA Food Composition Database, whenever available, or otherwise other online calculators.