Lentil Soup Recipe with Pasta
Hearty and healthy, this lentil soup recipe is loaded with flavorful veggies and pasta. Lentil soup is a satisfying meatless entree you can have on the table in an hour.
Recipe Overview
Why you'll love it: It's easy to make and there are lots of ways to make it your own.
How long it takes: just over an hour
Equipment you'll need: Dutch oven or soup pan
Servings: makes 10 cups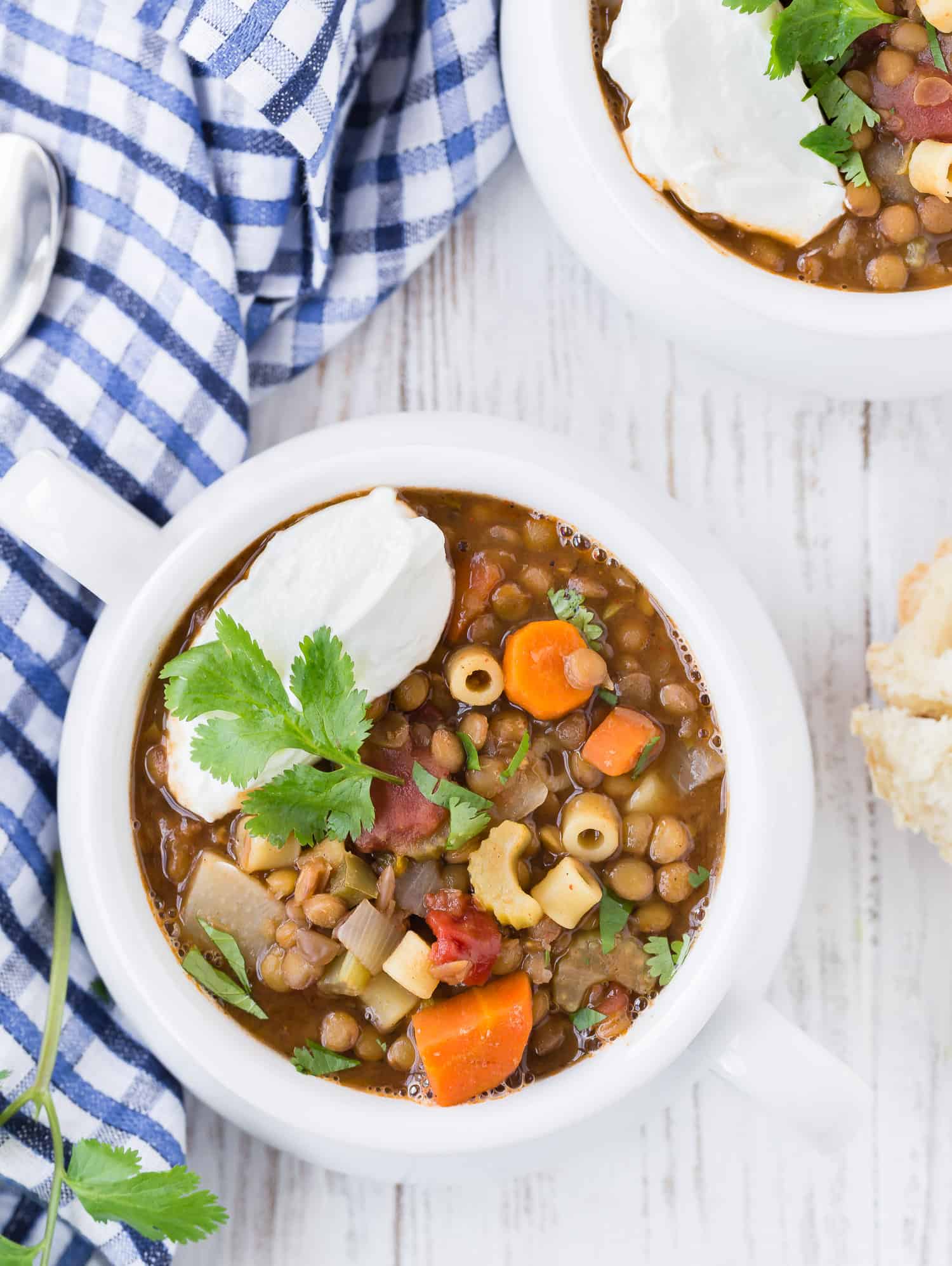 What do you know about lentils? Did you know that lentils are highly nutritious and rich in minerals, protein, and fiber? Lentils are a type of legume, or pulse, that have been feeding mankind for thousands of years. In the Bible, we're told that Esau, hungry and tired, traded his birthright to Jacob for a bowl of lentil stew. Perhaps it was similar to this one pot green lentil stew with sweet potatoes and kale!
Economical, low in calories, and protein-rich, cooking with lentils is a good choice for today, too.
Lentil Varieties
There are several varieties of lentils. The most common varieties available are: brown lentils (which I use in this lentil soup recipe), yellow and red split lentils, puy (or French lentils), green lentils, and beluga (small black lentils that look like caviar, and are delicious in salads).
Red lentil soup, my favorite Lebanese soup, spiced with warm cumin, is a popular recipe on Rachel Cooks. Another recipe I love uses French lentils, a lentil salad, with feta, lemon and parsley. A blend of lentils and quinoa contribute to the meaty texture (and protein) of vegan Bolognese.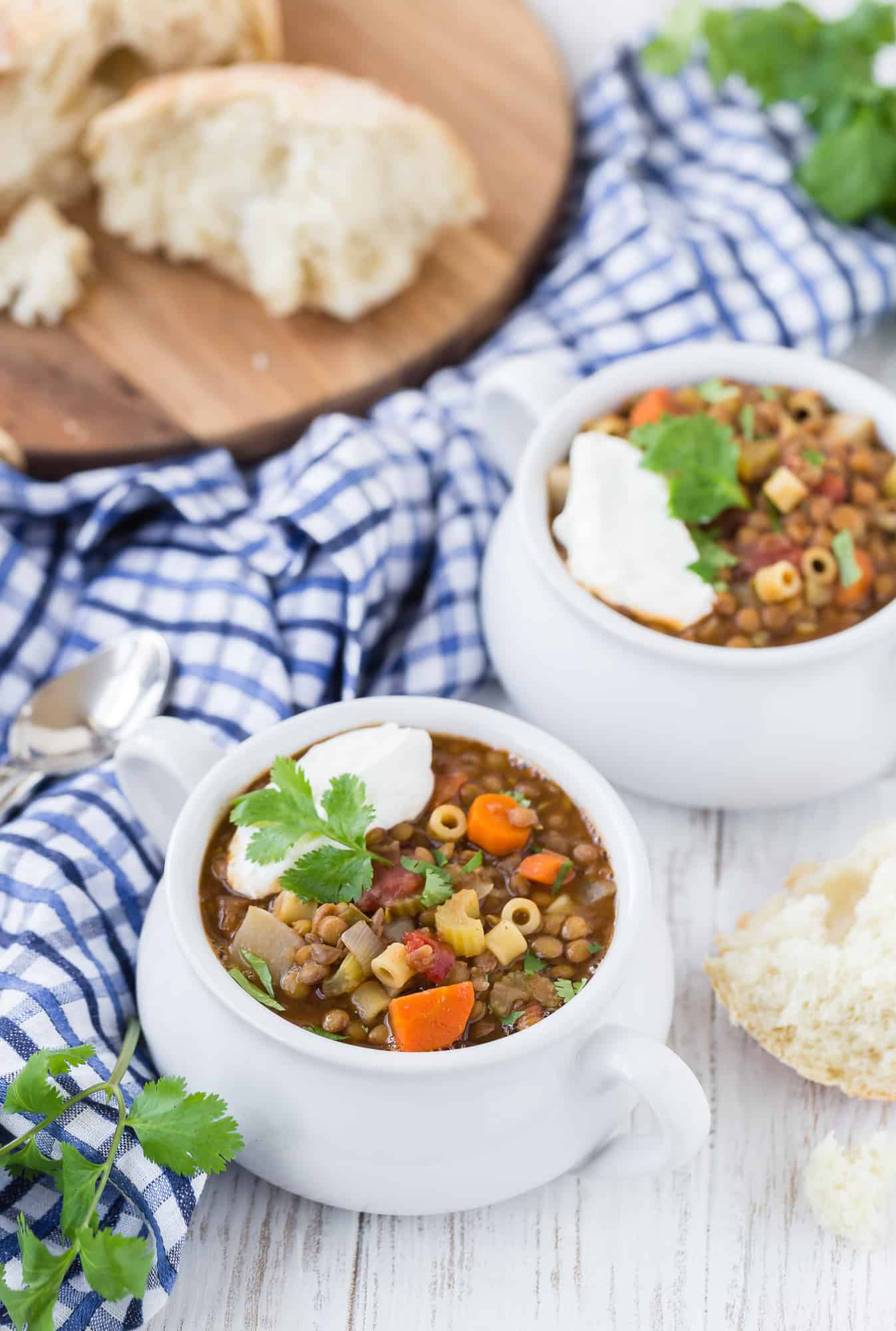 A Bit Of Trivia
The word "lens" comes from the Latin name of the lentil plant. The scientific name of the lentil we most commonly eat is Lens culinaris. Think of optic lens, or the lens in a camera or a microscope, all of which are shaped like what? A lentil.
Seeing (pun intended) that lentils are so delicious and good for you, be sure to try this wholesome lentil soup recipe. I'm sure you'll see the merits of making this soup.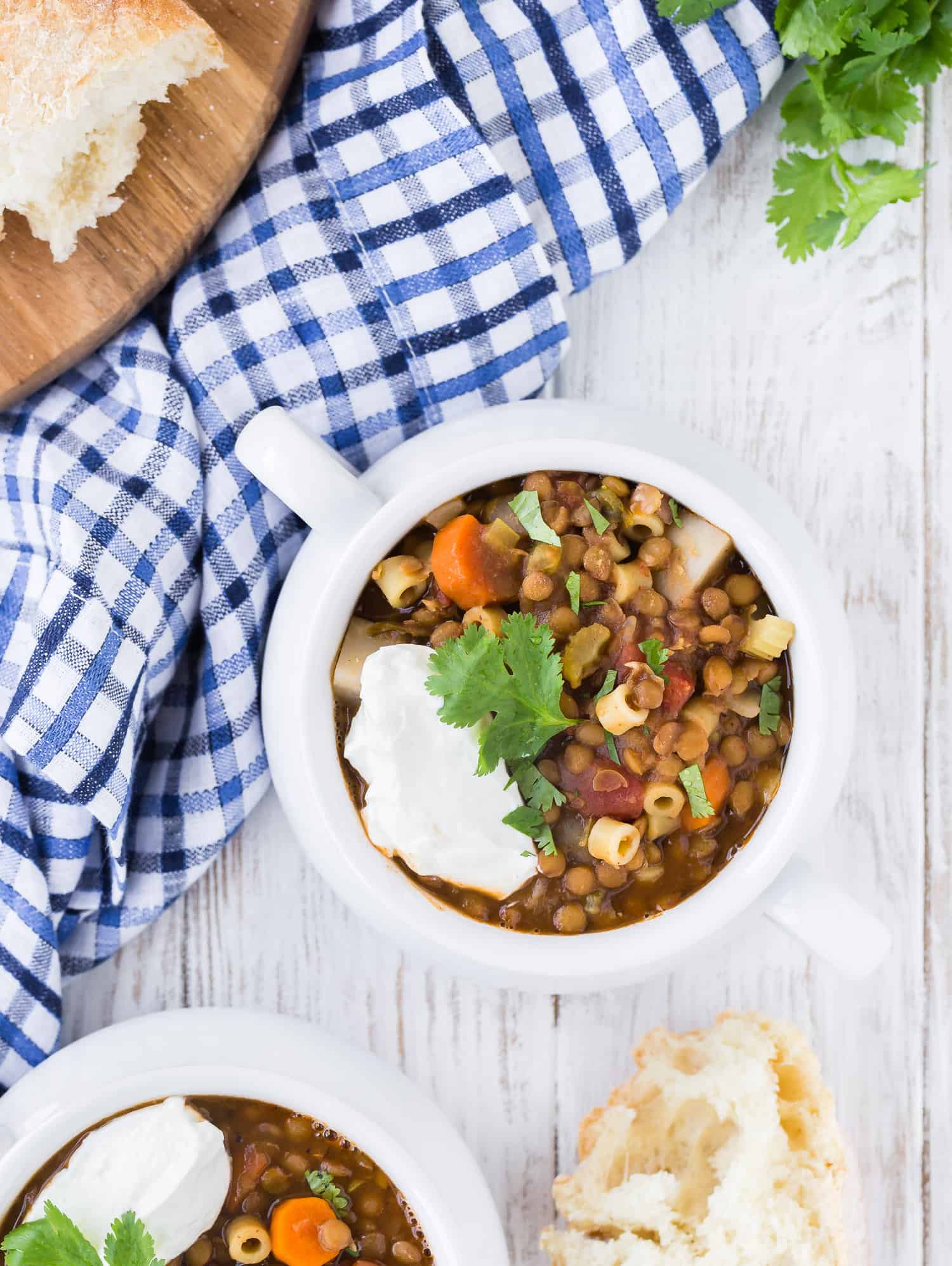 About this Soup Recipe
This lentil soup will take about an hour to cook on the stovetop and much of that time is hands off. You may have most, if not all, of the ingredients in your pantry, which is another good reason to add this lentil soup recipe to your rotation.
It can easily sit on the stove over low heat until you're ready to serve it. That makes it a good choice for busy weeknights when dinner may have to be squeezed in between other activities. We have swimming lessons, karate lessons, board meetings, and choir concerts, and of course, there's always homework!
I'll get you started on the recipe here and give you some helpful tips. Look for the printable recipe card near the end of the post. It has complete instructions, measurements, and nutrition information.
Ingredients You'll Need
Lentils: Look for dried brown lentils. You'll need about 2 cups, or 16 ounces. Often lentils are sold in one pound bags. Take a moment to rinse the lentils with water in a fine mesh colander before you use them, to make sure they are clean and there isn't any debris mixed in.
Mirepoix: This is the French cooking term for a mixture of finely chopped onions, carrots, and celery that is often used in soups and stews. Technically, the combination is 2 parts onion to one part carrots and celery. The veggies are "sweated" in the pan with a small amount of oil until they become soft.
Turnip: This root vegetable has a slightly spicy flavor and the texture of a firm potato. It becomes somewhat sweet as it cooks. They are a good source of vitamins and minerals (Healthline).
Jalapeño Pepper: A small pepper adds a bit of heat but not very much.
Garlic: With only one clove, this soup is not garlicky. The garlic is added to enhance the flavor of the soup without being noticeably present.
Canned Diced Tomatoes: Choose low or no sodium tomatoes if you can find them.
Vegetable Broth and Water: Again, look for low sodium broth if it's available. Chicken broth is a fine substitute if you're not vegetarian or vegan. A fair amount of water is also added to the soup because dry lentils soak up a lot of liquid.
Chili Powder: This blend of spices often includes salt so keep that in mind when you add seasoning to the soup. Always taste soup before serving it so you have a chance to adjust the seasoning and remember, it's easy to add salt but impossible to remove it.
Dried Oregano: This dried herb is common in a lot of cuisines. If you happen to have fresh oregano in your garden, add about three times more because fresh is less potent than dried.
Ditalini Pasta: Ditalini is a small pasta that's shaped like short tubes. Really, any type of small pasta is fine, including macaroni. If you only happen to have spaghetti in your pantry, break it into short lengths and add it to the soup. Whole wheat pasta is a good choice, too.
Fresh Cilantro: This flavorful herb is used as a garnish but it adds a lot of fresh flavor, too.
How To Make This Recipe
Let's get the soup on! You'll need a large soup pan because this recipe makes at least ten cups of soup. If you get carried away with the veggies like I always do, it will make even more.
Chop and cook the veggies. Chop up the onions, carrots, celery, turnip, jalapeño pepper, and garlic. Season them with a bit of salt and sauté them briefly in a bit of olive oil until they're tender. That step is called "sweating" (that's the veggies, not you!).
Add the broth, tomatoes, and lentils. Pour in the broth, water, the canned tomatoes (no need to drain them), and the rinsed brown lentils.
Season the soup with chili powder and oregano.
Simmer the soup until the lentils are tender, about 30 minutes, stirring occasionally. This is a good time to prepare any side dishes if you want.
Add the pasta and cook another ten minutes or until the pasta is tender.
Serve the soup sprinkled with fresh chopped cilantro, and a dollop of plain Greek yogurt, sour cream, or shredded cheese, if desired. Cornbread muffins with herbs and cheddar are delicious with this soup. Lately we've been loving no-knead Dutch oven bread. It's so easy and the bread is crusty, yeasty, and delicious. Easy beer bread is always a hit, too.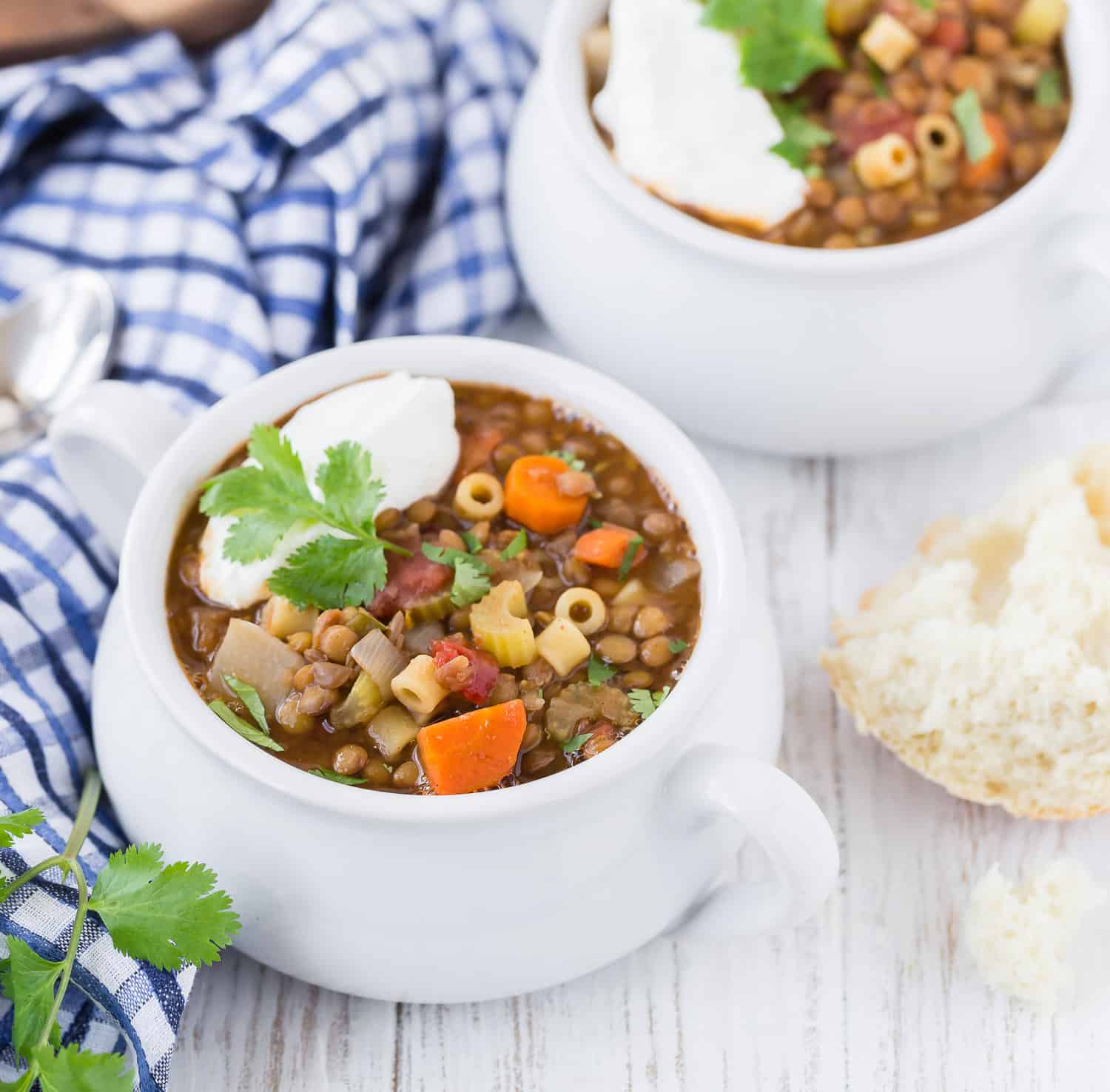 FAQs
Do you have to soak lentils before cooking them?
No soaking is required! That's the beauty of cooking with lentils. They become tender after cooking for twenty to thirty minutes, depending on the variety. Split yellow and red lentils take even less time to cook.
Please take time to rinse the lentils before using them, in case there's any dirt or debris left on them.
Is lentil soup healthy?
Yes! Lentils are protein rich, low in calories, and highly nutritious. This lentil soup contains lots of vegetables that are good for you, too. The only fat in this soup recipe comes from 2 teaspoons of good-for-you olive oil.
What are the best lentils for soup?
Brown and green lentils hold their shape the best, making them a good choice for soup. If you'd like a smoother, creamy textured soup, use split red or yellow lentils. For salads, puy (French) or beluga lentils work best. They're smaller and firmer, and don't disintegrate easily.
Make It Your Own
Vary the vegetables or increase/decrease the amounts. Not a fan of turnips? Try diced sweet potatoes or red potatoes instead. Don't care for jalapeño? Substitute bell pepper. Shredded cabbage or kale are really good, too.
Add meat. While lentils provide lots of healthy protein in this vegetarian soup, making it with ham, bacon, or sausage is delicious, too. Try turkey sausage!
Be creative with the herbs and seasoning. Use what you like best. Instead of jalapeño and chili powder, use red bell pepper, basil, and a bay leaf for a more Italian style soup. Smoked paprika is really tasty, too.
Use your slow cooker. Put all the ingredients (no sautéing necessary) in your crockpot and cook on the low setting for 8 hours or until the lentils and vegetables are tender.
Not a fan of lentils? Try my pasta e fagioli soup. It's somewhat similar to this recipe but is made with cannelini beans.
Storage & Reheating Tips
Lucky you, you have leftovers! Lentil soup for lunch tomorrow!
Refrigerate: Cool the lentil soup, and store it in the refrigerator in an airtight container for three to five days.
Freeze: Freeze lentil soup in containers for up to 3 months. For best results, thaw overnight in the refrigerator before heating and serving. Keep in mind that the pasta may lose a bit of its texture.
Reheat: Gently reheat in the microwave or in a pan on the stove when ready to serve.
Hearty Vegetarian Soup Recipes
Interested in a weekly meal plan (it's free!) that includes this lentil soup recipe? Take a look at my Meal Plan (#2) or Meal Plan (#33). You'll find a wholesome recipe for each weekday plus a categorized grocery list. Let me do the planning for you this week!
We'll be adding a new meal plan weekly. If you're interested, browse all of our meal plans.
Did you make this? Be sure to leave a review below and tag me @rachelcooksblog on Facebook, Instagram, or Pinterest!
Hearty and healthy, this lentil soup recipe is loaded with flavorful veggies and pasta. Lentil soup is a satisfying, meatless entree you can have on the table in an hour.
Ingredients
2

teaspoons

extra virgin olive oil

1

cup

chopped onion

(about 2 small onions)

1

cup

chopped carrot

(about 3 medium carrots)

1

cup

chopped celery

(about 3-4 stalks celery)

1

cup

peeled and chopped turnip

(about 1/2 turnip)

1

small jalapeño pepper, seeds and ribs removed, finely chopped

½

teaspoon

salt, more as needed

1

large clove garlic, minced

4

cups

low sodium vegetable broth

5

cups

water

1

can

(14.5 oz.) no salt added diced tomatoes

16

ounces

dried brown lentils (about 2 cups), rinsed

2

teaspoons

chili powder

½

teaspoon

dried oregano

¾

cup

uncooked ditalini pasta (or other small pasta of your choice)

¼

cup

minced fresh cilantro
Instructions
Heat oil over medium heat in a Dutch oven or large pot. Add onions, carrot, celery, turnip, jalapeño and salt. Cook over medium heat 8 minutes or until vegetables are crisp-tender. Add garlic and sauté 1 minute or until fragrant.

Add broth, water, tomatoes, lentils, chili powder and oregano. Bring to a boil. Reduce heat; cover and simmer 30 minutes or until lentils are tender.

Add pasta, bring soup back to boil, and cook 10 minutes or until tender.

Ladle soup into bowls; sprinkle with cilantro.
Notes
Makes about 10 cups of soup. Each serving is a generous cup and a half.
If desired, serve with a dollop of plain Greek yogurt, sour cream, or a sprinkling of cheese.
Slow Cooker Instructions: Put all the ingredients (no sautéing necessary) in your crockpot, turn it on LOW, and cook for 8 hours or until lentils are tender.
Nutrition Information
Serving:
1.5
cups
,
Calories:
410
kcal
,
Carbohydrates:
73
g
,
Protein:
24
g
,
Fat:
3
g
,
Saturated Fat:
1
g
,
Polyunsaturated Fat:
1
g
,
Monounsaturated Fat:
1
g
,
Sodium:
272
mg
,
Potassium:
1116
mg
,
Fiber:
27
g
,
Sugar:
8
g
,
Vitamin A:
4020
IU
,
Vitamin C:
21
mg
,
Calcium:
107
mg
,
Iron:
7
mg
This website provides approximate nutrition information for convenience and as a courtesy only. Nutrition data is gathered primarily from the USDA Food Composition Database, whenever available, or otherwise other online calculators.