Cheeseburger soup is rich and satisfying, with all the goodness of a loaded beefy cheeseburger (plus potatoes). Everyone loves it!
Recipe Overview
Why you'll love it: This soup really tastes like a cheeseburger with ketchup, mustard, onions and pickles!
How long it takes: 40 minutes
Equipment you'll need: sharp knife, Dutch oven or soup pot, stove, saucepan
Servings: 8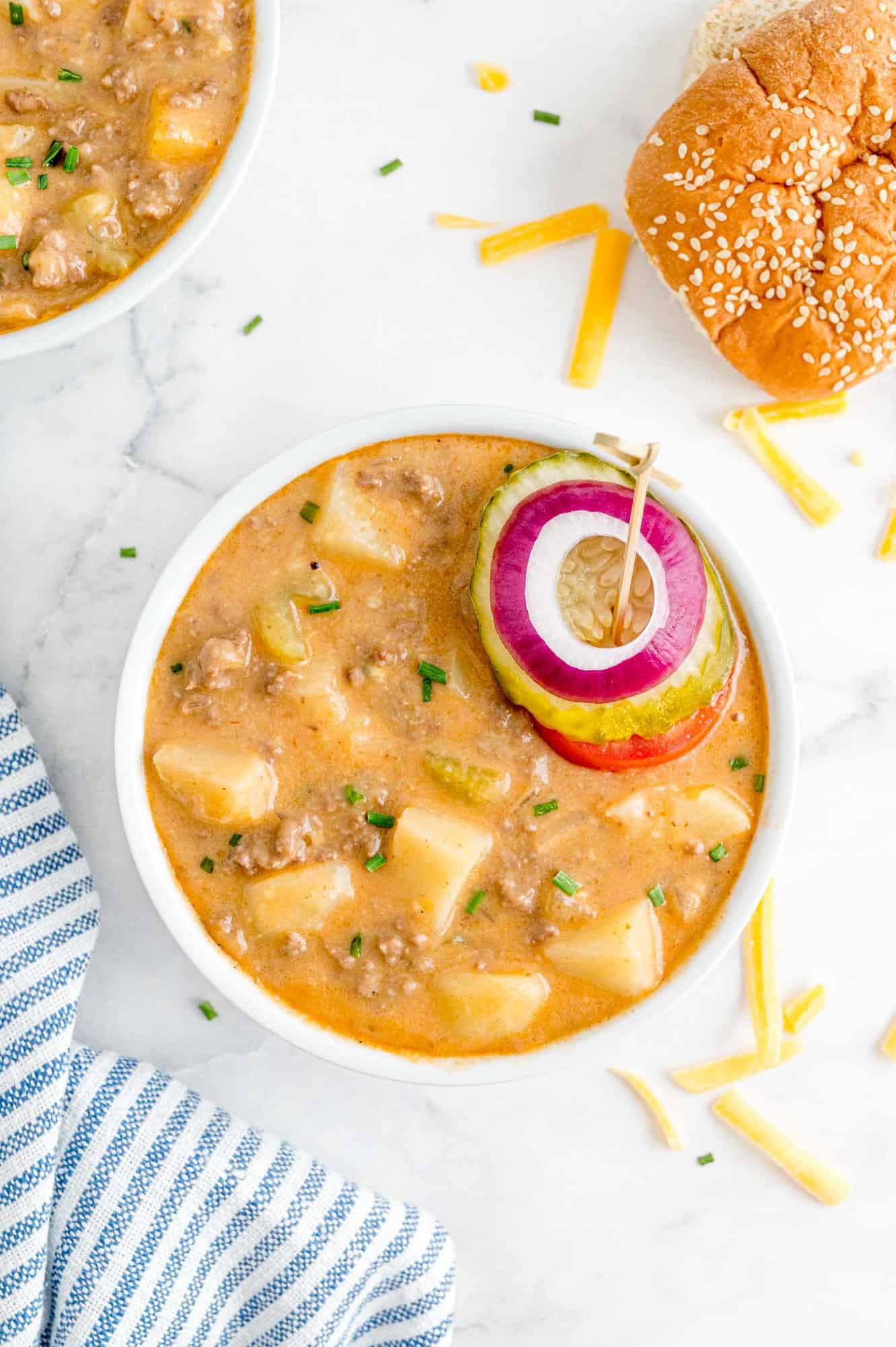 Chunky cheeseburger soup, creamy and loaded with ground beef, potatoes, and yes, lots of cheese, is subtly flavored with ketchup and mustard, making this a real cheeseburger experience. You really have to try it to believe it!
Forgo the grill and spatula and make this soup instead. Cheeseburger soup provides the satisfaction and flavor of a juicy burger in a creamy satisfying chowder. Even people who aren't burger fans (I know you're out there!) will love this soup.
My dad has always loved homey old-fashioned hamburger soup. It's one of his most requested dinners. I just had to try this "newfangled" cheeseburger soup out on him and yes, it passed the taste test. It may even replace his old favorite.
And hey, you won't even miss the bun! Or, if you do, serve the soup with warm Parker House rolls, bread, or buns.
And remember the toppings! Just think about whatever anyone likes on burgers and be inspired by that. Load your soup up with pickles, relish, tomatoes, onions (try crispy fried onions or pickled red onions!), bacon, whatever you like. So good!
About this Cheeseburger Soup
This recipe isn't difficult but does require a little hands-on time. After testing the recipe multiple times (and believe me, no one in my family was complaining), we decided the best way to achieve ultimate creaminess was to make a separate white sauce. Making a white sauce isn't difficult but does require a fair amount of stirring time and yes, sorry, one extra pan to wash. The end result is totally worth it though!
I'll run through the recipe here and give you lots of extra tips. You'll find the printable recipe card with complete directions and nutrition information at the end of the post.
Ingredients You'll Need
Lean Ground Beef: Seasoned with salt and pepper, this is the burger part of the soup. You could substitute ground turkey if you prefer. If you use beef with a higher fat percentage, you may want to drain some of the grease out.
Celery and Onion: Adds texture and flavor to the soup.
Potato: At heart this soup is a cheesy potato chowder. Use russet potatoes or another firm potato. Stay away from waxier varieties like red or yellow potatoes.
Beef Broth: Choose low-sodium broth, if possible. This allows you to control the amount of salt in the recipe.
Butter, Flour, Whole Milk: These three ingredients form the base of the white sauce that is stirred into the soup.
Ketchup, Tomato Paste, Mustard: Added to the white sauce, this trio is what makes the soup taste like cheeseburgers. I like Dijon mustard but yellow mustard is fine, too, if that's your preference.
Cheddar Cheese: Lots of shredded cheese for your cheeseburger soup!
Chives: Chives make a nice flavorful garnish but don't stop there: tomatoes, sweet onions, crispy bacon (a bacon burger!), and dill pickles really add to the cheeseburger experience.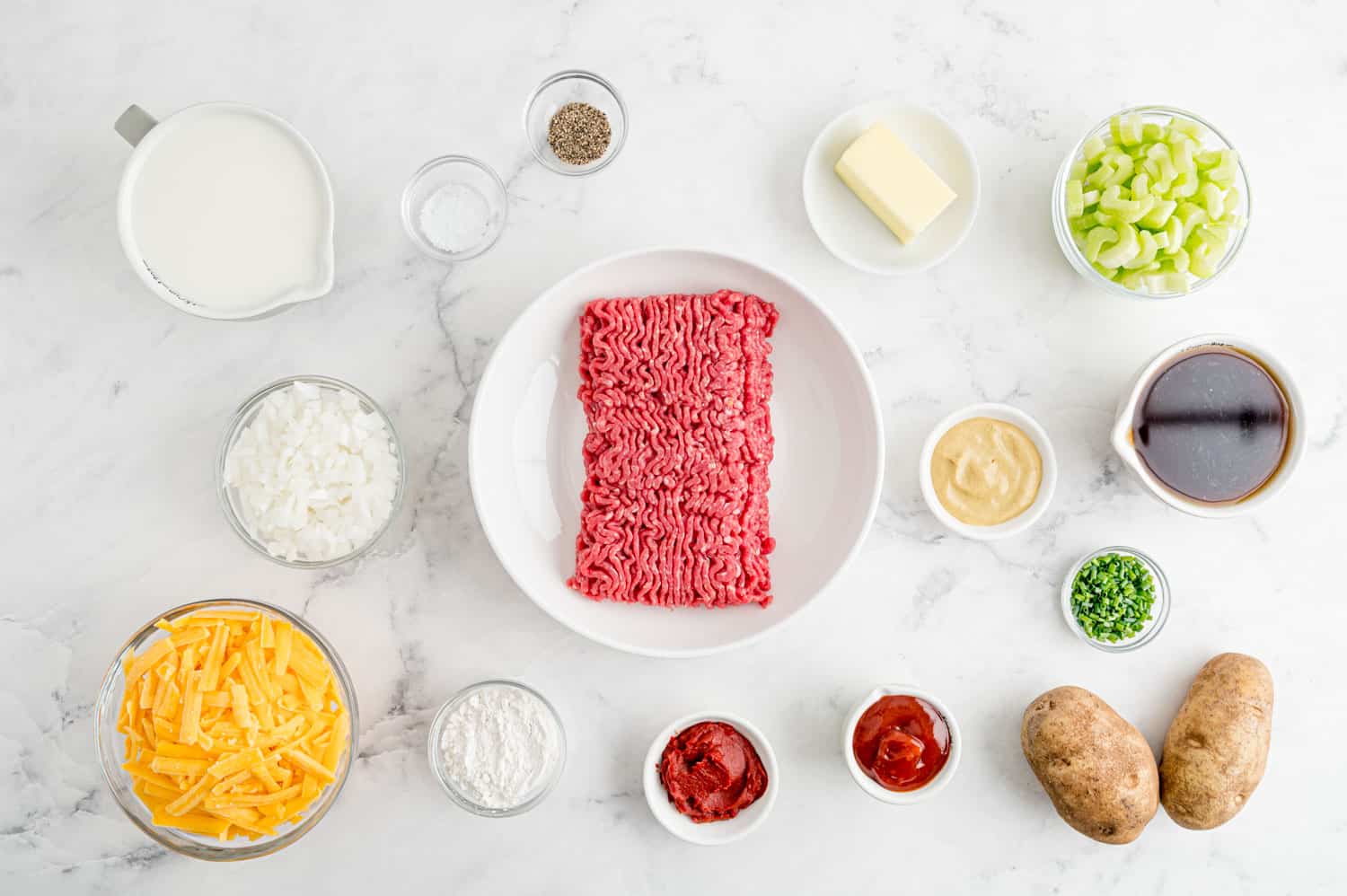 How to make Cheeseburger Soup
Let's get started! Begin by prepping the carrots, celery, and potatoes. Wash and chop them so they're all ready to add when you need them. Make sure you have all the other ingredients at hand. Getting everything ready before you turn on the stove really makes for a more relaxing cooking experience.
Okay, now that you're ready, get that big soup pot or Dutch oven heating up on the stove. Add the ground beef, season it with salt and pepper, and start breaking it up with a spatula or flat-edged wooden spoon as it browns. It will take about five minutes or so to cook.
Once it's no longer pink, add the onions and celery. Cook them until they are softened, about five more minutes. Pretty easy so far, right?
Next, add the potatoes and broth. If the potatoes aren't completely covered by the broth, add just a bit of water. Bring the pan to a boil and then turn it down to a simmer, partially covered. Let the potatoes cook about ten minutes, until they are just tender. Poke one with a fork. If the fork goes in easily, the potatoes are done.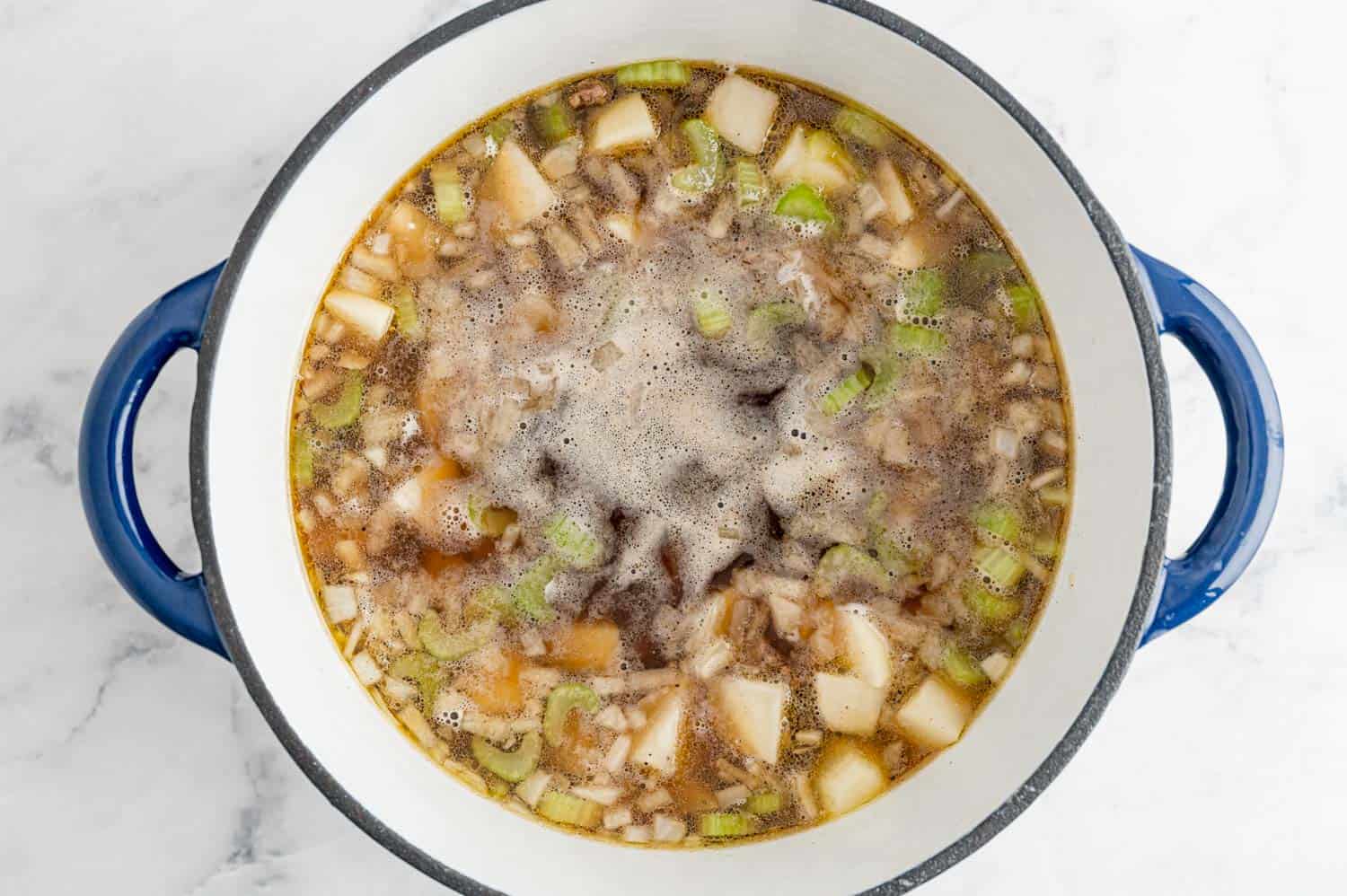 While the potatoes are simmering, get a pretty good sized saucepan out. The next step is making a creamy white sauce. Melt the butter and add the flour, stirring until it's smooth. Gradually pour in the milk, stirring constantly. A whisk can be helpful if there's lumps. Bring to a gentle boil, stirring pretty much the whole time.
Add the ketchup, tomato paste, and mustard, stirring until it's blended in.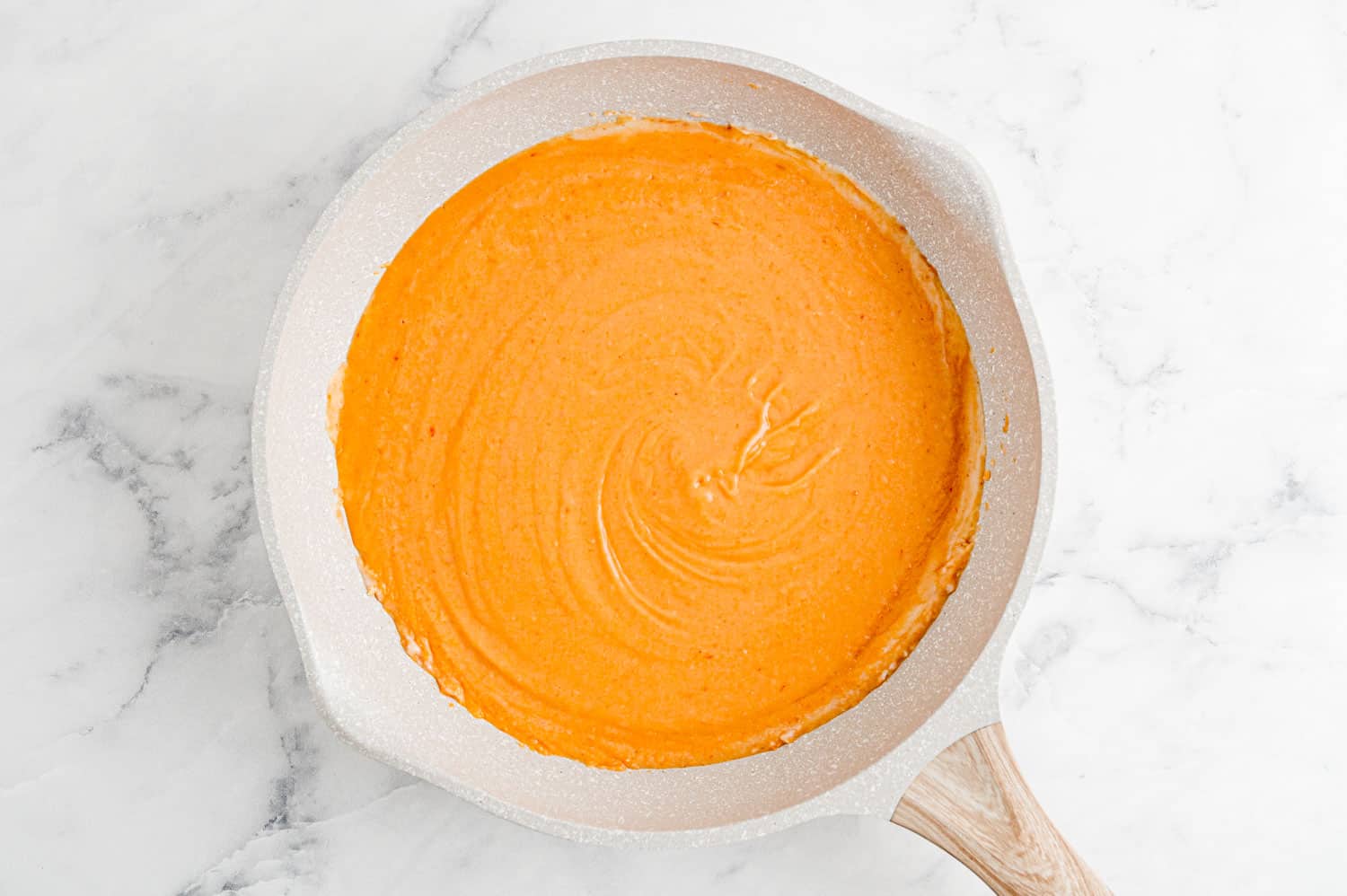 Remove the pan from the heat. If the potatoes are tender, you're ready to finish up the soup!
Stir the white sauce into the soup pan. Turn the heat way down to low.
Gradually stir in the cheddar cheese, a small handful at a time. If you throw the whole bunch in at once, the soup cools off, and the cheese won't melt as smoothly. For the creamiest texture, have the soup on low heat and stir the cheese in gradually.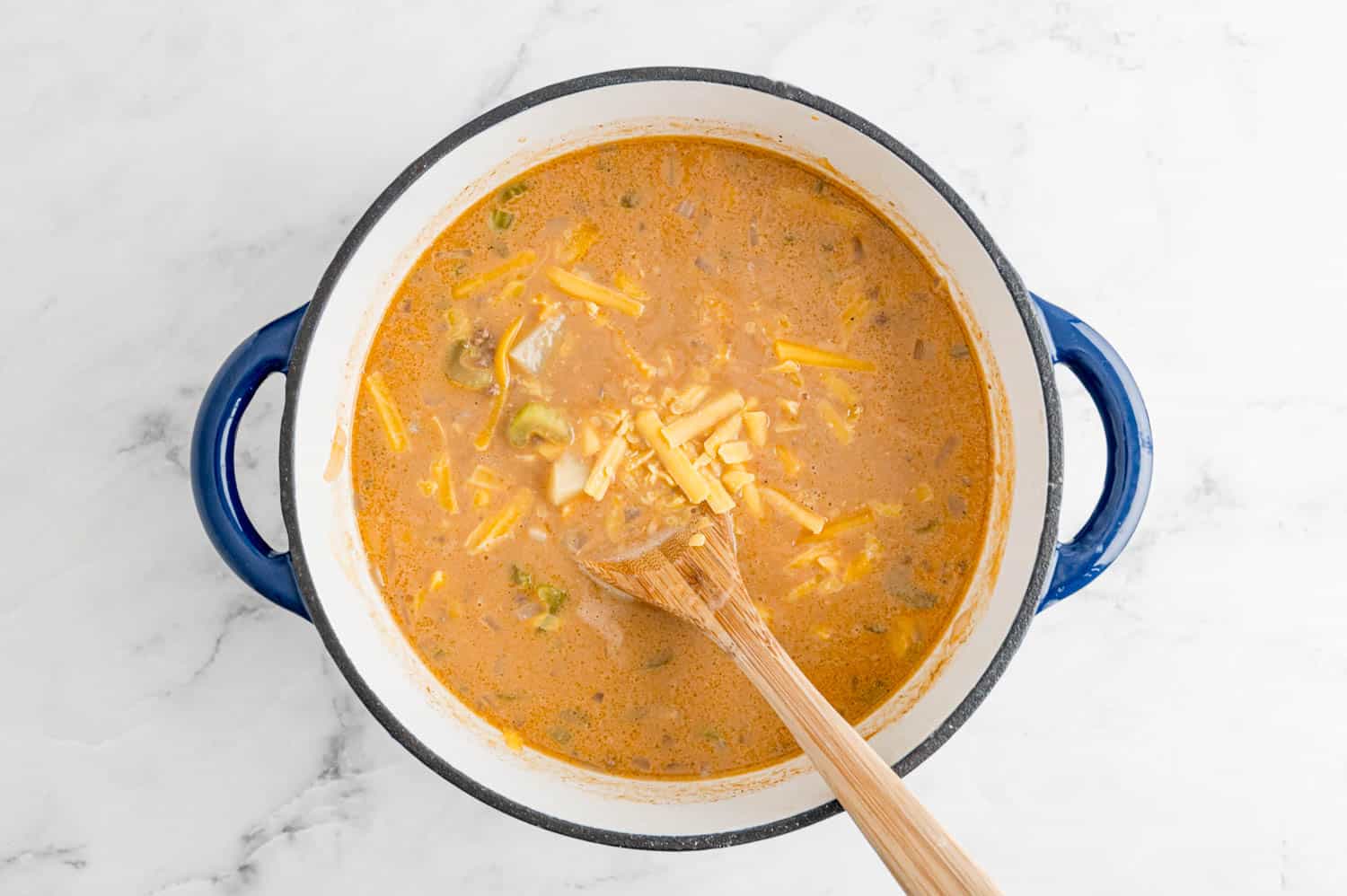 Sprinkle in some chives for extra fresh flavor!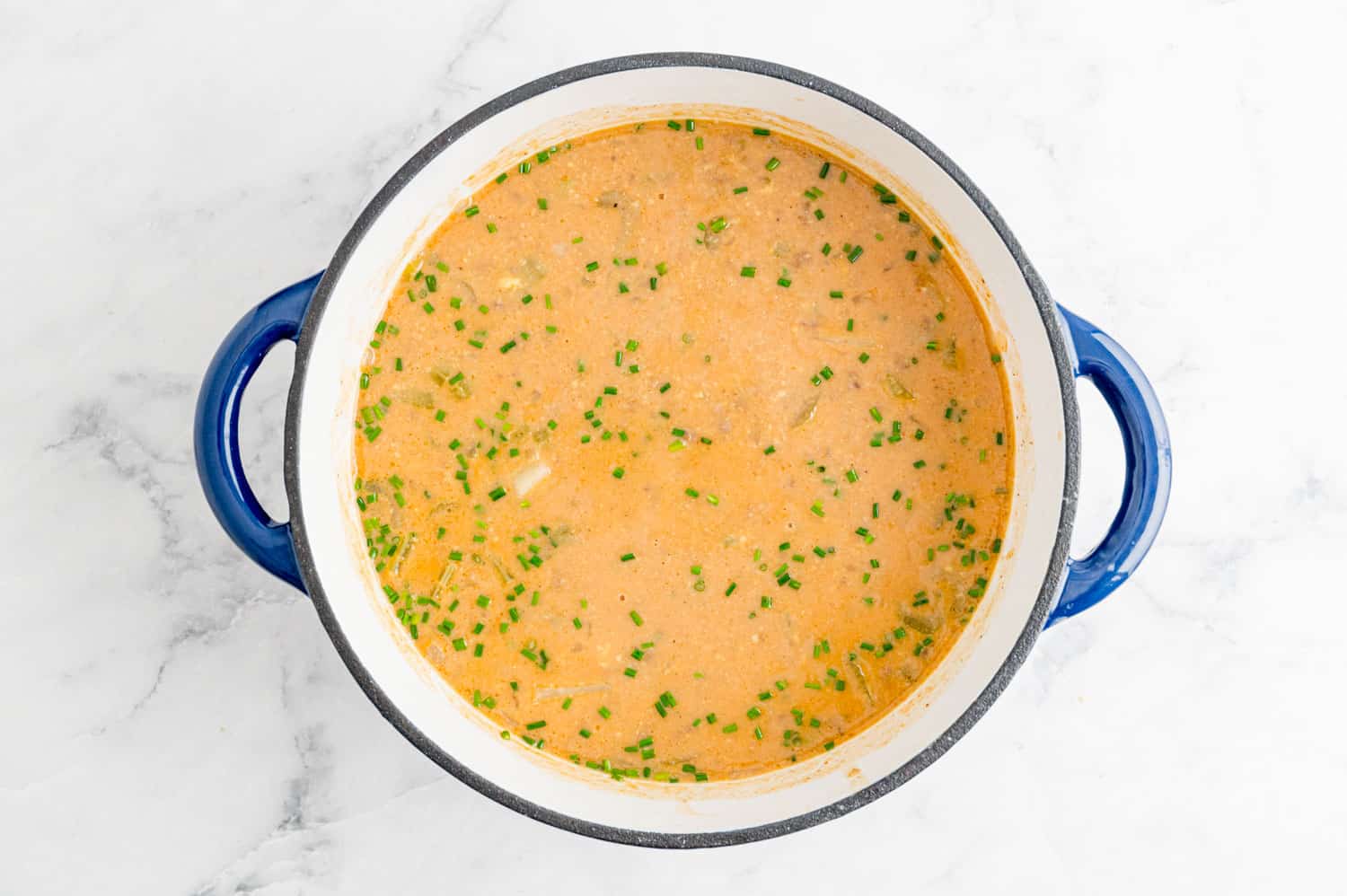 Your soup is ready to eat! If you don't have the garnishes ready (chopped onions, tomatoes, dill pickles, bacon), keep the soup on warm while you get it together.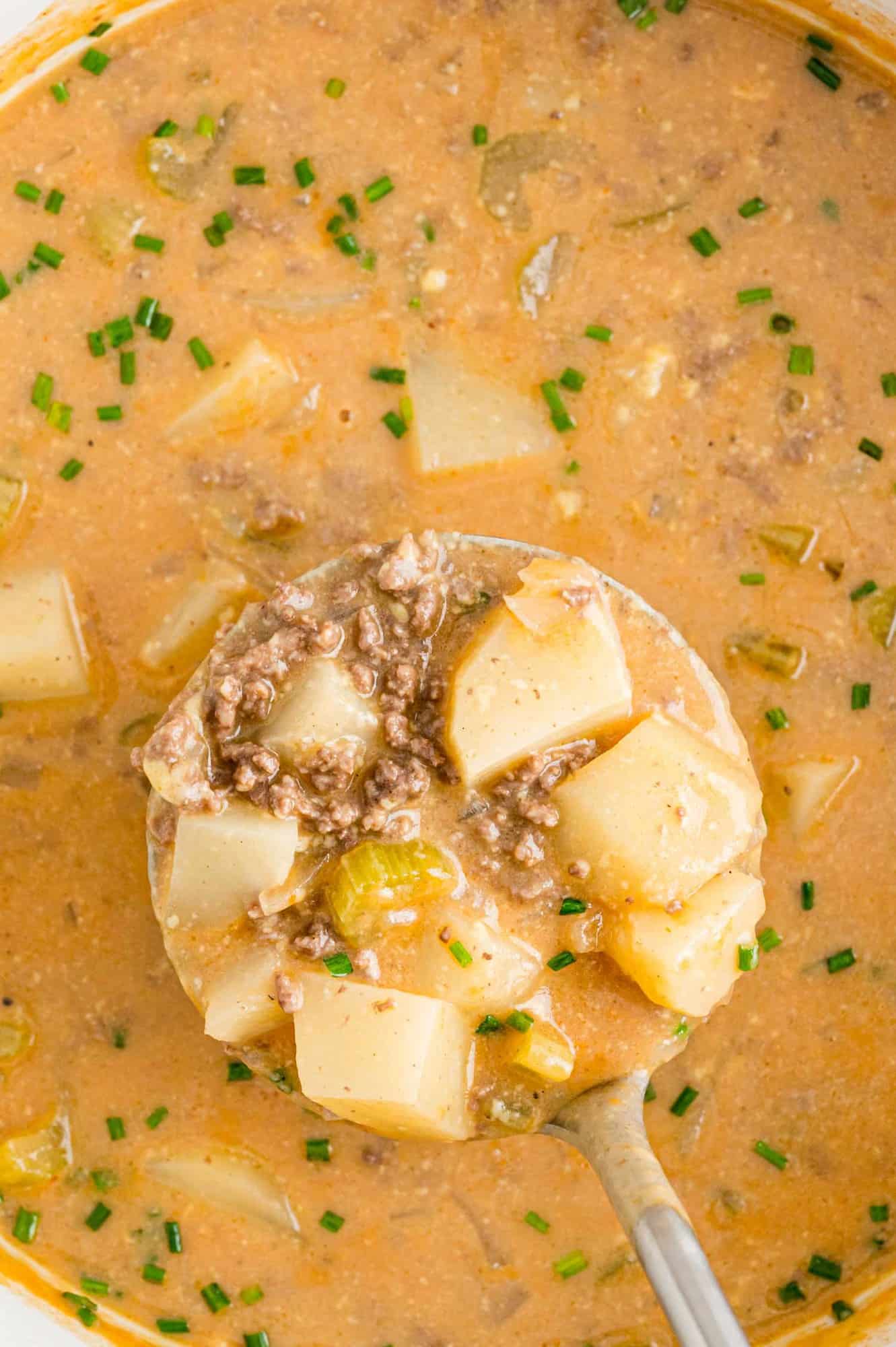 Enjoy! I daresay you won't have to call everyone to dinner. They will have smelled this delicious soup cooking and are probably already sitting at the table!
Serve with all the toppings you like. Let everyone garnish their soup just the way they like their cheeseburgers! Warm rolls or homemade beer bread go great with this soup. For a healthy side, choose carrot and celery sticks or fresh fruit.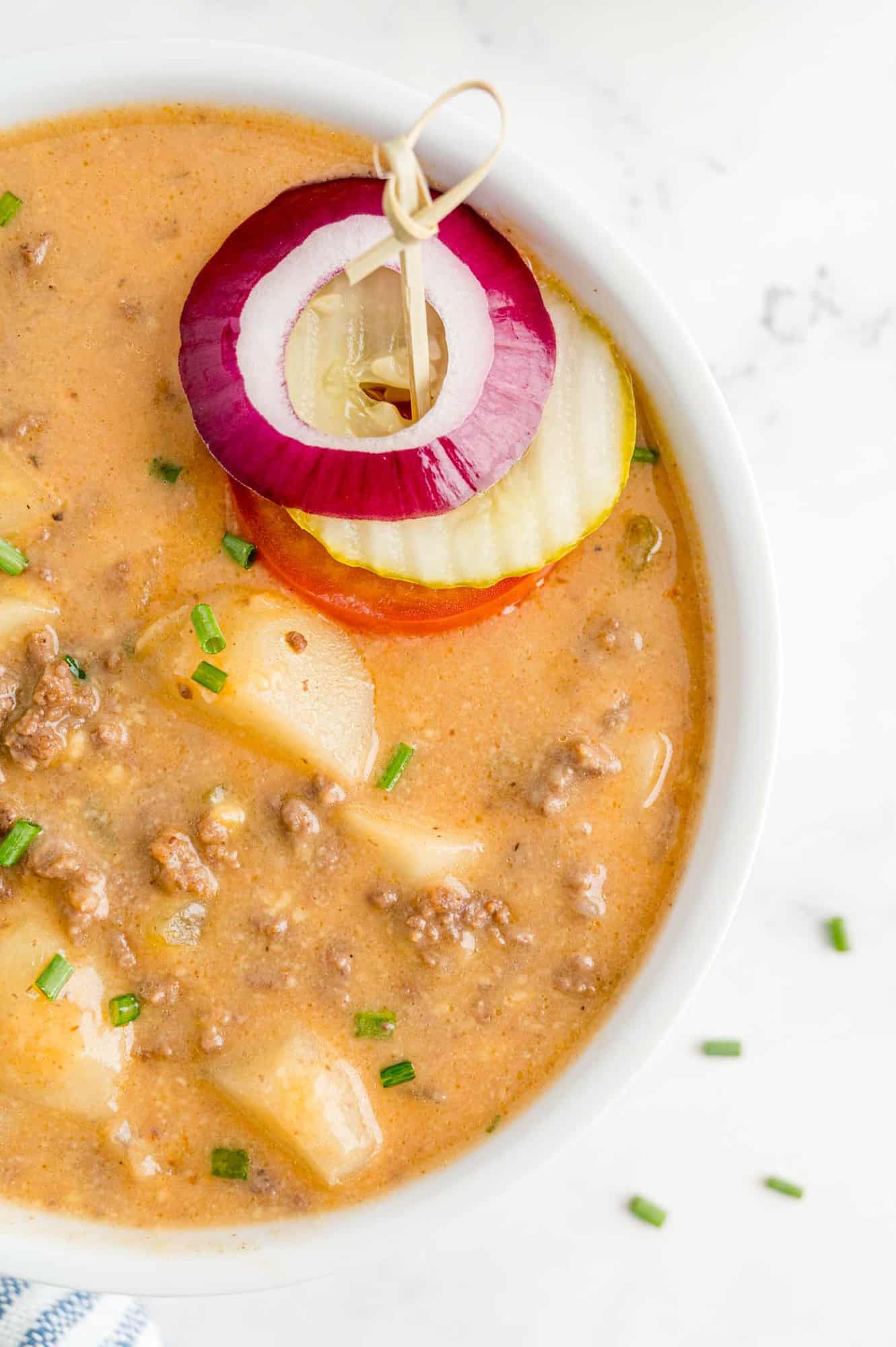 FAQs
Does cheeseburger soup freeze well?
This soup is not a good candidate for the freezer. As a rule of thumb, soups that are made with milk or cream do not freeze well. They tend to get grainy and separate when reheated.
Some soups are great candidates for freezing. Try Instant Pot Minestrone Soup (you can make it on the stovetop too) or Slow Cooker Green Enchilada Soup with only five ingredients. Keep reading for lots more soup recipes.
Can I freeze soup with potatoes in it?
Again, the answer is no. I find that potatoes (any type of potato) take on a mushy texture or fall apart when frozen and thawed.
How do I thicken soup?
There are several ways to thicken soup. The easiest way is to simmer the soup a bit longer uncovered, allowing some of the liquid to evaporate. Using a cornstarch slurry is another way to thicken soup. Simply stir 1 to 2 tablespoons of cornstarch into water or room-temperature broth until it's dissoved; slowly stir the mixture into the hot soup. If your soup contains beans or potatoes, mashing some of them and adding them back to the soup will thicken the texture of the soup.
Make It Your Own
Have fun with garnishes! I've listed a few but here's a few more ideas: sweet pickle relish, crispy fried onions, a swirl of BBQ sauce, additional cheese, fresh or pickled jalapeño slices, or whatever you like!
Substitute ground turkey or chicken for the beef.
Vegetarian soup: omit the beef. Substitute vegetable broth for the beef broth and add a can or two of black beans, rinsed and drained. It will be like these black bean burgers in soup form.
Keto cheeseburger soup: substitute cauliflower florets for the potatoes and use arrowroot to thicken instead of flour. Use a sugar-free ketchup and a keto-friendly flour.
Looking for a creamy soup with chicken instead of beef? Try chile relleno soup or creamy chicken enchilada soup with noodles. You'll love this chicken corn chowder, too!
Make-Ahead Ideas
Head start: Save time by prepping the onion, celery, and potatoes ahead of time and refrigerating. Store the potatoes separately in a bowl, covering the potatoes with water so they don't discolor. Drain before adding to the soup. Shred the cheese if you bought a block of cheese. You'll save 10 or 15 minutes at dinnertime by utilizing these simple food prepping measures.
Keep it warm in a crockpot: If you're serving guests but don't want last minute prep, make the soup and put it into a crockpot. Set it for Warm and the soup will be fine until you're ready to serve it.
Storage & Reheating Tips
Refrigerate: This cheesy potato soup will keep in the fridge for up to 3 days. It does not freeze well.
Reheat: Place soup in saucepan and reheat over medium low heat until heated through. Try not to boil the soup because it can make it look curdled. It still tastes great but isn't as creamy-looking. Don't worry if that happens — just pile on more toppings!
Interested in a weekly meal plan (it's free!) that includes this cheeseburger soup recipe? Take a look at my Meal Plan #8 or Meal Plan #43 – Budget. You'll find a wholesome recipe for each weekday plus a categorized grocery list. Let me do the planning for you this week!
We'll be adding a new meal plan weekly. If you're interested, browse all of our meal plans.
Did you make this? Be sure to leave a review below and tag me @rachelcooksblog on Facebook, Instagram, or Pinterest!
Cheeseburger soup is rich and satisfying, with all the goodness of a loaded beefy cheeseburger (plus potatoes). Everyone loves it!
Ingredients
1

lb.

lean ground beef

½

teaspoon

kosher salt

½

teaspoon

coarsely ground black pepper

1

cup

chopped celery

(3 to 4 stalks)

1

cup

diced onion

(½ large onion)

4

cups

low-sodium beef broth

4

cups

diced (1-inch pieces) peeled potatoes

(about 4 potatoes)

4

tablespoons

(½ stick) unsalted butter

¼

cup

all-purpose flour

1 ½

cups

whole milk

1/4

cup

ketchup

2

tablespoons

no-salt-added tomato paste

2

tablespoons

Dijon mustard

2

cups

shredded cheddar cheese

2

tablespoons

chopped fresh chives

Chopped tomatoes, onion, cooked bacon, and/or dill pickles for garnish
Instructions
In a large pot or Dutch oven, over medium-high heat, brown ground beef, breaking up large pieces, until no longer pink, about 5 minutes. Add celery and onion; cook, stirring, until the vegetables are softened, about 5 more minutes.

Add broth and potatoes; bring to a boil. Reduce heat to a simmer, partially cover and cook, stirring occasionally, until the potatoes are tender, about 10 minutes.

Meanwhile, in a medium saucepan, melt butter over medium heat. Whisk in flour. Slowly add milk, whisking or stirring constantly, and cook until thickened, about 2 minutes. Whisk in tomato paste, ketchup and mustard. Remove from heat.

Slowly stir the milk mixture into the soup; bring to a boil. Reduce heat to low and gradually stir in cheese. When cheese is completely incorporated into the soup, remove from heat and stir in chives. Don't boil the soup after the cheese has been added.

Serve topped with tomatoes, onion and/or pickles, if desired.
Notes
Recipe adapted from Eating Well magazine, September 2019.
Nutrition information does not include optional toppings.
Leftovers will keep in the fridge for up to three days. It does not freeze well. To reheat, place soup in saucepan and reheat over medium low heat until heated through. Try not to boil the soup because it can make it look curdled. It still tastes great but isn't as creamy-looking. Don't worry if that happens — just pile on more toppings!
Nutrition Information
Serving:
1.25
cups
,
Calories:
397
kcal
,
Carbohydrates:
29
g
,
Protein:
26
g
,
Fat:
20
g
,
Saturated Fat:
12
g
,
Polyunsaturated Fat:
1
g
,
Monounsaturated Fat:
6
g
,
Trans Fat:
1
g
,
Cholesterol:
84
mg
,
Sodium:
758
mg
,
Potassium:
1107
mg
,
Fiber:
3
g
,
Sugar:
7
g
,
Vitamin A:
727
IU
,
Vitamin C:
24
mg
,
Calcium:
291
mg
,
Iron:
3
mg
This website provides approximate nutrition information for convenience and as a courtesy only. Nutrition data is gathered primarily from the USDA Food Composition Database, whenever available, or otherwise other online calculators.