Baked Bacon Recipe – How to Bake Bacon Two Ways
Love bacon but hate the hassle and mess? Baked bacon is the answer: very little mess and perfect bacon slices every time!
Recipe Overview
Why you'll love it: Learning how to bake bacon is really a time saver. It's so much easier and less messy.
How long it takes: 30 minutes
Equipment you'll need: sheet pan, rack if desired
Servings: 4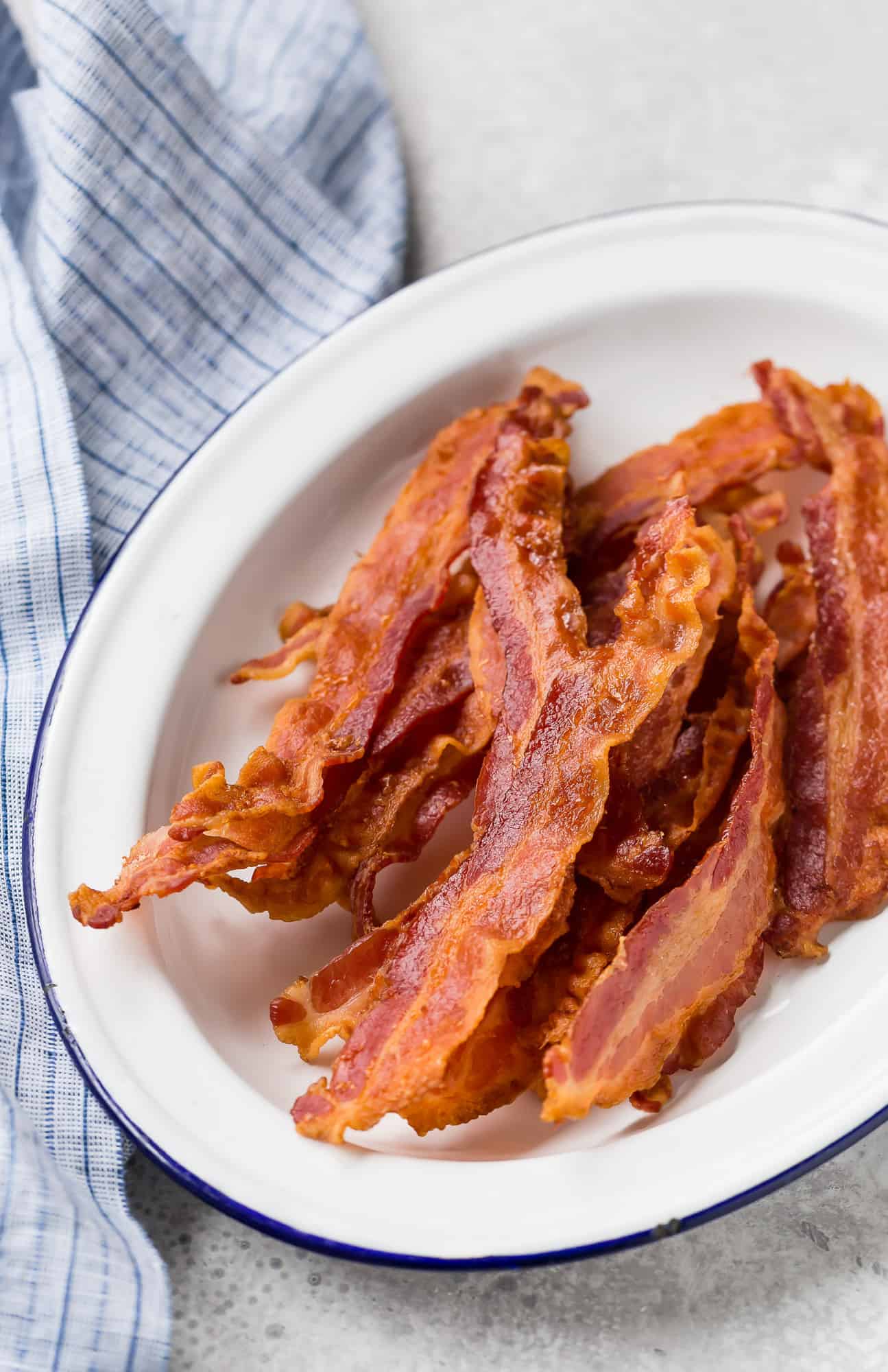 True confession: I love bacon. I love bacon, eggs, and pancakes for Saturday morning breakfasts, I love bacon in salads, on pizza, in sandwiches (yum, BLTs), and well, you get the idea. You'll find that plenty of my recipes include bacon.
But I don't love making it. Frying it on my stove top always makes a big greasy mess that's a pain to clean up. Plus, have you ever been hit by a burning hot splatter of bacon grease? Ouch! It almost makes me not want to make bacon. Almost.
But here's a news flash: you don't have to fry bacon. In fact, there's a much easier method to cook bacon: you bake it!
Baked in the oven on a rimmed baking pan lined with foil, which incidentally you can just throw away afterwards right along with the bacon grease, you'll have nice flat bacon slices every time. You don't even have to flip it over. It will be perfectly crisp every time. No splatters of grease on the stove or on you!
Are you convinced yet? I hope so because baked bacon is a game changer in my mind. I'm not sure I will ever go back to frying bacon strips.
Besides, isn't it kind of fun to say "baked bacon?" E got the giggles when I informed her I was writing about "baked bacon."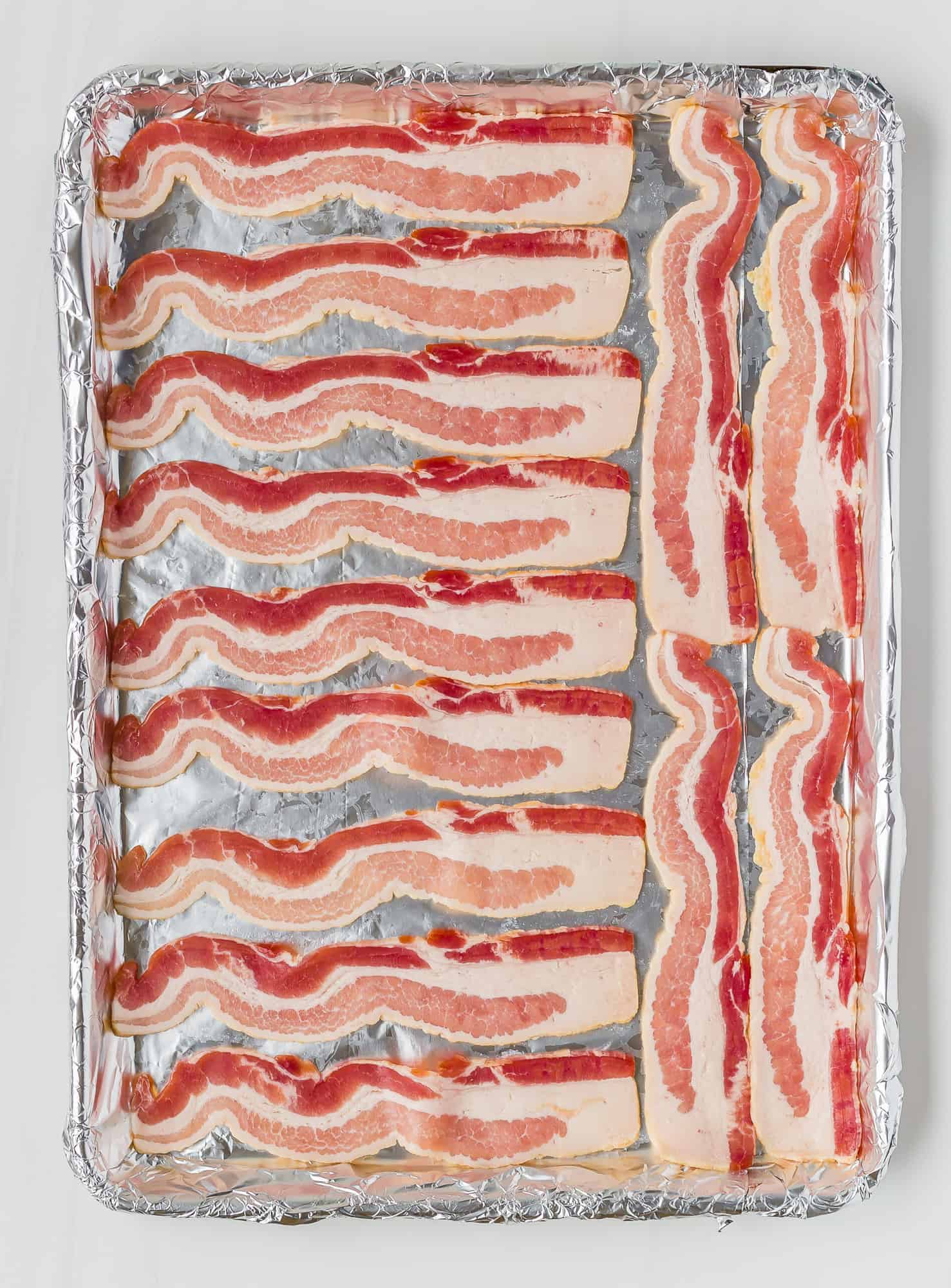 About this Recipe
It's so easy that I almost hesitate to call it a recipe. It's more of a cooking method. You can bake it with a rack or without (that's the two ways). The results are nearly the same.
I like to buy center cut bacon because there is usually less fat. Choose what you like best. Thick sliced bacon will take slightly longer to bake. Always watch the bacon closely near the end of the baking time so you can take it out when it's perfectly done. It crisps up quickly.
P.S. If you're looking for another quick way to cook bacon, try air fryer bacon. That method is particularly good for small batches of bacon.
I'll get you started here with the how-to's and give you lots of helpful tips. As always, the printable recipe card can be found near the end of the post with complete instructions and nutrition information.
How To Bake Bacon
Here we go! Simply line a large rimmed baking pan with foil. Use heavy duty foil or two layers of regular foil. Make sure the foil goes right up the sides of the pan to ensure that the bacon grease doesn't seep underneath. You don't want that to happen because it will mean more clean up time. Parchment paper is a good alternative to foil.
If you want to use a wire rack, set it in the baking pan and spray it lightly with cooking spray.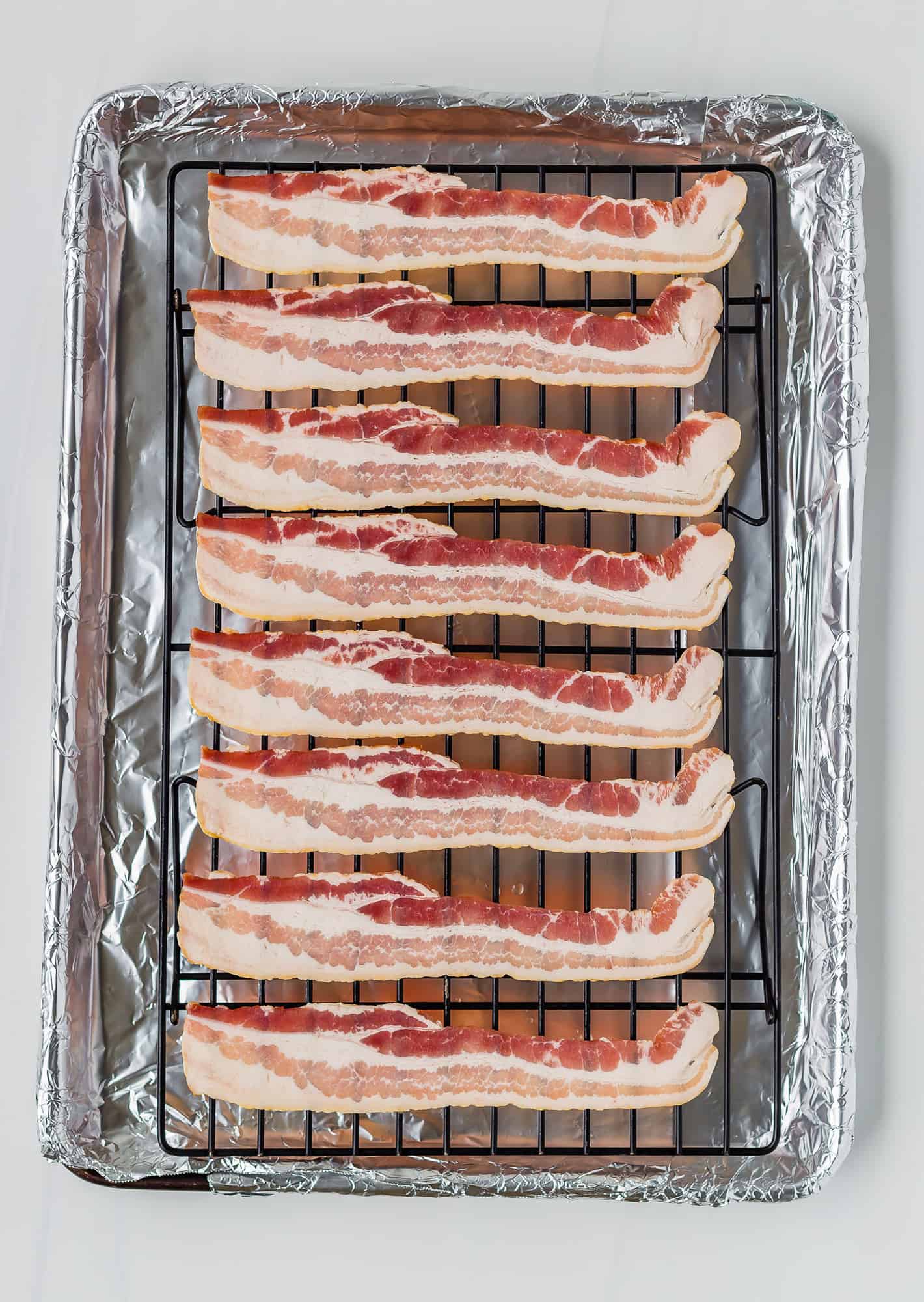 Separate the strips and place them either directly on the foil or on the baking rack, trying not to have them touch each other (kind of sounds like my kids in the back seat–he touched me, no I didn't, she touched me! Sound familiar?).
Place the pan in a preheated oven or a cold oven. The bacon will turn out either way. It will take slightly longer in a cold oven though.
Bake for approximately 25 minutes. Baking time will vary, depending on how thick the bacon slices are. Keep a close eye on the bacon near the end of the baking time because it can go from not done to overdone sort of quickly.
There's no need to flip the bacon at all, not even once. It will crisp perfectly, both on a rack on not on a rack.
Using tongs, remove the bacon from the pan and place it on paper towels to drain. If I'm feeling particularly health-conscious, I pat the tops of the bacon with more paper towels to blot up some of the excess grease.
That's all there is! You can enjoy your bacon without having to think about a big clean up. All you'll need to do is remove the foil from the pan and toss it in the trash. Usually I don't even have to wash the baking pan. If you used a rack, you will have to wash that. Hopefully it will fit in the dishwasher!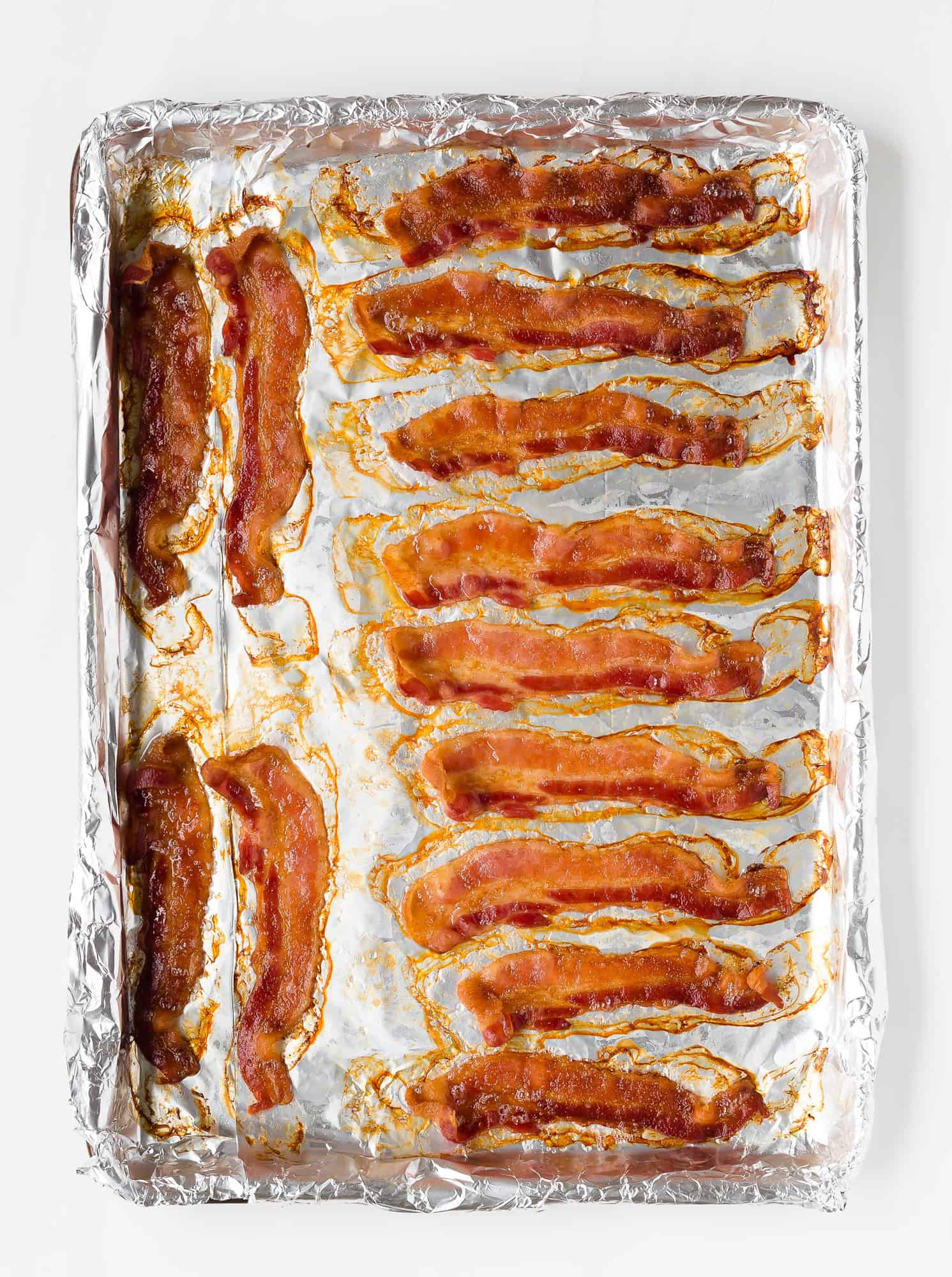 FAQs
Is baked bacon healthier?
If you bake it on a rack, there will be a little less grease on the bacon, making it a bit healthier. Honestly, bacon isn't really a healthy food, it's just tasty.
Is it better to bake or fry bacon?
In my opinion, there's no comparison. Advantages of baking bacon far outweigh the advantages of fried bacon.
Just to review: perfectly flat separate strips, no grease splatters, no standing over the stove flipping bacon, pretty much the same amount of cooking time, very little clean up.
Why use a baking rack?
There will be slightly less grease on your bacon because much of it will drip down off the bacon into the pan, leaving very little on the bacon. Less grease means fewer calories. Using a rack also results in slightly straighter, flatter bacon slices.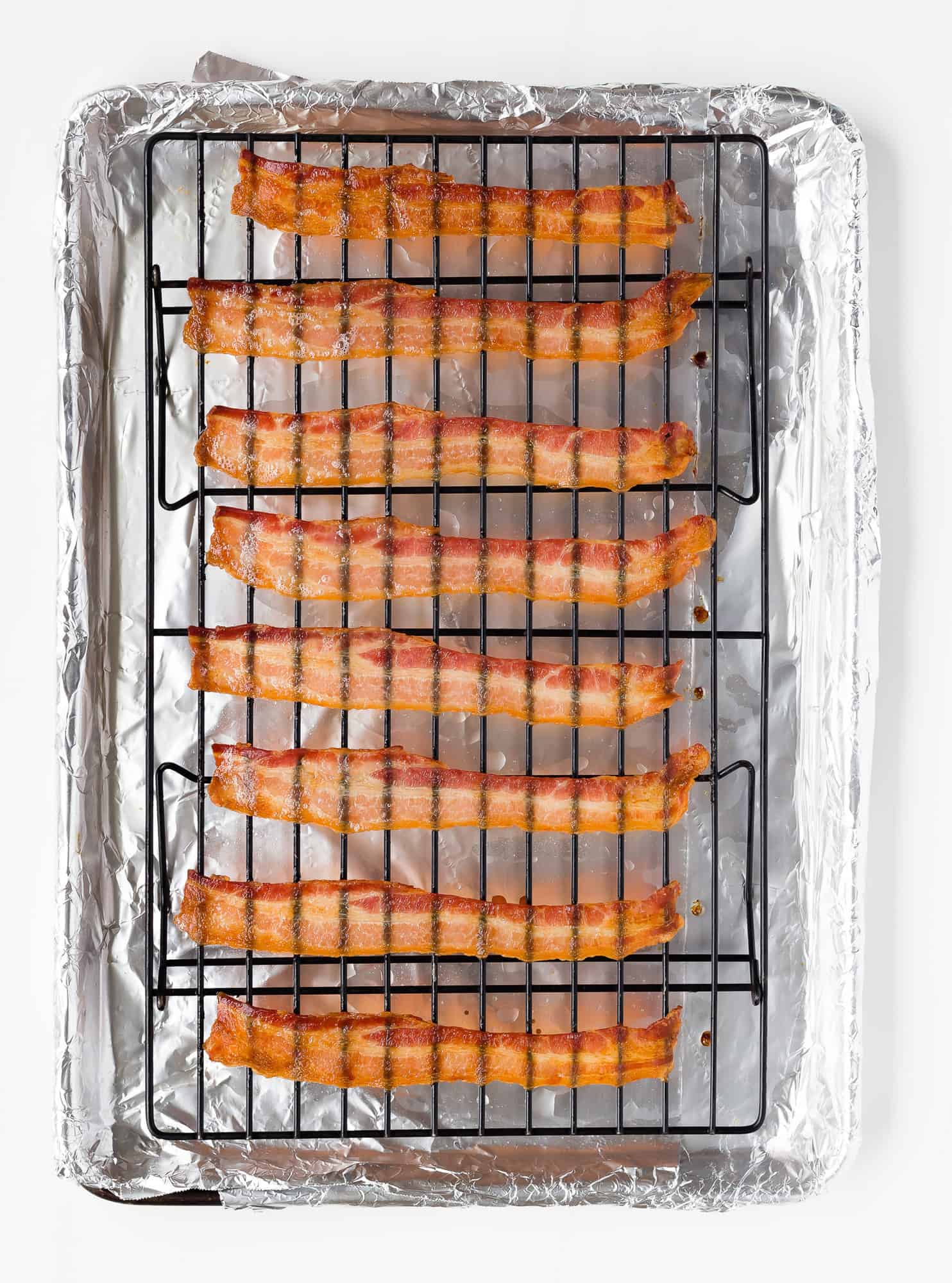 Make-Ahead Idea
Cook a whole pound of bacon even it you're not planning on using that much. Store what you don't use in the refrigerator or freezer. It thaws out quickly and is ready to use in recipes. For ways to use baked bacon, check out the recipes below.
Storage & Reheating Tips
After baked bacon has drained and cooled, put it in a zip-top bag in the refrigerator or freezer to use at a later date. In the refrigerator, it should last 4 to 5 days and in the freezer, 3-4 months.
It doesn't take long to thaw, 10 minutes at the most. Reheat it in the oven or toaster oven for 5 minutes or microwave briefly, 15 seconds. If you're using it in a recipe, you can use it right from the refrigerator or freezer.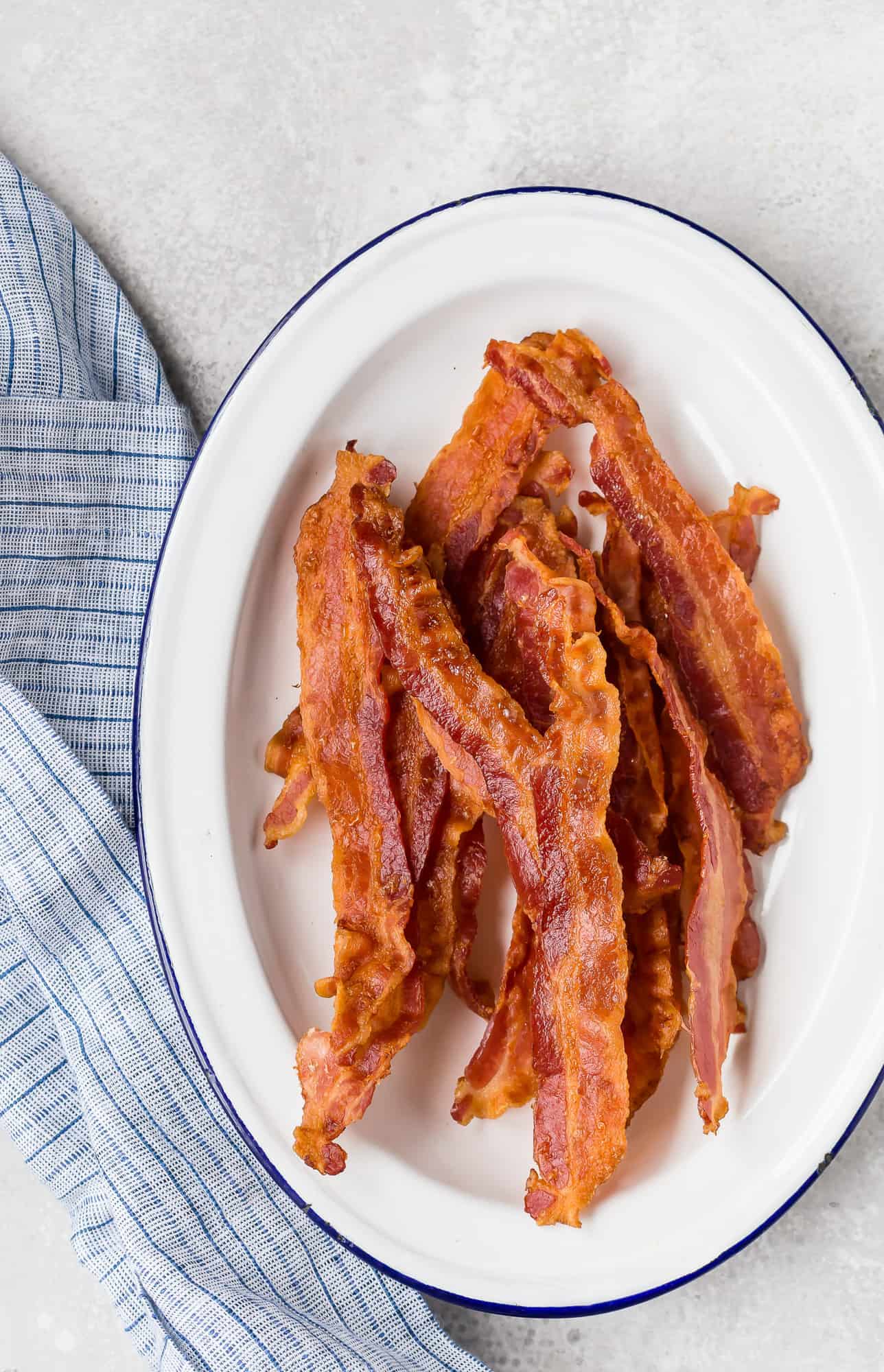 Recipes For That Delicious Bacon
Unless you plan to eat it all, right from the oven. Always a temptation!
Did you make this? Be sure to leave a review below and tag me @rachelcooksblog on Facebook, Instagram, or Pinterest!
Love bacon but hate the hassle and mess? Baked bacon is the answer: very little mess and perfect bacon slices every time!
Ingredients
1

pound

regular or center cut bacon
Instructions
Preheat oven to 400ºF. Line a rimmed baking pan (half sheet pan) with foil, using a couple layers, so the edges of the pan are covered as well (this prevents the grease from going under the foil). Parchment paper may be used instead if you prefer.

If you prefer, you can place the uncooked bacon on a wire rack, set on the foil-lined rimmed baking sheet. Spray the rack lightly with cooking spray.

Lay bacon on the foil or on the rack, in a single layer, not overlapping slices.

Bake for 15-25 minutes or until it reaches desired crispness. Rotate pan once during cooking so bacon cooks evenly. Keep an eye on it because it goes from not done to burnt pretty quickly.

Using tongs, carefully remove bacon from baking sheet and place on a paper towel lined plate to drain.
Notes
Forget to preheat the oven? Just put the bacon in the cold oven, turn it on, and bake slightly longer than directed.
Using a wire rack will result in flatter bacon strips, with a little less grease.
Thicker cut bacon will require slightly more cooking time.
Using a convection oven: Baking 2 pans of bacon at once in a convection oven takes about 20 minutes.
Nutrition Information
Calories:
473
kcal
,
Carbohydrates:
1
g
,
Protein:
14
g
,
Fat:
45
g
,
Saturated Fat:
15
g
,
Polyunsaturated Fat:
7
g
,
Monounsaturated Fat:
20
g
,
Trans Fat:
1
g
,
Cholesterol:
75
mg
,
Sodium:
751
mg
,
Potassium:
225
mg
,
Vitamin A:
42
IU
,
Calcium:
6
mg
,
Iron:
1
mg
This website provides approximate nutrition information for convenience and as a courtesy only. Nutrition data is gathered primarily from the USDA Food Composition Database, whenever available, or otherwise other online calculators.