BBQ Chicken Pizza
Crispy crust, lots of bacon, chicken, onions, and cheddar with zesty barbecue sauce, makes BBQ chicken pizza a really rockin' pizza!
I started making this pizza for friends when I was in graduate school. The first time my husband ate this was at my apartment while I was slaving away at grad school.
(While I'm writing this post, he asked me if that was the time that I fell through a chair and I said, "No I was eating Kraft Mac and Cheese that time." It's amazing he still married me.
I remember it so clearly, my rear end went through the chair and the Kraft dinner flew through the air and all over the balcony. Completely humiliating. I mean honestly, does anyone fall through chairs in real life? Doesn't that only happen in the movies?
That story has nothing to do with this pizza except that my hubby thought it was pizza flying through the air and not macaroni and cheese).
About this Barbecue Chicken Pizza
Alright, I'll admit this pizza is not health food. I mean, boneless skinless chicken breasts are low in fat and high in protein, but when they're accompanied by a bunch of bacon and cheese, well, bye-bye healthy food. But if you're going to order out for pizza anyways, why not make your own delicious BBQ pizza? It's so much better!
PS Buy whole wheat pizza dough, if you want healthy!
Begin with a ball of pizza dough. If you like, make your own, but I like to buy a frozen ball of dough. Thaw it overnight in the fridge and it's ready to roll out. If you're using a big sheet pan like I do, you'll need two balls of dough.
Use precooked chicken breasts. I use my Instant Pot to make cooked chicken and I almost always have some in the freezer. You could also use rotisserie chicken. Fry up a bunch of chopped bacon and drain it on paper towels.
Okay, next comes chopped red onion. You can either put the onions on the pizza raw or cook them first in a bit of the bacon grease. It's all a matter of preference.
Pile everything on the pizza crust, and top it with lots of shredded cheddar cheese. Bake the pizza until it's golden and bubbling.
If you can, let that baby cool on the counter for just a few minutes or everyone will burn their mouths. It's really good garnished with sliced green onions. They add a touch of freshness and the green looks great on the pizza.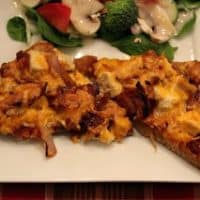 BBQ Chicken Pizza
Yield: 1 pizza
Prep Time: 15 minutes
Cook Time: 30 minutes
Additional Time: 5 minutes
Total Time: 50 minutes
Crispy crust, lots of bacon, chicken, onions, and cheddar with zesty barbecue sauce, makes BBQ chicken pizza a really rockin' pizza!
Ingredients
1 ball pizza dough (2 balls, if you use a sheet pan for deep dish pizza)
1/2 cup bottled barbecue sauce (or to taste)
2 boneless skinless chicken breasts, cooked and diced or shredded
12 oz. pkg. center cut bacon, cut into 1/2 inch pieces
3/4 cup chopped red onion, (about half of a large onion)
olive oil
2 cups grated sharp cheddar cheese
sliced green onions to garnish (optional)
Instructions
Preheat oven to 425°F. Roll out dough and place on well oiled pan.
In skillet over medium high heat, brown bacon until crispy. Remove bacon to a plate covered with paper towel to drain the fat.
Optional: Remove all but 1 tablespoon of the bacon grease from the pan, place back on medium high heat, and saute onions until soft and transparent. If you prefer, you can also leave the onions raw.
Brush crust all over with barbecue sauce. Arrange chicken, bacon, and onions on pizza crust. Sprinkle with cheddar cheese.
Bake for 20 minutes until crust is crispy and cheese is bubbly. Let cool slightly before slicing and serving. Garnish with sliced green onions, if desired.
Nutrition Information:
Yield: 8
Serving Size: 1 slice
Amount Per Serving:
Calories: 545
Total Fat: 37g
Saturated Fat: 17g
Trans Fat: 1g
Unsaturated Fat: 17g
Cholesterol: 124mg
Sodium: 1298mg
Carbohydrates: 13g
Fiber: 1g
Sugar: 7g
Protein: 38g
RachelCooks.com sometimes provides nutritional information, but these figures should be considered estimates, as they are not calculated by a registered dietitian. Please consult a medical professional for any specific nutrition, diet, or allergy advice.
One piece garnished with green onion, one with parsley. Green onion wins!
What is your favorite pizza topping?