With a simple English muffin and any toppings you like, English muffin pizzas are great for a really quick dinner, lunch, or healthy snack. Kids love them!
recipe Overview
Why you'll love it: So easy to make, kids love making their own pizzas just the way they like them.
How long it takes: Just 15 minutes!
Equipment you'll need: Baking sheet, oven or toaster oven
Servings: This recipe serves 2 but it's easy to make as many pizzas as you like.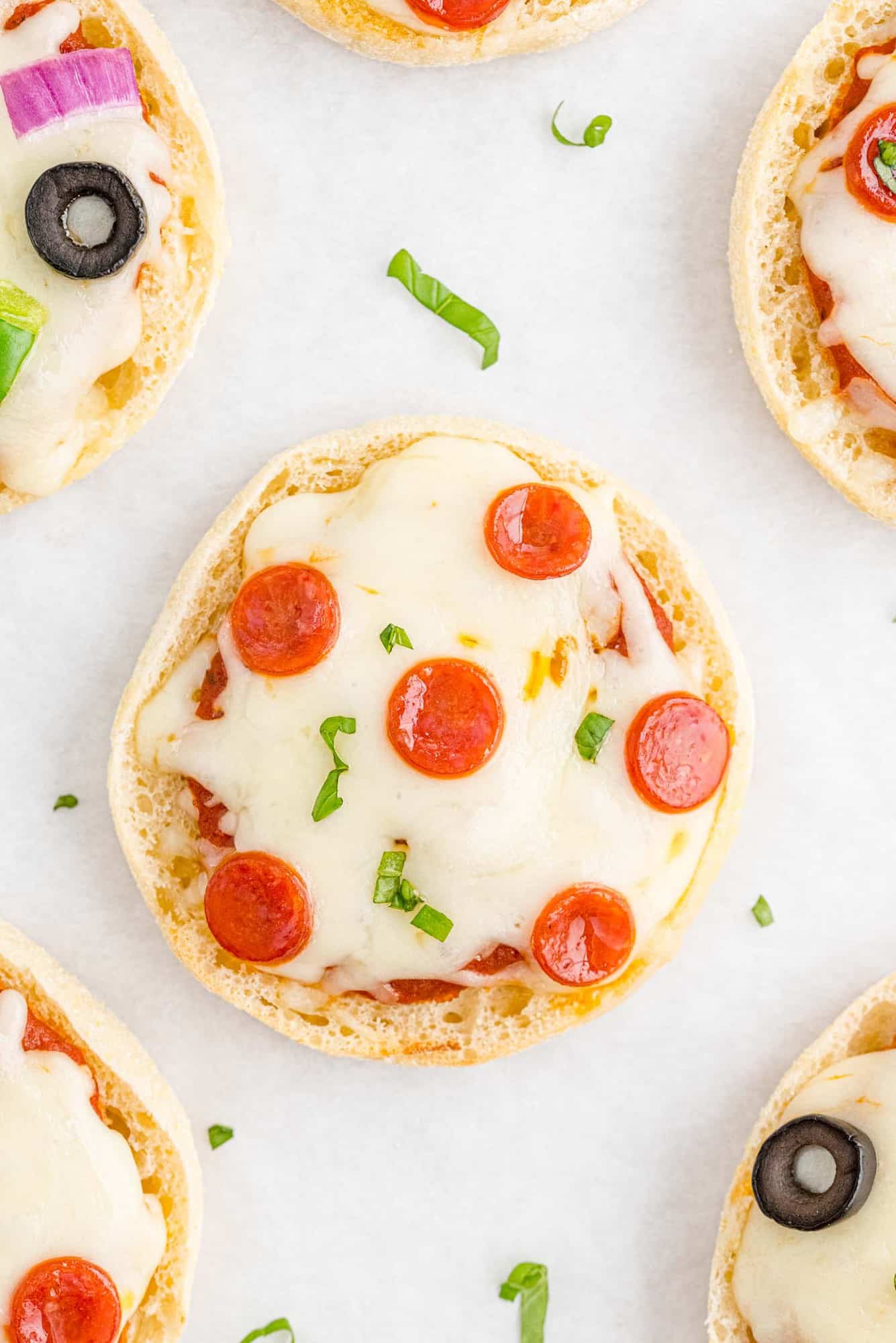 Crunchy English muffins, topped with your favorite pizza sauce or marinara, melty mozzarella cheese, and all your favorite pizza toppings, are such an easy and fun way to make pizza.
Craving pizza?
Your family "starving" and you're running out of quick meal ideas?
Or maybe Mom and Dad are going out and you need a fast dinner for the kids?
There's no need to wait for the pizza delivery person and pay big bucks. English muffin pizzas may be the quickest way to get pizza on the table that I know of.
So whether you're looking for a healthy snack or an easy dinner idea, this English muffin pizzas recipe may be just the ticket. It's popular with kids. They can make their own and picky eaters can choose what they like for toppings.
Individual pizzas go great with a salad or soup or even with a side of air fryer French fries. Think of them as sandwiches. You'll also find that these little pizzas are a welcome after school snack, the perfect antidote for starving tummies. (For more snack ideas, peruse my list of 30 after school snacks.)
P.S. If you're looking for more pizza themed quick dinners, try pizza burgers, pizza pasta (one pan), or pizza sliders. Stuffed pizza bites with garlic butter are always a hit, too.
About this easy Pizza recipe
Pantry ingredients make this recipe convenient. I really love these pizzas because they're easy to make, kids love them, and usually I have all the ingredients in my pantry and fridge. For a basic pizza, all you need are English muffins, pizza sauce from a jar, and pre-shredded mozzarella cheese.
We've perfected the recipe for you. We were a little stymied by how to get a crispy base for these pizzas. The sauce has a way of soaking into all the little holes of the English muffins and making the pizza soggy. After a little experimentation, we're confident our technique will make soggy crusts a thing of the past.
Here's a quick run down of how to make the pizzas. As usual, you'll find the printable recipes with complete instructions on the recipe card at the end of the post.
Ingredients you'll need
English Muffins: Choose your favorite brand. I like to buy whole wheat English muffins for a little extra nutrition and flavor.
Pizza Sauce: Really any sauce will do, whether you like sauce from a can or jar, homemade pizza sauce, pesto or barbecue sauce (or no sauce if you like).
Shredded Mozzarella Cheese: Mozzarella is classic pizza cheese but any type of cheese is fine.
Toppings: Use your favorite toppings. Just remember, overloaded pizzas take longer to bake and have a greater chance of becoming soggy.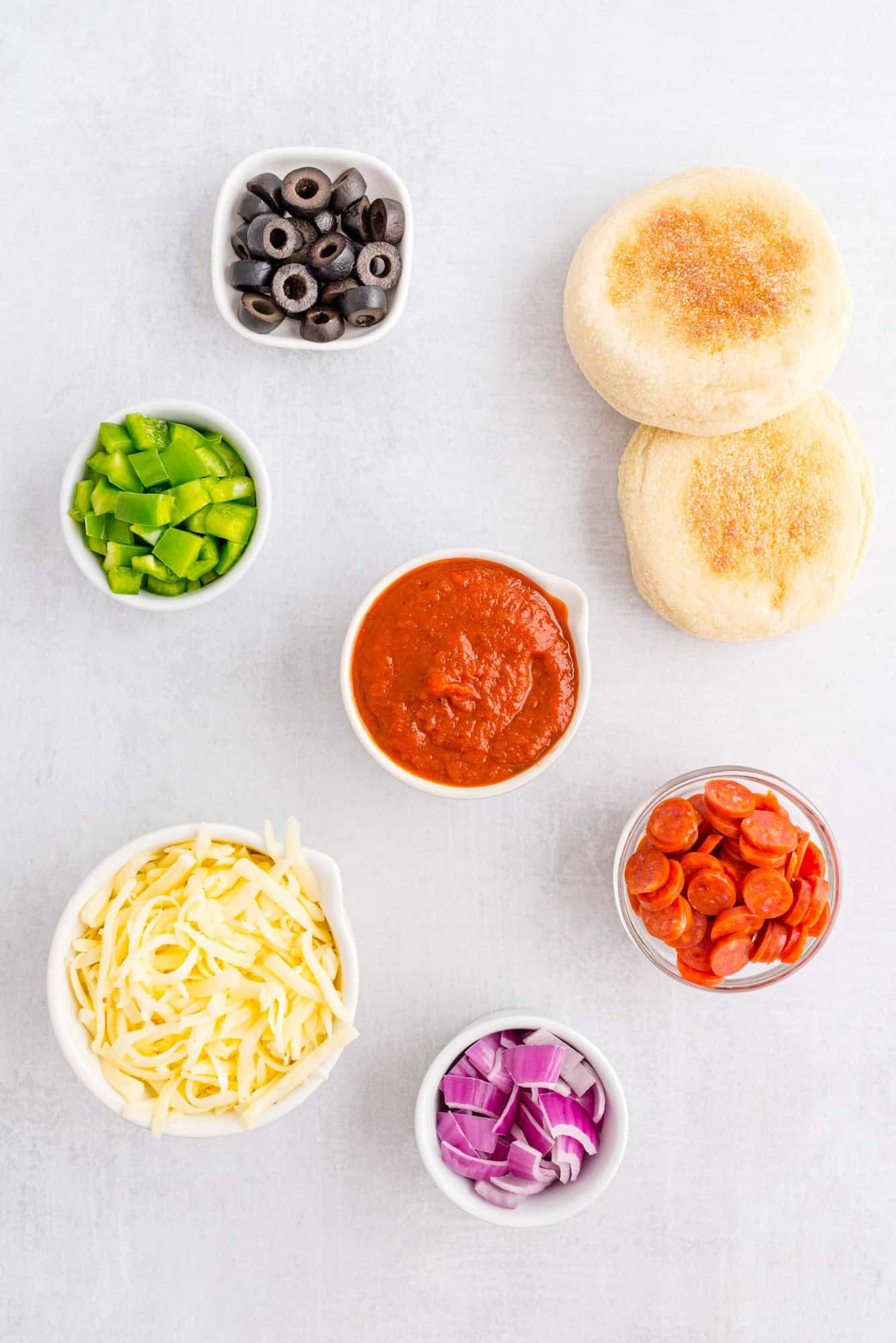 How to make Mini Pizzas
There are so many ways to change up English muffin pizzas that I hesitate to call it a recipe. Here's how to do it:
Preheat the oven and assemble your ingredients. If you're adding bell peppers, onions, or mushrooms, chop or slice them very thinly so they cook quickly.
Split the English muffins in half horizontally. Use a fork to get them started and gently pull the halves apart. "Nooks and crannies" are desirable. Arrange the split halves on a baking sheet. I like to put down a sheet of parchment paper first for really easy cleanup.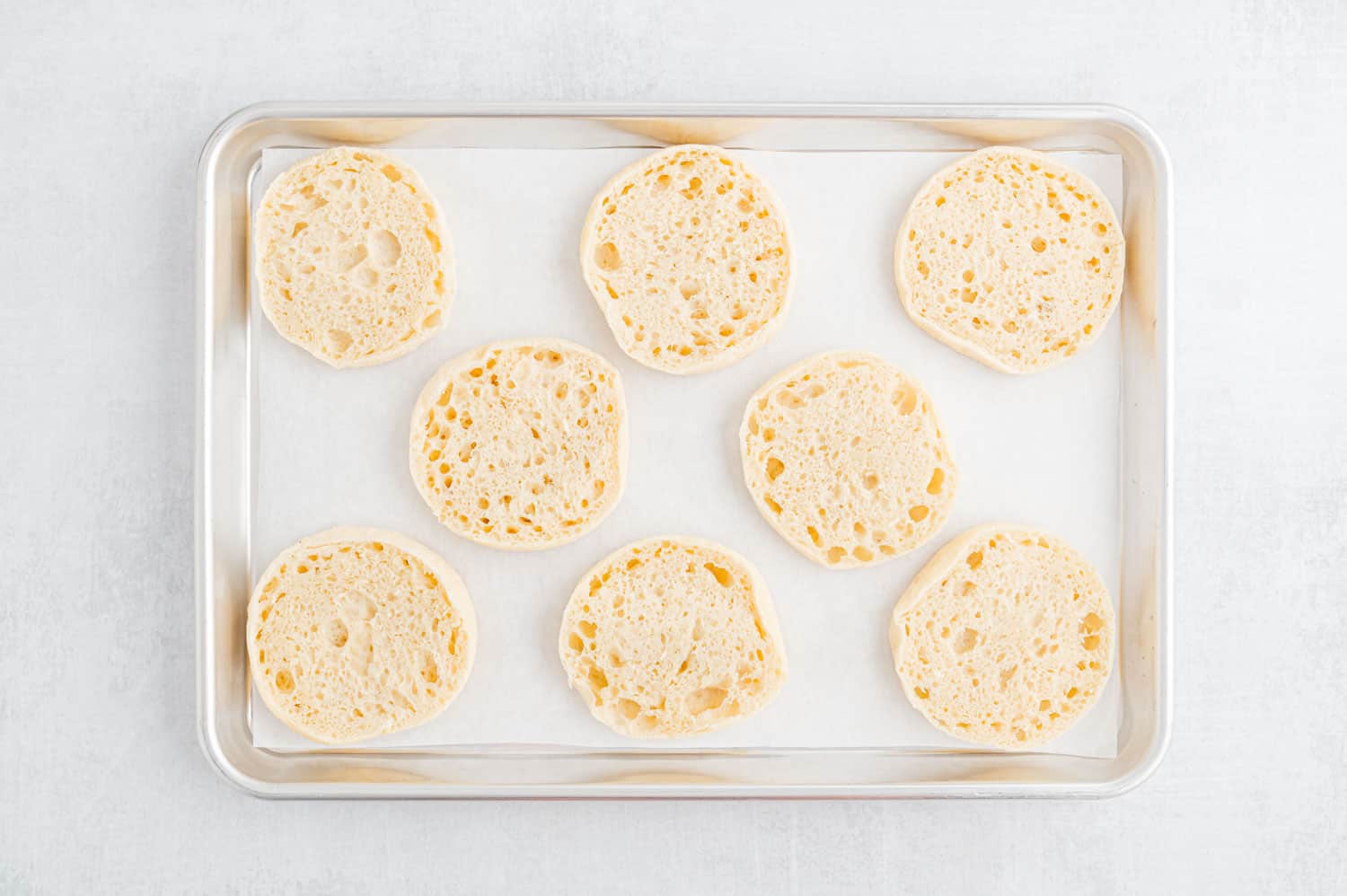 Pop them into the oven (a toaster oven is great, too!) for just six minutes or until the halves are lightly toasted. Pre-toasting the muffins ensures that you'll have a crispy crust. If you like a richer crust, butter the muffin or coat it lightly with olive oil before toasting.
Remove the English muffins from the oven and top with a little sauce (just a bit, too much makes the pizza soggy), mozzarella cheese, and your toppings.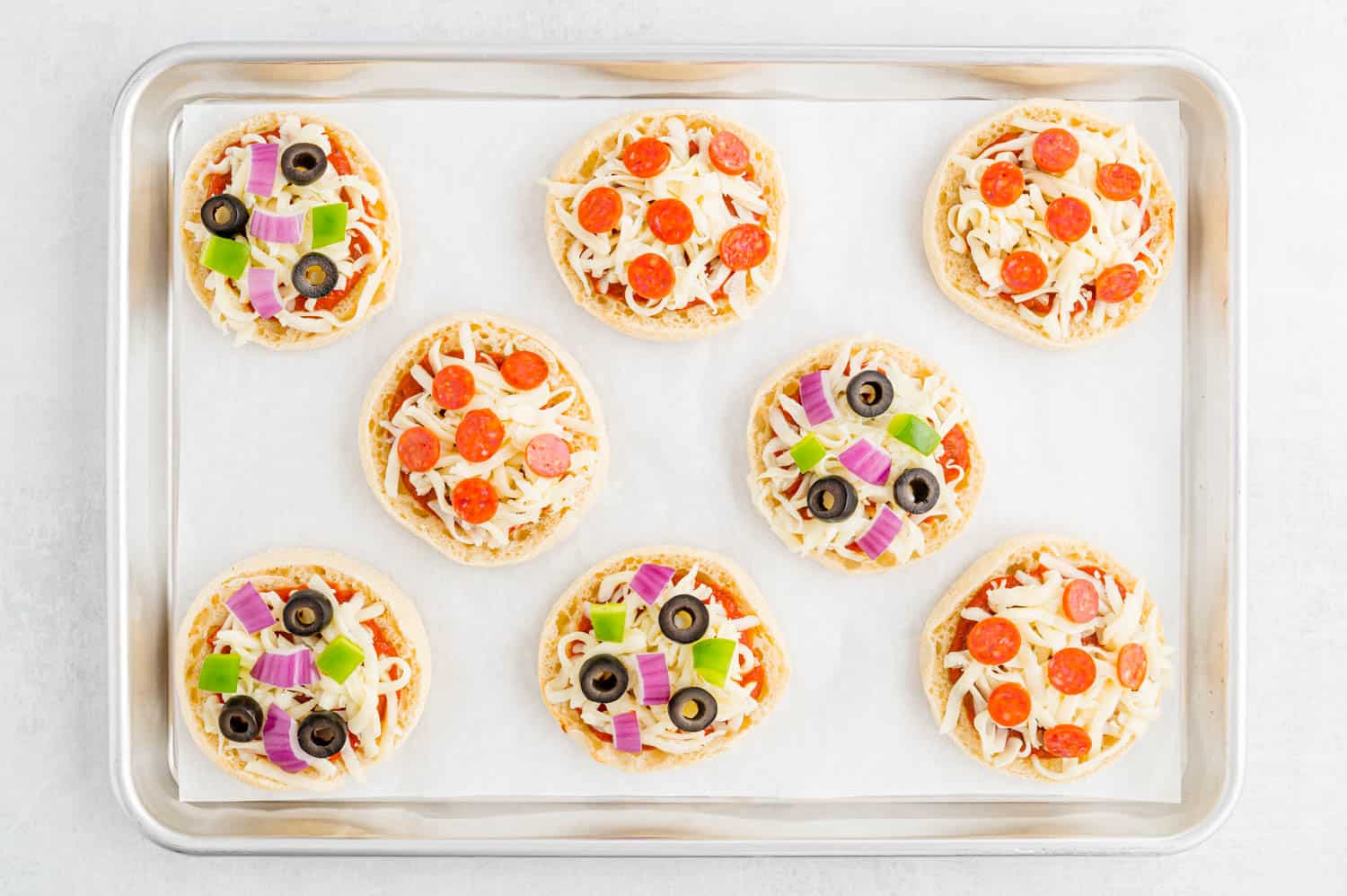 Return the pan to the oven and bake for six more minutes or until the cheese is melted.
That's all there is to it! Mini pizzas, made to order, ready in fifteen minutes!
P.S. They are really hot so don't burn your mouth!
FAQs
What makes an English muffin different from bread?
Perhaps you're wondering what exactly is an English muffin. Muffins are quick breads, baked in an oven, and tend to be sweet. English muffins are yeast breads and are baked in a skillet or griddle (but most folks buy them already made).
It may surprise you that English muffins actually originated in the U.S. and are called "American muffins" in the U.K. and Ireland.
What can I top an English muffin pizza with?
Pretty much anything you desire. Stay away from raw meats like ground beef, sausage, or bacon because the pizzas aren't in the oven long enough to thoroughly cook meat. Any pre-cooked meat is fine, including sliced hot dogs, cooked bacon, and deli ham.
How do you make English muffins not soggy?
Pre-baking the muffins before adding the toppings ensures that they'll be perfectly crisp. Another tip: Add pizza sauce sparingly. Too much sauce will make the pizzas soggy.
Make It your own
Every time you make an English muffin pizza, you make it your own. Vary the toppings, the sauce, and the cheese for an original creation. Or try one of these combinations:
BBQ sauce, shredded chicken, and smoked gouda.
Pesto, fresh mozzarella, thinly sliced tomatoes, and fresh basil.
Alfredo sauce, thinly sliced mushrooms, and Parmesan cheese.
Softened cream cheese or cream cheese spread, sweet chili sauce, and tiny canned shrimp. Top with sliced green onions before serving.
Refried beans, Monterey Jack cheese, chopped onions, and black olives. Top with salsa and pickled red onions before serving.
If you're not into the English muffin crust, I've got you covered. Make your own crust with this easy pizza dough recipe.
Make-Ahead
I have just a few tips if you want to prep ahead. Shred the cheese if it isn't pre-shredded and refrigerate until ready to use. Wash and slice any veggies that you are using to top the pizzas. Split the English muffins in half and put them back into the bag to stay fresh.
Storage & Reheating Tips
Refrigerate: Since these are made-to-order individual pizzas, you probably won't have many left over. If you do, wrap them well and store in the fridge for up to three days.
Reheat: Preheat your oven, toaster oven, or air fryer to 350°F, and place the muffins right on the oven rack for 10 minutes (5 minutes in air fryer) or until heated through. Using a microwave to reheat them isn't advisable because the muffins will become somewhat tough.
Leftover Love
Leftover pizza? Yeah, reheat it and eat it, and that's leftover love, right?
Think about how to use leftovers you have in your fridge to make English muffin pizzas. Shred or dice leftover grilled chicken for your pizza. Leftover veggies like asparagus or broccoli are good additions. Have a little leftover Alfredo or pesto? Any sauce is fun on these pizzas. Finish up that cheese remnant — add it to your pizza! The possibilities are endless (for more ideas, take a look at the Make It Your Own section).
Interested in a weekly meal plan that includes this easy pizza recipe? Take a look at my Meal Plan #1 or Meal Plan#30. You'll find a wholesome recipe for each weekday plus a categorized grocery list. Let me do the planning for you this week!
We'll be adding a new meal plan weekly. If you're interested, browse all of our meal plans.
Did you make this? Be sure to leave a review below and tag me @rachelcooksblog on Facebook, Instagram, or Pinterest!
With a simple English muffin and any toppings you like, English muffin pizzas are great for a really quick dinner, lunch, or healthy snack. Kids love them!
Ingredients
2

English muffins

(split into top and bottom halves)

¼

cup

pizza sauce

¾

cup

shredded mozzarella cheese

Desired toppings: pepperoni, ham, mushrooms, onions, etc.
Instructions
Preheat oven to 425°F. Line baking sheet with foil or parchment paper, or spray lightly with cooking spray. Place split English muffin halves on prepared baking sheet.

Bake 6 minutes or until lightly toasted.

Remove from oven and divide pizza sauce evenly among each half, spreading almost to edges.

Sprinkle with mozzarella cheese and add desired toppings.

Return to oven and bake 6 more minutes or until cheese is melted.
Notes
Nutrition information does not include toppings other than cheese and sauce.
If you like a richer crust, butter the muffin or coat it lightly with olive oil before toasting.
Be creative! Try barbecue sauce with chicken, bacon, and onions; sweet chili sauce with shrimp and bell peppers; refried beans with pepper jack cheese; or anything else you can come up with.
Nutrition Information
Serving:
2
halves
,
Calories:
267
kcal
,
Carbohydrates:
29
g
,
Protein:
14
g
,
Fat:
10
g
,
Saturated Fat:
6
g
,
Polyunsaturated Fat:
1
g
,
Monounsaturated Fat:
3
g
,
Cholesterol:
33
mg
,
Sodium:
688
mg
,
Potassium:
208
mg
,
Fiber:
2
g
,
Sugar:
2
g
,
Vitamin A:
417
IU
,
Vitamin C:
2
mg
,
Calcium:
246
mg
,
Iron:
1
mg
This website provides approximate nutrition information for convenience and as a courtesy only. Nutrition data is gathered primarily from the USDA Food Composition Database, whenever available, or otherwise other online calculators.