Pizza Turkey Burgers
You'll love pizza turkey burgers, seasoned with Italian herbs and bits of pepperoni. Serve the burgers on a soft bun with marinara, fresh melted mozzarella, and basil leaves.
I love summer and everything that goes with it, especially corn on the cob, watermelon and burgers.
And potato salad.
And baked beans.
And homemade ice cream and hot fudge.
And everything else.
I love making turkey burgers because they are healthier than their beef counterpart (don't get me wrong–love those too!). You can add so many different flavors to ground turkey to make the burgers your own. Greek, Asian, Italian, whatever your heart desires.
You can use turkey to make delicious meatballs, too. Have you tried these baked Italian-style turkey meatballs or Greek meatballs? Oven meatballs are so easy to make, with no added oil for frying because they're baked in the oven. You don't have to flip them either. They're delicious on a bun, too. I love meatball subs!
I usually make my turkey burgers with parsley, onion, cumin, and a bit of cayenne, but today I'm bringing you something a little different, pizza turkey burgers.
About these pizza turkey burgers:
This makes a big batch. You will easily be able to make at least six burgers, or even eight quarter pound burgers. I'll leave that choice up to you. Or cut the recipe in half for 4 nice sized burgers.
To make the burgers, lightly whisk two eggs in a large bowl. Add ground turkey, grated onion, oregano, garlic powder, and bread crumbs. Normal stuff for a turkey burger, but here's the extra special part: add diced pepperoni and Parmesan cheese to the mix. So flavorful!
Mix well with your hands if you don't mind getting your hands dirty. It's really the best way to get things thoroughly mixed. Don't overmix or the result will be tough burgers.
Form the mixture into patties and grill or broil until almost done. I like to broil these burgers because the mixture is pretty soft and has a tendency to fall through the grill grates.
Add a slice of fresh mozzarella cheese to each burger and let it melt slightly while the burger finishes cooking. The internal temp of the burger should be 165°F with an instant read thermometer.
Toast the buns if desired and spoon pizza sauce or homemade tomato spaghetti sauce on the bottoms of the buns. Place a burger on each and top with several fresh basil leaves. Think of the basil as lettuce, so go ahead and put a bunch on.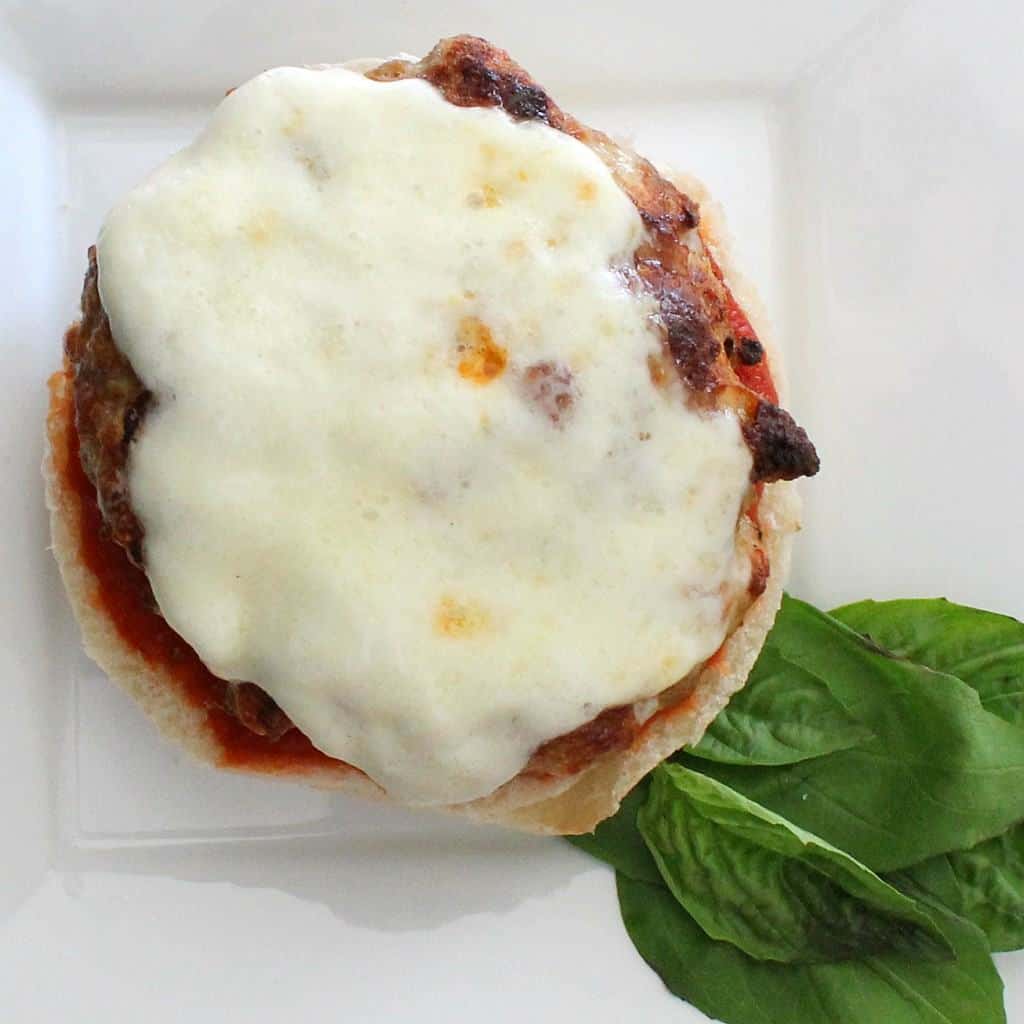 Love pizza?

So do we! Here's more pizza theme recipes for you to try:
Pizza Turkey Burgers
Yield: 8 burgers
Prep Time: 10 minutes
Cook Time: 15 minutes
Total Time: 25 minutes
You'll love pizza turkey burgers, seasoned with Italian herbs and bits of pepperoni. Serve the burgers on a soft bun with marinara, fresh melted mozzarella, and basil leaves.
Ingredients
2 pounds ground turkey
about 1.5 ounces of sliced pepperoni, diced
1 teaspoon dried oregano
1/2 teaspoon garlic powder
1 medium yellow onion, grated or diced
2 eggs, lightly beaten
1/2 cup shaved or grated Parmesan cheese
1/2 cup plain bread crumbs
salt and pepper to taste
12-18 large basil leaves (they will be standing in for lettuce)
approximately 1/4 pound of fresh mozzarella, sliced thinly (one slice for each patty)
Instructions
Combine turkey, pepperoni, oregano, garlic powder, onion, eggs, Parmesan, bread crumbs and salt and pepper in a large bowl using your hands. You don't want to over-mix, just make sure everything is well distributed.
Shape into patties (I like to make them slightly thinner in the middle) and place on a broiler pan. Broil on high for 6 to 7 minutes or until browned, flip burgers over, and continue to cook for about 4 minutes. Add a slice of mozzarella to each patty and broil for an additional 1-2 minutes or until cheese is browned and burgers are cooked through.
Meanwhile spoon about 1 tablespoon of sauce on each bun (toast them first if you want!). Place burgers on top of sauce and top with fresh basil. Enjoy!
Nutrition Information:
Yield: 8
Serving Size: 1 burger
Amount Per Serving:
Calories: 455
Total Fat: 28g
Saturated Fat: 9g
Trans Fat: 0g
Unsaturated Fat: 16g
Cholesterol: 185mg
Sodium: 654mg
Carbohydrates: 13g
Fiber: 2g
Sugar: 3g
Protein: 38g
RachelCooks.com sometimes provides nutritional information, but these figures should be considered estimates, as they are not calculated by a registered dietitian. Please consult a medical professional for any specific nutrition, diet, or allergy advice.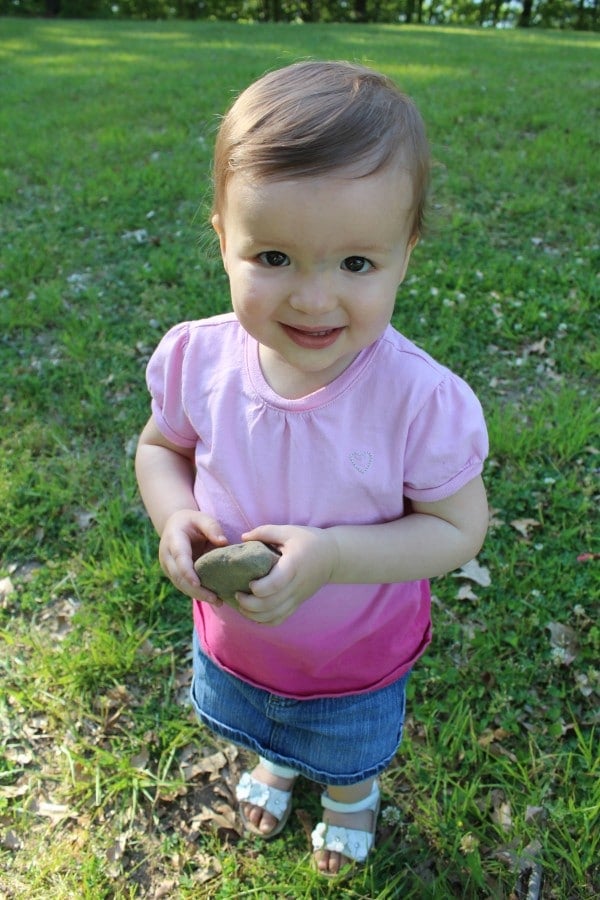 This picture has nothing to do with the burgers but it's been awhile since I posted a picture of E…and I just can't help myself.
Do forgive me. :)