Pizza Burgers (turkey burgers)
Pizza burgers, made with ground turkey, are packed with all the good stuff you love about pizza. There's nothing boring about these burgers!
Recipe Overview
Why you'll love it: The pizza burgers are juicy, tender, and so flavorful, due to all the pizza fixings.
How long it takes: 30 minutes
Equipment you'll need: broiler, rimmed baking sheet, large bowl, grater
Servings: makes 4 burgers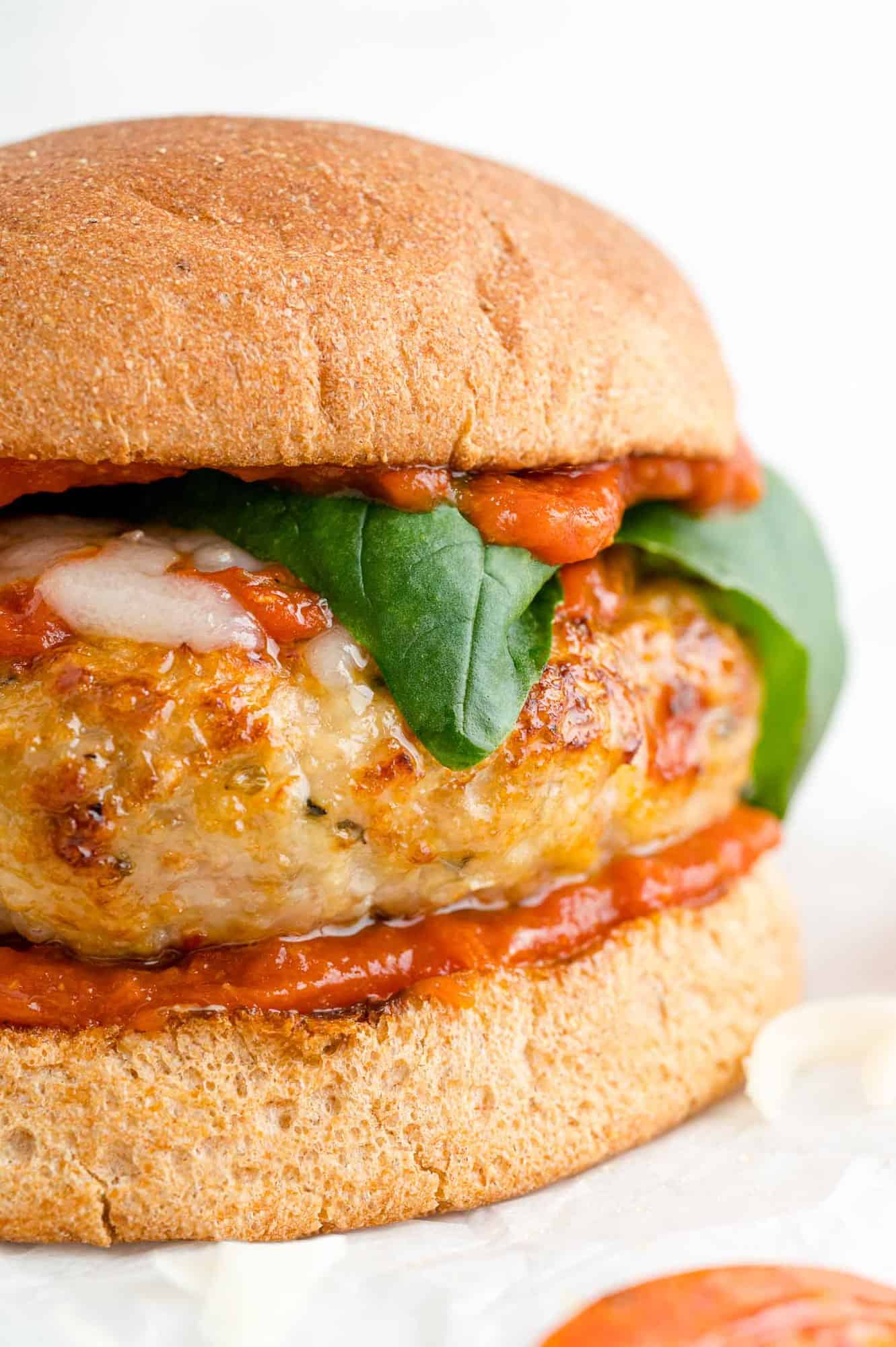 Pizza burgers take everything good about pizza and stuff it all into a burger: pepperoni, cheese, sauce, and fresh basil. If you love pizza (and who doesn't?), you'll love these burgers.
(I may have a pizza fixation. I just counted and there are 34 posts on my site that feature some variation of pizza.)
You'll love these juicy turkey burgers, seasoned with garlic, oregano, and onion, and studded with bits of spicy pepperoni and Parmesan cheese. And we don't stop there. These are pizza burgers so they are topped with pizza sauce, mozzarella cheese, and fresh basil, just like your favorite pizza.
About This Recipe
I love making turkey burgers. Ground turkey has a less assertive flavor than beef, so it's easy to add your own special signature to the meat by adding different seasonings and/or toppings.
I usually make my turkey burgers with more of a southwestern vibe, seasoning them with parsley, onion, cumin, and a bit of cayenne. Today I'm bringing you something a little different, a pizza burger recipe, with a taste of Italy. (By the way, be sure to try my Caprese turkey burgers, too!)
These burgers are broiled so it won't matter if your grill happens to be covered with snow. Homemade turkey burgers tend to be softer and you'll find that broiling is an easier option than grilling. Clean-up is a breeze because you broil them on foil.
By the way, did you know that you can use turkey to make delicious meatballs, too? Have you tried these baked Italian-style turkey meatballs or Greek meatballs? Oven meatballs are so easy to make, with no added oil for frying because they're baked in the oven. You don't have to flip them either. Air fryer meatballs are another easy option. Meatballs are delicious on a bun, too, in meatball subs with marinara and mozzarella cheese.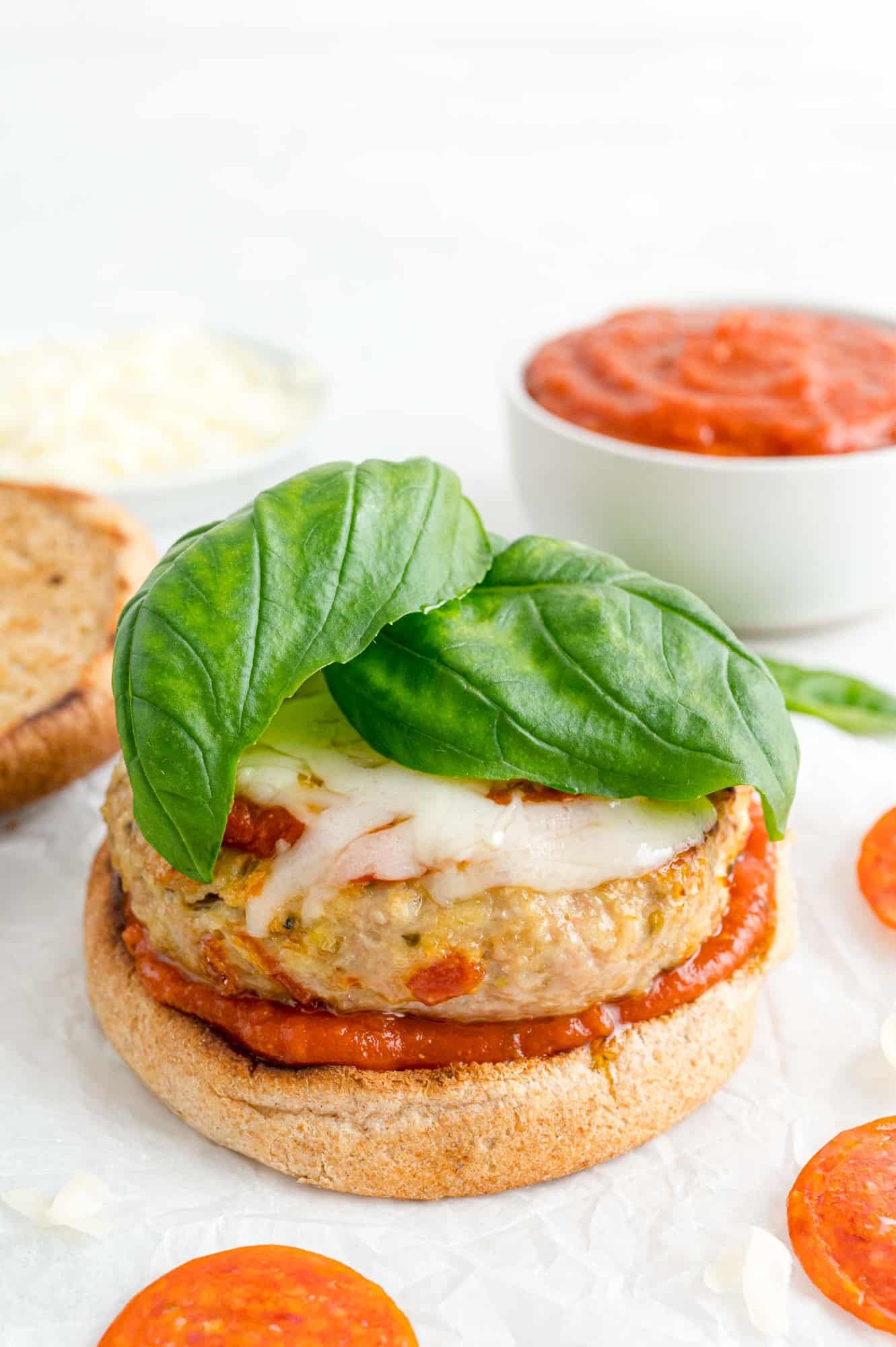 Back to the burgers! I'll get you started here and give you lots of helpful tips.
You'll find the printable recipe card near the end of the post. It has complete instructions, measurements, and nutrition information.
What You'll Need
Ground Turkey: There are different types of ground turkey, just like ground beef. I usually recommend 85/15 (that is, 15% fat content) because the burgers just taste better with a little fat. If you prefer, go to 93/7 but I wouldn't recommend fat free (ground turkey breast) because it makes a pretty dry burger.
Pepperoni: Just a little bit of pepperoni (1 ounce) goes a long way to flavor the burgers. If you prefer, buy turkey pepperoni. Sliced pepperoni keeps for a long time in the fridge and can be used to add extra pizzazz to sandwiches, casseroles, and yes, pizza.
Onion: A small yellow cooking onion is perfect for this recipe. You don't need a lot of onion and it's grated so there won't be large pieces in the burger. Finely chopped green onion is a good substitute.
Egg: The egg works as a binder, along with the panko. It helps hold the burger together, and keeps it tender and moist.
Panko Bread Crumbs: Panko is coarser than regular bread crumbs. If you happen to substitute regular bread crumbs for the panko, use a bit less. For a gluten-free option, substitute rolled or quick oats or a gluten-free bread crumb. Homemade breadcrumbs are easy to make, too, and you can use day-old bread.
Parmesan Cheese: Grated or finely shredded cheese adds lots of flavor to the burger mix and a bit of saltiness, too.
Dried Oregano, Garlic Powder, Salt and Pepper: These simple seasonings give the burgers an Italian flair.
Pizza Sauce: Instead of ketchup, these burgers are topped with pizza sauce. Any type of pizza sauce is fine, including homemade pizza sauce. Marinara sauce or spaghetti sauce will work as well.
Mozzarella Cheese: What's a pizza without cheese? if you prefer, substitute fresh mozzarella.
Fresh Basil: Use large basil leaves as a flavorful substitute for lettuce on your burgers. If fresh basil isn't available, a few baby spinach leaves or lettuce will do just fine although you'll miss that lovely basil.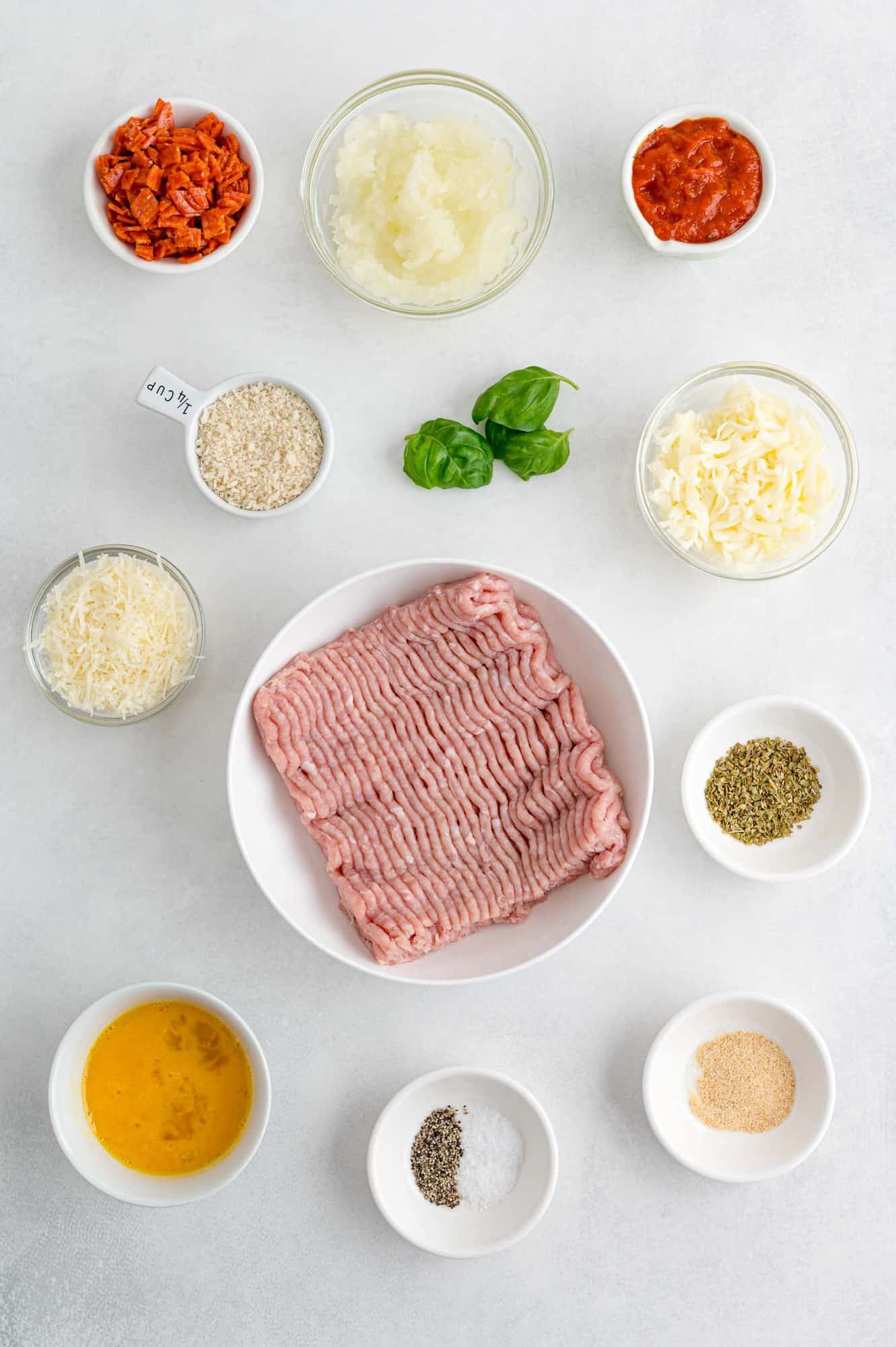 How To Make Pizza Burgers
Before you get started, line a rimmed baking sheet with foil for easy clean-up. The burgers are broiled in the oven, so get your oven preheating on high, too. The rack should be in the upper third of your oven.
In a large bowl, lightly beat the egg. Add the ground turkey, pepperoni, panko, , seasoning, and Parmesan cheese. Peel the onion and grate it over the bowl, so you catch both the onion and the juices.
If you aren't squeamish about getting your hands getting sticky, go ahead and mix it all up with your fingers. It's really the best way to get things thoroughly blended together. You don't want to overmix the meat mixture or the result will be tough burgers. When it looks like it's coming together, it's time to stop squishing it.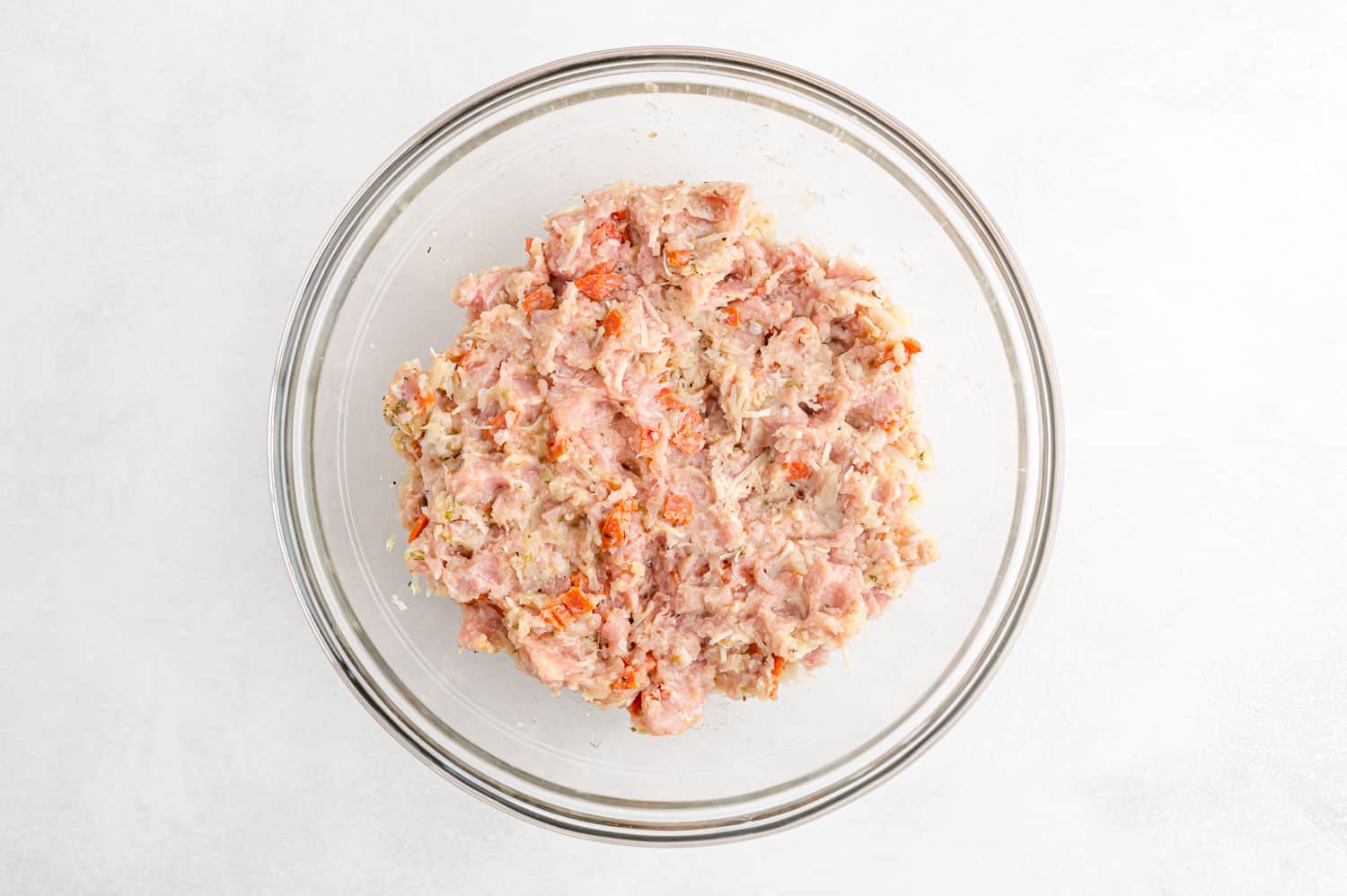 Form the mixture into four patties. Make them a little thinner in the centers. The burgers need to be cooked all the way through and thinner centers mean that the burgers will cook more evenly.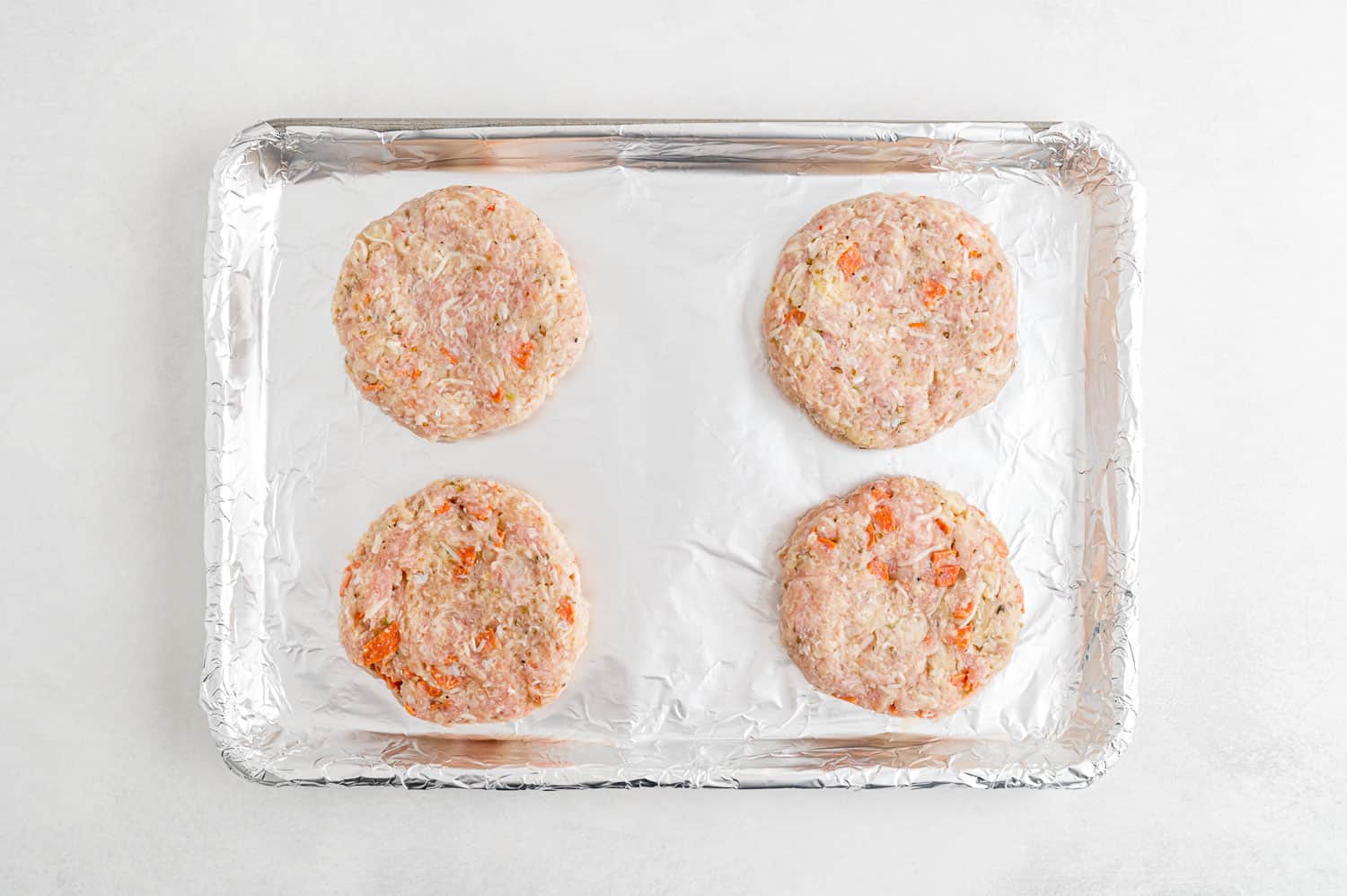 Place the burgers on the pan you prepared and place them under the broiler, flipping them once. The internal temp of the burger should be 165°F with an instant read thermometer, and the meat no longer pink inside.
Take the burgers out of the oven but leave the broiler on. Spread a little pizza sauce on each burger, sprinkle with mozzarella cheese and briefly broil again until the cheese is melted.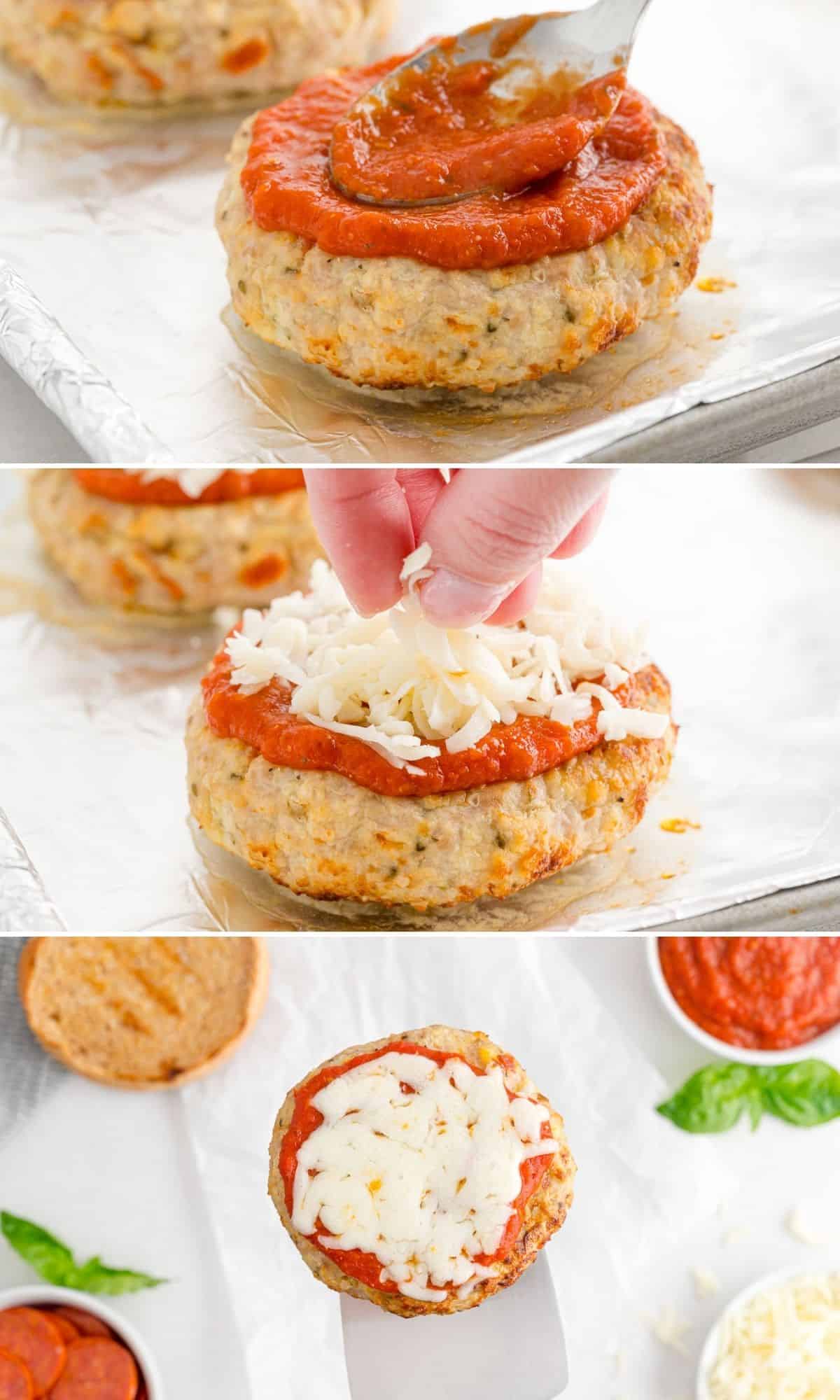 Butter and toast four hamburger buns, if desired. It really does make a difference when you do that simple step. Place the burgers on the buns (go ahead and add a little sauce to the bottom bun, too, if you like!) and top with several fresh basil leaves. Think of the basil as lettuce, so go ahead and put a bunch on.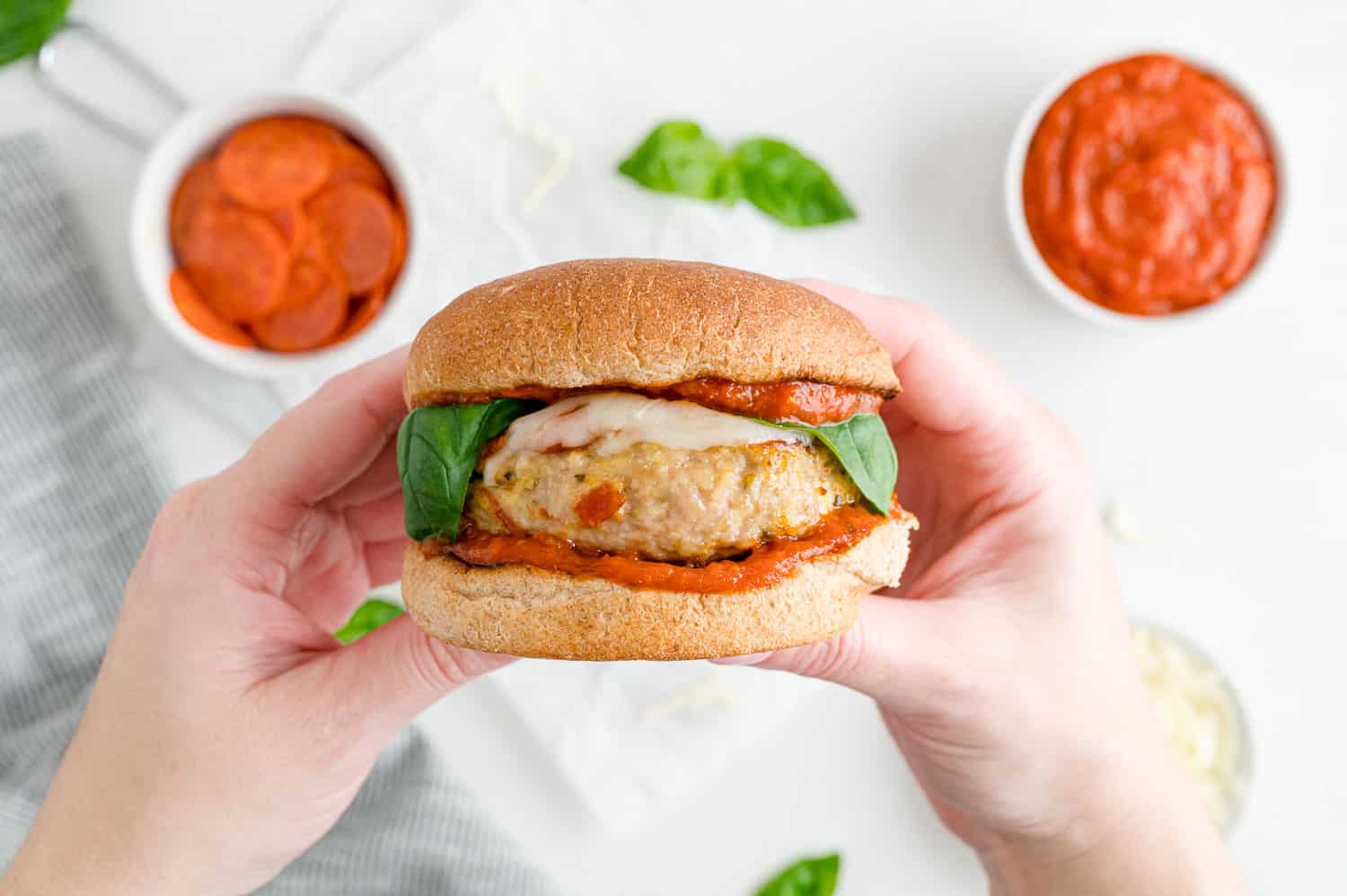 Enjoy! Don't forget dessert! A homemade snickerdoodle cookie or oatmeal cookie is always a good idea. These blueberry crumb bars are pretty amazing, too.
FAQs
Is a turkey burger healthier than a hamburger?
Unless you choose ground turkey breast which is virtually fat-free, there isn't a huge difference between turkey and beef. Ground turkey has a bit less saturated fat which makes it more heart-healthy.
Some folks choose turkey for other reasons. I love that we have both options!
How do you keep turkey burgers from falling apart?
Homemade turkey burgers are softer than ground beef patties and tend to fall apart when you grill or pan fry them. Broiling turkey burgers solves this problem.
If you prefer grilling over broiling, use a foil pan or line the grill grates with heavy duty foil. Problem solved!
Hint: Make sure the first side is well-cooked before you flip the burgers. Get a good sear on the first side before you flip it and chances are good it won't be sticking (it will taste better too!). This hint holds true for most foods that are flipped.
What goes well on a turkey burger?
Pretty much anything goes on a turkey burger. If it tastes good on a beef burger, it will taste good on a turkey burger. Think outside of the box a little. While the usual condiments are fine, try adding some flair with less common toppings. How about a taco burger with southwestern seasonings, guacamole, salsa, and cotija cheese or a fajita burger with grilled onions and peppers? Make a Greek burger, seasoned with oregano and garlic, and topped with tzatziki.
Make It Your Own
Not a fan of ground turkey? Make this recipe with ground beef or ground chicken.
Quick Option: Cook frozen turkey burgers according to package directions and top with pizza sauce, mozzarella, and fresh basil.
Gluten-free: Substitute rolled or quick oats (or GF breadcrumbs) for the panko. Serve the burgers without buns or on a gluten-free bun.
Skip the bun: A pizza burger can easily be a fork and knife meal. Omit the buns and serve with a salad, or with pasta, or roasted broccoli.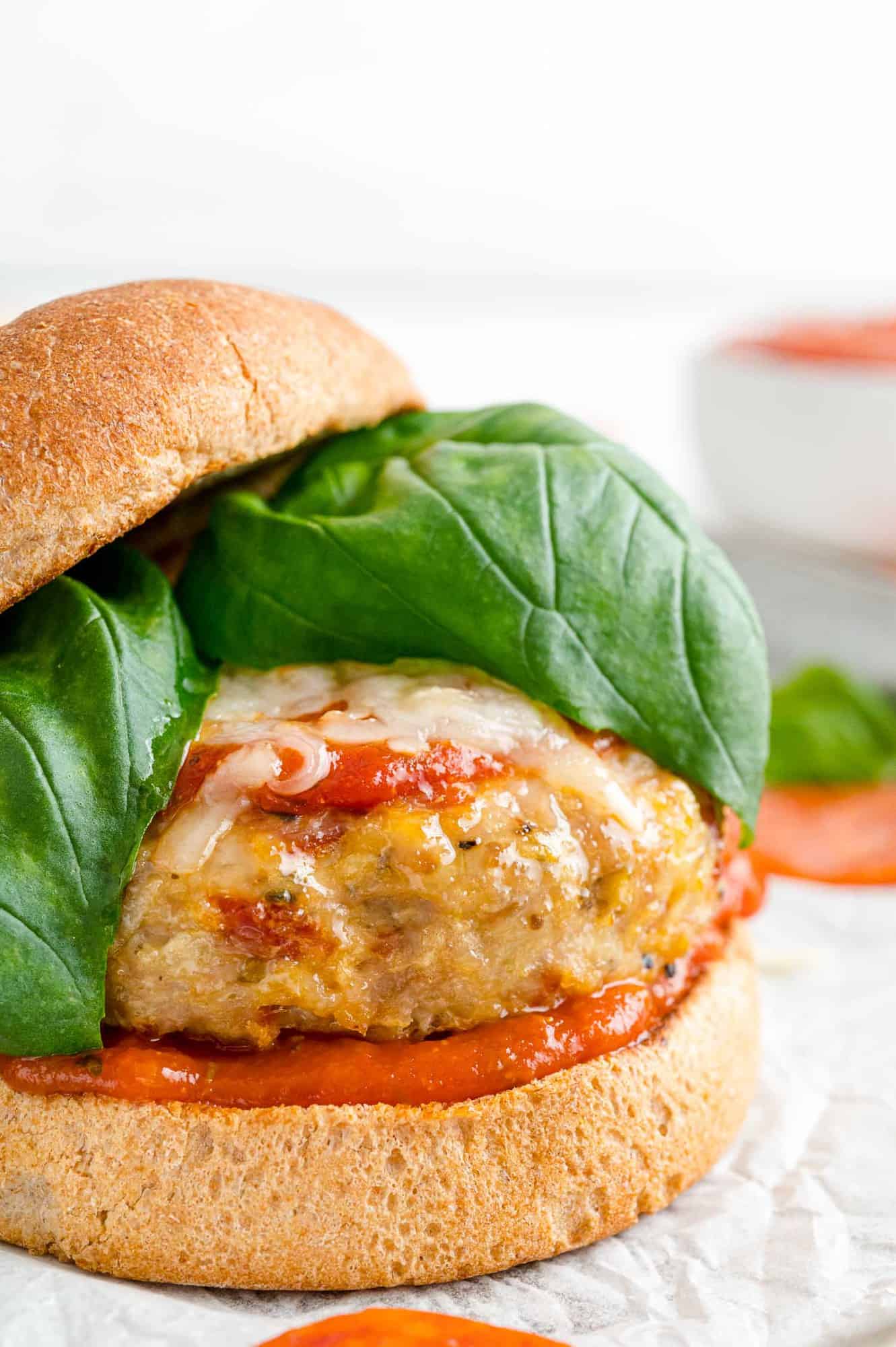 Make-Ahead Ideas
Refrigerator: Prep the burgers (without toppings) a day ahead. Form into patties, cover, and refrigerate until ready to cook. You'll have dinner on the table in about fifteen minutes.
Freezer: The uncooked patties can be frozen for up to 2 months. Place a layer of waxed paper or parchment paper between each one so they don't stick together, and put into a freezer safe container or bag. Thaw overnight in the fridge for best results.
Storage & Reheating Tips
If you happen to have a leftover burger or two, wrap them well (without the buns) and refrigerate for up to 3 days. Cooked burgers without toppings can be frozen for up to 2 months. Thaw overnight in the refrigerator before reheating.
Reheat individual burgers that already have toppings in the microwave. If the burgers aren't topped with the sauce and cheese, it's best to heat them in a toaster oven or air fryer until heated through, add toppings, and heat briefly until the cheese melts.
More "Pizza" Recipes
Love pizza? So do we! And it doesn't have to be a conventional pizza. Here's more pizza-ish recipes for you to try:
Interested in a weekly meal plan (it's free!) that includes this burger recipe? Take a look at my Meal Plan #13. You'll find a wholesome recipe for each weekday plus a categorized grocery list. Let me do the planning for you this week!
We'll be adding a new meal plan weekly. If you're interested, browse all of our meal plans.
Did you make this? Be sure to leave a review below and tag me @rachelcooksblog on Facebook, Instagram, or Pinterest!
Pizza burgers, made with ground turkey, are packed with all the good stuff you love about pizza. There's nothing boring about these burgers!
Ingredients
1

pound

ground turkey

1

ounce

sliced pepperoni, finely chopped, about ⅓ cup

1

small yellow onion, grated or finely diced

(grate over bowl to catch juices)

1

large egg, lightly beaten

¼

cup

finely shredded or grated Parmesan cheese

¼

cup

panko bread crumbs

1

teaspoon

dried oregano

½

teaspoon

garlic powder

¼

teaspoon

kosher salt

¼

teaspoon

coarse black pepper

¼

cup

pizza sauce, more if desired

¼

cup

shredded mozzarella cheese

12-18

large basil leaves

(they will be standing in for lettuce)
Instructions
Preheat oven broiler (High) with the oven rack in the top third of the oven. Line a sheet pan with foil for easy clean up.

Combine turkey, pepperoni, onion, egg, Parmesan, bread crumbs, oregano, garlic powder, salt and pepper in a large bowl. Use your hands to blend it together. Don't over-mix, just make sure everything is well distributed.

Shape into patties about ½ inch thick (make them slightly thinner in the middle) and place on prepared sheet pan. Broil on high for 6 to 7 minutes or until browned, flip burgers over, and continue to cook for about 4 to 6 minutes or until burgers are cooked through (internal temperature of 165°F).

Top each burger with a tablespoon of sauce and a tablespoon of shredded cheese. Broil for an additional 1 minute or until cheese is melted. Place burgers on buns (toasted if desired) and top with fresh basil leaves and more pizza sauce if desired. Enjoy!
Notes
Nutrition information is for burgers with toppings; it does not include buns.
For gluten-free burgers (without buns), substitute rolled or quick oats for the panko bread crumbs.
Slices of fresh mozzarella can be substituted for the shredded mozzarella cheese.
Make Ahead: Uncooked burger patties made a day ahead, covered and refrigerated or they can be frozen up to two months. Place waxed paper or parchment paper between each burger before placing in a freezer safe container or bag. Thaw overnight for best results.
Recipe updated 3/3/2022.
Nutrition Information
Serving:
1
burger
,
Calories:
258
kcal
,
Carbohydrates:
7
g
,
Protein:
35
g
,
Fat:
10
g
,
Saturated Fat:
4
g
,
Polyunsaturated Fat:
1
g
,
Monounsaturated Fat:
3
g
,
Trans Fat:
1
g
,
Cholesterol:
122
mg
,
Sodium:
592
mg
,
Potassium:
497
mg
,
Fiber:
1
g
,
Sugar:
2
g
,
Vitamin A:
328
IU
,
Vitamin C:
3
mg
,
Calcium:
142
mg
,
Iron:
2
mg
This website provides approximate nutrition information for convenience and as a courtesy only. Nutrition data is gathered primarily from the USDA Food Composition Database, whenever available, or otherwise other online calculators.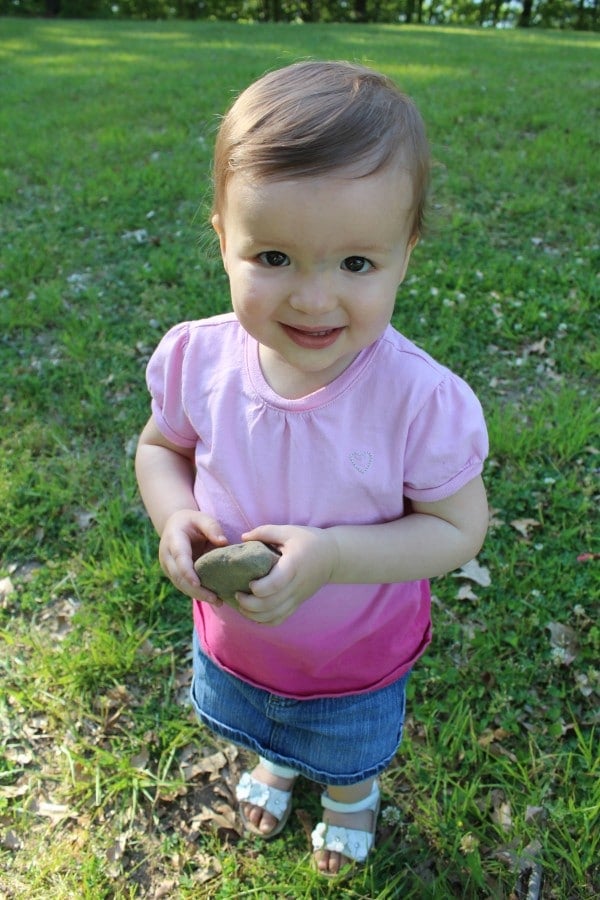 This picture has nothing to do with the burgers but it's been awhile since I posted a picture of E (and I just can't help myself).