Basil Pesto Recipe (with tips & tricks!)
A classic and flavorful basil pesto recipe – it's easy to make and adds so much deliciousness to pasta, pizza, eggs, sandwiches and more.
Recipe Overview
Why you'll love it: Pesto packs a flavor punch and you'll find yourself adding it to everything!
How long it takes: 15 minutes
Equipment you'll need: food processor
Servings: Makes two cups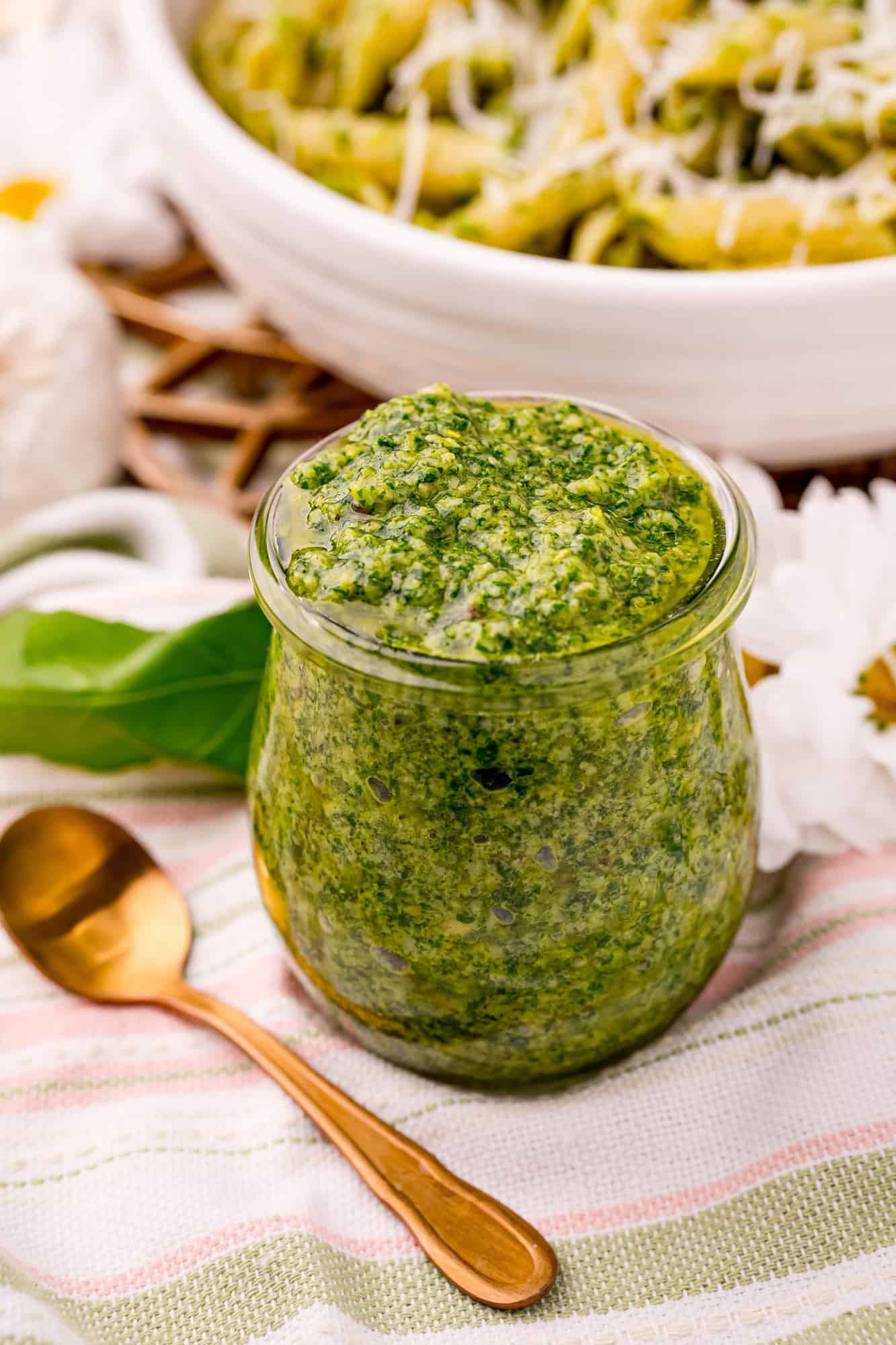 Vibrant green basil pesto, rich and delicious, is surprisingly easy to make. Do you have an abundance of basil in your garden? This is the recipe for you!
Why buy pricey little jars of gourmet pesto? I guarantee that once you make your own authentic Italian pesto, you'll never go back. This leprechaun green sauce adds treasure to everything you combine it with.
Pesto is really very simple. It sounds a little fancy but there are only five ingredients in it, not counting salt and pepper. You'll love making your own pesto, it just feels so good.
Herby green sauces are super popular and with good reason. Along with pesto, I'm thinking of salsa verde or chimichurri. They can take a dish from okay to WOW!
Try putting a swirl of pesto on grilled chicken or fish and see what happens to your taste buds. Mix a little pesto and mayo for a happening sandwich or wrap. Add pesto to a simple vinaigrette and your greens won't know what hit them. A spoonful of pesto takes soup to the next level.
You're probably already convinced that you need pesto. Let's get going on making our own!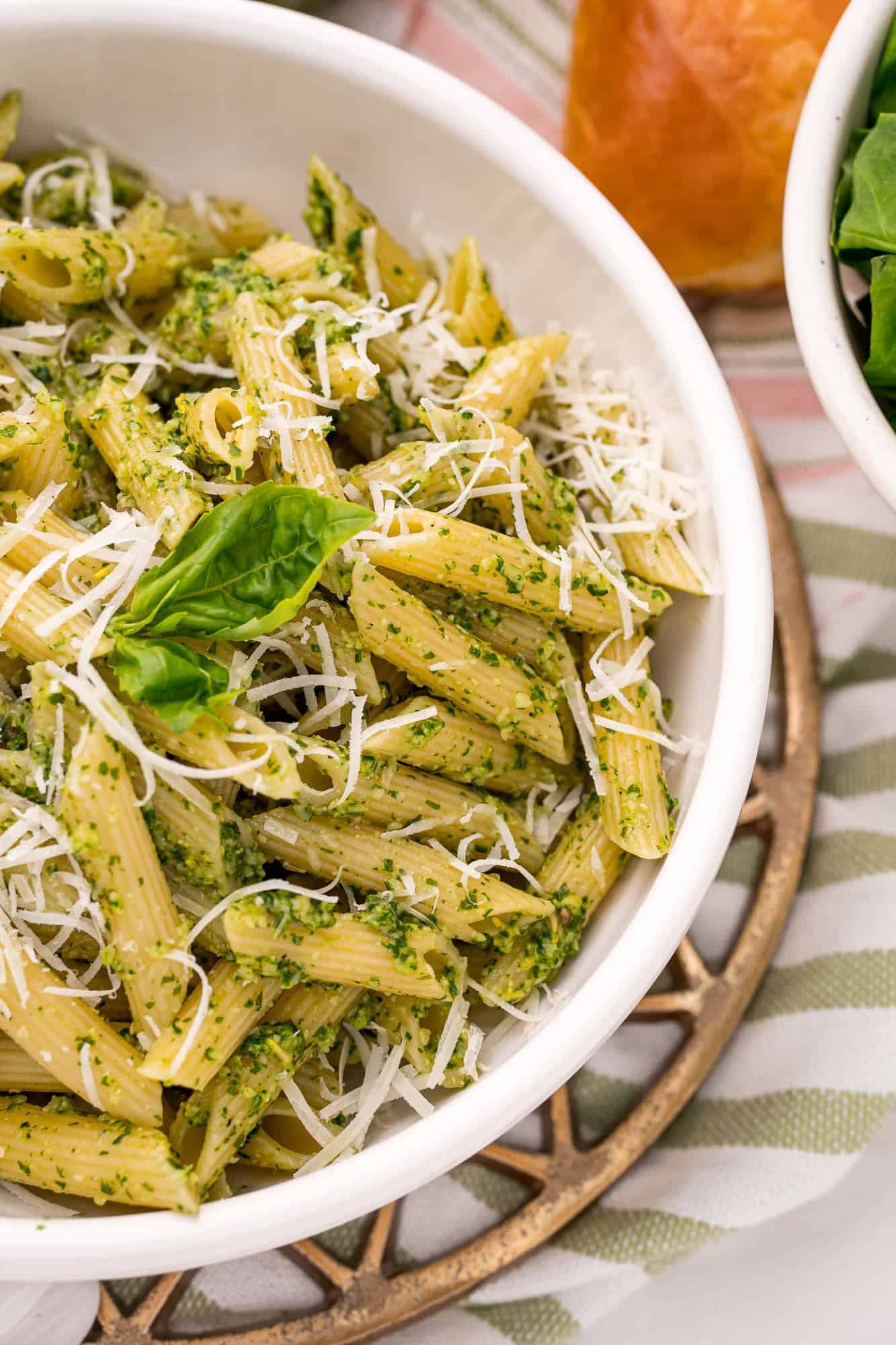 About This Recipe
Like I mentioned, pesto is super simple. I'll give you a few tips and some ways to make it your own. It's your pesto so make it how you like it. Go for it!
The word "pesto" literally means to pound or crush. You'll need a food processor to do the pounding and crushing. You really do, there's no other good way to do it. Beg, borrow, or steal (no, don't do that!) a food processor from a friend if you don't have one. Promise you'll return it with a jar of homemade pesto!
Look for the printable recipe card for pesto at the end of this post.
Ingredients You'll Need
Basil: Lots of fresh basil, four cups of it, loosely packed. If you have a good harvest of basil that you need to use up before the cold comes, this is your recipe. Keep reading if you don't have quite enough basil. I have some great ideas for you.
Garlic: This recipe calls for eight cloves of garlic which makes a pretty garlicky pesto, but good news! You can easily adjust it to your taste. Peel the garlic but don't bother chopping or mincing it. It's all going in the food processor.
Parmesan Cheese: Finely shredded Parmesan cheese adds body, texture, and of course, taste to the pesto, along with a bit of protein, too.
Pine Nuts: These little gems give the pesto substance. Don't you just love pine nuts? Did you know they really are nuts from pine trees, hidden in the pinecones? Cool, huh? For added flavor, toast the pine nuts first.
Olive Oil: Good quality extra virgin olive oil really shines here. Don't skimp with cheap flavorless olive oil.
Salt and Pepper, for seasoning your pesto. Keep in mind that the Parmesan cheese adds some salt, so start with less and add more after you taste it.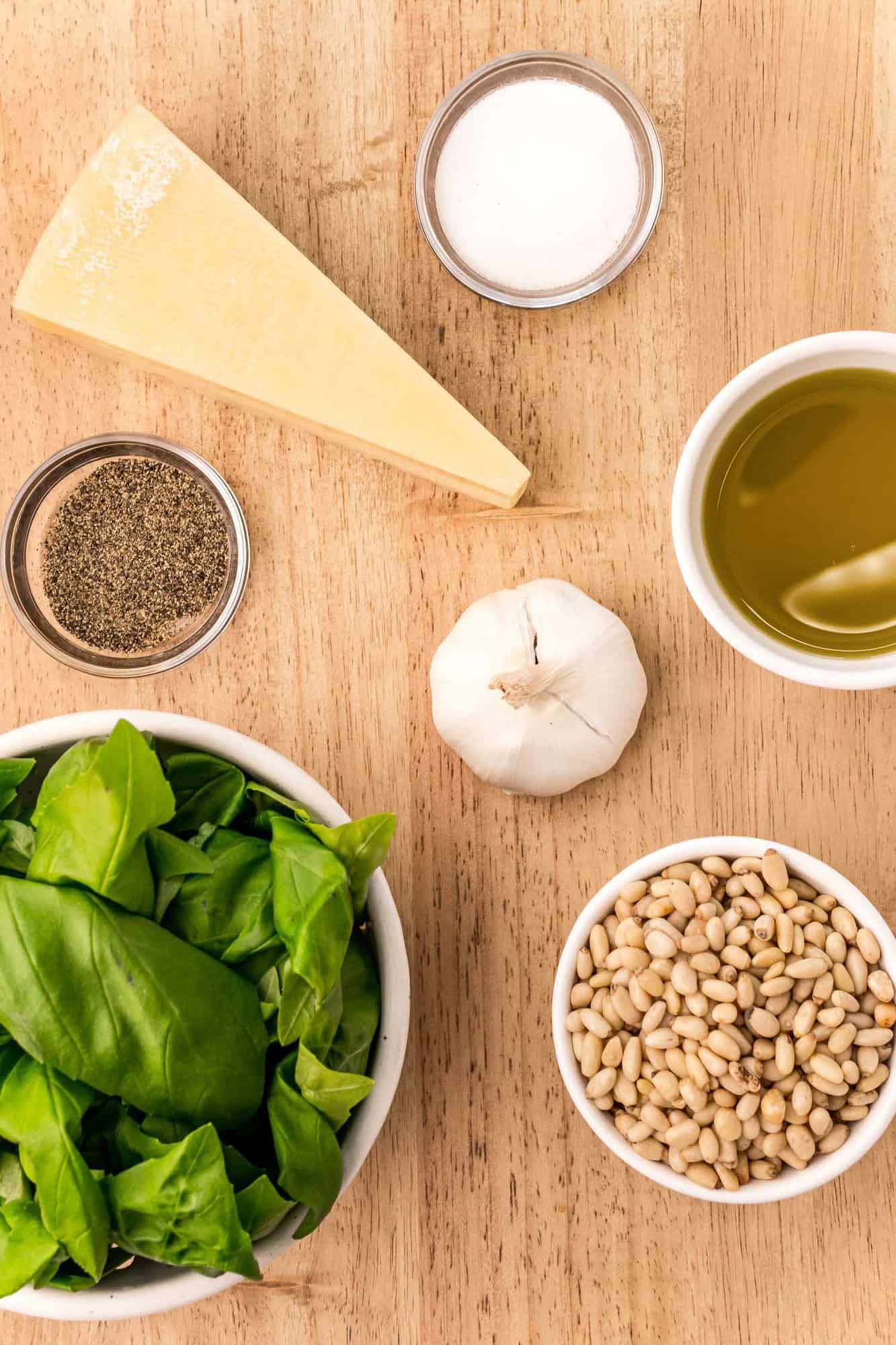 How To Make Pesto
Prep the basil. Remove the leaves from the large stems. Don't worry about the small stems, they are fine. Wash thoroughly in cold water and spin dry with a salad spinner. Remove as much water as you can. You don't want to water down the pesto.
Process the pesto ingredients. Add the basil to the bowl of the food processor (it's okay if you kinda pack it in there), along with the garlic cloves, cheese, and pine nuts. Add salt and pepper and process until the mixture is mostly smooth.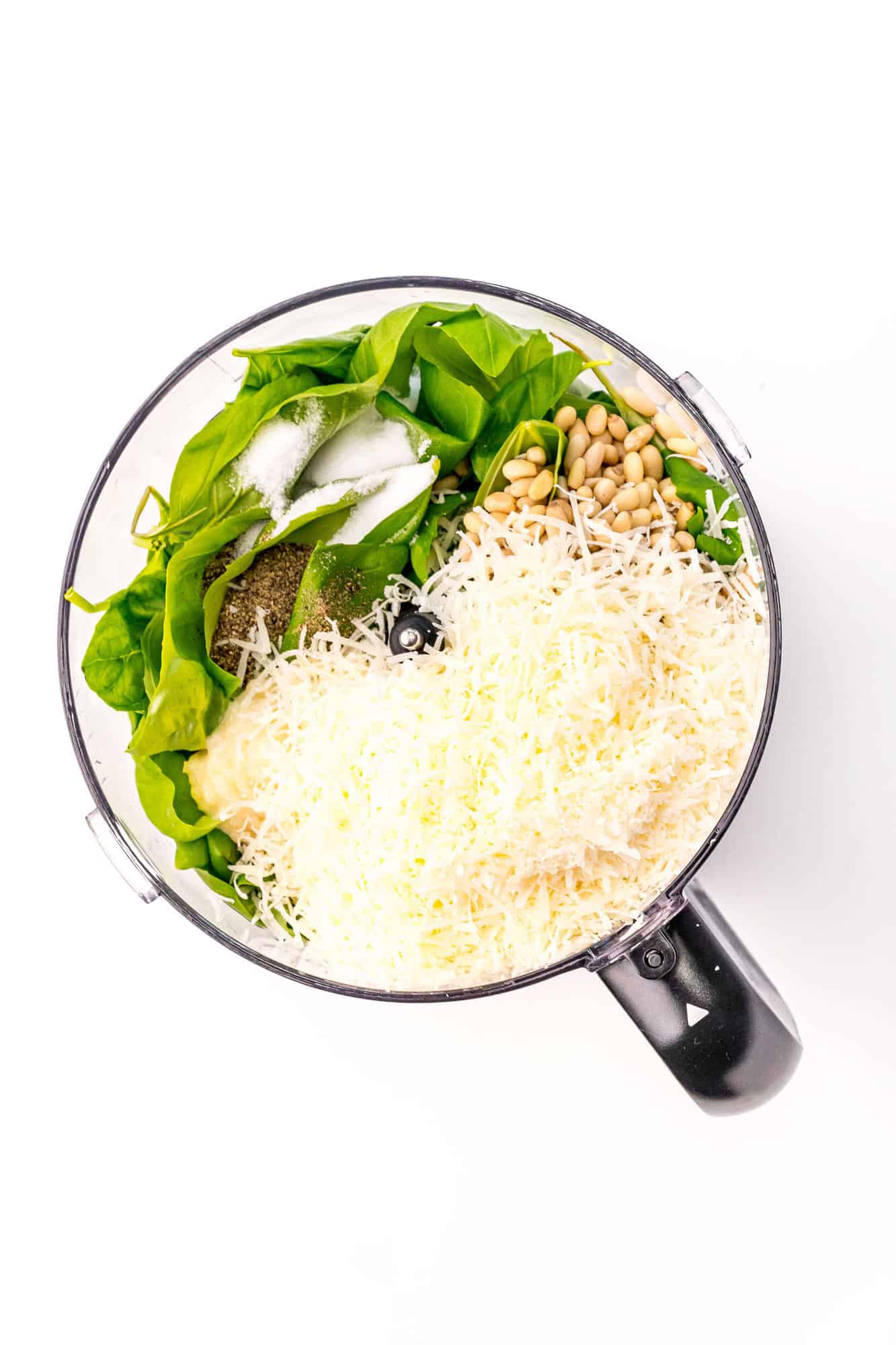 Add olive oil to the mixture. Next, slowly add the olive oil through the chute while the food processor is running. When the mixture looks fairly smooth and creamy, it's ready. You may not need all of the oil or you may need to add more. It's really a matter of personal preference.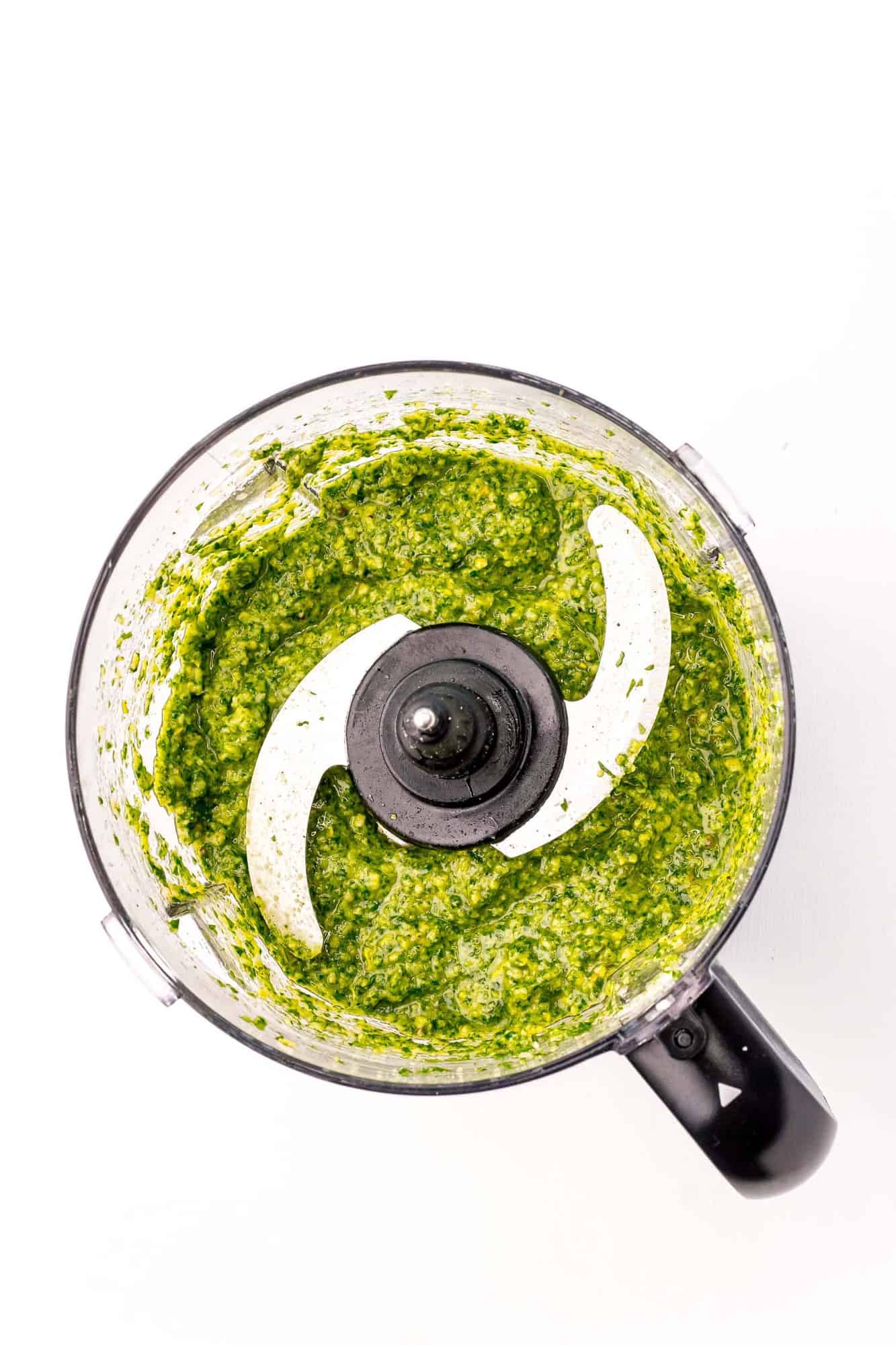 Uncover the food processor and remove the blade. Use a rubber scraper to get every bit of that green treasure into a bowl or jar.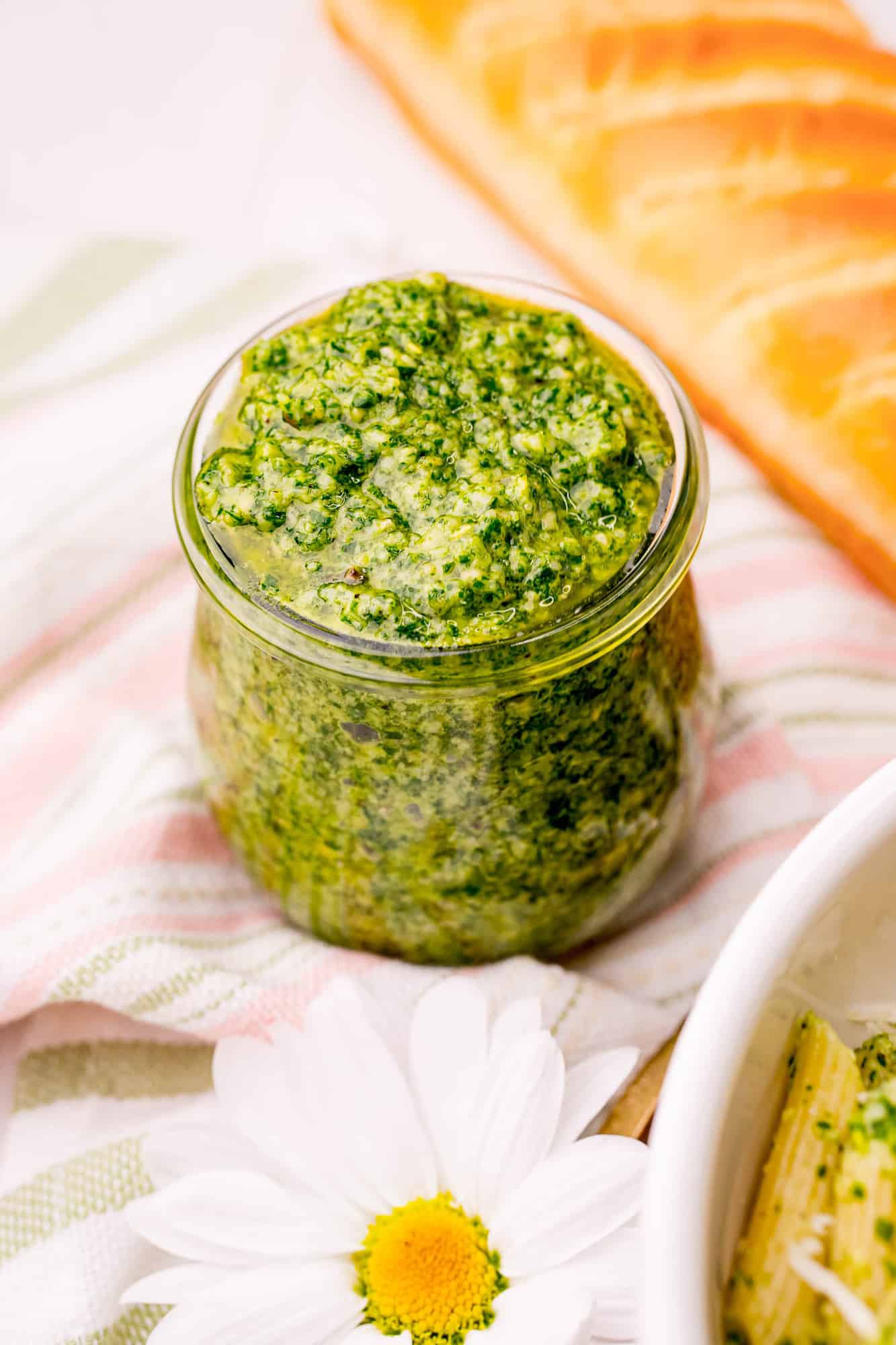 How to serve pesto with pasta
Simply cook as much pasta as you need, drain, toss it with the pesto, and serve. Generally, you'll need about half cup of pesto per pound of pasta.
FAQs
What can I put pesto on?
Pesto is wonderful on pasta, sandwiches, eggs, wraps, salads, pizzas, soups, and pretty much whatever you like. Try it on grilled chicken, fish, or steak. It adds so much flavor to grilled or roasted vegetables.
Can you freeze pesto in a jar?
Sure! Make sure you leave a little head room in the jar (fill it to 1/2 inch or so from the top) so there's room for expansion. Put the jar in a secure place in your freezer so it doesn't break.
Does pesto have nuts in it?
Yes, pesto has pine nuts in it. Other nuts can be substituted or you can leave the nuts out if you prefer nut-free pesto. That's one of the advantages of making your own pesto!
Can you eat pesto raw?
Pesto is delicious just as it is. There is no need to cook pesto before you eat it. Every ingredient is safe to eat uncooked. However, if you add it to a dish that will be cooked (i.e. pasta), pesto is perfectly fine with that too.
Make It Your Own
There are lots of ways to customize your pesto depending on your dietary needs or taste preferences. Below are some common adaptations and tips.
Pesto without Garlic
You can easily use less garlic or omit it from this recipe. Let's be honest, pesto can be very garlicky! If you don't want to breathe hot-garlicky-fire the rest of the day, mild pesto made with less garlic lets you taste the gloriously toasted pine nuts, the Parmesan cheese, your good extra virgin olive oil, and, of course, basil. Don't send me hate mail telling me that it isn't pesto without the garlic. I'll email you back, just warning you!
What To do if you don't have enough basil
Substitute spinach (or another tender leafy green) for some of the basil. This is one of our favorite tips. You don't have to use basil.
There are two reasons for doing this. One is obvious: You don't have quite enough basil in your garden to make this pesto recipe, or it's too expensive to buy. Add spinach to make up the difference. The other reason? Spinach can tame the flavor a bit so your pesto is just a bit milder. Just as nutritious, just as delicious, just as beautiful!
Love this idea? Try arugula pesto, too!
Pesto with herbs other than basil
Parsley or cilantro can be added to your pesto in place of some of the basil. If you like dill, try adding a bit of that. Experiment with different herbs and see what you like.
Pesto without pine nuts
If you don't want to spend the money or can't find pine nuts, make your pesto with walnuts, almonds, sunflower seeds, or pistachios. The flavor and texture of your pesto will differ slightly. Or, don't add any nuts. I usually make nut-free pesto since my family has nut allergies, and it's really delicious.
Dairy-free pesto
To make this recipe dairy-free, omit the Parmesan cheese. If you like, add 3 to 4 tablespoons of nutritional yeast for a more buttery flavor. By making it without cheese, your pesto will also be vegan, Whole30, and keto-friendly and still be super flavorful.
Large or Small Batch Pesto
You can easily make a half batch, a quarter batch, or a double batch. The recipe is very easy to adjust.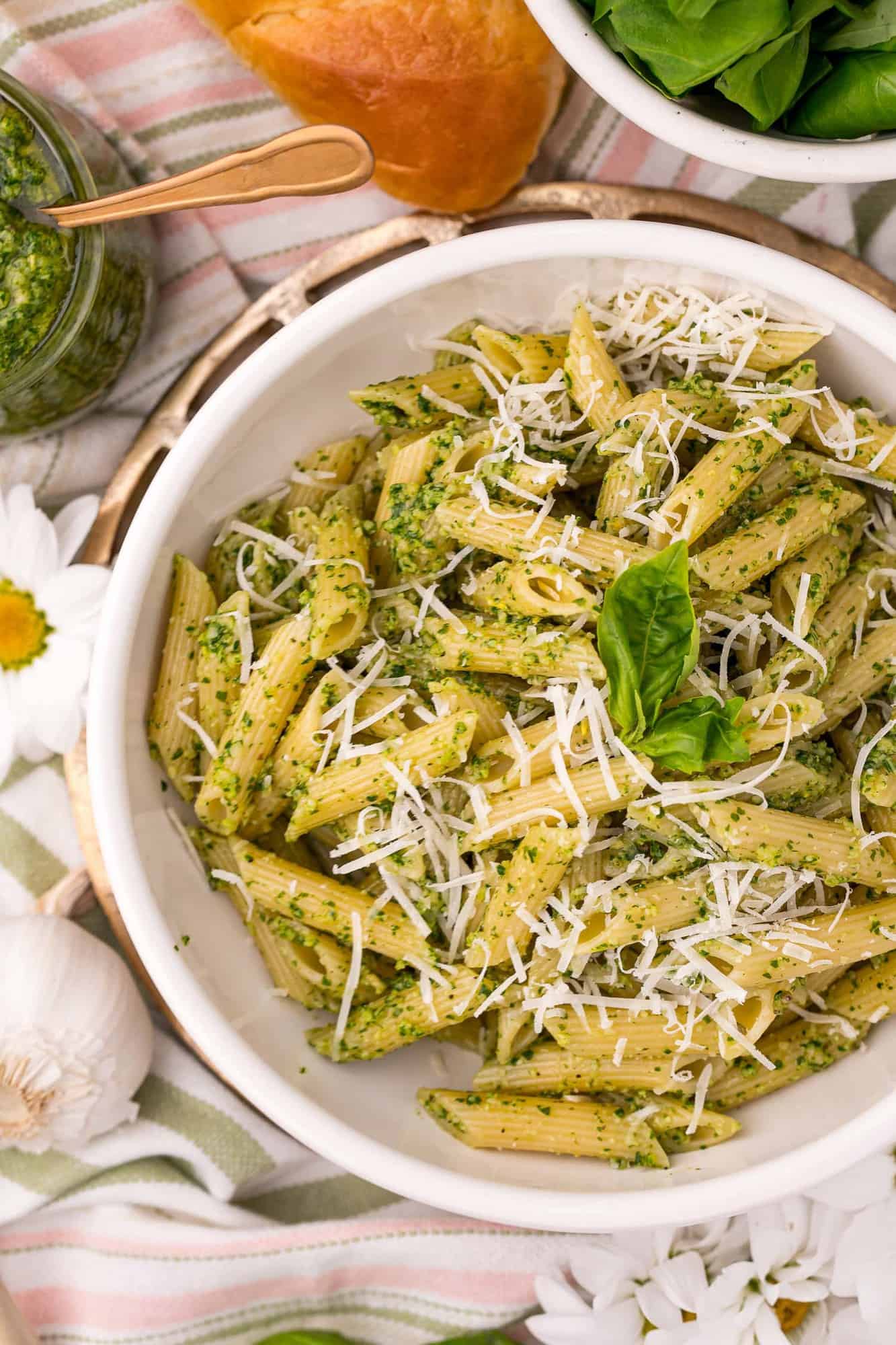 Storage & Freezing Tips
Refrigerate: Homemade pesto can be stored in the fridge in a tightly covered container for up to five days.
Freeze: Frozen pesto will keep for up to a year. Make a bunch, use up that basil, and freeze it for later. You'll be so glad you did when it's the middle of winter and you're just dying for a fresh taste of summer.
How To Freeze Pesto
Freeze in snack-size zip-top bags (2 tablespoons in each), flatten, removing any excess air, seal, and then place all the little bags in a gallon-sized freezer bag or freezer container.
Freeze in ice cube trays. Once the pesto has frozen, pop it out into a large freezer bag. Silicone ice cube trays make it super easy to pop out the frozen cubes of pesto.
Using Frozen Pesto
To use, thaw in fridge overnight or on the counter for a few hours. If you're using it in soup or spaghetti sauce, just drop the frozen pesto in. It will thaw out quickly.
Don't need 2 tablespoons? Crack off the amount you need, reseal the bag, and return it to the freezer.
More ways to use pesto
Pesto adds so much flavor to many dishes. Stir it into soups or sauces, substitute it for mayo or other spreads, or use it all by itself as a sauce. Here's some ideas:
Did you make this? Be sure to leave a review below and tag me @rachelcooksblog on Facebook, Instagram, or Pinterest!
A classic and flavorful basil pesto recipe – it's easy to make and adds so much deliciousness to pasta, pizza, eggs, sandwiches and more.
Instructions
Add basil, garlic, cheese, nuts, salt, and pepper to a food processor and process until mostly smooth.

With the processor running, slowly add the oil through the chute until desired consistency is reached. More or less oil may be needed.

To serve with pasta: Cook 1 pound of pasta to al dente, drain, reserving 1/2 cup of cooking water. Toss pasta with 1/2 cup of the pesto, adding cooking water if necessary to loosen the sauce.
Notes
Recipe makes about 2 cups of pesto. Nutrition information is for 1 tablespoon of pesto. It does not include pasta.
The recipe can easily be made in a half or quarter batch.
Store pesto in a covered container in the refrigerator for up to 5 days.
Freeze pesto in snack size bags or ice cube trays. When frozen, store in freezer bag or container for up to one year.
Variations: Omit nuts or substitute another type of nut. Omit cheese for vegan pesto. Replace some (or all) of the basil with tender greens such as spinach, or other herbs such as parsley or cilantro.
Nutrition Information
Serving:
1
tablespoon
,
Calories:
67
kcal
,
Carbohydrates:
1
g
,
Protein:
1
g
,
Fat:
7
g
,
Saturated Fat:
1
g
,
Polyunsaturated Fat:
1
g
,
Monounsaturated Fat:
4
g
,
Cholesterol:
1
mg
,
Sodium:
98
mg
,
Potassium:
26
mg
,
Fiber:
1
g
,
Sugar:
1
g
,
Vitamin A:
171
IU
,
Vitamin C:
1
mg
,
Calcium:
26
mg
,
Iron:
1
mg
This website provides approximate nutrition information for convenience and as a courtesy only. Nutrition data is gathered primarily from the USDA Food Composition Database, whenever available, or otherwise other online calculators.