Baked Chimichanga Recipe with Chicken, Pesto, Havarti, and Caramelized Onion
This baked chimichanga recipe may be a far cry from a traditional chimichanga but the springtime flavors of the pesto, asparagus, and Havarti inside a crispy baked tortilla will have everyone asking for more.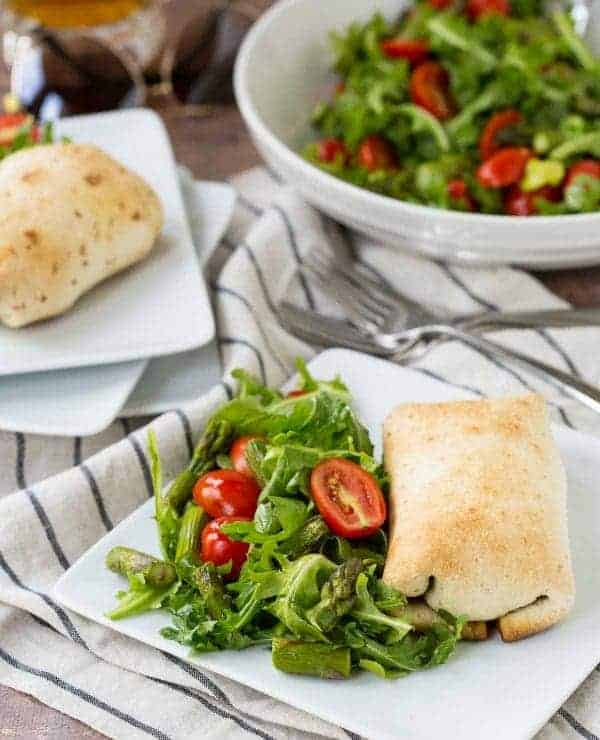 Okay, we can just go ahead and get it out of the way: I'm not really sure we can call these chimichangas but I'll carry on and get to the reason why I am calling them that. (PS: I'm 100000% sure we can call them absolutely delicious and what really matters beyond that?)
As you all know, I've partnered with the United Dairy Industry of Michigan for a few years now. I love the local partnership and our family loves all things dairy so it's a natural fit and one I really enjoy. I've had the pleasure of developing many recipes for them over the years and this month I got to do something extra special in partnership with them.
I partnered with a dairy farmer to interview her and then create a recipe inspired by that interview. I was extra excited to hear that the farmer I was partnered with was Ashley Messing-Kennedy. Ashley has a lot of similarities to me but also lives a very different life so it was really interesting to learn more about her. Like me, she's a mom – she has a very young daughter. (We also both went to MSU!) She also is a blogger, she writes about farm life, motherhood, and more on Messy Kennedy. I really enjoyed getting to know Ashley and creating this recipe that was inspired by her.
Here's my chat with Ashley – I hope you enjoy getting a behind the scenes look at farm life!
Tell me about yourself and your background.
I am in my late twenties and getting really close (less than a year) to entering the next decade, yikes! I was born and raised on the farm that my husband and I live on. After graduating from high school I went to Michigan State University and got my bachelor's degree in Animal Science. Although I grew up on a farm, I did not always enjoy the farm. I found the twice daily milking shifts and chores to be an inconvenience on my toddler social life. As I got older, began to love and appreciate everything the farm offers. Now, as a mom I am so thankful for how I was raised and cannot wait to raise my family in the same way.
Tell me about your family.
My husband and I got married in 2012 after we met after I stopped at the dairy farm he works for while in sales. This past December we had our Christmas miracle, Calli Marie, 5 weeks early. My parents are Greg and Shelly and I work with them on the farm. I have a younger sister, Lauren, who lives and works in Chicago and works in packaging at a major food company. My brother Kevin and his fiancé Sarah live a few miles away and both work in agriculture too. They are getting married in September.
Tell me about your farm.
My grandparents bought our farm in 1962 and my husband and my brother and I and his fiancé are the third generation to work on it. I work with my parents every day on the farm. We milk 240 cows in 4 robotic milking units. We raise all of the calves born on our farm as well. The milk calves are raised on robotic feeders as well! We have a small dairy beef herd and we raise most of the food we feed our cows on our land. In addition, we cash crop some wheat, corn and beans.
What's your favorite part of raising your family on or near your farm?
Growing up I got to see my grandparents on a daily basis. Also, I got to spend a lot of time with my parents since the both worked on the farm. I love that. We have so many memories of laughing and working together. I cannot wait to share this with Calli.
Do you have a favorite family recipe?
My husband and I love chicken chimichangas. It isn't a hard recipe or real healthy but it's delicious, hearty and quick for a busy day on the farm. I always have shredded chicken in the freezer for recipes like this! Quick and easy meals are big hits. I make lots of slow cooker and 15 minute meals. If I can use any of my cast iron I am a happy girl.
How do you manage your time to get everything done?
I have no idea. I feel like I'm always failing. My house is always messy, I feel like I don't spend enough time out in the barn since Calli was born, my blog is neglected and I rarely wear makeup anymore. But I just keep trucking along and try to do my best everyday.
Tell me about your role on the farm.
I am a half owner which I own with my parents. I am normally the herds woman. That means I manage anything that deals with the cows. Now that I have a 4 month old, I share that responsibility with my dad. I am hoping once summer comes (if it ever makes it), I will be able to be out in the barn more with Calli and get back to a more normal schedule.
What's your favorite dairy food to cook/bake with?
That's such a hard question but either sour cream or cheese. I can't decide between the two.
What's one thing you wish people knew about dairy farming or dairy foods that they may not be so familiar with?
There are a million things I want to say! But, we choose to farm because we love our animals, our land and our communities. We work hard to take the best care possible and ensure your milk is healthy and wholesome for your family. I shop in the dairy department right next to you and I only want to feed my family the healthiest, safest products.
I absolutely love Ashley's answer to the last question. You might not think about that when you're grabbing a gallon of milk at the store, but there's so much hard work, love, and passion going into that milk. How great is that!?
As you read, one of Ashley's favorite meals to make are chimichangas. I also asked her what her favorite type of cheese was and without hesitation, she answered Havarti. I got to thinking about a spring-inspired baked chimichanga with pesto, Havarti, shredded chicken, and asparagus. I paired it with a fresh and bright arugula salad and Ben and I both obsessed about this dinner. It's honestly one of our favorite recipes that I've created for Rachel Cooks. (Great leftover too – I just baked them again briefly in our toaster oven and they were crispy and perfect.)
I started with quickly roasting some asparagus – I used half of it for the chimichangas and half for the salad. After I roasted the asparagus, I used the same pan for baking the chimichangas…hooray for fewer dishes!
While the asparagus roasted, I prepped the chimichangas. I found it easiest to lay all the tortillas out so I could evenly divide each ingredient. Oh my goodness! I almost forgot to mention the caramelized onions! So much good stuff in these! Honestly, you guys have to try them. Sorry, I spazzed out about the onions briefly, I can't believe I almost forgot to mention them. I added them to the ever-growing title of this post too. I just can't leave anything off…it's all so good.
Similar to Ashley, I also typically have shredded chicken prepped, so these came together quickly and easily. You could also use rotisserie chicken. Toss that with basil pesto (I used DeLallo) and place it in the middle of a burrito-sized tortilla. Add the asparagus, caramelized onions and shredded Havarti.
Roll it up like a burrito and place seam-side down on the sheet pan you used for the asparagus. If you're not sure how to roll a burrito or chimichanga, here's a good step-by-step. It's not exactly how I rolled mine but it's probably a better method. Also, my tortillas were super soft and flexible, but if yours are stiffer, you might want to warm them briefly (20 seconds or so – I'd follow the package directions) in the microwave so they don't crack.
Give each of them a spritz of cooking spray to help them crisp up and get golden brown. The chimichangas only take about 15 minutes to cook which is plenty of time to prep the lil' side salad to accompany these.
I can't say enough good things about these. They're rich without being overwhelming, flavorful but you can taste all the components. They're crunchy, satisfying, and easy to make.
Enjoy!
Did you make this? Be sure to leave a review below and tag me @rachelcooksblog on Facebook, Instagram, or Pinterest!
This baked chimichanga recipe may be a far cry from a traditional chimichanga but the springtime flavors of the pesto, asparagus, and havarti inside a crispy baked tortilla will have everyone asking for more.
Ingredients
For Chimichanga:
6

burrito size (9 or 10-inch) flour tortillas

2 1/2

cups

shredded cooked chicken breast

1/2

cup

prepared pesto

1

cup

roasted asparagus (from above)

1

cup

shredded havarti cheese

1

cup

caramelized onions

cooking spray
For salad:
4

cups

arugula

1

cup

halved grape tomatoes

1

cup

roasted asparagus (from above)

2

teaspoons

lemon juice

4

teaspoons

olive oil

1

teaspoon

honey

salt and pepper to taste
Instructions
Preheat oven to 425°F.

Toss chopped asparagus with olive oil and salt and pepper on a rimmed sheet pan. Roast asparagus for 10 minutes. Remove from sheet pan and place in a bowl. (Leave oven on!)

In a medium mixing bowl, combine shredded chicken and pesto until chicken is coated with pesto.

Meanwhile, begin to assemble chimichangas. Lay out six tortillas and divide chicken evenly – placing it right in the middle with a border all around. Top with 1 cup of the roasted asparagus, again, dividing evenly between the six tortillas. Repeat with cheese and caramelized onions. Roll tightly like a burrito and place seam side down on the same sheet pan you used for asparagus. Repeat with all six chimichangas. Spray lightly with cooking spray (optional – but it will help them get golden brown).

Bake chimichangas for 15-17 minutes or until golden brown.

Meanwhile, prep salad. Add arugula, grape tomatoes, and remaining asparagus to a large bowl. In a small bowl or measuring cup, whisk lemon juice, olive oil, and honey until combined. Taste and add salt and pepper as desired. Pour over salad and toss to combine.

Serve chimichangas with salad immediately when chimichangas are finished cooking.
Nutrition Information
Serving:
1
chimichanga
,
Calories:
867
kcal
,
Carbohydrates:
74
g
,
Protein:
47
g
,
Fat:
45
g
,
Saturated Fat:
16
g
,
Polyunsaturated Fat:
25
g
,
Trans Fat:
1
g
,
Cholesterol:
110
mg
,
Sodium:
1660
mg
,
Fiber:
13
g
,
Sugar:
10
g
This website provides approximate nutrition information for convenience and as a courtesy only. Nutrition data is gathered primarily from the USDA Food Composition Database, whenever available, or otherwise other online calculators.
Disclosure: I am thrilled to be a dairy ambassador for Milk Means More. I have been compensated by Milk Means More for my time to develop this recipe and write this post. All opinions are as always, my own. Find out more about why Milk Means More on Twitter, Facebook, YouTube, Instagram and Pinterest.