Roasted Bone in Chicken Breasts
Whether you serve them for dinner tonight or cut them up to use later, knowing how to make roasted bone in chicken breasts is an essential tool in your cooking tool box.
Recipe Overview
Why you'll love it: The chicken makes a great entrée but it's also wonderful to freeze for later use.
How long it takes: just over an hour
Equipment you'll need: shallow baking pan
Servings: 4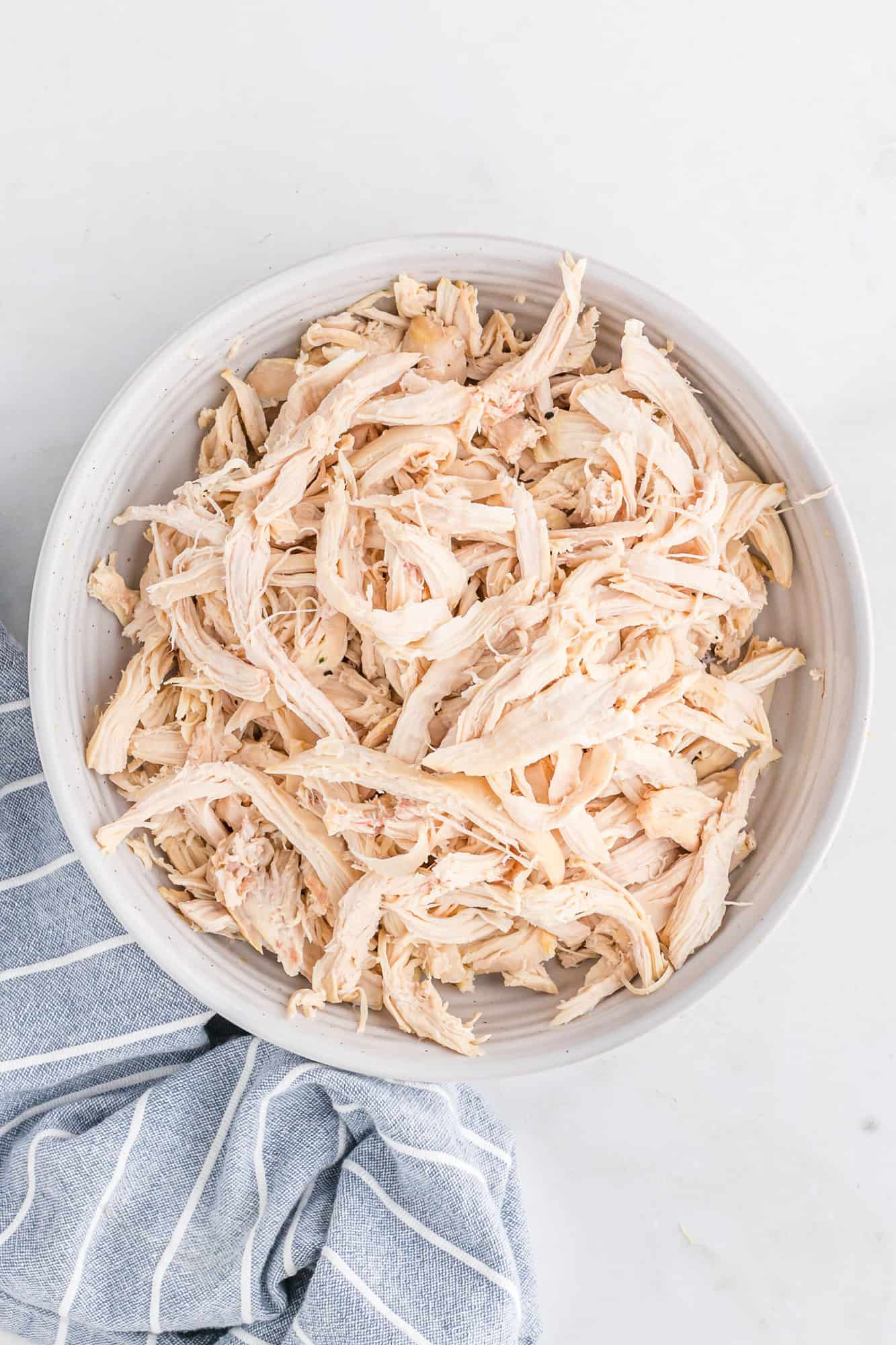 With crispy skin and tender juicy meat, roasted bone in chicken breasts are really delicious. It's an easy dinner when you serve them with baked potatoes (bake them at the same time as the chicken!) and a simple green salad with homemade vinaigrette.
Or, you can cut them up to use later. Keep reading for lots of recipes that use already cooked chicken. It's a meal prepper's dream. For a super easy meal, add cooked chicken to a can of vegetable soup or a box of mac and cheese (of course you could always add them to homemade vegetable soup or homemade mac and cheese, too). It doesn't get much easier than that.
I love making a whole roasted chicken from time to time. It smells so good and it's such comfort food BUT it takes awhile. It's a little bit of a project, something I generally save for the weekends. Baked chicken breasts are almost as good and way, way faster. (Poaching chicken is a great method too!)
Reasons To Learn How to Roast Chicken Breasts
First of all, it is ridiculously easy. SO easy.
When you roast the chicken on the bone with the skin on, the meat is more flavorful and juicy.
Bone-in chicken breasts (aka, split chicken breasts) are often cheaper than boneless skinless chicken breasts. Budget friendly!
By prepping food ahead of time, you are less apt to resort to carry-out (which will save you money and calories).
About This Recipe
Really, this is seriously easy. Just pick up a package of bone-in, skin-on split chicken breasts. Go ahead and buy that big ol' family pack. You can bake them all at the same time and then you'll be so happy you did because the delicious roasted chicken can be called upon to provide fast, healthy, economical, and scrumptious dinners.
And isn't that what most of us need? If I have a package of cooked chicken in the refrigerator or freezer, it's like half the battle is already won. Just combine the cubed or shredded chicken with a few other ingredients and dinner is on the table.
Let me tell you, it's way better than staring at a big bunch of raw meat and wondering how quickly it can be turned into tonight's dinner.
Do roasted chicken breasts sound like something you'd like? Let's get started!
I'll get you started here and give you some helpful tips (and recipes) along the way. As always, you'll find the printable recipe card near the bottom of the post. It has complete instructions, measurements, and nutrition information.
What You'll Need
Split Chicken Breasts: Look for chicken breasts that are "split", that is, cut along the breastbone to make two halves. They are usually sold bone-in and skin-on. It's best if each of them are approximately the same size so they get done at the same time.
Olive Oil: You'll just need a smidge to rub over the breasts. It will help the skin to crisp up but not get dry.
Salt & Pepper: Simple seasonings make these chicken breasts really versatile so you can use them in all sorts of recipes, from Italian to Mexican. If you want to eat them as is for a main course, feel free to add more seasoning. Try my all-purpose seasoning blend. It's very versatile but will add a punch of flavor. A teaspoon of herbes de Provence really glamorizes the chicken, too.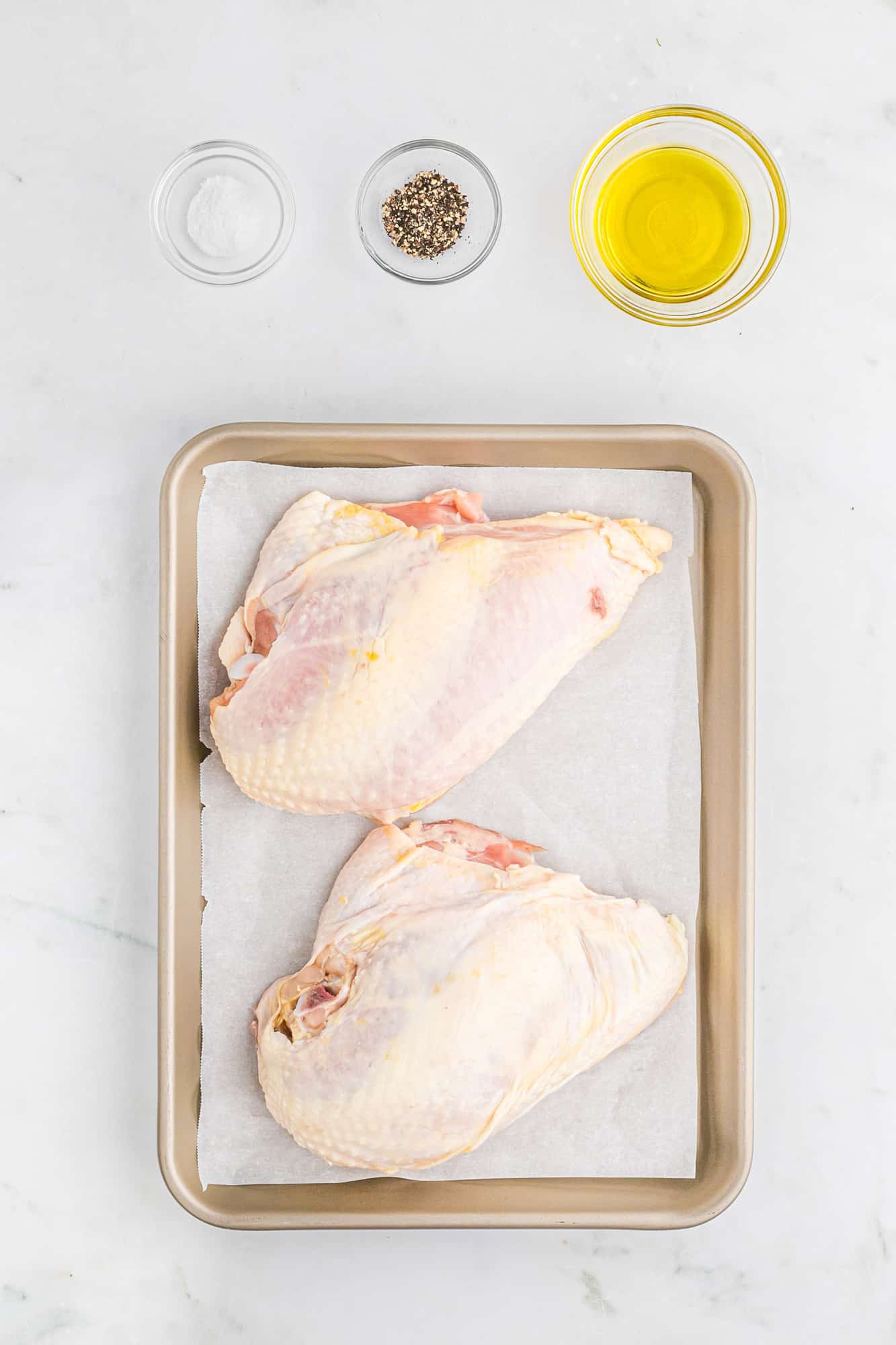 How To Roast Chicken Breasts
Here are the EASY steps to roasting chicken breasts.
Remove any excess fat. Some is fine but if there are huge chunks of it, use a sharp kitchen shears to trim it off. If the chicken is wet, pat dry with paper towels.
Line a baking pan with foil or parchment paper. That's not essential but it does make clean up a lot easier.
Put the chicken breasts on the prepared pan and drizzle with olive oil. Rub the oil evenly onto the chicken breast.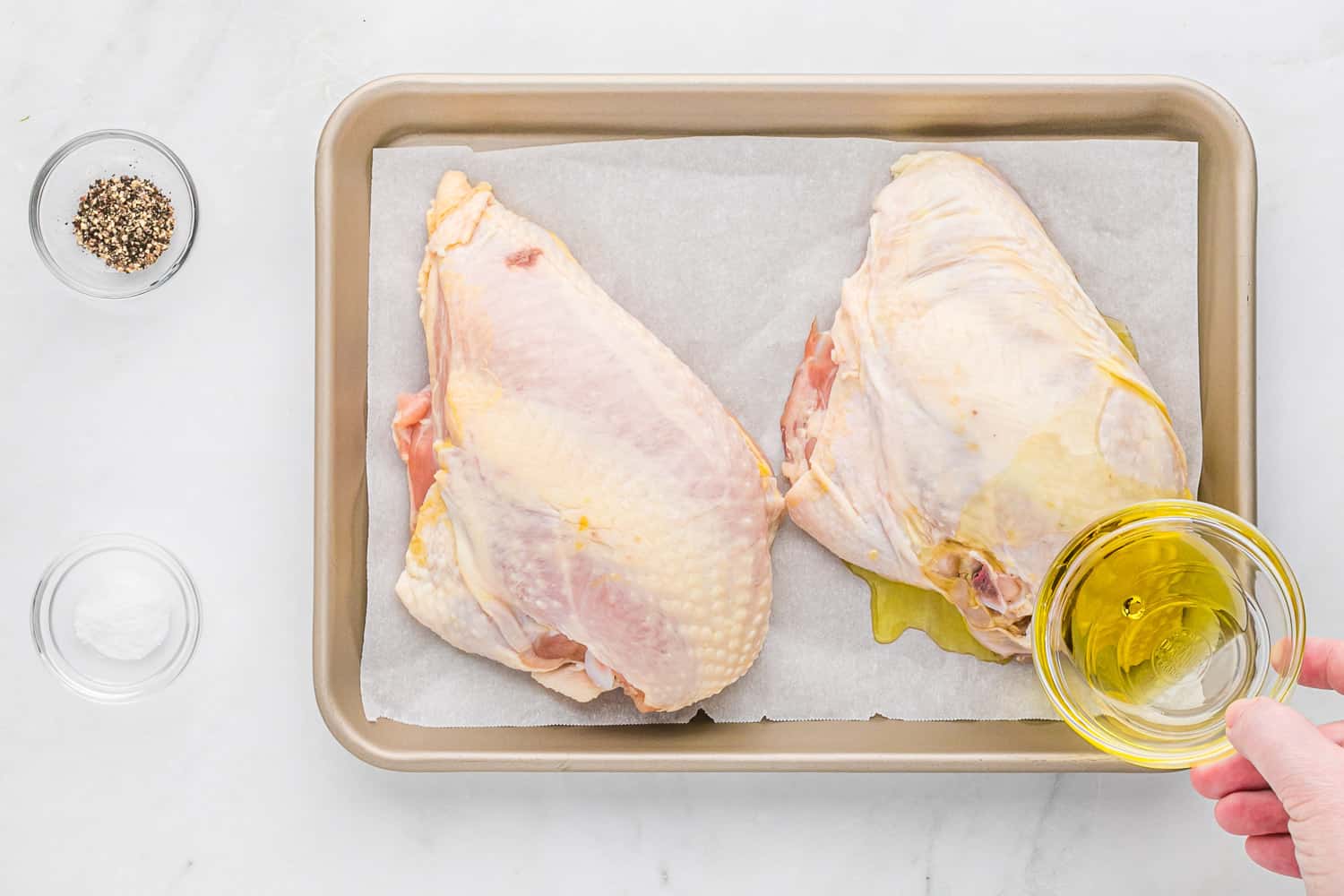 Sprinkle with freshly ground pepper and salt.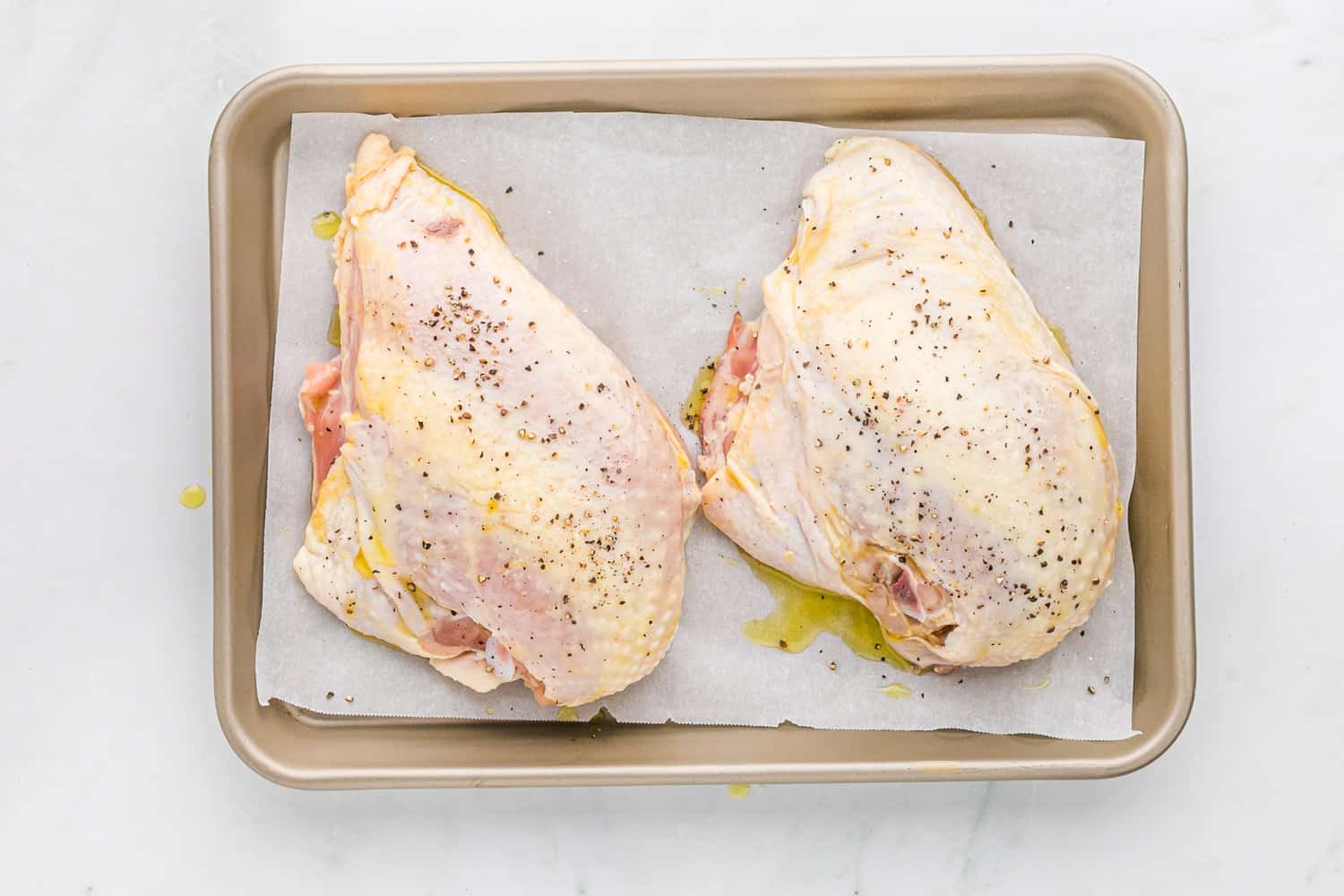 Roast until cooked through. The internal temperature of the chicken should be 165℉.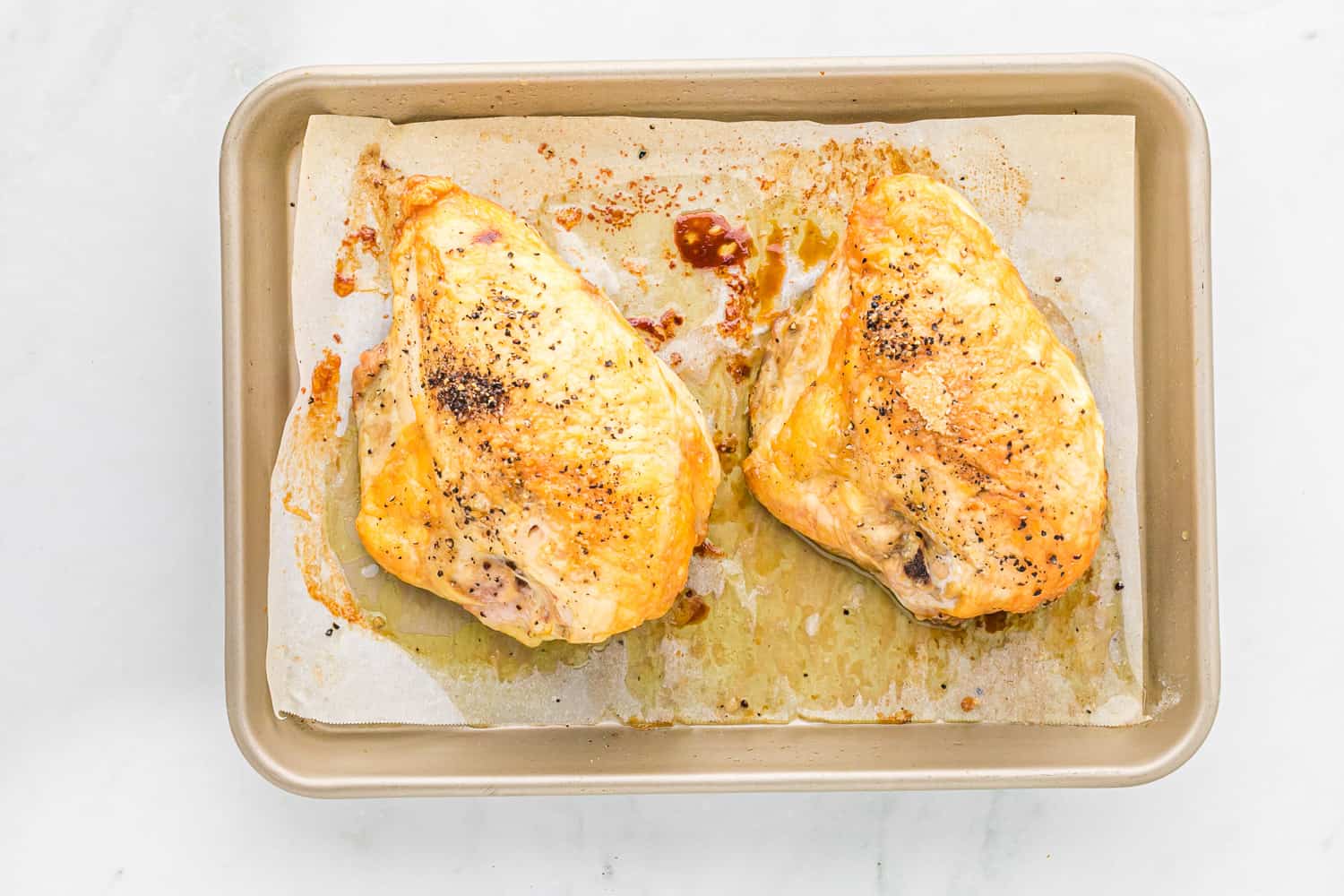 Serve immediately, or cool and shred the meat for later use.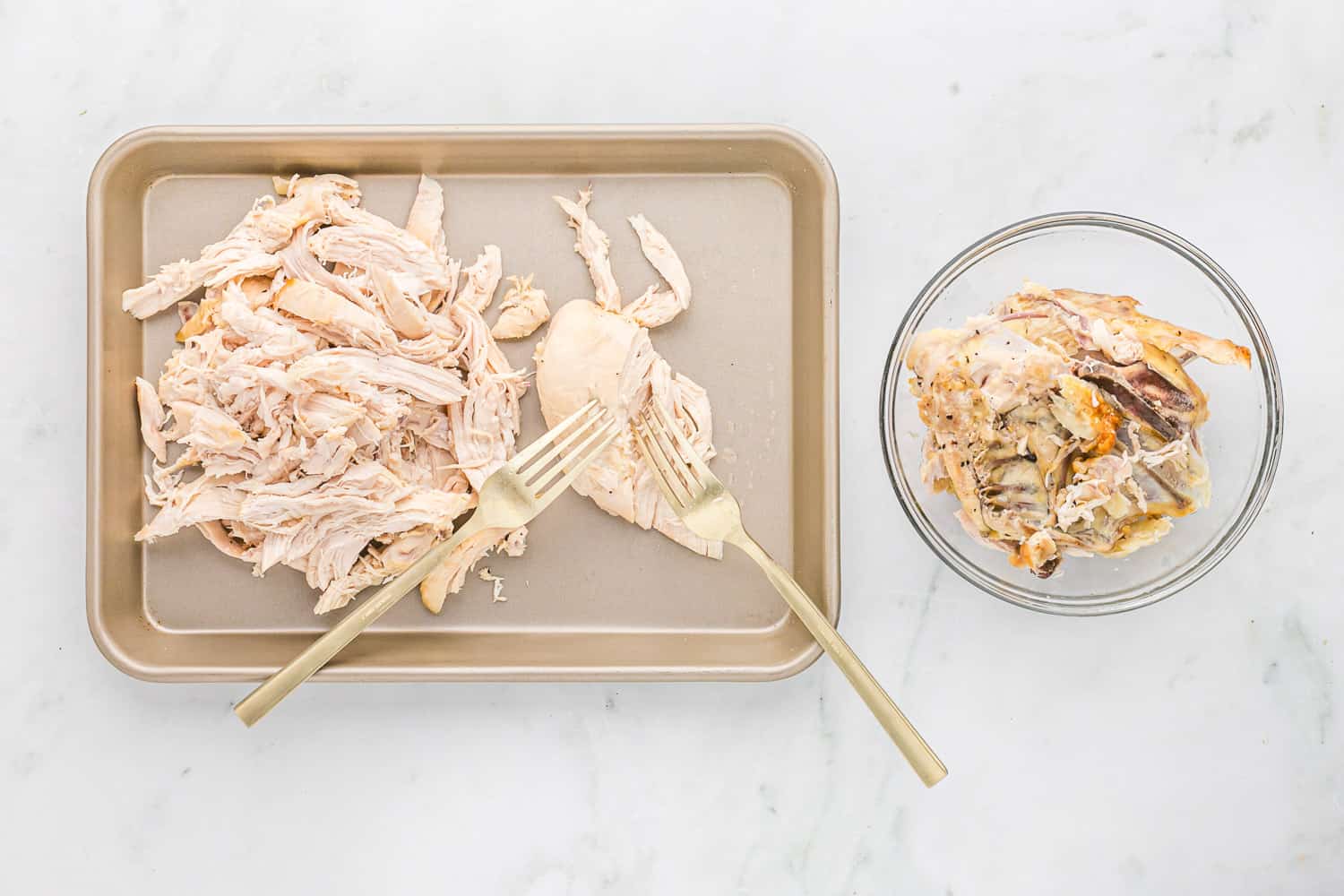 FAQs
Does it take longer to cook chicken breast with the bone in?
Yes, generally any meat that has a bone will take longer to cook. A bone is very dense so it takes longer to heat up.
How do you keep chicken breast moist when roasting?
When roasted correctly, chicken breast with the bone in will be juicier and more flavorful than boneless. The skin doesn't hurt either.
To keep chicken breasts from drying out, you really have to pay attention to the internal temperature. You can't always tell by looking and size can make a difference too. An instant read thermometer will tell you when the inside of the chicken is perfectly done, not overdone. Look for an internal temperature of 165ºF.
Is it better to bake chicken at 350ºF or 400ºF?
To roast bone-in chicken breasts, the ideal temperature is 400ºF. However, you can bake chicken in an oven that's anywhere from 350ºF to 425ºF. Obviously, cooking time is affected. You'll have to add time if you're roasting it at 350ºF and subtract time at 425ºF. Again, an instant read thermometer is your friend.
So don't worry if you're baking something else in the oven with the chicken that may be a little fussier with temperature. Your chicken will get along just fine with its neighbor.
Make It Your Own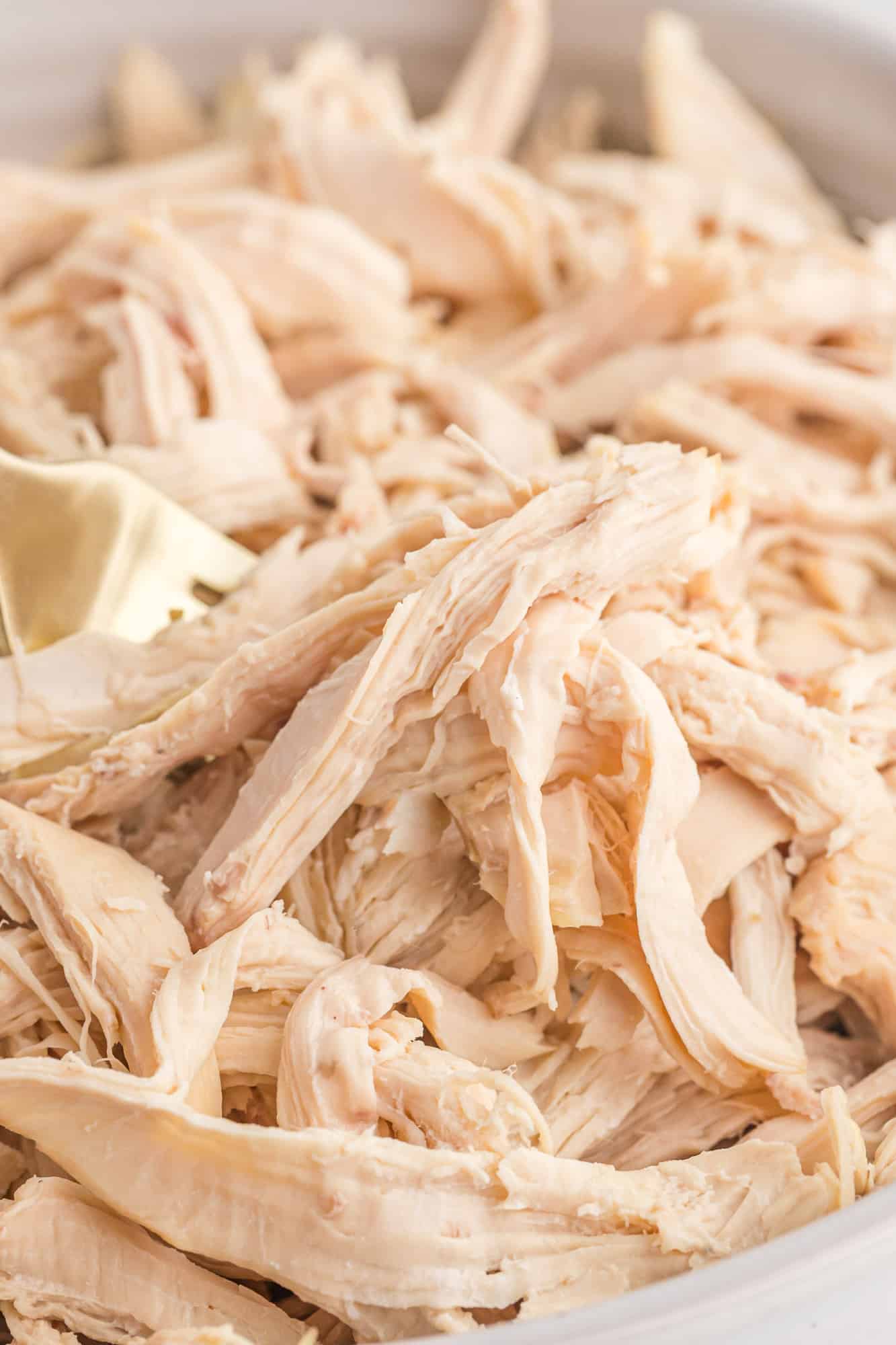 Make Ahead Ideas
Try this method for cooking chicken breasts and I guarantee this will become a meal prep staple. Let the chicken cool down enough so you can handle it. Remove the skin, and debone the chicken. The meat can be left in large pieces, cut into small chunks, or shredded. Store it in the refrigerator or freezer in labeled freezer-safe containers.
Storage & Reheating Tips
Cooked chicken will keep for up to four days in the refrigerator or up to four months in the freezer. If frozen, thaw overnight in the refrigerator before using.
To reheat, gently warm individual portions in the microwave or use in one of the recipes below.
ways To Use Cooked Chicken
Avocado Chicken Salad – creamy and healthy!
Southwestern BBQ Chicken Salad (best chopped salad!)
Healthy Curried Chicken Salad – so easy to make!
Healthy Chicken Salad with walnuts and grapes
Chicken Fajita Stuffed Spaghetti Squash
Interested in a weekly meal plan (it's free!) that includes this recipe? Take a look at my Meal Plan #8. You'll find a wholesome recipe for each weekday plus a categorized grocery list. Let me do the planning for you this week!
We'll be adding a new meal plan weekly. If you're interested, browse all of our meal plans.
Did you make this? Be sure to leave a review below and tag me @rachelcooksblog on Facebook, Instagram, or Pinterest!
Whether you serve them for dinner tonight or cut them up to use later, knowing how to make roasted bone in chicken breasts is an essential tool in your cooking tool box.
Instructions
Preheat oven to 400℉ (see note).

If desired, line a baking sheet with foil for easy clean up. Rub chicken breasts with olive oil and sprinkle salt and pepper evenly over them.

Bake for 45 to 55 minutes or until internal temperature is 165℉ and juices run clear (see note).

Let chicken rest 15 minutes before serving.

If desired, remove skin, and debone chicken before shredding or dicing.
Notes
Chicken can be roasted at varying temperatures. If you have something else going in the oven, it's fine to roast the chicken at anywhere between 350℉ and 425℉. Adjust cooking times accordingly.
Roasting time will depend on size of chicken breasts.
If desired, recipe can easily be doubled or tripled. Just give each chicken breast a little rub of oil and a sprinkle of salt and pepper. If they are crowded in the pan, baking time may increase.
Nutrition Information
Serving:
8
ounces
,
Calories:
173
kcal
,
Carbohydrates:
1
g
,
Protein:
19
g
,
Fat:
10
g
,
Saturated Fat:
3
g
,
Polyunsaturated Fat:
2
g
,
Monounsaturated Fat:
5
g
,
Trans Fat:
1
g
,
Cholesterol:
58
mg
,
Sodium:
348
mg
,
Potassium:
201
mg
,
Fiber:
1
g
,
Vitamin A:
76
IU
,
Calcium:
11
mg
,
Iron:
1
mg
This website provides approximate nutrition information for convenience and as a courtesy only. Nutrition data is gathered primarily from the USDA Food Composition Database, whenever available, or otherwise other online calculators.