Baked Chicken Cordon Bleu
Stuffed with flavorful ham and melting Swiss cheese, baked chicken cordon bleu is surprisingly easy to make and has an elegant presentation.
Recipe Overview
Why you'll love it: The chicken is really flavorful with the ham and Swiss cheese. It's a great way to jazz up boneless skinless chicken breasts.
How long it takes: 10 minutes to prep, 30 minutes in the oven
Equipment you'll need: sharp knife, baking pan, instant read thermometer
Servings: 6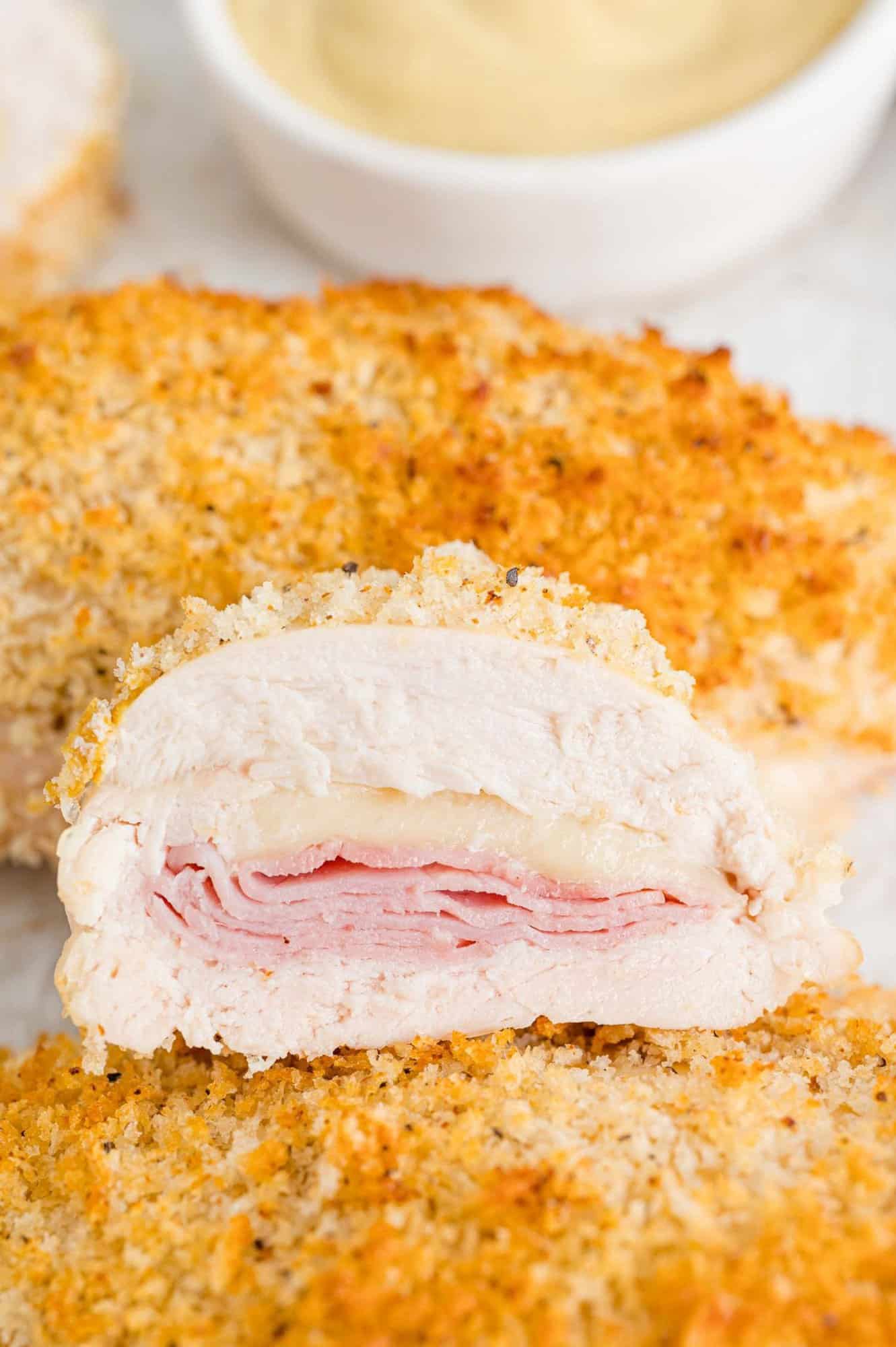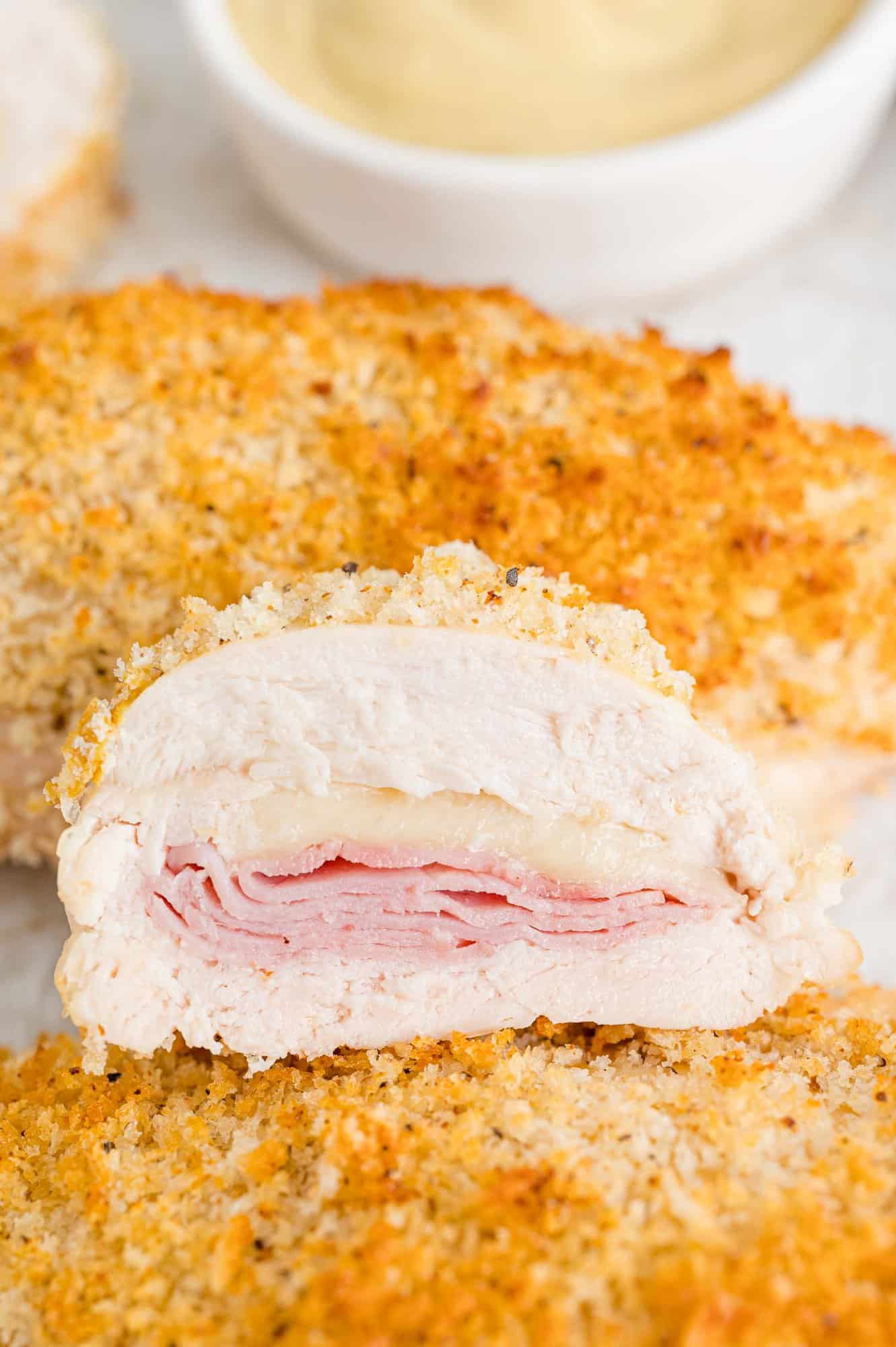 I love taking an old favorite and turning it into something that is a little healthier for my family. It's good for us, and it's a fun challenge too.
And you know what? I think I like this healthy oven baked version of chicken cordon bleu even better than the classic fried version.
Although, in all fairness, my memories of chicken cordon bleu revolve around a nasty, frozen chunk of precooked meat which was reheated in the oven. I think it was from some sort of school fundraiser, so my mom probably felt compelled to buy that lovely chicken cordon bleu.
Perhaps my memories of chicken cordon bleu are jaded, but I'll still opt for this healthier version any day of the week. And you know what? It's far easier to bake chicken cordon bleu than to fry it. Easy is good, right?
About This Recipe
Not only does my version of chicken cordon bleu taste great but it really is quite simple to prepare. There's a little bit of prep work involved but the end product looks like you spent a ton of time on it.
Traditional chicken cordon bleu is rolled but we made it easier by just folding it. So easy!
Here's how it goes: Butterfly a chicken breast, stuff the goodies inside (I use deli-style ham and pre-sliced Swiss cheese), stick some panko breadcrumbs on top with a little mustard, bake the whole business in the oven, and viola! Done. So simple!
And, if you line the baking pan with parchment paper, clean up is really easy, too!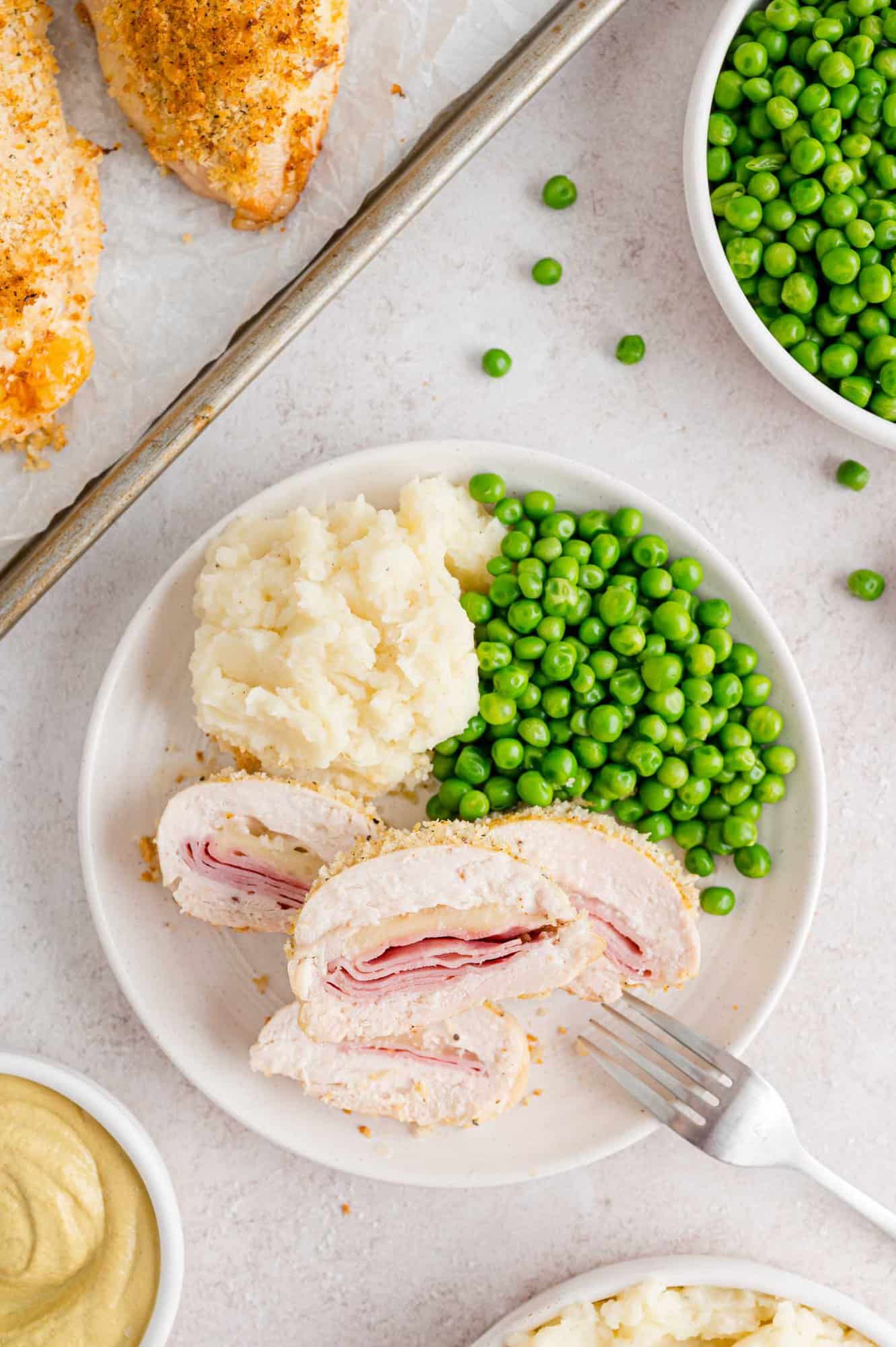 I'll get you started on the recipe here. The photos will show you some of the steps, too. Full instructions, including ingredients, how long to bake it, and nutrition information, can be found on the recipe card near the end of the post.
What You'll Need
Boneless Skinless Chicken Breasts: The recipe is written for 3 chicken breasts, which are cut into halves after baking to make six servings. The size of boneless skinless chicken breasts can vary quite a bit. Look for somewhat evenly sized chicken breasts, about one and a half to two pounds total.
Ham: Thinly sliced ham works best. I use a good quality deli ham.
Swiss Cheese: Presliced cheese makes the job easier but if you prefer, buy a block of cheese and slice your own. Grated cheese has a tendency to fall out.
Panko Bread Crumbs: The chicken is breaded with crispy panko. Panko is much coarser and airier than normal bread crumbs so it makes a crispier coating. Did you know that it's easy to make homemade bread crumbs? It's a great way to use up day old bread.
Olive Oil: A couple of teaspoons of olive oil are added to the bread crumbs, along with a bit of Garlic Powder and Black Pepper. The oil promotes browning so the chicken breasts are golden brown.
Dijon Mustard: Mustard is an essential part of chicken cordon bleu. In this recipe, the mustard is lightly smeared on the outside of the chicken breasts. It adds flavor, keeps the chicken moist, and helps the panko adhere.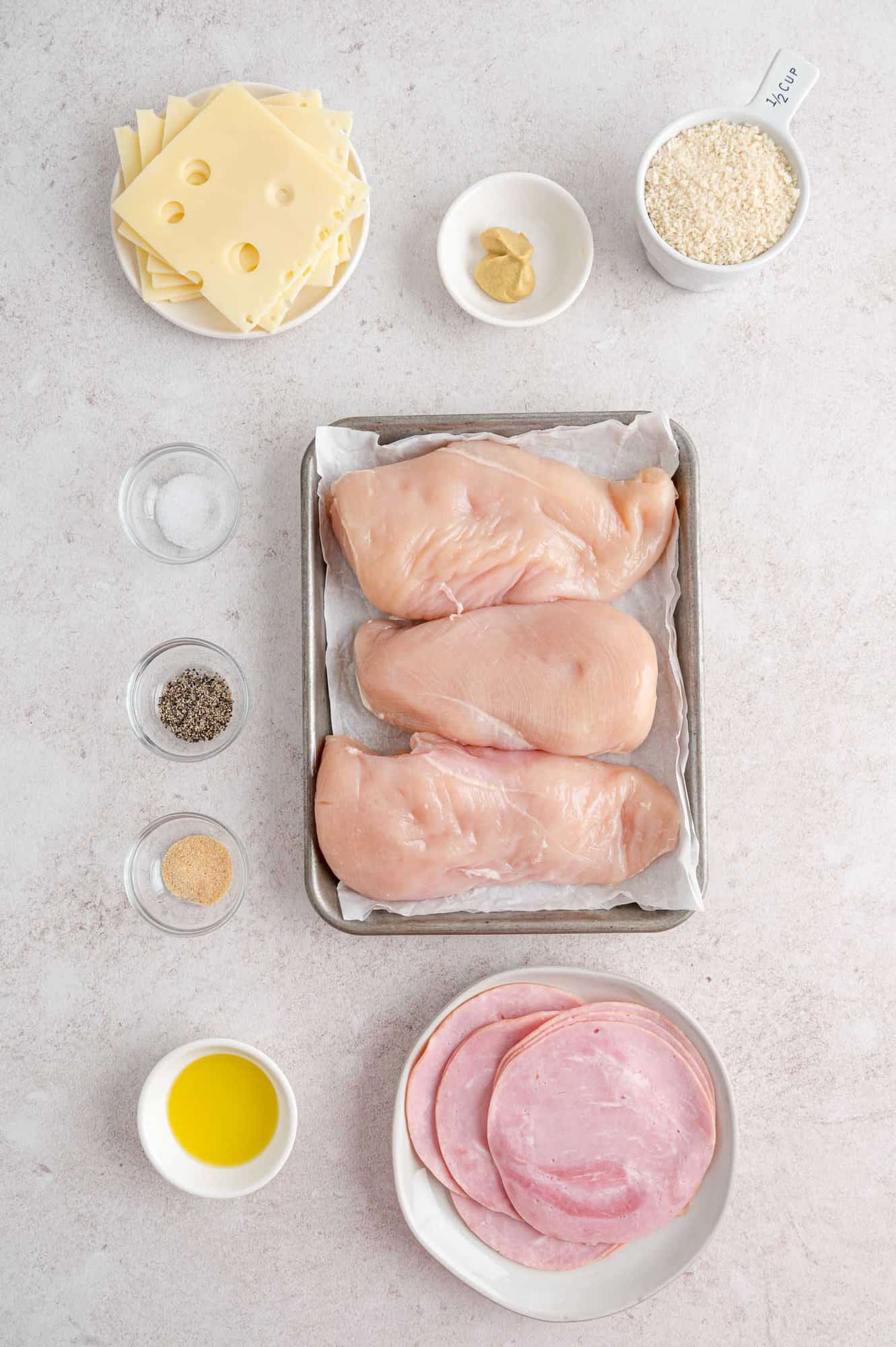 How To Make This Recipe
Begin this recipe by preheating the oven and preparing a baking pan. For easy cleanup, either lightly spray the bottom of the pan with nonstick cooking spray or line it with parchment paper.
In a small bowl, mix the panko, seasonings, and a couple teaspoons of olive oil. Set it aside for now.
Next, we'll butterfly the chicken breasts. Aren't you glad you bought boneless breasts? This job would be pretty difficult with a bone in the way. A very sharp knife helps get the job done so look for the sharpest knife in the drawer.
Place the chicken breast on a flat surface. Carefully make a horizontal cut. Stop short before cutting all the way through. You should be able to open the chicken up while still keeping it in one piece. It will look like an open book or a butterfly with its wings spread.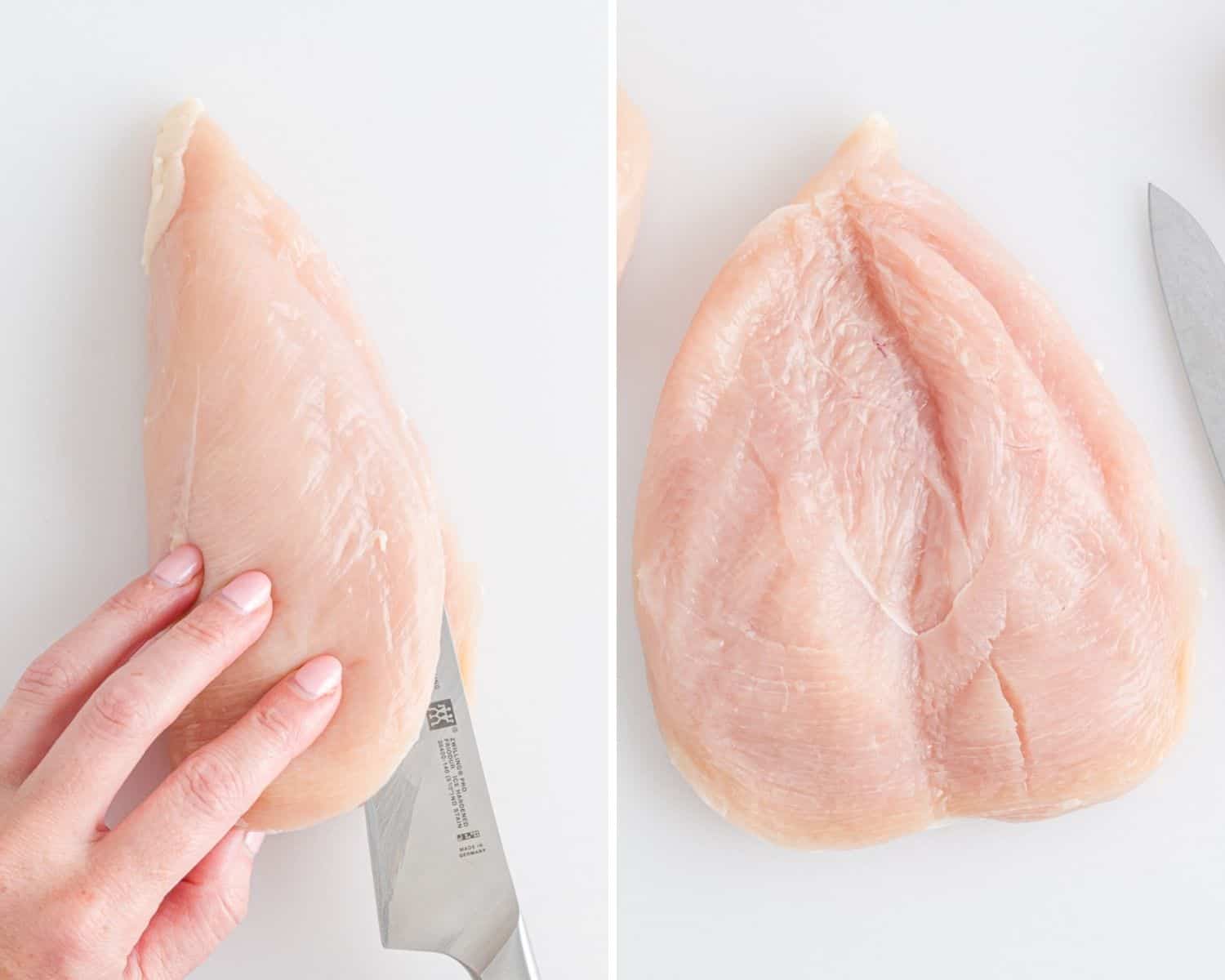 Use a mallet to lightly pound the chicken so it's about a quarter inch thick. The idea is to even out the thickness of the chicken pieces. It's easier to fill that way and it will cook more evenly. To minimize mess, place a layer of plastic wrap on top of the chicken before you pound it.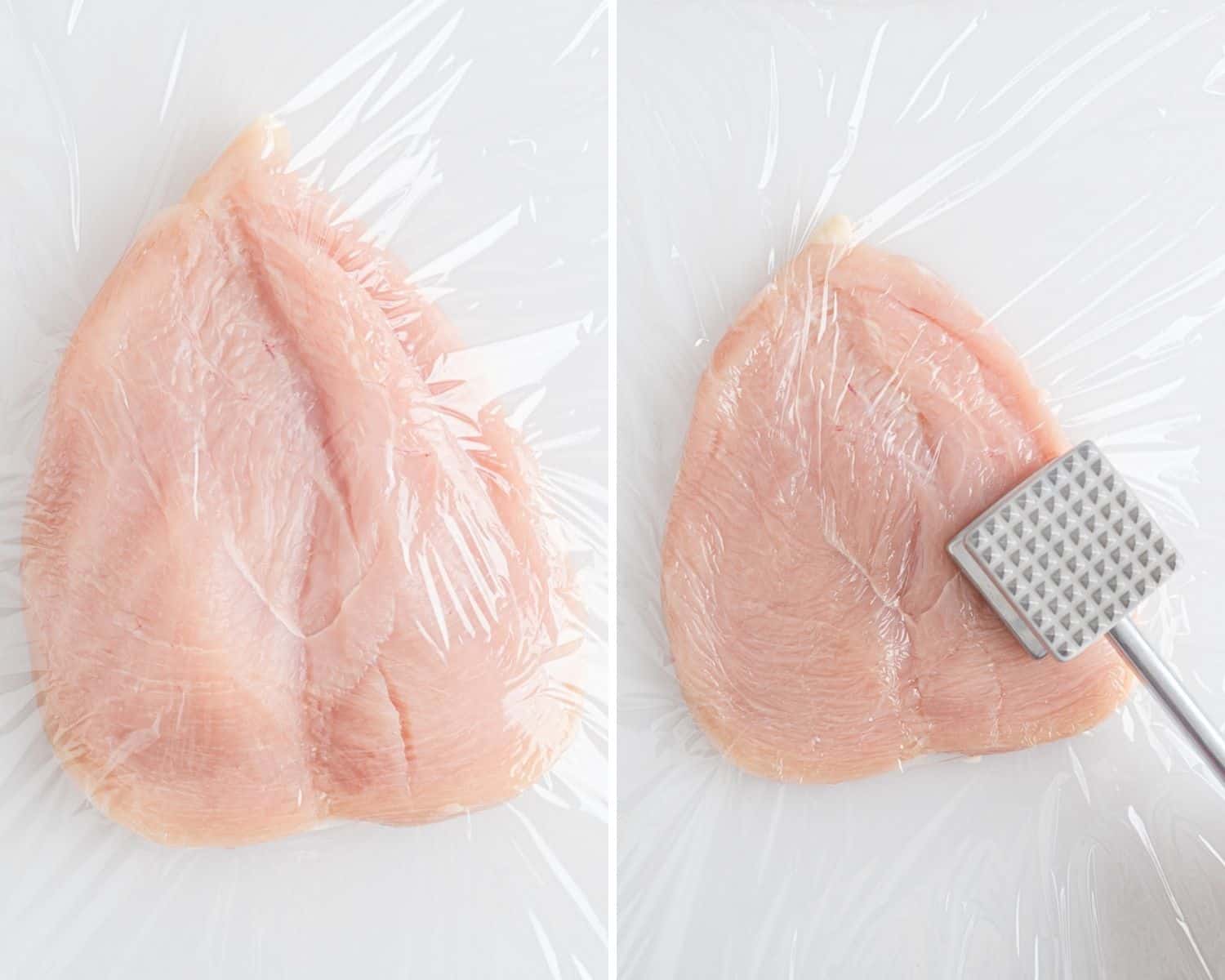 Sprinkle a little salt and pepper on both sides of the chicken (top and bottom). Arrange the ham evenly on the open sides, dividing it evenly between the 3 chicken breasts. Arrange the cheese on top of the ham.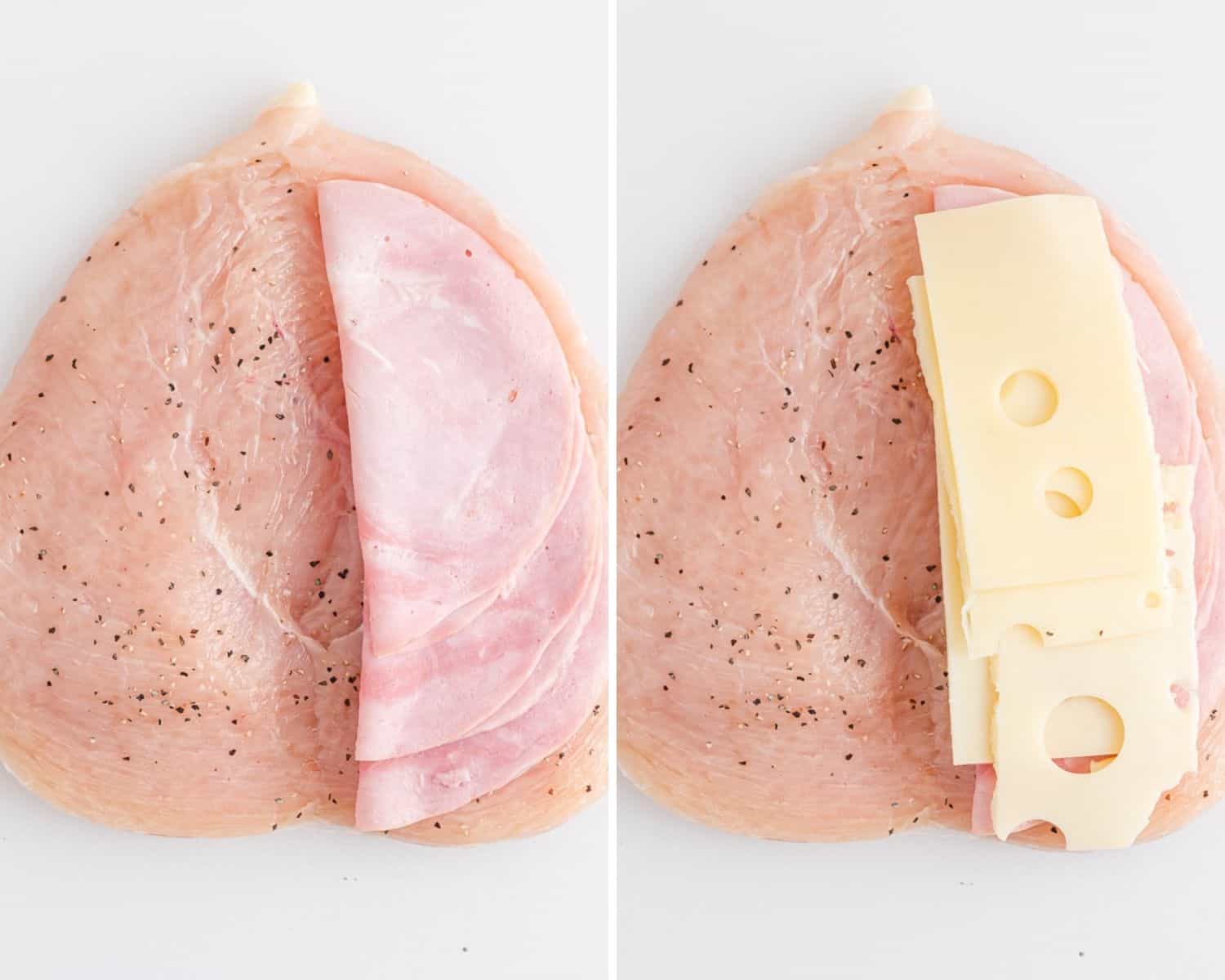 Carefully fold the breast halves together, forming a sandwich of sorts. Tuck in any stray edges of ham or cheese as well as you can. Place the stuffed chicken on the prepared baking pan. There should be enough room so that sides of the chicken aren't touching each other.
Smear a half teaspoon or so of mustard on top of each breast. Top them with the panko mixture, patting it lightly so that it adheres.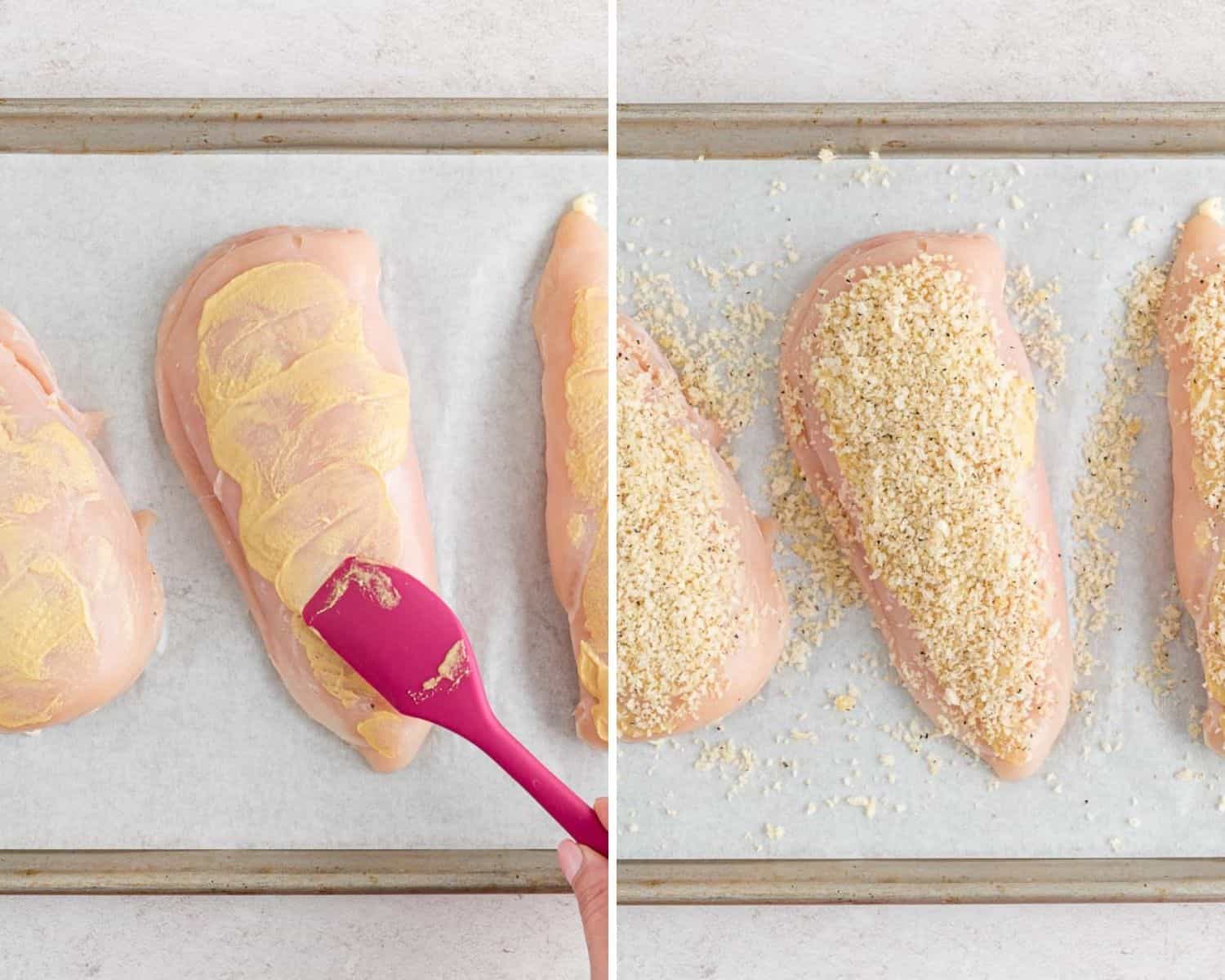 Bake the chicken for about a half hour or until it's done. Measure the internal temperature with an instant read thermometer. Aim for the thickest part of the chicken. It should be 165°F.
Let the chicken rest for five minutes or so before slicing each piece into half. Look at that cheese running out and getting slightly browned on the pan. Mmmm, that's my favorite part!
Serve chicken cordon bleu with green beans almondine and Instant Pot mashed potatoes for a scrumptious dinner. Since the oven is on already, a pan of roasted broccoli or roasted sugar snap peas would be convenient and lovely.
Looking for a "fancy" dessert to serve with your chicken cordon bleu? Try this no-bake chocolate tart. It's easy to make and looks gorgeous.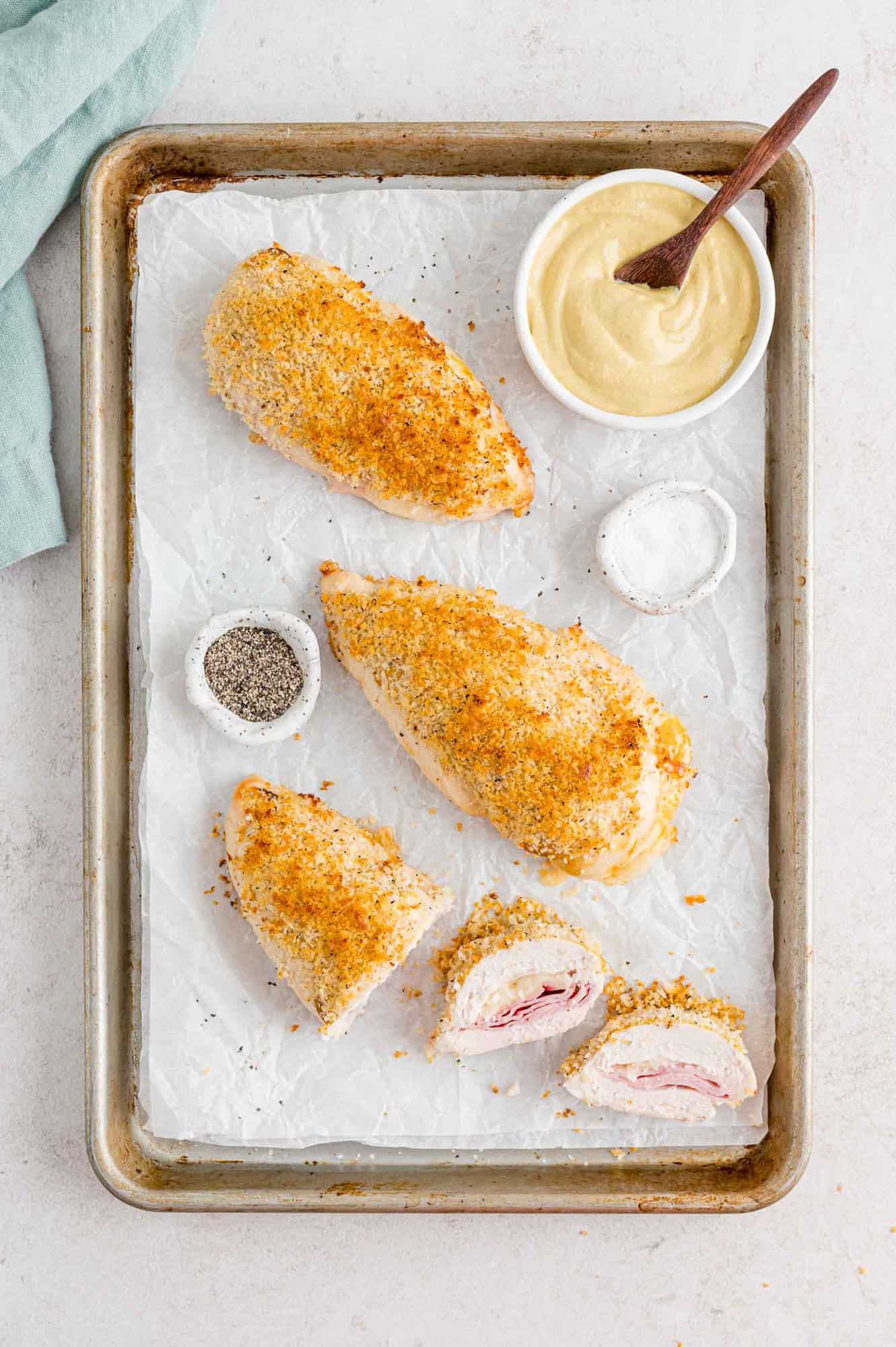 FAQs
Who created chicken cordon bleu?
People often make the assumption that it was created in France but actually it's more of a Swiss creation. It usually involves a cut of meat wrapped around a cheese filling, which is then breaded and fried.
What is the bleu in chicken cordon bleu?
"Cordon bleu" translates from the French as blue ribbon. The term dates back to 1578 when Henry III decorated a special group of knights with a wide blue ribbon. Since then, the term has evolved to describe a dish that is outstandingly delicious, such as chicken cordon bleu (Wikipedia).
What temperature should chicken cordon bleu be when it's done?
Check the internal temperature of the thickest part of the chicken with an instant read thermometer. It should be 165°F.
Make it your own
Instead of ham, try Canadian bacon.
Replace the Dijon mustard with a coarse grainy mustard.
Try chicken cordon bleu kabobs with Swiss cheese dipping sauce for a fun twist.
Or, make the sauce on the kabobs recipe to serve with your chicken cordon bleu.
Looking for a gluten-free recipe? There are a couple of options: use gluten-free panko for the breading or make your own version of chicken cordon bleu with no breading. Stuff the chicken as instructed, season the outside of the chicken with salt and pepper and lightly spray with olive oil spray. Bake as directed.
I haven't tried baking chicken cordon bleu in my air fryer yet. I'm sure it can be done and as soon as I have a chance to test it, I'll add the instructions to the recipe card.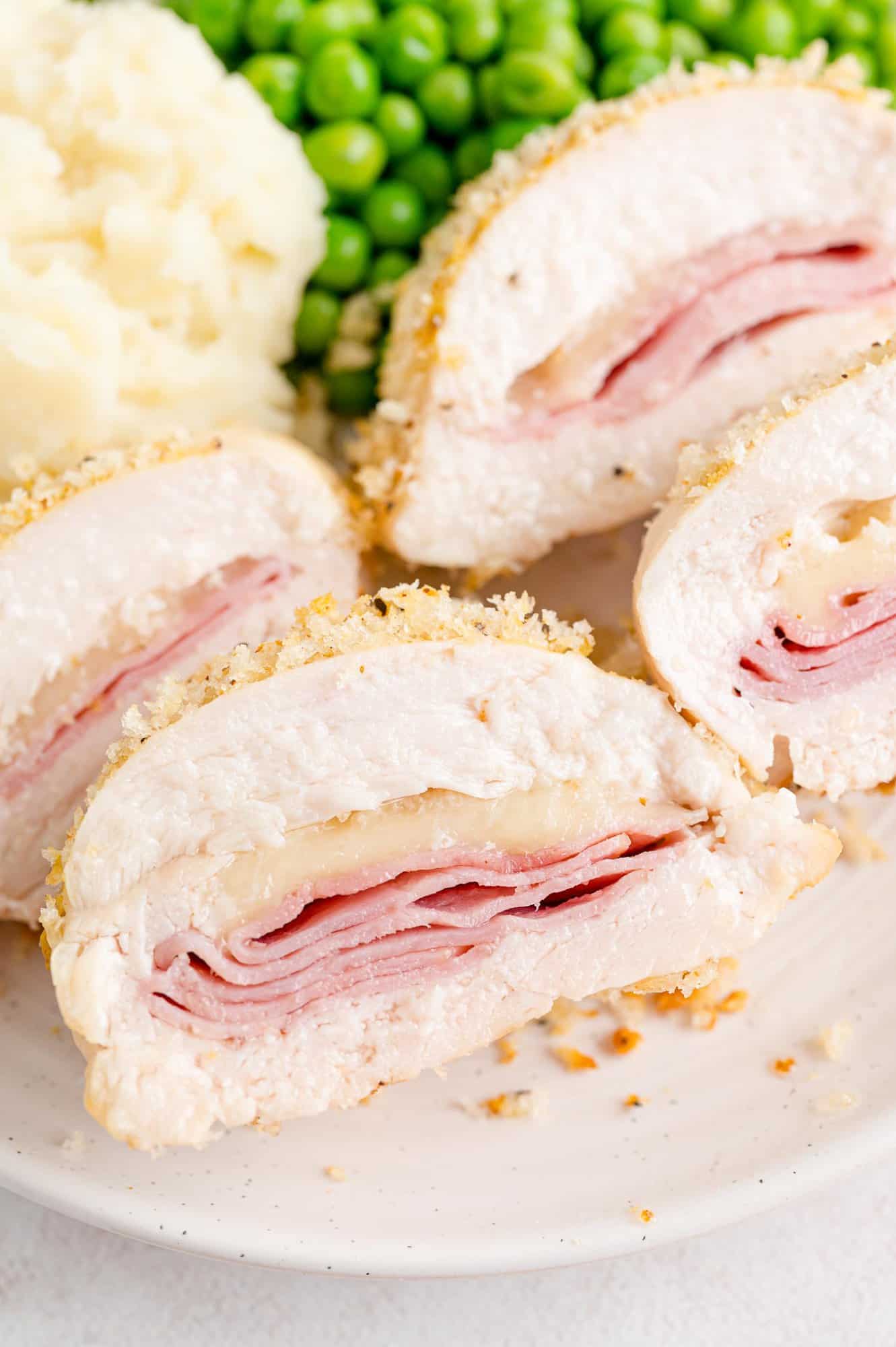 Storage & Reheating Tips
Chicken cordon bleu is best served immediately. If you have leftovers, they can be refrigerated for up to three days.
To reheat single portions, microwave until heated through. Unfortunately, the breading will most likely be somewhat soft. You can also reheat the chicken in a toaster oven or an air fryer. Be careful not to overheat the chicken because it tends to get dry.
Stuffed Chicken Recipes
Like the idea of fancifying plain chicken breasts? Boneless skinless chicken breasts just cry out for stuffing. Here's more ideas for you:
Interested in a weekly meal plan (it's free!) that includes this recipe? Take a look at my Meal Plan (#5). You'll find a wholesome recipe for each weekday plus a categorized grocery list. Let me do the planning for you this week!
We'll be adding a new meal plan weekly. If you're interested, browse all of our meal plans.
Did you make this? Be sure to leave a review below and tag me @rachelcooksblog on Facebook, Instagram, or Pinterest!
Stuffed with flavorful ham and melting Swiss cheese, baked chicken cordon bleu is surprisingly easy to make and has an elegant presentation.
Ingredients
½

cup

panko

2

teaspoons

olive oil

¼

teaspoon

garlic powder

½

teaspoon

coarse black pepper, divided

3

boneless skinless chicken breasts, butterflied and pounded to ~¼ inch thickness

(about 1.5 to 2 pounds)

¼

teaspoon

salt

4

ounces

sliced ham

4

ounces

sliced Swiss cheese

1 ½

teaspoons

Dijon mustard
Instructions
Preheat oven to 425°F. Spray a rimmed baking pan with nonstick cooking spray or line with parchment paper.

In a small bowl, mix together panko, garlic powder, and ¼ teaspoon pepper. Add olive oil to panko mixture, mixing until bread crumbs are coated. Set aside.

Open butterflied chicken so it is lying flat. Season with salt and ¼ teaspoon pepper.

Arrange ham slices over one half of each chicken breast. Layer cheese slices on top of ham slices.

Fold chicken over the ham and cheese, tucking in any stray ham or cheese. Place chicken on baking pan, sides not touching.

Smear the top of each chicken breast with about ½ teaspoon Dijon mustard each. Cover with panko mixture. Pat to adhere.

Bake for 30-35 minutes or until chicken is cooked through and breading is light golden brown. Internal temp with an instant read thermometer should be at least 165°F.

Cut each breast in half crosswise to serve.
Notes
If you'd like to serve your chicken with a sauce, see chicken cordon bleu kabobs for a delicious sauce recipe.
Make your own panko homemade bread crumbs for the breading, if desired.
Any coarse ground or stone ground mustard can be substituted for the Dijon.
Nutrition Information
Calories:
218
kcal
,
Carbohydrates:
4
g
,
Protein:
22
g
,
Fat:
12
g
,
Saturated Fat:
5
g
,
Polyunsaturated Fat:
1
g
,
Monounsaturated Fat:
4
g
,
Trans Fat:
1
g
,
Cholesterol:
65
mg
,
Sodium:
472
mg
,
Potassium:
292
mg
,
Fiber:
1
g
,
Sugar:
1
g
,
Vitamin A:
176
IU
,
Vitamin C:
1
mg
,
Calcium:
183
mg
,
Iron:
1
mg
This website provides approximate nutrition information for convenience and as a courtesy only. Nutrition data is gathered primarily from the USDA Food Composition Database, whenever available, or otherwise other online calculators.