Roasted Sugar Snap Peas (so irresistible!)
Super sweet and full of flavor, roasted sugar snap peas are like green candy – you won't be able to leave them alone. Try roasting a batch today!
After a quick roast at high heat in the oven, naturally sweet sugar snap peas intensify in flavor and sweetness. Oh my goodness, resistance is futile. You're going to love this easy way to prepare sugar snap peas.
I don't know why I've waited so long to share these roasted sugar snap peas! I mean, duh, I love pretty much every roasted vegetable under the sun. I can't believe I haven't been making these for years!
Don't wait – fresh sugar snap peas are plentiful in the spring and readily available in grocery stores and farm markets. Maybe you even grow your own! Make these green flavor bombs today!
Know your peas:

There are three main types of peas:

sugar snap peas
snow peas
garden peas

Garden peas are shelled, i.e. you don't eat the pods, just the round little peas. The pods are tough and inedible. Sugar snap and snow peas have delicious pods. Snow peas are generally flatter, with smaller peas inside the pods. Sugar snap peas look fatter, and usually taste sweeter than snow peas.
About these roasted sugar snap peas:
The key to roasting any vegetable is getting them dry. I use my salad spinner to get rid of excess moisture after washing the peas and sometimes pat them with a paper towel to make sure they're good and dry.
Wet vegetables steam and get soft, dry vegetables caramelize and get crisp. Remember that mantra and you'll always have perfectly roasted vegetables.
You'll want a nice hot oven for these babies. Get the oven preheated to 450°F. If I think of it, I even put the roasting pan in the oven to preheat while I prepare the sugar snap peas.
Toss the peas with olive oil, garlic powder, coarse salt, and freshly ground black pepper. Spread them on the baking sheet and slip the peas into the oven. They'll be ready in about 10 minutes. The peas should be flecked with browned spots and be just slightly wrinkled.
Enjoy immediately piping hot or at room temperature. Either way is great!
Serve roasted sugar snap peas as a side for most any meal or as an appetizer or healthy snack.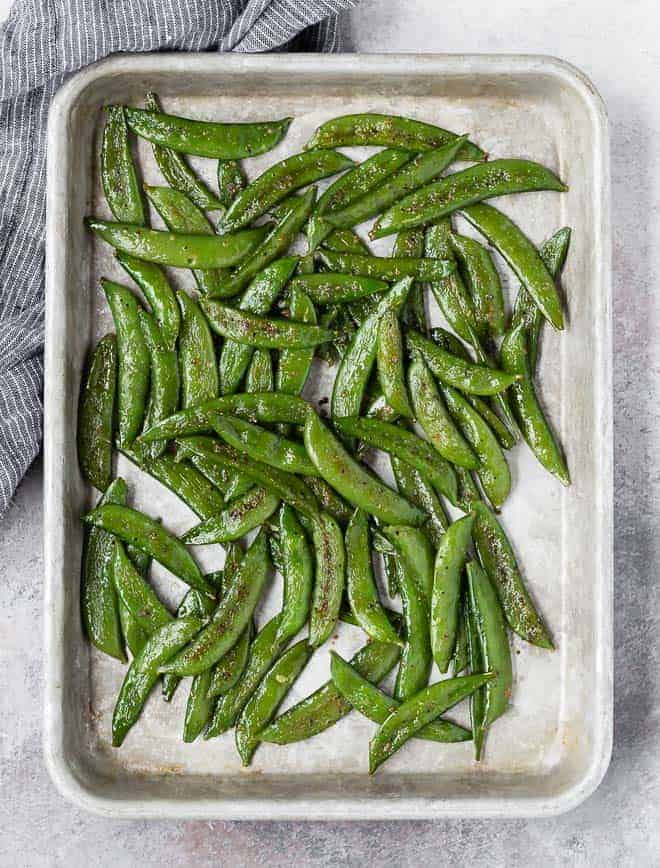 How do you clean and trim snap peas?
Rinse snap peas well in a colander under running water. Since you eat the pods of sugar snap peas, you'll want to remove the inedible stringy part that runs along both sides of the pod. It's easy to do. You can use a sharp knife or your fingers. If you like, watch this short video to see how it's done.
Identify the stem end of the pod. The stem end is where the pea is attached to the vine and sometimes has a few little leaves on it. The blossom end sometimes has a soft brownish "hair" hanging on it. Snap or slice off the stem end, pulling down the flat side of the pea as you snap it off. A green string will detach itself from the side of the pea. Do the same thing for the curved side of the pea pod. Ordinarily that string will be smaller, or even non-existent.
Sounds tricky? It's really not, it's one of those things that are easy to do and kind of hard to explain. Trust me, you'll finish this task in a snap! (ha, pun intended!)
How to make these sugar snap peas your own:
This recipe is perfectly simple and delicious as is but here's a few suggestions if you'd like to jazz it up.
I use garlic powder, but to intensify the garlic flavor, use minced garlic. Don't like garlic? Leave it out. Chopped shallot would be good, too.
Mix in shredded or grated Parmesan cheese before roasting the peas. Or sprinkle the peas with Parmesan after roasting, similar to this roasted cauliflower with parmesan.
Add cherry or grape tomatoes to the pan and roast them along with peas. Or mix them in afterwards.
Add dried Italian seasoning, red pepper flakes, or fresh thyme.
Roast the peas with a heaping teaspoon of black sesame seeds. If you like, stir in a bit of toasted sesame oil.
Garnish roasted peas with chopped fresh chives or mint leaves, or a squeeze of lemon.
Can you use frozen sugar snap peas? You know, I haven't tried that yet but according to my friends at Kitchn, you can roast frozen vegetables very successfully.
Rather leave your oven off? A quick sauté will yield yummy results, too. Learn how here.
Storage and Reheating Tips
Roasted sugar snap peas are best eaten right away. Should any happen to survive, leave them on the counter for ten more minutes and I'm sure they'll disappear. Mine certainly do!
Or wrap them well, and store in the fridge for up to 3 days.
Reheat gently or allow to come to room temp and eat them as a snack.
Want to try roasting more vegetables?

I have a fantastic 40+ collection of recipes for roasted vegetables to peruse, or take a look at a sampling here: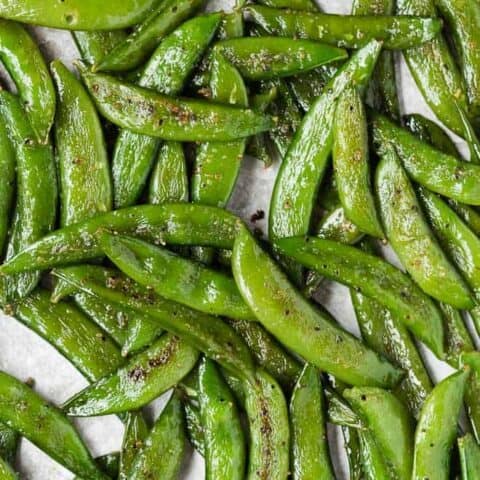 Roasted Sugar Snap Peas (so irresistible!)
Super sweet and full of flavor, roasted sugar snap peas are like green candy - you won't be able to leave them alone. Try roasting a batch today!
Ingredients
1 pound sugar snap peas, stems and stringy parts removed, washed and dried
1 tablespoon olive oil
1/2 teaspoon kosher salt
1/4 teaspoon coarse ground black pepper
1/4 teaspoon garlic powder (if desired)
Instructions
Preheat oven to 450ºF.
On a rimmed baking sheet, toss snap peas with oil, salt, pepper, and garlic powder. Bake for 10 to 12 minutes or until desired tenderness.
Serve immediately as a side dish, or on a salad, or as a yummy snack.
Notes
The drier you get the peas before roasting them, the better they will be. A salad spinner works great!
Recommended Products
As an Amazon Associate and member of other affiliate programs, I earn from qualifying purchases.
Nutrition Information:
Yield:

4
Serving Size:

1 of 4
Amount Per Serving:
Calories:

78
Total Fat:

4g
Saturated Fat:

1g
Trans Fat:

0g
Unsaturated Fat:

3g
Cholesterol:

0mg
Sodium:

269mg
Carbohydrates:

8g
Fiber:

3g
Sugar:

5g
Protein:

4g
RachelCooks.com sometimes provides nutritional information, but these figures should be considered estimates, as they are not calculated by a registered dietitian. Please consult a medical professional for any specific nutrition, diet, or allergy advice.
Verdict:
I cannot stop making these, or eating them! Completely obsessed.
Husband's take:
Ben loves these too! The first time he tried them, I think he was shocked by how much he liked them.
Changes I would make:
None at all!
Difficulty:
So easy!