The Best Crispy Roasted Potatoes
Don't settle for soggy potatoes. Learn how to make crispy roasted potatoes – it's SO easy! They're irresistibly delicious.
Recipe Overview
Why you'll love it: These crispy potatoes go well with everything and are easy to make.
How long it takes: 35 minutes in the oven, plus an hour for soaking
Equipment you'll need: sheet pan, bowl, clean towel
Servings: 5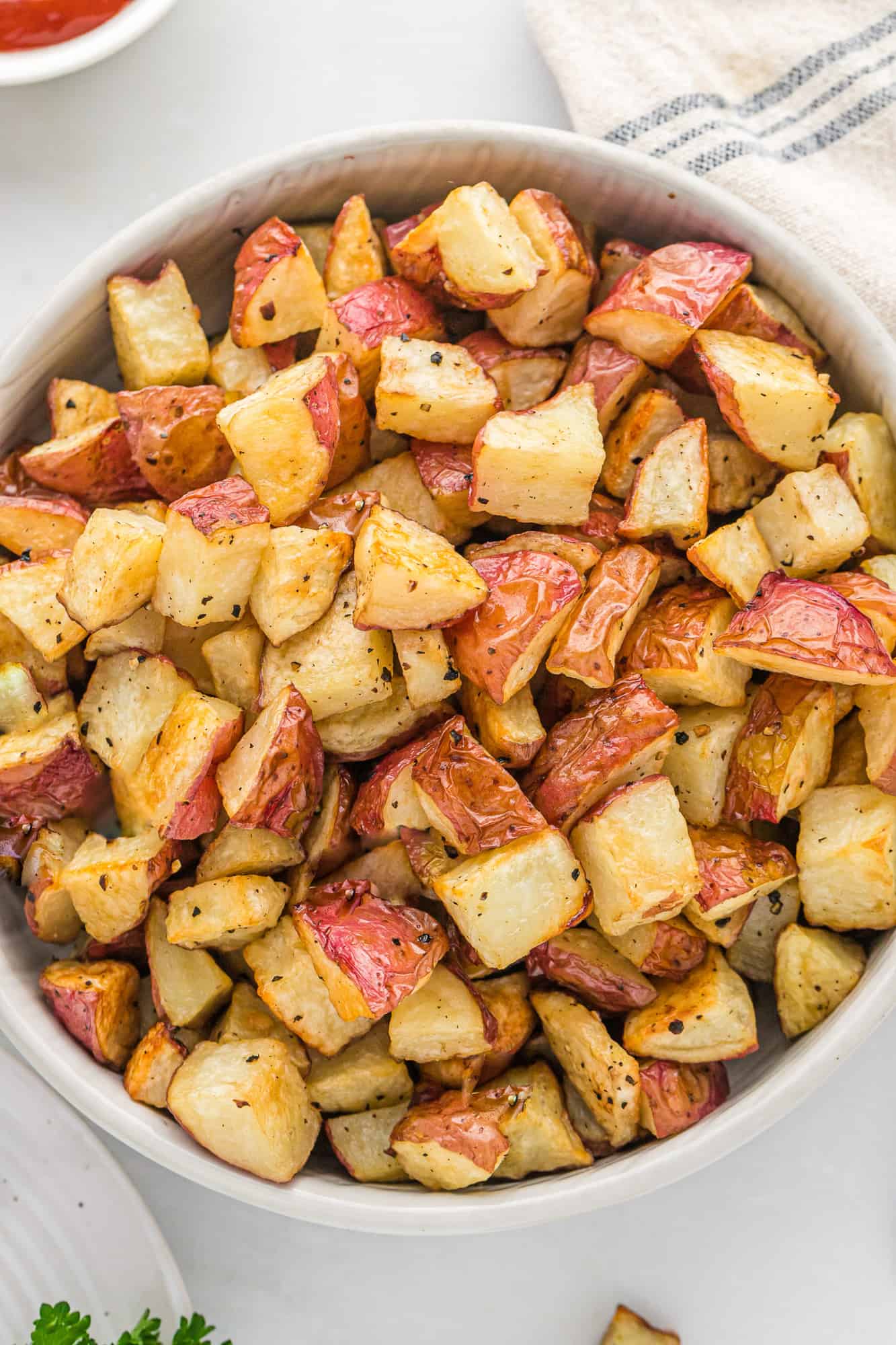 Creamy red skin potatoes, cubed and roasted simply with olive oil, salt, and pepper, are delightfully crispy and so, so tasty. They are easy to make in your oven and are a classic side dish for breakfast, lunch, or dinner.
Crispy roasted potatoes vs. soggy roasted potatoes. One is a clear winner and one just isn't worth the calories. You could liken it to a fight between good and evil but that's probably a bit overdramatic.
Ben is a huge fan of these little roasted guys. He always picks out the crispiest ones. So do I. That's why it's imperative that maximum crispiness is achieved. This is serious business, folks.
I might even venture to say they are better than fries (!) especially with a dollop of sour cream and a sprinkling of fresh chives or a drizzle of healthy ranch dressing. I also love them with tzatziki! I could eat an entire sheet pan of these in one sitting. You'll get what I'm talking about when you try these potatoes.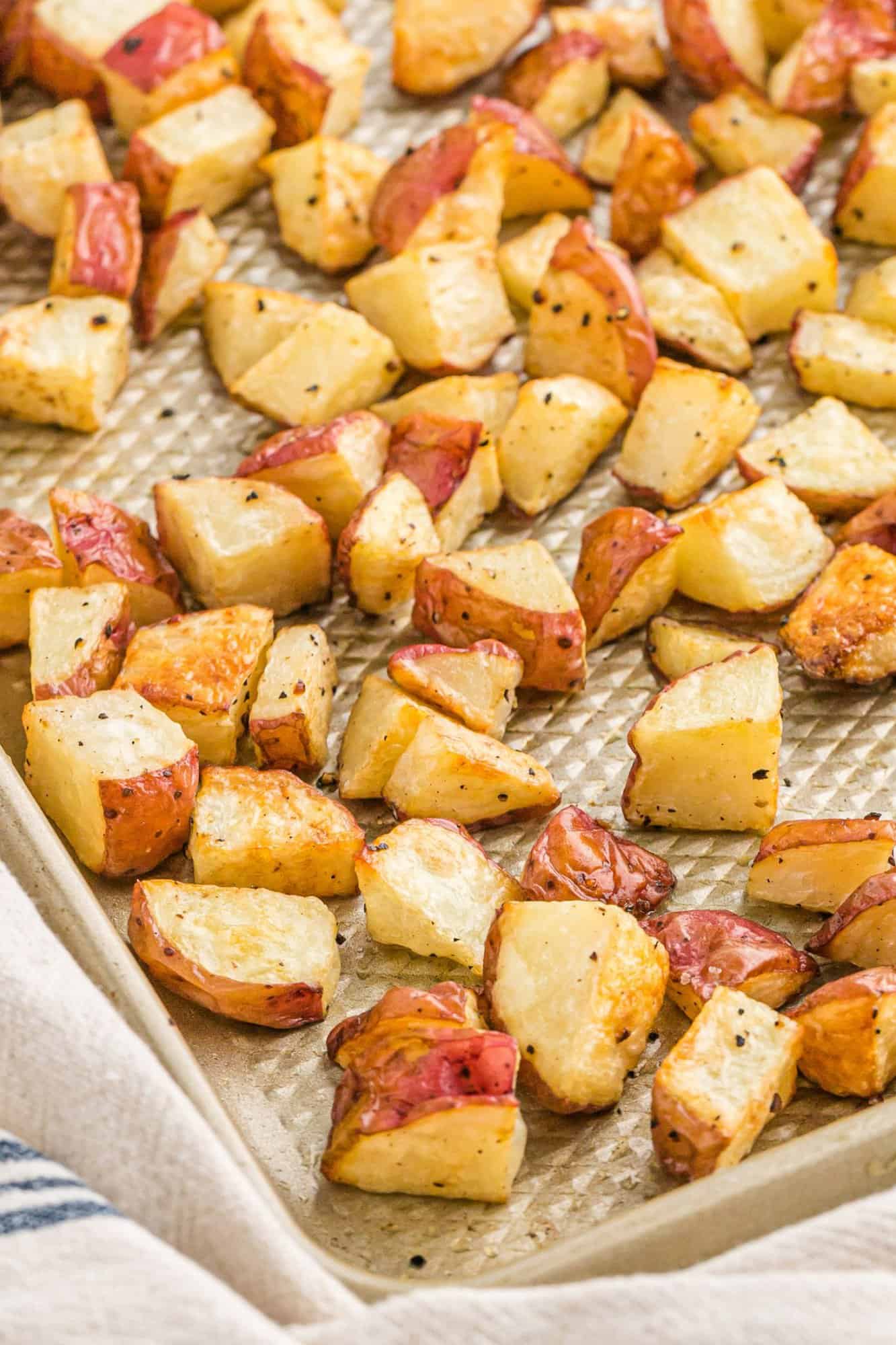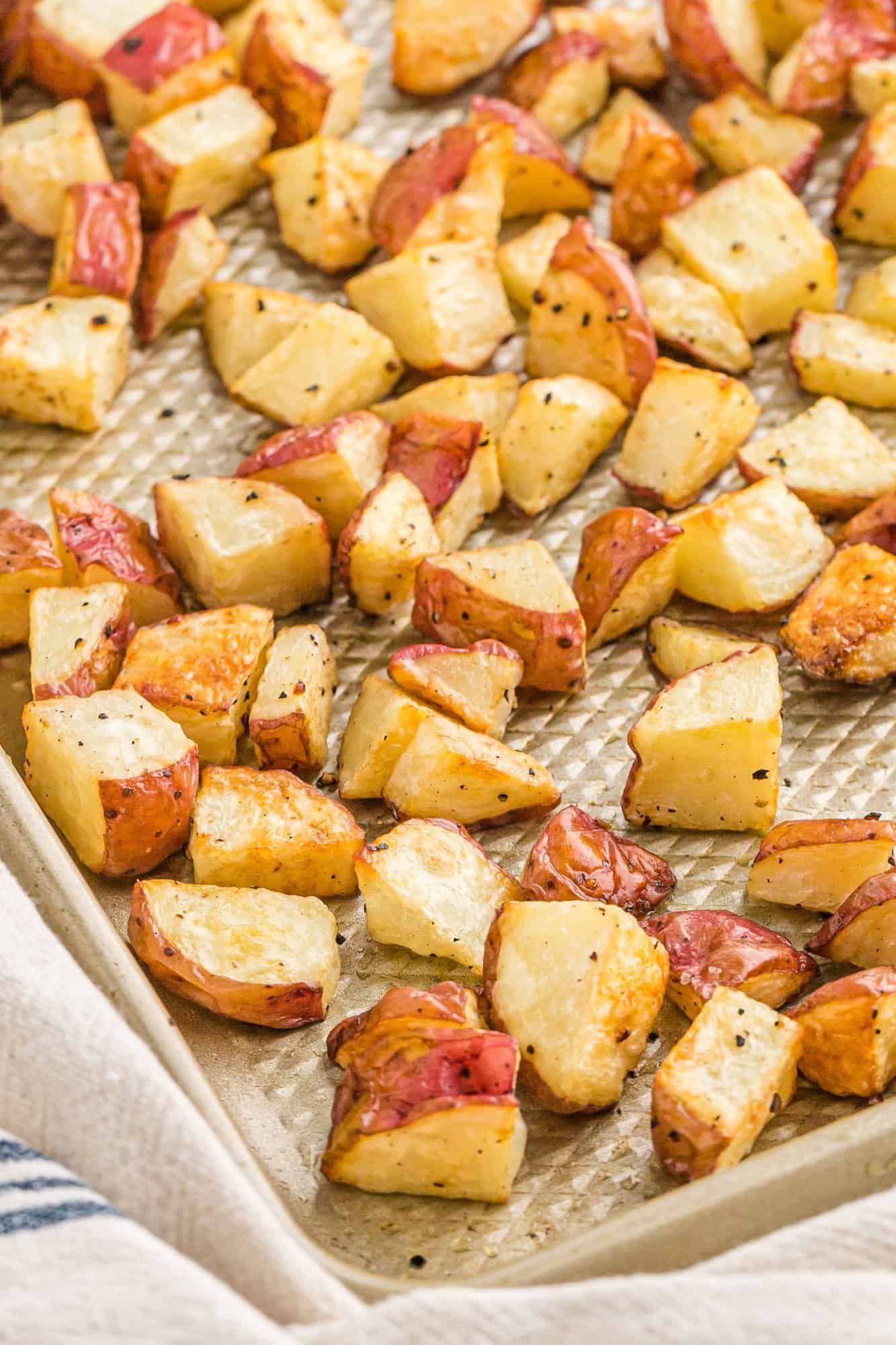 Potato IQ
Did you know that potatoes are good for you? While they are high in carbs (mostly starch), they also contain important vitamins and minerals, particularly potassium. The skin has additional benefits, including fiber and polyphenols (an antioxidant). Red potatoes are one of the healthiest choices (Healthline).
About This Recipe
This recipe is a basic how-to technique. Once you learn the easy steps, crispy roasted potatoes will be a side dish that you'll turn to again and again. These potatoes go with nearly everything and are "fancy" enough to serve to company. Pretty much everyone I've ever met likes these potatoes.
Consider making oven roasted potatoes for breakfast instead of hash browns or American fries. They are a healthier choice and you don't have stand over the stove. Add a sheet pan of baked bacon to the oven and all you'll have to do is scramble the eggs.
Crispy roasted potatoes are very good on a salad, too. Add them to fresh green lettuce or spinach, toss on a few radish slices, thinly sliced red onion, and tomatoes, and top with homemade red wine vinaigrette or honey mustard dressing. So good!
For dinner, serve roasted potatoes with baked salmon or parmesan baked cod. They go great with grilled steak or chicken, too. I often make them as a side with sautéed pork tenderloin with apples and onions.
I'll get you started here and give you lots of helpful tips. As always, look for the printable recipe card near the end of the post. It has complete instructions, measurements, and nutrition information.
Ingredients You'll Need
Red Skin Potatoes: You'll need about a pound and a half of these tender skinned potatoes. Yukon gold potatoes are another variety that works really well or those really cool purple potatoes. Try a colorful mixture! There's no need to peel the potatoes first. Just give them a light scrubbing. Size isn't really important as long as you cut them into evenly sized cubes.
Olive Oil: A little oil is necessary to crisp the potatoes up. This heart-healthy oil adds a good flavor to the potatoes, too.
Kosher Salt: Coarse salt is great for roasting because it gives nice little pops of flavor. Fine salt is okay but you'll want to use a bit less.
Coarse Ground Black Pepper: Same as the salt, coarse pepper gives you a nice bite of flavor. Visually, it's a bit more attractive.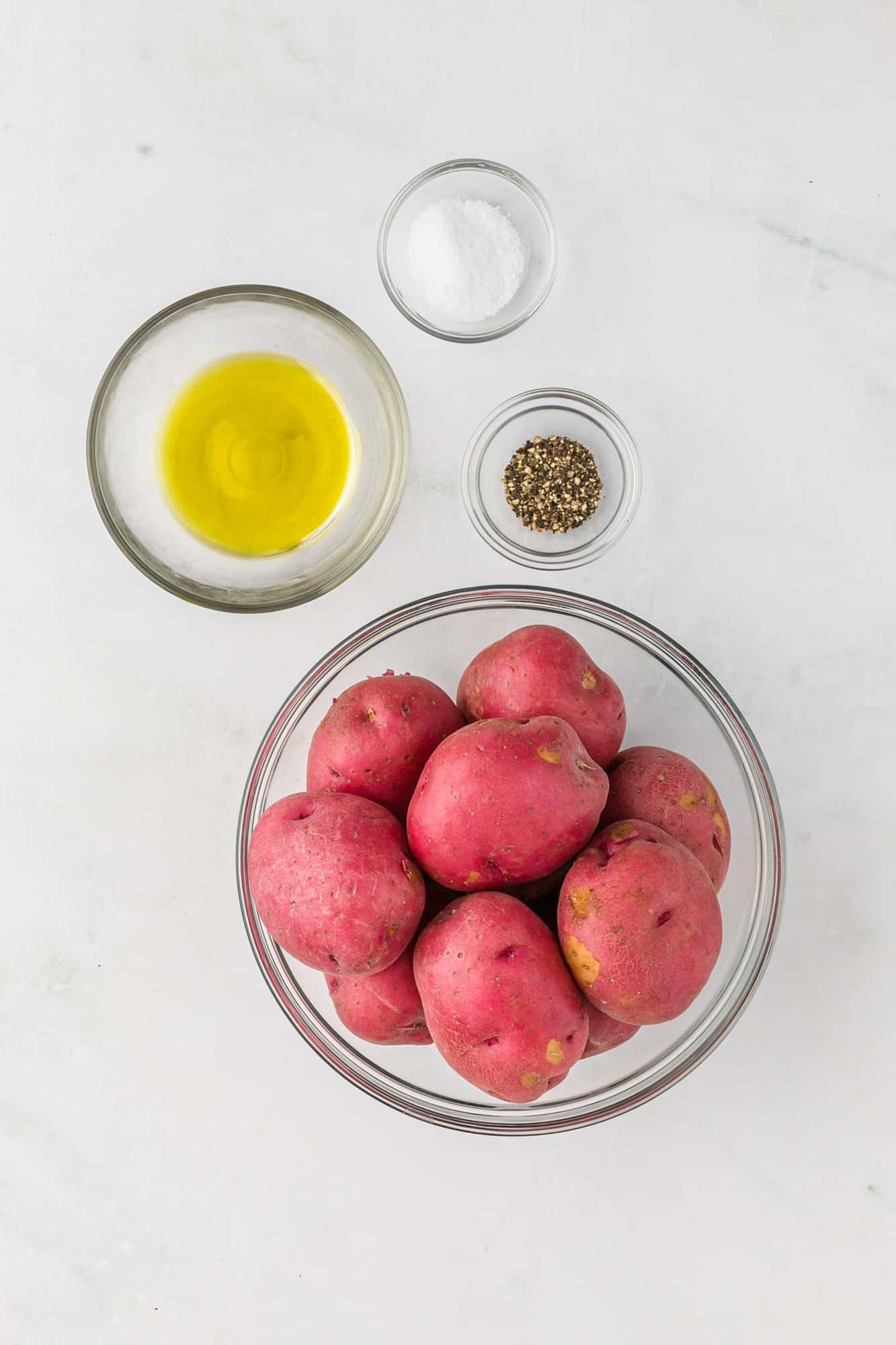 How To Make The Crispiest Potatoes
I have four important tips for achieving the best crispy roasted potatoes. You don't want soggy loners left on the pan. These tips are completely doable, actually pretty much fail-proof.
SOAK your potato chunks in cold water. This removes some of the starch and helps get them super duper crispy. Soak them at least one hour.
Preheat the oven with your pan in the oven. That way the pan is nice and hot when you add the potatoes and the crisping action starts immediately.
DRY the potatoes after draining them. And then dry them a little more. Water = Steam = Soggy = BAD BAD BAD. I use a lint-free cotton kitchen towel. Paper towels are fine, too. Toss the potatoes with oil and seasonings once they're dry.
DO NOT OVERCROWD your pan. Just don't do it. DON'T DO IT. If you do, they'll steam instead of getting crispy. How many times have I said "crispy?" Crispy. Crispy. Crispy.
So there you have it. Easy steps to take but they yield a huge result. You'll be happy you went the extra mile!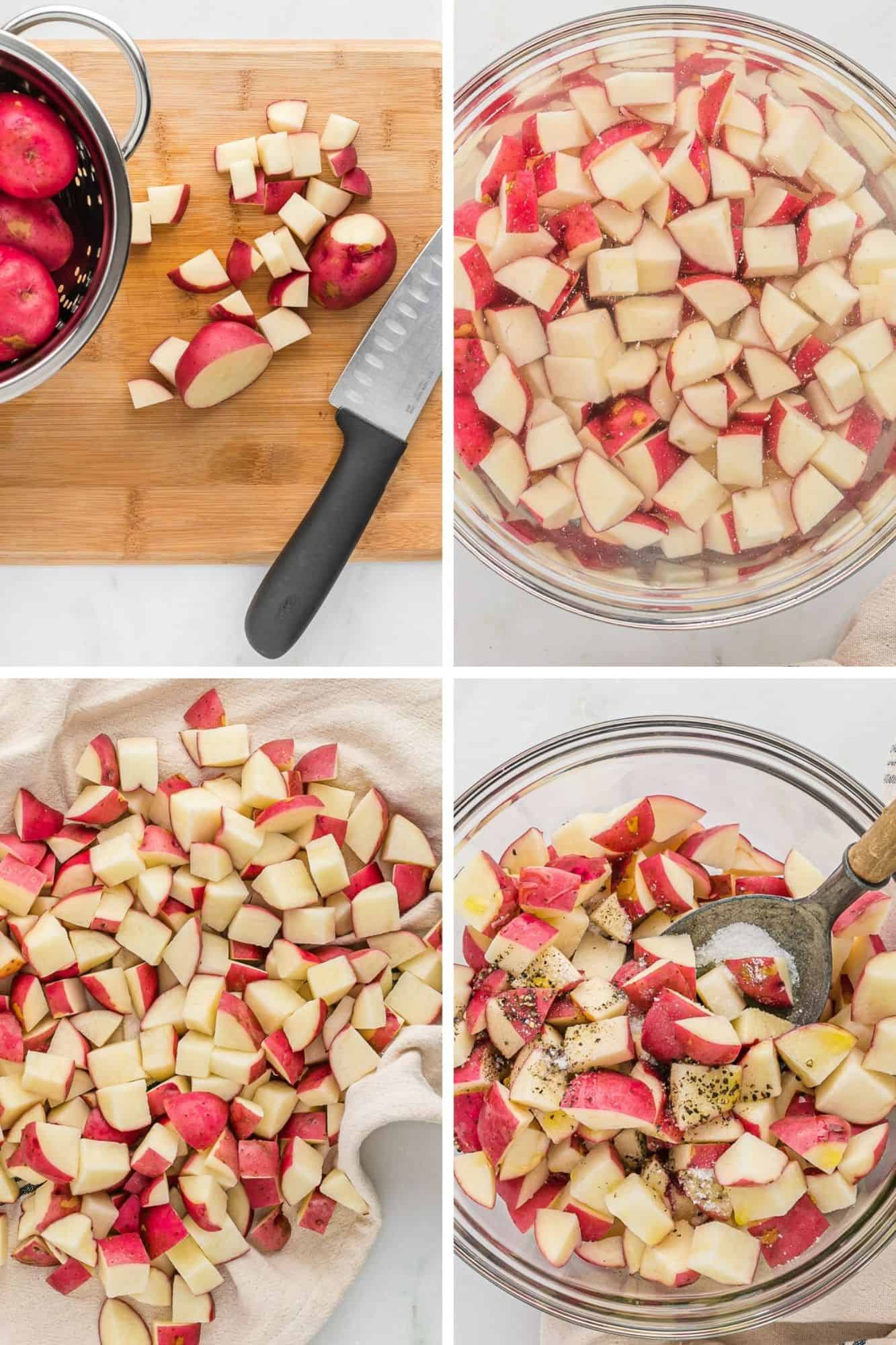 FAQs
Is it necessary to boil potatoes before roasting?
Some cooks like to parboil the potatoes first. The potatoes are partially cooked (soft on the outside, raw on the inside) so that they roast more quickly. Parboiling is great if you are roasting whole potatoes or large chunks. Since the potatoes in this recipe are cut quite small, there's no need to parboil them.
Should potatoes be soaked before roasting?
Yes! Soak the potatoes in cold water to remove the excess starch from the outside of the potato. There are a few reasons why you want to remove that starch (it makes the potatoes burn, it keeps them from crisping up, it turns to sugar) but all you really need to remember is to soak them at least one hour.
Which oil is best for roasting?
Most oils are fine. Choose an oil with a fairly high smoke point but that adds flavor, like extra virgin olive oil or ghee (butter with milk solids removed). Don't choose an oil with a low smoke point such as flaxseed, walnut, or wheat germ oil. Those are best used in salad dressings.
How do you get crispy roasted potatoes?
There are four essential steps to attain crispy roasted potatoes: soak, dry, preheat, don't overcrowd. Follow the directions on the recipe card below!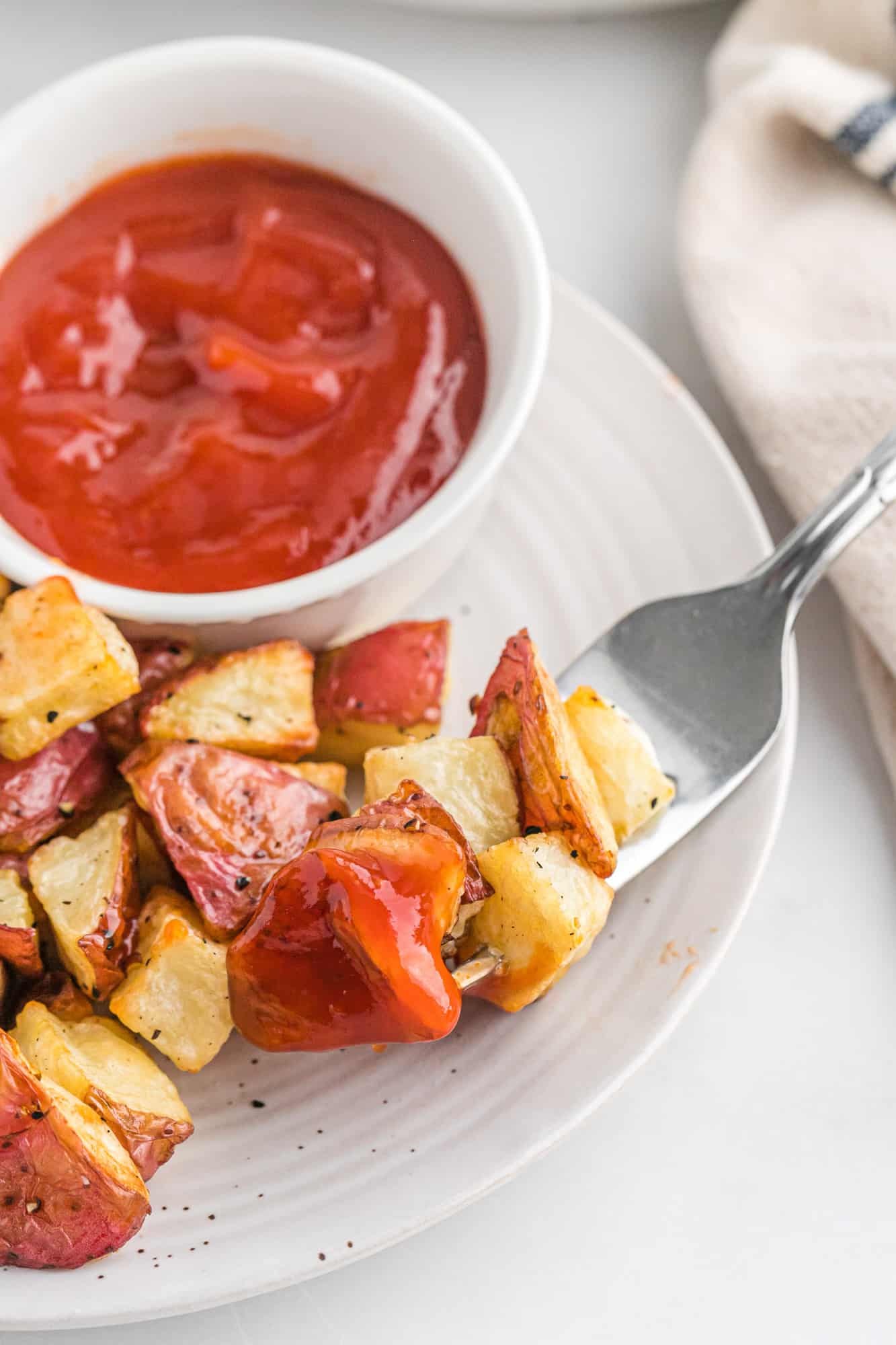 Make It Your Own
Try different varieties of potatoes. Really any type of potato will work. Thin skinned potatoes like red potatoes or Yukon gold potatoes taste great and you don't have to peel them. Russet potatoes usually have thicker skins so you may want to peel those.
Slice the potatoes into wedges (like thick cut fries) or quarter them for a different look. If you have an air fryer, be sure to try my air fryer potato wedges recipe.
Add onions. These potatoes are really good but potatoes and onions are always awesome too. Cut the onion into fairly large pieces. Small pieces tend to burn.
Make a bigger batch. That's just fine but remember: You don't want to overcrowd the potatoes in the pan. It's better to use two pans. Rotate the pans if necessary so that the potatoes bake evenly.
Add seasoning. Some good choices are garlic powder or onion powder, paprika, dried rosemary or thyme, or even chili powder. Try my all-purpose seasoning or seasoned salt (omit salt and pepper).
Easier cleanup: Line the pan with parchment paper. However, and I'm sorry to have to break it to you because we all love easier cleanups, your potatoes won't brown as nicely or get as crispy.
Convection bake them. Convection ovens use forced air to cook foods (similar to an air fryer). Newer stove models are calibrated to take the guesswork out so you should be able to set the oven at the same temperature (425°F). If you have an older model, set the temperature 25°F less. Check the potatoes frequently to make sure they aren't getting too done.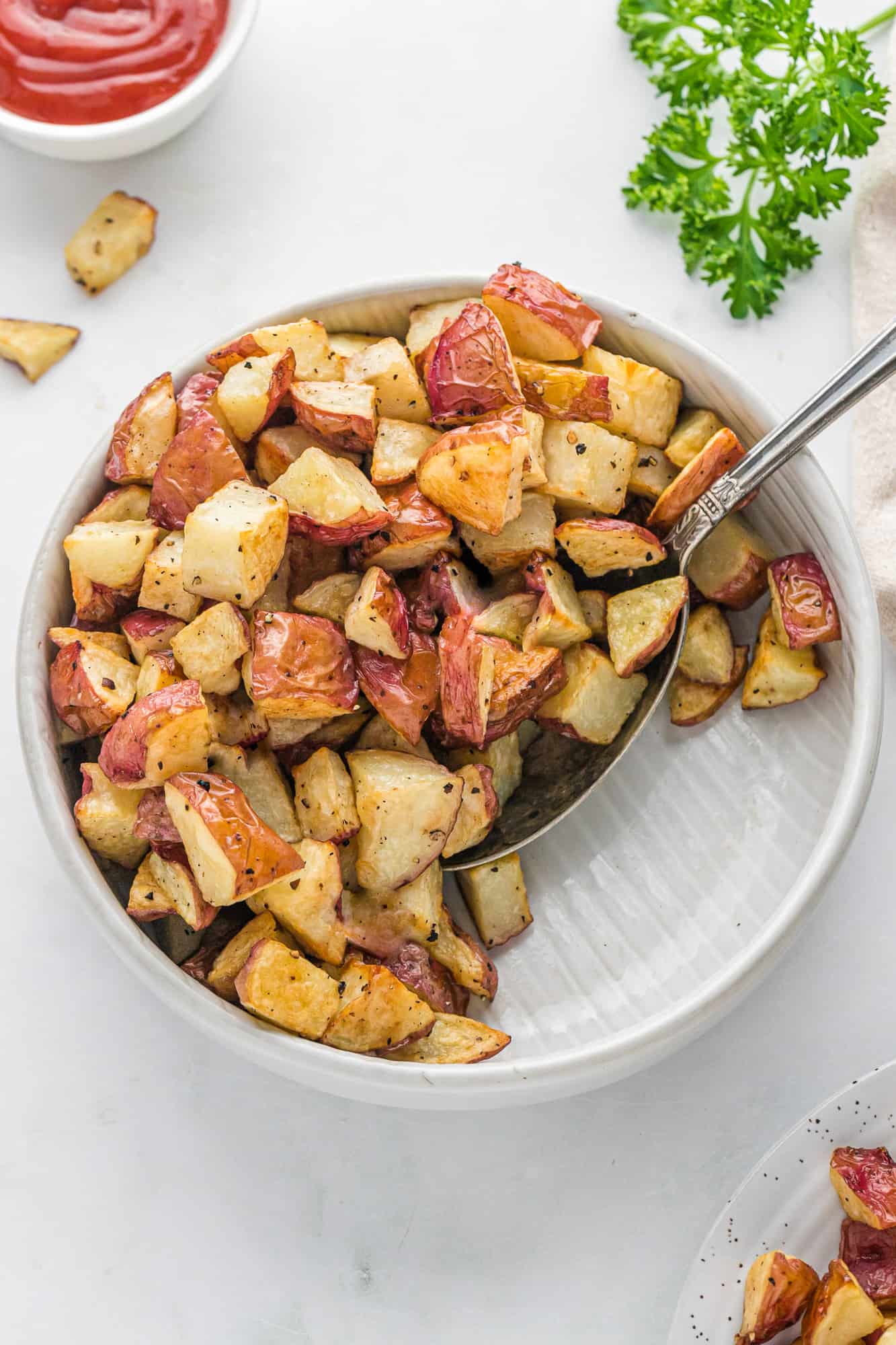 Make-Ahead Ideas
Prep the potatoes ahead: Get a head start on this recipe by prepping the potatoes up to a day ahead. Scrub the potatoes, cut them into cubes, and submerge the cut potatoes in cold water. Refrigerate them overnight in the water.
Storage & Reheating Tips
Refrigerate: Roasted potatoes are the crispiest when served right away. If you have leftovers, put them into a tightly covered container after they've had a chance to cool down to room temperature. Store in the refrigerator for up to four days.
Freeze: Cooked potatoes can be frozen for up to six months. There's no need to thaw them before reheating.
Reheat: Reheat the potatoes in the oven, toaster oven, or air fryer for best results (we love air fryer potatoes). Single portions can be heated in the microwave but they tend to become soggy and just aren't as tasty.
More Crispy Potatoes
Did you make this? Be sure to leave a review below and tag me @rachelcooksblog on Facebook, Instagram, or Pinterest!
Don't settle for soggy potatoes. Learn how to make crispy roasted potatoes – it's SO easy! They're irresistibly delicious.
Ingredients
5

cups

diced (about ½ inch) red skin potatoes

(about 1 ½ lbs.)

3

tablespoons

extra virgin olive oil

1

teaspoon

kosher salt

½

teaspoon

coarse black pepper

(more or less to taste)
Instructions
After scrubbing and dicing potatoes, rinse under cold water. Soak diced potatoes in a bowl of cold water for at least 1 hour. Change water if it looks cloudy.

Preheat oven to 425°F with a rimmed baking sheet inside the oven.

When oven is preheated, drain potatoes and rinse with more cold water. Put potatoes on a clean lint-free towel and dry thoroughly. Return to a dry bowl.

Add oil, salt, and pepper. Toss the potatoes to coat – or use your hands! Don't do this step until the oven is preheated.

Carefully remove hot pan from oven and add potato mixture. Spread in an even layer and return the pan to the oven. Cook for 25 minutes. Stir and return for oven for 10 minutes or until golden brown and fork tender.
Notes
Leftover potatoes can be stored in the refrigerator for up to 4 days or in the freezer for six months. They do not need to be thawed before reheating.
Reheat potatoes in oven, toaster oven, or air fryer for best results. Microwaving will result in soggy potatoes.
Add 1 cup onion, cut into 1 inch chunks, to roasting pan if desired.
Yukon gold potatoes are a good substitute.
Nutrition Information
Serving:
1
cup
,
Calories:
127
kcal
,
Carbohydrates:
12
g
,
Protein:
1
g
,
Fat:
9
g
,
Saturated Fat:
1
g
,
Polyunsaturated Fat:
1
g
,
Monounsaturated Fat:
6
g
,
Sodium:
479
mg
,
Potassium:
344
mg
,
Fiber:
1
g
,
Sugar:
1
g
,
Vitamin A:
6
IU
,
Vitamin C:
6
mg
,
Calcium:
9
mg
,
Iron:
1
mg
This website provides approximate nutrition information for convenience and as a courtesy only. Nutrition data is gathered primarily from the USDA Food Composition Database, whenever available, or otherwise other online calculators.