Parmesan Baked Cod Recipe with Lemon
Mild tasting cod encased in a flavorful, crispy crust, this Parmesan baked cod is a simple and delicious way to add healthy seafood to your weekday menu. High in protein and low in fat, inexpensive cod is a great choice.
Recipe Overview
Why you'll love it: The crispy coating makes ordinary inexpensive cod extra special.
How long it takes: 15 minutes to prep, 25 minutes in the oven
Equipment you'll need: baking pan, oven, small bowl
Servings: 4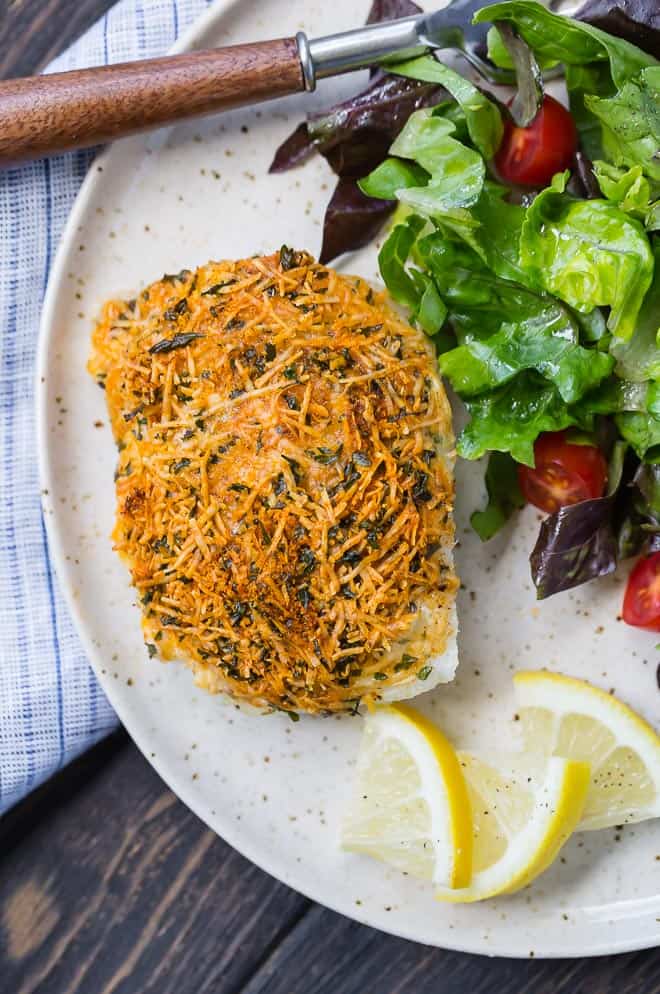 I often default to chicken and turkey as my go-to choices for dinner. However, living in Michigan, I'm pretty much surrounded by lakes so I can't make the excuse that seafood isn't available. (In case you're wondering, both salt water and fresh water fish are considered "sea" food. I Googled it!). I don't think my mom prepared fish very often when I was growing up so maybe unfamiliarity is part of the reason it's not the first thing I reach for at the grocery store.
My food preferences are constantly changing, though, and we eat salmon almost every week. I love salmon prepared in a variety of ways, like this grilled salmon, baked salmon with lemon and chives, and salmon with maple mustard glaze. Lately I'm loving Air Fryer Salmon. The crunchy coating on Parmesan and Almond Crusted Salmon is so, so good!
Although my salmon recipes are popular, some of you have requested recipes for other varieties of fish. I absolutely love reader requests, and I try to make the requested recipes happen whenever I can, so today I'm bringing you this recipe for delicious Parmesan baked cod. I think it's perfect and I'm sure you will too.
As always, let me know if you make this recipe and send any recipe requests my way!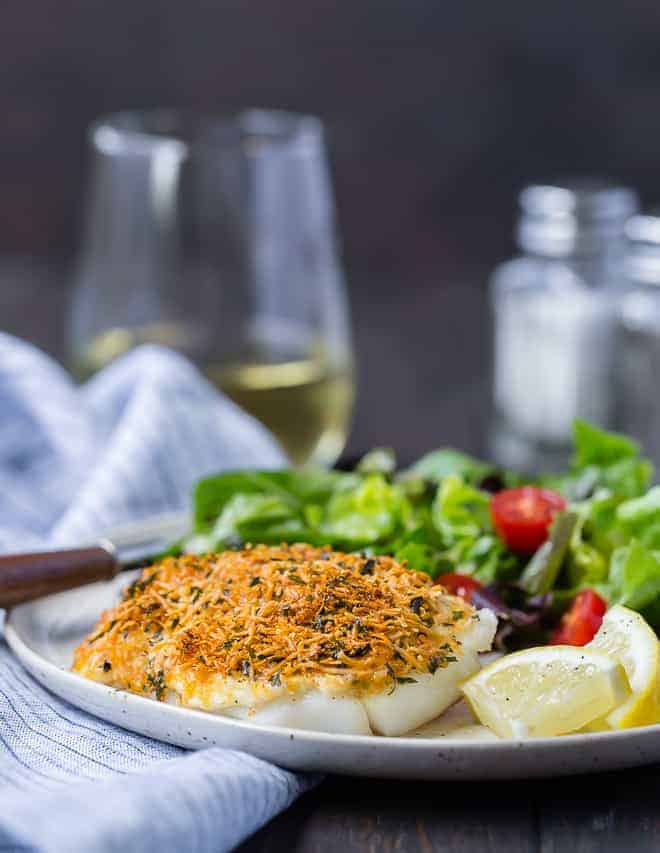 About this Parmesan baked cod recipe
Cod is a mild tasting white fish that easily adapts to a variety of cooking methods. It can be baked, fried, poached, broiled, or steamed. Use its mild flavor as a base for delicious seasonings and sauces. I love cod in these stunning fish tacos with blood orange salsa.
While you have the oven on, why not roast broccoli to go along with your cod? Lemon roasted broccoli is healthy and delicious, and incorporates a couple of the same ingredients as the fish: lemon and Parmesan cheese. Perfect!
I'll run through the recipe here to get you started. Look for lots of extra tips. You'll find the printable recipe card at the end of the post with complete instructions and nutrition information.
What You'll Need
Cod Fillets: Usually cod is fairly inexpensive. I purchase cod fillets at the meat counter of my grocery store. Using frozen cod is okay but I find that it tends to be more watery. You'll need 4 boneless fillets, about 4 oz. each.
Mayonnaise: You'll need the mayonnaise to act as glue for the flavorful topping. It also adds flavor and just a bit of fat to the cod.
Parmesan Cheese: For best results, use shredded parmesan. It looks nicer, giving the topping a more interesting texture. There is no added salt in this recipe because the cheese is fairly salty.
Dried Parsley: Adds color and just a bit of flavor.
Lemon Zest: Use a fine grater or zester to zest a lemon. Don't skip this ingredient because it really makes this dish flavorful. After zesting the lemon, cut it into wedges for serving later on.
Sweet Paprika: There are 3 basic types of paprika commonly found in grocery stores: sweet, Hungarian, and smoked. Often sweet paprika is labelled simply "Paprika".
Ground Black Pepper: Add as much or as little as you like.
How To Make This Recipe
Let's get started! Preheat the oven to 425ºF and prepare a rimmed baking pan (such as a sheet pan) by lining it with foil or parchment so cleanup will be easy. Set a wire baking rack in the pan and spray it lightly with nonstick spray.
If you don't happen to have a rack, no worries. You can bake the fish without it. It will turn out a little less crispy but still taste great!
Rinse each fillet, pat dry thoroughly with paper towels, and cut into serving size pieces, about 4 ounces each. Make sure you get it as dry as possible or it will be difficult to spread the mayo on top. Put the fillets in the pan.
Mix together the cheese, parsley, lemon zest, paprika and black pepper. Next, spread a little mayonnaise on top of each fillet and then add a coating of the cheese mixture. Lightly pat it on with your fingertips to make sure it stays put.
Pop the fish into the oven for 20-25 minutes, until the coating is crispy and the fish is done. So simple and delicious. Don't you think they look really great, too?
Serve the Parmesan baked cod fillets with a wedge of lemon and a sprinkling of fresh parsley. Keep reading for more side dish suggestions.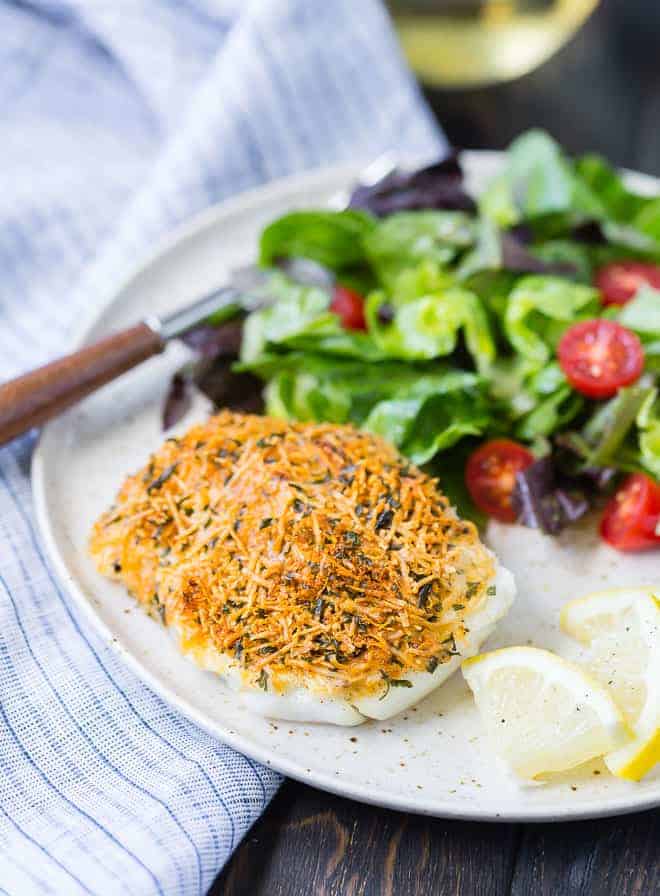 FAQs
How do you know when cod is done?
Use an instant-read thermometer (like this one) to check the internal temperature of the fish. It should be at least 145ºF.
If you don't have a thermometer, you can easily check the doneness by inserting a fork in the thickest part of the fillet and twisting the fork slightly. If the cod resists the twist, and is still translucent in appearance, it isn't done yet. Cod should flake easily and be opaque when it's done.
Some of your fillets may be thicker and will take a little longer to bake. If you want, you can remove the thinner pieces so they don't get overdone and let the thicker pieces bake a bit longer.
Don't overcook the cod. It should be moist and tender, not dry and hard.
What do you serve with cod?
Parmesan baked cod is a mild tasting protein that can be served with almost any side: pasta, potatoes, vegetables, salad. Whatever you would serve with chicken or pork would also taste great with baked cod. It's not fishy tasting so most people will enjoy it.
Since the oven is on already at 425°F, why not roast some vegetables too? Try luscious roasted Cauliflower Steaks or Roasted Carrots with Thyme and Nutmeg!
Keep reading for more great ideas and recipe links.
Is cod good for you?
Cod is high in protein and low in fat. A 3 oz serving has only 90 calories, 1 gram of fat, and 19 grams of protein! It's a good source of B vitamins and minerals.
Make It Your Own
If you're not a fan of cod, substitute salmon or another fish of your choice.
To make it dairy-free, use panko or bread crumbs in place of the parmesan. Or use a combination. Increase mayonnaise to 3 tablespoons.
Instead of spreading the filets with mayonnaise, you could brush melted butter or olive oil on them. We did test it this way and found they didn't get quite as crispy, but they were still tasty.
Don't have a baking rack? Just set the fillets right into the baking pan. Again, they may be a little less crispy but will still be delicious.
Add seasonings that you like: garlic powder, onion powder, dried basil, etc. I wouldn't add salt because the mayonnaise and Parmesan provide quite a bit of saltiness.
Make-Ahead Ideas
Prepare cod as directed but don't bake. Refrigerate up to 8 hours, tightly wrapped. Bake as directed, adding five minutes. I'm thinking it could also be frozen but I haven't tested that.
Reheating & Storage Tips
If you have any cod left over, wrap it well with plastic wrap or put it into a resealable container. It should keep in the refrigerator for up to 2 days.
I like to reheat mine in the toaster oven for 10 minutes or so at 350ºF. You could also reheat it by broiling it for a few minutes so the coating gets crispy again. The fillets can also be warmed in the microwave but try not to overdo it. The fish tends to get tough if it's overheated.
Leftover Love
Have a couple of fillets left over? Make a scrumptious sandwich. Generously slather buns or bread with Homemade Tartar Sauce, add a few leaves of lettuce, and sandwich a reheated cod fillet between. Oh, that's so good! The best fishwich ever!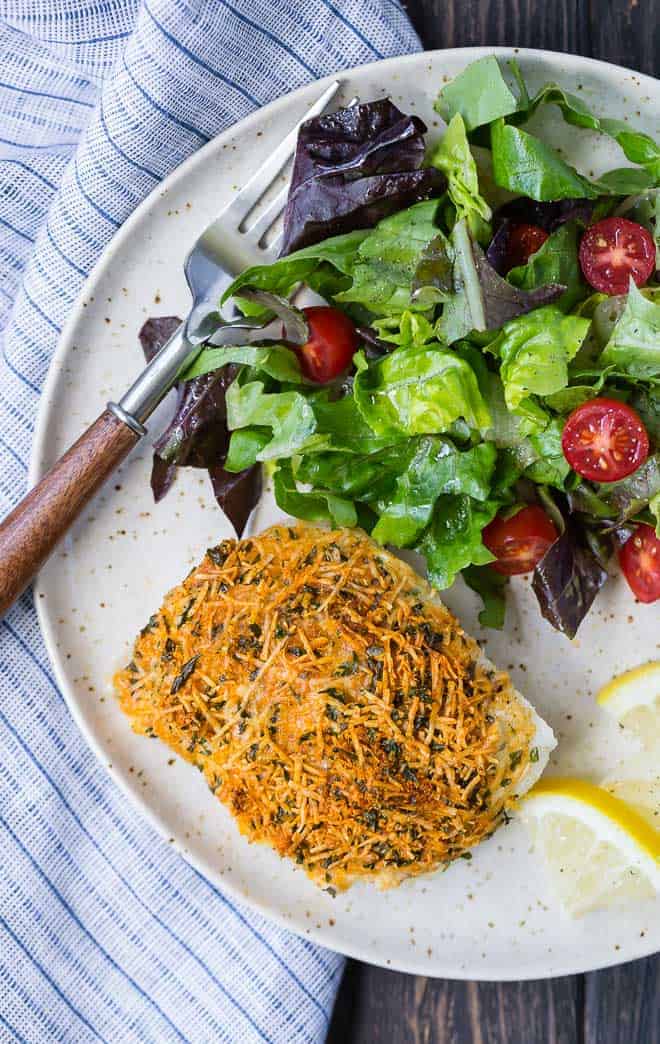 Side Dish Recipes To Serve With This Cod
As I mentioned above, Parmesan baked cod is pretty easy to pair with side dishes. Here's a few I like:
Did you make this? Be sure to leave a review below and tag me @rachelcooksblog on Facebook, Instagram, or Pinterest!
Mild tasting cod encased in a flavorful, crispy crust, this Parmesan baked cod is a simple and delicious way to add healthy seafood to your weekday menu. High in protein and low in fat, inexpensive cod is a great choice.
Instructions
Preheat oven to 425ºF. Prepare baking pan: line with a sheet of foil, place baking rack on top (see note). Spray lightly with cooking spray.

Wash cod fillets and use a paper towel to dry thoroughly. Cut into 4 equal portions if they're large.

Place fillets on baking rack. Spread mayonnaise evenly on each fillet.

In a small bowl, combine Parmesan, parsley, lemon zest, paprika, and black pepper. Cover the top of fillets with Parmesan mixture, lightly patting so it adheres.

Bake 22-25 minutes or until fish flakes easily with a fork. Cooking time will depend on how thick the fillets are. Internal temperature should be 140-145ºF.

Serve immediately, garnished with lemon wedges, if desired.
Notes
Don't have a baking rack? Just set the fillets right into the baking pan. They may be a little less crispy but will still be delicious
Don't care for cod? Substitute a different type of fish, such as salmon.
Make Ahead Tip: Prepare cod as directed but don't bake. Refrigerate up to 8 hours, tightly wrapped. Bake as directed, adding five minutes.
Dairy-Free Alternative: Substitute panko for Parmesan cheese. Increase mayo to 3 tablespoons.
Nutrition Information
Calories:
105
kcal
,
Carbohydrates:
1
g
,
Protein:
5
g
,
Fat:
9
g
,
Saturated Fat:
3
g
,
Polyunsaturated Fat:
3
g
,
Monounsaturated Fat:
2
g
,
Trans Fat:
1
g
,
Cholesterol:
14
mg
,
Sodium:
239
mg
,
Potassium:
43
mg
,
Fiber:
1
g
,
Sugar:
1
g
,
Vitamin A:
247
IU
,
Vitamin C:
1
mg
,
Calcium:
147
mg
,
Iron:
1
mg
This website provides approximate nutrition information for convenience and as a courtesy only. Nutrition data is gathered primarily from the USDA Food Composition Database, whenever available, or otherwise other online calculators.