Slow Roasted Salmon with Lemon Pepper
My easy slow roasted salmon recipe is meltingly tender and seasoned with fresh lemon zest and black pepper. This low-and-slow method is the best way to cook salmon that turns out perfect every time!
Recipe Overview
Why you'll love it: This recipe takes the stress out of cooking salmon and gives you plenty of time to prep side dishes.
How long it takes: 45 minutes
Equipment you'll need: rimmed baking sheet, parchment paper (optional)
Servings: depends on how much salmon you have, it's very easy to adjust the recipe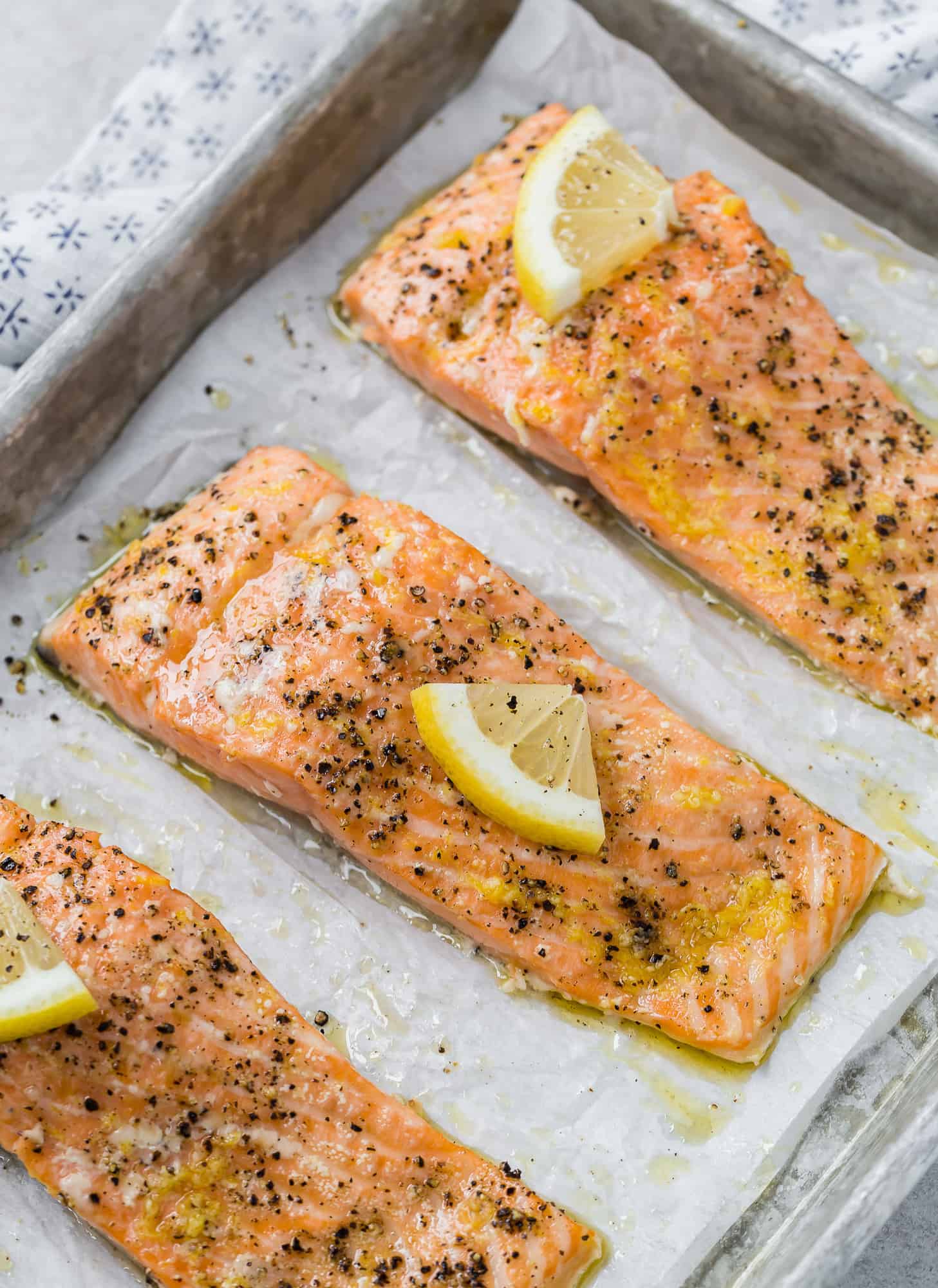 Oven Roasted Salmon with Lemon Pepper
When I heard about slow roasted salmon, I'll admit to being kind of skeptical. I mean, salmon isn't exactly a pot roast, is it? While some meats need to braise to break down tough fibers, I don't usually put light, flaky salmon into that category.
But I'll try anything at least once, and boy, am I glad I gave slow roasted salmon a try! Quite honestly, it's the best way to make salmon (although air fryer salmon also has a place in my heart, and in my stomach, always). Suffice it to say, slow roasted salmon is juicy and melt-in-your-mouth tender every time. And there's nothing tricky about it.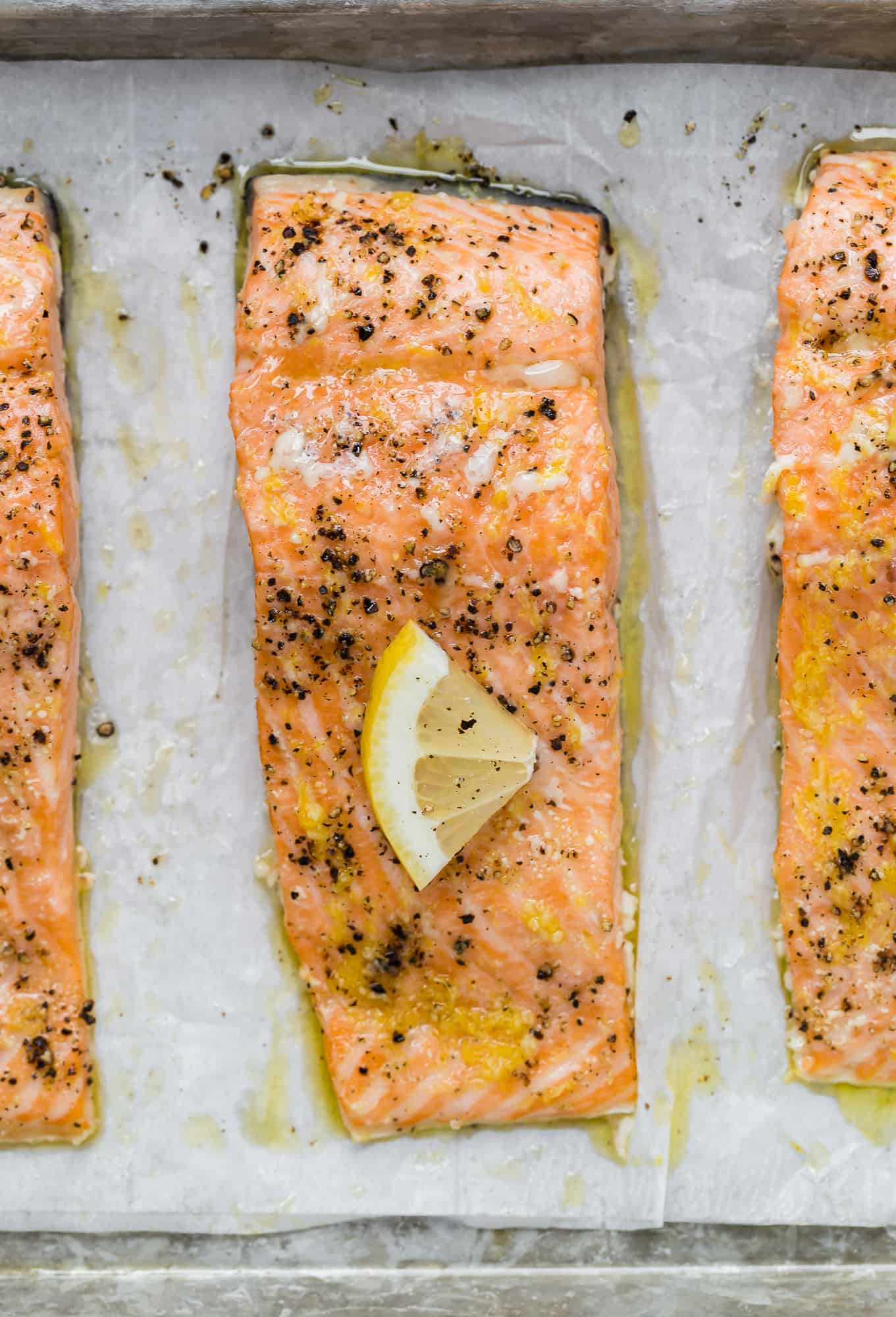 Why You'll Love This Roasted Salmon Recipe
I really think you're going to love slow roasted salmon. If my husband is any indicator, it's the only way you'll be making salmon from now on! Here's why:
It's actually quick. Don't be discouraged by the word "slow." We're not talking eight-hour-slow. Not at all! Your salmon will be ready to eat in forty minutes or so. You can wait that long, right?
Delicious texture and flavor. Slow roasting imparts a wonderfully tender texture to the fish, while a zesty smothering of fresh lemon zest and cracked black pepper ties all the flavors together.
Perfect every time. One of the advantages of slow roasted salmon is that it's pretty forgiving. If you leave it in the oven an extra five minutes, no problem! Isn't that a relief? You don't have to be a kitchen magician, timing everything to the minute.
Should salmon be cooked fast or slow?
The beauty of salmon is that it can be cooked hot and fast or low and slow in the oven. You'll find quick recipes like my 30-minute baked salmon with maple mustard sauce and others like this luscious slow roasted salmon.
Oven-roasting salmon slowly at lower temperatures allows the fat to render gradually. The result? You're basically guaranteed to end up with an evenly-cooked, perfectly-cooked, melt-in-your-mouth salmon fillet with the silkiest texture.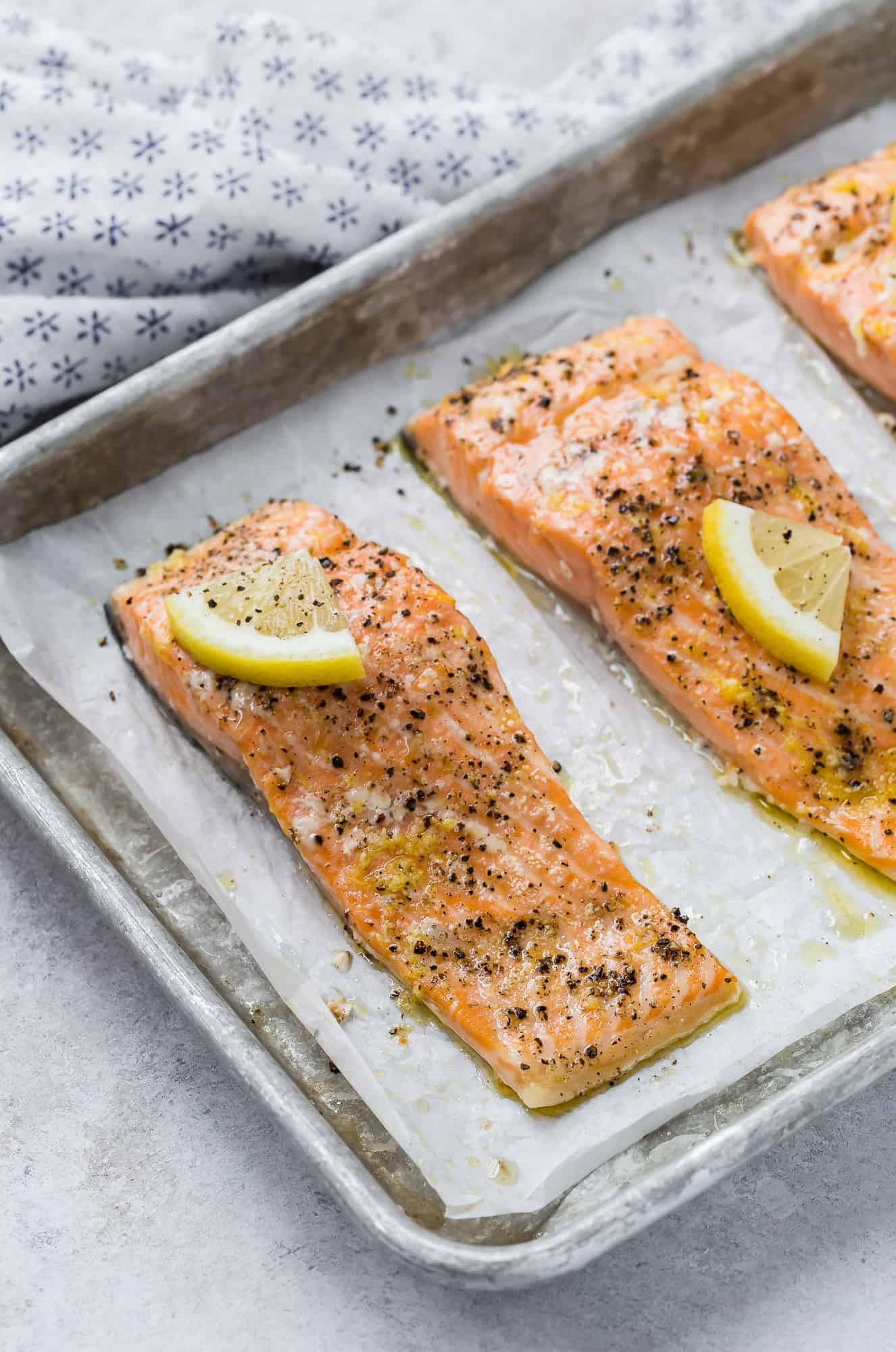 What You'll Need
I'll get you started on this recipe and give you lots of helpful tips. Don't forget to scroll to the printable recipe card with the complete instructions, measurements, and nutrition information.
Salmon: A serving of salmon is typically four to six ounces. Buy as much salmon as you need. The recipe can easily be adapted. If the salmon is frozen, thaw according to package directions.
Lemon Zest: For lots of lemony flavor, without all the juice.
Olive Oil: This heart-healthy oil adds flavor and locks in moisture as the salmon roasts.
Salt & Pepper: Just simple seasonings that let the flavor of the salmon really shine through.
How To Make Slow Roasted Salmon
Let's get roasting. Turn your oven on and preheat it to 275°F. It's what you call a "slow oven." Seriously. Slow oven = slow roasted salmon.
Prepare a baking sheet. Line a rimmed baking sheet with parchment paper (no pans to wash either!). Aren't you loving it already? The parchment paper is optional but who doesn't like easy clean-ups?
Arrange the salmon on the pan. Place your salmon fillet skin side down on the parchment paper. You can cut it into serving-size fillets, or keep it whole. Keep in mind, if you keep it whole, it will take slightly longer to cook and it can be a little difficult to cut into attractive serving-size fillets after it's cooked.
Make the lemon pepper dressing. In a small bowl, mix together olive oil, lemon zest, and salt. Spread it over the salmon, and then grind a bunch of black pepper over that.
Bake. Put the salmon into the oven, and bake it at 275ºF. Depending on the thickness of your fillet and how accurate your oven temp is, the salmon will take about 30-40 minutes to reach an internal temperature of 135-140°F.
Serve. Remove the salmon from the oven and let it rest for five minutes, then serve it right away with your favorite sides! See further on for ideas.
How To Tell When Salmon Is Done
According to the USFDA, salmon is fully cooked when the internal temperature reaches 145ºF. If you don't have an instant read thermometer, how can you tell if the salmon is done? Try poking it with a skewer or a fork. It should slide in pretty easily, the salmon should flake easily, and be easy to separate from the skin.
Tips for the Best Roasted Salmon
Here are some final tips and notes for slow roasting salmon with lemon pepper:
If you're worried about overcooking your salmon, take the salmon out of the oven when the internal temperature reaches 130-140°F and let it rest for five minutes or so. The temperature will continue to rise a bit.
The white stuff is normal. Don't worry if you notice gooey white stuff on top of the salmon when you roast it. That's albumin, a type of protein that coagulates and rises to the surface of the salmon when you cook it. It's perfectly safe to eat, but scrape it off if it bothers you.
FAQs
Is it better to bake salmon on low or high heat?
Slow roasting salmon at lower temperatures takes the pressure off a little, as it's less likely to dry out the fish. However, there are plenty of yummy salmon recipes that call for a hot, quick bake. It's all a matter of skill and preference.
Is it easy to overcook salmon?
Yes and no. With faster methods, it's easier for salmon to overcook and become tough and dry. Because the salmon is slow roasting in a slow oven with this recipe, it's pretty hard to overcook it. Just relax and enjoy!
How do you cook salmon without drying it out?
Slow roasting is the best method and it's great for beginners, as it's almost impossible to overcook. To avoid drying out your salmon, make sure to check it for doneness often toward the end of the roasting time.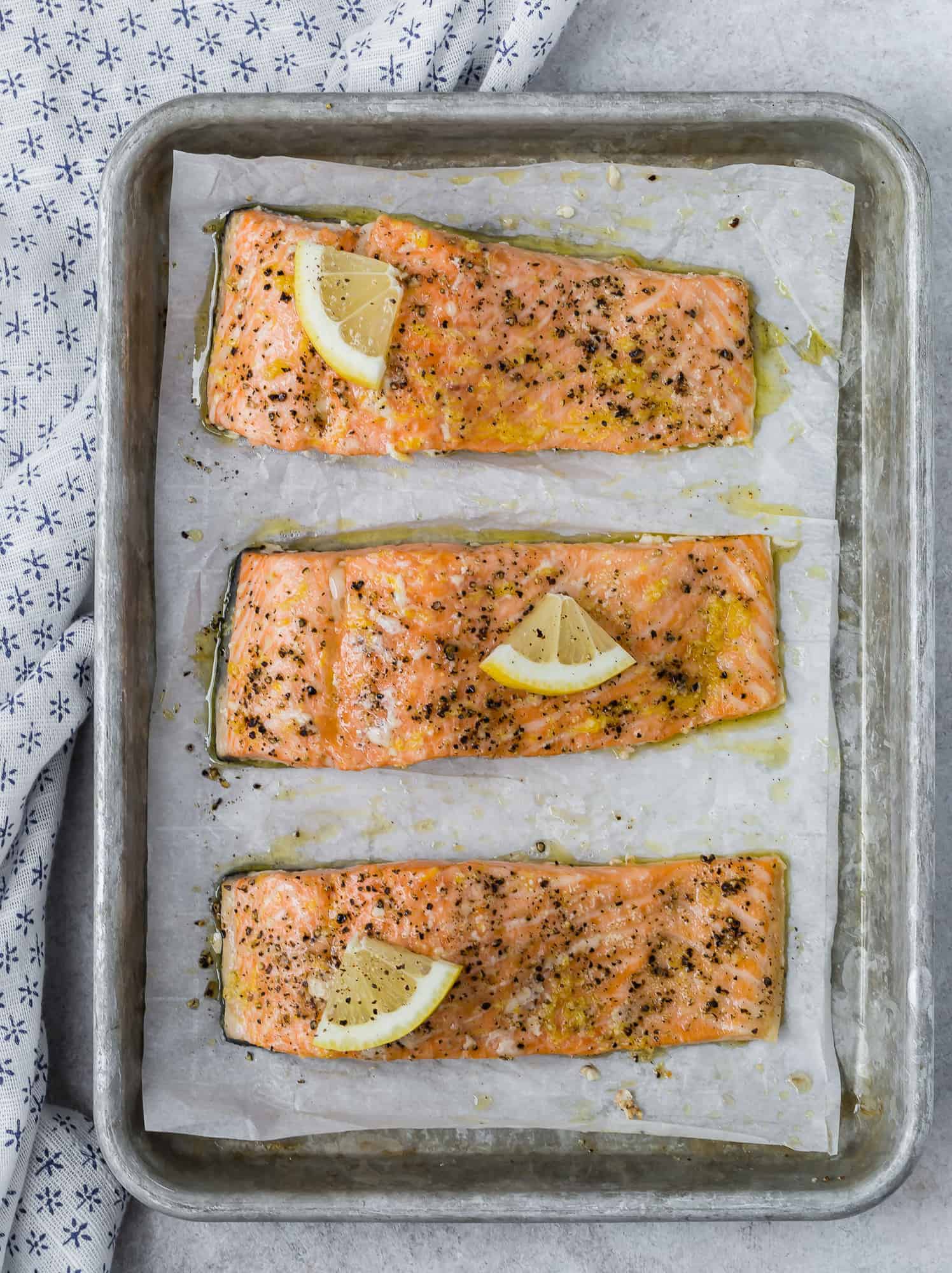 Make This Salmon Dinner Your Own
This recipe is basic on purpose. Once you learn the slow roasting method, you can dress up your salmon however you like best. I do want to say that this salmon doesn't need sauce or extra flavors which are often used to mask poorly cooked salmon. It's perfect just the way it is!
However, here are a few suggestions that you may want to try:
Try adding chopped herbs. Chopped fresh dill (or dried dill), parsley, chives, lemon balm, and basil are good choices.
Love garlic? Sprinkle the fillet with minced garlic.
Add a sauce after baking or serve it on the side. I love tzatziki cucumber yogurt sauce with salmon. Try salsa verde or pesto. Homemade ranch dressing is good, too (it's good on everything!). Garlicky chimichurri sauce or this roasted red pepper sauce by Pinch of Yum really adds amazing flavor.
If you're looking for salmon that's golden and crisp outside, this maybe isn't the recipe for you. However, this baked almond crusted salmon likely is!
What to Serve With Lemon Pepper Salmon
The extra time this salmon takes in the oven gives you plenty of space to come up with delicious side dishes! We love serving salmon with these air fryer Brussels sprouts or this Mediterranean-style green bean salad with sun-dried tomatoes, walnuts, and olives. Salmon also pairs nicely with grains like brown rice and fluffy, nutrien-dense quinoa.
Storage & Reheating Tips
Leftover salmon? I envy you! You'll find that this salmon is perfect for salads, pasta dishes, or sandwiches.
Fridge: Refrigerate leftovers, tightly wrapped, for up to 3 days. Reheat leftover salmon in a pan on the stovetop, or in the oven until warmed through. You can also reheat it in the microwave at 50% power, just be mindful that you don't overcook it.
Freezer: I wouldn't recommend freezing cooked salmon, as it will likely lose its excellent texture. However, if you must freeze it in a pinch, be sure to seal it tightly in a freezer bag or airtight container, and defrost it within 4 months.
Did you make this? Be sure to leave a review below and tag me @rachelcooksblog on Facebook, Instagram, or Pinterest!
My easy slow roasted salmon is meltingly tender, seasoned with fresh lemon zest and black pepper. This low-and-slow method is the best way to cook salmon that turns out perfect every time!
Ingredients
1 ½

pounds

fresh salmon fillet, skin on, rinsed and patted dry

1

tablespoon

olive oil

2

teaspoons

lemon zest

(from one lemon)

½

teaspoon

salt

Freshly ground black pepper, to taste
Instructions
Preheat oven to 275°F. Line bottom of rimmed baking pan with parchment paper. If desired, cut salmon fillet into serving size portions (see note). Place salmon on parchment paper, skin side down.

In small bowl, mix olive oil, lemon zest, and salt. Brush mixture over salmon fillets. Sprinkle liberally with freshly ground black pepper.

Place in oven; bake 30 to 40 minutes or until internal temperature of salmon reaches 135°-140°F. Remove from oven, and serve.
Notes
It's more difficult to cut the salmon into neat serving size portions after it's cooked. The meat tends to flake and crumble.
Refrigerate leftovers, tightly wrapped, for up to three days.
If desired, add fresh herbs to the oil mixture. Finely chopped chives, dill, parsley, or lemon balm are good choices.
Parchment paper is optional.
Nutrition Information
Serving:
4
ounces
,
Calories:
182
kcal
,
Carbohydrates:
1
g
,
Protein:
23
g
,
Fat:
10
g
,
Saturated Fat:
1
g
,
Polyunsaturated Fat:
3
g
,
Monounsaturated Fat:
4
g
,
Cholesterol:
62
mg
,
Sodium:
244
mg
,
Potassium:
557
mg
,
Fiber:
1
g
,
Sugar:
1
g
,
Vitamin A:
46
IU
,
Vitamin C:
1
mg
,
Calcium:
15
mg
,
Iron:
1
mg
This website provides approximate nutrition information for convenience and as a courtesy only. Nutrition data is gathered primarily from the USDA Food Composition Database, whenever available, or otherwise other online calculators.