Air Fryer Brussels Sprouts (& Optional Glaze)
Air fryer Brussels sprouts get crispy and deliciously golden brown with very little oil thanks to the magic of the air fryer! With optional hot honey glaze.
Recipe Overview
Why you'll love it: Super easy to make, tasty, and nutritious. The optional glaze is really good!
How long it takes: 10 minutes to prep, 8-10 minutes in the air fryer
Equipment you'll need: sharp knife, mixing bowl, air fryer
Servings: 4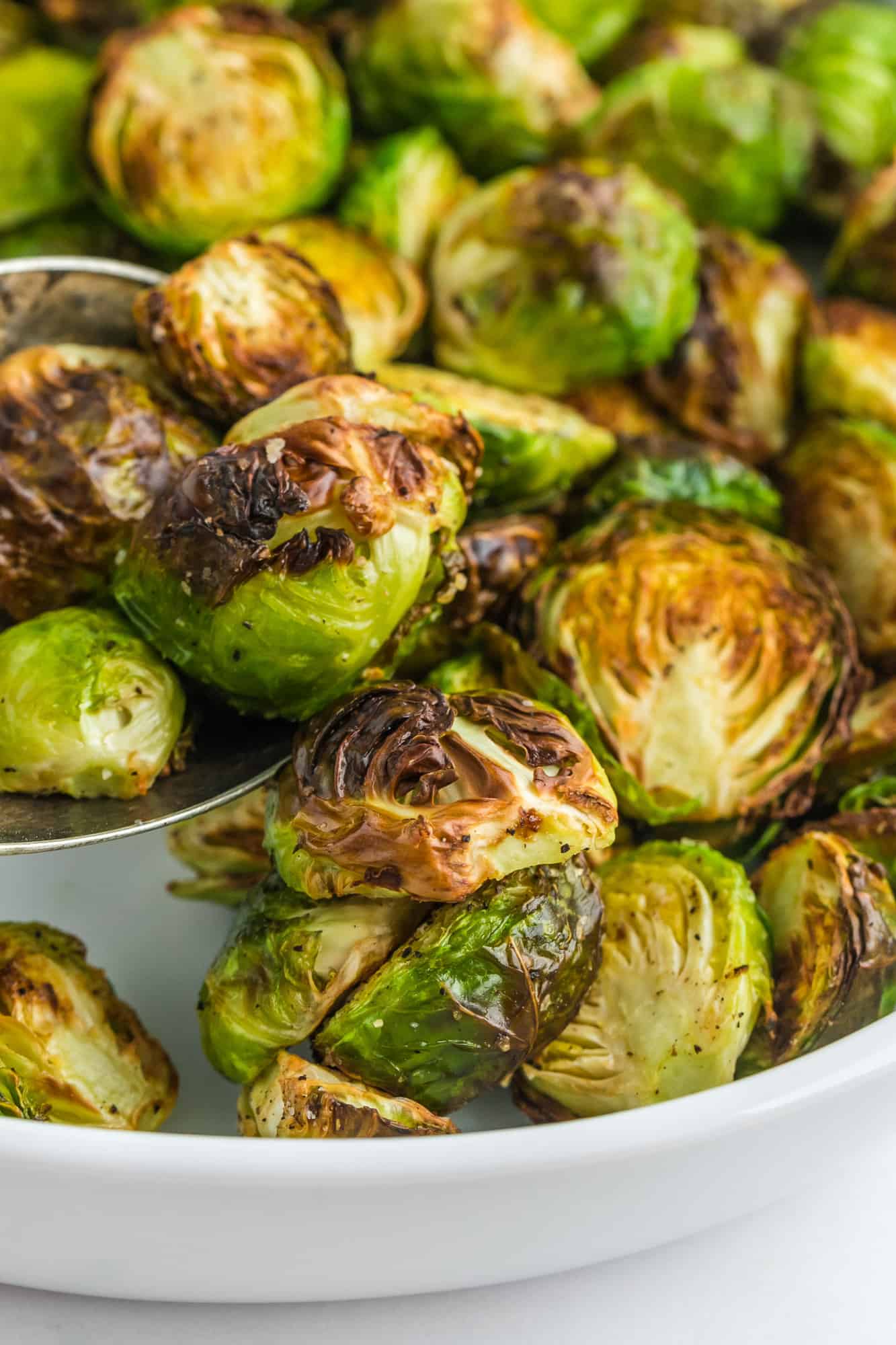 Coming back at you with another air fryer recipe! The air fryer chicken nuggets are so popular but I'm thinking it's time for an air fryer vegetable recipe. I have a bunch more air fryer recipes, from breakfast to dessert, that I'm sure you'll like, too. I think my air fryer is my new bestie!
Of course, if you don't have an air fryer, I still have you covered with over 1,000 recipes that are not made in this specific kitchen appliance.
In fact, I have lots of Brussels sprouts recipes that are made using other methods. We love easy grilled Brussels sprouts and sautéed Brussels sprouts. Try these roasted Brussels sprouts with cranberries and walnuts, roasted Brussels sprouts with Asiago, smoked paprika and shallot Brussels sprouts, Brussels sprouts with pancetta, or creamy cheesy Brussels sprouts au gratin. All delicious choices!
Or if you'd rather have salad, try shaved Brussels sprouts salad with grapes and Parmesan or Brussels sprouts salad with green apples and cranberries.
But if you do have an air fryer and want to give these a go, it's a great way to enjoy Brussels. When you air fry them, they get super crispy with a very small amount of oil. In fact, they'd probably get nearly as crispy with no oil, but I like the flavor that a little olive oil adds.
Brussels Sprouts vs. Brussel Sprouts
There is some confusion about how to spell the name of these tiny green cabbages. Many people use the spelling Brussel sprouts, omitting the "s" at the end of the word Brussels. Brussels sprouts are actually named for the Belgium city of Brussels so that's why you spell it with the "s" at the end.
About This Recipe
While these Brussels sprouts really are great on their own, I've added an optional glaze. Brussels sprouts have become really popular on restaurant menus and they always have a fantastic sauce or glaze. I'm sure you know what I'm talking about! Even professed Brussels sprouts haters enjoy these sauce drenched (usually deep-fried) goodies.
The easy glaze I've added to this recipe is so good! I made them recently for lunch with my mom and we polished off an entire pound bag of sprouts. We just couldn't stop eating them. The hot honey glaze adds a nice touch of sweetness, with a bit of a sizzle on the tongue. I think you're really going to love it and it's easy to make, just 4 ingredients and no extra dishes.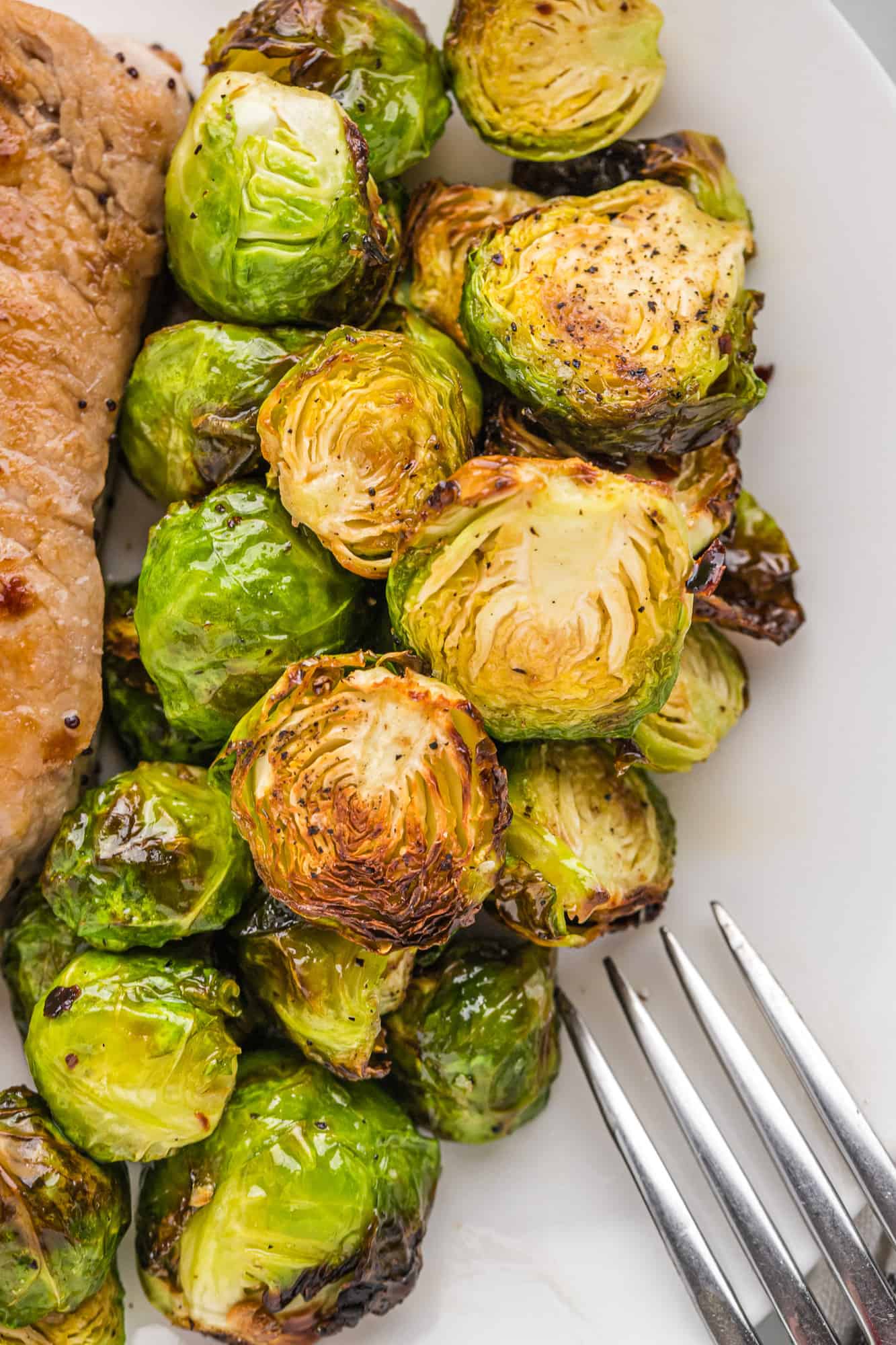 I'll run through the recipe here to get you started. As always, look for the printable recipe card near the end of the post with complete instructions and nutrition information.
What You'll Need
Brussels Sprouts: Look for firm, compact, dark green Brussels sprouts that don't have worm holes and aren't shriveled. Keep reading for more about prepping the sprouts.
Olive Oil: Use at least one tablespoon, more if you like.
Salt and Pepper: Coarse salt, such as kosher salt, and coarsely ground black pepper provide nice little bursts of flavor.
Honey: The glaze is a homemade butter "hot honey" sauce. Hot honey is quite popular lately and you'll see why once you've tried it.
Butter: Because everything's better with butter!
Red Wine Vinegar: Provides just a bit of acidity which counteracts any bitterness and also balances the sweetness of the hot honey.
Red Pepper Flakes: For a pleasant little burn, red pepper flakes are added to the sauce. You can easily add more or less, according to your taste.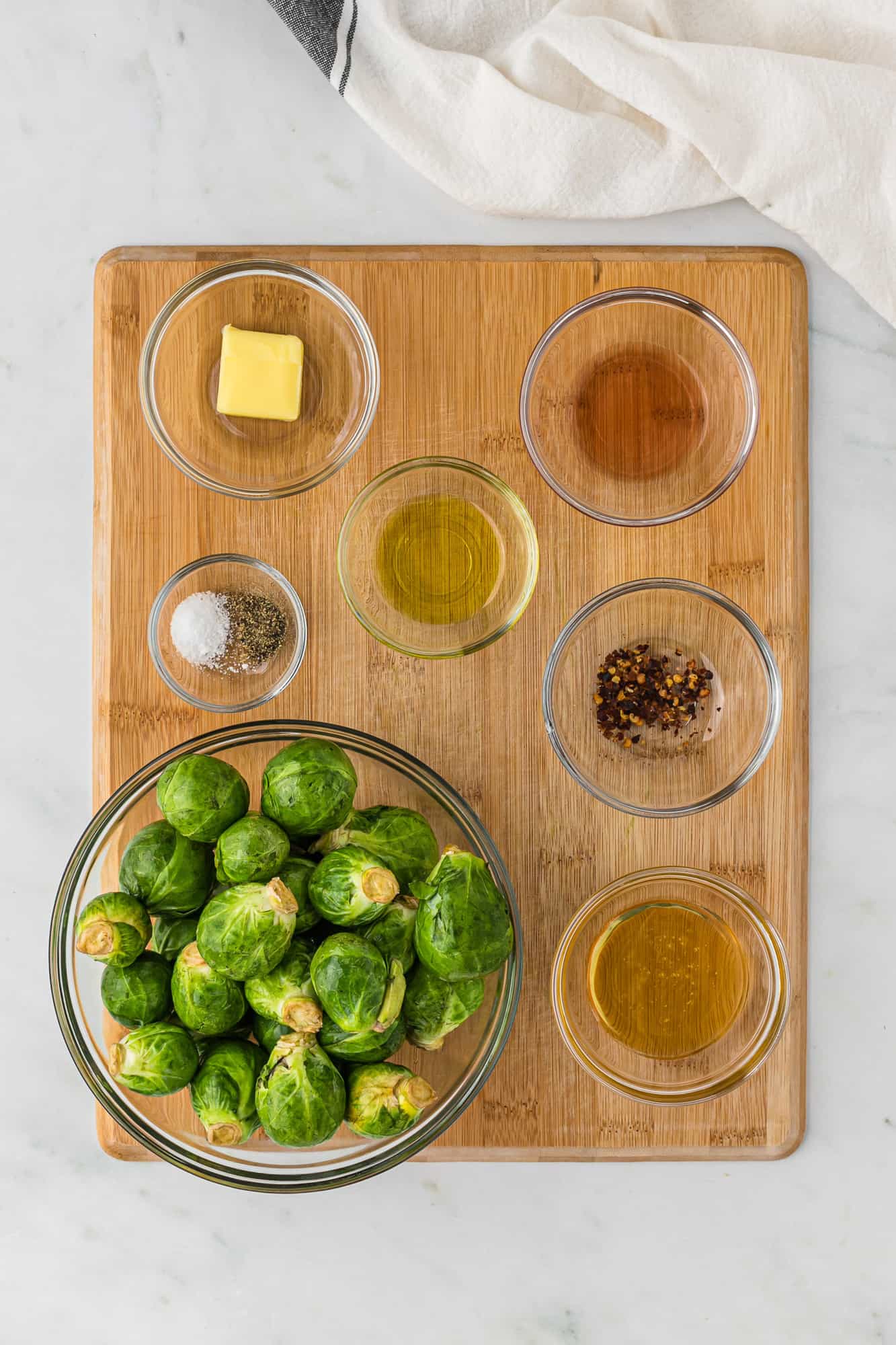 How to Prep Brussels Sprouts
It can seem tricky if it's the first time you've done it but it's really very easy to prep these "mini cabbages."
Wash them well using a strainer or colander.
Using a sharp knife, cut off the stem. It's very tough to chew so you want to remove it, about even with the edge of the sprout.
Peel away any wilted outer leaves. Don't worry if some of the good leaves fall off too. Don't throw them away because they get really nice and crispy and may be the best part!
Cut the sprouts in half lengthwise, from top to bottom, but if they're very large, quarter them. The goal is to get them all approximately the same size so they cook evenly.
If you're a visual learner, take a look at this YouTube video, which will show you how to prep Brussels.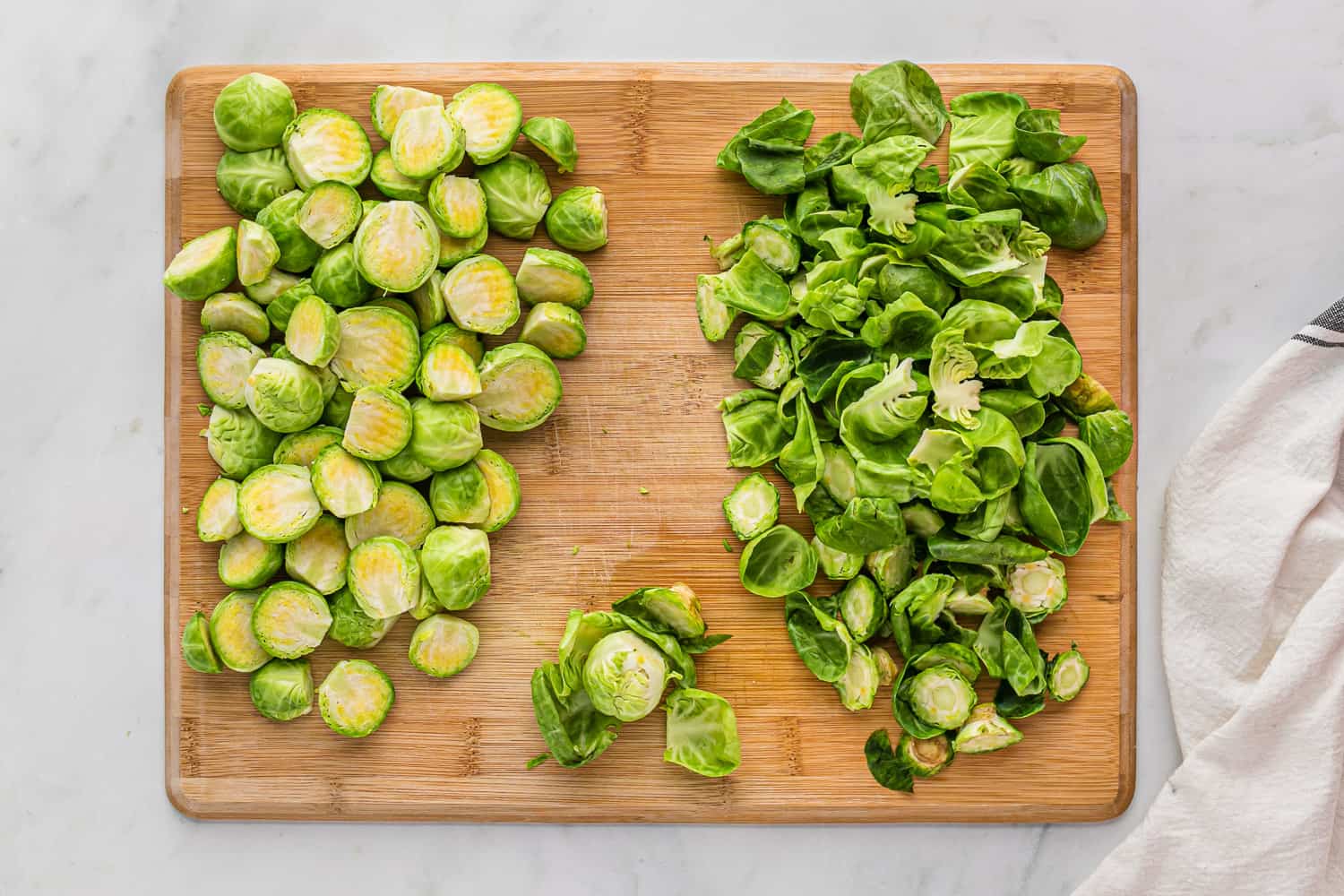 How To Air Fry Brussels Sprouts
Preheat the air fryer to 380ºF. Don't worry if you forget to get it started. I've found that air fryers preheat so quickly that it doesn't make a whole lot of difference if it's preheated or not.
Once the sprouts are prepped, add them to a medium bowl. Toss them with the olive oil, salt and pepper.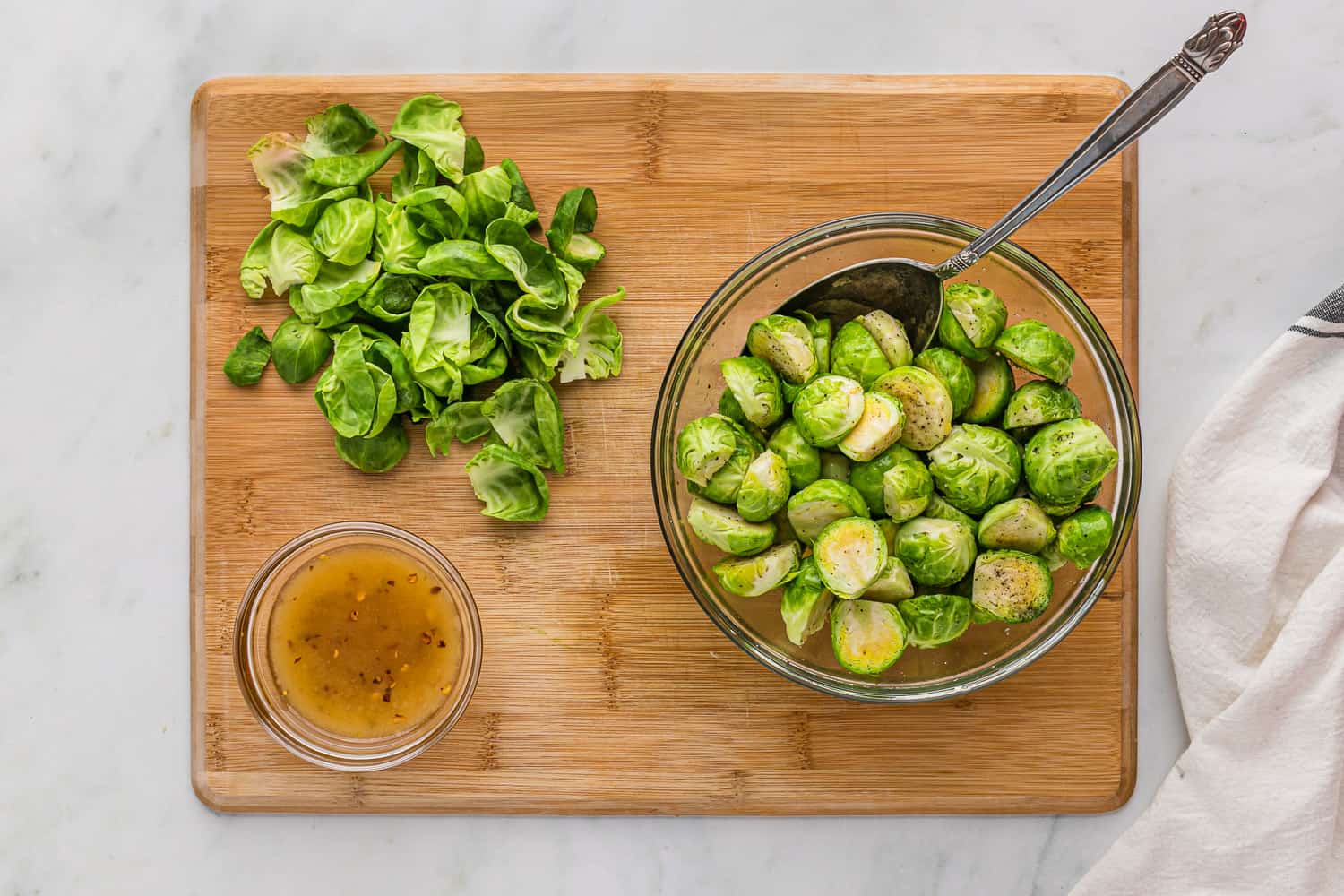 Put them into the air fryer basket in an even layer.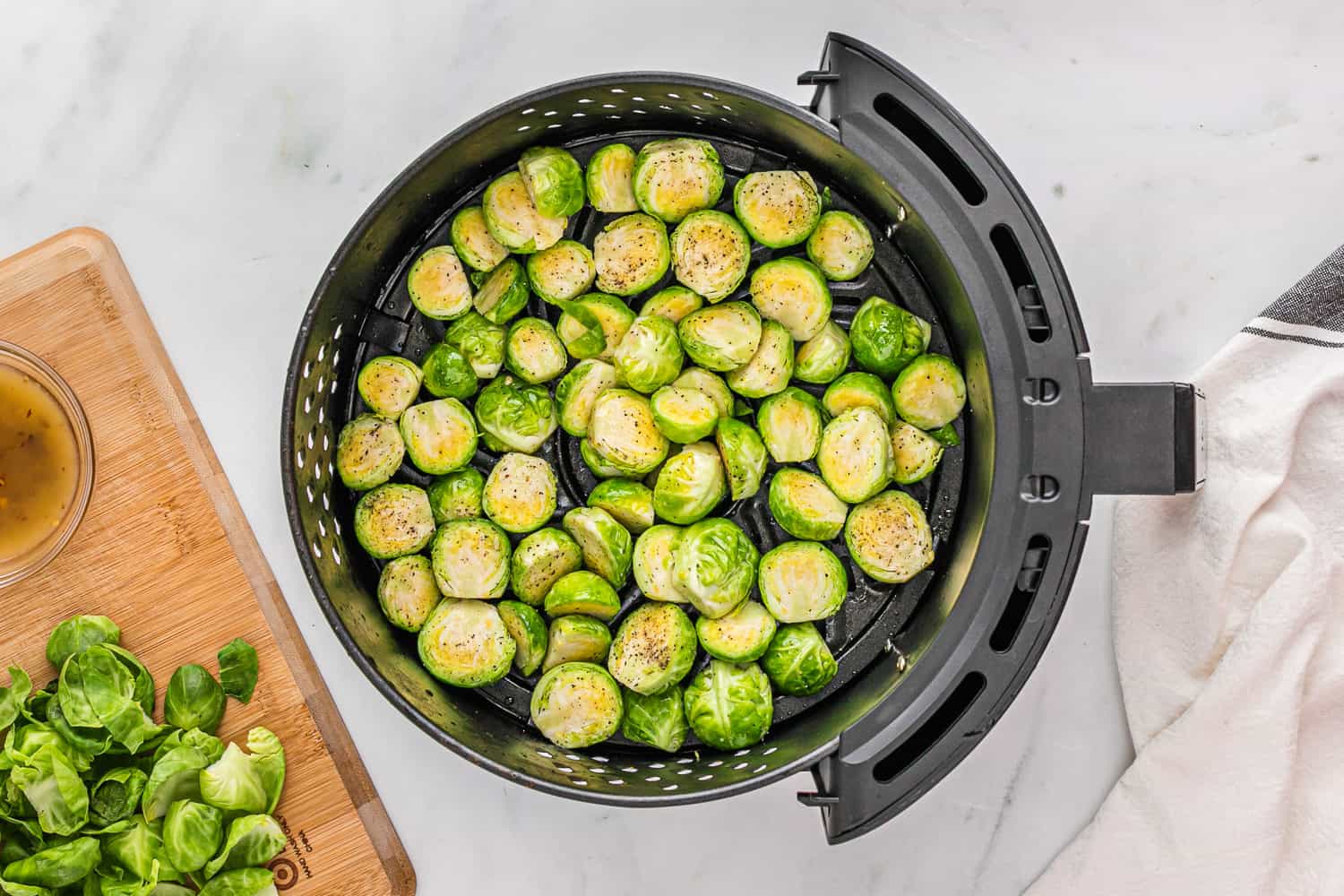 Air fry for eight to ten minutes, shaking the basket once or twice to ensure they brown evenly. If you like them really brown, keep cooking them until they are just right for you.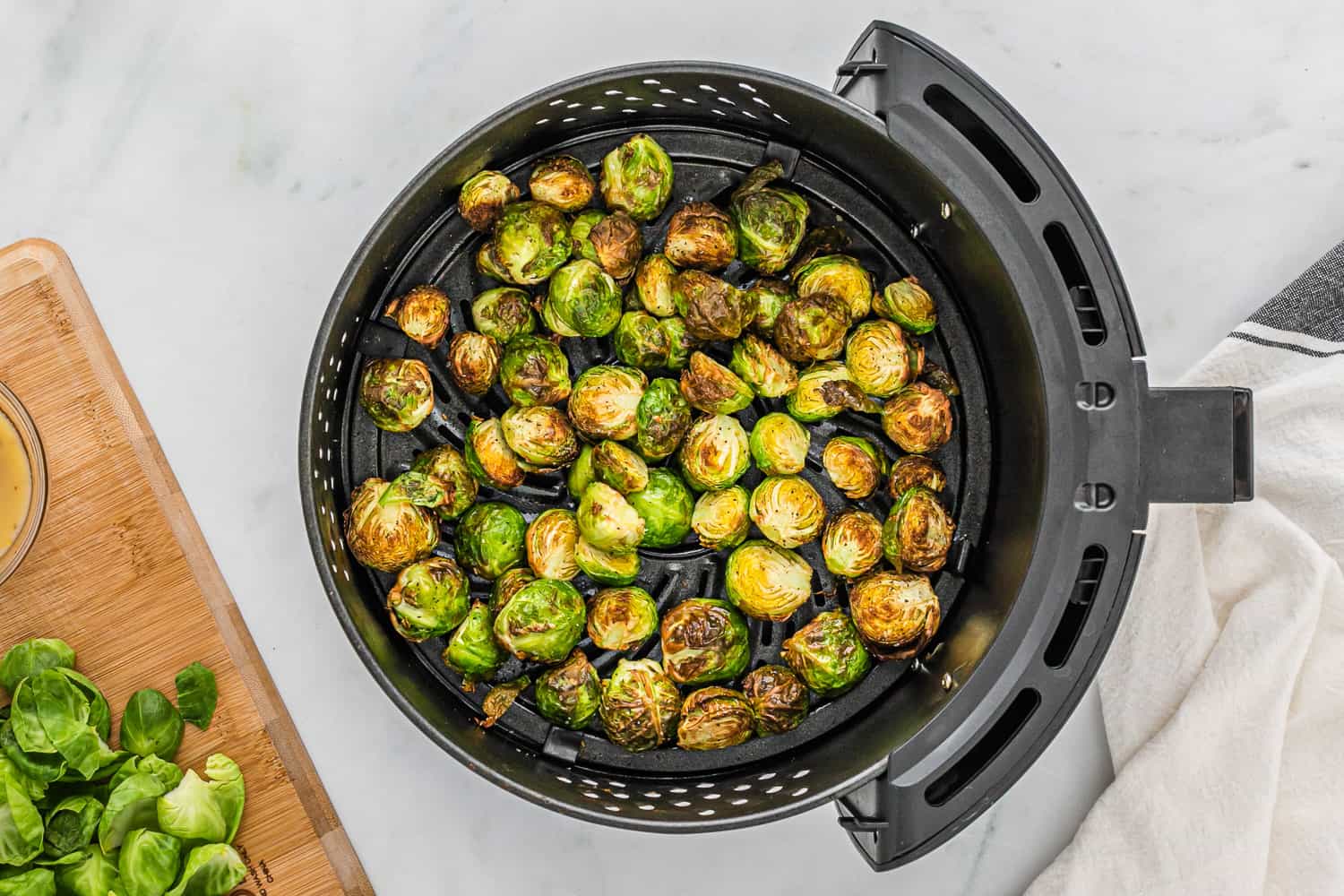 Meanwhile, if you're planning on adding the glaze, you can prep that while the sprouts are in the air fryer. Use the same bowl and add the sauce ingredients to it. Microwave on high until the butter melts and the honey is runny. Stir well.
Add the roasted Brussels to the bowl with the glaze and toss until each sprout is well-coated with glaze. Serve immediately.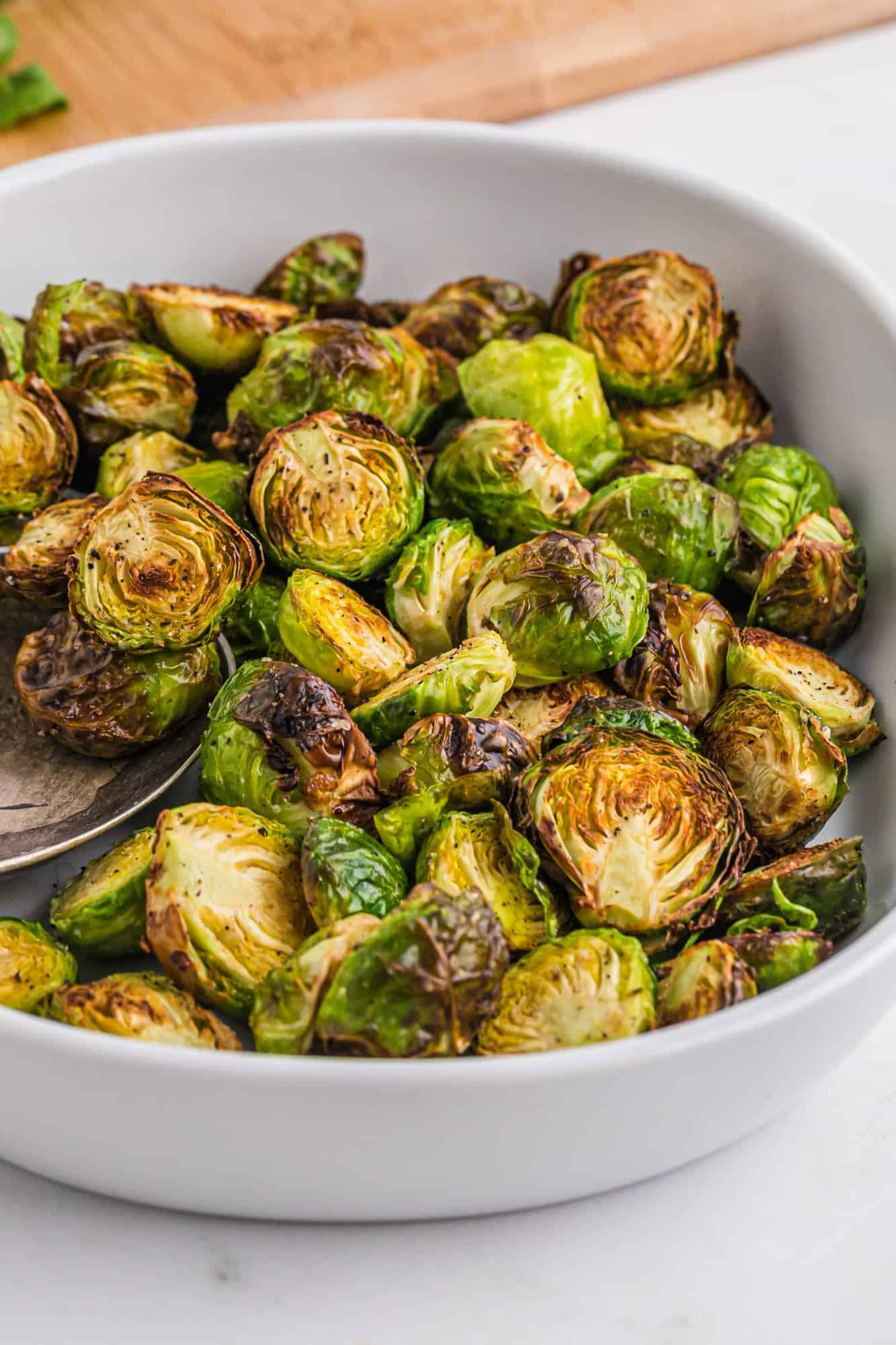 Brussels sprouts are a good side dish but we love them as a healthy snack, too! They're almost as good as popcorn (can you believe I just said that?!).
FAQs
Do you need to soak or blanch Brussels sprouts before cooking?
If you like really tender Brussels sprouts, you may want to blanch them before roasting. To blanch, bring a large pot of water to a boil, add sprouts for 2 minutes, then drain and pat dry. Roast as directed.
Some cooks soak the Brussels sprouts in plain water for 10 minutes or more. The sprouts absorb some of the water and steam as they roast so that the insides become a bit more tender. You'll also find recipes for brined roasted Brussels sprouts, that are soaked in a salty brine for a longer period of time.
As you can see, there are lots of ways to cook these green gems. Experiment a bit to find the way that works best for you!

Why won't my Brussels sprouts get crispy?
Roasting at high heat is the best way to get crispy Brussels sprouts. That's why the air fryer does such a great job of cooking them. The outsides get brown and crisp and the insides are tender but not mushy.
Use at least one tablespoon of oil or even more. The oil helps them get crispier and tastes great, too.
Don't discard the good leaves that may fall off when you trim the sprouts. They get really crispy and may become your favorite part!
How do you get the bitterness out of Brussels sprouts?
After doing a bit of internet research, I discovered that bitterness is a pretty common problem. In more recent years, farmers have addressed it by breeding new varieties of Brussels sprouts that aren't as bitter. So, if you hated those little green globes as a child, perhaps you should give them another try. They may surprise you!
Also, the bitterness is more concentrated in the middle of the sprouts. By cutting them in half, most of the bitter flavor is released. Huh! Who would've known?
For those of you who aren't quite in the Brussels sprouts camp yet, try dressing them up a bit. A bit of sweetness, or fat, or acid counteracts any bitter flavor. For sweetness, try honey, brown sugar, balsamic reduction, maple syrup, etc. For fat, butter or olive oil do a great job. For acidity, try red wine vinegar, balsamic vinegar, champagne or sherry vinegar, or a squeeze of citrus.

Make It Your Own
If you'd like to change things up, take it up a notch with one of these ideas:
Sprinkle the sprouts with freshly grated Parmesan. If you like, put them back into the air fryer a minute or so to melt the cheese.
Instead of the honey sauce, drizzle them with balsamic glaze or pomegranate molasses. Maple syrup is great, too.
Add a squeeze of lemon juice and sprinkling of fresh herbs.
Toss them with homemade barbecue sauce.
Try them with sweet and tangy honey mustard vinaigrette.
Love garlic? Toss the sprouts with garlic butter (make your own by mixing softened butter and garlic powder), and an additional sprinkle of salt and pepper.
More air fryer recipes
Looking for more easy recipes for your air fryer? I've got you covered! Here's just a few:
Did you make this? Be sure to leave a review below and tag me @rachelcooksblog on Facebook, Instagram, or Pinterest!
Air fryer Brussels sprouts get crispy and deliciously golden brown with very little oil thanks to the magic of the air fryer! With optional glaze.
Ingredients
1

pound

Brussels sprouts

1

tablespoon

olive oil

¼

teaspoon

kosher salt

(or to taste)

¼

teaspoon

freshly ground black pepper
Optional Glaze
2

tablespoons

honey

1

tablespoon

butter

1

teaspoon

red wine vinegar

¼

teaspoon

red pepper flakes
Instructions
To prepare Brussels sprouts, rinse well. Trim off bottom (stem) end and remove any brown or tough outer leaves. Cut in half from top to bottom.

In a medium bowl, toss Brussels sprouts with olive oil, salt, and pepper.

Turn air fryer to 380ºF. Add Brussels sprouts to the basket.

Cook for 8-10 minutes, or until golden brown, tossing once or twice so they cook evenly.

Optional glaze: Combine honey, butter, red wine vinegar and red pepper flakes in the same bowl you used for the Brussels sprouts. Microwave on high until butter is melted. When Brussels sprouts are finished cooking, add back to bowl and toss to coat with glaze.
Notes
Nutrition information does not include glaze or toppings.
If you want to take it up a notch, when you remove the Brussels sprouts from the air fryer, sprinkle them with Parmesan cheese. Or drizzle with balsamic glaze, pomegranate molasses, or maple syrup, or toss them with barbecue sauce, honey mustard vinaigrette, or garlic butter.
Oven Method: Preheat oven to 425°F. Toss sprouts with 1 tablespoon olive oil, salt, and pepper. Spread in a single layer, cut side down, on roasting pan. Roast for 15 minutes, stir, and roast an additional 10 minutes or until golden brown and crisp.
Nutrition Information
Calories:
66
kcal
,
Carbohydrates:
10
g
,
Protein:
4
g
,
Fat:
2
g
,
Saturated Fat:
1
g
,
Polyunsaturated Fat:
1
g
,
Monounsaturated Fat:
1
g
,
Sodium:
174
mg
,
Potassium:
441
mg
,
Fiber:
4
g
,
Sugar:
2
g
,
Vitamin A:
855
IU
,
Vitamin C:
96
mg
,
Calcium:
48
mg
,
Iron:
2
mg
This website provides approximate nutrition information for convenience and as a courtesy only. Nutrition data is gathered primarily from the USDA Food Composition Database, whenever available, or otherwise other online calculators.