Cheesy Brussels Sprouts au Gratin
Bubbling with a creamy Gruyère sauce, cheesy Brussels sprouts au gratin is irresistible. A perfect dish to serve for Thanksgiving but don't wait that long to try this delicious gratin.
Recipe Overview
Why you'll love it: Everyone who tries this recipe raves about it! It's so creamy and delicious.
How long it takes: 15 minutes to prep, 40 minutes to bake
Equipment you'll need: 9×13 inch baking dish, saucepan
Servings: 8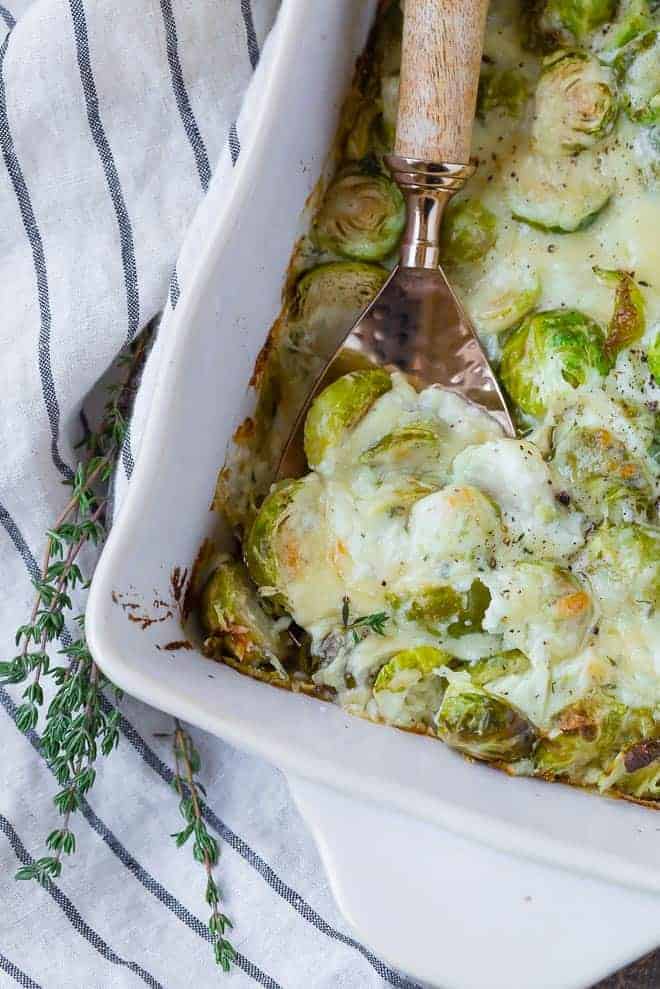 I can't believe we're thinking about Thanksgiving already! It seems like we were just talking about inflatable rafts and sunscreen lotion.
Only take a look at the shelves in your grocery store though, and you'll know that fall has arrived. All of the cool weather crops are displayed, inviting us to make the transition from summer eating (watermelons, cucumbers, corn on the cob, strawberries!) to autumn foods: winter squash, apples, pumpkins, cabbage, and Brussels sprouts. I love the flavors of fall, don't you?
I especially love these cheesy Brussels sprouts! Roasted lightly, then smothered with a creamy Gruyère cheese sauce, with a hint of nutmeg and thyme, and baked again until lightly browned and bubbling, these Brussels sprouts are a culinary delight!
Even people who are professed Brussels sprouts haters will be converted by the creaminess and flavor of this mouthwatering gratin.
Seriously, when we were testing this recipe, we could hardly wait for this casserole to come out of the oven and we weren't disappointed!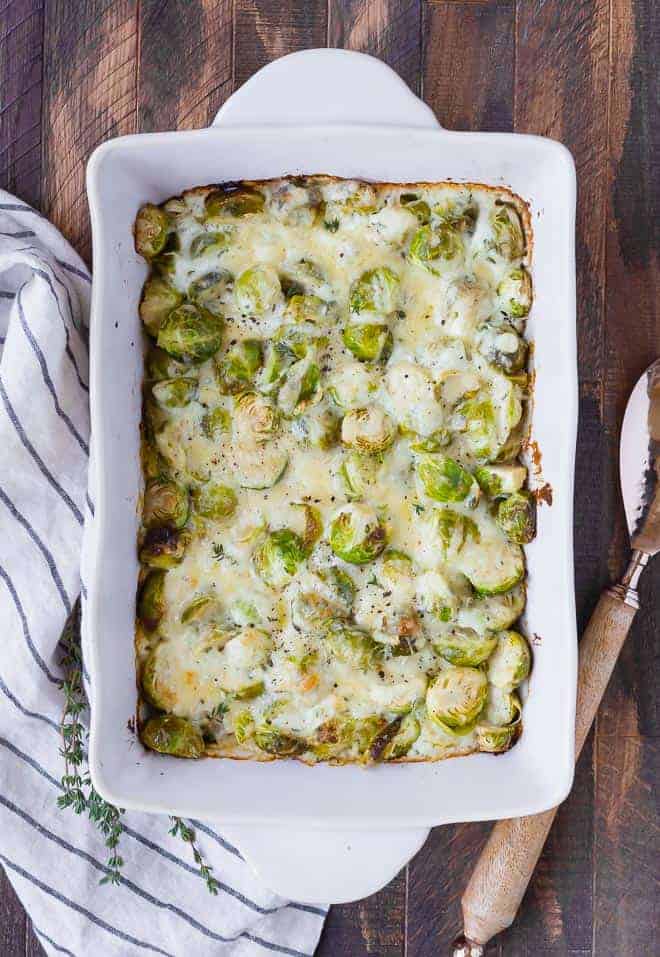 About This Gratin
Cheesy Brussels sprouts are a "gratin". What does gratin mean? In French, "au gratin" means "by grating." In traditional French cooking, a gratin is a made in a shallow dish containing potatoes, vegetables, or even seafood, covered with a lightly browned crust of bread crumbs or cheese.
Au gratin can also mean casserole, or scraping from the pan, and I guarantee you'll be scraping the pan of this Brussels sprouts gratin for every last delicious morsel.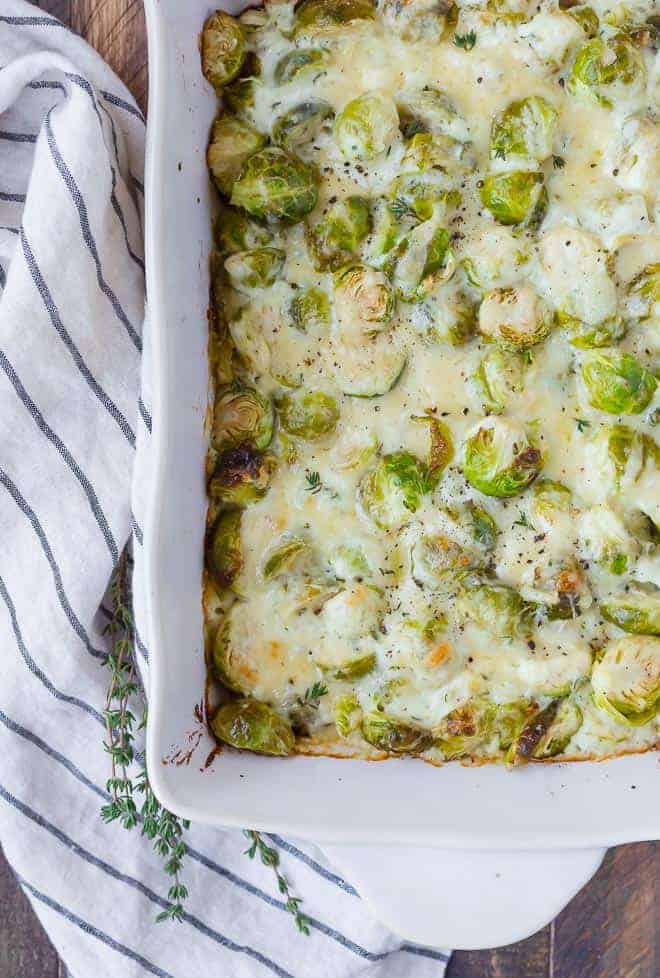 Brussels or Brussel
There is some confusion about how to spell the name of this tiny green cabbage-like vegetable. Many people use the spelling Brussel sprouts, omitting the "s" at the end of the word Brussels. Brussels sprouts are actually named for the Belgium city of Brussels so you definitely spell it with the "s" at the end. We don't want to offend the good people of Brussels!
I'll run through the recipe here and get you started with some helpful tips. As always, look for the printable recipe card near the end of the post, with complete instructions and nutrition information.
What You'll Need
Brussels Sprouts: Look for fresh, firm dark green sprouts. You'll need 2 bags, or about two pounds.
Olive Oil, Salt, Pepper: The Brussels sprouts are seasoned with salt and pepper and tossed with a bit of oil before roasting.
Onion: A yellow cooking onion is fine for this recipe; other types of onion work too.
Butter, Flour, Whole Milk: This trio makes up the simple white sauce which is the base of the gratin.
Thyme: Use fresh if you can but dried is fine, too. Use less if you're using dried thyme because it's more potent than fresh.
Nutmeg: Freshly grated nutmeg is so much better tasting than ground nutmeg! Look for whole nutmeg and use a fine grater.
Gruyère cheese: This hard cheese is a type of Swiss cheese. It is more dense and doesn't have large holes like typical Swiss cheese. It melts easily and has a sharper flavor.
How To Prep Brussels Sprouts
Prepping and pruning those tiny green cabbages can seem tricky the first time you do it.
Look for firm, compact, dark green Brussels sprouts that don't have worm holes, aren't shriveled, or have yellowing loose leaves.
Rinse them well in a colander under running water.
Using a sharp paring knife, cut off the tough stem, about even with the edge of the sprout.
Peel away discolored or wilted outer leaves.
For this recipe, cut the sprouts in half lengthwise. Whether or not you cut your sprouts depends on their size. You want them to be uniformly bite-sized. Just remember: Cutting the sprouts allows the cheesy sauce to permeate each tasty morsel!
If you'd like a visual of how to prep Brussels sprouts, take a look at this informative YouTube video.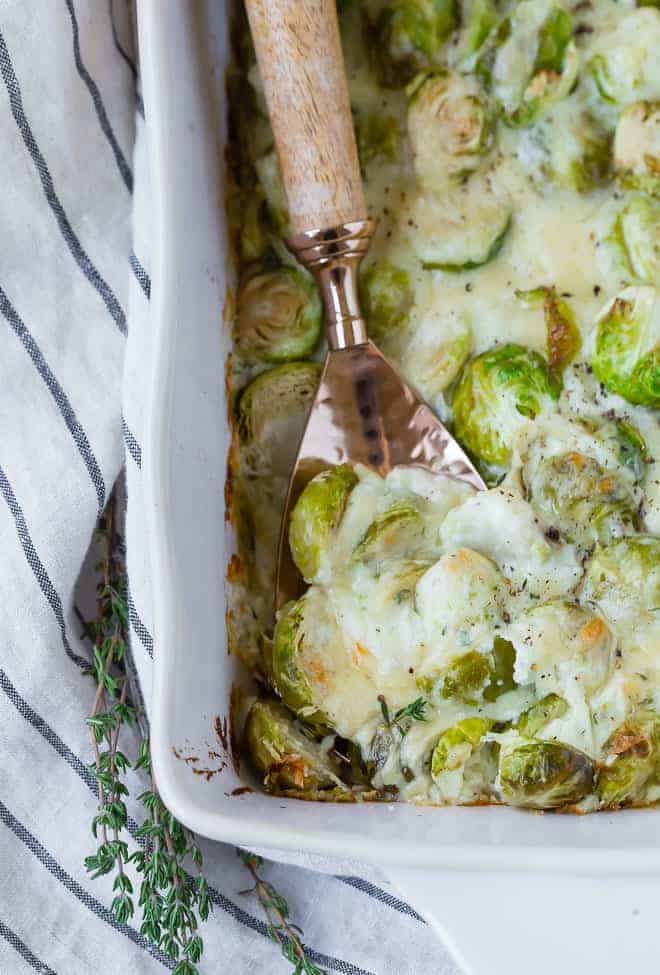 How To Make This Recipe
You'll want to have all the ingredients for making this recipe prepared before you begin cooking it. Prep the Brussels sprouts, grate the Gruyère, measure the milk, flour, and butter for the white sauce, grate the nutmeg, and chop the thyme.
Get your oven preheating to 400ºF and prepare your baking dish. You'll want to use a nice looking shallow glass dish for this recipe because you'll be serving the gratin right from the dish.
Toss the prepped Brussels sprouts with a bit of olive oil, season with salt and pepper, spread them in the baking dish, and roast for about 20 minutes, or until they're just beginning to brown slightly.
Meanwhile, prepare the white sauce on the stovetop, whisking in the cheese, nutmeg, and herbs when the sauce has thickened.
Pour this creamy cheese sauce over the sprouts (you might want to reserve a spoonful or two for tasting because it's soooo good), sprinkle the top with additional grated Gruyère, and pop the dish back into the oven for 20 minutes or so, until it's brown and bubbling.
Let it cool for 5 to 10 minutes before serving, to let the flavors meld. Serve it right from the baking dish.
FAQs
Are Brussels sprouts unhealthy?
Actually, they are very good for you. Brussels sprouts are in the same family as kale and cauliflower and contain lots of vitamins (particularly Vitamin K) and antioxidants. They are high in fiber and promote gut health (Healthline).
Often, Brussels sprouts are prepared in ways that may make them less healthy. A cheesy gratin can be high in calories and is a special treat. If you're looking for healthier everyday options, try a Brussels sprouts salad, air fryer Brussels sprouts, or sautéed Brussels sprouts.
How can I improve the taste of Brussels sprouts?
If you have only tried boiled overcooked Brussels sprouts, you may think they taste bad or have a strong flavor. I would encourage you to try some of the newer recipes that are popular.
Brussels sprouts salads are much like coleslaw. We love this salad with grapes and Parmesan.
Roasted Brussels sprouts have become very common in restaurants and once you've tried them, you'll understand why. Try roasted Brussels sprouts with maple & cayenne!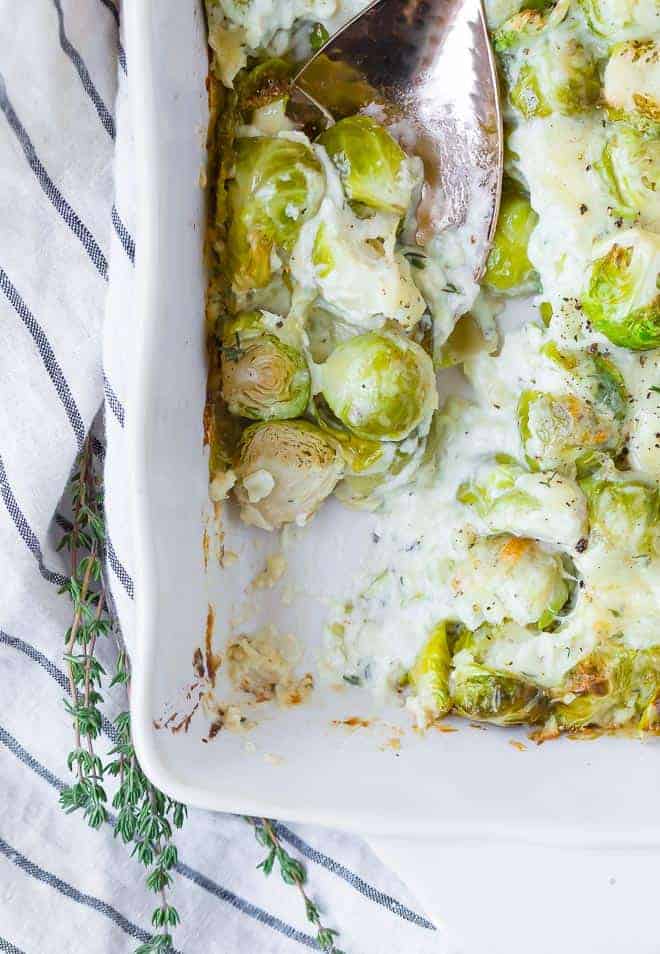 Make It Your Own
The slightly nutty flavor of Gruyère really is perfect in this gratin but other types of cheese can be substituted: Swiss cheese, sharp cheddar, Parmesan or Asiago.
Add bacon or pancetta. Just cut it into 1 inch pieces, cook until done, drain, and add it with the cheese.
Experiment with the spices and herbs. If you love garlic, try adding a bit of garlic powder to the white sauce. Paprika is a good addition, as well, maybe sprinkled on the top to add a little color. If you're not a nutmeg fan, leave it out. It will still taste great!
Lighten it up by using low fat milk to make the white sauce. It won't be quite as creamy but you'll save some calories and fat. If you're really looking to cut calories, don't mix any cheese into the white sauce and just sprinkle a half cup on top of the gratin before baking.
Just not a fan of Brussels sprouts? Try scalloped sweet potatoes with bacon and Gruyère instead.
Make-Ahead Ideas
To get a head start on this recipe, prep the Brussels sprouts up to two days ahead. The onions can be chopped ahead too. Store separately in covered bowls or resealable bags in the refrigerator.
Shred the cheese and store in the refrigerator for up to a week.
Storage & Reheating Tips
This dish is really best eaten right away. If you do have leftovers, heat them gently in the oven until they're heated through, or in the microwave. The gratin will keep a couple of days in the fridge.
More Side Dishes For Thanksgiving
These cheesy Brussels sprouts are a great side for Thanksgiving. Looking for more great recipes for that special day? I've got you covered!
Did you make this? Be sure to leave a review below and tag me @rachelcooksblog on Facebook, Instagram, or Pinterest!
Bubbling with a creamy Gruyère sauce, cheesy Brussels sprouts au gratin is irresistible. A perfect dish to serve for Thanksgiving but don't wait that long to try this delicious gratin.
Ingredients
2

pounds

Brussels sprouts

1

tablespoon

olive oil

¼

teaspoon

kosher salt

⅛

teaspoon

ground black pepper

2

tablespoons

unsalted butter

½

cup

diced yellow onion

(about ½ medium onion)

2

tablespoons

all-purpose flour

1 ¾

cups

whole milk

1

teaspoon

roughly chopped fresh thyme

(or ½ teaspoon dried thyme)

¼

teaspoon

freshly grated nutmeg

4

ounces

Gruyère cheese, shredded and divided
Instructions
To prepare Brussels sprouts, rinse well. Trim off bottom (stem) end and remove any brown or tough outer leaves. Cut in half from top to bottom.

Preheat oven to 400ºF. Spray a 9 x 13-inch baking dish with nonstick baking spray.

Mix Brussels sprouts with olive oil, salt, and pepper, and add to prepared baking dish.

Bake for 20 minutes or until starting to brown. Remove from oven.

While Brussels sprouts are roasting, in a medium saucepan over medium heat, melt butter. Add onions and sauté, stirring constantly, until translucent, or about 2 minutes.

Add flour and continue to stir or whisk for 1 minute.

Slowly add the milk, stirring constantly, and cook over medium-low heat until thickened, 10 to 12 minutes. Remove from heat.

Add thyme and nutmeg to the sauce, and stir to combine. Stir in half of the cheese until melted. Pour cheese sauce over Brussels sprouts, stirring lightly to combine. Top with remaining cheese.

Bake for 20 minutes, or until top is starting to brown and gratin is bubbling.

Let cool 5 to 10 minutes before serving.
Notes
If desired, add bacon or pancetta to the gratin. Cook diced bacon or pancetta until crisp, drain well, and stir into the sauce with the thyme and nutmeg.
Other types of cheese can be substituted. Try Swiss cheese, sharp cheddar, Parmesan or Asiago.
Make ahead tip: Prep Brussels sprouts and onion and store in separate containers in the refrigerator up to two days in advance. Shred cheese up to a week in advance.
Nutrition Information
Calories:
192
kcal
,
Carbohydrates:
15
g
,
Protein:
10
g
,
Fat:
11
g
,
Saturated Fat:
6
g
,
Polyunsaturated Fat:
1
g
,
Monounsaturated Fat:
4
g
,
Trans Fat:
1
g
,
Cholesterol:
28
mg
,
Sodium:
172
mg
,
Potassium:
543
mg
,
Fiber:
5
g
,
Sugar:
6
g
,
Vitamin A:
1176
IU
,
Vitamin C:
98
mg
,
Calcium:
256
mg
,
Iron:
2
mg
This website provides approximate nutrition information for convenience and as a courtesy only. Nutrition data is gathered primarily from the USDA Food Composition Database, whenever available, or otherwise other online calculators.