Brussels Sprouts Salad with Apples, Cranberries, and Walnuts
With crisp tart apples, sweet dried cranberries, and crunchy walnuts, this Brussels sprouts salad is a great holiday salad, easy to make and healthy, too.
Recipe Overview
Why you'll love it: This salad is easy and great for holidays.
How long it takes: 15 minutes to prep, an additional 45 minutes or so in the fridge
Equipment you'll need: food processor or sharp knife, large bowl
Servings: 8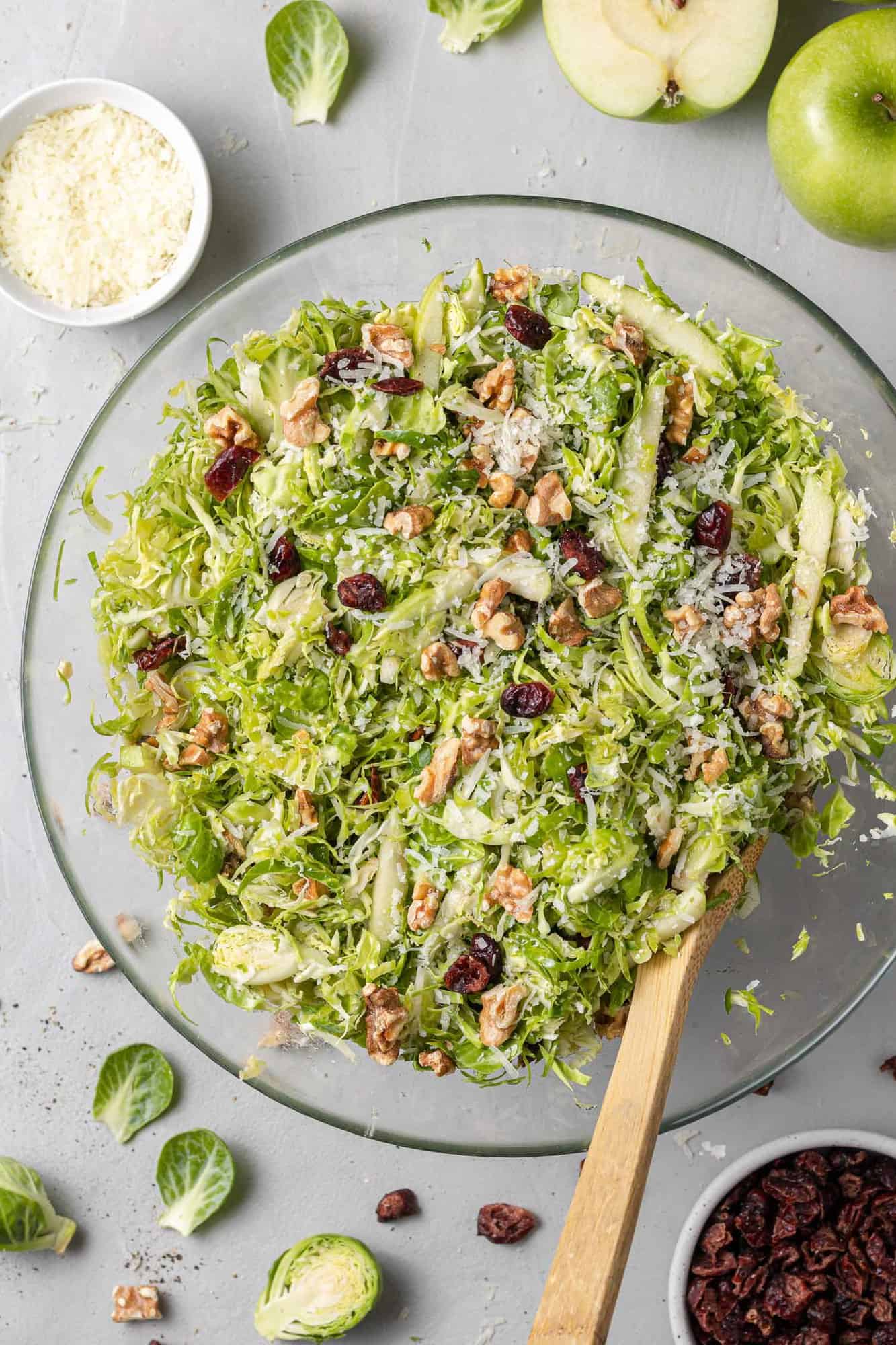 Sitting down for a holiday dinner is one of my favorite things to do. Surrounded by amazing food and people you love, what could be better?
I love it even more when I can share food, recipes, or money with people who are beset by illness, economic hardship, or just plain loneliness. We always try to invite at least a few people outside of our family circle to share the bounty that God gives us.
I often make this salad for get-togethers. It's popular with everyone. If you're skeptical of the raw Brussels, don't be! This salad is like coleslaw's sophisticated big sis. Shaved Brussels sprouts, chewy dried cranberries, nutty toasted walnuts, and rich Pecorino cheese make it completely irresistible.
Give it a try, I'm pretty sure you'll love it!
Looking for ideas to fill in some gaps on your holiday table? Make sure you check out my round-up of over 85 Thanksgiving recipes!
If you're feeling extra blessed this year, consider giving back. We typically do so through our church but there are other great organizations that can help you share a little love this season.
Holidays can be a time of great stress for some families. Perhaps someone just lost their job, or is suffering an illness, or maybe some unexpected expenses came up. Sometimes it's hard to be joyful when your life is filled with trying circumstances and there's just not enough money to buy groceries.
Feeding America is the nation's largest hunger relief charity. They have a mission to feed America's hungry through a network of food banks and to get people involved in the fight to end hunger. You can easily donate on their website but there are a lot of other ways to give as well. Take a minute to consider it!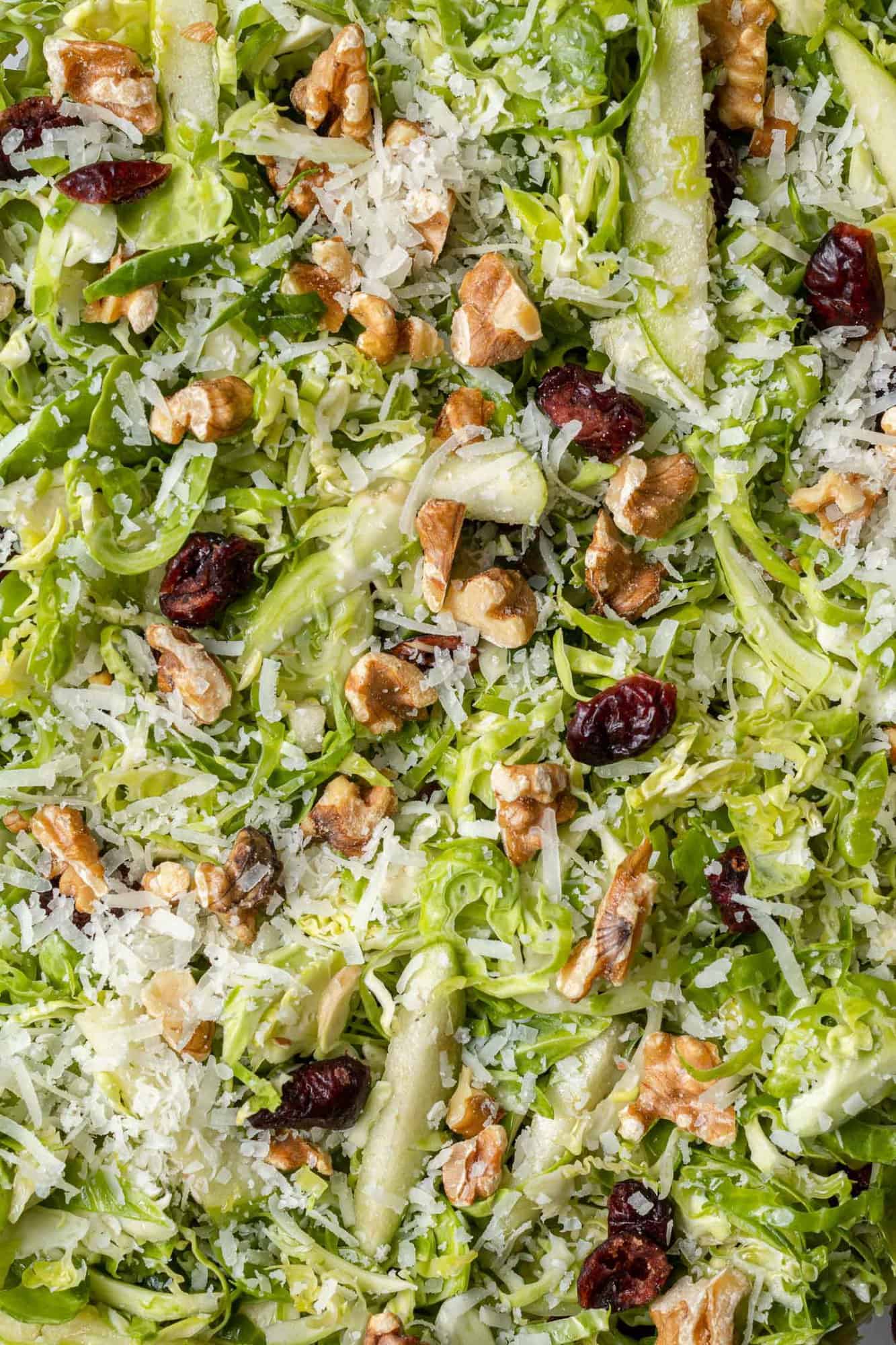 About this Salad
This Brussels sprouts salad has little bit of everything that you want in a salad:
crunchy
chewy
sweet
tart
bitter
rich
Everything!
And even better, it likes a little time to meditate. Oh, sorry, I guess that's me, not the salad. Really, make this salad in the morning and it's perfectly happy in the fridge until you're ready to serve it. It actually gets better because the Brussels sprouts soften a bit and absorb the dressing. It's perfect for Thanksgiving or other holiday meals.
I'll get you started here with lots of extra tips and information. As always, you'll find the printable recipe at the end of the post. It has complete directions and nutrition information.
What You'll Need
Brussels Sprouts: These cute little cabbages are really good shredded. Wondering what "shaved" Brussels sprouts are? It's all the same thing: shredded, sliced thinly, or shaved. Look for compact heads that are dark green and firm.
Apple: Granny Smith apples are great for this salad, or any other crisp tart apple.
Green Onion (Scallion): Sliced into the salad, green onions provide a subtle onion flavor. Red onions or shallots are a good substitute.
Dried Cranberries: The chewy cranberries provide a good contrast to the other elements of the salad.
Walnuts: Make sure you toast them lightly before adding them to the salad. Toasting really brings out the flavor of the walnuts. If you're not a fan of walnuts, toasted pine nuts are a great substitute.
Pecorino Romano Cheese: This dry flavorful cheese adds a salty tang to the salad. Coarsely grate it, break it into small chunks, or shave thin curls onto the salad.
Apple Cider Vinegar: The dressing is simple with just a few ingredients. Apple cider vinegar goes well with the apples but if you prefer, use white wine vinegar, white balsamic vinegar, or rice vinegar.
Olive Oil: Choose a good quality extra virgin olive oil.
Maple Syrup: This sweetener balances the tang of the vinegar. Use real maple syrup, not pancake syrup. Other sweeteners such as honey or agave may be substituted.
Salt and Pepper: Coarsely ground salt and pepper are so good in salads. Don't omit them because they season the salad perfectly.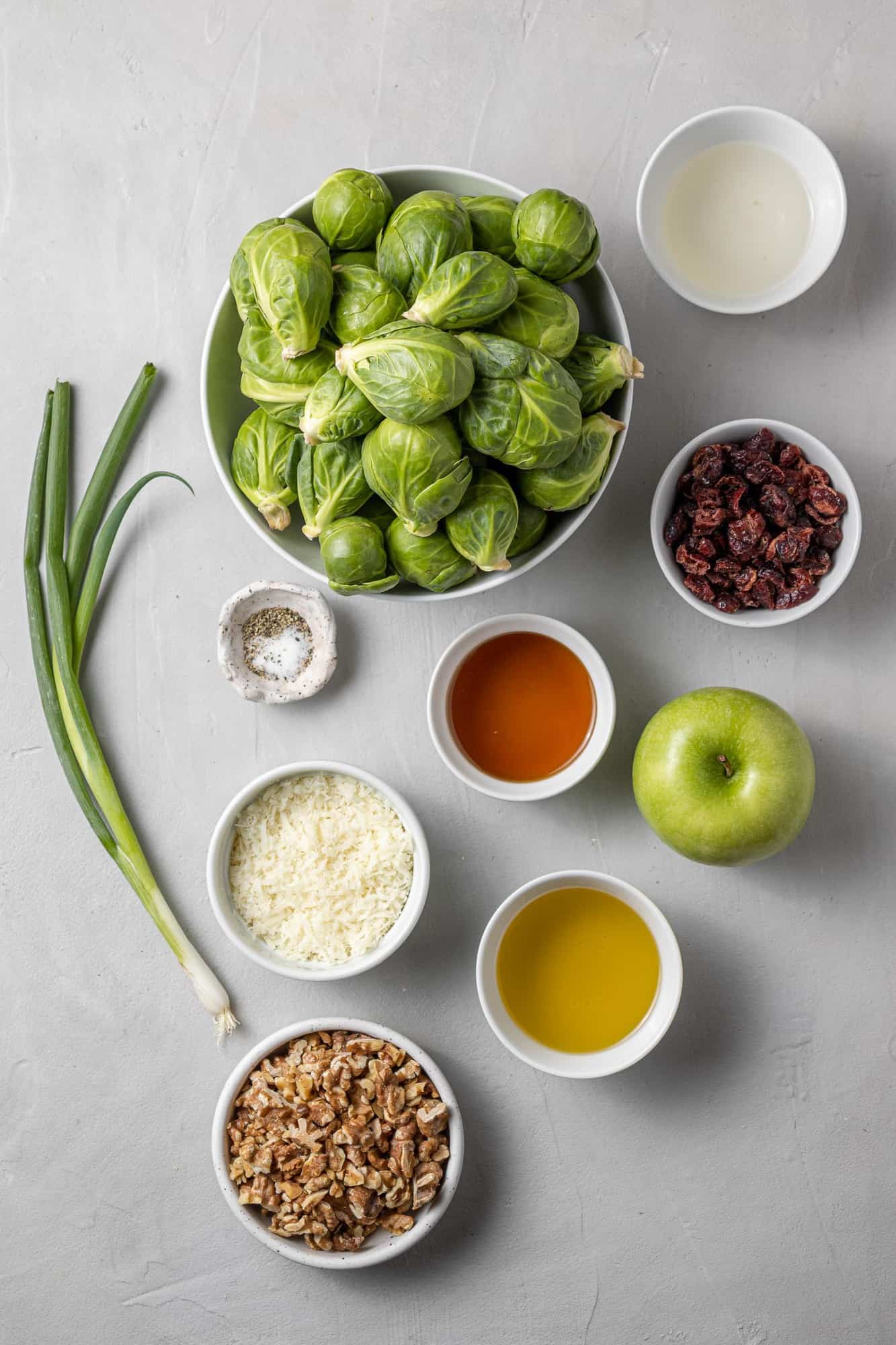 How To Toast Walnuts
Oven: Preheat the oven to 350

°F. Spread

the walnuts on a baking sheet and bake 7-10 minutes, checking frequently so they don't burn.
Stove: Place the walnuts in a skillet in a single layer. Heat over medium high heat for five minutes, stirring frequently.
Microwave: Place walnuts in a single layer on a microwave safe plate. Microwave on high in 1 minute increments, stirring each time. It will take 3-5 minutes.
Whichever method you use, immediately remove the walnuts from the hot pan or plate, and cool completely before adding to the salad.
How To Make This Recipe
First off, the Brussels sprouts have to be sliced. Keep reading — there's lots of information in the FAQs if you're not sure about how to do this. The sliced (shaved, shredded) Brussels sprouts will keep in a resealable plastic bag in the fridge for up to three days.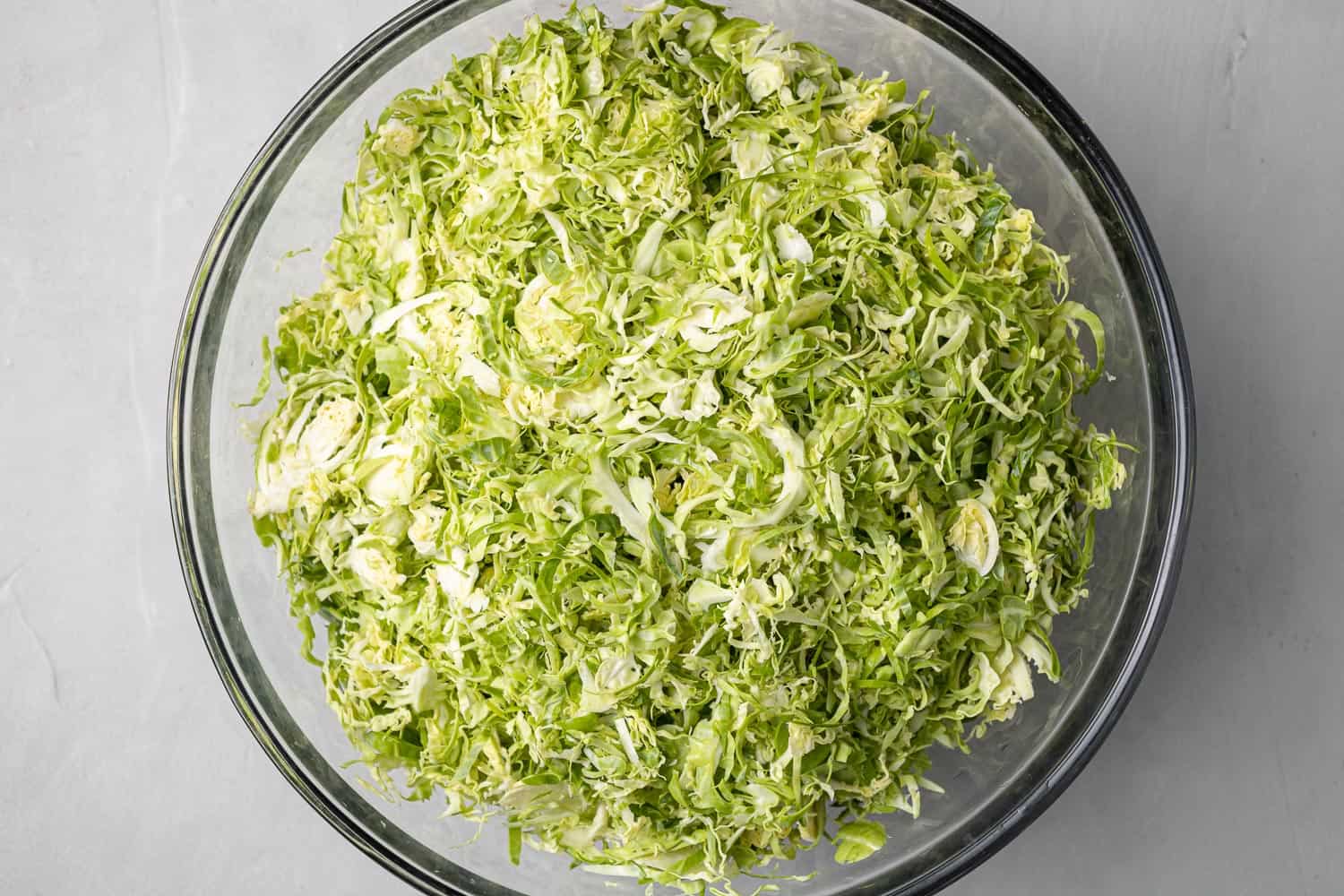 Next, mix up the maple vinaigrette dressing. With just five ingredients (counting the salt and pepper!), it's really easy to make. Use a whisk to get the dressing mixed.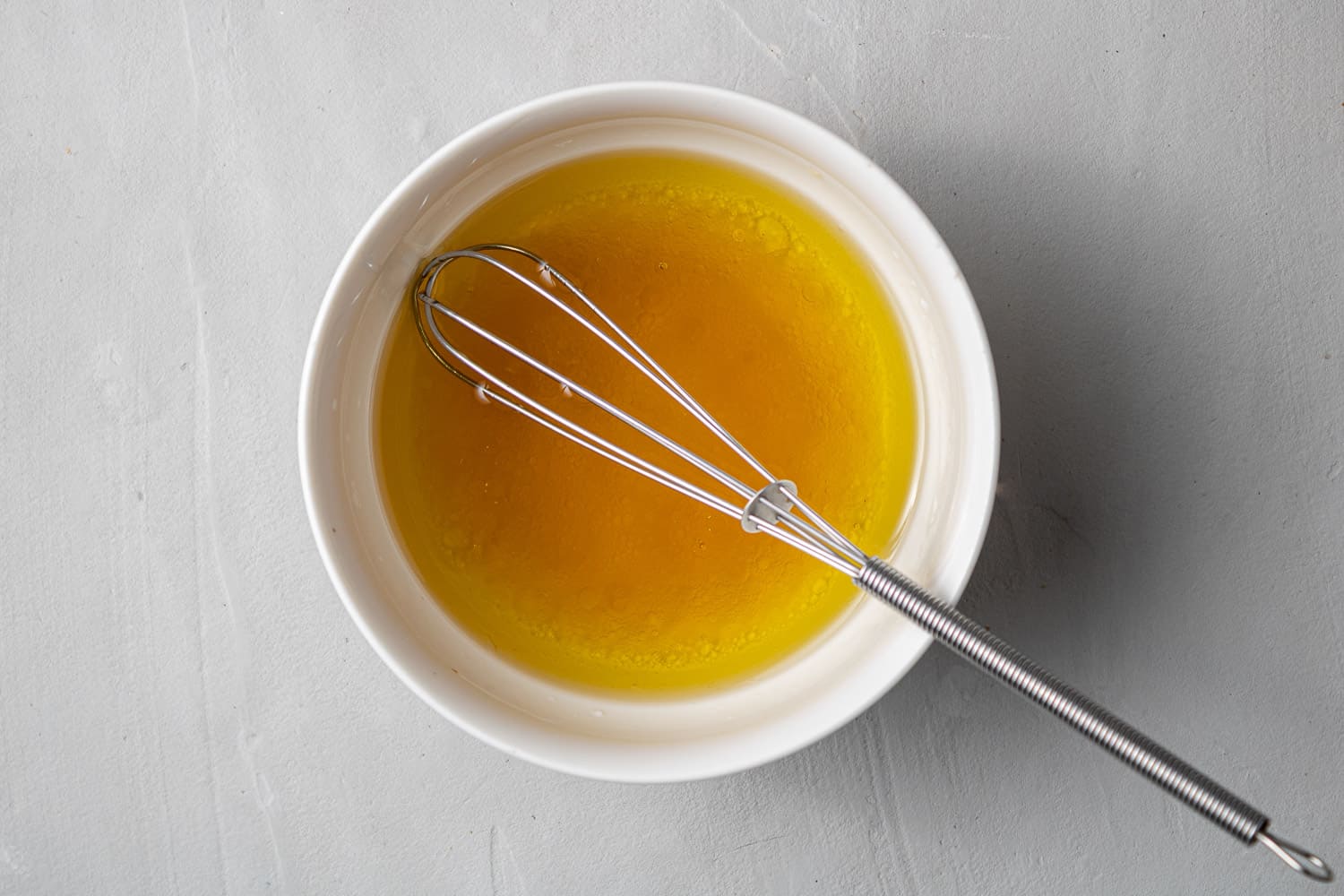 Put the Brussels sprouts in a large mixing bowl. Add the cranberries and sliced green onions.
Cut the apple into matchstick-sized pieces.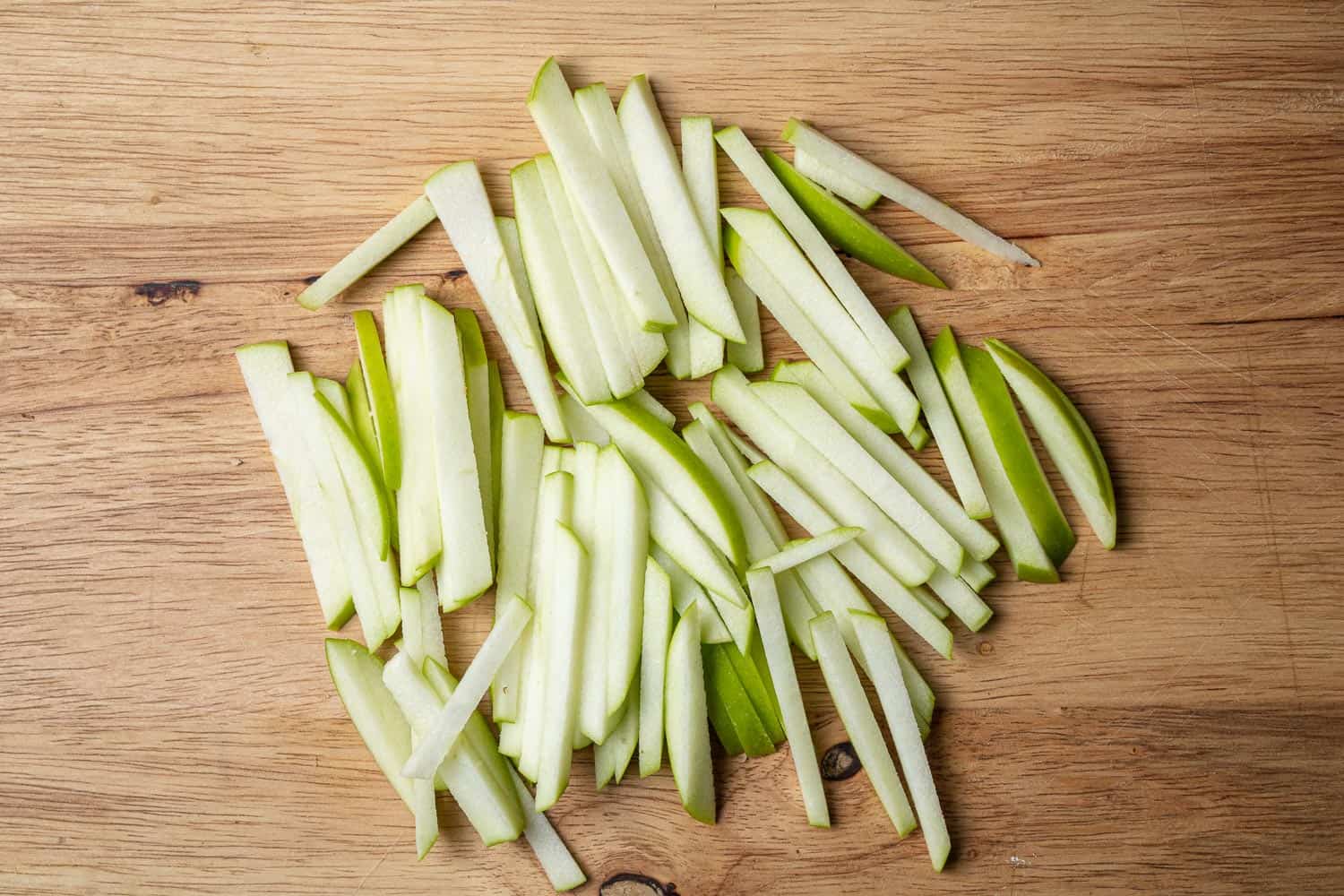 Put them into a small bowl, add a couple teaspoons of the dressing, and stir well. The dressing will keep the apple from turning brown. Add the apples to the big bowl, along with the remaining dressing, and give it all a good stir. Make sure all the ingredients are coated with the dressing.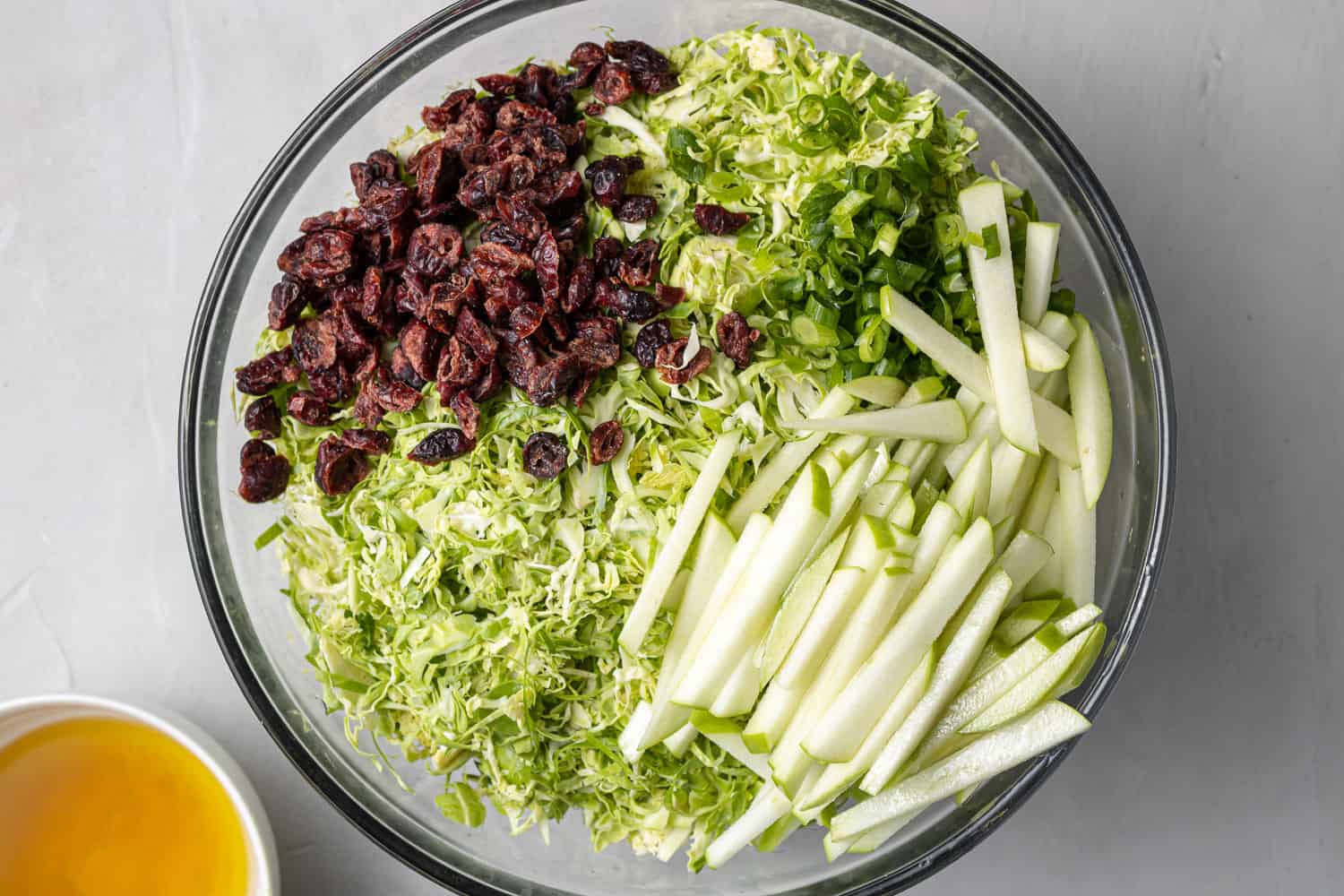 Cover and put into the fridge for at least forty-five minutes. The dressing will soften the Brussels sprouts and cranberries a bit, and the flavors will meld together.
Just before serving, give the salad one more stir and add the toasted walnuts and cheese. It's up to you whether you want to leave them on top or stir them in.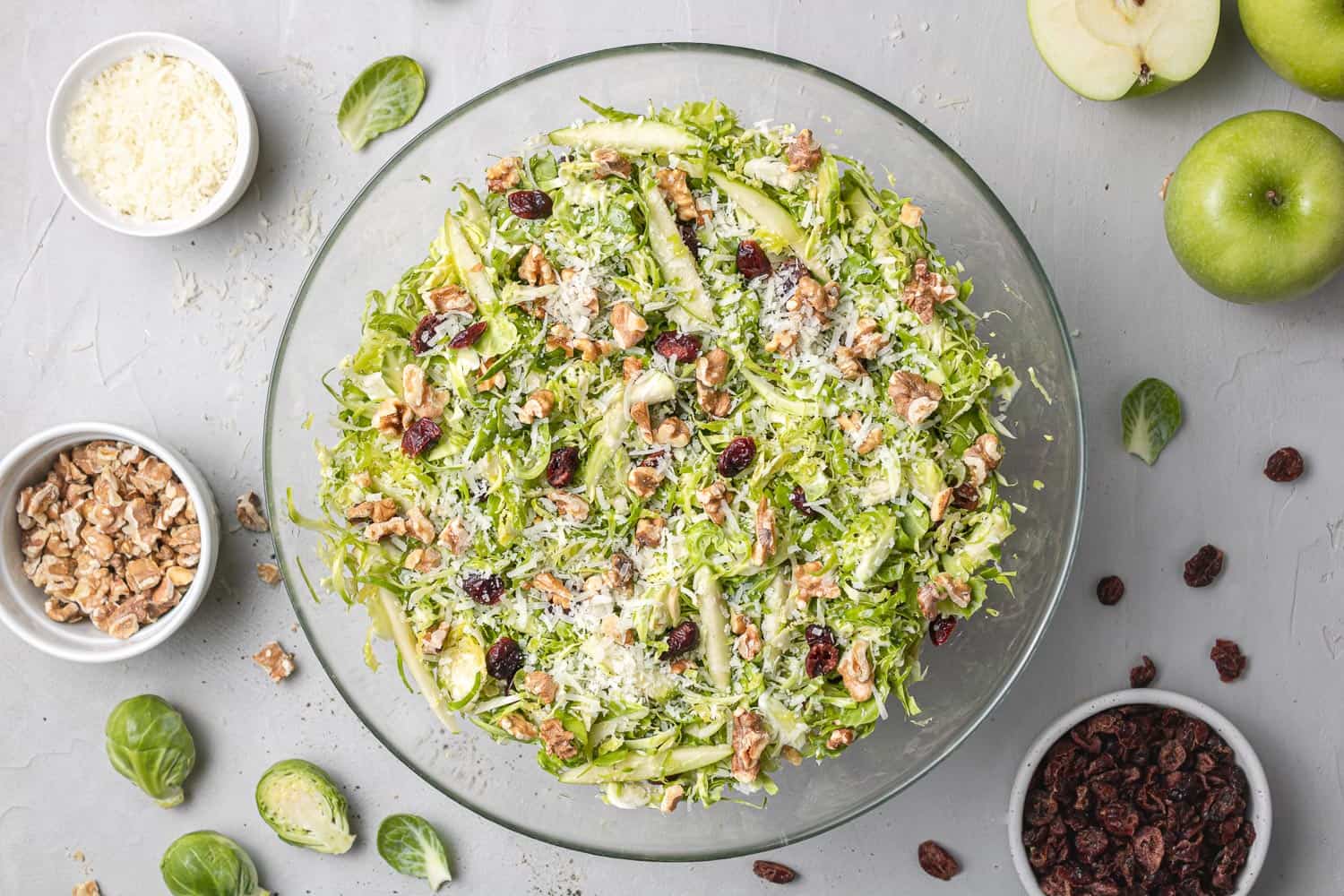 Enjoy!
FAQs
Can you eat raw Brussels sprouts?
Yes, yes, yes! I love Brussels sprouts salads. If you haven't tried one yet, this salad recipe is a great place to begin. I have more recipes near the end of the post. Brussels sprouts are really good roasted, too.
How do you cut Brussels sprouts for salad?
Whatever you're prepping Brussels sprouts for, the first step is to trim them. Cut a bit off the stem end and trim the wilted or loose leaves off, discarding them. Give them a quick rinse.
There are two ways to cut Brussels sprouts for a salad. Use a sharp knife to thinly slice them. Begin by cutting them in half vertically. Next lay the cut side down on a cutting board and slice them cross-wise. Break up the slices a bit so you get nice shreds.
Or, make your life easier by shredding the Brussels sprouts in your food processor using the slicer attachment. You won't believe how fast it goes!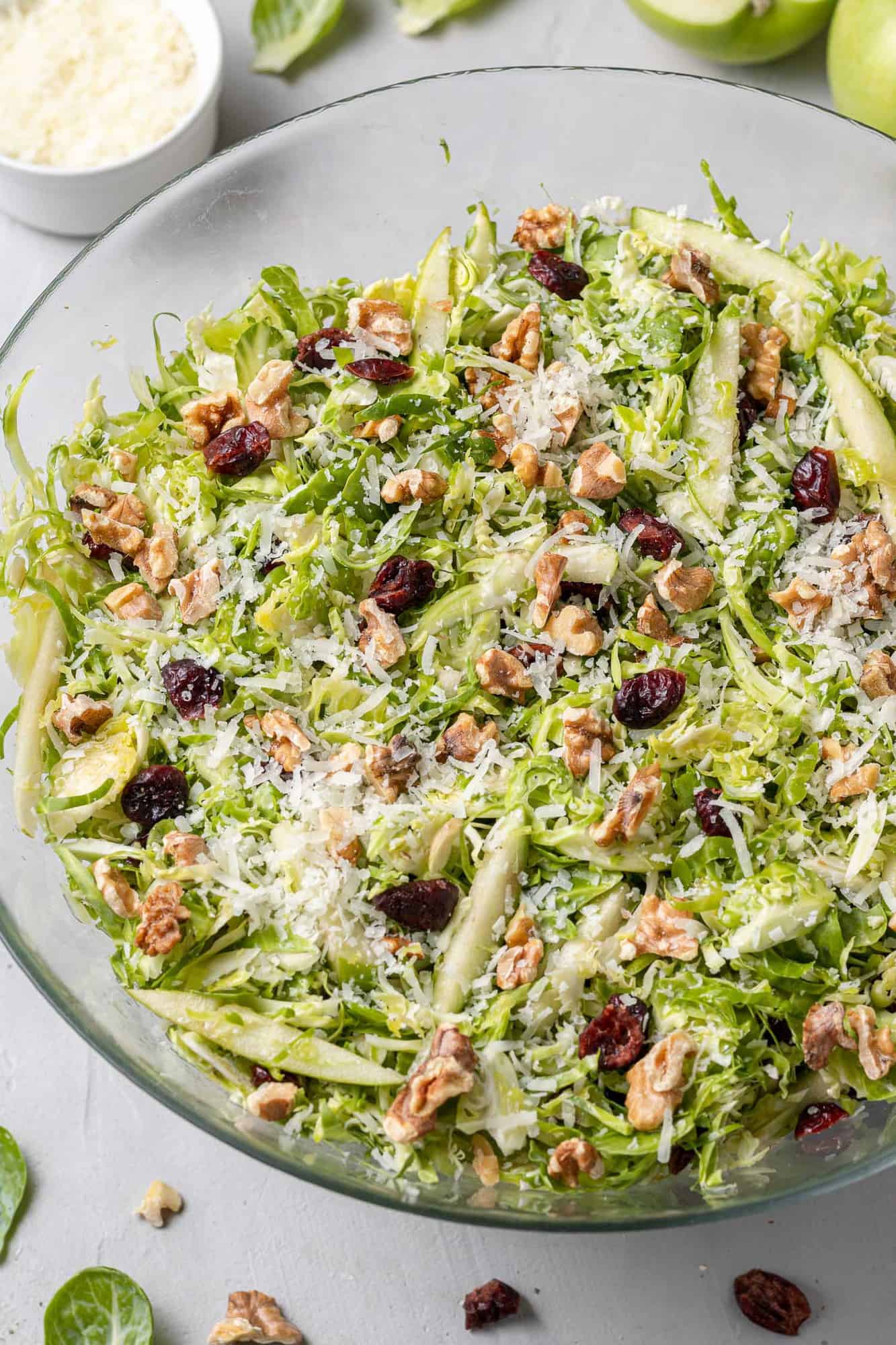 Make It Your Own
Try breaking the Pecorino into small chunks instead of shredding it. I love the salty bite you get when you get a little chunk of cheese. Or try a different cheese like feta, goat cheese, blue cheese, or Gouda. For a vegan salad, use a dairy-free cheese or omit it.
If you want, substitute dried cherries or golden raisins for dried cranberries.
If you're not a walnut fan, try toasted pecans, almonds, hazelnuts, pine nuts, or whatever you like. Toasted sunflower seeds, pepitas, or crispy roasted chickpeas are great nut-free options, too.
Add cooked, crumbled bacon to the salad. Total yumminess!
If you really don't like Brussels sprouts, substitute shredded cabbage or a bag of coleslaw mix.
Make-Ahead Ideas
One way to get a head start on this salad is to prep the Brussels sprouts. Once you have those shredded, the salad is a breeze to make. Put them in a recloseable bag or covered bowl and store in the fridge for up to three days.
The walnuts can be toasted ahead of time, cooled completely, and stored for up to a week. Make the dressing ahead of time, too, and store in the fridge. Make sure you shake or stir it well before adding it to the salad.
Storage Tips
The salad can be prepared more than an hour ahead of time and stored in the fridge. Add the cheese and walnuts right before serving.
Leftover salad can be refrigerated up to four days in a tightly covered container. Stir well before serving.
Leftover Love
Turn leftover salad into a main course. Add leftover cooked turkey or shredded chicken to the salad and stir it in. If you want, add cooked quinoa or farro. If necessary, make a little more dressing to completely moisten the salad. Serve it with a warm roll or a slice of leftover pie!
More Ways to Eat Brussels Sprouts
There are so many ways to eat these tasty green spheres. They are good for you too, with lots of vitamins, antioxidants, and fiber. Try:
Did you make this? Be sure to leave a review below and tag me @rachelcooksblog on Facebook, Instagram, or Pinterest!
With crisp tart apples, sweet dried cranberries, and crunchy walnuts, this Brussels sprouts salad is a great holiday salad, easy to make and healthy, too.
Ingredients
Dressing
3

tablespoons

apple cider vinegar

2

tablespoons

pure maple syrup

1/4

cup

extra virgin olive oil

Salt and pepper, to taste
Salad
1 1/2

pounds

Brussels sprouts

1

Granny Smith apple

(or another tart, firm apple)

1

green onion, sliced thin

1/2

cup

dried cranberries

3/4

cup

chopped toasted walnuts

3/4

cup

grated Pecorino Romano cheese

(see note)
Instructions
In a small bowl, whisk together vinegar, maple syrup and olive oil. Set aside.

Slice Brussels sprouts very thinly. The slicer blade on a food processor will quickly and safely perform this task. Put the sliced Brussels sprouts into a large mixing bowl. Add the green onion and dried cranberries.

Cut the apple into matchstick-sized pieces and toss in a bit of the dressing (1-2 teaspoons). The dressing will help keep the apples from discoloring. Add the apples to the salad.

Pour dressing over the salad and stir well so that everything is coated with dressing. Refrigerate for at least 45 minutes to let flavors meld.

Just prior to serving, top with cheese and walnuts.
Notes
Pecorino Romano cheese can be grated, shredded, crumbled, or shaved into the salad. Choose the form you like best. Other cheese such as feta, goat cheese, Gouda, or Parmesan may be substituted. For a vegan salad, omit the cheese or use a dairy-free cheese.
If desired, substitute golden raisins or dried cherries for the cranberries. Other types of toasted nuts can replace the walnuts.
Cooked and crumbled bacon is a nice addition, if you like.
Makes about 10 cups
Nutrition Information
Serving:
1.25
cups
,
Calories:
255
kcal
,
Carbohydrates:
22
g
,
Protein:
8
g
,
Fat:
17
g
,
Saturated Fat:
3
g
,
Polyunsaturated Fat:
6
g
,
Monounsaturated Fat:
7
g
,
Cholesterol:
10
mg
,
Sodium:
136
mg
,
Potassium:
434
mg
,
Fiber:
5
g
,
Sugar:
13
g
,
Vitamin A:
710
IU
,
Vitamin C:
74
mg
,
Calcium:
155
mg
,
Iron:
2
mg
This website provides approximate nutrition information for convenience and as a courtesy only. Nutrition data is gathered primarily from the USDA Food Composition Database, whenever available, or otherwise other online calculators.