Brussels Sprouts Salad Recipe with Crispy Chickpeas
This Brussels sprouts salad recipe with crispy chickpeas is simple perfection. It's a fresh and flavorful side dish that's nutritious and easy to prepare.
Recipe Overview
Why you'll love it: This salad is so versatile – keep reading for lots of ways to make it your own.
How long it takes: 20 minutes but the salad improves a bit if you refrigerate it for 30 minutes or so.
Equipment you'll need: sharp knife or food processor, large bowl
Servings: 8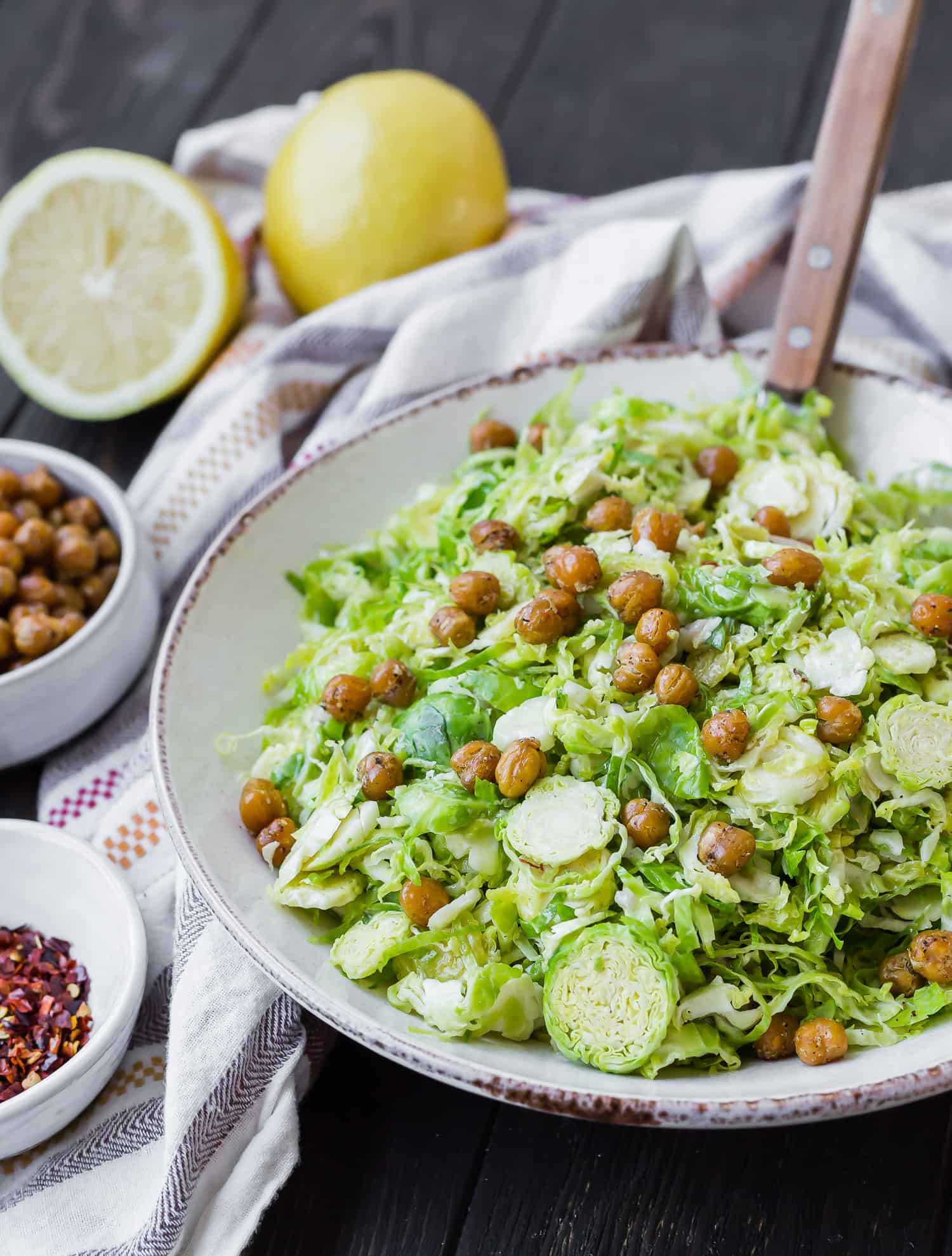 This is one of those recipes that is simple and elegant without being fussy or containing 50 different ingredients. The Brussels sprouts hold up well to the dressing so the salad keeps for a few days in the refrigerator, making it perfect for easy meal prepping or quick lunches.
Salads like this make healthy eating a little easier. You can simply enjoy it as is or dress it up with other ingredients like fresh or dried fruit, shaved Parmesan, sliced avocado, toasted pine nuts, or even chicken. It's a good salad for when you're trying to be a little more "hit" and a little less "miss" when it comes to staying on track with nutritious, healthy meals.
As a bonus, this Brussels sprouts salad recipe is dairy-free, gluten-free, vegan, AND nut-free. And it's easy to make it Whole30 compliant and paleo, too, if you want.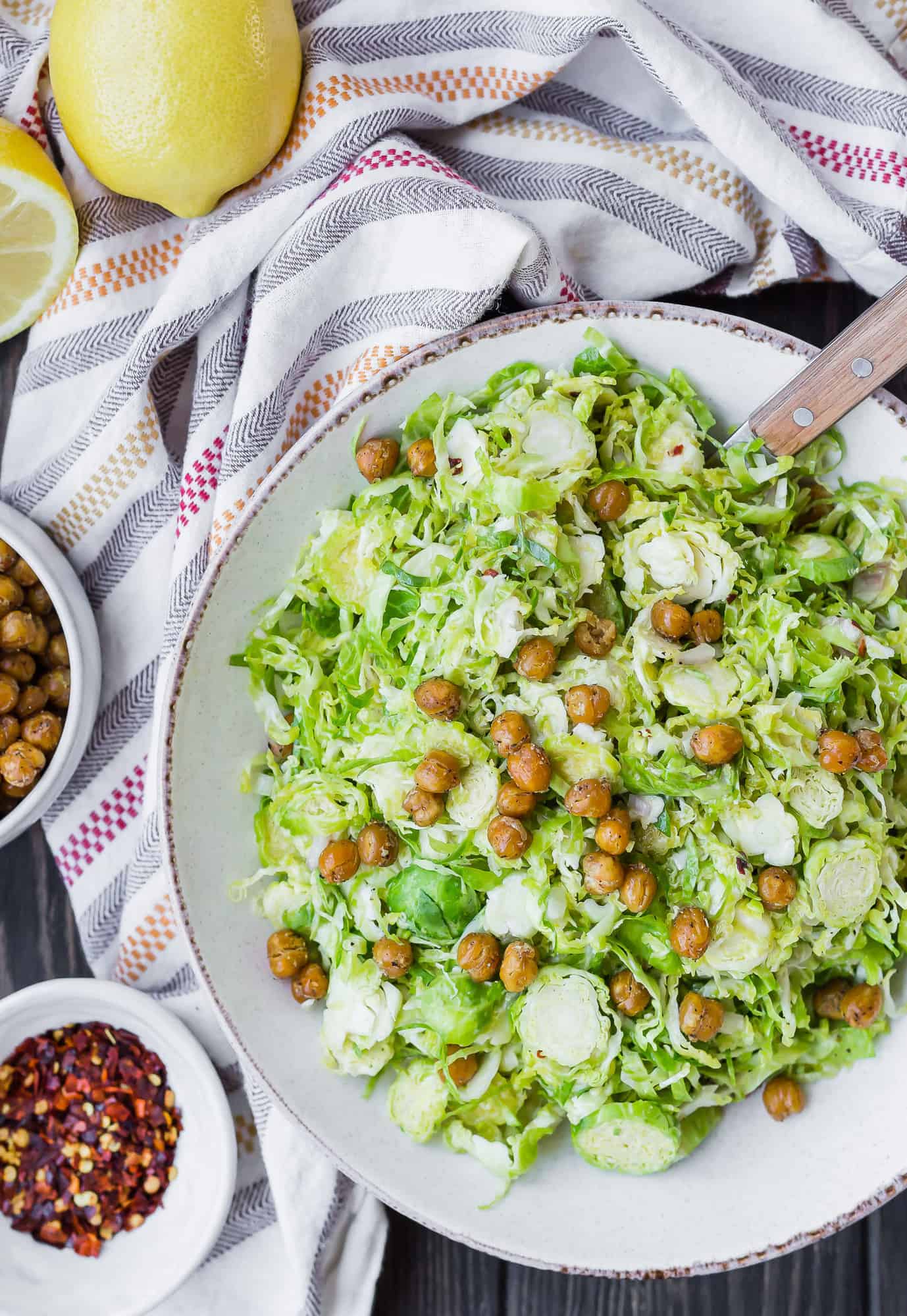 About This Salad
This simple salad is a great way to enjoy nutritious Brussels sprouts. These tasty "mini-cabbages" are cruciferous ( Brassicaceae) vegetables, along with kale, cauliflower and mustard greens, and are chock full of antioxidants, vitamins, and fiber. They have all sorts of health benefits (Healthline).
We love roasted Brussels sprouts and have found that roasting them or making them into a salad like this one converts Brussels sprouts haters into fans. My dad, who isn't normally a fussy eater, always refused Brussels sprouts. Once he had a chance to try them roasted or made into a salad, he changed his tune.
If you're not a fan yet, give this salad a try. Shredded Brussels sprouts are very much like shredded cabbage so if you enjoy coleslaw, you will probably like this salad.
One of the components of this salad is crispy roasted chickpeas. They can be roasted ahead of time in the oven or while the salad marinates in the refrigerator. You can also make them in an air fryer. For something a little different, try cinnamon roasted chickpeas.
I'll get you started on the recipe here and give you lots of extra helpful tips. As always, look for the printable recipe card near the end of the post with complete instructions, measurements, and nutrition information.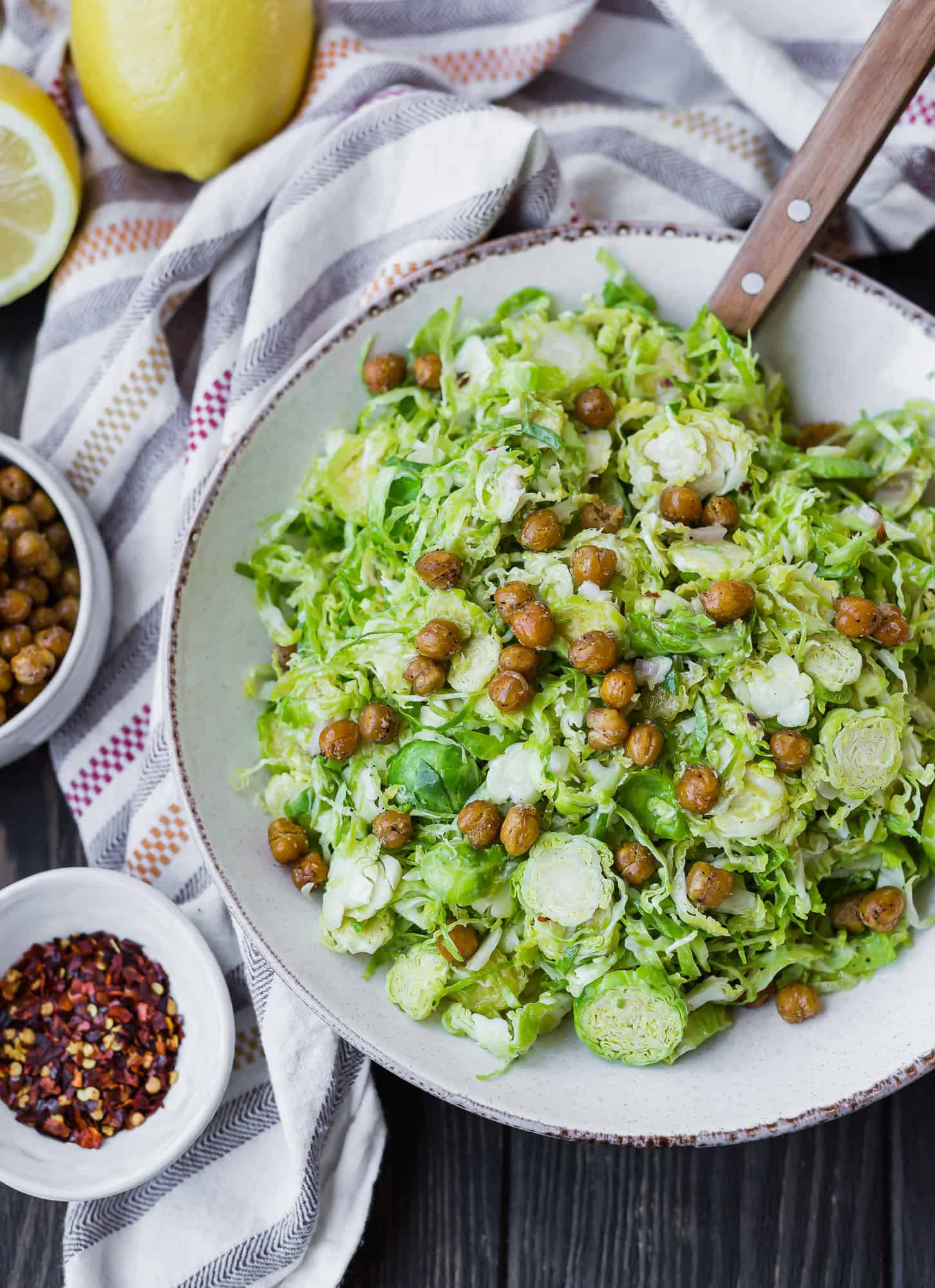 What You'll Need
Brussels Sprouts: Look for firm, dark green sprouts that look fresh and crisp. Avoid sprouts that have dark spots or yellowish leaves. You'll need one pound of them.
Extra Virgin Olive Oil: Choose a flavorful olive oil for this dressing. If you prefer avocado oil or grapeseed oil, that's fine too.
Freshly Squeezed Lemon Juice: Fresh lemon gives the dressing a citrusy tang. If you want, zest the lemon before you juice it and add the zest to the dressing too. Limes or oranges are a good alternative.
Minced Shallot: Shallots grow in clusters, much like a garlic bulb. They have a mild onion flavor without being overpowering.
Dijon Mustard: Mustard not only adds flavor, it also aids in emulsifying the dressing. You could substitute a grainy mustard or another mustard of your choice. I wouldn't recommend plain yellow mustard.
Red Pepper Flakes: These little beauties add just a little bit of zesty heat. Increase the amount for even more peppery bite. Omit them and substitute coarsely ground black pepper if you prefer.
Kosher Salt: Every salad needs a little bit of salt for seasoning. Adjust the amount to your own tastes.
Crispy chickpeas (and other toppings, if desired): Oven roasted crispy chickpeas taste so good on this salad and they are super nutritious, adding protein and fiber. They are legumes but have a nutty texture similar to peanuts. By the way, the chickpeas can be added to the salad unroasted, too.
How To Make This Salad
Begin by cleaning and trimming the Brussels sprouts. Remove any loose or discolored outer leaves, trim a bit off the stem end, and rinse them well under cold water.
Next, the Brussels sprouts need to be sliced or "shaved". This is the most time-consuming part of the recipe but it isn't difficult. If you'd like to know more about how to do it, check out the FAQ section below.
In a small bowl or liquid measuring cup, whisk together the dressing ingredients until the dressing is smooth and combined.
Pour the dressing over the Brussels sprouts and stir well. The sliced sprouts should be coated completely with the dressing.
At this point, you can cover the bowl and store the salad in the refrigerator. You may find that you like the salad even better after it's had a chance to macerate awhile. It's much like coleslaw. The shredded Brussels sprouts soften a little bit and absorb some of the dressing. Now is a good time to roast the chickpeas.
Just before serving, top the salad with the crispy chickpeas. If you add them right away, they will no longer be crispy when you serve the salad.
FAQs
How do you cut Brussels sprouts for salad?
Shaved, shredded, or sliced: it's pretty much the same thing. It goes amazingly fast if you use a food processor with the slicing blade but it's also easy to do if you have a sharp knife or mandolin. Trim the sprouts, cut them in half vertically, and slice thinly. If you're unsure how to slice the Brussels sprouts, check out this WikiHow guide.
Can you eat raw Brussels sprouts in a salad?
Yes! If you've only ever eaten cooked Brussels sprouts, you're in for a pleasant surprise. Raw Brussels sprouts taste much like cabbage and are wonderful in a salad.
Is it better to eat Brussels sprouts raw or cooked?
There's been a lot of research on this topic and it appears that while some nutrients are lost during the cooking process, other nutrients are enhanced by cooking. So I guess you could say that it's kind of a toss-up. If you have a specific medical condition, you may want to dig a little deeper into the information that's available (Healthline).
Make It Your Own
Add protein with shredded or shaved Parmesan cheese, feta cheese, or any kind of cheese you like or happen to have in the fridge.
Add fruit such as chopped apples or firm pears, sliced grapes, blackberries, or oranges. Dried fruit is good, especially golden raisins or dried cranberries.
Whole30 or Paleo: Omit the chickpeas and substitute walnuts, pecans, or almonds that have been toasted. Pine nuts are wonderful too. Be sure to choose a compliant Dijon mustard for the dressing.
Substitute finely chopped kale, cabbage, or spinach for some of the shredded Brussels sprouts.
Try freshly squeezed orange juice or lime juice instead of lemon juice.
More Add-Ins: Diced avocado, sliced chicken, sliced celery or carrots. I'm sure you can think of more ideas. Use what you have in your pantry or refrigerator. Keep reading for lots more Brussels sprouts salad recipes.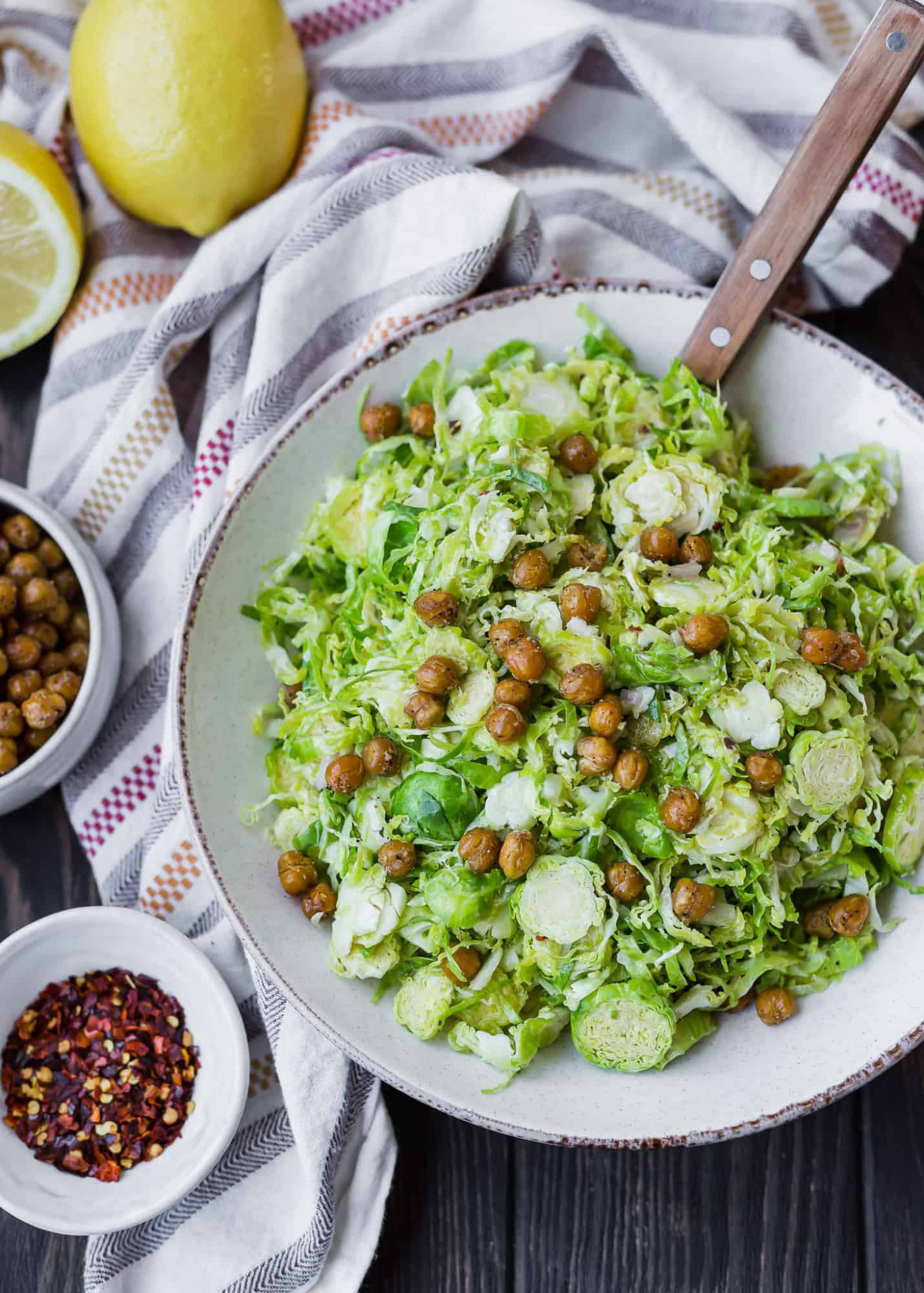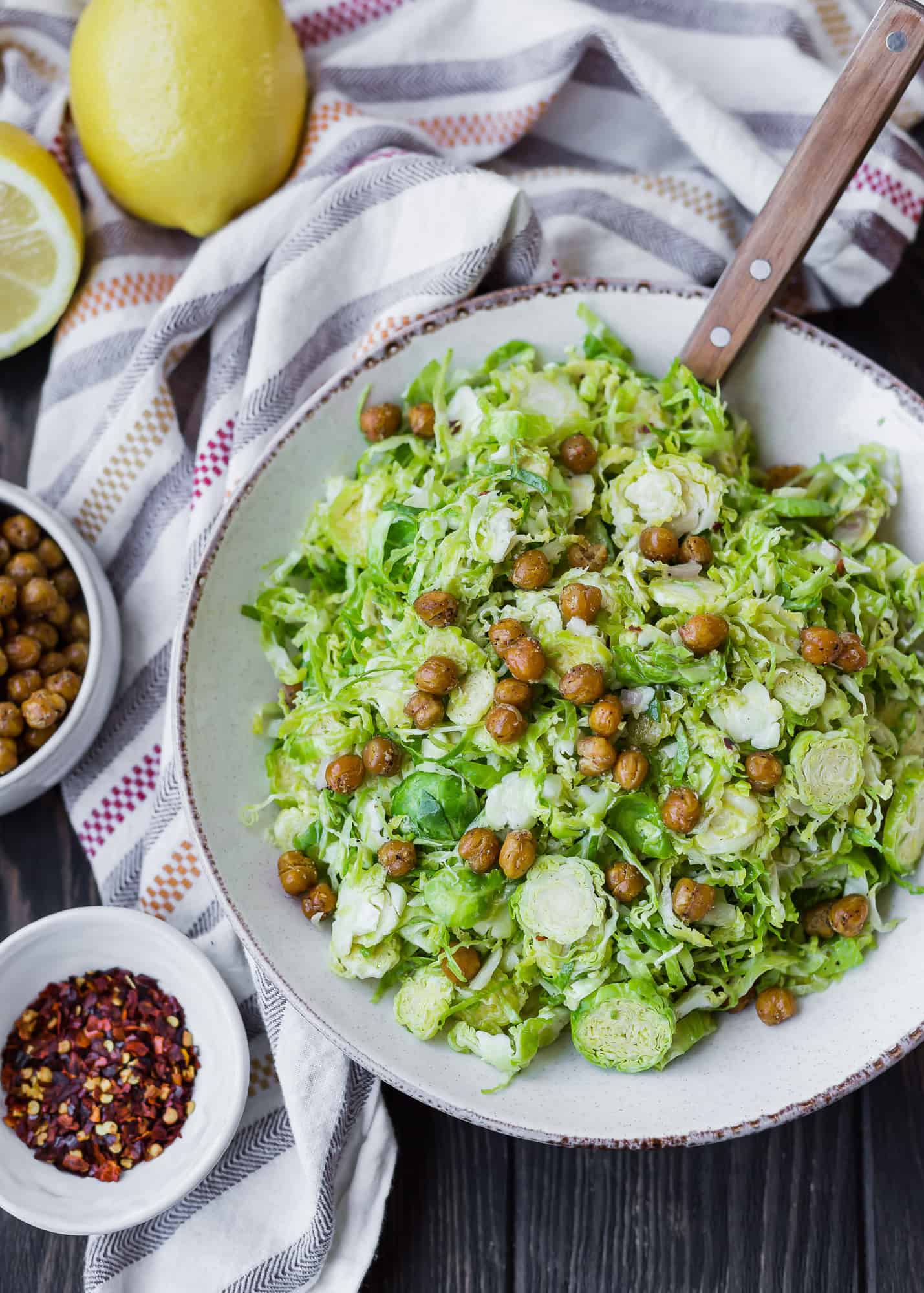 Storage Tips
Brussels sprouts salad will keep in the refrigerator for at least three days. Store it in an airtight container. Most add-ins should be reserved until just before serving for the best results.
More Brussels Sprout Salads
If you love raw Brussels in salads, whether they're shredded, shaved, or sliced, try:
Did you make this? Be sure to leave a review below and tag me @rachelcooksblog on Facebook, Instagram, or Pinterest!
This Brussels sprouts salad recipe with crispy chickpeas is simple perfection. It's a fresh and flavorful side dish that's nutritious and easy to prepare.
Ingredients
1

pound

(16 oz.) fresh Brussels sprouts, trimmed and sliced very thinly

3

tablespoons

extra virgin olive oil

2

tablespoons

freshly squeezed lemon juice

2

tablespoons

finely minced shallot

1

tablespoon

Dijon mustard

½

teaspoon

kosher salt

¼

teaspoon

red pepper flakes, more to taste

½

cup

crispy chickpeas
Instructions
Trim stems off Brussels sprouts, remove loose or spotted leaves, and slice very thinly. You can use the slicing blade on a food processor for this step if you want to make it go really quickly. I used a sharp knife. Place shaved Brussels sprouts in a large bowl.

In a small bowl or measuring cup, whisk together olive oil, lemon juice, shallot, Dijon mustard, salt, and red pepper flakes until combined.

Pour dressing over salad and toss to combine so that dressing coats all ingredients. Refrigerate for at least 30 minutes if possible.

Sprinkle crispy chickpeas on immediately prior to serving.
Notes
Nutrition information does not include toppings.
This salad will keep for 3-4 days in the fridge, in an airtight container. Add chickpeas right before serving.
Try Air Fryer Chickpeas or Cinnamon Roasted Chickpeas instead of oven roasted chickpeas if you prefer
Variations: Fruit, dried fruit, cheese, especially freshly grated Parmesan cheese, toasted pine nuts or other types of nuts, shredded kale or spinach, etc. For more, see the Make It Your Own section above.
Nutrition Information
Calories:
75
kcal
,
Carbohydrates:
6
g
,
Protein:
2
g
,
Fat:
6
g
,
Saturated Fat:
1
g
,
Polyunsaturated Fat:
1
g
,
Monounsaturated Fat:
4
g
,
Sodium:
182
mg
,
Potassium:
237
mg
,
Fiber:
2
g
,
Sugar:
2
g
,
Vitamin A:
448
IU
,
Vitamin C:
50
mg
,
Calcium:
26
mg
,
Iron:
1
mg
This website provides approximate nutrition information for convenience and as a courtesy only. Nutrition data is gathered primarily from the USDA Food Composition Database, whenever available, or otherwise other online calculators.