With nonfat Greek yogurt and light mayonnaise in the dressing, this healthy coleslaw recipe has the same great taste as classic creamy coleslaw but with fewer calories.
Recipe Overview
Why you'll love it: This recipe only takes five minutes to make and it's very low calorie (just 48 calories per serving!).
How long it takes: 5 minutes
Equipment you'll need: large mixing bowl, measuring utensils
Servings: 8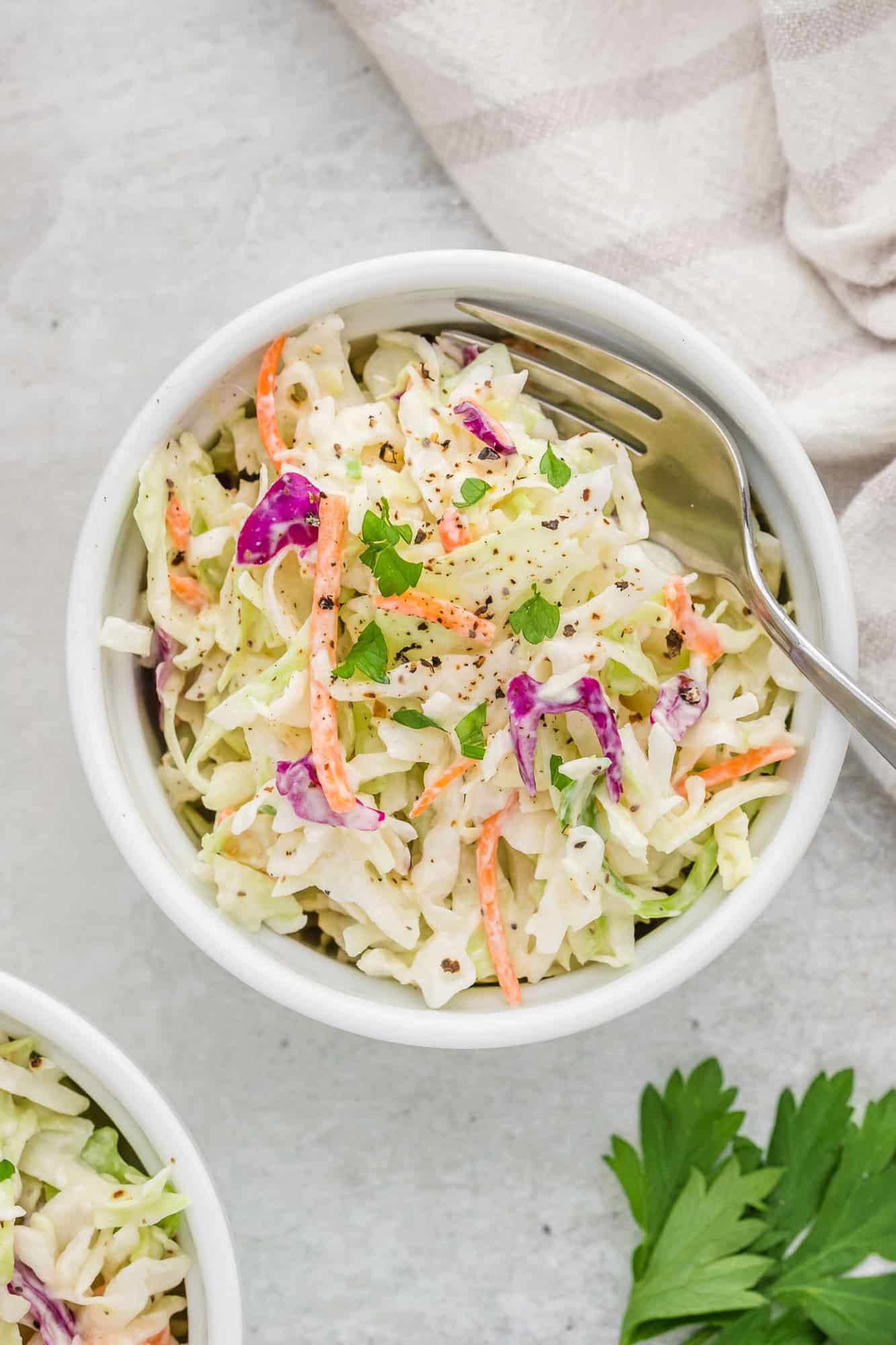 Are you a coleslaw fan? I am, it's such an easy salad to prepare and it can be made ahead without any loss of flavor or texture. It actually tastes better if you make it an hour or two ahead.
Some of you may be already familiar with my classic restaurant style creamy coleslaw recipe. The dressing is made with mayonnaise and the coleslaw is so delicious. Everyone loves it!
This healthy coleslaw recipe is still the traditional creamy variety that everyone knows and loves, but with fewer calories (only 86 calories per serving) and less fat.
You know me. I like to make a skinnier version of salads and dressings. And nonfat Greek yogurt is the perfect way to reduce calories without sacrificing a bit of flavor. Try healthier-for-you ranch dressing, or poppy seed dressing. You'll love this kale and pear salad with yogurt dressing, or this popular orzo salad with yogurt dill dressing. That's just a sampling. Truly, I use yogurt for almost every creamy dressing I make.
About this Coleslaw Recipe
You can make this coleslaw in about 5 minutes! Really, you can. Anyone can make it, even a novice cook. It's a good recipe to have your kids start on. They'll learn how to measure ingredients (not too many!), whisk together an easy dressing, and stir, stir, stir. They may even eat it if they've had a part in making it!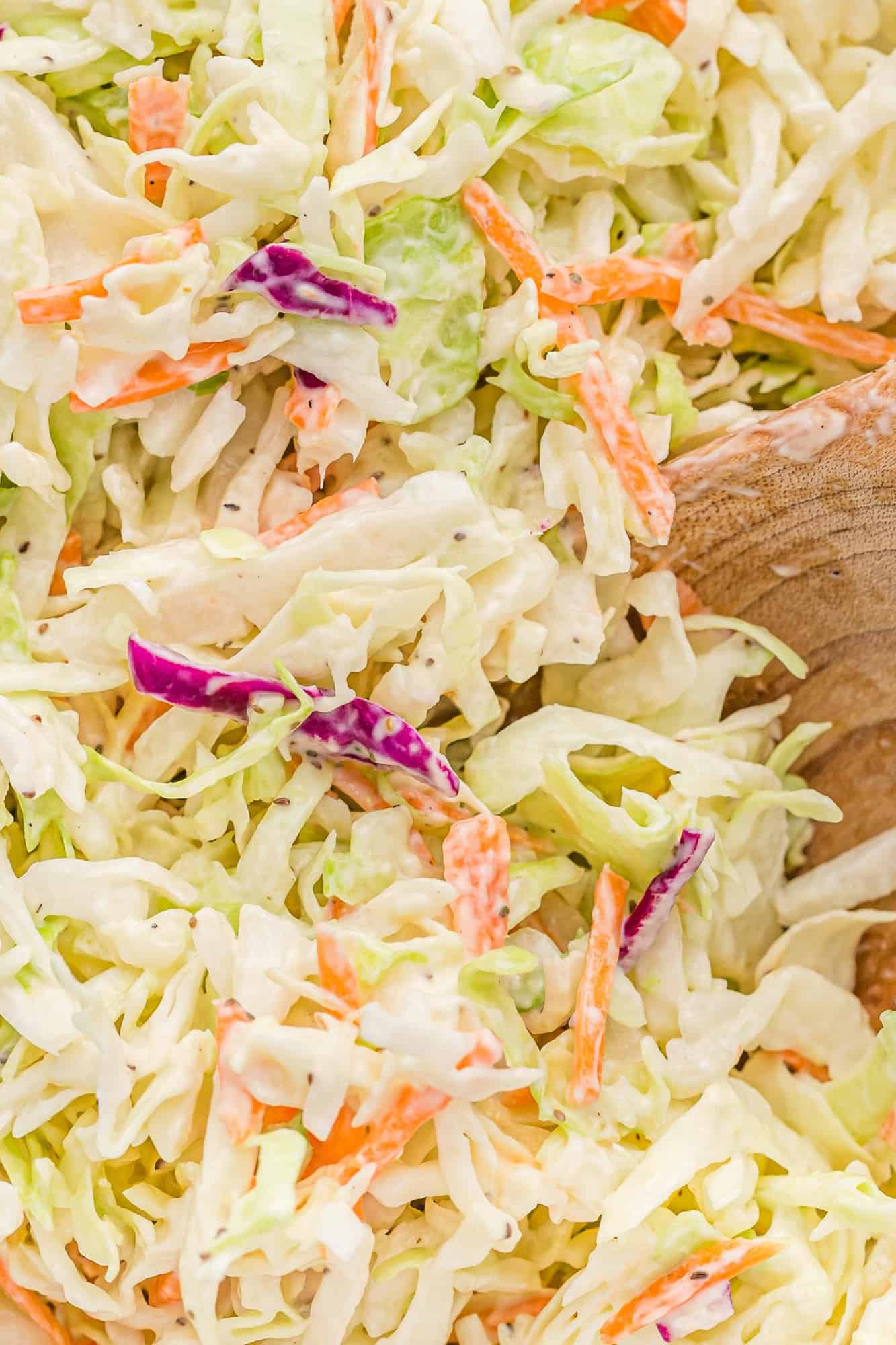 I'll run through the recipe here to get you started but as always, you'll find the printable recipe card near the end of the post with complete instructions and nutrition information.
What You'll Need
Coleslaw Mix: Buy a 16 oz. bag of pre-shredded cabbage and carrots (sometimes it has red cabbage, too!) and you're all set. No messy chopping or shredding at all so it couldn't be easier. Feel free to shred your own. It does taste a bit fresher.
Light Mayonnaise: Any type of mayonnaise is fine. I like the kind made with olive oil but my mom always uses Hellman's Light Mayonnaise. Don't use Miracle Whip salad dressing. It will completely change the flavor of this coleslaw.
Greek Yogurt: Again, any type of plain Greek yogurt is fine, whether it's full fat, 2%, or nonfat. Choose what you like best.
Sugar: Just a bit of granulated white sugar is needed to balance the tartness of the dressing. If you prefer, a different type of sweetener can be substituted, such as honey or agave nectar.
White Vinegar: Look for plain white distilled vinegar. It provides tang but doesn't have an assertive flavor like other vinegars.
Celery Seed: These tiny brown seeds pack a lot of flavor. Look for them in the spices section of the grocery store. Do not substitute celery salt; it is not the same.
Dijon Mustard: Adding mustard is a matter of taste. Do you like mustard? Then you'll probably want to include it in this coleslaw. Not crazy about it all? No problem, just leave it out. Don't substitute yellow mustard.
Salt and Pepper – taste the finished product and add more as desired.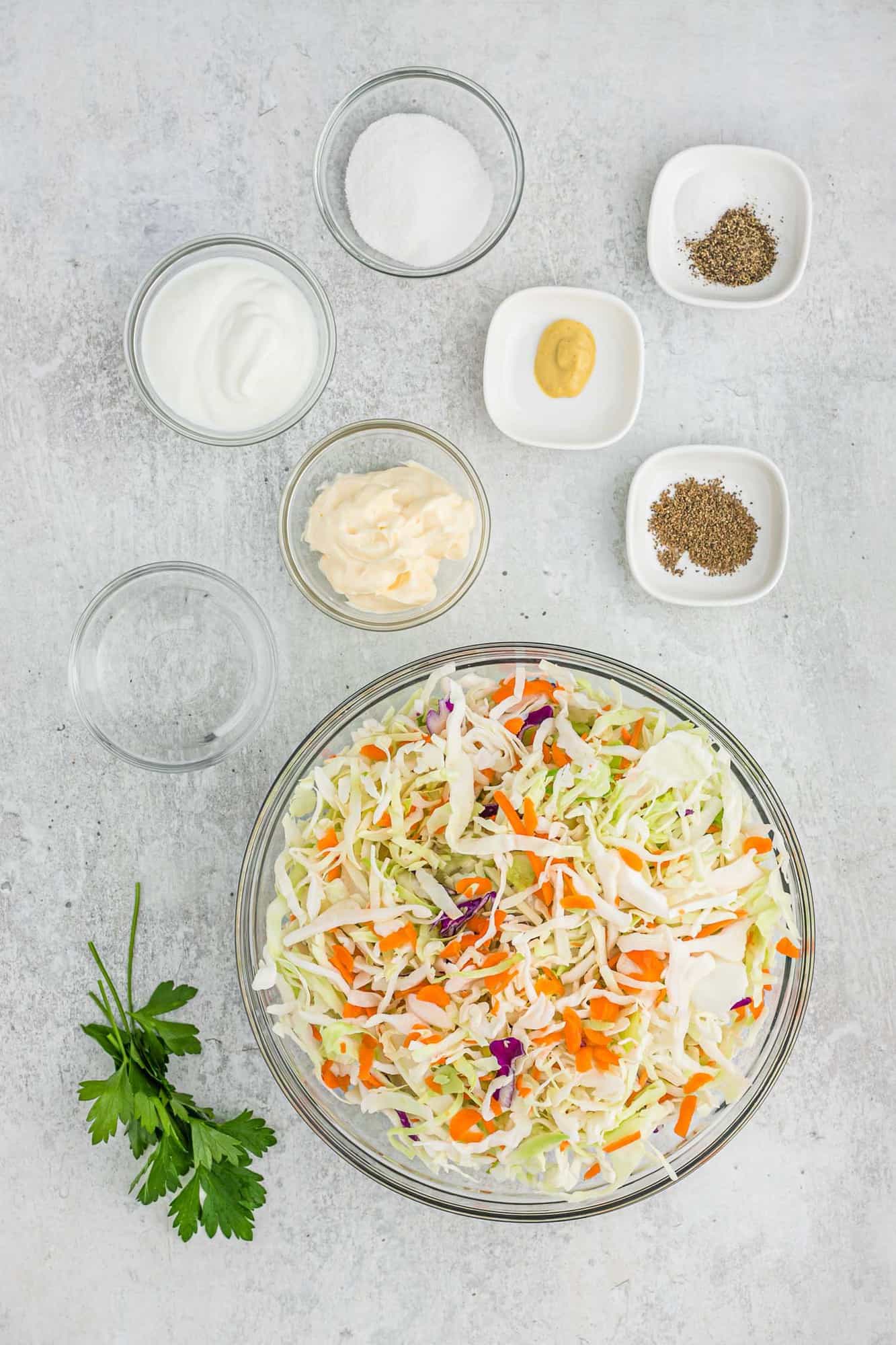 How To Make This Recipe
You'll need a nice big mixing bowl! For some reason, it seems like that bag of coleslaw expands when you dump it out. I usually choose a bowl that's too small and end up transferring everything to a larger bowl so it doesn't fly out of the bowl when I'm stirring it.
But I'm getting ahead of myself! In that nice big mixing bowl, you'll first want to combine the dressing ingredients. Just measure the mayo, yogurt, vinegar, sugar, and celery seed into the bowl. Add the mustard, too, if you're using it. Use a whisk to combine the ingredients. The dressing will look kind of separated at first but keep whisking and it will get nice and smooth.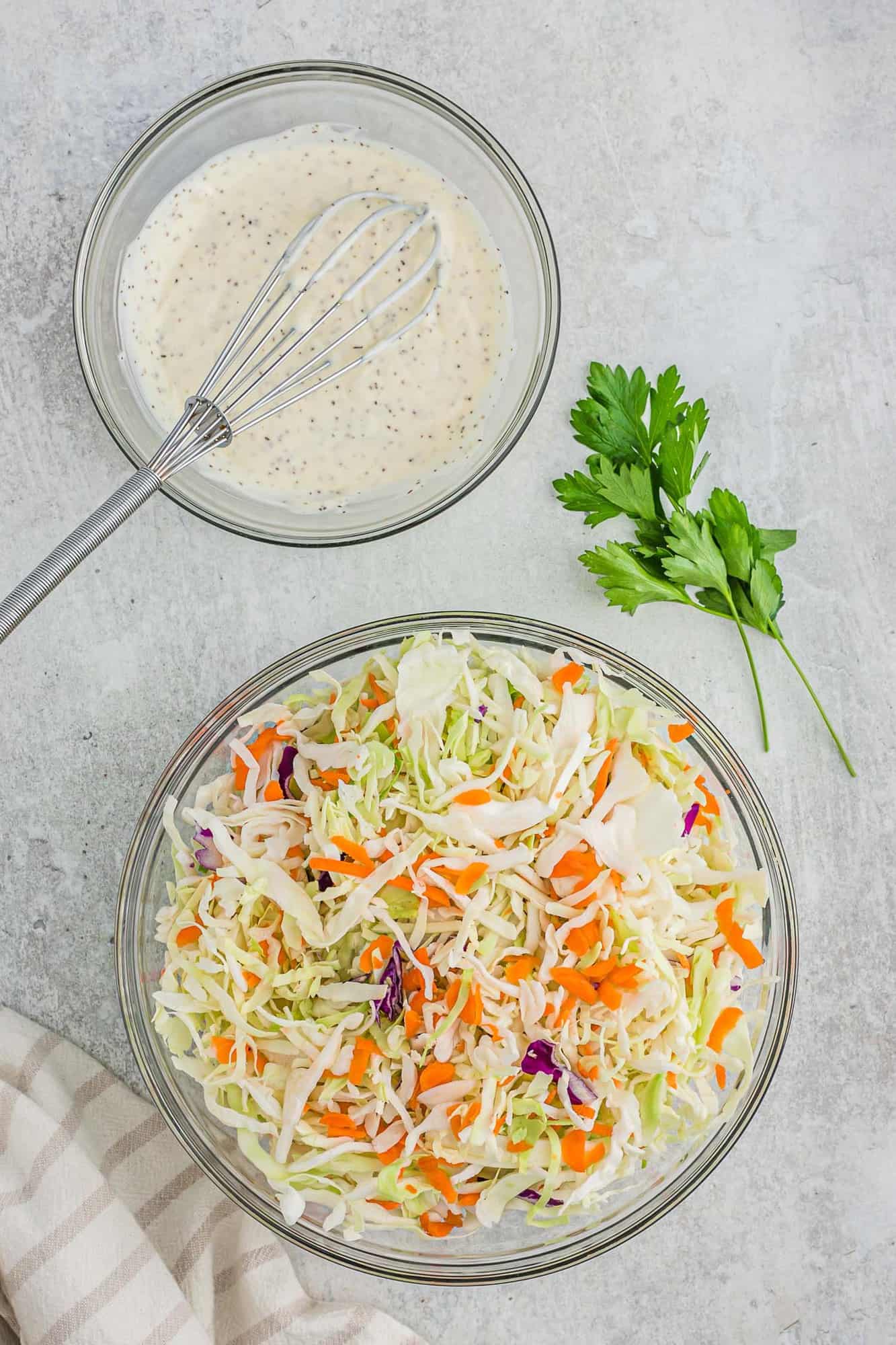 Taste the dressing and add salt and pepper, to taste. It's okay to make the dressing just a bit salty because there's a lot of cabbage going in there.
Add the shredded cabbage/carrots and, using a large spoon or rubber spatula, mix it into the dressing. It takes a bit of stirring. Scoop the dressing up from the bottom of the bowl and just keep blending it together.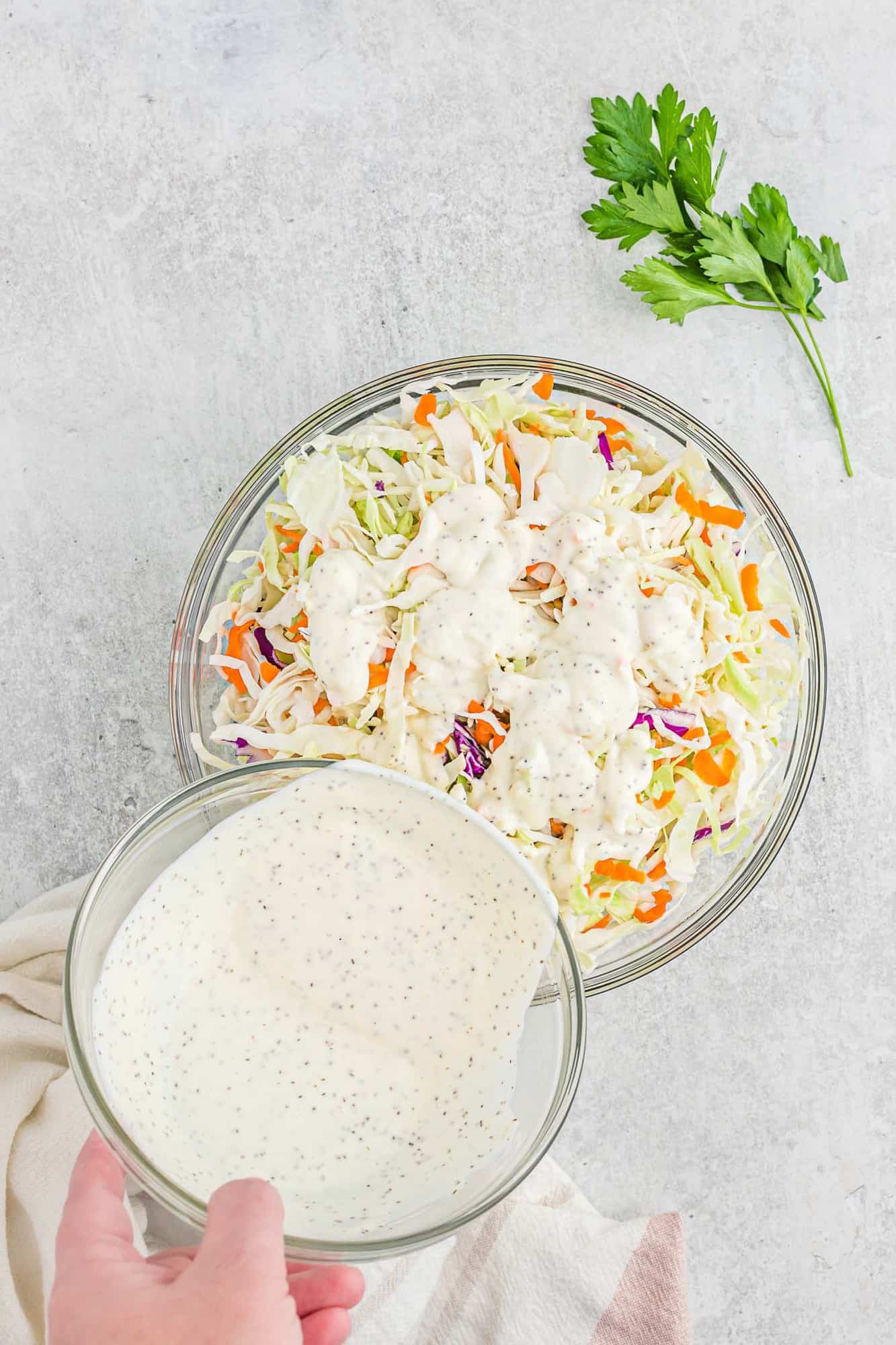 Okay! Wasn't that easy? Cover the bowl and refrigerate the coleslaw for at least an hour. The cabbage will soften a bit and absorb some of the dressing. You'll notice that the bowl seems emptier. The cabbage deflates a bit as it soaks in the dressing.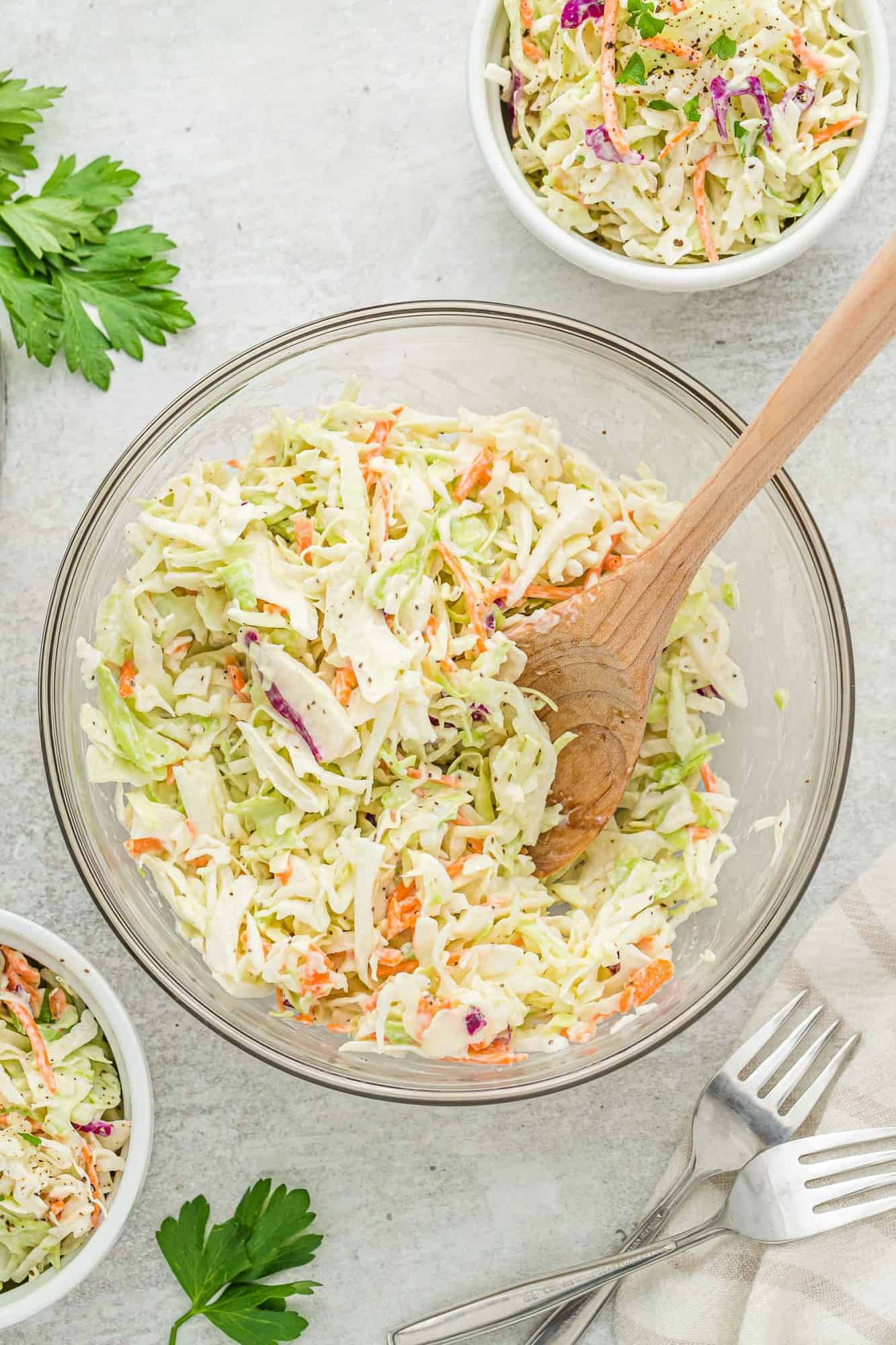 Before you serve the coleslaw, give it another good stir and then put it into a (smaller) decorative bowl.
FAQs
Can coleslaw be healthy?
Yes! Coleslaw is mainly cabbage which is very good for you. It's packed with nutrients and is very low in calories. It contains powerful antioxidants, including a good dose of Vitamin C. For more about the health benefits of cabbage, check out what Healthline has to say.
Now, I realize that coleslaw isn't just cabbage; it has other ingredients that may not be as healthy for you. Making a dressing like this yogurt dressing I'm bringing you today keeps coleslaw a healthy choice.
Is cabbage better for you cooked or raw?
The answer to this question is complex and I can't do it justice here. There are benefits to eating cabbage raw and benefits to eating it cooked.
That being said, as long as you're eating vegetables like cabbage, cooked or raw, you're doing great! If you like them better cooked and will eat more of them that way, go for it. If you like them better raw, that's great, too. The important thing is just what your mother always said: Eat your veggies!
What is the difference between celery seed and celery salt?
There is a big difference between the celery seed and celery salt. Celery seed is an actual seed from the celery plant. It is intensely flavored, tasting like, you guessed it, celery!
Celery salt is made of ground celery seed mixed with salt. The flavor isn't nearly as intense. If you substitute celery salt for celery seed in a recipe, don't add any additional salt or your recipe will become too salty.
Make it your own
Some of you may be saying, wait a minute, I like onions in my coleslaw. Or diced green peppers. Or scallions. I personally like lots of chopped parsley in coleslaw. Go ahead, add what you like! Add fruit. Add hamburger (just kidding). It's your coleslaw. Make it your own!
If you're looking for a coleslaw that isn't creamy, try vinegar coleslaw. It keeps well and it isn't made with mayo or dairy products. Perfect if you're lactose-intolerant or vegan, but anyone will love it.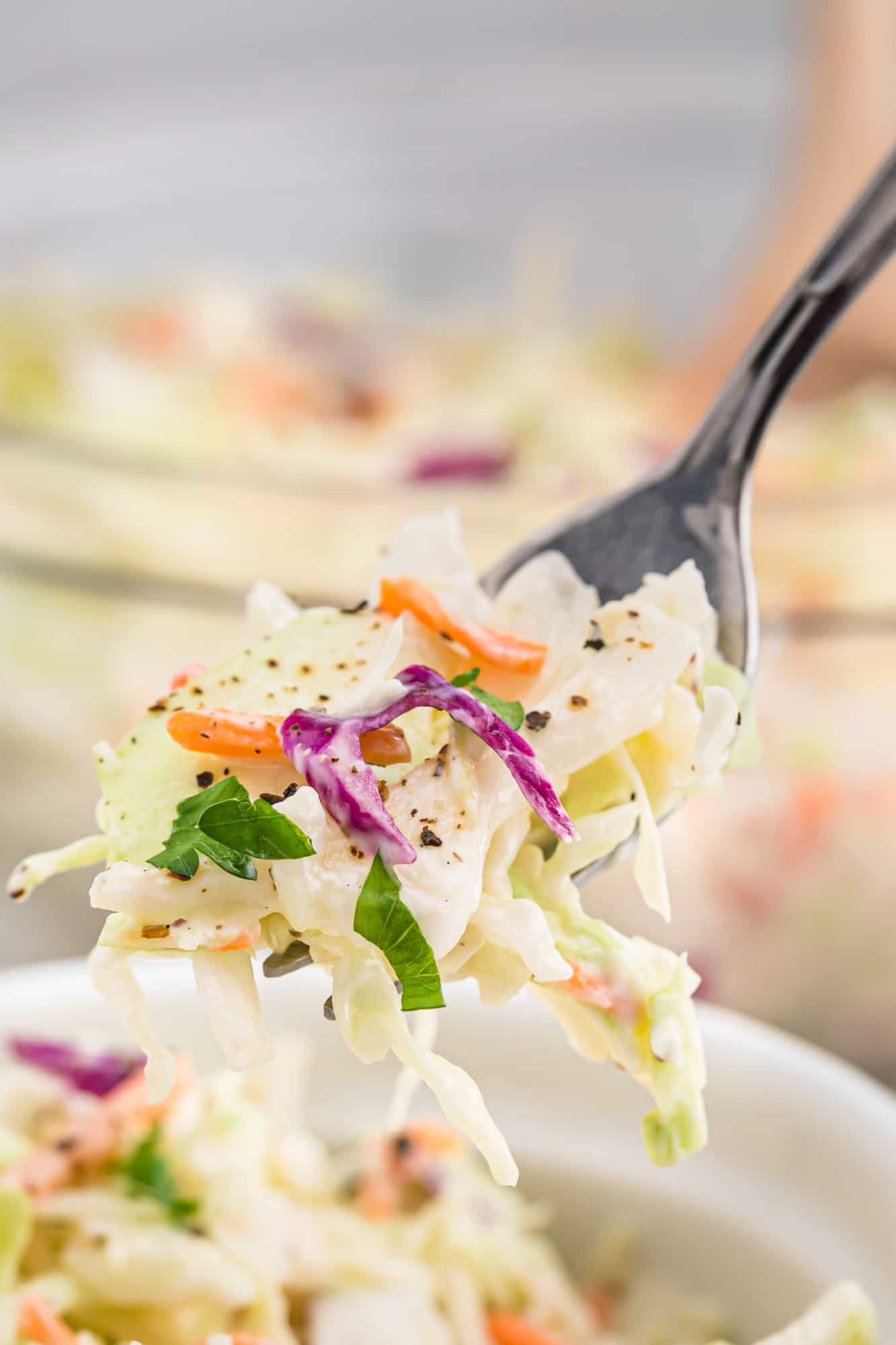 Make-Ahead Ideas
Coleslaw is a great make-ahead salad, whether you make it an hour ahead or a day ahead. The flavor actually improves a bit as it sits. That being said, don't get carried away and make it a week ahead.
If you're looking for a coleslaw dressing that you can make ahead and store in the refrigerator, try my coleslaw dressing recipe. Replace your store bought dressing with a healthier and inexpensive homemade dressing.
Storage Tips
Coleslaw can be stored in the refrigerator in a tightly covered container for up to three days. Stir it well before serving.
This coleslaw recipe does not freeze well.
Leftover Love/Ways to Use Coleslaw
Coleslaw is a salad but it shines in other ways, too. While it goes great next to a grilled burger, it makes a good sandwich topping, too. It's especially tasty on pulled pork. Coleslaw is an essential ingredient for one of my favorite sandwiches, turkey sliders, AKA Rachel sandwiches. Try it on hot dogs, too!
And fish tacos! Coleslaw is wonderful for fish tacos. Try making these easy fish tacos and substitute coleslaw for the blood orange salsa. It totally rocks!
Did you make this? Be sure to leave a review below and tag me @rachelcooksblog on Facebook, Instagram, or Pinterest!
With nonfat Greek yogurt and light mayonnaise in the dressing, this healthy coleslaw recipe has the same great taste as classic creamy coleslaw!
Ingredients
1

bag

(16 oz.) shredded green cabbage and carrots

(or you can shred your own carrots and cabbage)

¼

cup

light mayonnaise

(I like the kind made with olive oil)

¼

cup

plain nonfat Greek yogurt

(see note)

2

tablespoons

granulated sugar

3

tablespoons

white vinegar

½

teaspoon

celery seeds

½

teaspoon

Dijon mustard (optional)

(add more or less to taste)

Optional: Black pepper, salt, and/or fresh parsley
Instructions
In a large bowl, whisk together mayonnaise, yogurt, sugar, vinegar, celery seed, and mustard (if using) until smooth. Season with salt and pepper, to taste.

Add shredded cabbage/carrot mixture. Mix well until dressing coats the cabbage.

Cover bowl tightly and refrigerate for at least one hour. Stir well before serving.

Serve garnished with freshly cracked black pepper or chopped fresh parsley, if desired.
Notes
Greek yogurt adds a tangy flavor. If the dressing is too tangy for you, add more sugar. If it's not tangy enough, add more vinegar, or less sugar.
Any kind of Greek yogurt will work: nonfat, reduced fat, 2%, full-fat. Regular yogurt works too, but the dressing will be a bit thinner.
It's normal for the coleslaw to deflate a bit. Just stir it well before serving.
Possible add-ins: parsley, bell pepper, onion, celery, scallions, chives, or whatever you like best.
Nutrition Information
Calories:
48
kcal
,
Carbohydrates:
7
g
,
Protein:
1
g
,
Fat:
2
g
,
Saturated Fat:
1
g
,
Polyunsaturated Fat:
1
g
,
Monounsaturated Fat:
1
g
,
Trans Fat:
1
g
,
Cholesterol:
1
mg
,
Sodium:
65
mg
,
Potassium:
109
mg
,
Fiber:
1
g
,
Sugar:
5
g
,
Vitamin A:
60
IU
,
Vitamin C:
21
mg
,
Calcium:
32
mg
,
Iron:
1
mg
This website provides approximate nutrition information for convenience and as a courtesy only. Nutrition data is gathered primarily from the USDA Food Composition Database, whenever available, or otherwise other online calculators.