Panzanella Salad Recipe – perfect summer salad!
Simply delicious traditional panzanella salad is a summer treat with loads of red ripe tomatoes, chunks of crusty bread, and fresh green basil, dressed in a white wine vinaigrette.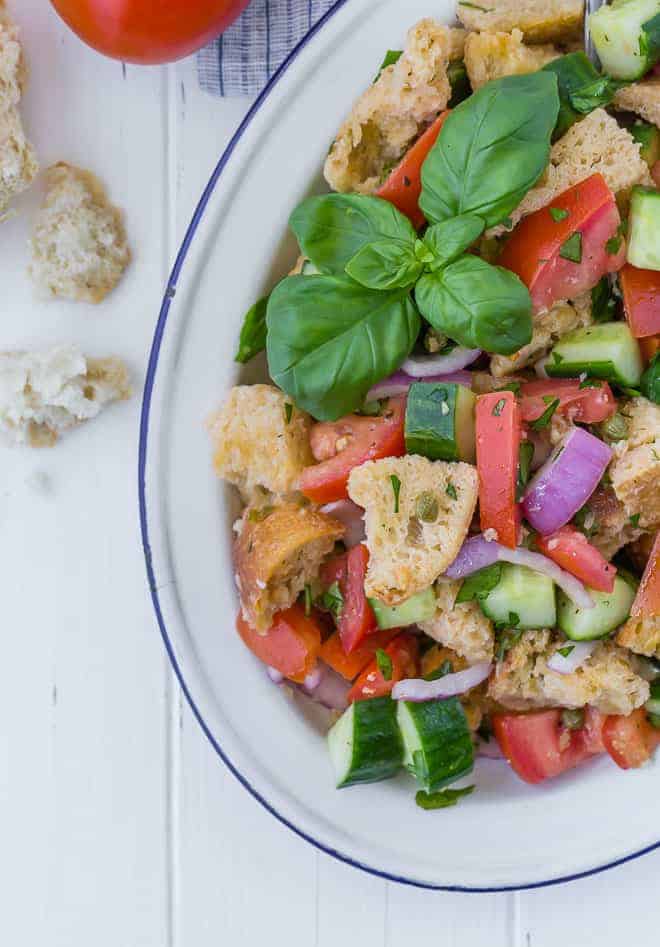 Red, white, and green, the colors of Italy's flag, should be the official colors of summer dining. Juicy red tomatoes, soft and perfectly ripe; green leafy lettuces, spicy olive oil, and pungent green herbs, freshly plucked from the garden; and fresh cheese, mozzarella, ricotta, feta. Those are the tastes of summer we long for the other nine months of the year.
(If red, white, and green remind you of Christmas, I don't want to hear about it! Summer, summer, summer is my mantra right now!)
Red, white, and green reminds me of caprese and bruschetta. This caprese pasta salad is perfect for summer entertaining. Serve hot caprese dip at your next party and everyone will be asking for the recipe. Classic tomato bruschetta is a perfect red, white, and green appetizer and I love my mother-in-law's roasted tomato and ricotta crostini.
Add Tuscan panzanella salad to your list of must-have summer recipes. It's a bread salad! Do I have your attention? Everyone loves bread, right? How about chunks of crusty bread, soaked with the the juices of red tomatoes and a tasty vinaigrette, with lots of green basil and red onion. Simple, and simply delicious!
In Italian, "pane" means bread, and "zanella" means deep plate or bowl. Bread in a bowl, along with lots of other yummy things! Let's get to it!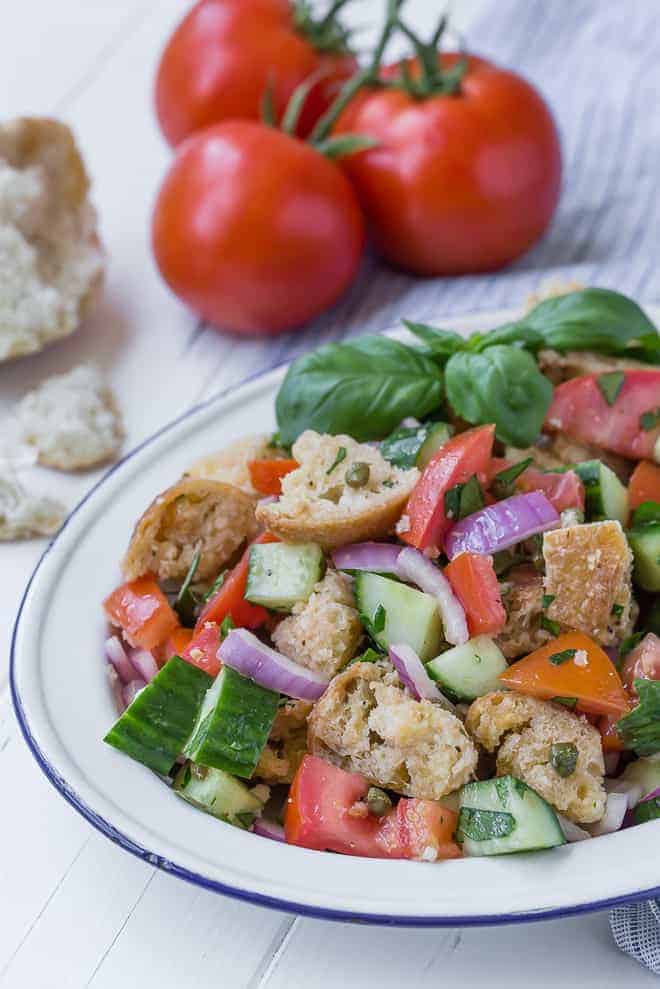 About this panzanella salad:
Choose the right kind of bread for your salad. This is not the time for sandwich bread. Buy a good loaf of Italian or French bread, sturdy, crusty, and with lots of holes inside. If it feels a little hard, that's okay. Day old bread is perfect.
I've been making homemade croutons using slightly stale bread for ages – once you try them, you won't ever go back to store bought croutons. The process is the same for panzanella. The bread can be toasted ahead of time or right before you make the salad. Either way is fine.
The vinaigrette dressing for this salad is also homemade. Make it before you get started on the rest of the salad. The ingredients are simple: white wine vinegar, good olive oil, a bit of garlic, Dijon mustard, salt and pepper.
If you feel the flavor of red onions is too strong, try soaking the onions in ice water before adding them to the salad. Even onion-haters (I'm thinking of you, dad!) will eat onions this way.
Bread, ripe tomatoes, red onion, fresh basil and parsley, capers, and cucumbers comprise the salad. Mix everything together in a big bowl and add the dressing, tossing well.
You can serve the panzanella immediately or wait thirty minutes to let the dressing soak into the bread. Your choice!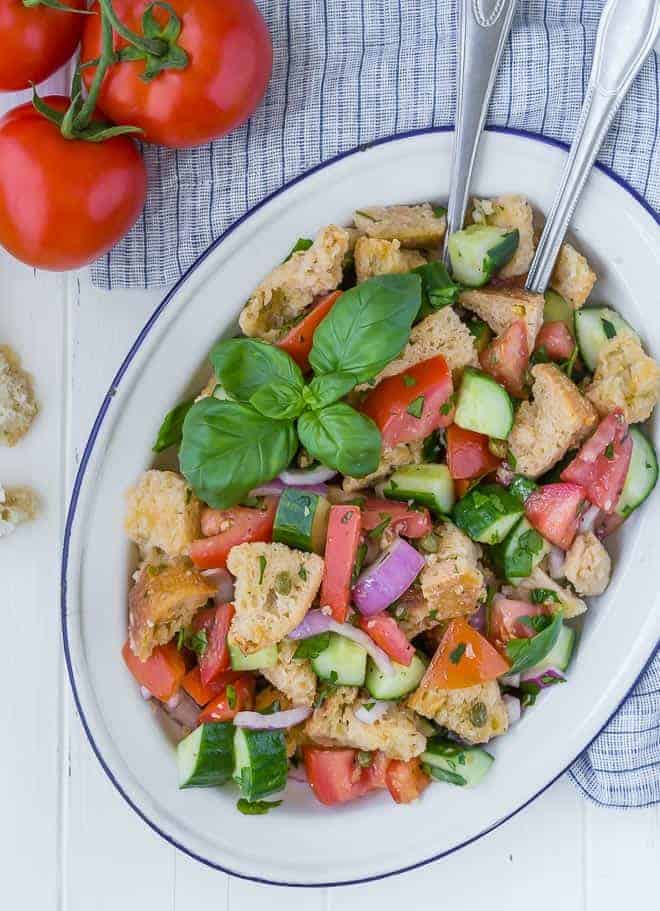 What goes with panzanella salad?
Wondering what to serve with panzanella? Panzanella salad is a healthy salad that is hearty and satisfying. Since it contains bread and vegetables, all you really need to round out your meal is protein. Try grilled meat like salmon, chicken, shrimp, or steak.
Some vegetarian options are fresh mozzarella cheese, feta, or canned white beans.
That's all you need for a delightful summer dinner!
Oh, and don't forget a glass of Chardonnay, Sauvignon Blanc, or a cool dry Rosé!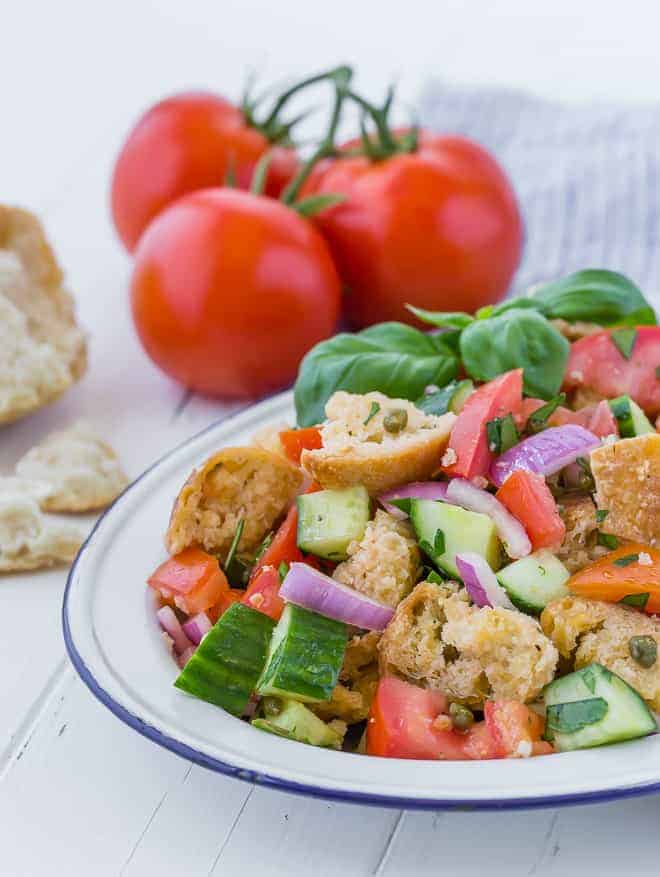 How to make this panzanella recipe your own:
Bread options: Some recipes skip toasting the bread. Others like soaking the bread in water, or a vinegar/water mixture, and squeezing it dry. If that's what you prefer, go for it. I like the flavor that toasting adds to the bread.
Use a store bought vinaigrette if you're really in a hurry. I have to say, though, that homemade is really easy and tastes tons better. Make the homemade, please!
Make panzanella using a variety of other ingredients. Some recipes include bell peppers.
For a springtime panzanella, when ripe tomatoes are still a pleasure to look forward to, try asparagus panzanella. It's so good!
Making dinner for two? You can easily cut the recipe back t0 two servings. If it's easier, make a whole batch of the dressing and refrigerate what you don't use. It's great on lots of different salads.
Storage & Tips For Prepping Ahead
Food prep hint:
Prepare the components of the panzanella ahead of time. Make the croutons and, after cooling thoroughly, store in a tightly covered container for up to a week. Make the vinaigrette a day ahead and store in the refrigerator. Allow to come to room temp before using and shake well.
Leftovers:
If there are leftovers, cover tightly and store in the refrigerator for a day. The bread in the salad will be a little softer, possibly a bit mushy, but the taste will be great.
Lots more summer salads!

Panzanella is not the only kid on the block. Try some of these great summer salad recipes: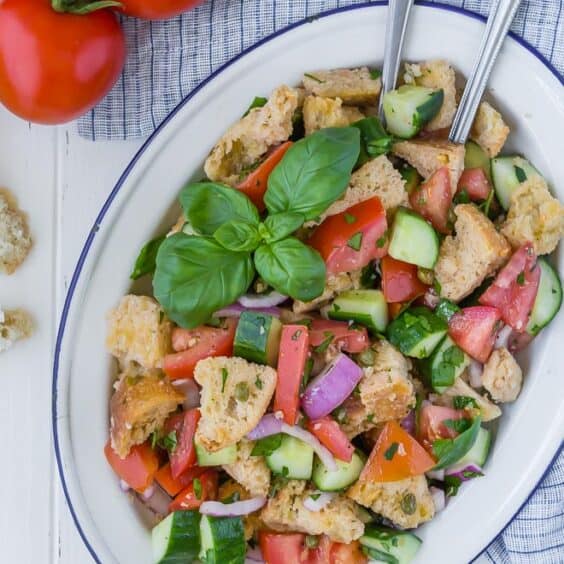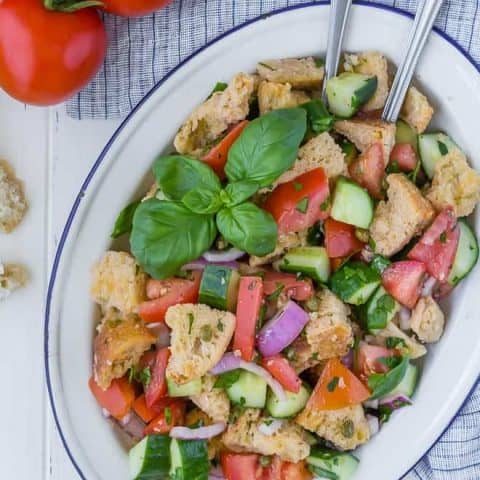 Panzanella Salad Recipe - perfect summer salad!
Yield: 6 servings
Prep Time: 20 minutes
Cook Time: 20 minutes
Total Time: 40 minutes
Simply delicious traditional panzanella salad is a summer treat with loads of red ripe tomatoes, chunks of crusty bread, and fresh green basil, dressed in a white wine vinaigrette.
Ingredients
6 cups of cubed bread (we recommend sourdough or French)
3 tablespoons olive oil
2 large tomatoes, cut into 1-inch cubes (about 1 pound)
1/2 large red onion, sliced thinly (see note)
1 cucumber, quartered and sliced into 1/2-inch chunks (see note)
1/2 cup torn basil leaves
1/4 cup roughly chopped flat leaf parsley leaves
2 tablespoons capers, drained
For the vinaigrette
1/4 cup olive oil
1/4 cup white wine vinegar
1 teaspoon minced garlic
1/2 teaspoon Dijon mustard
1/2 teaspoon kosher salt
1/4 teaspoon coarse ground black pepper
Instructions
Heat oven to 375ºF. Combine the bread cubes with 2 tablespoons olive oil on a large rimmed baking sheet. Bake until golden brown and crispy, about 20 minutes. If you're using super fresh bread, the croutons will take a little longer to become golden brown. If the bread is stale and dry, the croutons may brown faster, so keep an eye on them. The size of your bread cubes will make a difference in how long it may take for them to crisp up.
In a small bowl, whisk vinaigrette ingredients together: olive oil, vinegar, garlic, mustard, salt, and pepper.
In a large bowl, combine tomatoes, onion, cucumber, basil, parsley, and capers; mix. Add bread cubes and toss with vinaigrette. Taste and season with salt and pepper as needed.
Serve immediately or let the salad sit for 30 minutes to an hour to let the flavors develop.
Notes
Soak onions in ice water before adding them to the salad. It's optional, but it takes the strength of them down a notch and prevents them from being overwhelming.
If using English cucumber, there's no need to peel or remove seeds. If using a regular waxed cucumber, peel, quarter, and remove seeds.
Recommended Products
As an Amazon Associate and member of other affiliate programs, I earn from qualifying purchases.
Nutrition Information:
Yield: 6
Serving Size: 1 of 6
Amount Per Serving:
Calories: 274
Total Fat: 17g
Saturated Fat: 3g
Trans Fat: 0g
Unsaturated Fat: 14g
Cholesterol: 0mg
Sodium: 461mg
Carbohydrates: 26g
Fiber: 3g
Sugar: 5g
Protein: 5g
RachelCooks.com sometimes provides nutritional information, but these figures should be considered estimates, as they are not calculated by a registered dietitian. Please consult a medical professional for any specific nutrition, diet, or allergy advice.
Verdict:
Completely head over heels in love with this salad.
Husband's take:
It's a salad, but with a bunch of bread. He's a fan.
Changes I would make:
None!
Difficulty:
Easy.